Yieldify's VP of Partnerships & Sales EMEA, Ollie Jones, reveals how Domino's achieved a 99:1 ROI by making every interaction count with exit-intent technology.
The modern consumer is extremely fickle.
You can draw them in with the best sales letters, email campaigns or on-page applications, but sales aren't guaranteed until the purchase button has been pressed and the money transferred.
The huge selection and number of distractions presented to modern consumers have caused a significant rise in shopping cart abandonment. It's a huge problem in eCommerce which costs online retailers trillions of dollars in lost sales every year.
On average, across eCommerce, 68% of carts are abandoned before a purchase is made. More than half of your prospects have enough desire to add items to their cart, but not enough to actually complete their purchase.
Our experience has shown that this abandonment is often not a result of a prospect changing their mind – but rather a momentary lapse in motivation. A lapse perhaps caused by the worry of overspending or the prospect of cheaper competitor prices. Generally speaking, the decision to re-evaluate a purchase is firmly rooted in your prospect's cost analysis.
Whilst there's no 100% cure for cart abandonment, we've discovered that incentivising your prospects to continue with their purchase can cause a huge reduction in abandonment rates, or more importantly, a huge increase in revenue.
The question you need to ask is what incentive will best suit your audience as a whole and how can you tailor your offer to individual segments.
When addressing the needs of our client, Domino's Pizza, we took the below actions to help re-engage visitors leaving their site and secure more sales.
How we helped Domino's attain a 99:1 ROI
Our primary goal with Domino's was to target prospects who exhibited signs of exiting without purchasing. Our first step was to segment the audience into two broad groups: new and returning website visitors.
This segmentation defined the focus of two separate yet complimentary campaigns.
We targeted new website visitors with a 25% off discount. This discount encouraged them to complete their purchase which also, in turn, served as an effective lead capture campaign.
The second segment consisted of returning website visitors. The campaign for this segment was more detailed and based on order value. We further segmented this group and presented different orders based on current basket value at the time they exhibited an intent to exit. Below are the various bands and offers:
Basket value under £15 – presented with an overlay offering 15% off orders over £15.
Basket value between £15 – £17 – presented with an overlay informing them of eligibility for 15% off.
High value baskets – presented with an overlay offering £10 off orders over £30.
Here's a quick look at a couple of the campaign overlays: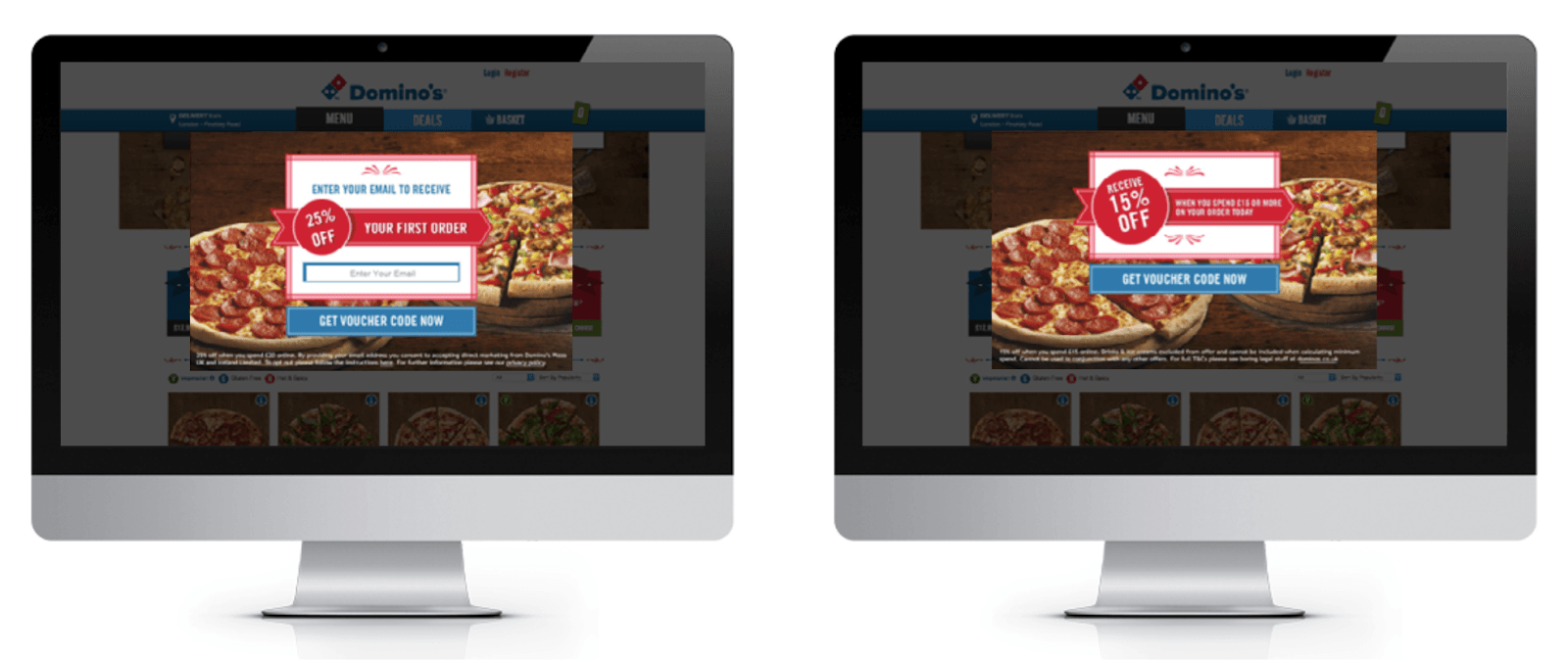 The majority of cart abandonment campaigns have a singular focus. They aim to tempt prospects into completing a purchase with remarketing emails or overlays highlighting the items in their cart. These approaches can be effective but miss some great opportunities.
If you examine the offers made above, you'll notice that they aren't simply aimed at getting customers to complete their order. Of course, that was the primary focus, but each campaign had a secondary goal which drastically increased their effectiveness of the overall campaign.
For new visitors, we wanted to capture their email addresses. We kept the campaign focus simple because each captured email address would create a number of new opportunities for future direct sales that could then be pursued through later email campaigns.
With returning visitors, our focus was very much on increasing AOV. Prospects were encouraged to complete the purchase with a money-off offer, however, two-thirds of the time, it required them to increase the overall value of their order.
What was achieved?
By including an incentive on each overlay, we were able to achieve some incredible results. The overall ROI of the campaign comes in at a staggering 99:1. Below you can find the stats for the increases experienced across a number of areas.
Conversion rate
The primary goal of this campaign was to increase the conversion rate by reducing the number of customers who abandoned their purchase. The exit-intent overlays proved very successful at this and resulted in a 13% increase in overall conversions.
Average order value
Whilst conversions were the primary goal, we also wanted to increase the average order value. Doing so would offset any reductions that were offered and generally make the whole campaign more profitable. By adding in the payment thresholds for money off offers, we saw a respectable 9% increase in AOV. Coupled with the 16% increase in conversions, it was a very profitable campaign.
Lead capture
Of course, one of the most important assets for any business is to have a large list of qualified prospects to provide you with repeat, ongoing sales opportunities. While we expected the 25% off offer to capture a good number of email addresses, the campaign drove particularly impressive results:
Averaging over 50,000 new emails every month with highs of 58,000 and 62,000 in April and August respectively.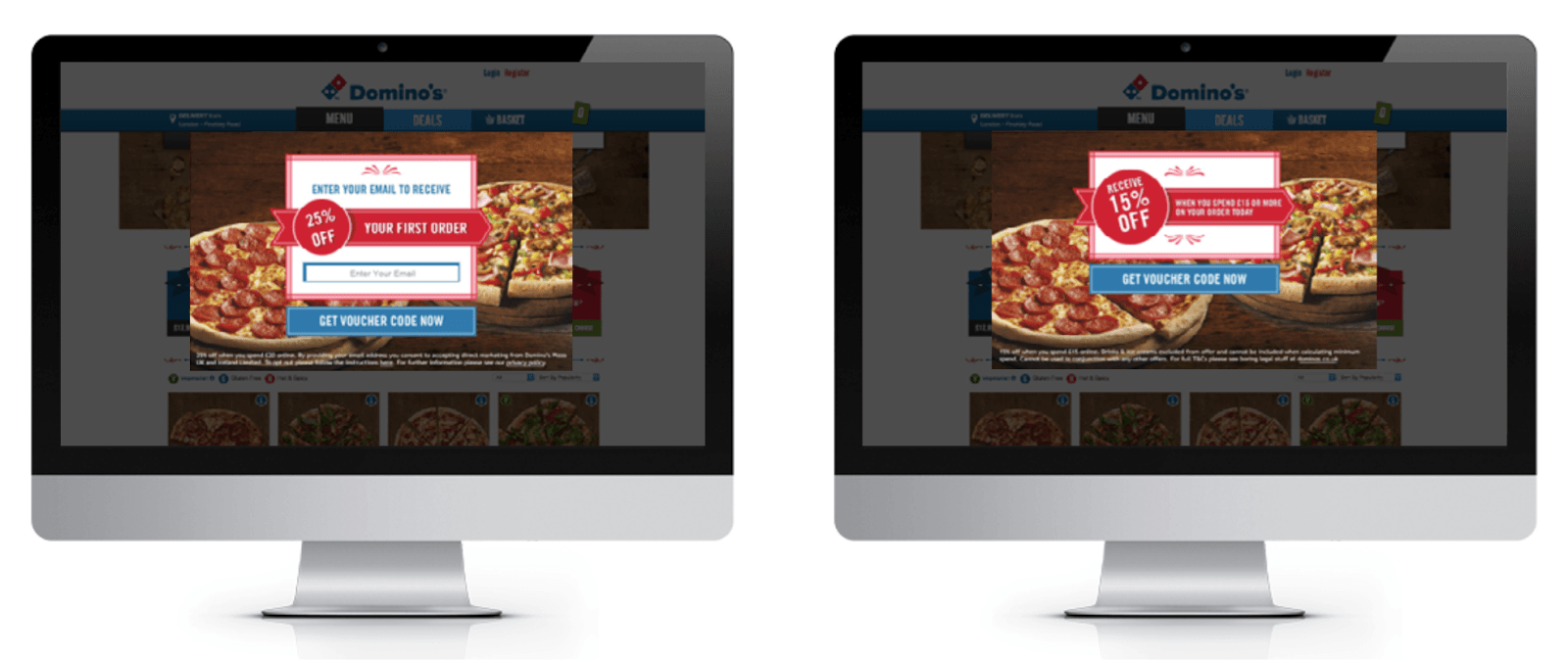 The modern consumer is becoming increasingly demanding and wants a more personalised experience from the businesses they patron. Properly segmenting your audience to offer the most relevant offer is the first step in providing the personalised experience modern consumers want.
As you can see from the results, if you can then present a relevant, personalised offer at the right time in a user's journey you've got a sure fire way to increase your overall revenue.
To take a closer look at how we've helped companies like Domino's increase engagement and revenue check out our case studies here.