We've taken a look at how exit-intent technology can increase conversions on your e-commerce site and also considered the technology's relationship with cart abandonment emails.
There's a huge problem facing the e-commerce managers of the world.
After battling to secure attention in a crowded digital space, persuading consumers your product is the best choice and building enough trust so they push the purchase button, your visitors up and leave. With little to no warning, they change their mind and abandon their cart.
All that hard work only to fall at the last hurdle.
Cart abandonment has been an issue for a while now. It's the reason why e-commerce stores miss out on trillions of dollars in lost revenue every year – worst of all, in recent times, these numbers have steadily been creeping up.

To deal with this problem, over the course of the last few years a number of services have developed that attempt to curtail the number of users exiting your site.
The most effective of these remarketing services are exit-intent tech and cart abandonment emails.
Before we delve into exit-intent, we'll take a quick look at cart abandonment emails and whether they could be worth your while.
Remarketing abandoned carts with email
Cart abandonment email campaigns aim to encourage visitors who've left your site to return using targeted emails. Once a visitor abandons their cart they're placed into an email queue. After a specified period of time has passed they're sent an email that reminds them of the items in their cart and, in some cases, offers an incentive to drive the purchase.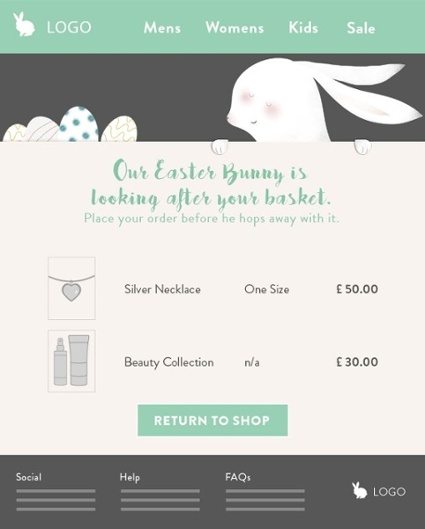 The combination of personalised, relevant content that's still fresh in a visitor's mind means that cart abandonment campaigns are far more effective at re-engaging users than traditional promotional emails. In fact, they can increase purchases at a rate that's 19 times higher.
With this kind of increase in conversion rate and a simple integration process, cart abandonment emails are definitely worth considering for your e-commerce site.
If you're not convinced – read on – the campaigns work better still when used in conjunction with exit-intent technology (which we'll get onto shortly).
We've talked about the value of aligning your marketing campaigns before and in this case the sentiment definitely holds true:
Combining and aligning the two remarketing techniques (and their data), along with your other campaigns, helps you deliver a coherent and optimized customer experience.
Rather than seeing the two as chalk and cheese, think of exit-intent and email remarketing more as cheese and wine or tea and biscuits. Yes, they may work well on their own, but together they reach another level.
Now, before we start craving bratwurst and beer, what exactly is exit-intent? And how does it work?
Exit-intent campaigns
Exit-intent campaigns help to reduce the customers leaving your site in the first place, keeping them on site and engaged.
They work by reacting to user behaviour. If the user exhibits behaviour associated with exiting your site the campaign displays an overlay with an incentive or message designed to entice visitors to stay on site and complete their purchase.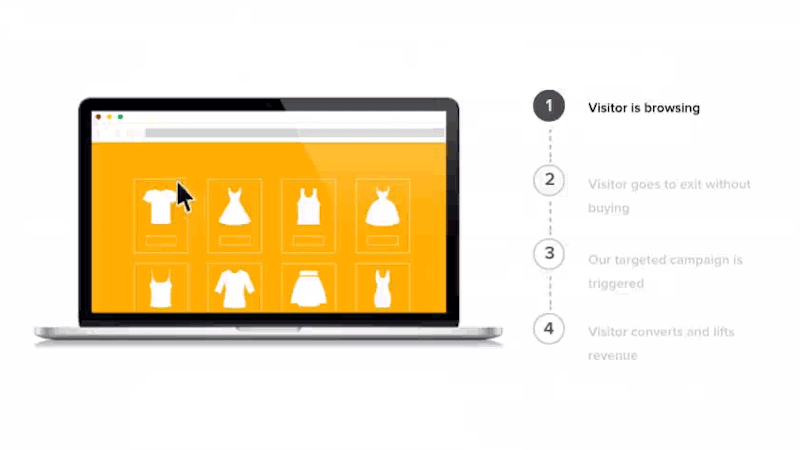 The offers displayed can be personalised around a number of criteria, which may include:
The items the visitor has shown interest in
The total value of the cart
Day of week
Datetime range (flight dates)
Time of day
Traffic source
Device type (mobile/tablet/desktop)
Logged-in user
New visitor
Returning visitor
Returning customer (previously made purchases)
Customers aren't necessarily required to add products to their cart. Instead, by tracking individual user behaviour and engagement, exit-intent campaigns can re-engage visitors to reduce overall website abandonment.
Let's say that a visitor has spent 70% of their time on a clothing site examining women's t-shirts. They then exhibit an intent to exit the site, without adding anything to their cart.
Some exit-intent campaigns would simply let this prospect walk – they've got nothing in their cart and therefore there's no real data to personalise with.
But it's a missed opportunity.
From their browsing behaviour, it's clear that they're looking for a specific product in the women's t-shirt category. By presenting an offer with an image of the t-shirt they'd spent the most time looking at you could recapture their attention and persuade them to either purchase or have another look through your product range.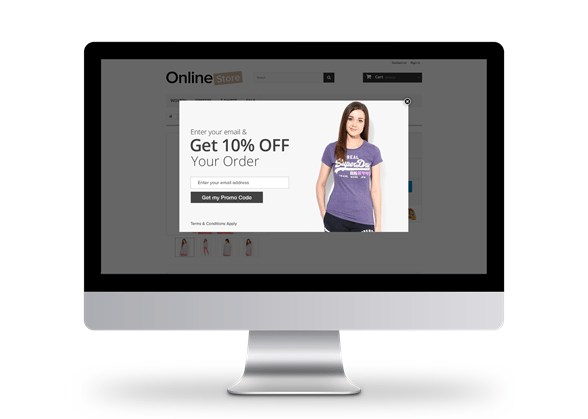 And, if you're mindful of your margins, fear not – your incentive can be just as effective by amplifying an existing on-site offer, such as free delivery, or emphasise reassurance messaging like a quality guarantee.
It's a negotiation tactic as old as commerce itself. Find what your potential customer is interested in and offer them an added incentive to ensure you get the sale.
But what about exit-intent tech results?
The proof is in the pudding, right?
Our word that exit-intent is the best prevention for the trillions of dollars lost every year probably isn't going to cut it. You need to see some hard results.
We have plenty of examples of what exit-intent campaigns could do for your business (whatever your vertical) from the clients in our case studies.
But for those short on time here's a rundown of how we implemented exit-intent campaigns for Domino's and M&S and the results achieved.
Domino's Pizza
We segmented website visitors in this campaign twice over.
First, we established whether they were new or returning customers. New customers who showed intent to exit the Domino's Pizza website were offered 25% off their first order in return for their email address. This incentivised them to complete their order and also served as an effective lead capture campaign.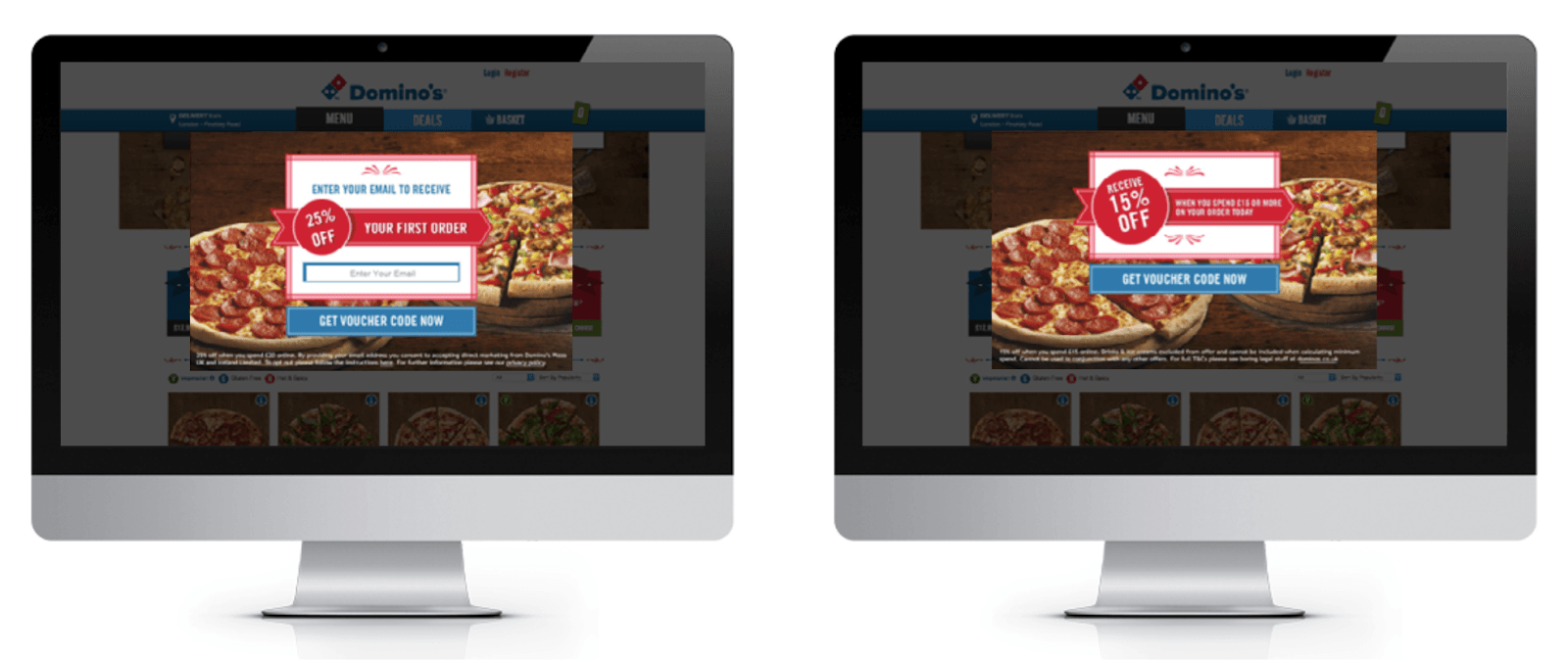 Returning customers were segmented based on the value of their basket and served with different overlay messages when they showed intent to exit. Visitors with lower basket values were notified that a slight increase in order value would qualify them for a bigger discount, increasing the AOV for the majority of customers.
This campaign achieved a healthy uptick in key value metrics. There was an overall increase of 13% in conversions, over 50,000 new emails captured every month and an increase of 9% in AOV.
Marks and Spencer
The Marks and Spencer's campaign also doubled as both a conversion optimisation and lead generation campaign.
We mapped abandoning visitors' onsite behaviour and used it to present an overlay that would appeal to their needs. The overlay included a money off voucher that would be delivered via email. All the visitor had to do was enter their email address to receive a 10% off coupon.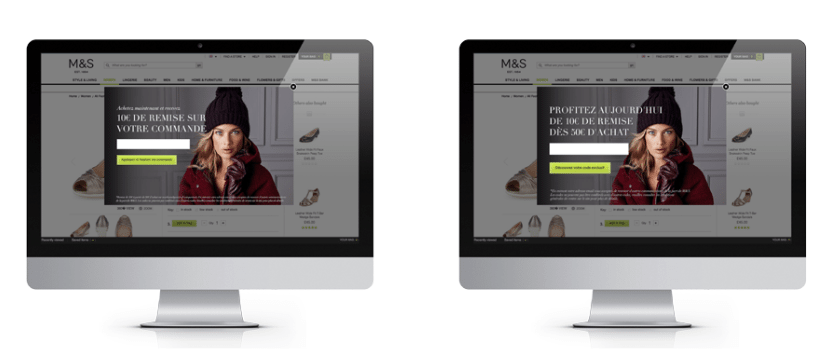 The money off voucher was the obvious incentive, however, by requiring the email address, we also managed to capture a large number of email leads for future sales opportunities.
The end results of the campaign were a 13:1 ROI, 10% of M&S France's total revenue for the campaign run time and a total of 3000 new leads captured. If you'd like to see more – here's a video showing how we did it.
Using Both On-site and Email Remarketing is the Smart Marketer's Choice
With an ever-increasing number of eCommerce stores, online shopping has truly become a buyer's market. Consumers can take their time to pick the products they want. They'll check multiple stores before committing to even the most cursory of actions.
And, even once your visitors have added products to their basket – you're a long way from a guaranteed sale.
Using exit-intent tech is a smart and simple way to retain the interest of your customer base and convert them into paying customers. But, while a great campaign alone, there's always going to be some prospects who, at that point in time, aren't engaged by your exit-intent campaign.
This is where email remarketing comes into its own – reminding your customer at a later time, when they may be more receptive, of the products they've left behind.
By implementing both an exit-intent and cart abandonment campaign in concert, you'll maximise your opportunities to engage and convert the visitors leaving your site – increasing your revenue in the process.