We've put together 10 proven ways to raise average order value (AOV) on your fashion eCommerce site while improving your customer experience in the process.
Smart fashion marketers are changing the way they approach their eCommerce sites. Rather than endlessly pushing for more and more traffic they've realised that first it makes more sense to have their online stores in order.
By being in order, we of course mean optimised.
By increasing the value your site drives from the traffic you already have you're onto a winner. Once your conversion rate is sky high then you can chase all the traffic you want, safe in the knowledge your investment will pay off.
One of the key areas of optimisation that top performing retailers win is through average order value (AOV).
On first look, increasing your AOV seems simple enough – raise your product prices or get visitors to buy more.
But there's a fine line – push your luck on either one of these strategies too much and you'll turn your customers off. It won't take them long to realise you're giving them a raw deal.
To increase your fashion average orders successfully, over a steady period of time, you need an improved customer experience. In relation to AOV this means helping your customers find the right products and giving them good value.
In this blog we'll take a look at a few ways you can go about doing this.
Free shipping thresholds
You may not want to hear it, but your visitors love free shipping.
In fact 8 in 10 of them cite free shipping as the top reason they'd shop online more often.
If the sheer mention of free shipping sends your finance team into a sulk, remind them that shoppers spend 30% more per order when free shipping is included.
Offering free shipping all the time, on everything, wouldn't do much for your margins. However, once you find the right free shipping threshold it's a proven way to raise your average order values.
And it doesn't just work once – free shipping can be used at multiple stages of your visitors' journeys to raise AOV.
Before we go into that ways you can use this tactic, first up – how can you find a free shipping threshold that works for you?
Rather than going too far off topic now, we'd recommend checking out this blog from RJ Metrics which offers a good guide on finding the right free shipping threshold.
Essentially, you want the threshold to be just beyond your usual AOV, meaning that customers spend a bit more – without making the amount so unrealistic that they don't buy.
If you get it right, this graph from the aforementioned blog gives you an idea of what your orders will look like: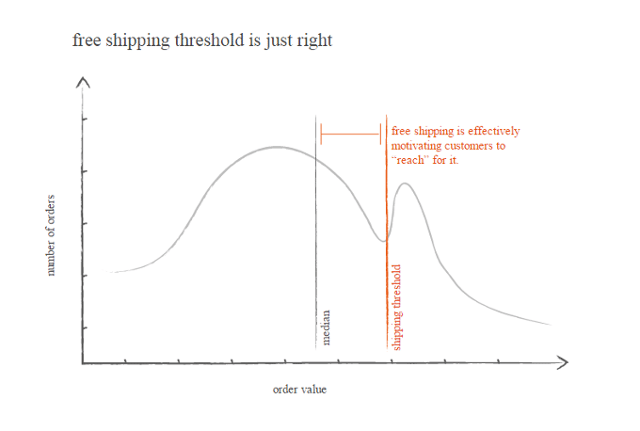 The second wave shows customers adding another product to hit free shipping (boosting your AOV in the process).
So, we know customers like free shipping and you hopefully have a rough idea what your threshold would be – how do you go about using it?
Using free shipping to raise AOVs
Being presented with 'unexpected costs' is one of the most common reasons for people abandoning baskets. Amongst these costs, shipping is high on the list.
As a result, it makes sense to signpost your free shipping threshold front, right and centre to push up your AOVs. Here's where you can go about doing this:

a) On your homepage

First up – display your free shipping threshold where everyone is likely to see it.
Preferably, place the threshold at the top where visitors will be navigating the page. In the example below, you can't miss ASOS' free delivery info.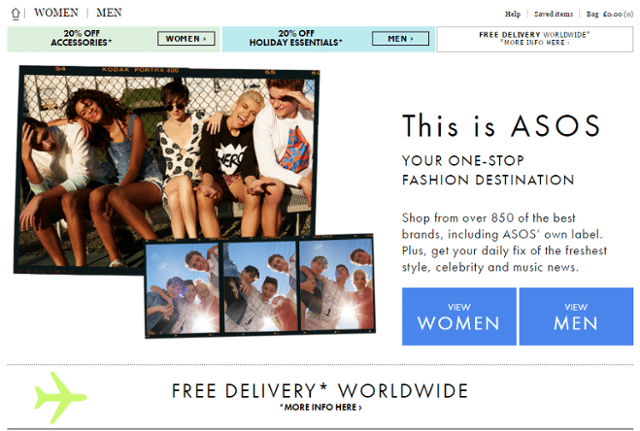 To boost your AOVs take a cue from their prominent signposting, but of course add your free delivery threshold as Dorothy Perkins have done below.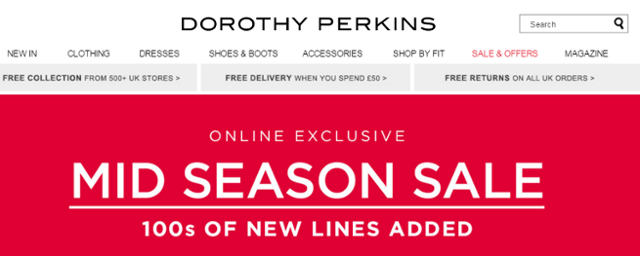 This straightforward signposting on your homepage can place a monetary goal in your customer's mind, making them more likely to spend up to and over your chosen delivery threshold.

b) In your visitor's basket and on checkout

Once your visitor has started shopping and begun adding items to their basket free shipping thresholds can still be used as a lure to get them to up their AOV.
At the checkout, or in your customer's basket, you can remind the customer how much they need to spend to reach the threshold.

c) On exit

Sometimes, despite your best efforts, your customers may have missed your free delivery threshold. You still have one chance to convince them to purchase: exit-intent overlays.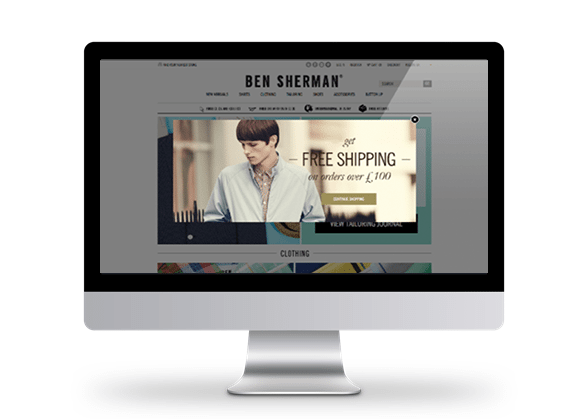 Ben Sherman used this technique on their site to amplify its existing free delivery on orders over £100. With 40% of visitors who clicked the overlays purchasing, this is another proven method to use free delivery thresholds to increase your average order values.
Free shipping thresholds are an effective method to raise your fashion site's AOVs, throughout your customer's journey. But they're not the only way.
Let's check out the other ways you can go about enticing visitors to spend more or add more items to their basket.
Offer discount thresholds
Discount thresholds are another staple in incentivising your visitors to increase their AOVs.
These thresholds are all about give and get. Your percentage discount should increase incrementally with the value spent by the customer to encourage them to reach the next threshold and raise their AOV.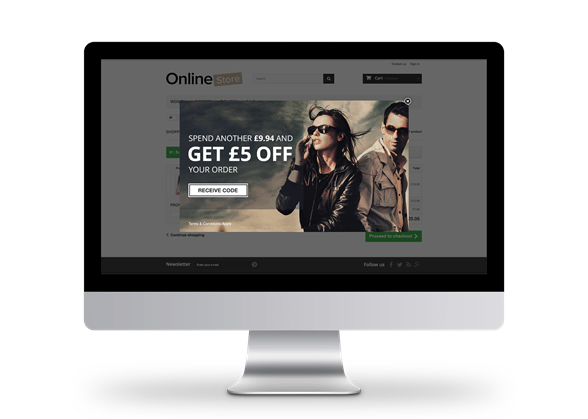 Order discount threshold's inherent similarities to free shipping thresholds mean you can use pretty much the same methods outlined in the previous section.
So:
Push the discount thresholds on your homepage
In basket, at checkout or on your product page: if your customer is below the threshold, let them know how much they have to spend to gain the discount.
Target visitors on exit, again letting them know if they're nearing a threshold to incentivize their purchase.
We used these thresholds to target customers by basket values in our campaign with M&S France, which during the period it ran, drove 10% of M&S France's revenue.
Order discount thresholds are win/win. You're increasing your AOVs while your customers are getting improved value for money.
Upselling
Upselling is a way to nudge your customer into purchasing a more expensive version of the product they're in the process of buying.
If you frame your upsell correctly you'll still show how great the current product is, while also making your prospect desperate to upgrade to the more costly version.
It's all about temptation.
"Sure, those regular jeans you're viewing are great, but have you seen our latest range with the stretchy fabric…?"
Your job when upselling is to make relevant, more expensive versions of the same product group close to hand – to tap into your customers' inherent temptation.
The North Face face have done this below, showing the visitor a couple of pairs of more expensive versions of the convertible trousers. If they justify this expense in the product details they just might upsell this visitor.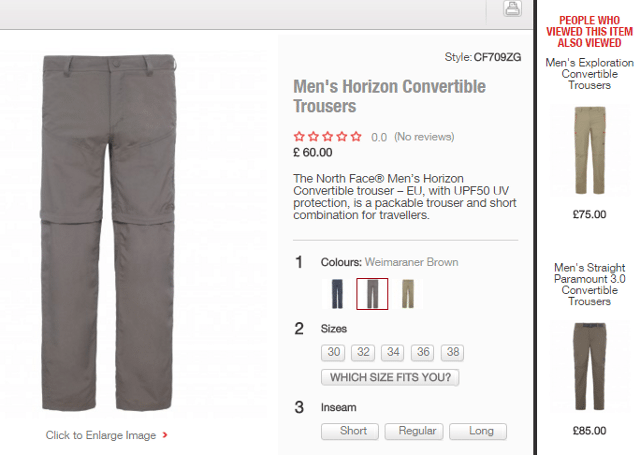 Cross-selling
Amazon attributes up to 35% of its revenue to cross-selling, so if you haven't given it a try yet – it's definitely worth testing.
Cross-selling is the art of selling complementary products to the items already in your customer's basket.
"These socks would look swell with your shiny new brogues"
Cross-selling not only boosts your AOV, but improves your customer's experience – helping them find the things they want without having to navigate around your site.
Cross-selling was pretty much made for fashion eCommerce – we've all been in a shop where the shop assistant is tempting us to buy the matching shoes or belt. If done well, by a knowledgeable sales assistant, it often works. We're suckers for an expert opinion.
On your fashion site, cross-selling gives you a chance to share your brand's knowledge and help out your customers – 'get the look', 'complete your outfit' etc.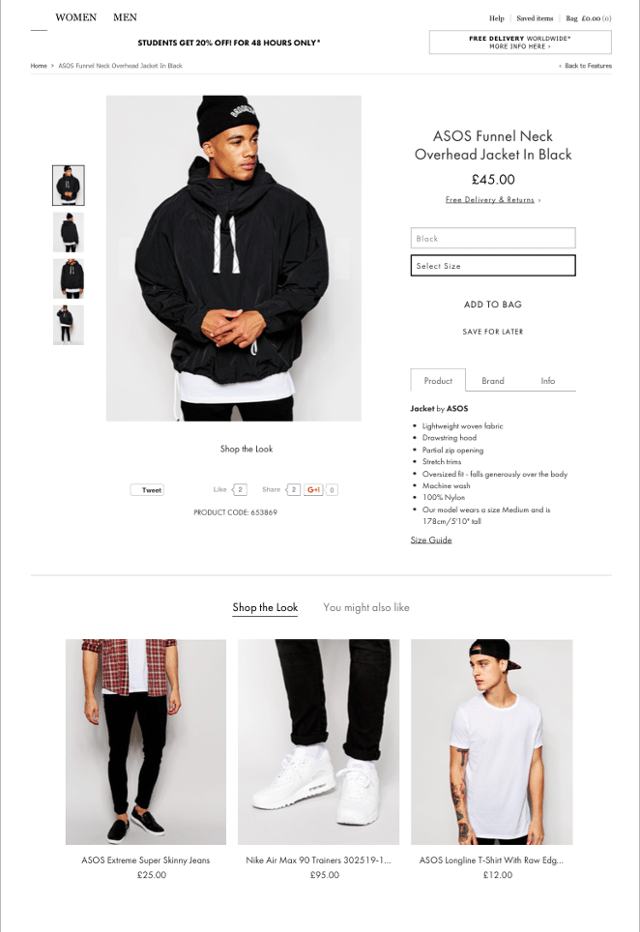 Customers that consume your content look to you for style inspiration and cross-selling features like 'shop the look' are another way to give them useful advice – building your relationship further, while increasing your AOVs.
Bundles or package deals
We've all seen bundles in tech stores, on games consoles or cameras and accessories.

They're less prevalent in fashion, due to the likes of cross-selling, but can be a handy way to raise your AOVs (and shift slow moving products).
Your products that go well with accessories are the most viable options for bundling. Think suits bundled with a shirt, tie and shoes.

The accompanying accessories may be relatively low in value, but by grouping them as a package deal you make it an easy choice for both value hunters and those who don't particularly want to shop around.

You could also present additional items as freebies. Buy a suit – get a pair of cufflinks free. This follows the same principle, increasing the perceived value for the customer and raising your AOVs.

Loyalty programs
Loyalty programs main goals are pretty clear – improving retention and helping you build relationships with your customers.
However, as a secondary but rather handy bonus these customer pleasing programs can also increase your AOV.
The majority of loyalty programs out there offer customers points dependent on the amount spent. By offering bonus points to loyal customers when they spend over a certain amount, as shown in the Van Dal shoes example below, you can encourage a higher spend.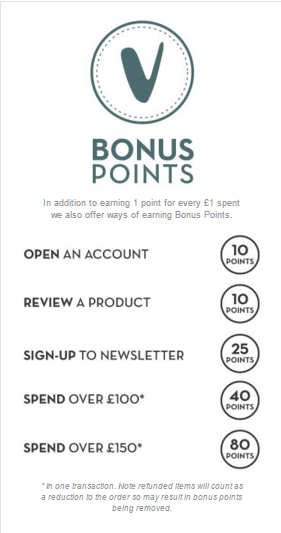 Again, loyalty programs follow the principle of give to get. They may involve giving away a small discount every now and then, but in the long run if they're part of a customer experience that encourages repeat purchases, they're well worth it.
You've probably heard the stats, but here is a quick reminder of the impact loyalty can have on your site:
It costs 5x times more to get a new customer than to keep an existing one and returning customers spend 67% more than first time customers.
As a result, there's not much better for your AOV then repeat, happy customers – so consider giving something back to your visitors with a loyalty program.
Show best sellers, recently viewed & recommended products
You can push 'most popular, 'trending' or 'recommended' products on your homepage just as MR PORTER have done in the example below.

This can be based around the past behaviour of other customers and – for a greater level of accuracy – could be targeted to segments depending upon where they've come from.
If these items have proved popular with other customers they're worth putting in front of visitors on your homepage to increase spontaneous buys.
You can also use your visitor's browsing history to remind them of their previously viewed items in case they want to go back and revisit that product.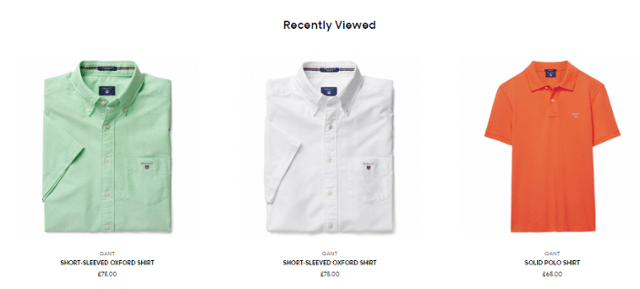 You'll see both these simple but effective techniques used on plenty of fashion eCommerce sites because they work for both you and your customers.
Volume discounts
Another smart way to boost AOVs is with volume discounts.
GANT have utilised this tactic on their homepage below – tempting shoppers into spending more by giving them a discount when they buy two or more items at a time.
This a great way to push certain items and also particularly useful for your lower ticket products:
It makes no sense for customers to just ship a pair of socks. Instead they're likely to add them when buying larger items or you can use bulk discounts to tempt them to buy multiple pairs.
Here's an example from Topshop's underwear section, with their 3 for £10 deal: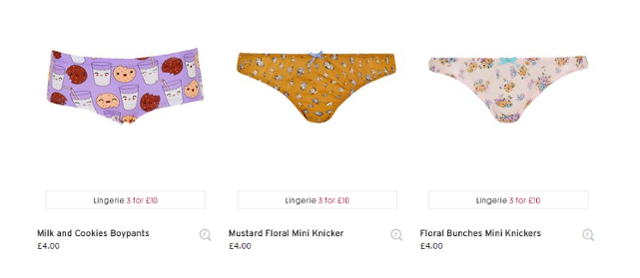 On Topshop's site, if you've only added a couple of pairs of underwear and go to checkout it's made clear that the items are part of a 3 for £10 promotion with the 'offer' banner and link back to the underwear section featuring the deal.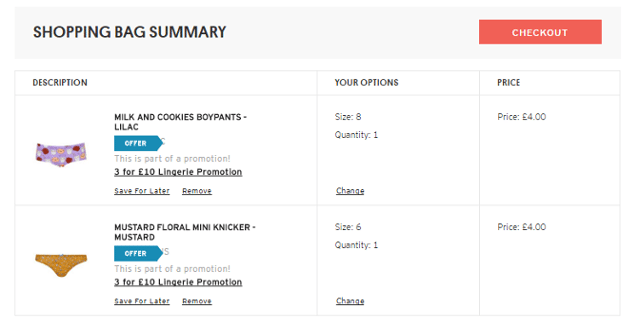 This is a good way of making sure your customers don't miss out on a deal and of course encouraging them to add that extra item to their basket.
However, there's one missed opportunity here.
When you're browsing (initially and after being redirected from checkout) for the third piece of underwear, you're not made aware a potential deal is in the offing. This could easily be done with corner highlights as you browse or when you click through on the product page itself.
Despite this, the volume discount is a well-known, successful method – used by many fashion retailers on their more essential items such as underwear and basic tees.
Offer finance
This one's not for everyone, but…the knowledge a payment can be broken up into more manageable payments, or paid at a later date increases the likelihood visitors will spend more.
For example, Very.com offer a range of ways to pay including 'TAKE 3' which spreads the cost of a purchase over 3 months or 'buy now pay later.'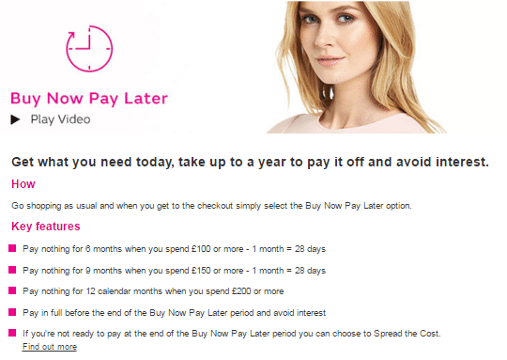 As you can see, the repayment period stretches with the average order value – giving customers increasing amounts of credit and an increasing impetus to spend big along with it.
To finish up…
We've repeated the phrases 'give to get' and 'win win' a few times in this piece and acknowledging this fact makes this conclusion fairly straightforward.
As we've seen, there are plenty of ways to increase your AOVs.
But you shouldn't be pushing your attempts to boost average order values too hard. None of the techniques we've outlined above should be detrimental to your customer's journey. They need to be timely, targeted and relevant.
It's a question of finding a balance, through testing and listening to your customers.
The majority of these methods are based around helping your visitors to find the right products and offering them good value. If you can find ways to do this, while also raising your average order values – you're onto a winner.