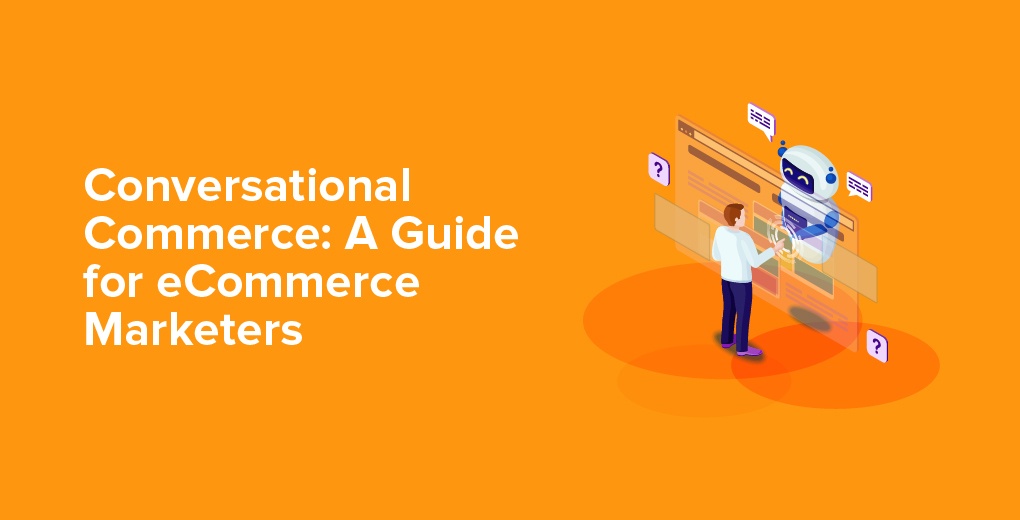 Conversational commerce is a hot topic among eCommerce marketers. In this blog post, we take a look at the key benefits of conversational commerce and easy steps to get you started.
In a brick-and-mortar store, having friendly, knowledgeable, and attentive sales assistants is a powerful way to increase sales. That's been the case since the first stores in history. So how can eCommerce merchants offer that same kind of sales-boosting service, but digitally?
The answer is conversational commerce – a marketing and sales tactic based on back-and-forth digital conversation. It takes the in-store sales associate experience and translates it to an online format.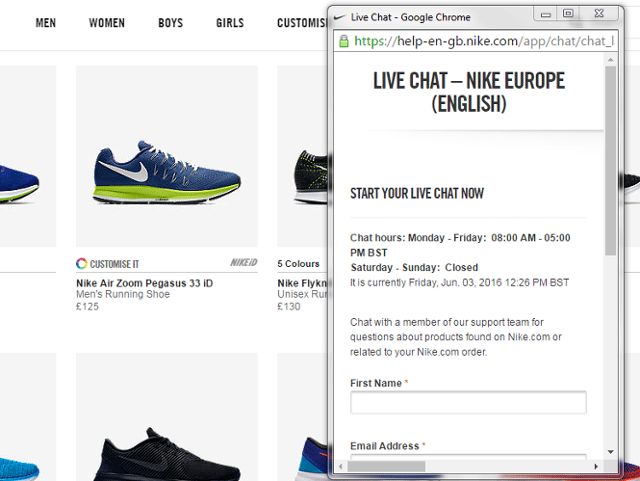 But conversational commerce usually isn't just a human agent sitting in front of a screen instead of behind a store counter.
Hiring a human team big enough to be available 24/7 for shoppers in all time zones isn't practical or possible for most brands. Instead, eCommerce businesses now have the tools to automate conversational commerce using chatbots.
Let's start by taking a brief look at how conversational commerce came about and discuss why chatbots (especially Facebook Messenger chatbots) are an ideal solution for automating this type of commerce. Finally, we'll cover how your own eCommerce business can get started with conversational commerce bots.
What is conversational commerce?
Conversational commerce is a new sales method for the digital age. It gives shoppers a way to directly interact with brands in real-time in the format of a back-and-forth chat. Conversational commerce allows prospects to get their questions answered instantly as part of a live dialogue, instead of one-sided, delayed messaging (like email).
Conversational commerce not only makes for a pleasant customer service experience, but it moves shoppers more quickly down the funnel toward a conversion.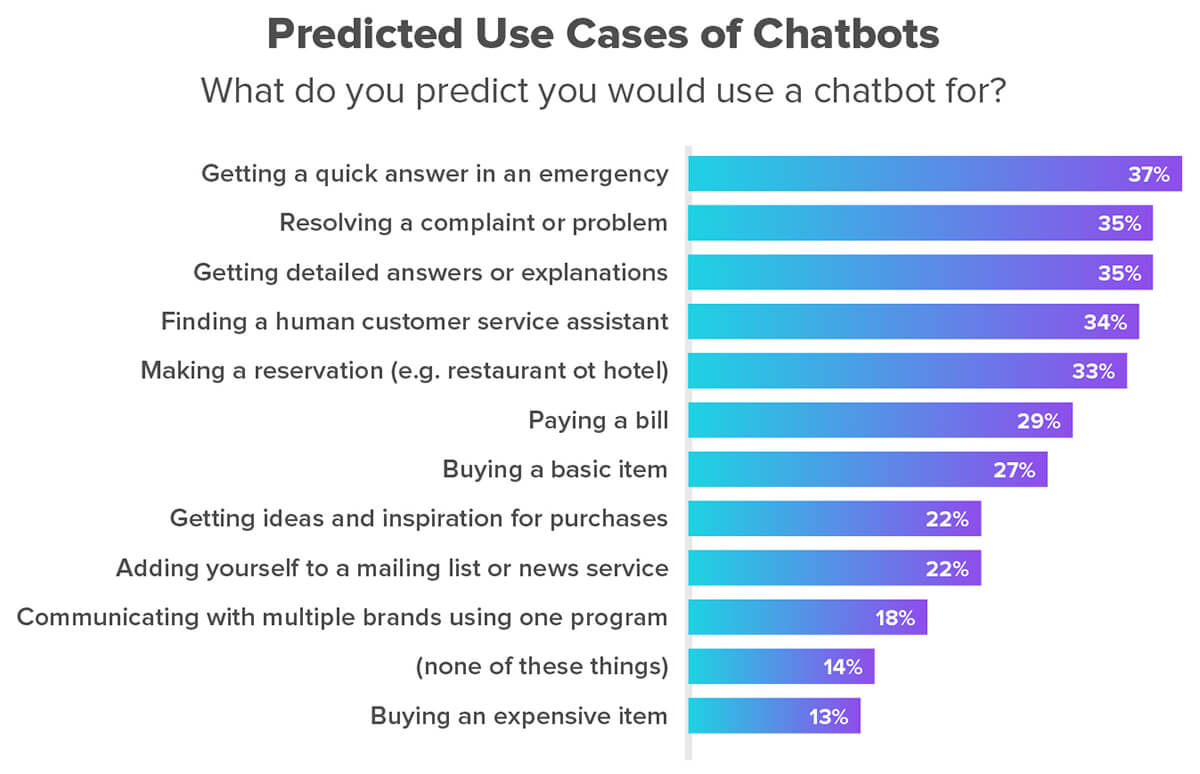 The best part: Conversational commerce is easy to automate, so brands of all sizes can watch their sales go up on autopilot. Chatbots are the most widely used solution for automation of conversational commerce because they're easy and inexpensive to build, and available to help customers 24/7.
Facebook Messenger chatbots in particular have become extremely popular. Messenger already has over 1.3 billion monthly users, and it makes sense to meet shoppers where they are.
A brief history of conversational commerce
The term "conversational commerce" was coined in 2015 by Christopher Messina, an American blogger most famously known as the 'inventor of the hashtag'. Messina wrote an article about an emerging trend he'd begun to notice: Businesses were starting to invest more in messaging channels and focus on selling there.
Since then, this sales technique has exploded in popularity. It's no surprise since people are more active on messaging apps than ever before. Users have over 7 billion conversations every day on Facebook Messenger alone. And while messaging is primarily a way for people to communicate with friends and family, they're now interested in chatting with businesses that way, too.
Over 56% of messaging-app users globally say they've messaged brands to get more information in all stages of the buyer's journey.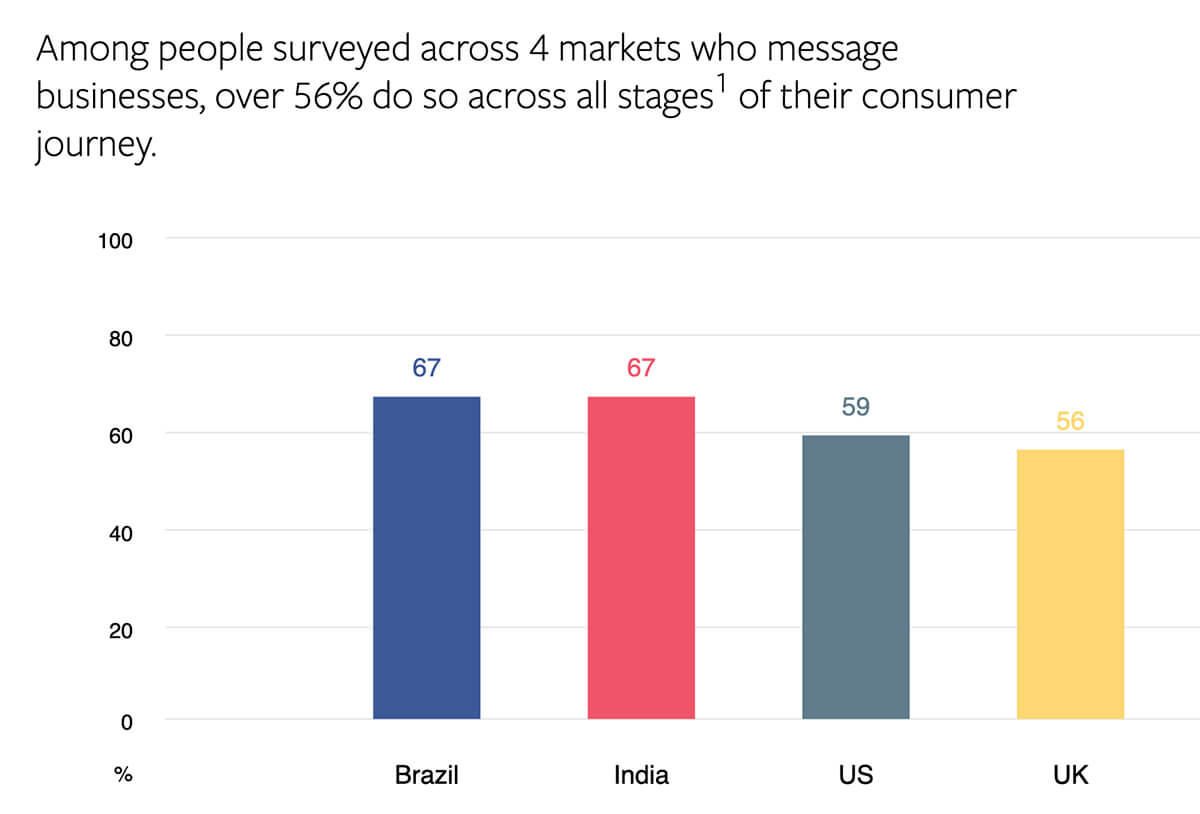 As a result, online businesses now communicate with customers through Facebook Messenger, WhatsApp, and many other messaging channels. No-code, drag-and-drop software makes chatbot building easier than ever, so businesses can automate this messaging for maximum efficiency.
Conversational commerce benefits
Online stores of all kinds have started taking a keen interest in this type of commerce, especially in the form of chatbots. Let's look at some of the benefits that conversational commerce offers:
1. Saves time and resources
You don't need a huge team of highly trained customer service agents to be available 24/7. If you automate your conversational commerce strategy with a chatbot, it can take care of up to 80% of routine inquiries for you. Your human team will no longer have to waste time responding to repetitive questions, so they can focus on other tasks.
2. Improves customer experience
If you automate your conversational commerce efforts, customers can get instant assistance. They don't have to search for FAQ pages or wait days for email responses from a human agent. Most common queries can be solved by a chatbot, which means instant, helpful service that will delight your customers.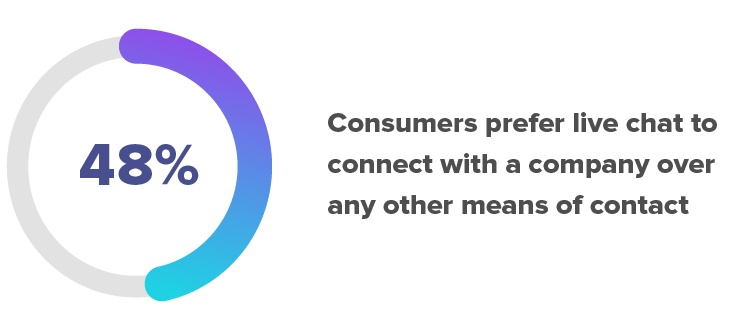 3. Increases sales
Conversational commerce is a great way to provide personalized product recommendations to customers to encourage them to buy. Chatbots can be set up to do this seamlessly. They can ask a few basic questions about the shopper's needs, recommend products and answer questions about them, then share links where the user can learn more and buy.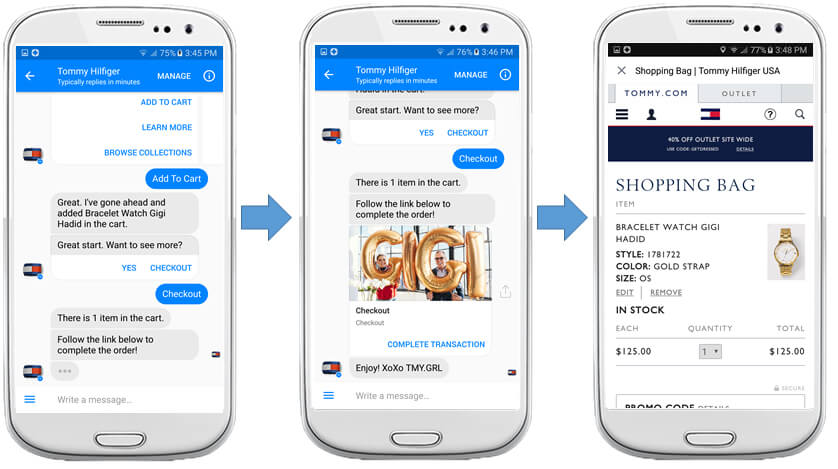 4. Offers the personalization element
When you converse with another human, you gather information about them by asking questions. Chatbots work the same way. Once they know a few things about the customer and their preferences (through the process of conversation), they can personalize future interactions.
They can offer tailored product recommendations, share relevant coupons and sale notifications, and more. 80% of customers say they're more likely to buy from a brand that offers personalized experiences, so this factor is crucial for eCommerce success.
5. Helps brands stand out
Conversational commerce is becoming more popular by the minute, it's true. But a strong conversational commerce experience will still be a novelty to many shoppers. If you design it right, it can be the memorable element that sets your brand apart from your competition – and keeps customers coming back.
Getting started with conversational commerce
The advent of no-code tools for building chatbots has made conversational commerce accessible for all brands. Here are a few basic steps to help your eCommerce store get started:
Analyze your support queries. Look at what your prospective customers ask about most often, then equip your chatbot to handle these needs and inquiries. You can have it answer FAQs or recommend products, for example.
Use no-code software to build a free Messenger chatbot. Tools like that will make the actual building process easy and non-technical, so you can focus on engaging conversational design instead.
Add a Facebook Messenger chatbot to your website. Don't limit your chatbot to social media messaging apps. You can utilize it in different ways by adding the chatbot to your website or linking it to your Facebook and Instagram ads, so you can reach even more prospects.
Monitor the performance of your chatbot. Look for drop-off points where users might be getting confused or missing something, and correct or streamline those areas of the chat experience.
Taking your eCommerce chatbot to the next level
Once you've built a basic eCommerce chatbot, there's lots you can add to it to make it even more useful for customers (and profitable for you):
Add artificial intelligence (AI) to your chatbot. Build an AI chatbot that can handle an even larger percentage of customer interactions on its own. Even no-code software often offers this capability. AI is far less intimidating than it sounds, and almost any business can take advantage of it to improve their conversational commerce capabilities.
Gather other contact information. When you build a chatbot in Facebook Messenger, you can always reach out to the user again later. The chats are linked to their Facebook account. But since 73% of consumers shop on more than one channel, the omnichannel approach is becoming more and more important. Your chatbot can easily request and store contact information for users on other channels, so you can reach out to them via email and SMS too.
Share information about relevant promotions. Conversational commerce can help you win repeat business as well. You can set your chatbot to notify users when you're having a sale, especially if it's on a type of item they've shown interest in before. Or, it can share coupons to get customers to buy again.
Join the conversational commerce revolution
Marketing evolves fast. Your eCommerce brand needs to keep up in order to keep sales rolling in and stay ahead of the competition. Conversational commerce is already booming, so don't miss out!
---
This article was written by Bojana Vojnović from Chatfuel. Bojana is a content strategist with a finger on the pulse of the world of Messenger chatbots. She oversees a content creation strategy that helps business owners take their brand to the next level.