BLOG
CRO Tools: 5 Must-Have Features to Look Out For
Published: 18/06/2019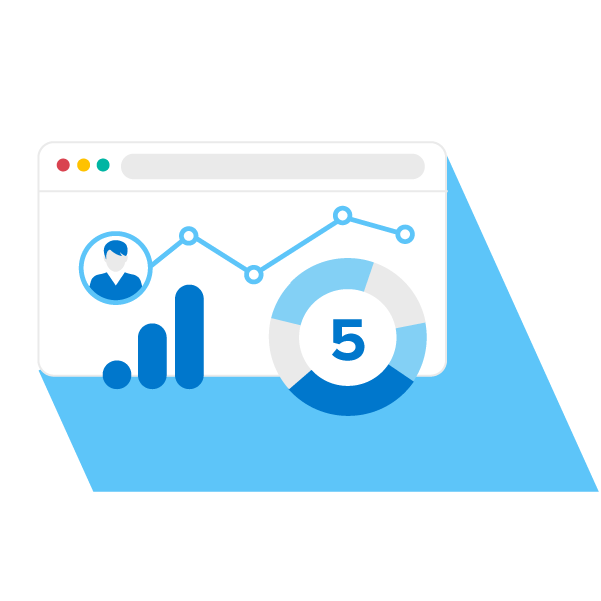 Finding the CRO tools that work best for your eCommerce site can be a challenge. Here are 5 tips to put you on the right path.
In this blog we'll unpack what you need to be looking for when it comes to CRO tools.
The customer journey can be a long and winding road. Along the way there are twists and turns — and hopefully not too many speed bumps. Think of conversion rate optimization (CRO) as the process of improving this journey so that you can better drive customers toward a conversion.
The conversion rate optimization tools help you eliminate any detours that prevented conversions — and they ease the twists and turns on the path, making the customer journey as smooth and seamless as possible.

Why CRO tools?
To answer why CRO tools, first let's talk about why we need CRO (conversion rate optimization). Put simply: You get more conversions. Visitors become leads, and leads become paying customers. Simple as that.
But a broader benefit of effective conversion rate optimization is the sense of control it gives a marketer. You can finally begin to understand those enduring "why?" questions at the center of your brand experience. Why are customers falling out of the funnel before converting? Why are customers who do X convert but customers who do Y leave your site without a purchase?
Effective CRO is – and always will be – centered on providing a more cogent, logical and overall pleasant customer journey. (In fact, we'd argue that CRO is actually evolving to CJO – Customer Journey Optimization)
Once you can answer these questions, you can begin to solve for crucial problems in your customer journey, improve the experience for your customers and — of course — drive more conversions.
5 features to look out for in your CRO tools
1. A data-driven foundation
Understanding the customer journey shouldn't be a guessing game. Finding a tool that leverages your existing data and makes it easy to parse and understand is essential for effective conversion rate optimization.
And with more channels and devices than ever, there's more data to analyze regarding each customer's journey. Using tools that help you map your customer journey will give you an understanding of things like the mobile experience and the channels users might be navigating via to get to your site – a crucial first step toward optimizing for conversions.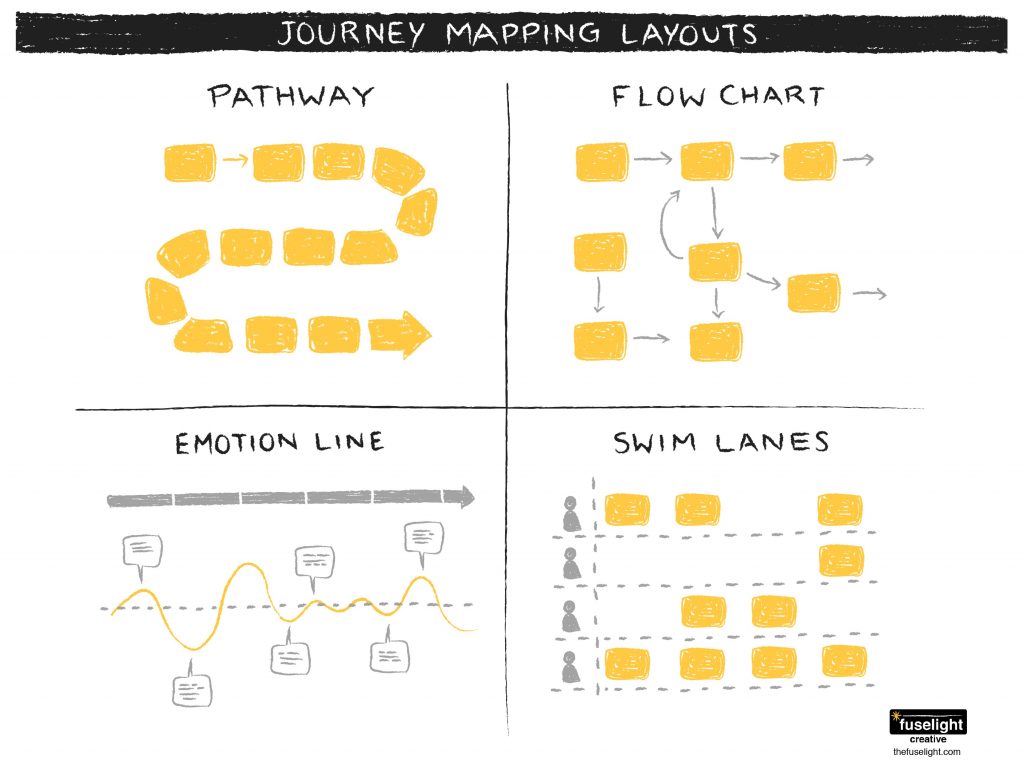 Further reading: organize your data and know which sources to use and more in this guide to creating a customer journey map
2. Effective segmentation
How do different parts of your user base behave? For instance, are certain users filling up their shopping cart, but abandoning this cart before checkout? Finding a CRO tool that segments based on this behavior is the first step towards personalized marketing that delivers relevant messaging at the right time.
Maybe once you segment those users who abandon their cart before converting, you can instead deliver a special promotion to them that helps encourage a conversion — turning cart abandoners into paying customers.
Behavioral segmentation will also help you focus your efforts, as some visitor segments will be worth prioritising over others. For example, while your returning visitors might be less numerous than your new ones, on average they have the highest average order value: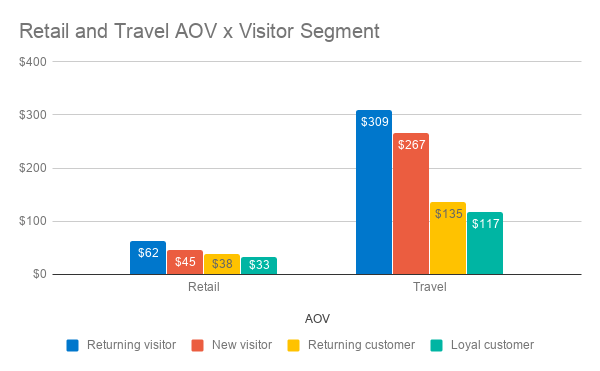 Further reading: get ideas on 7 ways to segment your visitors in this guide to behavioral segmentation
3. Seamless A/B testing
The best conversion optimization tools make A/B testing a seamless process. If, for example, you're running a test where the A group sees your existing landing page and your B group sees a new landing page that features adjusted graphics, you don't want to be tying up IT resources to build and launch this new page.
Continuous improvement and analysis is a cornerstone of a successful e-commerce marketing program – allowing you to make decisions based on scientific data, learning constantly about what makes your customers click, sign-up or buy. It allows you to zero in on elements of the customer journey and optimize the key touch points, conversions and micro conversions by showing the right message to the right person at the right moment, all of which is knowable with good data.
Using CRO tools that enable you to quickly tweak your UX helps you uncover valuable insights about your customer journey at a faster rate so that you can launch improvements in no time.
Further reading: for more on A/B Testing, check out this guide.
4. Mobile focus
Any CRO tool you use must understand the modern customer experience. This journey is mobile-driven and non-linear — so your CRO tool must give you the insight needed to make such a modern journey as frictionless as possible.
The linear path belief likely springs from the outdated information of mobile's poor conversion rate. Because mobile historically converted at a lower rate, it wasn't worth our attention. It was a starting point in the journey and unthinkable for anyone to convert on such a small screen.
It's certainly true that whilst traffic continues to increase across mobile devices, conversions aren't keeping pace. But here's the important thing: mobile conversion rates are increasing, and will only continue to do so as the way we shop develops further.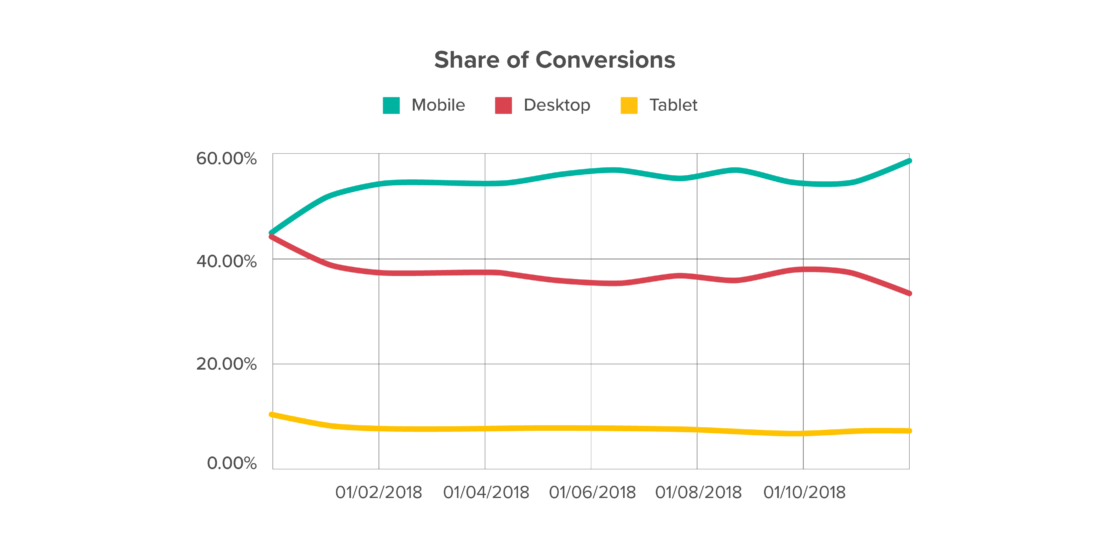 Further reading: debunk Mobile and M-commerce myths with this guide.
5. Fast and easy personalization
Once you've gained an understanding of your visitors, mapped their journey, and prioritized your target audiences it all comes down to the execution.
One of the top CRO tactics in any modern marketers arsenal is personalization. But Personalization has always been kind of a drag – most platforms take months to get up-and-running and then demand hours upon hours of skilled time in order to execute. In fact, 30% of marketers rate personalization among their most difficult executions (it's up there with machine learning).
When assessing your CRO tools, take into account the involvement needed from your IT team, as this will have a big impact on the velocity of your CRO program. The more you can launch and test, the faster you'll be able to improve your customer journey (and your conversion rate). Look for tools that can integrate easily with your current stack, and deliver on personalization without the fuss.
And that's it! Don't forget to check out the further reading recommended for each of these 5 features, and if you need a little help getting started let us know.