BLOG
Spring Clean Your Customer Journey: 5 Easter eCommerce Ideas
Published: Mar 26, 2018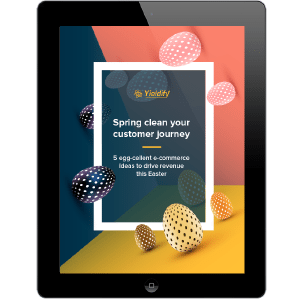 2017 saw e-commerce sales surge by more than 10% in April thanks to the Easter effect. To find out more we've analyzed data from more than 200 websites to bring you the stats you need to know, and ideas you can action to make the most of the spring season.
First, let's start with the numbers
We analysed traffic, conversions and average order values across April 2017 from over 200 e-commerce websites. Here's what we discovered…
Desktop vs. mobile
Desktop traffic was down by between 11% on Easter weekend versus the previous weekend, suggesting consumers were browsing in the lead up to the holiday via this device. They were also buying – peaking on Sunday 9th April, with an average conversion rate of 4.21%.
When it came to Easter weekend traffic, mobile was king, up by 5% versus the weekend before, and up 7.41% versus a non-holiday weekend in May. However conversions did not tell the same story – they were less than half that of desktop at 1.83%.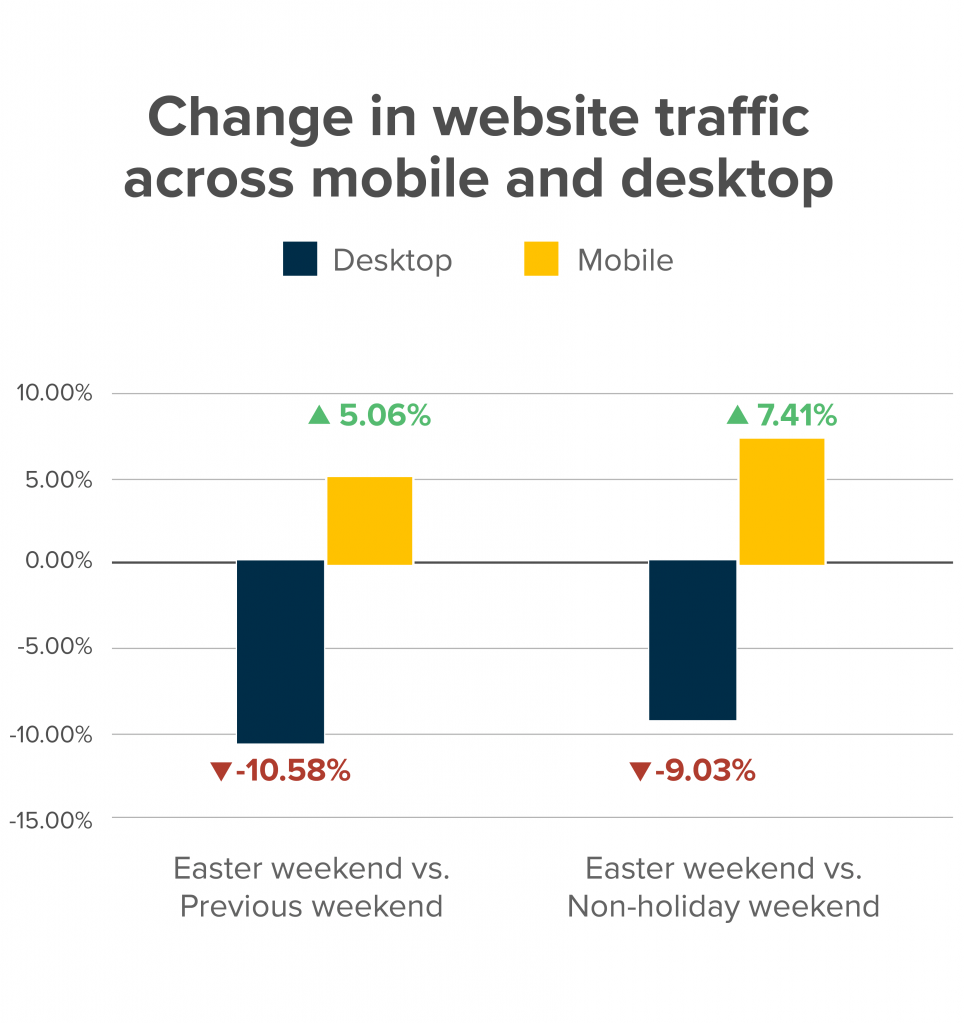 What can we learn from this?
Launch desktop campaigns ahead of time to capture these browsers and turn them into buyers. This is something that the e-commerce sites we looked at seemed to be doing a good job of, achieving a conversion rate nearly double the oft-cited 2% 'industry standard'.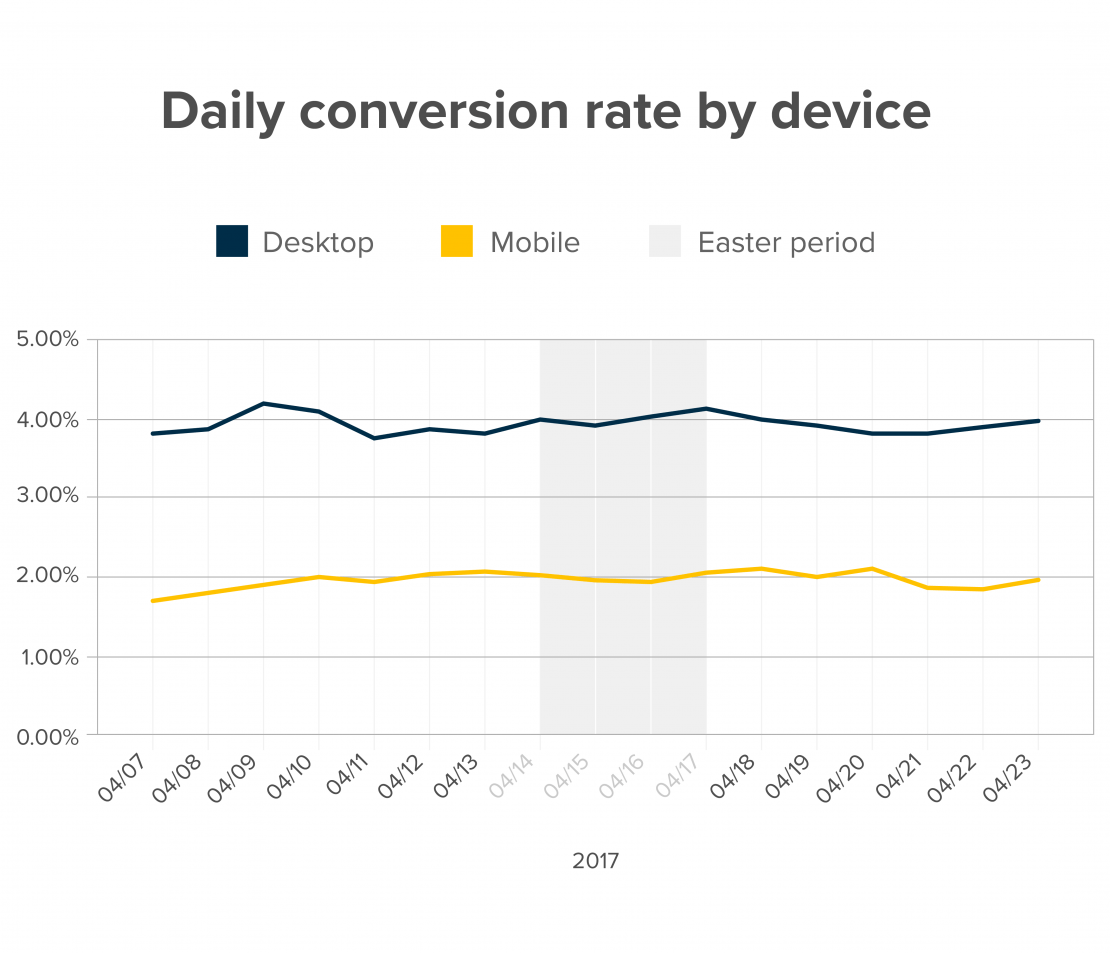 Great, but what about lagging mobile conversion rates?
With the news that Instagram has now launched shoppable posts in 8 new countries, and the fact that the top 10 most popular apps on mobile are all social networks, it's pretty clear that social media plays a critical role in e-commerce and product discovery on mobile.
What can we learn from this?
Think about how you can make it easy for customers browsing on mobile to navigate your site and discover what they're looking for quickly and easily to improve the chances they'll convert (hint: see idea no. 4 in our Easter e-commerce handbook for more!)
And what about for specific industries?
Knowing that optimising the customer journey is never one-size fits all, we took a look at how different types of e-commerce websites performed, specifically focusing on Retail and Travel.
Unexpectedly perhaps, Travel websites saw lower traffic across the Easter period, perhaps indicating that consumers browsing had already found what they were looking for further in advance of the time period we examined.
There were still a few last minute bookers around though, with conversion rates for Travel peaking on the Monday before Easter, at 4.48%. Another peak in conversion rate occurred just after the Easter break, as the back to work blues began to set in, with conversions up to 4.63% versus the average of 3.69% for the month as a whole.
What can we learn from this?
While traffic didn't see a huge increase the jump in conversions indicates there are still bookings up for grabs ahead of Easter so use the natural deadline of the holiday to drive urgency. Take a look at some tactics to do that here, or sign up for our upcoming masterclass, where we'll be covering this topic in more depth!
And what about Retail?
Traffic to Retail websites saw the biggest increase during the weekend leading up to the Easter holiday but was also up versus an average weekend on Easter itself.
The average conversion rate for Retail was actually lower than Travel for April overall, at 3.09% versus 3.69%. And while conversion rates did spike on Easter Monday, this was not as significant as seen for Travel.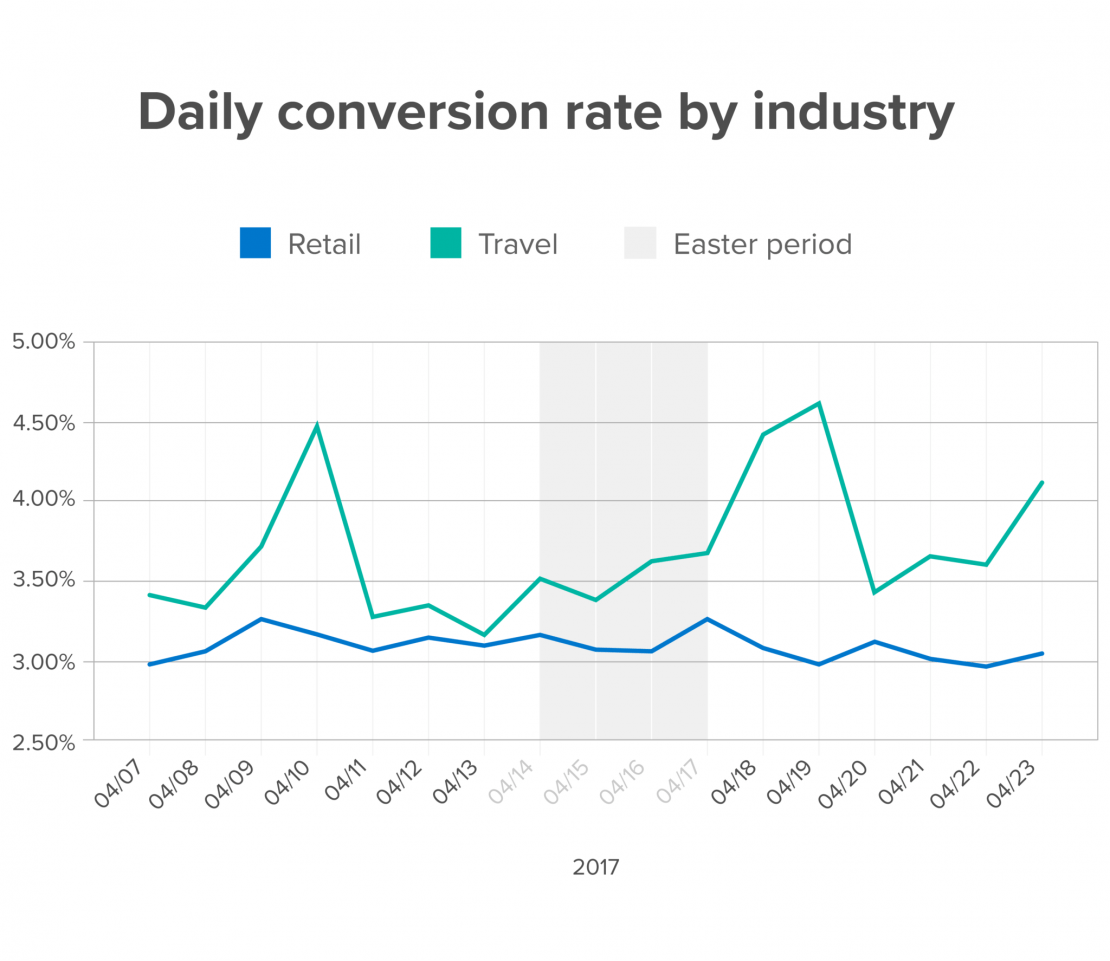 Average order values were also slightly lower for Retail compared to an average weekend, with baskets coming in at an average of £93, perhaps impacted by the mid-season sales many retailers were running during this period.
What can we learn from this?
Retailers should ensure they are using discounts carefully, so as not to impact average order values too much. From our sample it looks like most were getting this right, balancing offering discounts with other tactics such as free delivery, or highlighting their USPs to get the conversion. See how skincare brand Kiehl's did this in our case study.
What next?
Based on this analysis and our experience of running over 50,000 campaigns across 500 websites, we've put together 5 examples of campaigns you can run over the spring period to drive more revenue and improve the customer journey. Hop on over here to get your copy, and Happy Easter!