BLOG
Sustainable E-commerce: An Interview with Frank And Oak
Published: Aug 29, 2019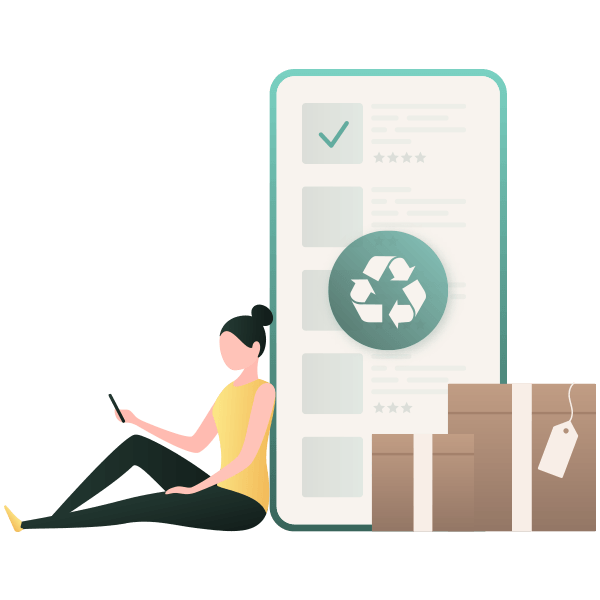 Sustainable e-commerce is less a 'nice to have' and more of a critical component of a retailer's brand. We spoke to Megan Driver from leading retailer and Yieldify client Frank And Oak about how the team has made sustainability a core part of their e-commerce business.
'Sustainability' isn't necessarily the first term you'd associate with the idea of a successful e-commerce brand. 'Fast-moving', yes. 'Innovative', sure. But as sustainability moves up the list of consumer priorities, many retailers are following suit.
Frank And Oak is one such brand. A Canadian clothing company that was founded in 2012, it's known for making good on its commitments to become a more sustainable e-commerce brand, raising $20 million in 2018 to expand its growth.
Earlier this year, Frank And Oak partnered with Yieldify to drive website personalization, and in particular, to focus on growing its email database through Yieldify's email capture capabilities and lead capture software. 
With sustainable e-commerce still a relatively new concept, the brand needed a stronger email database to nurture and educate consumers about the brand's differentiated value.
We interviewed Megan Driver, Senior Manager, Affiliate Marketing & Lead Generation, to tell us more about how the brand has successfully integrated sustainability into its business.
As a brand that has been committed to sustainable e-commerce since the outset, what's driving the shift in e-commerce, and retail more generally, toward sustainability?
The decisions made in the fashion industry have a huge impact on people and the planet. Faced with the irrevocable effects of climate change and poor conditions for garment factory workers around the world, more and more companies are recognizing the urgency in the fact that we all need to make a change and do our part.
This is why we are committed to minimizing our impact by prioritizing recycled fabrics and responsible practices throughout our supply chain to make quality clothing that lasts.
Can you tell us a bit about how Frank And Oak puts its commitment to e-commerce sustainability and responsible environmental practices into action?
All of our garments are produced by certified manufacturing partners in Canada and across the globe. Our goal is to use sustainable fabrics and sustainable practices throughout our supply chain.
We started in 2017 with 5% of our products made with sustainable processes & materials, and are excited to announce that this year approximately 50% of our products will be made with minimal impact processes, with a heavy focus on recycled materials to reduce waste.
We use a lot of recycled and organic materials such as Polylife recycled polyester, recycled wool and hemp, and Organic Good Cotton. These are part of our eco-conscious production methods, which include cruelty-free insulation, hydro-less denim (which uses 95% less water than traditional methods) and eco dyes.
A key area for focus in sustainable e-commerce is what happens in fulfilment. Packaging is, unfortunately, a necessary part of any business like ours. They're made to protect products as they get tossed around in transit or carried around town in busy customers' hands. Until better solutions come along, we remain diligent in sourcing materials as conscientiously as we can. Our shipping boxes and shopping bags are 100% recycled and 100% recyclable, with our shipping bags 50% recycled too.
On the brick-and-mortar side, our stores are built conscientiously in partnership with Canadian artisans, using recycled materials and creating minimal waste. When it comes to updating and renovating existing stores, we choose to make as few modifications as possible to the existing space, always reusing everything we can.
Additionally, by understanding that each community is unique, every one of our stores is conceived with each neighbourhood in mind.
Being environmentally responsible usually comes with being socially responsible – what does Frank And Oak do in terms of CSR?
One of our key programs has been the Let's Give a Shi(r)t campaign. North Americans throw 9.5 million tonnes of clothing into landfills every year, when 95% of that can instead be reused or recycled. We launched the Let's Give a Shi(r)t initiative in December 2018, with the goal of redirecting garments to help eliminate growing landfills and effect positive change.
It centres around the store – all Frank And Oak stores across Canada now offer customers a place to ethically dispose of their gently used clothing and we'll match it with a donation of a Frank And Oak item. We've also partnered with grassroots nonprofits across the country who work to divert tonnes of textiles from landfills, ensuring they are redistributed to help those in need. During the holiday season last year, we surpassed our ambitious goal of collecting 5000 clothing items, and this is just the beginning.
Just recently, we launched our newest initiative: the Look Good, Do Good summer sale. We partnered up with WWF and The Great Canadian Shoreline Cleanup. The Look Good, Do Good initiative allows customers to look good while helping the planet by donating $5 from every sale item to this amazing initiative!
What are some of the e-commerce challenges that brands face in becoming more sustainable, and how has Frank And Oak overcome these?
One of the main challenges would have to be in educating the customer on new sustainable materials and the processes used in creating eco-friendly garments. As an e-commerce company, it's sometimes hard to combine all the benefits of sustainable manufacturing in a condensed and meaningful way.
Since so many of these are completely new practices, most people have never heard certain terms before and had no idea these materials and technologies even exist. They also lack a complete understanding of the full impact that traditional manufacturing methods have on the environment, and the importance of the decisions some retailers are taking to become more sustainable.
When it comes to e-commerce sustainability, there's an additional challenge: consumers can't physically touch the product and see that in most cases this new eco-friendly product's quality is at par with traditional methods and in most cases, far superior in terms of quality and overall benefits.
Our biggest success to combating this would have to be our new online blog, The Handbook. Through this new content platform, we're able to really dig deeper and provide more detail into our eco-conscious materials and processes, with great infographics, videos and Frank And Oak's staple witty humour.
We can then promote these content pieces in our emails, social media, paid advertising and on our website as a way to entice the user to learn more about why what we're doing is important and to hopefully, further confirm that real change only happens if everyone takes part.
How does your marketing complement your credentials as a sustainable e-commerce brand focused on minimizing the impact of the fashion industry on the planet?
Ever since day one, our brand has placed a high degree of importance on our branding and we strive to make every new campaign unique, thought-provoking and authentic. By following this set of core values in our marketing, when we made strides as a brand to become more sustainably- focused, we knew these factors would only become more important.
The Look Good, Do Good campaign I mentioned before is a perfect example, since we were able to combine something as simple as our annual summer sale with an initiative to help clean up our Canadian shorelines. We strive to be as transparent as possible in our marketing and admit our current limitations outright, since we're only getting started and we are continuously innovating.
What part does Frank And Oak's eco-friendly mission play when it comes to the online customer journey and how are you planning to improve or optimize this?
From our very first touchpoint with customers, we try to highlight our sustainable e-commerce practices so they know outright who we are as a company and what we stand for. For instance, when users subscribe to our email mailing list, the first email we send them gives them a brief on our sustainable practices.
Our retail locations also have sections in-store dedicated to explaining our eco-conscious process, and on each of our items on our site and on the garment hang-tags (and even printed on the item itself sometimes), we highlight sustainable features.
We're striving to make every touchpoint with our customers meaningful while also showcasing our sustainable principles, but we still need more work on this – especially for our subscription box, Style Plan. We offer one of the only sustainable clothing subscription boxes in North America, but many people who know of or have subscribed to our box have no idea it's comprised of eco-friendly clothing.
What's the work that you've been doing with Yieldify to contribute to your strategy?
Because so much of our relationship with the customer is driven by educating them, it's really important for us to capture email leads at the top of the funnel so that they can be nurtured. A big part of why we started working with Yieldify is their specialism in turning website traffic to email subscribers. They were able to benchmark performance from over 200,000 campaigns to recommend strategies early on in the partnership that have proven success and high adoption rates.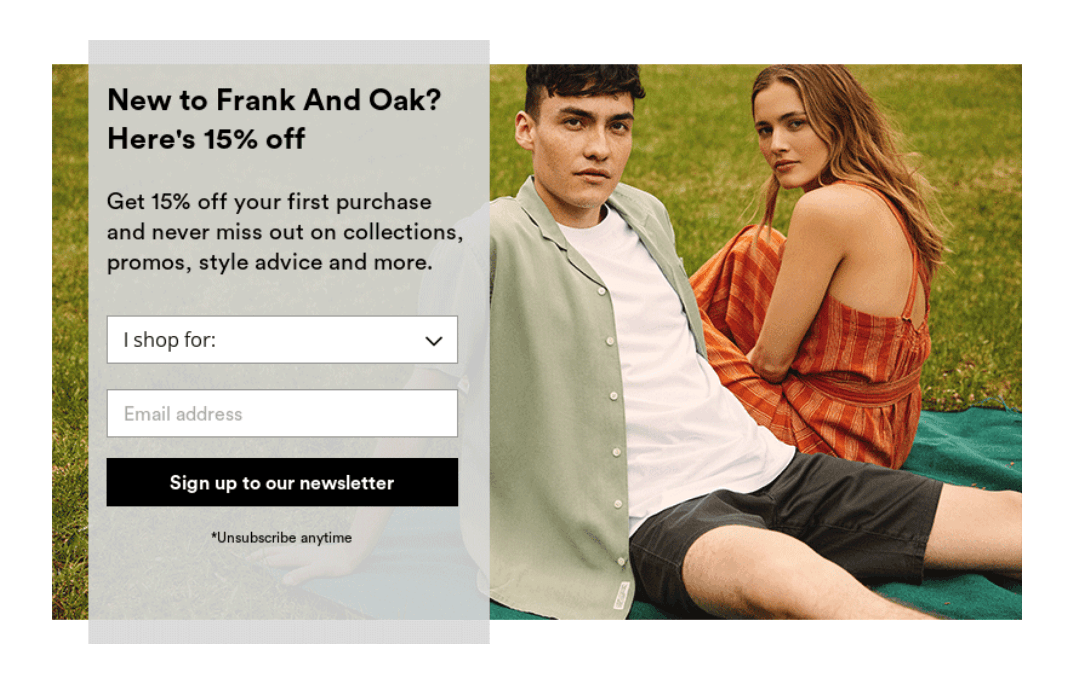 So far, we've been running a series of A/B tests to ensure that we're not only capturing more leads, but that we're employing strategies that get good ones: valid leads from engaged customers. As you can see on our website, one of these tests offers a discount to first-time buyers:
We're currently working with the team at Yieldify to see what happens next in the customer journey for the users that sign-up using this mechanism and seeing what we can improve in order to make sure these users stay engaged.
Using segmentation strategies such as targeting men and women with different creatives, we've captured over 30,000 leads in two months. The rate of capture speaks to the extra effort being worthwhile – whilst most submit rates are around the 4% mark, ours is over 14%.
This is really just the beginning – what we're interested in looking at is what happens next. For example, if someone declines to sign-up, how do you re-engage them later on in their journey and get them to reconsider? There are so many possibilities for those customer journeys, and that's what we'll be exploring over the coming months.
What advice would you give to other retailers who are looking to make sustainability a bigger part of their e-commerce offering?
I would say that going for sustainable e-commerce is definitely a huge business decision, and takes a significant amount of time, internal resources and research. But as we've seen, climate change and environmental issues are quickly moving to the forefront of everyone's priorities, so the time to start making a change in how you do business is now.
Becoming a completely sustainable company can't be done overnight, but as long as companies are making small steps now with the goal of one day making that happen, I think that's the most important learning and advice I can share at this point in time. As retailers, it's our responsibility to evoke change in our own industry since no-one else can make that impact for us.