"Yieldify's flexibility and breadth means we can rapidly turn ideas into action and deliver revenue growth across consumer journey touchpoints. Our account manager is a valued partner and extension of our team."

New Balance is a world-leading specialty running brand from the United States with a distribution network in more than 120 countries worldwide.
In addition to its best-in-class running products, New Balance sells athletic footwear, apparel and equipment for a range of sports – including soccer, skateboarding and basketball – as well as retro-meets-modern lifestyle sneakers for everyday use.
Providing the perfect blend between function and fashion, New Balance is one of the world's most ubiquitous sports brands – famously appealing to everyone from supermodels in London to dads in Ohio.
Challenge
New Balance is firmly in the midst of a golden era. Thanks to their technically advanced designs, prestigious brand collaborations and endorsement from A-list celebrities, New Balance products have never been more on-trend.
To capitalize on their fast-growing popularity, New Balance is pivoting towards direct-to-consumer (D2C) sales as part of their wider digital transformation strategy – a process that has been accelerated by the online shopping boom.
Recognizing the power of personalization technology to help brands get closer to user data and streamline digital experiences, New Balance Australia leans on Yieldify to build stronger customer relationships and convert interest into more sales.
Strategy
Yieldify identified numerous personalization opportunities for New Balance using its advanced analytics, testing and optimization capabilities which included:
Drive signups with subtle lead generation messaging that follows shoppers throughout their website journey and incentivizes email submission with discounts for first-time buyers
Increase conversions using social proof messages that create excitement, validate choices and drive urgency based on real-time product popularity
Reduce abandonment and boost AOVs with dynamic messaging informing at-risk shoppers of how close they are to triggering the free delivery threshold
Encourage cross-sales and increase AOV by presenting complementary products to customers at checkout based on items already in cart
Maximize sales with gender-segmented traffic shaping experiences directing shoppers to relevant category pages that are triggered when users reach the average time on page for navigation
Result
New Balance increased lead capture rates by 3X vs. the industry average and lifted conversion rates and AOVs between 2% and 10% with users that were served the experiences.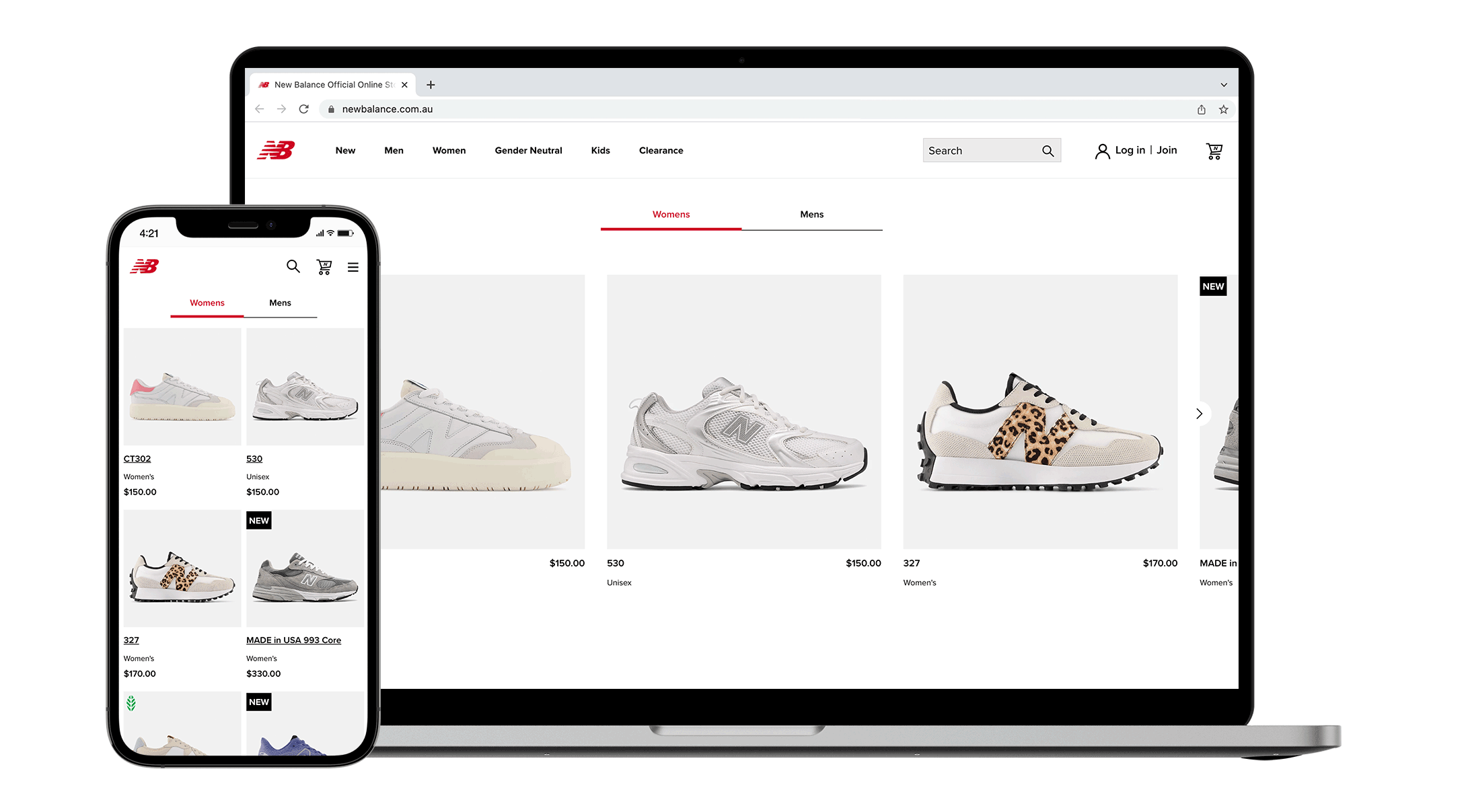 3X
Higher lead capture rate vs. industry average
2% to 10%
Lift in conversion rates and average order values