BLOG
Best Social Media Platforms for Ecommerce That You Should be Using
Published: Dec 5, 2022
Social media is a goldmine for ecommerce marketers.
Online stores with a social media presence drive 32% more revenue than those without. If you're looking to drive more revenue and maximize your marketing ROI, it's time you invested in social media ecommerce and tapped into a global audience of 4.7 billion.
To help you incorporate the right platforms into your marketing strategy, I'll walk you through 7 of the best social media platforms for ecommerce.
Top 3 platforms for ecommerce social media marketing
Social media marketing is a channel you can use to build brand awareness, connect with customers and drive more sales. To drive the highest ROI from your social media accounts, focus your marketing efforts on a select few platforms.
In this blog, I'll break down the top three referral sources – Facebook, Instagram and Pinterest – and also guide you through YouTube, TikTok, Twitter and Snapchat.
1. Facebook for ecommerce
Commanding an audience of 1.62 billion daily users, Facebook is the world's most used social media platform. The sheer size of Facebook makes it a powerful marketing tool for ecommerce brands to run their paid advertising campaigns.
If you're trying to build awareness of your ecommerce brand, Facebook is the platform to use. With 78% of American consumers saying they've discovered products on Facebook it's become an essential part of many ecommerce customer acquisition strategies.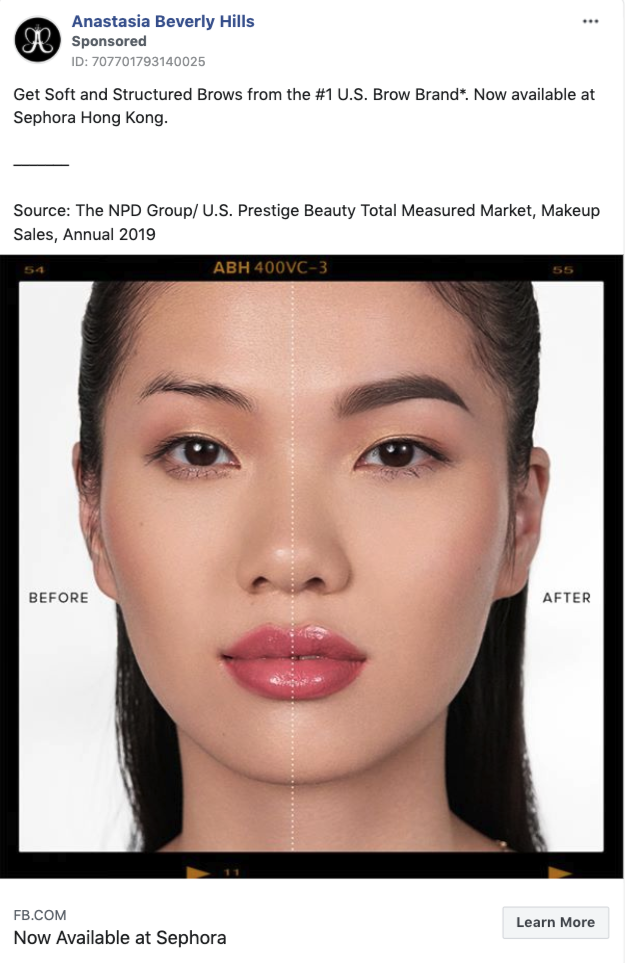 Using a range of market segmentation techniques, including age, gender and location data, you can acquire new customers and retarget existing website visitors with in-page ads on news feeds and in Facebook Messenger.
2. Instagram for ecommerce
Instagram is constantly innovating to make it easier for its 500 million daily users to shop through the platform. In 2021, a survey conducted by the social media giant revealed that 44% of people use their platform to shop weekly.
Instagram is a highly visual platform, so it's a smart channel to use if you sell products that you can showcase with photo and video content.
Features such as Instagram Shopping – which attracts 130 million monthly taps – and Instagram Checkout have made it a key marketing channel for many ecommerce brands.
Available in a wide range of global markets, Instagram Shopping lets you create an immersive storefront to help users explore products with a single tap. You can share products through your own posts and stories and create clickable tags that take visitors directly to product description pages.
Check out the example from Marks & Spencer to see how you can encourage users to click through to your ecommerce site from Instagram Shopping.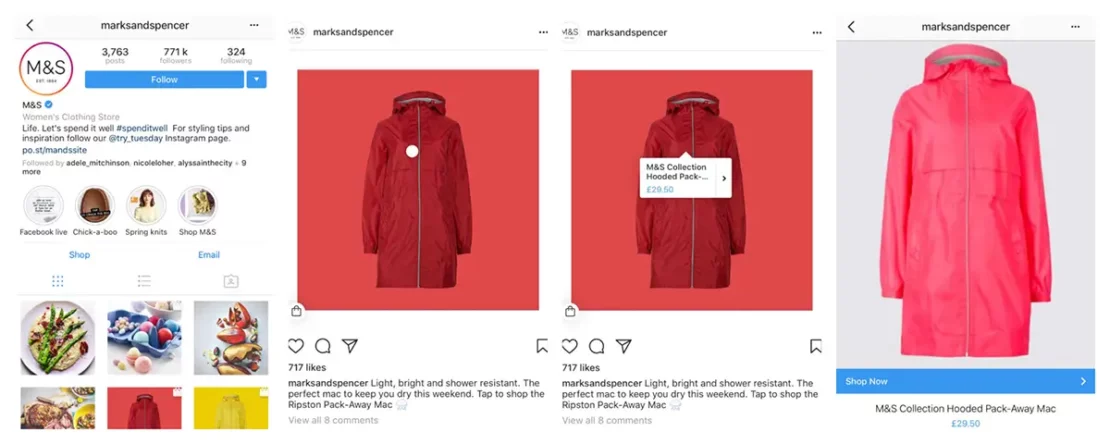 3. Pinterest for ecommerce
Given Pinterest drives 33% more referral traffic for shopping websites than Facebook, Pinterest is an underestimated ecommerce marketing channel. Renowned for its range of highly visual and aspirational posts, Pinterest is a breeding ground for product discovery and a highly effective full-funnel marketing channel.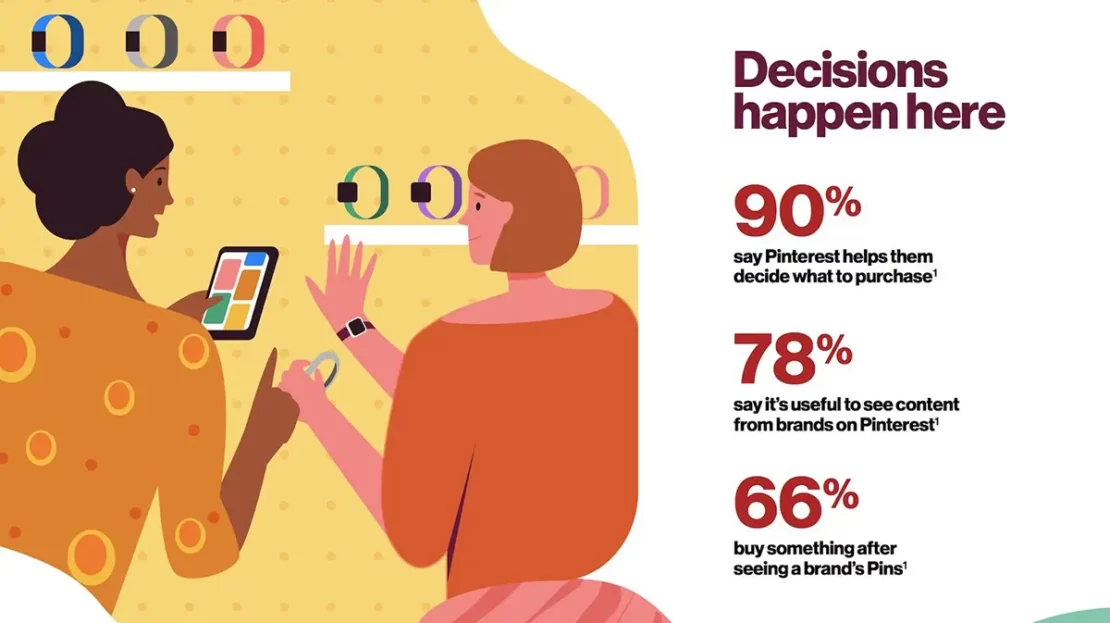 Thanks to features like Rich Pins, an incredible 98% of Pinterest's 444 million monthly users have tried something they've seen on the platform. You can use Rich Pins to provide potential customers with links, references, and product recommendations that help them find everything from skincare products to DIY inspiration.
According to The Social Shepherd, 77% of Pinterest users are female and the platform is most popular among people aged 18-44, so consider your audience demographics before you start using Pinterest.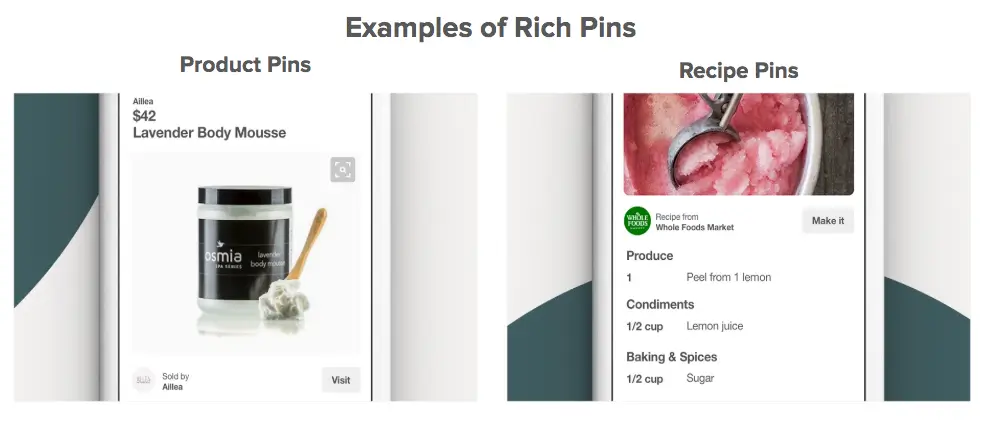 Other ecommerce social media networks to consider
4. YouTube for ecommerce
With a reported 2.1 billion monthly active users, YouTube is the world's most popular video platform.
Many of the biggest brands – including Coca-Cola, LEGO and American Express – regularly post content on a dedicated channel, and with good reason. According to Google, 70% of people have purchased from a brand as a result of seeing it on YouTube – but be aware that patience is key. You need to build your audience before you get results on YouTube.
One way you can add new subscribers quickly is by collaborating with influencers. Let's take GymShark as an example. The majority of their videos contain sponsored athletes with established and highly engaged social media followings.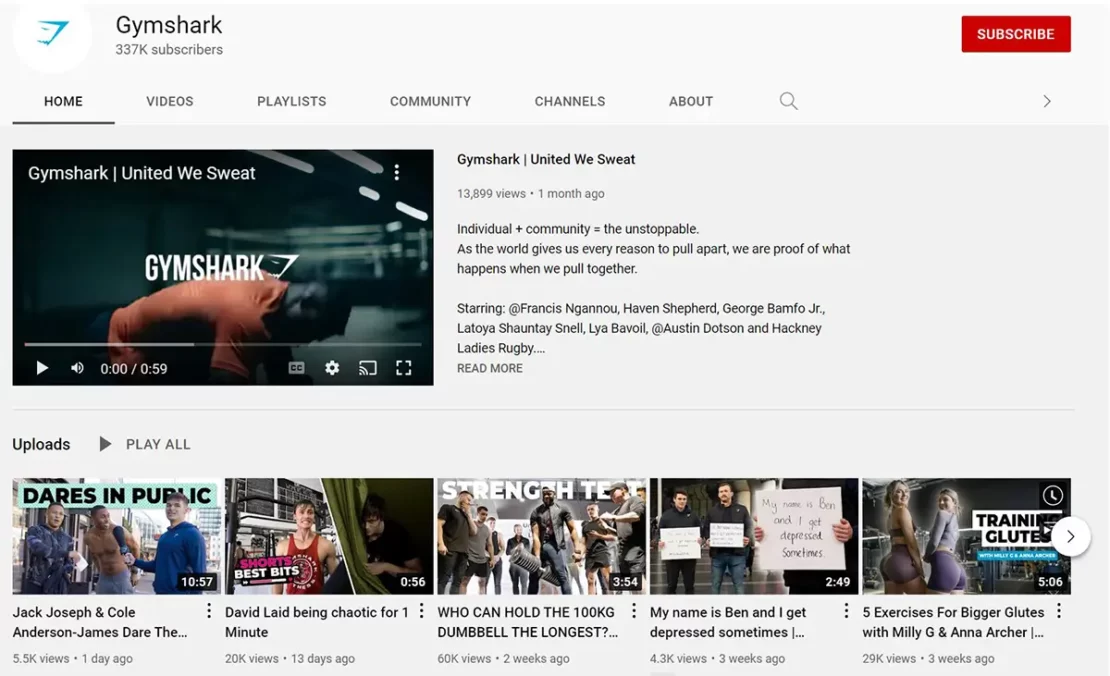 To lift conversions through YouTube, produce in-depth product video reviews or explainers that showcase how your product can solve your customers' pain points.
With Yieldify, you can make your YouTube content go further by embedding videos into your website. For example, Marwell Zoo reduces cart abandonment by displaying a promotional video in response to exit intent behaviors.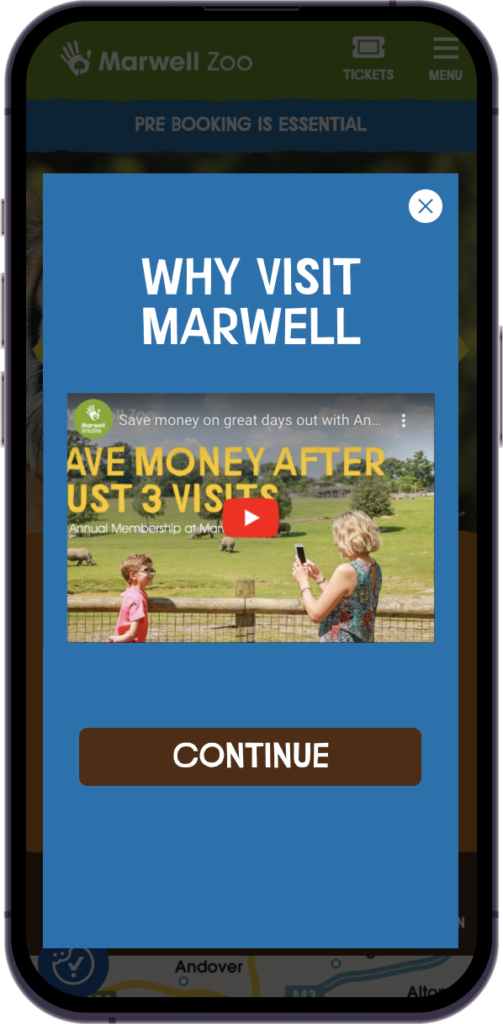 5. TikTok for ecommerce
A relatively new kid on the block in social media, TikTok lets you upload and share videos up to three minutes long. With 1 billion active users in more than 150 countries worldwide, TikTok has become universally popular in recent years – and its highly engaged users make it a valuable marketing channel for ecommerce brands.
In 2020, TikTok launched TikTok for Business, which lets business owners connect their online store and TikTok account. You can engage new and existing customers on TikTok by using hashtags, collaborating with influencers and running four different types of ads, including:
Dynamic Showcase Ads – Deliver personalized ads to your customers
Collection Ads – Drive product discovery with curated product collections
Spark Ads – Leverage organic posts to provide authentic brand experiences
Lead Generation Ads – Build subscriber lists & collect customer data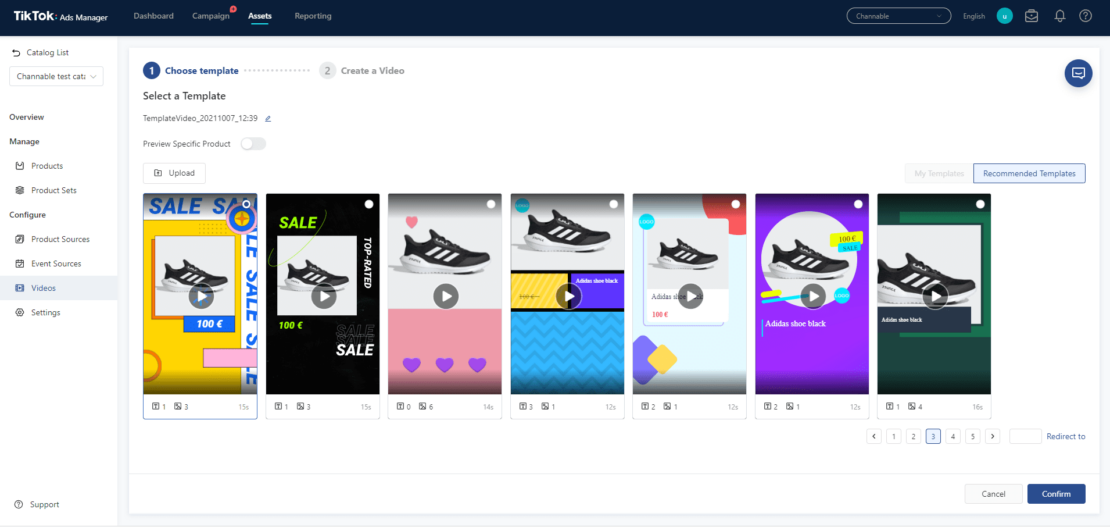 If you can crack TikTok's algorithm and go viral, you'll rival the world's top brands for engagement.
That's what BlendJet did, for instance. BlendJet used TikTok's Discover page to identify fitness and foodie creator accounts to collaborate with. The creators made "Things TikTok Made Me Buy" and "Life Hack"-style videos pitching the BlendJet device as a bulky blender alternative, and promoted the videos as Spark Ads.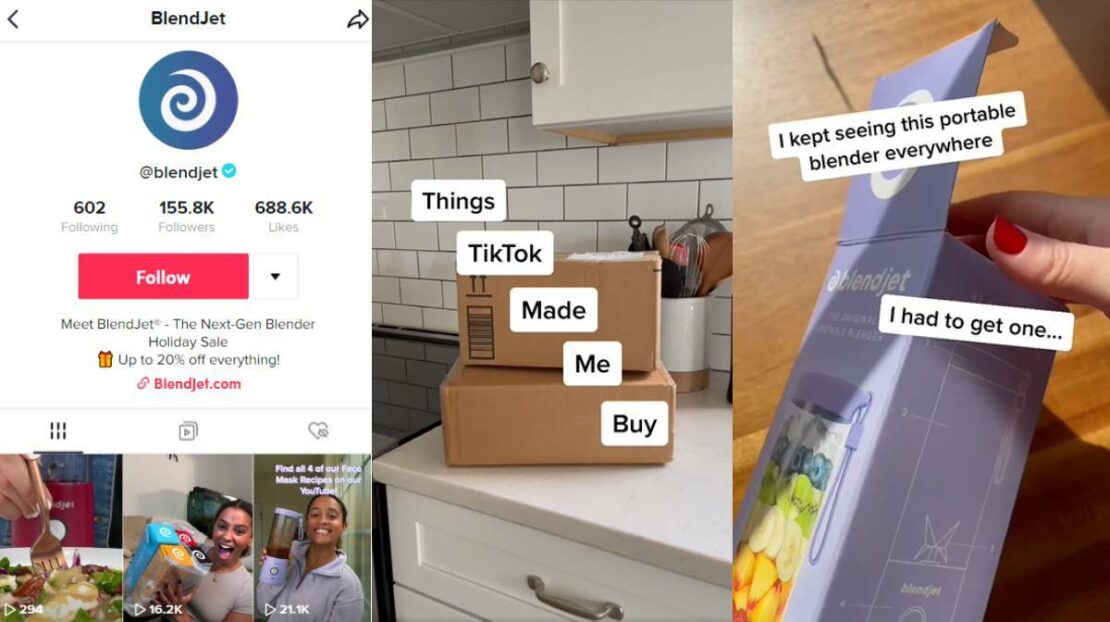 The results?
BlendJet's interest-based targeting strategy, strong creator partnerships and use of TikTok's Spark Ads helped them get more than 28 million impressions, 407,000 clicks and 12,000 conversions with a click-through rate of 1.43%.
The main takeaway: identify creators that closely align with your brand's target audience and give them the freedom to develop authentic and shareable content.
Want to share TikTok content on your ecommerce site? Just like with YouTube, you can embed TikTok videos into your website using Yieldify's technology.
6. Snapchat for ecommerce
Snapchat is a messaging application that lets users share photos and bitesize videos. With 363 million daily active users, Snapchat carries huge potential for ecommerce brands – particularly those serving Gen Z and Millennial customers. In the US alone, Snapchat reaches over 75% of the millennial and Gen Z population.
You can run different types of ads on Snapchat to target your customers, including:
Snapchat Story Ads – Deliver ads through friends' stories or Snapchat Discover
Collection Ads – Feature products that users can tap for more information
Dynamic Ads – Automated ads that personalize your customers' shopping experience
Lenses Ads – Replicate the in-store experience online using augmented reality
Filters ads – Provide Snapchatters' with branded filters to include in their content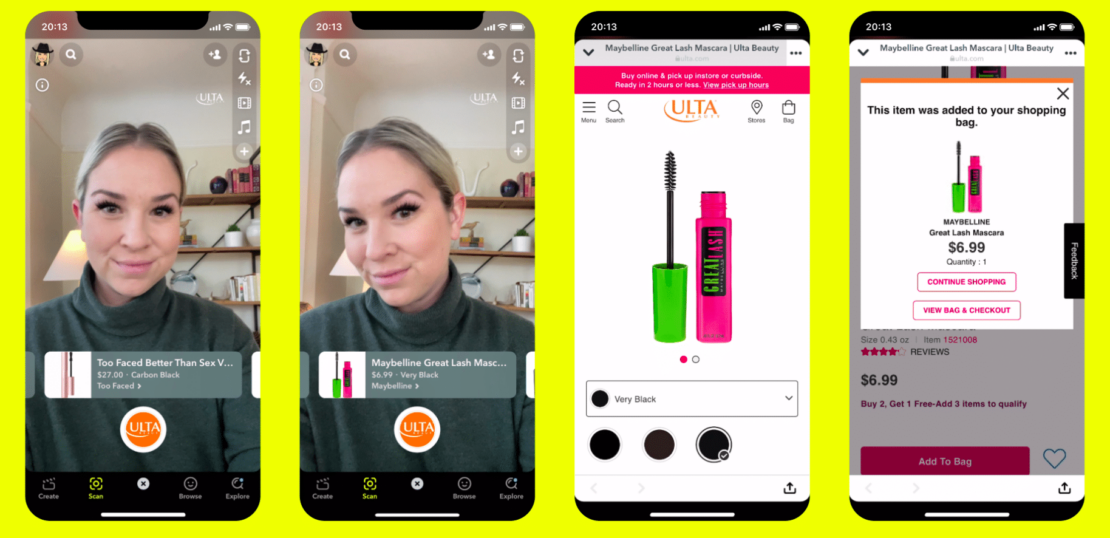 Given the average snapchatter spends 30 minutes a day on the platform, you'll have plenty of opportunity to drive engagement through your ads. You can also use a range of segmentation methods to target customers based on information like:
Location
Demographics
Interests
7. Twitter for ecommerce
Dubbed the public's de-facto town square by owner Elon Musk, Twitter is a tricky platform for ecommerce brands to drive revenue from. The limitations of a 280-character limit and short life spans for tweets have turned some ecommerce businesses away from Twitter. But these obstacles haven't stopped the 67% of B2B businesses that use Twitter as a marketing tool.
As with every social media platform, consider your audience demographics before using Twitter. With 63% of users aged between 35-65, Twitter attracts an older crowd than TikTok, Snapchat and Instagram. So if your target customer is over the age of 35, Twitter is a platform you're likely to reach them on.
For ecommerce brands, the best way to drive engagement on Twitter is through product videos, images and giveaways – all of which can be leveraged with strategic hashtags and collaborations with influencers.
Twitter's algorithm rewards profiles that regularly publish new content, so post a minimum of once a day to maximize audience engagement. Other engagement tactics to note include:
Tweets with images get 150% more retweets
Tweets with hashtags drive 1065% more engagement
Threads get 63% more engagement than tweets with links
Social Media + Ecommerce = Social Commerce
You can grow your ecommerce business by investing in the right social media channels. Platforms like Instagram, Pinterest and Facebook help you connect social media users to your ecommerce store and build online communities.
Consider your audience demographics, product and in-house expertise before launching a social media strategy, and remember to focus on a select handful of channels.
If you are interested in understanding more about how to refine your ecommerce social media strategy and grow your online business, then check out our in-depth social commerce guide.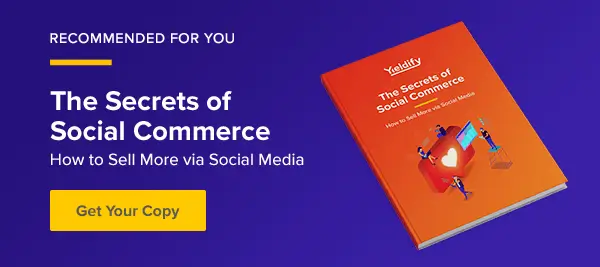 ---
Social Media ecommerce FAQs
Which social media platform is best for ecommerce?
The three best social media platforms for ecommerce are Facebook, Instagram and Pinterest. Other platforms to consider are Youtube, TikTok, Snapchat and Twitter.

What is the role of social media in ecommerce?
Social media plays an important role in ecommerce by helping brands build awareness, generate email & SMS leads, and increase paid and organic traffic. Social media can also be used to provide customer service.

How does social media affect ecommerce?
Social media is a huge revenue driver for ecommerce businesses. Research from Yotpo found that ecommerce websites with a social presence make 32% more sales than stores that don't. If you're not on social media, you're passing up a huge opportunity to drive more sales.

What is meant by social commerce?
Ecommerce brands use social commerce to promote and sell their products through organic content and paid social ads across a range of platforms, including Facebook, Instagram and Pinterest.

How effective is social media to the process of ecommerce?
Social media can be a highly influential part of a multichannel ecommerce strategy. When done well, it helps you generate more leads, traffic, sales and puts shoppers in direct contact with your customer service teams.