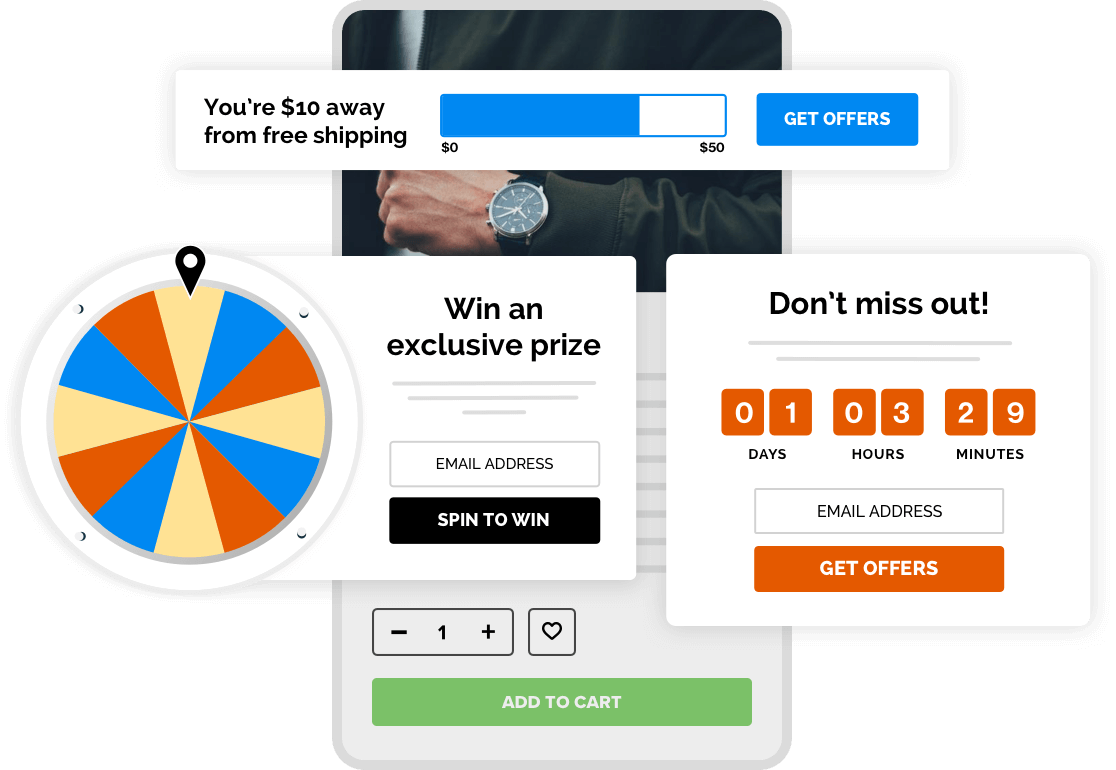 Launch high-performance promotions fast
Get revenue-boosting promotions live within 24 hours – no developers needed. Enjoy unrivalled design control, specialist support and in-depth reporting.
Get Started
Read Success Stories
"What I like best about Yieldify? We can notify our customers about events and promotions instantly, without having to design complicated graphics."
Reach the right visitors
Maximize engagement with pre-built and custom targeting rules. Decide exactly which shoppers see your promotions.
Learn more: Audience Segmentation
Last minute? No problem
Move faster with Yieldify. Get on-brand promotions live in under 24 hours.
Make it yours
Decide every aspect of your promotions – from size, design, form fields and more. With Yieldify, you've got total control.
Learn more: No Code, Full Control
Make your own updates in minutes
Modify existing promotions in minutes, 24/7, whether it's Black Friday, Christmas or Valentine's Day – no developer needed.
Easily re-run your best promotions
Duplicate promotional experiences in-platform at no additional cost.
Hassle-free coupon codes
Save shoppers a step. Auto-apply offer codes from referral pages – such as display banners and social media ads.
Learn more: Acquisition Source Messaging
High-performance features & formats
Countdown Timer
Count down to key product launches. Create urgency before a cart expires. Personalize for local timezones.
Toaster
Showcase special offers, lead capture forms or product recommendations with a slide-up format.
In-Page Banner
Highlight a personalized message at the top of your website, no coding needed.
Add to Calendar
Invite shoppers to diarize upcoming events, sales and launches.
Spin to Win
Gamify your lead capture messaging. Give shoppers the chance to win a gift or offer with a spin of the wheel.
Progress Bar
Show shoppers how much to add to cart to get free shipping, a special offer or gift.
Embed YouTube videos
Build stronger engagement with YouTube content embedded in experiences.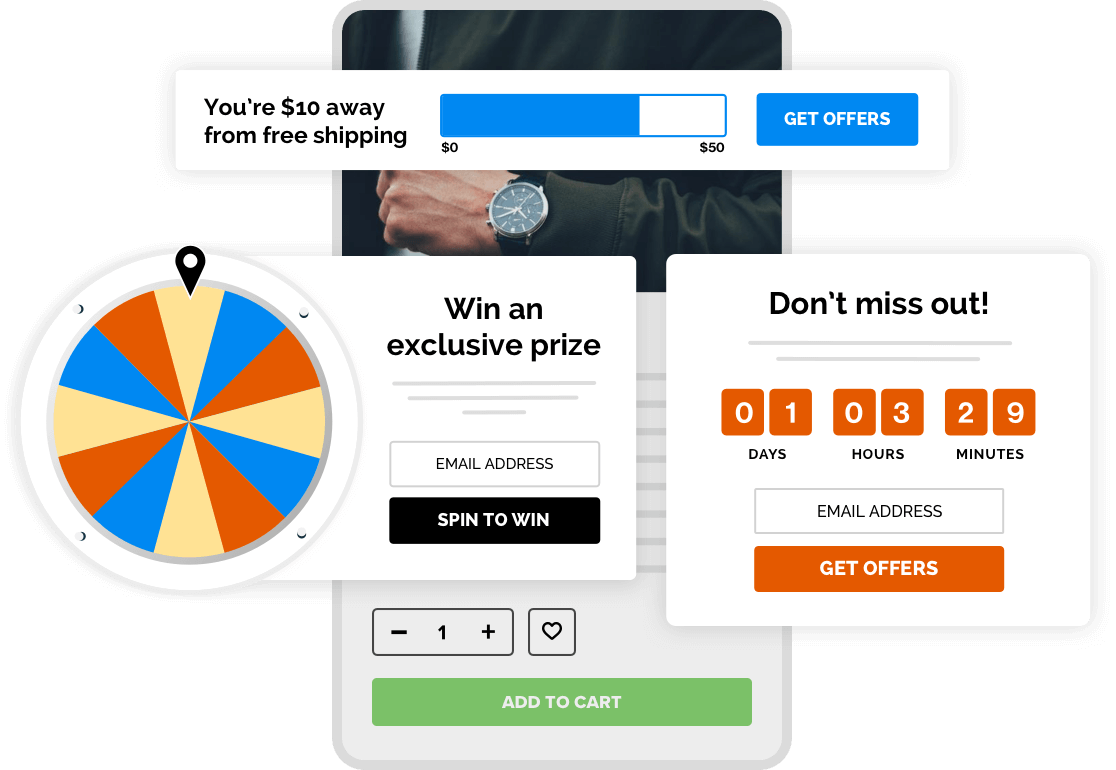 Put your key messaging in the spotlight
Launch promotional experiences in under 24 hours, no developers needed
Choose exactly which visitors see your messages
Reduce bounce rate and increase incremental click sales
"Yieldify's expertise helps Laithwaites better identify website personalization and optimization opportunities. Because their technology is agile, we are also able to bring often complex concepts to market quickly."
How does Yieldify compare?
Features
Yieldify
DIY Tools
Similar Platforms
Dedicated account specialists
Promotions live in 24 hours
Custom branded promotions
Track any ecommerce metrics