BLOG
6 Tips for eCommerce Conversion Rate Optimization Without Discounting
Published: 20/04/2017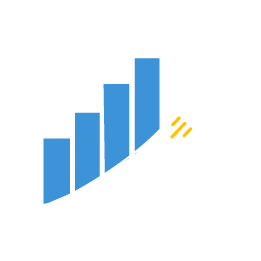 Giving away discounts can be an easy way to drive e-commerce conversions, but there are downsides for both your profit margin and your brand – here's what you can do instead.
Everyone loves a discount – so much so that discount-hunting online has evolved into something close to an art form. And as a retailer, it's a great quick-win when it comes to e-commerce conversion optimization.
But discounting is potentially harmful for more than just your margins – it can also reduce perceived brand value and sometimes even discourage a purchase.
More often than not, highlighting your brand's value and unique selling points is a much greater incentive and helps to increase e-commerce conversions without appearing like you're trying too hard.
So read on to discover six ways in which you can acquire and retain your customers with e-commerce conversion optimization -without giving away discounts.
1. Highlight your unique selling points
Start by considering what makes your brand great. Do you offer fast delivery, excellent customer service or a range of payment options? Shout about them!
Sure, these incentives are probably already listed in a header, your footer or the fine-print but that's the part of your website the customer is least likely to pay attention to. For more impact, highlight your unique selling points for customers abandoning their shopping cart during the checkout.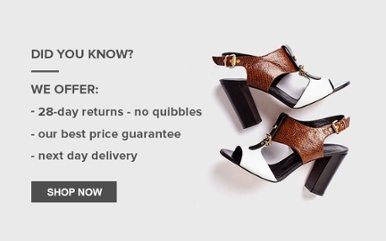 This is all the more important when tackling the tricky issue of getting users to convert on mobile devices. They might not have the time to fill in lots of details on their phone but what if you offer a guest checkout that makes that tricky process easier? That might just help someone decide to place a quick order online on their commute into work.
2. Offer free delivery
Did you know that 9 out of 10 consumers say free shipping is their number one incentive for making a purchase online?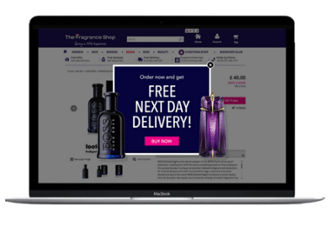 Of the 50,000 campaigns we've run, we've found that highlighting free delivery policies to visitors abandoning the website can generate a potential uplift of +162.1%. Brands such as the Fragrance Shop have used this kind of approach to deliver a 40% conversion rate uplift from visitors who would otherwise have abandoned.
If you have a certain spend threshold that your visitor has to meet to qualify for free delivery, you can increase its impact by personalising messages to show how much more a user has to spend in order to qualify for free delivery. This kind of tactic can deliver an uplift of up to 95.8% – and that's on top of the benefit of increasing the average order value. Check out how food delivery service Heartier did it:
3. Highlight great feedback
If you're in e-commerce, you're aware of the impact that user reviews and third-party endorsements can have on your current and potential customers. Star-ratings, questions and answers, and even customer awards produce an average 18% uplift in sales. Use your good feedback to your own advantage and foreground it alongside your products.
4. Show social proof
Showing people what their peers are doing is one of the most powerful strategies for getting your customers to click 'buy now' and drive those e-commerce conversions, invoking the shopping equivalent of FOMO. Social proof is at its most compelling when it's personalised and dynamic, such as showing how many other browsers are looking at a certain product in real-time or how many how have purchased it in the last 24 hours. Learn more about the psychology behind using Social Proof to drive e-commerce conversions in this guide.
5. Create a sense of urgency
A lot of customers shopping online can be considered to be browsers rather than shoppers. It's easy to get distracted, defer the decision until later or get frustrated and simply wander off.
At this stage it's a great idea to create a sense of urgency. Make your holiday-bookers aware that the hotel or flight they are looking at is about to fill up, let users know when they need to order by to receive their purchase in time, or remind customers that your sale ends soon.
This sense of urgency can be completely literal – We Are FSTVL increased their website ticket sales by 10% by showing a countdown clock showing the minutes tick away until prices were due to go up.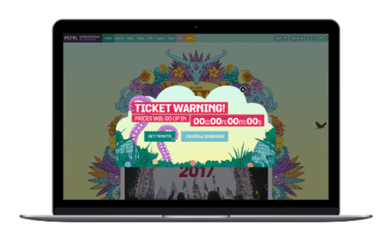 6. Add value
Don't forget that there are plenty of other ways to add value in order to incentivise a purchase and drive e-commerce conversions that don't involve discounting.
For example, can you offer an ebook in exchange for an email address? Or can you offer high-spending customers free-of-charge gift wrapping services ahead of a holiday?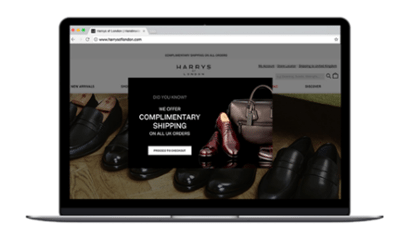 The trick is to add something to the package instead of taking it away.
For a great example, check out how luxury brand Harrys of London leveraged its free shipping policy to encourage conversions
Optimizing your e-commerce conversions, a final word…
In a nutshell, the way your brand is perceived can only increase by offering added value alongside your products. On the other hand, if you're still providing discounts at every opportunity, even your valued customers can start waiting for the next sale or deal before making another purchase.