BLOG
17 Top Ecommerce Conversion Rate Optimization (CRO) Tips
Published: Oct 1, 2022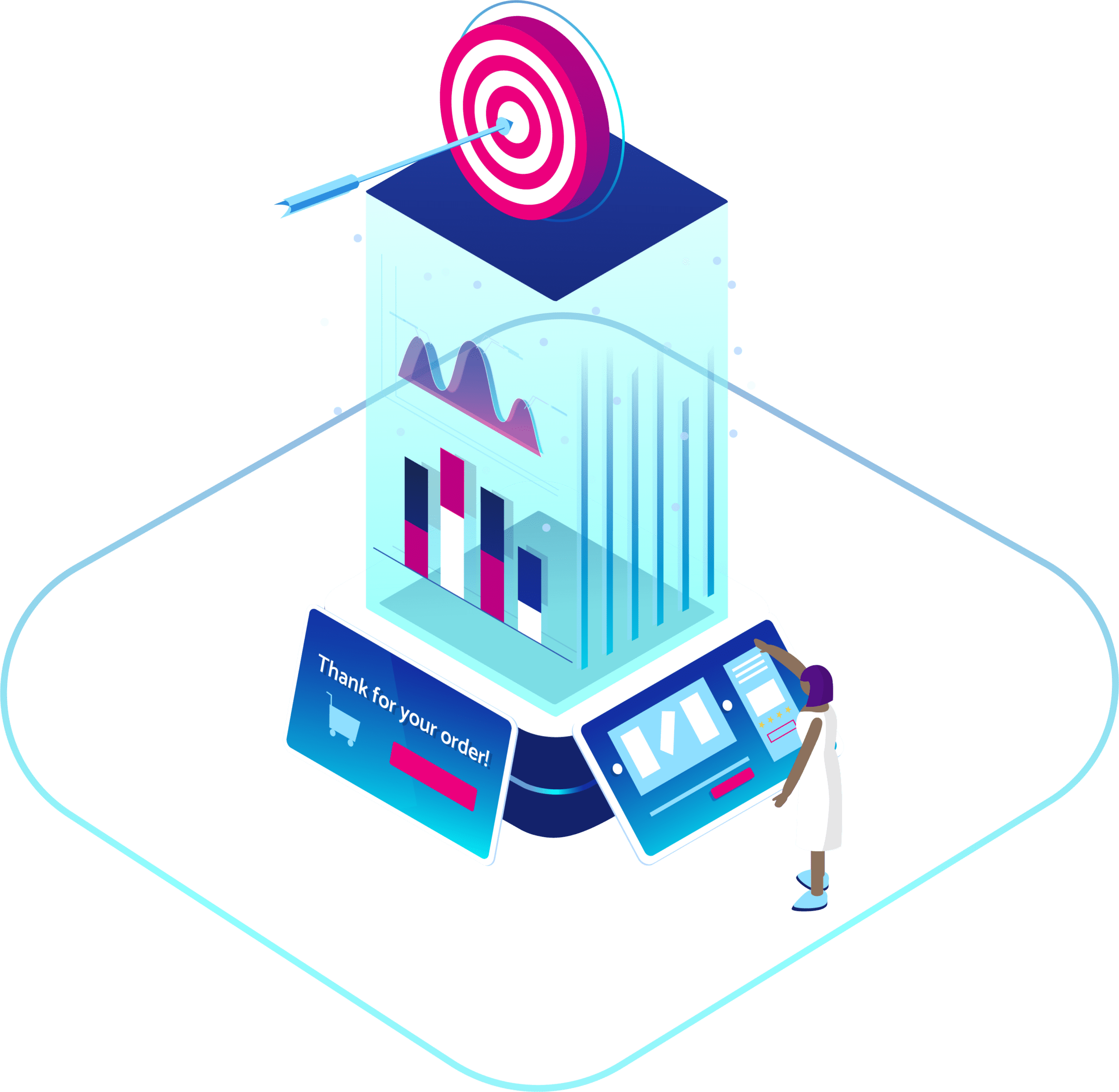 All good ecommerce marketers know even the smallest conversion rate uplift can be worth its weight in gold. It's a game of marginal gains, and I'm here to help you increase your CVR, hit your targets and get ahead of your competitors with 17 CRO tips.
These 17 tips fit into four key categories:
Gold standard CRO
Brand-building CRO
Customer re-engagement CRO
Discount-centric CRO
All of the tips below will help you turn more website visits into sales. But if you're looking to convert more visitors into email and SMS subscribers, then check out our post on the 12 B2C Lead Generation Tools. Otherwise, let's get started with CRO.
How is ecommerce conversion rate calculated?
Calculating your website conversion rate is fairly straightforward. Go to your website analytics platform, take the total number of conversions, divide it by the total number of visitors and multiply it by 100.
Conversion rate = conversions/number of visitors × 100
For example, if you have 10 conversions from 100 visitors, your conversion rate is 10%.
17 CRO tips
Gold standard CRO
1. Personalize customer journeys
It takes more than a good product to convince customers to buy from you. You also need to build relationships with visitors to drive conversions – and you can't do that without personalizing customer journeys. Indeed, 91% of consumers are more likely to shop with brands who recognize, remember and provide relevant offers and recommendations.
To give your website visitors personalized customer journeys, turn to a personalization platform. The best personalization tools reveal insights on your audience behavior – so you can understand how your visitors navigate your site and what they're looking for – and help you adapt your website so you can respond with relevant content.
Think of personalization as a way of replicating in-store experiences online. For example, Pureology, the world's leading professional color care brand, worked with Yieldify to guide visitors to a haircare quiz on their site, asking them to share their hair type, color and texture. They then recommended products and sent remarketing content that was personalized to match their responses – and increased their conversion rate by 27%.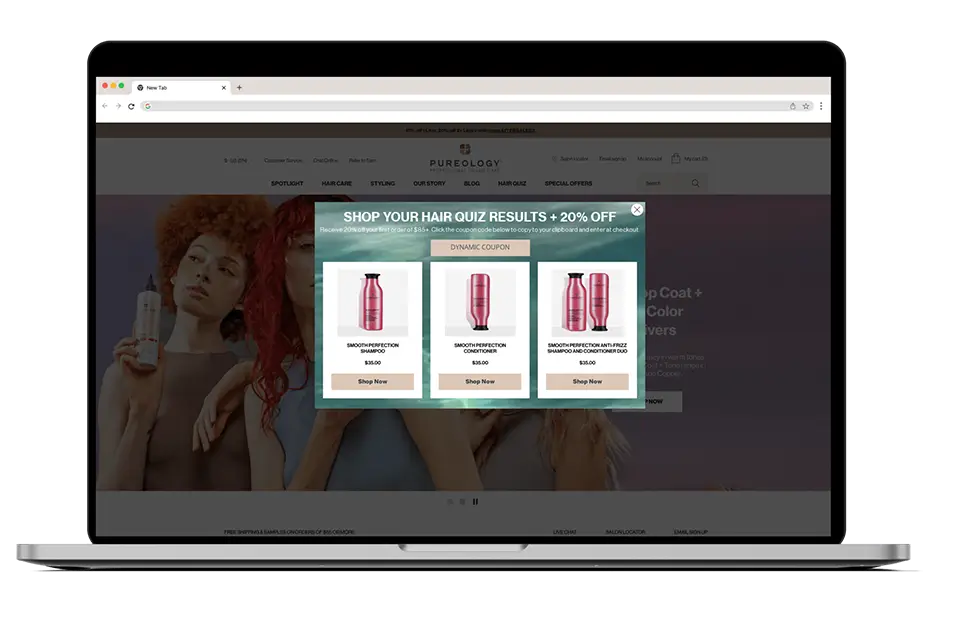 2. Start A/B testing
If you're not using A/B testing and A/B/n testing to optimize your website content, then you're likely missing out on conversions, losing revenue and falling behind your competitors. For example, something as subtle as the placement, design or triggering of a call-to-action (CTA) could be costing you hundreds, if not thousands, of sales every month.
By testing different website changes against each other, you can sense-check assumptions and guarantee you're converting the maximum number of browsers into customers.
Take it from someone who knows a thing or two about growing a business, Amazon founder Jeff Bezos.
"If you double the number of experiments you do per year, you're going to double your inventiveness."
With Yieldify, you can run A/B tests at every stage in the customer journey to optimize your conversion rates. If you're driving significant levels of traffic to your site, then Yieldify also offers A/B/n testing – which allows you to test five variants at the same time and gather more customer insights more quickly.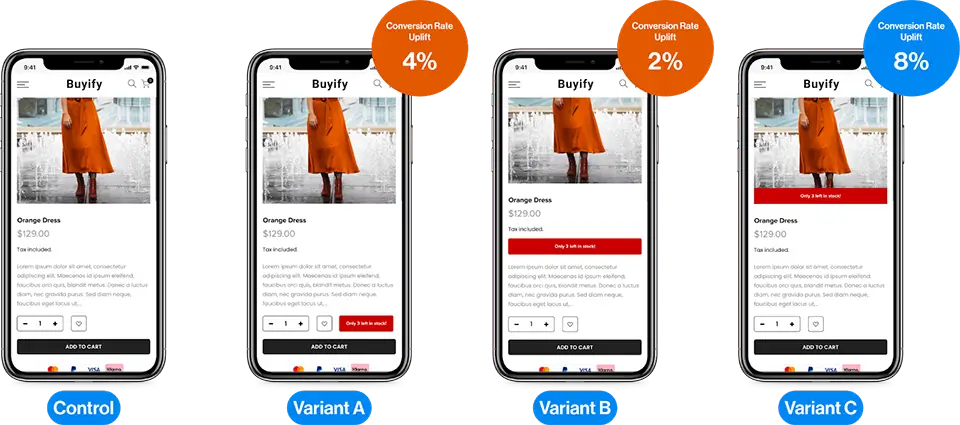 Brand-Building CRO
3. Highlight your brand's unique selling points
As the cost of digital advertising rises and the competition for paid ad space intensifies, it's harder for ecommerce brands to generate the same ad spend ROI they could a few years ago. At the same time, consumers increasingly prefer to buy from brands that share their values.
Together, these shifts mean ecommerce brands have to invest more in brand building. Those who don't adapt accordingly will eventually need to slash prices and sacrifice margins to keep up with the competition.  

To build brand affinity and customer loyalty, make sure your website visitors are aware of your value proposition. Deploy USP banners to build brand prestige, show your key values and provide information about your products and services.
For example, Brunehilde Mancino, E-Merchandising Manager at Made in Design, worked with Yieldify to show USP messaging on their ecommerce site, increasing Pay-Per-Click conversion rates by 7%.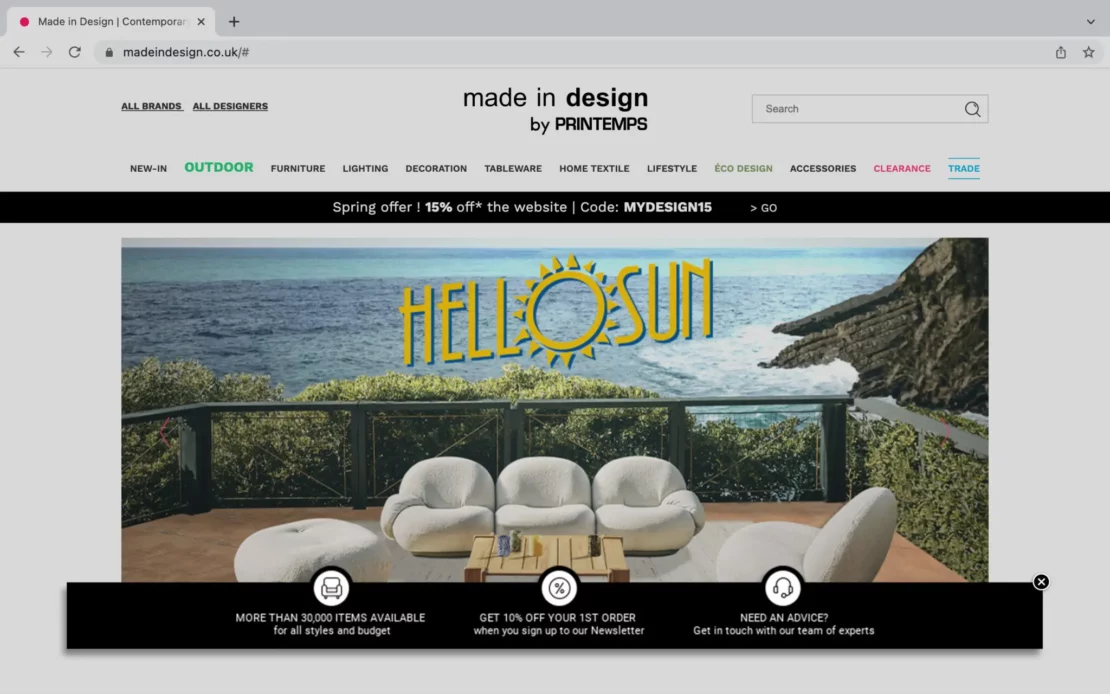 4. Embed social proof
Social proof is one of the most powerful tools in an ecommerce marketer's armory. When we see our friends, peers and idols do something, it gives us confidence to follow suit.
Just look at the rise of New Balance. Suddenly, the formerly dorky dad brand is all around us – and it's not only because they have a leading product and inventive marketing campaigns. A-list celebrities like Timothy Chalamet, Rhianna and, Leonardo DiCaprio have been pictured in their sneakers, inspiring fans to get their own – a prime example of social proof in action.
For ecommerce brands, you can leverage social proof in different ways. For example, you can drive urgency, validate your customers' choices and ease their concerns.
Try these social proof strategies to boost your website conversion rates:
Highlight product popularity
Spotlight stock scarcity
Display review platform ratings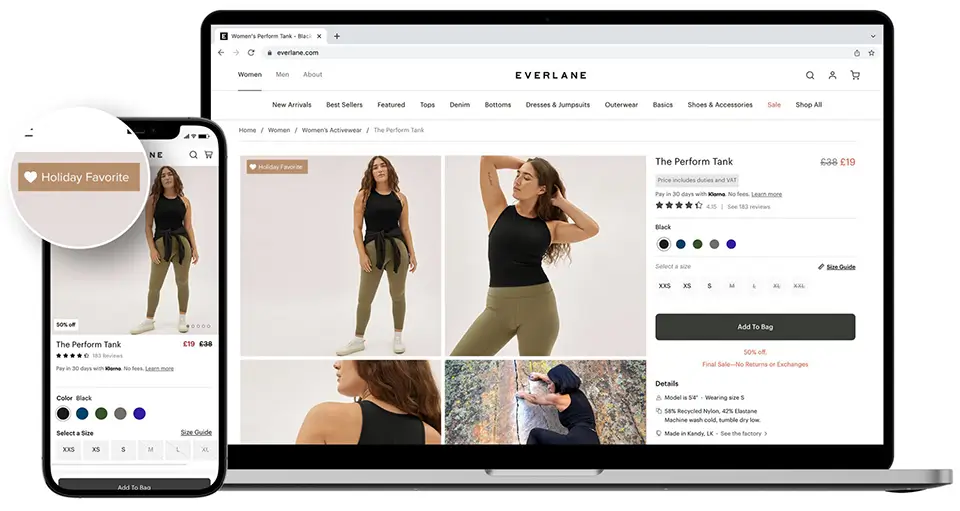 Many Yieldify clients have achieved major conversion rate uplifts by adding social proof to their websites, including:
5. Use trust badges
Like social proof, trust badges also remove customers' doubts about your brand or product. The key difference is you typically use trust badges to give customers confidence in your payment systems, data security and shipping & returns policies.
Use these trust badges to give customers key information about your brand:
Free shipping and returns trust badge
Guaranteed Safe & Secure checkout badge
Third-party endorsements
Accepted payment methods
6. Leverage customer reviews and testimonials
Customer testimonials fall under the social proof umbrella too – and they're a highly effective conversion-driving tool. They build confidence in your brand and provide a credible insight into your product – website visitors are more likely to trust customer reviews than your own marketing material.
Show customer reviews and testimonials on your site to win new customers, strengthen loyalty with existing customers and increase conversion rates.
Take this example from Spongelle, an up-and-coming international personal care brand. By embedding a rotating GIF with rave customer reviews into their site, they increased conversion rates by 14%.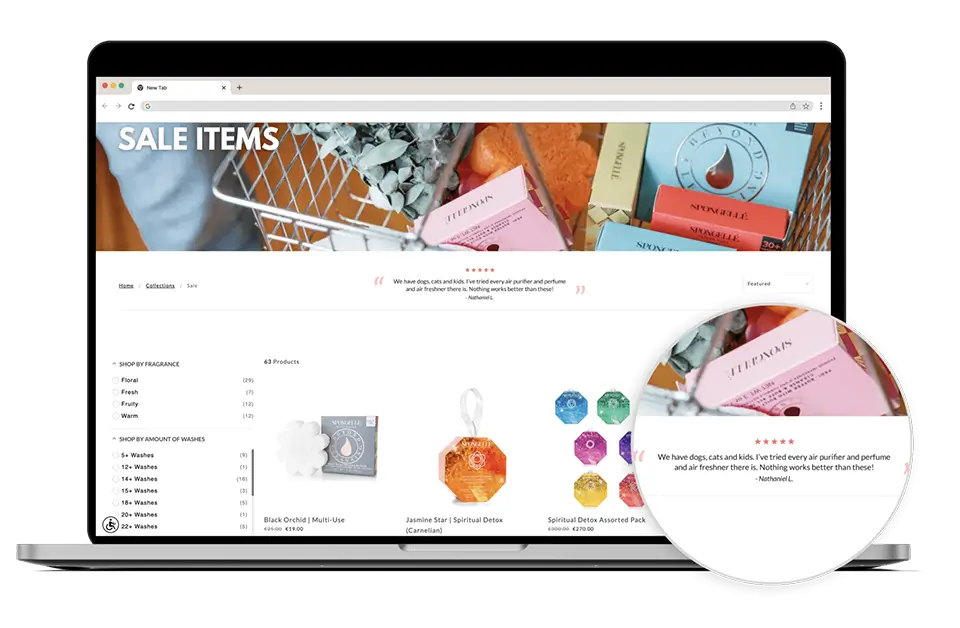 7. Improve your website navigation
We've touched on this already: your visitors' attention spans are short. So, if they can't easily navigate to the product they're searching for, it won't be long before they move on.
To combat this problem, you need to guide visitors seamlessly through the purchase funnel.
For example, Clarins worked with Yieldify to guide visitors on their category and product pages to a virtual skin consultation, before recommending them products that met their skincare needs. This strategy increased conversion rates by 11%.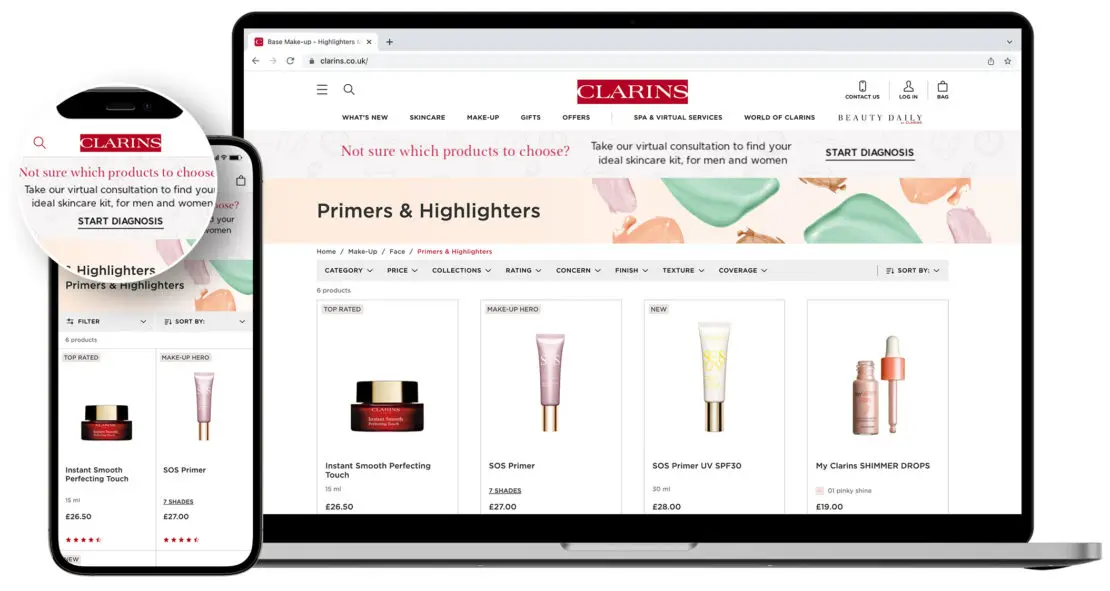 Instead of leaving customers to sift through hundreds of options looking for a suitable product, Clarins replicated the in-store experience by listening to the customer's needs and bringing the right products to them.
8. Highlight your payment options, shipping prices and returns policy
When potential customers (particularly first-time visitors) land on your site, they'll likely have a number of questions:
How much does delivery cost?
Can I use a buy now, pay later option?
What is your returns policy?
These questions are a barrier to conversions – so provide the answers early in the customer's journey.
For example, HSTV, a serial award-winning multichannel retailer, lifted conversion rates by 15% by surfacing an overlay on product pages to tell customers they can check out using Klarna.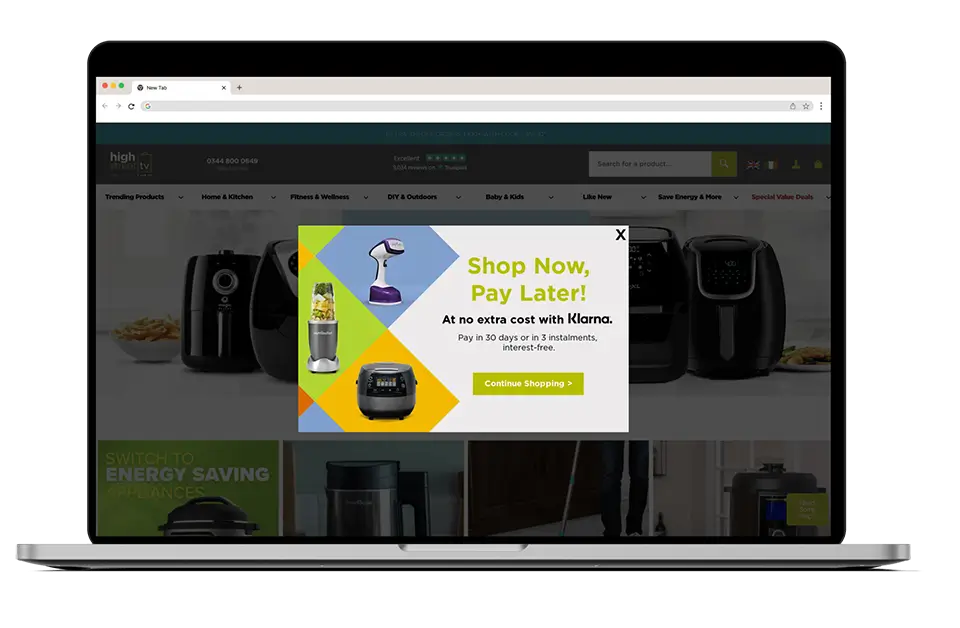 Customer re-engagement CRO
9. Tackle browse abandonment
According to Zenreach, 70% of first-time visitors never return once they leave your website. Browse abandonment is a nuanced problem for ecommerce marketers, but most customers don't return for one of these reasons:
Your product didn't meet their needs
Your brand was unconvincing
Your website was difficult to navigate
They were comparing prices
Your products were out of their price range
People make snap decisions while browsing online – and closing a browser tab is easier than walking out of a brick-and-mortar store – so you need to respond faster to stop potential customers leaving your site.
For example, use eye-catching overlays that trigger when a customer shows exit intent. Leveraging Yieldify's technology, Skinny Tan does this well with an overlay that guides customers to category pages before they exit, increasing conversion rates by 4%.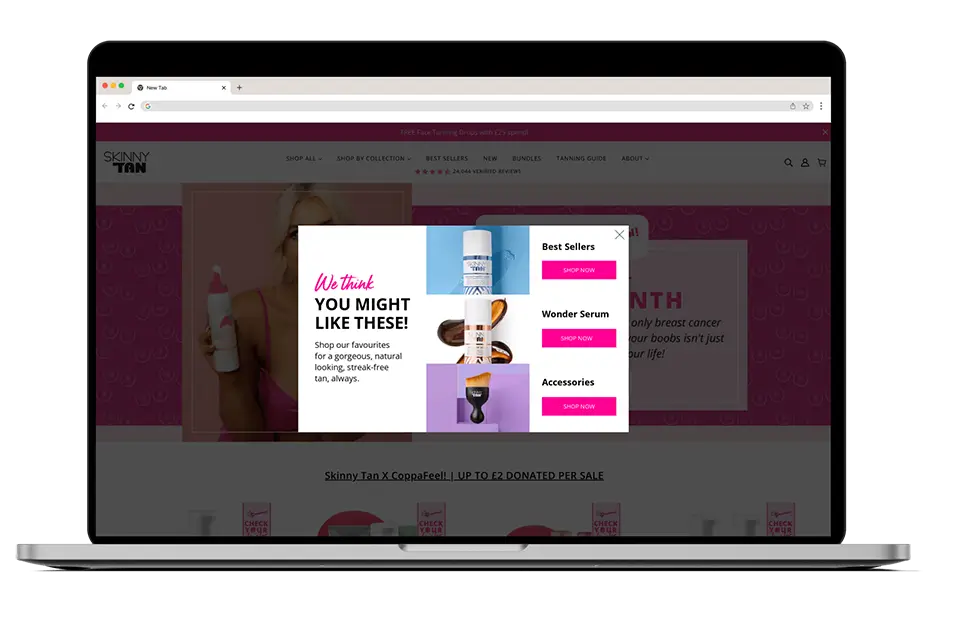 10. Stop cart abandonment
Getting customers to stay on your site, browse through your products and add something to basket is a battle in itself. Once you've won that, you face a new challenge: cart abandonment. Across all industries, the average cart abandonment rate is as high as 70%. That means just 3 in 10 customers will complete their order after adding an item to the basket.
The good news is that these customers are already engaged and very likely to buy. In most cases, it's simply a matter of when, not if, they're going to convert. But how do you reduce your cart abandonment rate?
Drive your customers to check out using these strategies:
Send basket reminders
Spotlight buy now, pay later options
Send discount reminders
Use delivery incentives
Dynamically scrape images from cart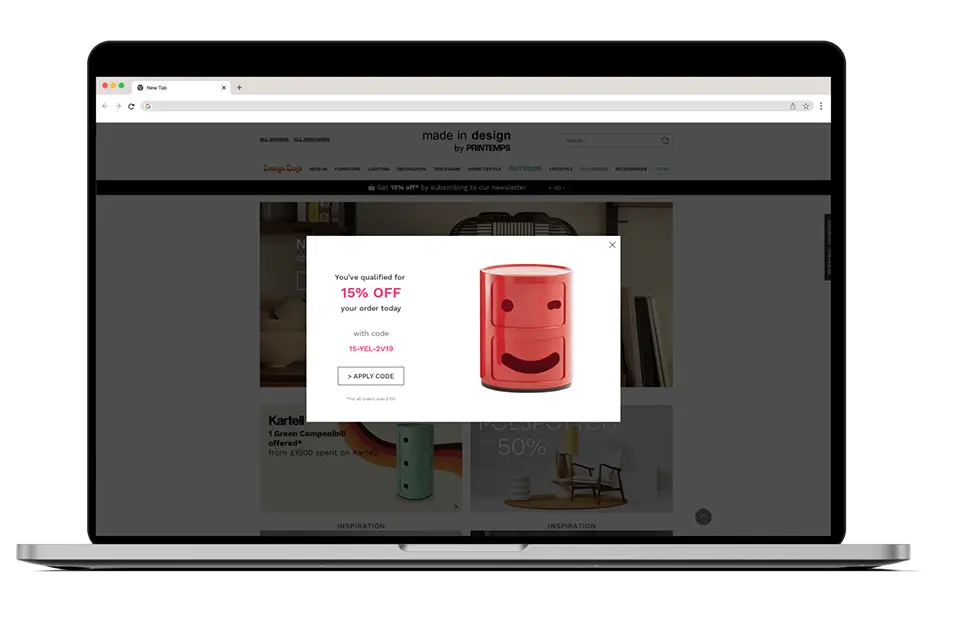 11. Re-engage inactive users
Tackling website inactivity requires a more strategic approach than browse and cart abandonment. Inactivity often tells you customers are browsing multiple tabs at the same time. The chances are they're considering your brand alongside your competitors, so you need to recapture their attention as soon as they return.
Convert inactive browsers with:
eye-catching overlays,
basket reminders and
discount incentives
Sometimes all you need is to give the customer a subtle nudge in the right direction, as Philips did with this basket reminder.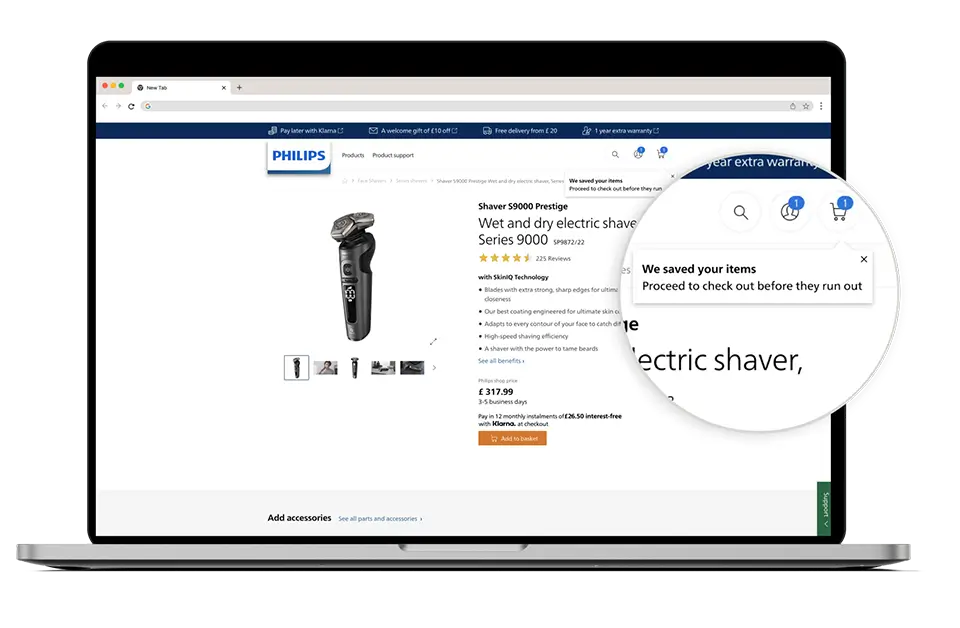 12. Incorporate welcome back campaigns
If a visitor comes back to your site, you can safely assume they're interested in your products. Build brand affinity and lift conversion rates among your returning visitors by acknowledging them with 'welcome back' strategies.
You can adapt these strategies depending on where your visitors are in the purchase funnel. For example:
Offer discounts after a set number of website visits
Surface email & SMS optin forms
Show basket reminder messaging
Drive urgency through stock scarcity messaging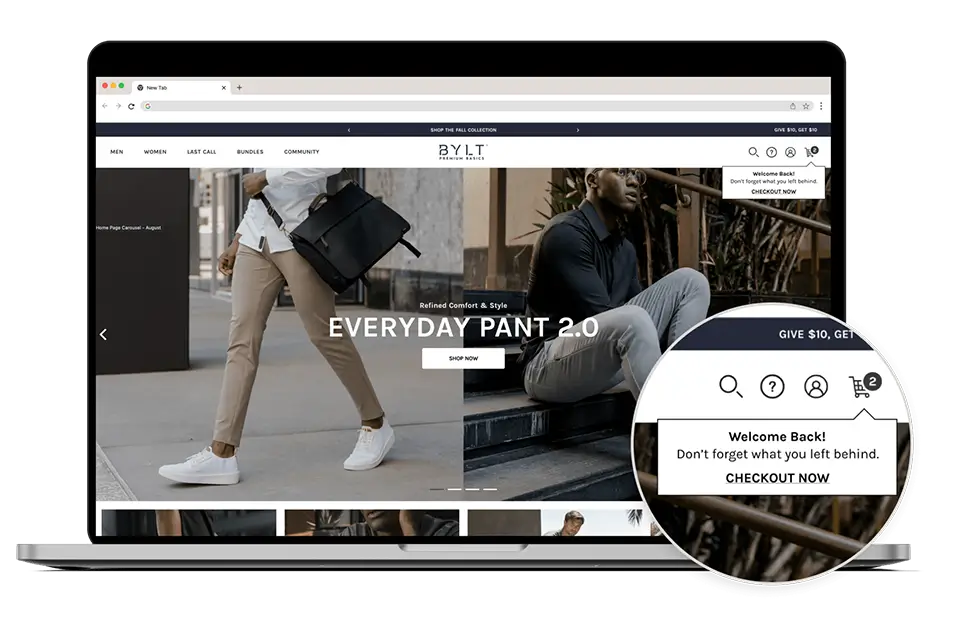 13. Show recently viewed products
Finding a product you want to buy can be time consuming when shopping online. Once a customer finds what they're looking for, it's unlikely they'll check out straight away – but that doesn't mean they won't convert later on.
By spotlighting your customer's recently viewed items, you can streamline the path to checkout and drive significant uplifts in conversion rates.
For example, embed a "Recently Viewed" carousel into your site to keep your customer's favored items top of mind.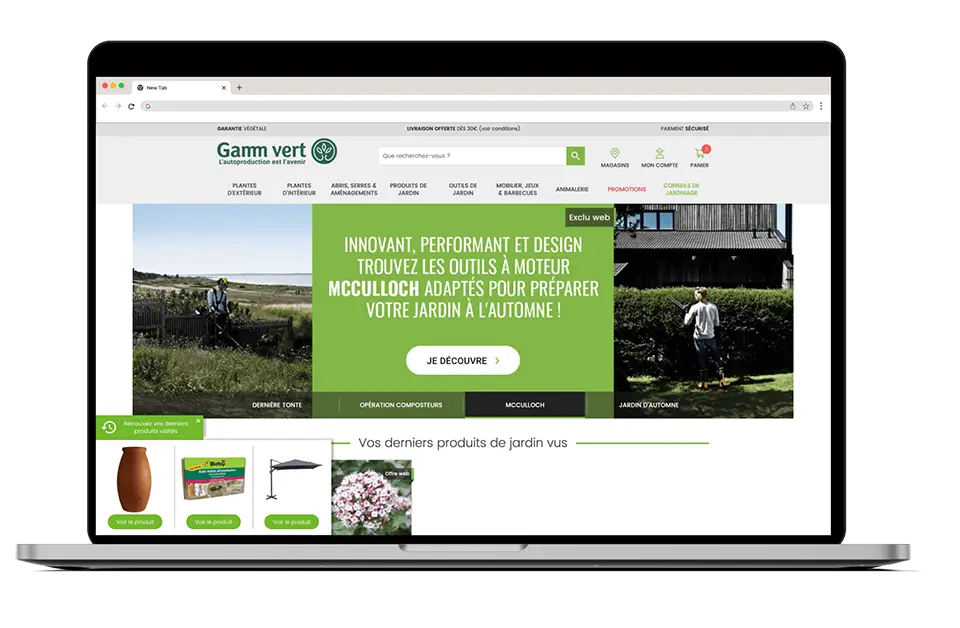 14. Use anti-price comparison technology
We've all been there. You've found a great product on one website but you're sure other retailers probably stock the same one cheaper. So you copy the product name, switch tabs and paste it into Google search. Bingo: it's on sale at a better price elsewhere.
Almost every ecommerce brand faces this problem and, aside from eating into your margins by price-matching competitors, you might not think there's an obvious fix. But with Yieldify, you can combat this problem by identifying when a visitor is comparing your prices and triggering your USPs.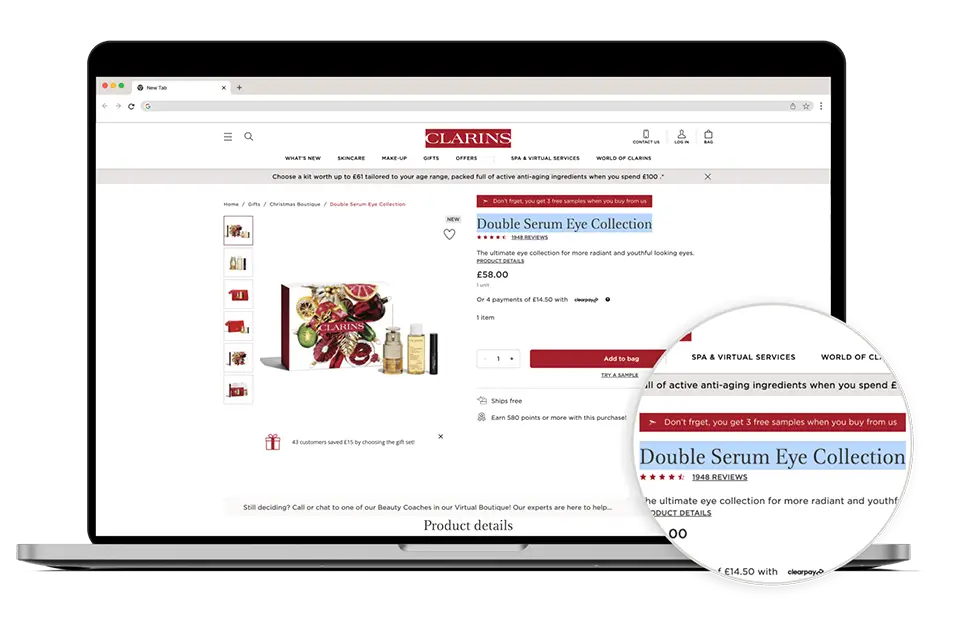 15. Use tab copy change messaging
Most customers compare products and prices before making a purchase, typically jumping between websites on their hunt for the best product.
Your brand will often get buried in a sea of tabs during this consideration phase, but it's possible to bring visitors back to your site with Yieldify's tab copy change technology.
When a customer browses another site, you can set the tab copy for your website brand to alternate between the original tab title and dynamic copy. The alternating messages will draw attention back to your tab and keep your brand front-of-mind.
For example, if a customer browsed away from your website with two items in their cart, the tab title would read "You have (2) items in cart!".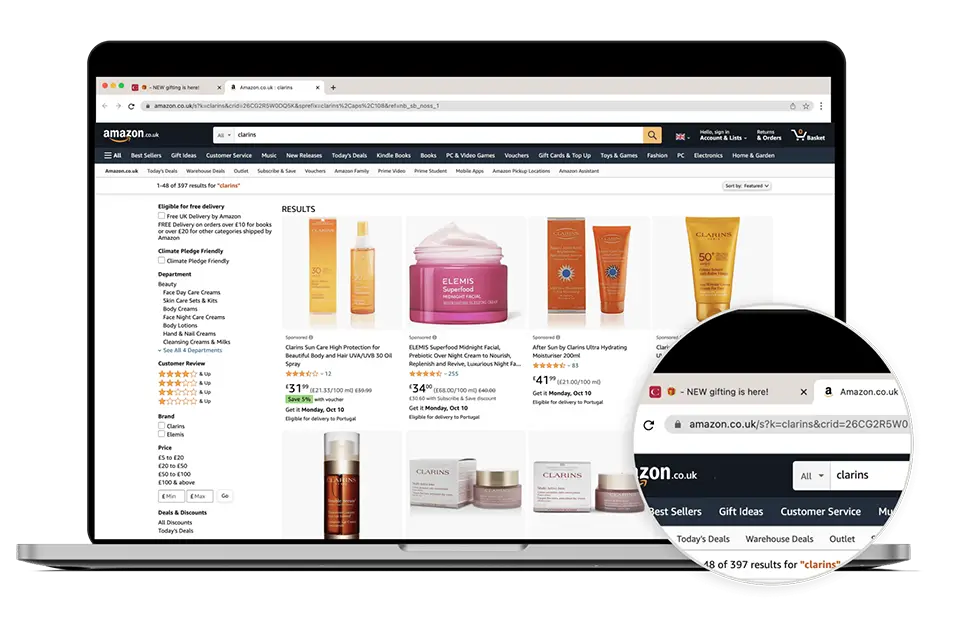 Discount-centric CRO
16. Countdown timers
Everyone loves a discount, but slashing your prices during promotional and holiday periods isn't always enough to guarantee conversions. You'll naturally see an increase in sales, but you'll still have hesitant customers who need a nudge in the right direction.
To maximize sales, use countdown timers that display how long a customer has before the promotional period ends. The premise is simple: the closer it gets towards the deadline, the more likely the customer is to purchase.
Away from promotional periods, countdown timers can also be used to incentivize sales by counting down towards other deadlines. For example, Laithwaites use a countdown timer to show customers the time remaining to secure next-day delivery.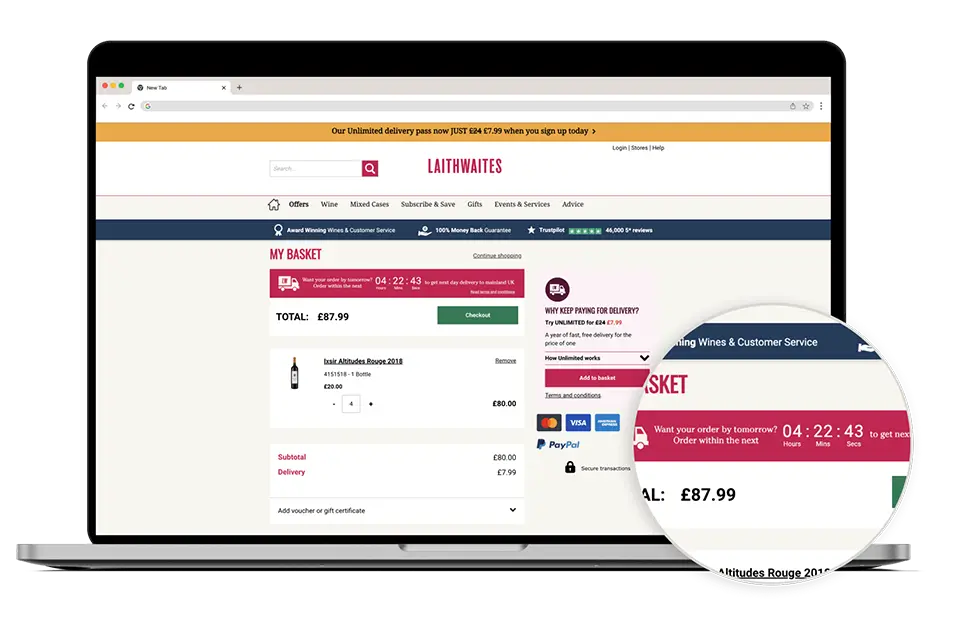 17. Progress bars
During promotional periods, it's typical to offer free gifts, delivery incentives or discounts once a customer's basket value passes a certain threshold. To get the most out of these offers, you need to show customers how close they are to the minimum spend – and that's where progress bars come into play.
Not only will progress bars lift your conversion rate, they'll boost average order values by encouraging customers to add more to cart.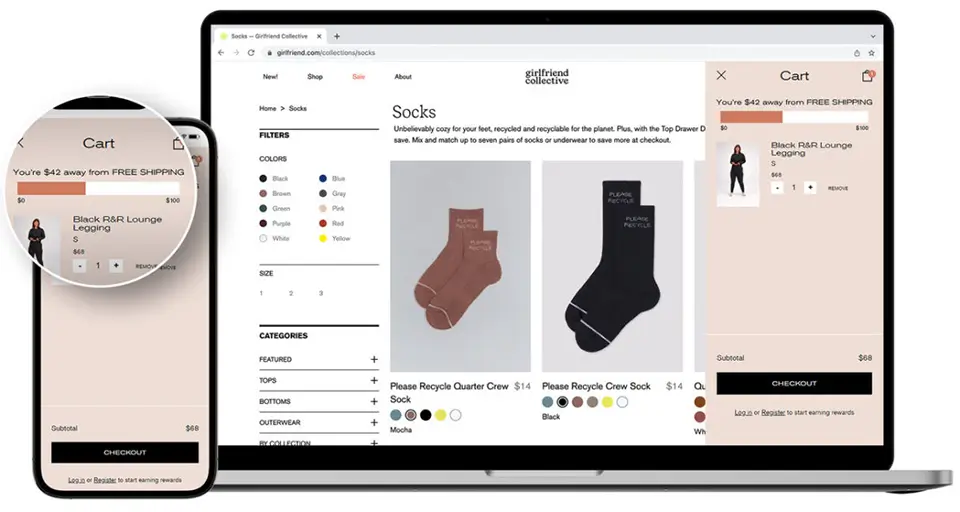 Like countdown timers, progress bars aren't limited to promotional periods. For example, Carte ZERO, a no-fee credit card owned by Advanzia Bank, used progress bars to incentivize customers to complete their on-site credit application form, resulting in a 10% uplift in new customer acquisition.
Increase Ecommerce Conversion Rate with Yieldify
I hope this blog has given you actionable tips on how to increase conversion rate on your ecommerce website. If you're lacking the time or resources to optimize your ecommerce site, Yieldify is an excellent fully managed platform – with all the capabilities detailed above – that can help you drive major uplifts in conversion rates.
If you'd like a preview of how you can optimize your CRO strategy with Yieldify fully-managed, all-in-one personalization platform, feel free to schedule a discovery call here. One of our advisors will be delighted to share more.
---
1. What is ecommerce CRO?
Ecommerce conversion rate optimization (CRO) is the process of generating more sales through website optimizations. Most ecommerce marketers use CRO tools to convert more website visitors into sales and revenue. Though every tool has its own distinct set of USPs, a good tool will provide these core features:

– Fully managed service
– A/B testing
– Personalization features
– Data analytics
– Lead generation
2. What is a good ecommerce conversion rate?
According to data from BigCommerce, average ecommerce conversion rates hover around 2.5-3%. Any website above the 3% threshold is performing very well. If you want to improve your conversion rate, consider one of the 12 best CRO tools on the market right now.
3. What is an ecommerce CRO strategy?
An ecommerce CRO strategy is a set of optimizations that marketers use to convert more visitors into sales. A/B testing and data analytics form the foundation of successful CRO strategies. By gleaning insights into how website visitors respond to different experiences, marketers can confidently make changes that streamline journeys and increase conversion rates. Most ecommerce brands will use a CRO tool to refine their strategy.