BLOG
The 12 Best CRO Tools To Consider [2022 Update]
Published: 27/05/2022
If you're in the market for Conversion Rate Optimization tools, then you're probably lacking the bandwidth or technical expertise to increase conversions using your own in-house resources. 
Broadly speaking, conversion rate optimization tools fit into four main categories.
All-in-one personalization tools
User behavior analytic tools
CRO testing tools
Single-feature tools
The type of tool you need depends on your company goals. If you want to convert more customers into leads, then I recommend checking out our post on lead generation tools.
Otherwise, I imagine you're looking to turn interest into more sales, improve your return on ad spend (ROAS), increase customer acquisition, outsource your CRO strategy, reduce testing time, or upgrade your current provider. Perhaps it's all of them. Either way, if you tick any of those boxes, you've come to the right place.
What To Look For In A CRO Tool
Typical Conversion rate optimization tools will offer at least one of these capabilities: :
Data-driven analytics
A/B testing
Audience segmentation
Customer feedback
Social proof
The features you need will also depend on your goals and bandwidth. If you want to capture data as well as run tests and launch experiences, an all-in-one personalization tool is likely to be a great fit.
Note that with most all-in-one tools you and your team have to be closely involved in setting up and managing your CRO tests. But if you want the benefits of an all-in-one tool without actually doing the heavy lifting yourself, look no further than a provider like Yieldify that offers a fully managed service.
"The client service at Yieldify is the best I've experienced. Our client service agent is always dedicated to advancing our capabilities and improving conversion to achieve real results for our bottom line."
That said, other tools may offer different features better suited to your business goals.
For example, Qualaroo provides professional customer survey templates that help brands collect user insights across various touchpoints. If you want to gather more first-hand feedback from customers, Qualaroo is a great option.
To summarize, here's how customer goals align with the four categories:
Gather user insights, run tests and increase your conversion rate = all-in-one personalization tools
Understand your website users = user behavior analytic tools
Improve testing capacity = testing tools
Target a specific aspect of CRO = single-feature tools
Once you've determined your goal, you can narrow your CRO tool search.
Disclaimer: Yieldify is our product. We've done our best to present the information fairly because we want to help you make an educated decision but we're especially proud of what we offer. We've seen it transform conversion rates, lead generation and revenue for so many brands – large and small – all over the world. You may have seen we use the Yieldify platform and services on our own website too. Learn more here and schedule a call with an advisor.
12 Best CRO Tools
Testing tools: Measure the impact of website changes by pitting an experiment group against a control group

Single-feature tools: Add a specific functionality – including chatbots and customer feedback surveys – straight to your site
All-in-one personalization tools
1. Yieldify
Yieldify is a fully managed end-to-end personalization platform that helps ecommerce businesses to increase email leads, and boost conversion rates and average order values by optimizing customer journeys. In the last 4 years, more than 1000 ecommerce brands in North America, Europe and Asia-Pacific have generated over $2.5 billion in extra revenue with us. If you're lacking the bandwidth to manage a CRO tool yourself, Yieldify is probably the platform that will suit you best.
What makes Yieldify unique?
No time? No resources? No problem.
Yieldify takes care of the CRO optimization journey for you, from ideation to execution. Our full-service team of account managers, designers and developers handle technical setup, strategy, design, testing, analysis, and everything in between. Rated 9.7/10 for quality of support by customers on G2, you won't find Yieldify's market-leading service with any other provider.
Make website changes fast – without developers
With other personalization providers, you can sometimes wait months before you run your first CRO test. With Yieldify's easy-to-integrate tag and no-code builds, you can get your first tests live in under 14 days, and launch new ones in as little as 48 hours after that – no developers required.
Results-driven specialists
Whether you're in fashion, home & garden, cosmetics or another ecommerce sector, your account manager will be a CRO expert in your industry. Managing more than 1000 brands across 20 industries, including ecommerce businesses just like yours, Yieldify account managers are ecommerce marketing specialists. They could help you solve problems with your ecommerce funnel and drive an 18% CVR uplift. They could help you replicate the in-store experience online and increase CVR up to 11%. Or they could help you build brand loyalty and improve lead conversion by 39%.
Key CRO features of Yieldify:
Data analysis and strategy
Every Yieldify CRO strategy begins with Sunburst analysis. With Yieldify Sunburst charts, your account manager will walk you through a practical, granular and 'multidirectional' view of your customer journeys, explaining how your users navigate your site, where they exit and why. That way, you can see what's holding your conversion rate back and decide on the next steps to improve it.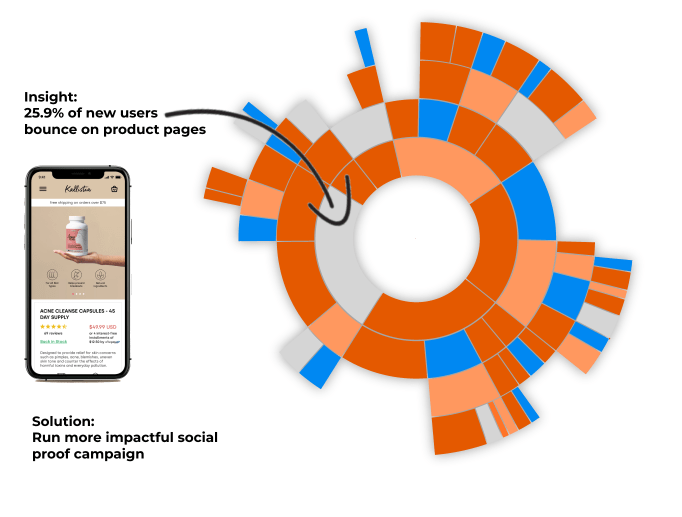 For example, Brunehilde Mancino, E-Merchandising Manager at Made in Design, discovered from Sunburst analysis that a high proportion of their Pay-Per-Click (PPC) customers were bouncing. To improve conversion rates on their most expensive traffic source, they ran a USP banner campaign to highlight their product range, their customer support team, and a 10% discount code for new newsletter subscribers. The result: a 7% increase in conversion rate.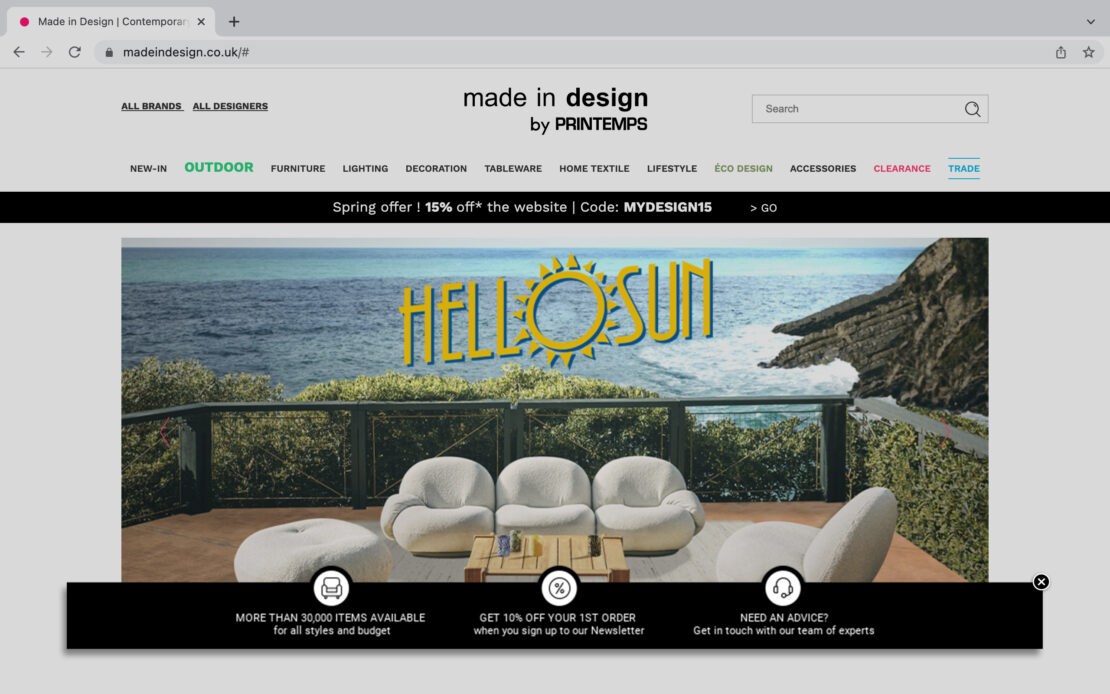 In contrast, Google Analytics only provides insights on 'monodirectional' customer journeys – when a customer moves down the funnel from landing page straight through to purchase. But customers rarely act in this way. You could try to map the different permutations of a customer journey using Google Analytics, but that would be hugely time-consuming. Even if you did have the time, Google Analytics user flow reporting also makes it difficult to draw actionable conclusions.
Sunbursts – with 500% more data than Google Analytics – help you easily analyze:
Top-converting and low-converting pages
Acquisition source
Specific events, such as adding to basket and product searches
Timeframes
Session number
Devices used
Basket details
Funnel depth
Purchase history
These insights then form the baseline of a successful conversion rate optimization strategy so that you can increase customer engagement and build long-lasting brand loyalty.
CRO Testing
Devising and executing a successful ecommerce testing strategy can be a considerable undertaking: you need to set your conversion goals, hypothesize which website changes might improve conversions, ideate and design test variants, then monitor and repeat your tests.
This process can sometimes take months to manage in-house – and that's assuming you have the expertise and capacity in the first place.
So, if you'd like to run tests to improve your conversion rates but don't want to manage a strategy yourself, Yieldify's full-service team can run the entire testing process for you – from strategy to ideation, design, execution and optimization.
Your Yieldify account manager will help you define your CRO testing goals – whether that's growing your email and SMS lists, increasing sales or understanding your customer behavior – help you choose which tests to run to meet those goals and then set your tests running.
Let's now look through the testing features you get with Yieldify.
Incremental testing
We typically recommend incremental testing as the first step in a CRO testing strategy. With Yieldify incremental testing, your account manager will segment your traffic 50/50 between those who see the change (the variant group) and those who see things as before (the control group).
Measured against the control group baseline, you can then see if the new website element actually affects your conversion rate and be sure of what actually makes a difference. The control group baseline will then act as the foundation for your next tests.
Once an incremental test reaches confidence, you'll see the percentage conversion difference between the control group and the variant group. For example, if variant A drives 110 conversions and the control only drives 100 conversions, your report will show you achieved a 10% uplift from variant A. The key here is transparency: Yieldify only attributes value to the extra or 'incremental' impact you see, not the total revenue.
For example, Casey Sneath, Director of Ecommerce at footwear brand Rockport, wanted to drive more conversions from their product pages. She incremental tested a social proof experience that showed visitors how many customers had purchased a particular product in the last 24 hours. The result: the variant group converted 9% more than the control group.
A/B and A/B/n testing
A/B testing is one of the best ways to improve on the conversion rate of the winning variant in an incremental test. By testing the winning experience against a new variant, you can optimize performance and lift your conversion rate even higher.
For example, outdoor specialty brand Alabama Outdoors ran an A/B test to compare conversion rates on two landing pages. Users either landed on a category page as Variant A or landed on a summer products landing page as Variant B. Both variants performed above the website's baseline, but Variant A was the winning variant, lifting conversions by 16%compared to 10% for Variant B.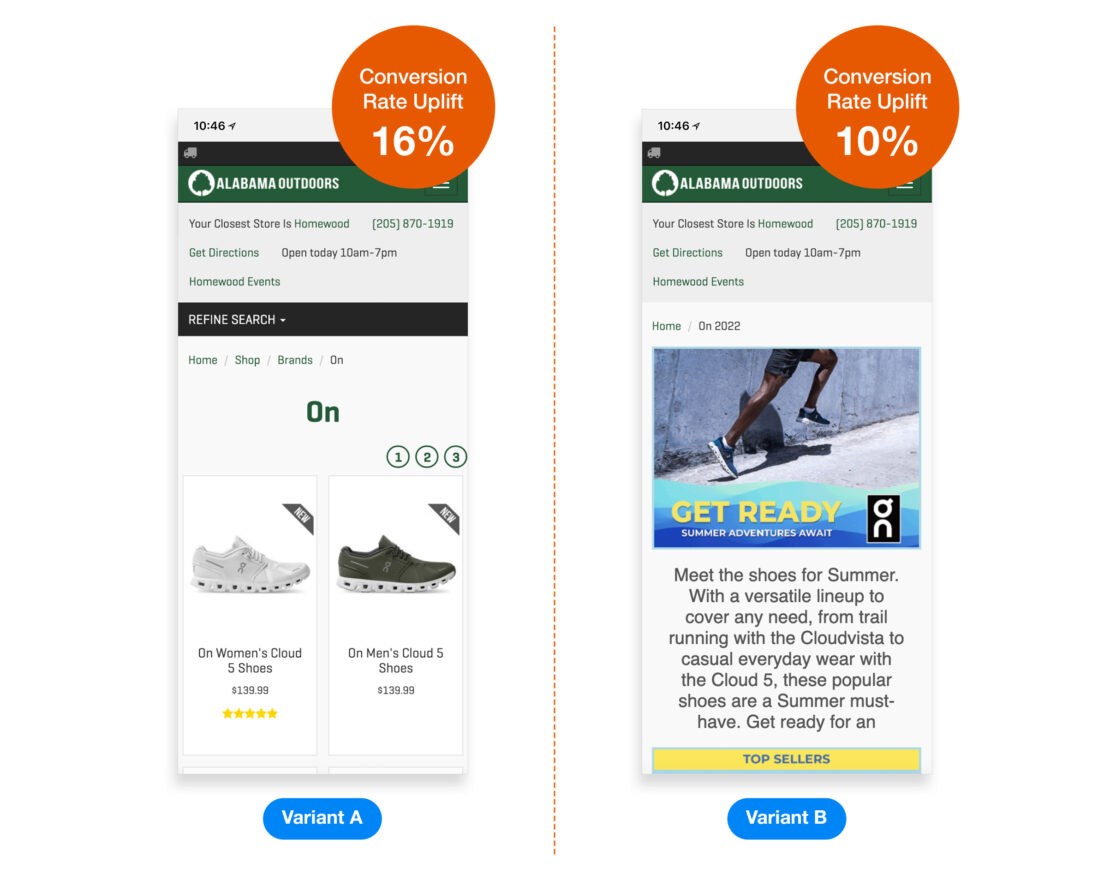 A/B testing is also an excellent strategy for optimizing lead capture. Many Yieldify clients A/B test two lead forms with different discount incentives to find out which one attracts the most sign-ups.
With Yieldify A/B/n testing, you can run CRO tests with up to five variants plus a control group. As long as your site gets over 100,000 monthly sessions, you can run A/B/n tests to identify the best messaging, creative or position for a campaign among several variants in a single test.
Since every additional variant gives you deeper user insights, A/B/n testing helps you form a deeper understanding of what works on your site and what doesn't. You can then form broader hypotheses on the right messaging and tactics to drive more conversions – which you can apply to long-term CRO decision-making.
Incremental, AB & A/B/n testing reporting
Your Yieldify account manager will monitor your CRO tests and can schedule automated, easy-to-understand reports at a cadence that suits you – whether daily, weekly or monthly.
Let's look at three of the key features of Yieldify testing reporting:
1. Same-session attribution
Many CRO tools use user attribution to validate the performance of CRO tests. This means that a visitor only needs to see a variant once to count as a conversion – even if they convert in a different session when they're in the control group. The issue here is that user attribution can give an inflated impression of how much a variant affects your conversion rate.
With Yieldify, you get same-session attribution, which in our view is a more transparent approach to validating test performance and makes for more reliable data. If a user sees the CRO variant but converts in a later session when they're in the control group, the control group will take the credit for that conversion, not the variant. If a user views the variant and converts in the same session, that's when the variant group gets the credit for the conversion.
2. Purchase Indicators
Ecommerce customers perform lots of 'micro conversion' behaviors such as opting in to your newsletter, creating an account or adding items to cart before and after they place an order. With Yieldify's Purchase Indicators you can track, measure and report changes in any of these behaviors to get a more nuanced view of how your A/B and A/B/n tests are influencing customer activity.
For example, with an "add to basket" indicator you can understand whether a "View Sale Items" notification influences customers to add items to basket. With a "create account" indicator, you can see if a "Create Free Account" banner increases new account creations.
In summary, Purchase Indicators help you measure the performance of campaigns where the immediate goal isn't to drive more revenue, AOV or sales (aka 'macro conversions').
3. Performance predictor
With Yieldify's Performance Predictor, you can see within 2 weeks how an A/B/n test variant is likely to affect CVR. By catching negative performance within two weeks of starting a test, you can end a test early, cut your losing variants and optimize for better performance with a new variant faster.
Personalization functionality for CRO
Yieldify offers a range of features to help you combat common conversion rate problems including cart abandonment, high bounce rates, customer hesitancy, low brand awareness, and delivery and payment concerns, such as:
Traffic shaping
USP banner
Exit intent overlay
Toaster
Countdown timer
User-generated personalization
Anti-price comparison
Tab change notification
Designed to educate customers on your company values, drive urgency, reduce hesitation, validate choices and improve website experiences, these experiences help ecommerce brands drive more conversions.
For example, Amy Scroope, Ecommerce Manager at Clarins, learnt that bounce rates on their category pages were high because customers had too many products to choose from. To bring bounce rates down and push conversions up, her account manager created a 'journey shaping' experience, offering users the chance to book a virtual consultation with a Clarins beauty consultant in a few clicks. The campaign resulted in a conversion rate uplift of 11%.
Integrations
Before you commit to any CRO tools, it's important to know which providers integrate with your current tech stack. Not only is this important for website functionality, but a good conversion rate optimization tool will make your other tools work harder. For example, Yieldify's integration with Klaviyo, the award-winning ESP provider, helped Busbud's Chief Marketing Officer, Richard Cohene, increase revenues from email marketing by 46%.
And don't worry about your level of technical expertise – our team of technical account managers are well versed in integrations and will complete 100% of the work.
View all of Yieldify's partners and integrations.
GDPR
At Yieldify, we process all customer and company data in line with GDPR and CCPA. With password encryption, multi-factor authentication and regular hack testing, the information in your Yieldify dashboard is secure.
"Yieldify's platform and analytics take our ecommerce sales to the next level by making it easy to optimize the customer journey – increasing lead generation, conversion rates, and overall new customer revenue."
"I've worked with Yieldify for 3 years and believe they have the best-in-class personalization and conversion rate optimization platform. With Yieldify, we increase average order values, promo engagements, conversions rates and improve our customer experience."
"Thanks to Yieldify, we're able to set up and test highly personalized campaigns, improve customer journeys and successfully lift conversions."

"Yieldify's excellent analytics, brilliant software, and crafted customer experiences in conjunction with their stellar services team have enabled substantial growth of our online business. The flow-on effect is significant too."

"Yieldify has been a key partner for several years. Throughout our partnership their client service teams have always been extremely responsive and proactive, finding creative solutions to our challenges and consistently improving conversions. Thank you!"

"Yieldify's deep insights, testing capabilities, expertise, and ability to personalize experiences at the right times through the conversion funnel help Homair improve bookings"
Want to find out more?
If you'd like a preview of how you can increase conversions on your website with Yieldify's fully-managed, all-in-one personalization platform, feel free to schedule a discovery call here. One of our advisors will be delighted to share more about increasing your conversion rates.
AB Tasty is a customer experience optimization platform that helps brands develop their CRO strategy across all of their digital channels. As well as improving conversion rates, AB Tasty campaigns are designed to manage other ecommerce goals, such as AOV, CTR and revenue impact.
The self-serve platform is user-friendly, making it a good option for non-technical ecommerce teams who are lacking coding expertise. AB Tasty regularly updates the platform in response to user feedback and has a support team in place to respond to customer queries. On the flip side, AB Tasty's reporting suite is not the most intuitive or quickest to update, while clients have also experienced issues with exporting the data.
Dynamic Yield is an all-in-one, self-serve personalization platform and CRO tool that helps brands to create end-to-end customer experiences. Using an AI-powered prediction engine, Dynamic Yield delivers individualized product and content recommendations and other personalized experiences across the web, email, mobile apps and advertising. Dynamic Yield offers a broad range of personalization tools to boost CRO, but its product recommendation capabilities are up there with the strongest on the market.
Though Dynamic Yield is a self-serve conversion optimization tool, their support team introduces clients to the platform during onboarding. They also have documentation, website resources and a live chat function to help clients should they encounter any problems. For ecommerce managers, it's worth noting that it's difficult to set up A/B tests with Dynamic Yield without coding experience.
User behavior analytics CRO tools
Hotjar is a product experience insight tool that gathers data on user behavior and connects the dots between what's happening to a brand's product and why. On a macro level, Hotjar presents insights in easily digestible heatmaps to give brands an overview of user behavior. But one of Hotjar's most compelling offerings is user recordings.
Through Hotjar it is possible to watch playbacks of users interacting with a website or product, giving brands a clear picture of where improvements need to be made. For product managers and designers, Hotjar is a great tool for observing and responding to patterns of user behavior.
HotJar is also one of the leading heatmapping tools with a free, but limited version available so you can examine user flow and user interactions. You can also create feedback forms to show to website visitors of specific pages.
A downside to Hotjar is that it doesn't currently have an A/B testing feature, though it does have integrations with three A/B testing providers, Optimizely, Google Optimize and Omniconvert. HotJar is an example where you may need to use multiple CRO tools together to get the maximum impact of the data collected.
Crazy Egg is a user optimization tool offering a variety of features to help ecommerce businesses understand how people interact with their websites. Crazy Egg offers a similar range of features to Hotjar – including heatmaps and user recordings – but also provides an A/B testing tool that can be used to analyze the effectiveness of different headlines, copy and product descriptions on websites, web apps and mobile experiences.
While the A/B testing feature gives Crazy Egg a differentiator from Hotjar, their USP is heatmaps which they call Snapshots. Snapshots are available in five different reports to show where users are clicking, who is clicking, how much they're clicking, what elements they're clicking (as a %) and how far they're scrolling.
FullStory is a digital experience intelligence tool built for product teams to acquire in-depth insights on user behavior. Data is updated in real-time, automatically indexed and presented in heat maps, click maps and scroll maps to provide a visual representation of how users interact with websites.
FullStory helps brands identify bugs, optimize low-performing pages and understand what's working well, providing a framework for UI and UX teams to action changes that increase website conversion rates. Like Hotjar and Crazy Egg, FullyStory also provides full-session recordings of user navigation.
CRO testing tools
VWO Testing is a web testing platform that optimizes customer experiences and increases conversion rates through a wide variety of AI-powered tests. VWO Testing's platform has been intelligently designed for both non-technical users and developers. No coding experience is required to launch tests on the platform, but there is a "code-only" mode for developers wanting to run more complex tests on site.
One of VWO Testing's best features is their AI-powered, Bayesian-based copy generator, which intuitively suggests changes to CTAs, product descriptions and headlines and tests them against one another to find the highest converting variant. The tool is available as a self-service or serviced package depending on your business needs and budget.
Google Optimize is a website testing tool that runs A/B tests, multivariate tests and redirect tests. Due to its integration with Google Analytics, it's possible to segment audiences and serve experiences to a specific group of users.
One of the main attractions of Google Optimize is its accessibility. It is completely free to use, making it a great option for smaller, low-budget teams who are new to CRO testing tools. As a free tool, it's no surprise that Google Optimize comes with several limitations. For companies requiring more advanced and sophisticated testing needs, Yieldify is likely to be more suitable.
Intellimize is an AI-powered CRO tool designed for marketers who want to simultaneously test their creative ideas and uncover the most effective messaging, content and experiences. Using machine learning, Intellimize runs combinations of experiences and learns what converts, drawing on data including location, device type, time of day, day of the week, and traffic source.
Once the best-performing variant has been identified by the test, the experience will appear to 100% of users. There is no page coding required to launch tests but Intellimize has a support team, which is highly rated by clients, in place to launch more complex tests.
Single-feature CRO tools
Qualaroo is a user feedback and survey tool that helps companies gather valuable insights and dig deeper into customer motivations. Qualaroo uses surveys called Nudges to collect in-depth user insights across various touchpoints. The platform is incredibly simple to use and, owing to their collection of inbuilt professional templates, customers can get setup and launch their first surveys within minutes.
Chatbot is a CRO tool that helps companies to build and launch conversational chatbots without coding. With the capacity to help an unlimited number of customers in real-time, providing 24/7 support and instant answers to common questions, Chatbot eliminates the need to hire multiple support agents.
Using AI-powered algorithms, Chatbot is constantly gathering data that improves customer responses over time, boosts website conversions and nurtures strong relationships with potential leads. Chatbot is available on various platforms including Facebook Messenger, Slack, LiveChat and WordPress – thanks to its one-click integration.
Designed to turn browsers into buyers, Nudgify is a social proof tool capable of turning any data into social proof messaging in real time. Depending on the pages you're looking to optimize, Nudgify can send social proof notifications based on stock scarcity, product popularity, visitor count, customer reviews, delivery incentives and more.
By validating customer choices, driving urgency and reducing hesitancy, Nudgify has a powerful impact on customers and is a solid tool for ecommerce marketers aiming to increase conversions and sales.
Conclusion
I hope this blog helps you find a CRO tool that brings you closer to your customers, uncovers your website's strengths and weaknesses and, most importantly, increases conversions and ROI.
If you'd like a preview of how you can increase conversions on your website with Yieldify's fully-managed, all-in-one personalization platform, feel free to schedule a discovery call here. One of our advisors will be delighted to share more about increasing your conversion rates.
---
CRO Tools FAQs
What Is A CRO Tool?
CRO tools to increase conversion rates on their websites. If you're an ecommerce marketer, a good CRO tool will help you gather audience insights, test hypotheses and increase conversions at each stage of the customer journey.
What are CRO techniques? 
CRO techniques are used by digital marketers and product managers to increase website conversion rates. There is no one-size-fits all CRO technique, but every technique will help you optimize your website to streamline the customer experience and drive more conversions.

Here are some of the most commonly used techniques: 
– User behavior analytics 
– A/B and multivariate testing 
– Social proof messaging
– Product recommendations 
– Live chat bots
– Customer surveys
How can I improve my website CRO?
You can improve your website's conversion rates by analyzing user data and testing hypotheses. However, implementing a CRO strategy in-house requires lots of bandwidth and coding expertise that many businesses don't have. For that reason, using a website personalization tool like Yieldify is typically the most practical and cost-effective way of increasing website conversion rates.
---
If you'd like a preview of how you can increase conversions on your website with Yieldify's fully-managed, all-in-one personalization platform, feel free to schedule a discovery call here. One of our advisors will be delighted to share more about increasing your conversion rates.