BLOG
12 Best CRO Tools To Boost Conversions in 2023
Published: Oct 18, 2022
If you're in the market for a conversion rate optimization (CRO) tool, I imagine you're looking to turn more of your existing traffic into sales, improve your return on ad spend (ROAS), increase customer acquisition, reduce your testing time, or upgrade your current provider. Perhaps it's all of them. If you tick any of those boxes, you've come to the right place.
Broadly speaking, CRO tools fit into four main categories.
All-in-one personalization tools
User behavior analytic tools
A/B and multivariate testing tools
Single-feature tools
All of the 12 CRO tools below will help you improve your conversion rates. But if you're specifically looking for a tool to convert more of your visitors into email and SMS leads, then check out our post on the 12 best lead generation tools.
What To Look For In A CRO Tool
A typical CRO tool will come with features that let you do at least one of the following:
Gather data-driven analytics
Run A/B tests
Target audience segments
Gather customer feedback
Display social proof messaging
Which features you need will depend on your goals and bandwidth. For example, if you only want to gather more first-hand feedback from customers, Qualaroo is a great option.
If you want to do more than that – such as understand your visitors' browsing behavior, run tests and launch on-site campaigns – an all-in-one personalization tool like Yieldify might be a better fit.
Disclaimer: Yieldify is our product. We've done our best to present the information fairly because we want to help you make an educated decision but we're especially proud of what we offer. We've seen it transform conversion rates, lead generation and revenue for so many brands – large and small – all over the world. You may have seen we use the Yieldify platform and services on our own website too. Learn more here and schedule a call with an advisor.
12 Best CRO Tools
Single-feature tools: Add a specific conversion rate optimization software function – including chatbots and customer feedback surveys – straight to your site
All-in-one personalization tools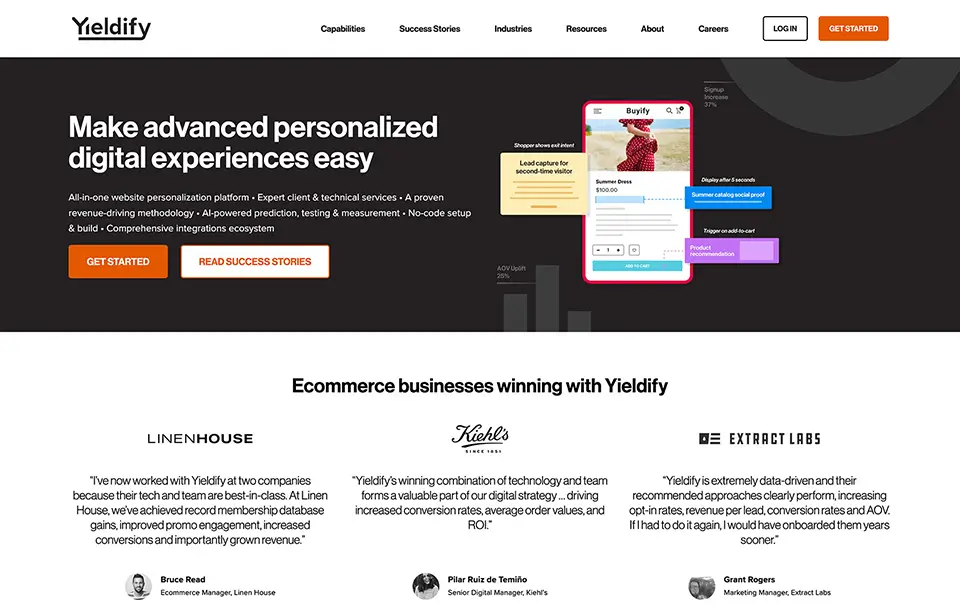 Yieldify is a fully managed personalization platform that helps ecommerce businesses increase conversion rates, average order values and lead capture with personalized customer experiences. If you don't have the bandwidth or expertise to manage a CRO tool yourself, Yieldify is probably the platform that will suit you best.
Top features
Market-leading managed service
Yieldify's service team will handle your CRO strategy for you. You'll get expert support from a dedicated account manager as well as a team of graphic designers, technical engineers and quality assurance specialists. Together they'll help you identify opportunities, set up and monitor campaigns, and optimize performance.
Rated 9.7/10 for quality of support by customers on G2, you won't find Yieldify's market-leading service with any other CRO provider.
Audience segmentation
Yieldify's audience segmentation functionality lets you reach different customer groups by setting custom combinations of targeting and triggering rules. That way you can optimize your conversion rates by delivering personalized campaigns to the right customers, at the right time, with the most suitable messaging.
Their targeting and triggering rules are comprehensive – including segmenting by session number, basket value, time on page, page type, pages visited, time on site and in response to exit intent behavior and inactivity.
Personalized campaigns
With Yieldify's technology you can personalize your customers' journeys from website entry through to purchase. By tailoring experiences to your customers' specific needs using overlay, embedded and dynamic campaigns, you'll drive more engagement, build brand affinity and convert interest into more sales.
Some of the personalized campaigns you can run with Yieldify include:
Social proof messaging
USP banners
Progress bars
Website navigation
Browse abandonment

User behavior insights
With Yieldify you can uncover actionable insights on your audience behavior. Their Sunburst charts give you a practical, granular and 'multidirectional' view of your customer journeys, explaining how your users navigate your site, where they exit and why. That way, you can see what's holding back your conversion rate and take the right steps to improve it.
Want to track micro conversions as well as macro conversions? Track, measure and report absolutely any custom goal on your site with Yieldify's Purchase Indicators.
A/B & A/B/n testing
Yieldify's A/B and A/B/n testing engine helps you quickly pinpoint which website messaging, design or placement is proven to drive the most conversions. Depending on your traffic volumes, Yieldify lets you test up to 5 variants at the same time and get insights in as little as 14 days.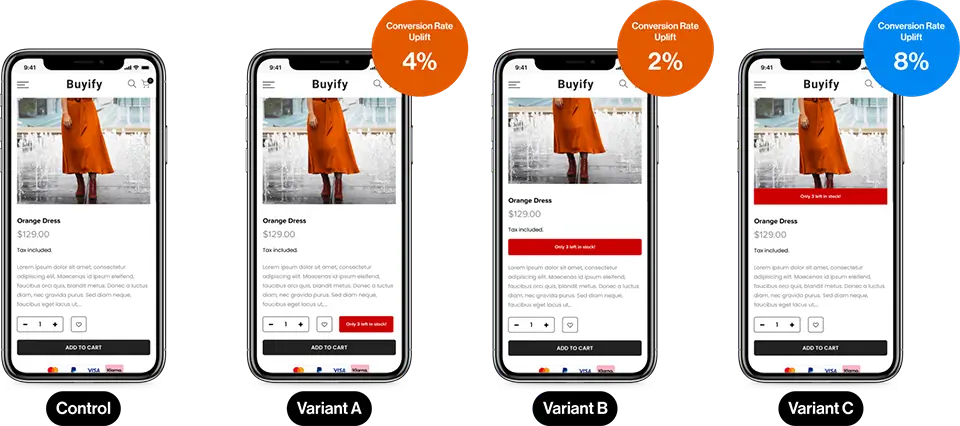 Integrations
Yieldify integrates with all major ESPs, CRMs and ecommerce platforms – including Klaviyo, Hubspot & Shopify – to ensure you're getting maximum value from your increased conversions. Yieldify's technical account managers will also help you set up your integrations. Check out Yieldify's partners and integrations here.
Pros of Yieldify
Count on expert service: Yieldify's service team is second-to-none in the CRO and personalization industry. Read their G2 reviews to see what their clients say
Launch your first tests in 14 days: With Yieldify's easy-to-integrate tag and no-code builds, you can get your first tests live in under 14 days, and launch new ones in as little as 48 hours after that – no developers required
Incremental reporting: Yieldify only attributes value to the extra or 'incremental' impact you see from your CRO experiences, not the total revenue – giving you maximum transparency about how your campaigns are performing
Cons of Yieldify
No free trial: You can only use the Yieldify platform with a paid package
"Yieldify's platform and analytics take our ecommerce sales to the next level by making it easy to optimize the customer journey – increasing lead generation, conversion rates, and overall new customer revenue."
"I've worked with Yieldify for three years and believe they have the best-in-class personalization and conversion rate optimization software. With Yieldify, we increase average order values, promo engagements, conversions rates and improve our customer experience."
Book a demo with Yieldify
If you'd like a preview of how you can increase conversions on your website with Yieldify's fully-managed, all-in-one personalization platform, feel free to schedule a discovery call here. One of our advisors will be delighted to share more about increasing your conversion rates.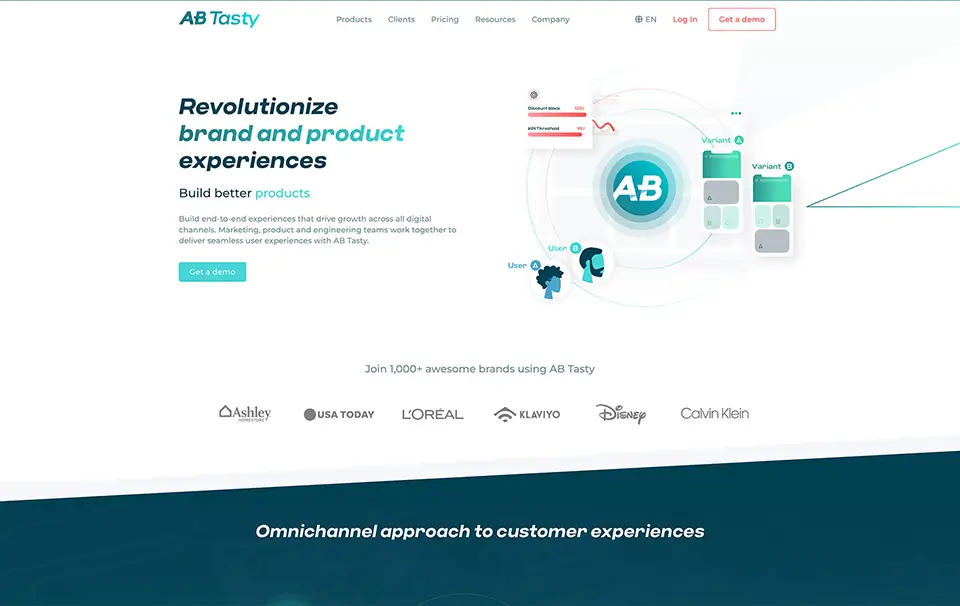 AB Tasty is a customer experience optimization platform that helps brands develop their CRO strategy across all of their digital channels. As well as improving CVR, AB Tasty campaigns are designed to manage other ecommerce goals, such as AOV, CTR and revenue impact.
Top features
A/B and multivariate testing: Use audience segmentation rules, KPIs, traffic allocation and other testing features to optimize conversion rates.
ROI Dashboard: AB Tasty allows you to track the impact of your tests and attribute gains in revenue to your experiments.
Personalization: Resonate with your audience by crafting granular, personalized experiences that drive brand loyalty and revenue.
Pros of AB Tasty
User-friendly: A good option for non-technical ecommerce teams without coding expertise
Regular updates: AB Tasty keep their platform fresh by responding to user feedback
Customer success: Localized, personalized support and guidance for every client
Cons of AB Tasty
Reporting: AB Tasty's reporting suite is not the most intuitive or quickest to update
Data: Clients have experienced issues when exporting data from the platform
Pricing
Speak to AB Tasty's sales team for information on pricing.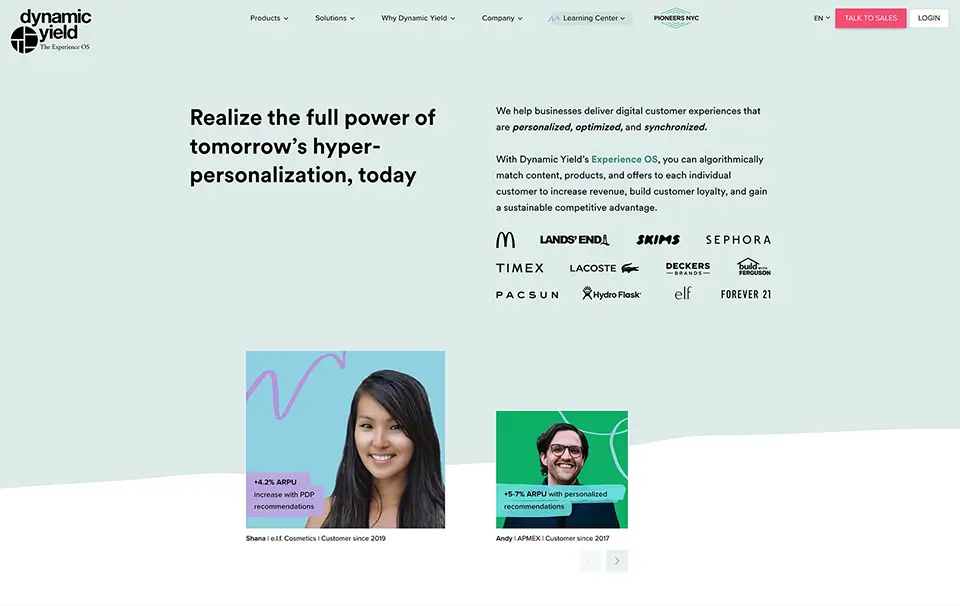 Dynamic Yield is an all-in-one, self-service personalization platform and CRO tool that helps brands to create end-to-end customer experiences across the web, email, mobile apps and advertising.
Top features
Product recommendations: Dynamic Yield uses an advanced deep learning recommendation system – AdaptML™ – to predict the next best series of products to each shopper.
A/B test anywhere: Run experiments across all of your digital channels to optimize content, recommendations, overlays and more.
Omnichannel personalization: Personalize every interaction to deliver an optimal customer experience at scale across web, mobile, email, and ads.
Pros of Dynamic Yield
Customer support: Though Dynamic Yield is a self-serve CRO tool, their support team introduces clients to the platform during onboarding and provides ongoing support and resources to help clients use the platform effectively
Built for scale: Dynamic Yield is a great CRO solution for enterprise-size businesses
Cons of Dynamic Yield
Setting up tests: It's difficult to set up A/B tests if you do not have coding experience
Pricing
Speak to Dynamic Yield's sales team for information on pricing.
User behavior analytics conversion rate optimization tools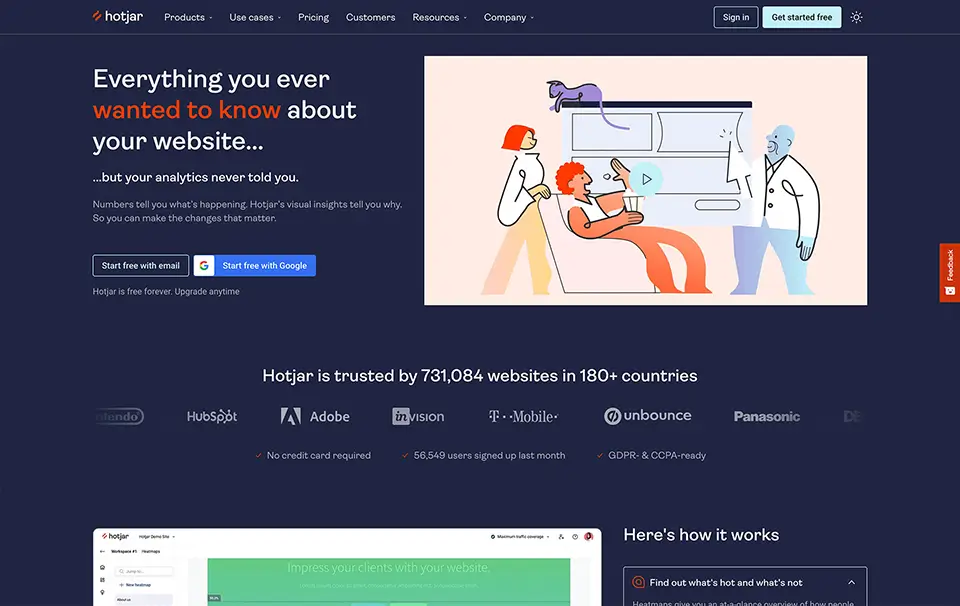 Hotjar is a product experience insight tool that gathers data on user behavior and helps companies understand how and why users interact with their product.
Top features
Heatmaps: Visualize user behavior with easily digestible heatmaps.
User recordings: Watch playbacks of users interacting with your website or product to understand where you need to make improvements.
Surveys: Capture in-the-moment feedback at any point in your customers' journeys.
Pros of Hotjar
Perfect for product managers: A great tool for observing and responding to patterns of user behavior
Granular perspective: Acquire deep and unique customer insights that you can't get from raw numbers alone
Cons of Hotjar
No mobile: Hotjar isn't compatible with mobile applications and is used primarily for websites and web apps
Pricing
Hotjar's packages range from $0-$79 per month. You'll need to speak to Hotjar's sales team to get a quote for their Scale package.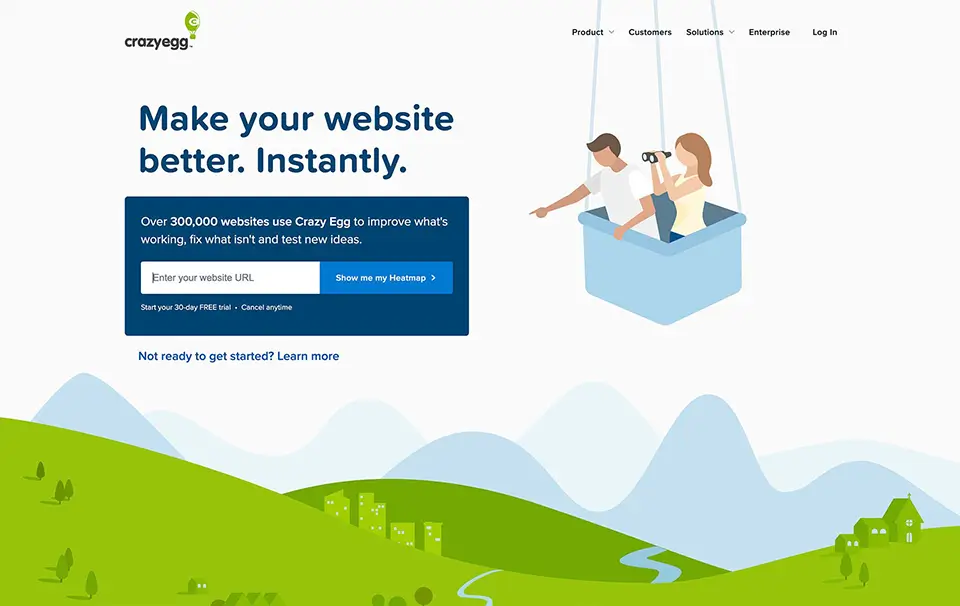 Crazy Egg is a user optimization tool offering a variety of features to help ecommerce businesses understand how people interact with their websites.
Top features
A/B testing: Run experiments to analyze the effectiveness of different headlines, copy and product descriptions on your website, web app and mobile experiences.
Snapshots: Crazy Egg's heat maps are known as Snapshots, which you can analyze in five different reports to see where users are clicking, who is clicking, how much they're clicking, what elements they're clicking and how far they're scrolling.
User recordings: Watch recordings of your visitors using your website to understand their behavior.
Pros of Crazy Egg
Support: Customers have reported that Crazy Egg's support team are insightful and go the extra mile to answer concerns and queries
User-friendly: Small learning curve, intuitive and visually appealing platform
Cons of Crazy Egg
No free trial: Crazy Egg don't have a free version available so you can't test out their product before buying
Pricing
Crazy Egg packages cost between $29 and $249 per month. Speak to Crazy Egg's sales team for information about their Enterprise package.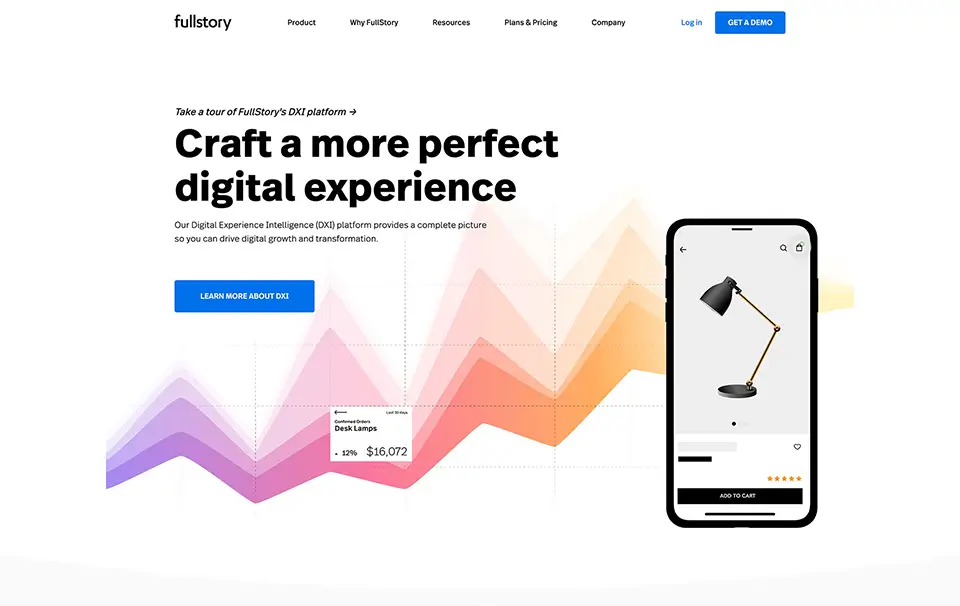 FullStory is a digital experience intelligence tool built for product teams to acquire in-depth insights on user behavior.
Top features
Real-time updates: Data is automatically indexed and presented in heat maps, click maps and scroll maps to provide a visual representation of how users interact with websites.
Framework for UI and UX teams: FullStory helps brands identify bugs, optimize low-performing pages and understand what's working well.
Full-session recordings: Acquire deeper insights into how customers navigate your site.
Pros of FullyStory
Try before you buy: FullStory offer a 14-day free trial
Cons of FullStory
Learning curve: It can be challenging for non-technical users to extract insights
Pricing
Speak to FullStory's sales team for more information on pricing.
A/B and multivariate testing tools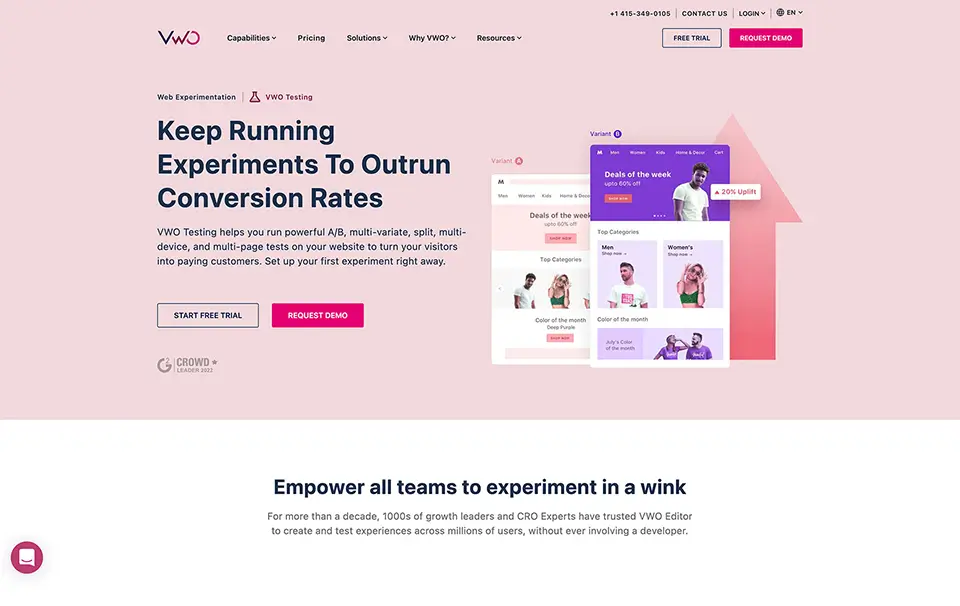 VWO Testing is a web testing platform that optimizes customer experiences and increases conversion rates through a wide variety of AI-powered tests.
Top features
AI-powered, Bayesian-based copy generator: VWO intuitively suggests changes to CTAs, product descriptions and headlines and tests them against one another to find the highest converting variant.
Advanced testing: "Code-only" mode for developers wanting to run more complex tests on site.
Point-and-click visual editor: Edit any element – such as text, images, shapes or backgrounds – on your webpage.
Pros of VWO Testing
Adaptable platform & pricing: The tool is available as a self-service or serviced package depending on your business needs and budget
Versatile: VWO Testing's platform has been intelligently designed for both non-technical users and developers
Cons of VWO Testing
Buggy editor: VWO customers have experienced issues with the visual editor's functionality
Pricing
Speak to VWO's sales team for more information on pricing.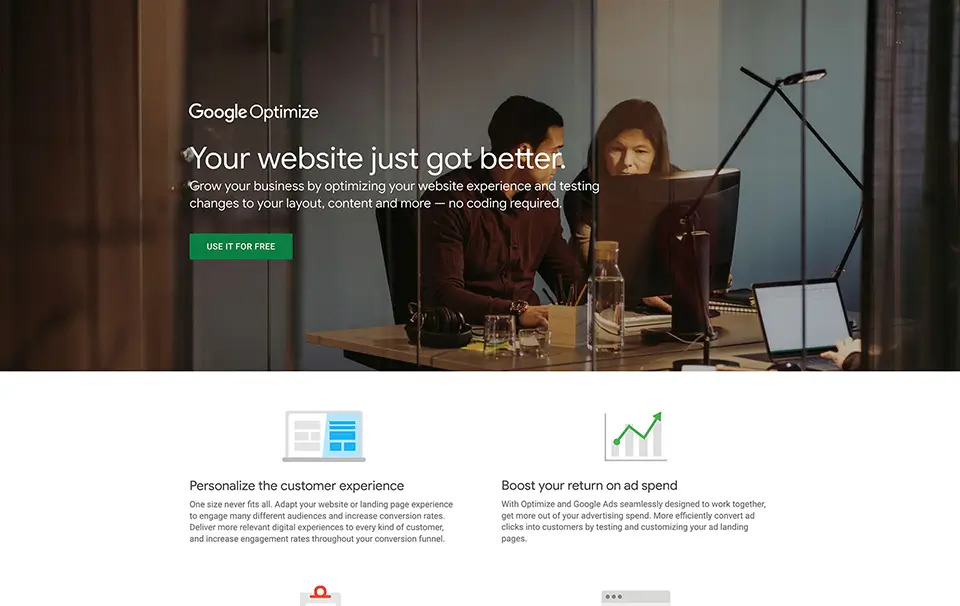 Google Optimize is an entry-level website testing tool that runs A/B tests, multivariate tests and redirect tests.
Top features
Audience segmentation: Run tests for specific groups of users.
Integrations: Integrate easily with Google Analytics and Google AdWords.
Pros of Google Optimize
Accessibility: Completely free to use, making it a great option for smaller, low-budget teams who are new to conversion optimization tools
Cons of Google Optimize
Not scalable: Google Optimize is a good A/B testing tool for beginners but is limited compared to other CRO tools on the market
Pricing
Google Optimize is free to use.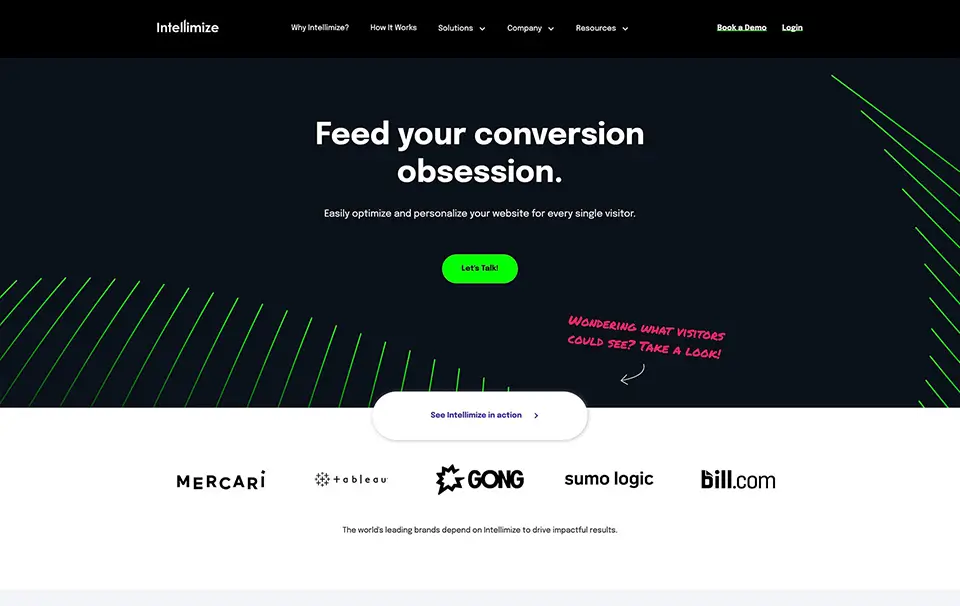 Intellimize is an AI-powered CRO tool designed for marketers who want to test their creative ideas and uncover the most effective messaging, content and experiences.
Top features
Machine learning: Intellimize runs combinations of experiences and learns what converts, drawing on data including location, device type, time of day, day of the week, and traffic source.
Multi-purpose: The Intellimize platform is suitable for B2B SaaS, B2C and ecommerce.
Pros of Intellimize
Seamless testing: You don't need technical expertise to launch A/B tests
Support: Intellimize has a highly rated support team in place to launch more complex tests
Cons of Intellimize
Data analysis: Intellimize does not offer any predictive analytics
Pricing
Speak to Intellimize's sales team for more information about pricing.
Single-feature conversion rate optimization tools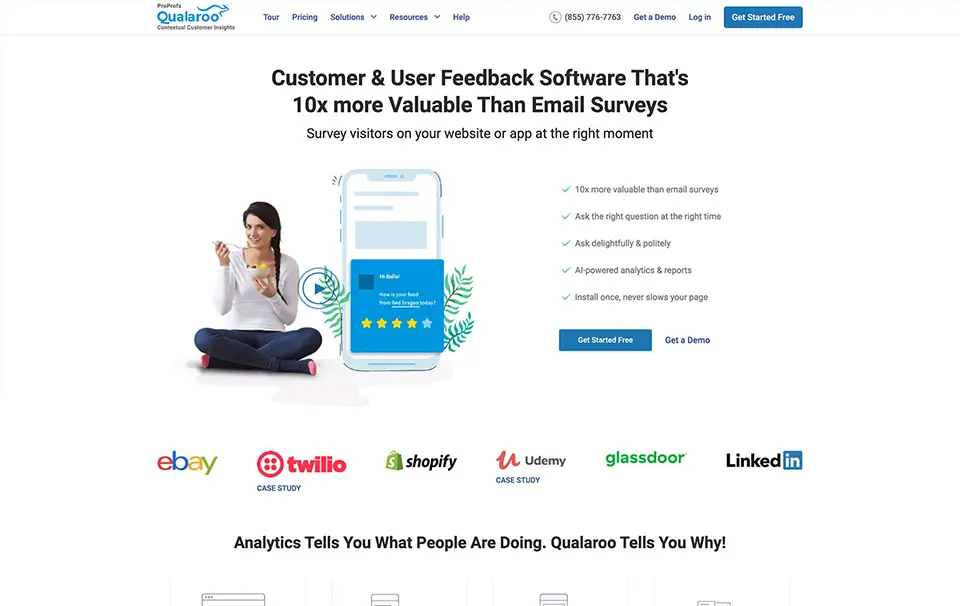 Qualaroo is a user feedback and survey tool that helps companies gather valuable insights and dig deeper into customer motivations.
Top features
Nudges: Qualaroo uses surveys (Nudges) to collect in-depth user insights across various touchpoints.
AI Sentiment analysis: Automatically mine through data to acquire insights into customer feedback.
Survey templates: Ask your customers questions with curated templates based on years of feedback experience.
Pros of Qualaroo
User-friendly: Qualaroo's platform is incredibly simple to use
Quick-to-launch: With a collection of inbuilt professional templates, customers can get set up and launch their first surveys within minutes
Cons of Qualaroo
Integrations: Qualaroo don't offer any integrations with their Essentials package
Pricing
Qualaroo's Essentials package is $80 per month rising to $160 for their Premium package. You'll need to speak to Qualaroo's sales team for more information about their Enterprise package.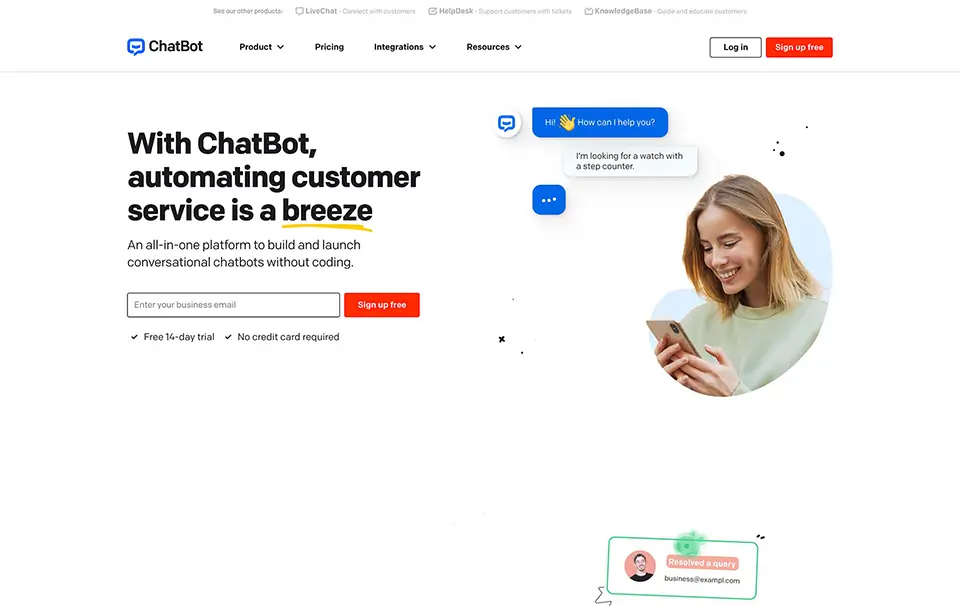 ChatBot is a CRO tool that helps companies to build and launch conversational chatbots without coding.
Top features
Capacity: speak to an unlimited number of customers in real-time, providing 24/7 support and instant answers to common questions.
Integrations: Thanks to its one-click integration, ChatBot is available on various platforms including Facebook Messenger, Slack, LiveChat and WordPress.
AI-powered algorithms: ChatBot is constantly gathering data to improve customer responses.
Pros of ChatBot
Efficiency: Eliminates the need to hire multiple support agents
Cons of ChatBot
Price: ChatBot is slightly more expensive than similar conversion optimization tools on the market
Pricing
ChatBot packages cost between $52 and $424 per month. Speak to ChatBot's sales team for more information about their Enterprise package.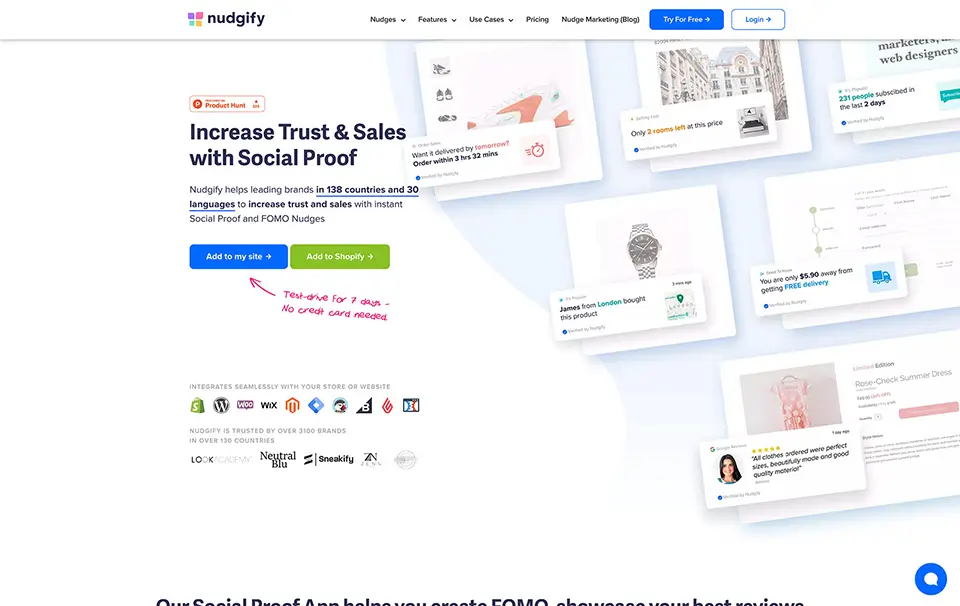 Designed to turn browsers into buyers, Nudgify is a social proof tool capable of turning any data into social proof messaging in real time.
Top features
Templates: Use Nudgify's pre-configured library of templates for ecommerce, SaaS, Travel and more.
Analytics dashboard: Track how your social proof messaging impacts conversion rates.
Language: Nudgify supports 32 different languages.
Pros of Nudgify
Scope: Nudgify can send social proof notifications based on stock scarcity, product popularity, visitor count, customer reviews, delivery incentives and more
Integrations: Nudgify integrates with all leading eCommerce platforms and site builders
Cons of Nudgify
Limited: The technology is niche and gives you just a single strategy to improve your conversion rate
Pricing
Nudgify's Lite version costs just $0.99 per month, rising to $89 per month for their Agency package.
Picking the right conversion rate optimization software
I hope this blog helps you find a CRO tool that brings you closer to your customers, uncovers your website's strengths and weaknesses and, most importantly, increases conversions and ROI.
Whether you're just launching your ecommerce site, scaling quickly or are looking to optimize a well established brand, there's a conversion rate optimization software in this blog to help you achieve your objectives and correct any mistakes you may have been making. Choosing the right one will depend on your in-house expertise, business goals and budget. But if you've already decided you need a fully-managed, all-in-one personalization platform to lift conversion rates, Yieldify ticks all the boxes.
If you'd like a preview of how you can optimize your website's CRO strategy with Yieldify, feel free to schedule a discovery call here. One of our advisors will be delighted to share more about increasing your conversion rates.
---
CRO Tools FAQs
What Is A CRO Tool?
The "CRO" in CRO tool is short for "conversion rate optimization". Marketers, CRO specialists and product managers use CRO tools to deploy tactics that improve conversion rates on their websites. If you're an ecommerce marketer, a good CRO tool will help you gather audience insights, test hypotheses and increase conversions at each stage of the customer journey.
What are CRO techniques? 
CRO techniques are used by digital marketers and product managers to increase website conversion rates. There is no one-size-fits all CRO technique, but every technique will help you optimize your website to streamline the customer experience and drive more conversions. Here are some of the most commonly used techniques: 

Here are some of the most commonly used techniques: 
– User behavior analytics 
– A/B and multivariate testing 
– Social proof messaging
– Product recommendations 
– Live chat bots
– Customer surveys
How can I improve my website CRO?
You can improve your website's conversion rates by analyzing user data and testing hypotheses. However, implementing a CRO strategy in-house requires lots of bandwidth and coding expertise that many businesses don't have. For that reason, using a website personalization tool like Yieldify is typically the most practical and cost-effective way of increasing website conversion rates.
---
If you'd like a preview of how you can increase conversions on your website with Yieldify's fully-managed, all-in-one personalization platform, feel free to schedule a discovery call here. One of our advisors will be delighted to share more about increasing your conversion rates.