EBOOK
The New Rules of Customer Acquisition
Published: Jan 6, 2020
What you'll find in this report
Since 2015, customer acquisition costs have surged, increasing by more than half, and the recent Internet Trends report from Mary Meeker suggests there are areas where these costs may be rising to unsustainable levels.
In this extremely crowded market, competition for the attention of new customers and rising costs are not the only challenge marketers face. New privacy regulations, such as the GDPR in Europe and the CCPA in the US, have depleted databases and changed the rules around how marketers can identify consumers via personal data.
So how are marketers responding to these challenges with customer acquisition? We sought to find out.
At the end of 2019, we surveyed over 200 UK and US marketers working in eCommerce*, to understand how customer acquisition strategies are evolving as we start the new decade.
Inside this guide, you'll find the new rules of customer acquisition (and e-commerce customer retention strategies), backed by data, together with an in-depth look at industry (retail and travel) and market (US and UK) trends.
*Methodology: This research was conducted by Censuswide, an independent market research consultancy, with 207 UK and US ecommerce marketers who work in retail and travel: 100 in the UK and 107 in the US. Fieldwork was carried out between 11.09.2019 – 17.09.2019. Censuswide abide by and employ members of the Market Research Society. All survey panellists are double opted in, which is in line with MRS code of conduct and ESOMAR standards.
Rule #1: It's all about balance…
In 2018, we asked 200 marketers where they focused the majority of their efforts when it came to balancing acquisition and retention, and the results were a little surprising.
Despite the oft-cited fact that acquiring new customers is getting more expensive, and can cost up to 5x more than retaining an existing customer, marketers were still focusing 60% or more of their time and effort on attracting new customers. Revisiting the same question in 2019 revealed a notable shift in approach: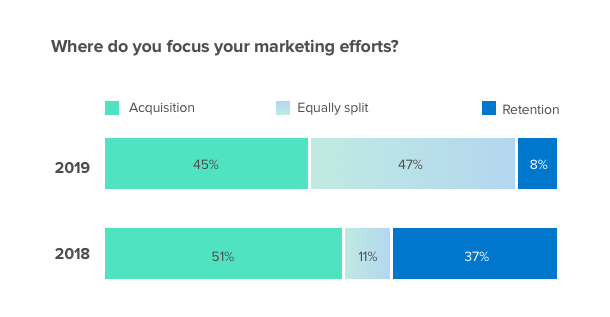 As the data reveals, marketers are shifting toward a more holistic approach, balancing their acquisition and retention efforts much more equally. In 2019, nearly half of marketers (47%) were spending equal effort on both attracting and keeping customers, compared to just 11% who said the same in 2018.
However, it can be said that acquisition is still king, with 45% still prioritizing this, and gains to the more balanced approach largely coming from those previously weighted toward a greater focus on acquisition.
Industry and market trend spotlight
US (53%) marketers are much more focused on acquisition than the average (45%), and their UK counterparts (36%).
Travel marketers were slightly more focused on acquisition than their Retail counterparts, perhaps given the more one-off nature of travel purchases.
UK marketers are the most balanced in their customer acquisition and retention strategy – 57% are equally focused on both aspects of the customer journey.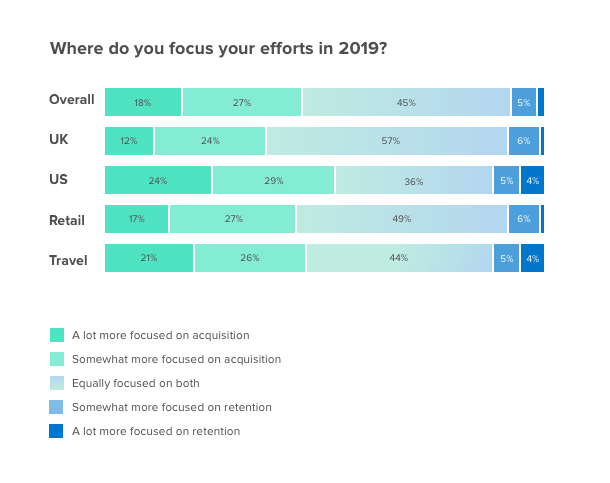 Rule #2: Privacy requires proactivity
In May 2018, the General Data Protection Regulation (GDPR) came into effect to protect the privacy of EU citizens, and in January 2020 a similar regulation came into effect in the US: the CCPA. The impact of the latter remains to be seen, but we do know how GDPR impacted UK marketers.
With the average marketer losing 23% of their hard-acquired customers (i.e. email database) due to the regulation, we saw that survival in the new era of privacy requires a proactive approach to data capture.
Businesses in retail achieved some of the best results, growing databases to 101% of their pre-GDPR size via a wide range of strategies, from loyalty programs to content optimization, as well as more traditional approaches such as competitions and incentivized newsletter sign-ups.
This shift toward a more proactive approach to acquiring customer data is also visible from the change in focus noted in the chart below: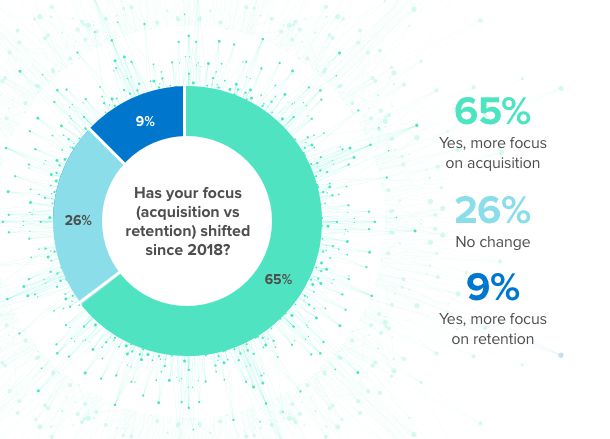 Industry and market trend spotlight
Interestingly the UK marketers were not as focused on acquisition as those in the US despite the advent of GDPR, suggesting many UK businesses have got their house in order when it comes to privacy and acquisition.
Travel marketers shifted their focus less than retail, perhaps explaining the slower recovery from GDPR we saw in this sector.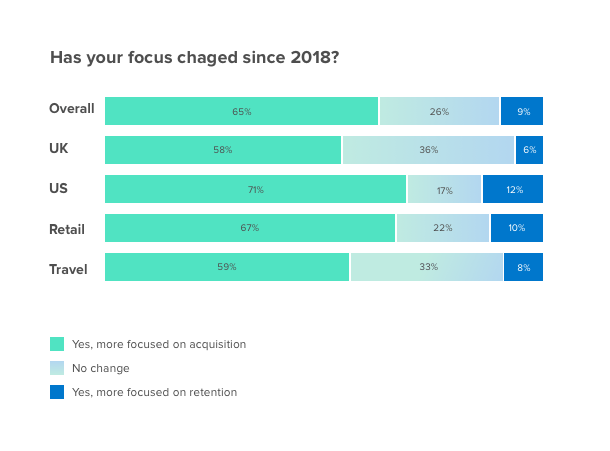 Rule #3: Social media is king when it comes to channels
According to respondents, the top three acquisition channels marketers across verticals and markets are focusing on are: social media (66%), paid search (52%), and email (51%).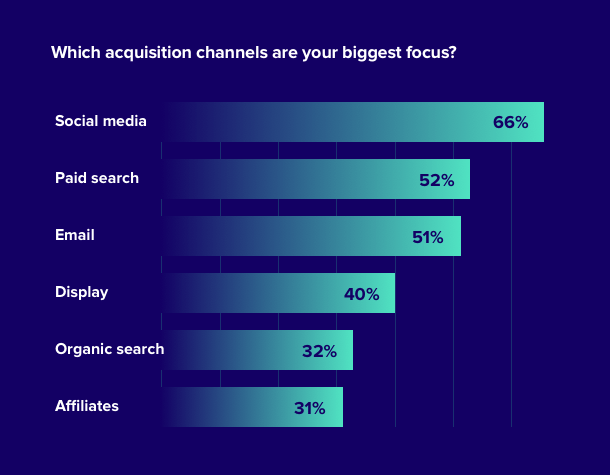 The high placement of social media is an interesting one, especially as social commerce finally seems to be gaining traction. In the next section, we'll examine how these channels are perceived in terms of ROI to see if this focus is deserved.
It seems that marketers are still largely prioritizing paid channels such as paid search, display, and of course to some extent social, over strategies such as SEO. This approach remains despite rising acquisition costs, so it is worth noting that it may become unsustainable heading into the new decade – marketers will need to evaluate how they can switch up their strategies when it comes to acquisition channels.
Industry and market trend spotlight
The US is much more focused on paid activity than other markets, which makes sense given the greater focus on acquisition we've seen from this group so far.
After social, email was the biggest focus in the UK. Again this aligns with these segments' greater focus on retention.
Affiliate marketing was the channel that received the least focus. This channel was most popular with US marketers and in Retail.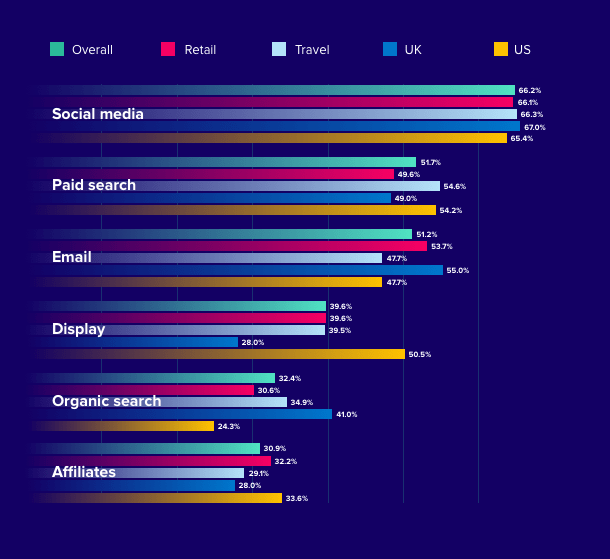 Rule #4: Top focus doesn't automatically mean ROI
Looking at the top channels for ROI, there weren't too many changes, for example, social media still came out on top, with 52% of marketers ranking it within their best three channels for ROI. What was most interesting here was the discrepancy when comparing the focus or effort applied to particular channels, versus the ROI they were perceived as generating: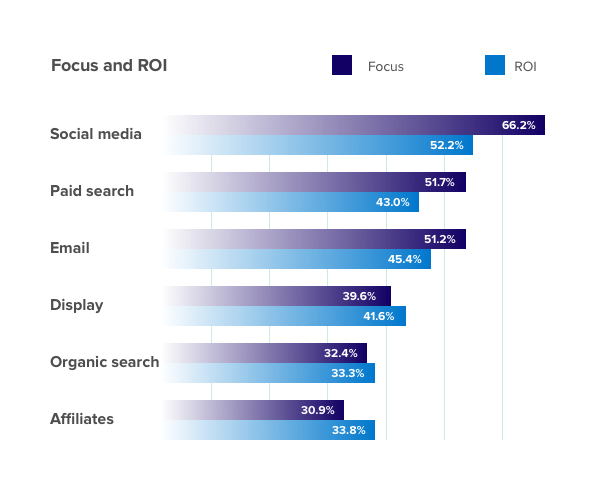 We see an interesting pattern emerge here, the top-ranked channels for focus, such as social media and paid search, performed less well on ROI, while those who had been ranked lower, such as affiliates, actually performed better.
So should marketers switch up their strategy to focus on these ROI-driving channels? Not necessarily. What it suggests to us is that the customer journey for channels like social media and paid search needs to be improved.
Why? It all comes down to intent. If you think about a user visiting from an organic search or an affiliate, the intent to buy is likely to be much higher, and thus these visitors are more likely to convert, boosting ROI. For channels like social media, a visitor may be in 'discovery' rather than 'buy' mode, and so needs a helping hand to move down the funnel toward conversion. In 2020 it is essential that marketers improve the customer journey from click to conversion for social media, paid search and email.
Industry and market trend spotlight
US and Travel marketers reported much higher ROI from display than other segments, suggesting they are doing a better job of continuing the customer journey post-click.
Travel also reported a higher ROI from affiliates than other groups, perhaps due to the higher AOV seen in this industry or because these visitors are showing a strong intent to buy.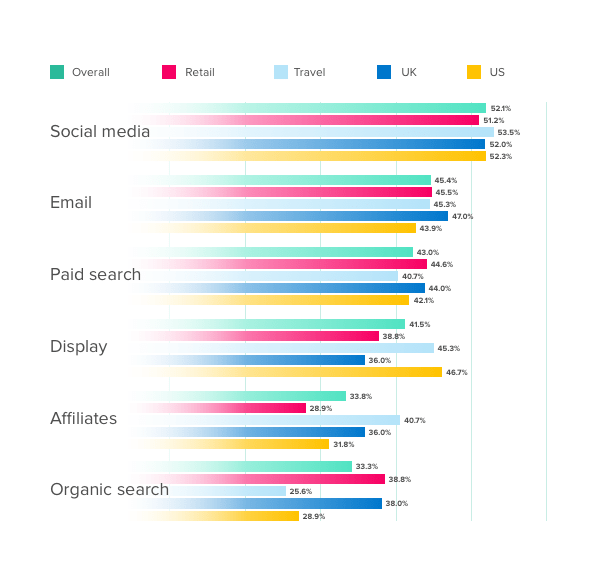 #Rule 5: Better data collection is the foundation of success
Everything we've seen up to this point suggests that marketers need to evolve their approach to acquisition and retention, but how?
The discrepancies between channel focus and ROI achieved point toward a need to improve the customer journey. The top strategies marketers plan to use to optimize the customer journey in 2020 include Marketing automation and website personalization, but neither of these are possible without a solid foundation of data.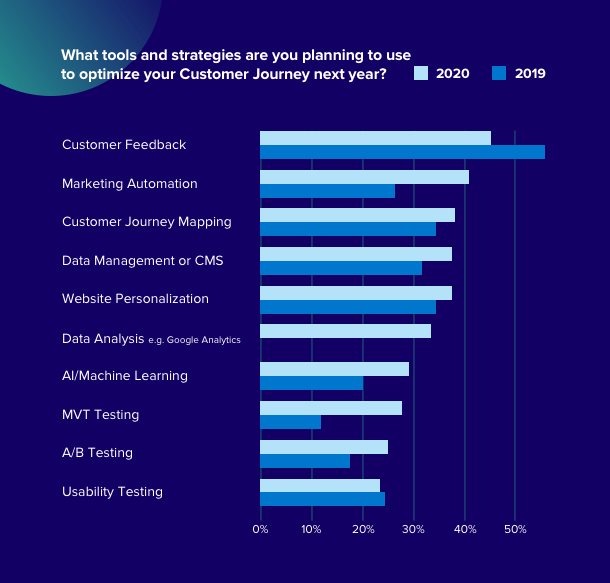 Smart acquisition (and retention!) in 2020 will rely on:
Effective data capture: careful targeting at the right moment in the customer journey to collect data and build a granular view of visitors
Smart segmentation: based on available and collected data, segmenting visitors allows for scale and efficiency when it comes to both data collection and personalization, allowing you to target a new visitor and a loyal VIP differently.
The ability to act on behavioral data: when you don't have personal data, you need to recognize and act on intent. For example, personalizing your approach for visitors from high versus low intent channels.