BLOG
How to Convert Affiliate Traffic
Published: Aug 12, 2019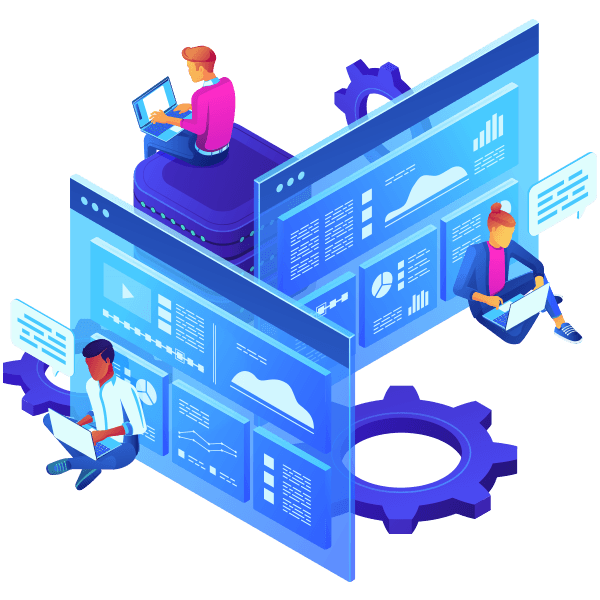 Affiliate marketing is a popular way for brands to drive traffic to their site — but too often affiliate traffic is treated like any other traffic stream. In this blog we take a look at what marketers need to do differently.
As we've learned over the years, affiliate traffic is just a bit different. This traffic comes to your site in a unique way via third-party publishers — so converting affiliate traffic needs a unique approach.
The growth and importance of affiliate marketing for e-commerce brands is undeniable. 81% of brands and 84% of publishers already leverage the power of affiliate marketing, and spending is on the rise. For example, a study from Forrester shows that in the US spending is increasing by 10.1% each year, meaning it could reach $6.8bn by next year! So now is a great time to give a little more thought to improving the customer journey for your affiliate visitors.
The bad news? The average affiliate marketing conversion rate is around 0.5% to 1%, which of course isn't particularly high. The good news is that there are ways to make the most of this traffic stream and covert it into lots of paying customers. Here are a few strategies that can help…
Personalize the customer journey
You've done a great job of driving affiliate traffic to your site. Now what?
The best brands identify where this traffic has come from, and then create a personalized customer journey to drive these visitors toward conversion. Let's look at an example of how that could work.
Consumers today are hungry for discounts, and today that means coupon affiliate sites are a key part of many affiliate marketers' strategy. Typically running in partnership via an affiliate network, such as Rakuten, coupon and vouchers sites represent low hanging fruit when it comes to optimizing the customer journey. Why? Because you already know the what motivates this traffic, and so you can tailor the journey to meet their price-sensitive behavior. Even better, you know the specific offer that tempted them to visit in the first place, so you can mirror this message on site: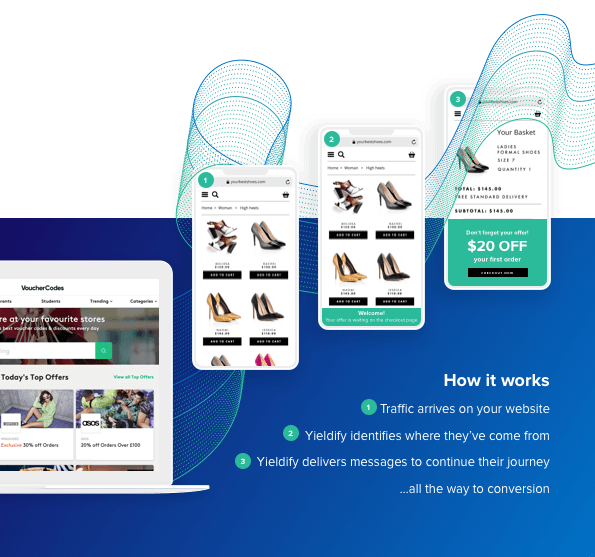 Serving reminders of why visitors came to your site in the first place as they navigate through it is a powerful way to encourage conversion. Here at Yieldify we've seen this type of multi-touch tactic deliver better results than simply serving a reminder once upon arrival, particularly at key points in the customer journey such as checkout, where it's adding value for these price-sensitive consumers, by making sure they don't miss out on the deals they searched high and low for!
Get the UX and UI basics right
How your site looks can make a massive difference in terms of converting any visitor, not just affiliate traffic. As our own Head of Design, Lana Kropyvana puts it:
"People buy with their eyes. If something doesn't look good, users won't be interested in it – end of story. There's a furious competition online for everything, so good design is the key to a successful user journey."

Lana Kropyvana, Head of Design, Yieldify
But where to start? Well the pages your affiliate traffic are likely to land on are as good a place as any, first impressions count after all! Here's what you should look out for:
Above all, be clear: As we discussed in the previous point, carrying your message through from your affiliate sites helps minimise confusion, and lets visitors know they're in the right place.
Be attention grabbing: eye-catching, on-brand hero imagery can help direct visitors to the focal points you want them to engage with
Sell yourself: highlighting why users should buy from you, based on where they've arrived from is another great way to encourage conversion
Even better if you can test out tweaks and changes to your messaging to really get an understanding of what works best for your affiliate traffic. Simple changes can have a big impact, as shown by Megabus, who tested their messaging at every stage of the customer journey, driving a conversion rate uplift of +7.5%
Collect visitor data
Despite the fact that your affiliate traffic may be slightly further down the funnel than a brand new visitor, the reality is that the majority wont convert. But that doesn't mean this traffic should goto waste.
Ensuring you have a smart lead capture strategy implemented means you're able to collect data on your affiliate visitors, even if they don't convert, and continue to market to them via your other channels, such as email.
For affiliate visitors, consider targeting your forms depending on the source your visitor has come from. This is an important way of ensuring that there's complete alignment between the reality of the experience and the expectations set by whichever ad, email or post that's brought your visitor to the site. Read more on lead capture forms here.
And on that note, we'll wrap things up – we could fill multiple blog posts with our tips on lead capture (given we've captured more than 15 million for our clients!). Whatever approach you take, the key thing to think about when it comes to your affiliate traffic is how you can better personalize the journey, to drive more conversions, or leads from this traffic source.
Ready to get started? Book your free demo to learn more about how we work with leading brands to drive more value from their affiliate efforts.