BLOG
Meet the Team: Lana Kropyvna, Head of Design
Published: Apr 17, 2019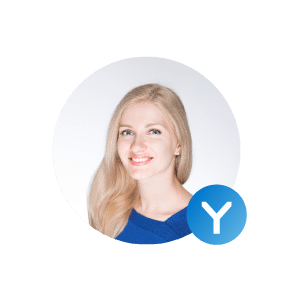 In this series, we sit down with Yieldifiers across the business to find out more about what they do all day.
Next up: Lana Kropyvna, Head of Design
What's your role at Yieldify?
I lead the Design team, which is made up of four fantastic designers in London and Portugal.
Together with our Client Services team, we develop customer journeys for a variety of brands – from Domino's through to Megabus. These innovative user journey strategies help increase conversion rates and sales.
As a team we're passionate about interaction, behavioral science and technology. We apply research and creative thinking to a human-centered approach, finding ways to improve user experiences via design and delivering intuitive digital experiences.
What did you do before you joined the team here?
I have over 8 years' experience working on a wide variety of projects with a pretty eclectic collection of brands covering e-commerce, media and finance.
My previous role before joining Yieldify was with a digital design team in a start-up, creating branding and identity projects, web assets and email campaigns. I was heavily involved in developing brand guidelines and communicating them to the teams in EMEA, US, and UAE. This came in very handy when we were rebranding in Yieldify!
Tell us about the part the Design function plays at Yieldify
What we do within the Design team is to create the catalyst between the user's needs and the technology. We do this by creating a seamless digital experience between the client's brand and our technical solutions.
How do you think it's different to what other companies like us do?
All campaigns for our global clients are designed internally by our team, the design of which is usually turned extremely quickly.
I would say we're different from other companies in the space because of the level of experience that each designer has within the team. Almost everyone in the design team has passed a 3-year milestone at Yieldify – as such we've all learned the best practices and ways to apply them in order. It means that we can deliver incredibly quickly, which allows our teams to be reactive to new insights and trends and therefore get faster results for our clients.
What do you think our clients value most about what you do?
From the feedback we get, I'd say they value our attention to detail and how we translate their brand guidelines into campaigns that integrate really well into their wider marketing.
As a team, we make it our business to know the client's brand inside-out, paying close attention to their trends and the message they're communicating so that we can apply it in our design thinking. Any marketer will tell you just how critical and sensitive it can be to capture the nuances of individual brands at every touchpoint, so it's so important to have an experienced who can get it right without dozens of iterations.
How important is the role of design in e-commerce?
People buy with their eyes. If something doesn't look good, users won't be interested in it – end of story. There's a furious competition online for everything, so good design is the key to a successful user journey.
Does the structure of an e-commerce site bring any particular design challenges?
Shopping online can be a frustrating experience bought on through many factors. The decision-making process, as well as the checkout flow, needs to be clean, clear and straightforward. Every one of our design solutions has to be on-brand, stand out and give the user a seamless, enjoyable experience.
What design trends have you seen emerging in e-commerce recently?
There are quite a few. Personalization is obviously key, but so are easier checkouts and payment solutions, seamless integration with mobile. What really unites all of these is delivering a more user-focused approach rather than just a technical solution to a problem.
What trends do you expect to see become more popular?
Digital experiences are evolving and becoming more deeply integrated in the physical world – we're already starting to see a blurred line between the digital and physical, helping make shopping experiences richer.
Quickfire questions
What do you like best about working at Yieldify?
I love that I get to work with a variety of really great brands. Our work reaches large, diverse audiences and I feel that through what we do, we're helping to influence the way people behave online.
What's your proudest achievement since joining?
We recently went through a rebranding exercise where we repositioned Yieldify with a more confident visual identity. Working collaboratively with different teams and launching this to our clients was a very proud moment for both myself and everyone at Yieldify.
What was your biggest learning?
I'd say my biggest learning is that I can't be everywhere at the same time! I've since learned to delegate tasks more, giving further responsibility to other team members and getting more time to focus on my tasks and do them well.