BLOG
Email Capture Best Practices & Tools: Generate Leads That Convert
Published: Feb 27, 2020
Capture more leads
with Yieldify
Schedule your demo
Whether it's post-GDPR database replenishment or simply trying to build a mailing list from scratch, email capture best practices are on everyone's mind these days.
With the demise of third party cookies looming over us, 1st party data collecting and building up your customer database has shot to the front of marketers minds.
When we analyze customer journeys on our e-commerce clients' websites – be it fashion, beauty, travel or any other vertical – there is one common challenge we're being asked to address: conversions.
Every online business is looking to increase conversions, thus increasing their revenue. However, it is important to note that conversions can be twofold: micro and macro.
A macro conversion typically equals a completed purchase transaction, whereas micro conversions encompass all activity that leads to that purchase, such as a CTA click, a video view, an e-book or whitepaper download, a checkout page visit, or a newsletter subscription.

Many businesses tend to throw themselves at optimizing for macro conversions without thinking that influencing top-of-funnel micro conversions will by proxy affect the final outcome, i.e. purchase.
That's why this time we decided to unpick one of the most popular and most effective types of conversions – email capture – and share eight best practices for developing high-yield email capture campaigns.
When you capture email addresses, you help your business in a few key ways:
Find potential customers
You collect 1st party data by getting more subscribers
You'll gain new customers than can drive more revenue
If you're just starting out, or looking for ways to improve the way you capture email leads we've got just the guide for you. You'll find 8 best practices we've learnt from running thousands of email capture strategies.
Learn all about email capture best practices
1. Target the right people
When it comes to e-commerce lead generation, many online shop owners and managers are tempted to cast the net as wide as possible. Even though lead capture software is a powerful tool if used correctly, shop owners and managers trigger email sign up forms right upon website entry hoping that more impressions will result in more conversions. That's not always the case, unfortunately.
Think from a user's perspective: in the digital realm, email address equals currency. It is valuable private data that users aren't willing to share left and right. Prompting a lead capture form to new visitors who are not familiar with your brand yet is a bold and rather intrusive move that more often than not ends up in high engagement but low conversions.
ActiveCampaign quotes an experiment run by one Shopify customer who tested email capture right upon landing vs after two pages visited. The results showed that while you're looking at much higher email capture rates on landing, conversion are actually higher for leads that engaged with the content.
It ultimately comes down to your business type and objective: whether you're aiming to simply get more leads or get more leads that convert. If it's the latter, you should look into more sophisticated targeting options.
At Yieldify, we offer a wide range of flexible targeting options that allow you to show your email capture forms based on user behavior, for example: spent more than 1 minute on your website; browsed more than one page or browsed a specific page; had more than three sessions, etc.
2. Trigger your email capture form at the right time
While targeting segments your audience based on their behavior on your website, triggers help you further segment then based on their behavior on the page where an email capture form is present. At Yieldify, our triggers include:
On exit – On exit – your campaign will trigger exit intent pop ups when a user goes to leave
On timer – your campaign will trigger a pop up after the user has been on the page for a set time.
On scroll – your campaign will trigger when the element you specify is visible on the page.
On inactivity – your campaign will trigger when a defined period of inactivity has elapsed.
On click – your campaign will trigger when an element on the page is clicked.
On hover – your campaign will trigger when an element on the page is hovered upon.
Sol de Janeiro, a Brazilian body care brand, is a great example to illustrate how smart triggering can yield impressive email capture results. The company used two of Yieldify's popular features – lead capture overlay and floating button – to maximize the impact of their campaign.
The message was set to trigger on exit to users who had not previously submitted their email and only shown to those who were in their first or second session. Visitors who submitted their email address would receive a 10% off coupon, auto-applied to their basket.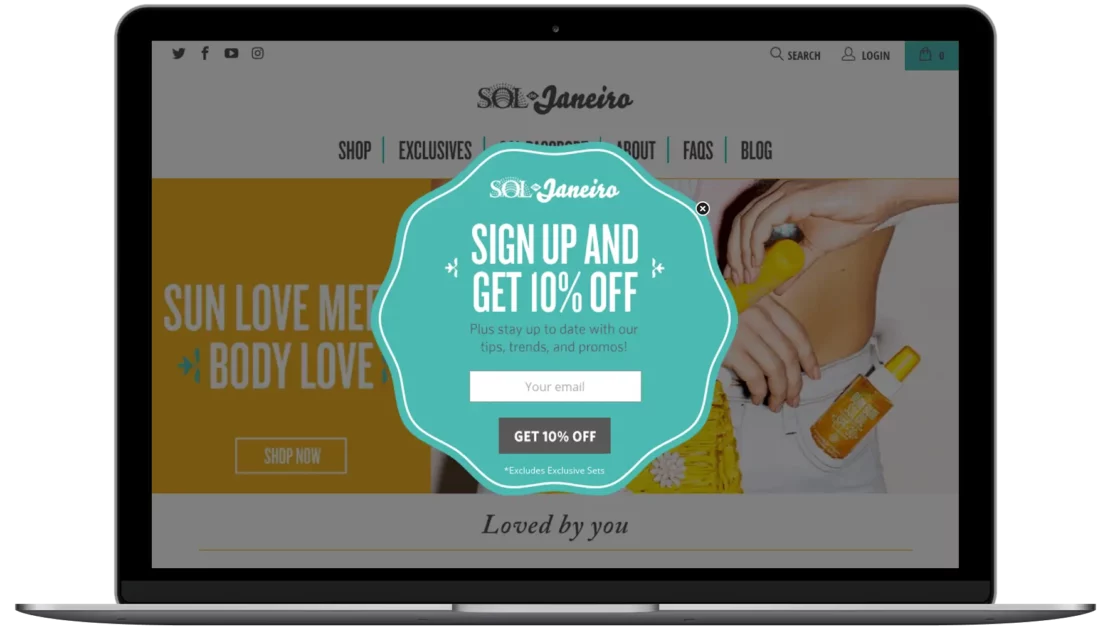 If they didn't, they would then see a floating button in the corner of the screen, with the message reminding them of the offer. This unobtrusive format enabled users to submit their details later on in the journey.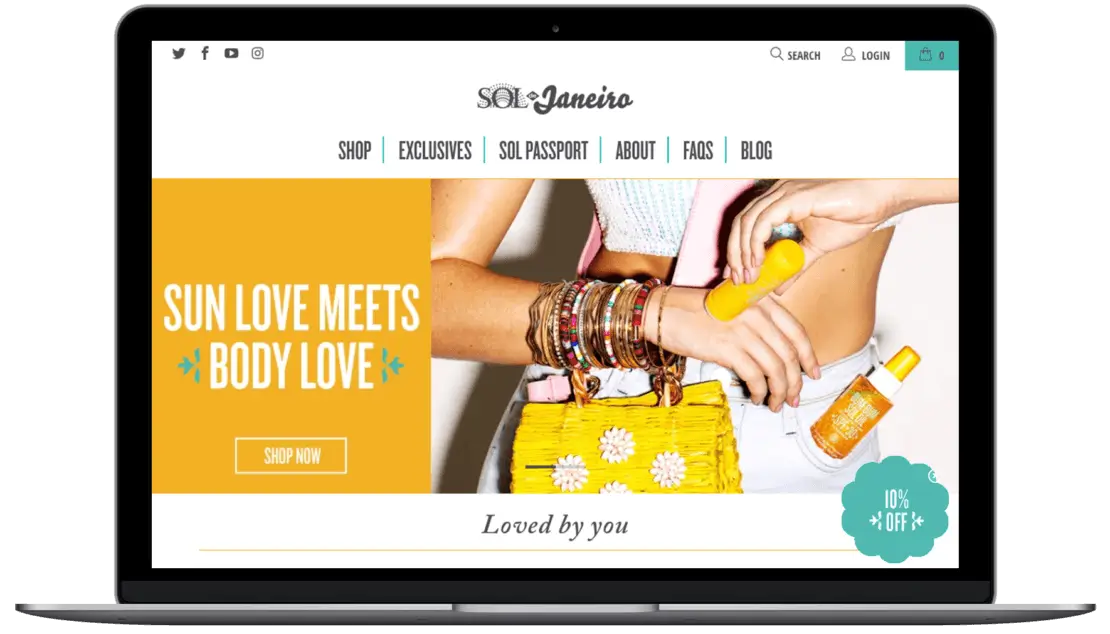 The result? This layered email capture campaign has generated roughly 25k leads while the floating button reminder added another 6,300 leads with a submission rate of 9.35%.
3. Personalize where you can
So you've already chosen who to target and when. In most cases, these conditions are already guaranteed to bring positive email capture results. However, there are always opportunities to take it a step further. That's where personalization comes in.
Just like with targeting, there's a variety of ways you can personalize your email capture campaign. Let's look at a client that successfully did this.
Frank and Oak, a Canadian sustainable clothing company, has used advanced behavioral segmentation strategies in a lead capture campaign to personalize their creative towards men and women. This resulted in more than 30,000 leads captured and a soaring submit rate of over 14%.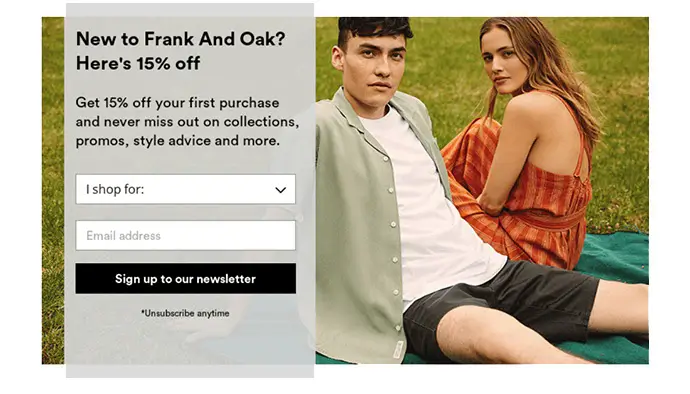 Your email capture campaigns can be just as easily personalized based on geolocation to display copy in different languages. Or created to recognize user interest patterns and serve different creatives. For example, a travel website might personalize the email collection form based on destinations the visitor has browsed.
4. Limit your use of CTAs
Less really is more. Some think that using more calls-to-action increases the likelihood of lead capture – the exact opposite is often true.
Pulling visitors in too many different directions can overwhelm them, causing them to stall and take no action at all. Even worse, it could be an annoyance and result in many potential leads exiting your site quickly and without converting.
You might be surprised at how well just one or two optimized and strategically-placed CTAs or overlays can perform. Turnbull and Asser's double overlay campaign, created with the Yieldify, is an excellent example of this. It generated more than 100 new leads for the company in just one month!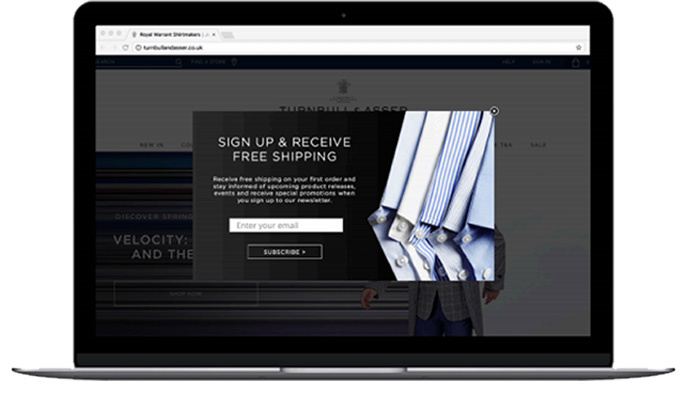 The first overlay was a subscription form for the company's email newsletter. The second revealed a free shipping code that could only be seen once an email address had been submitted. It was simple but effective.
5. Be transparent about your intentions
The rules of engagement for asking for someone's data have changed a lot recently with the introduction of GDPR – being clear about what you're asking for and why is no longer just best practice, it's the law.
Effective eCommerce lead generation demands complete clarity on three key things:
What data you're asking for: email address, name, birthday..?
What you're going to do with it: send newsletters, share sale announcements..?
What's in it for the customer: special discounts, early access, etc..?
In imitation of Rum21's Cyber Week campaign, use headers, bold lettering, and complementary visuals that don't clash with or distract from the text. If appropriate, you can also use a timer or similar feature to create a sense of urgency that so often contributes to effective lead capture.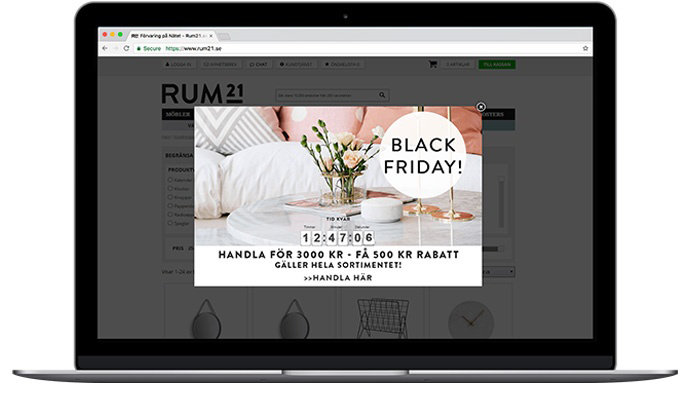 6. Keep your forms simple
Classic conversion rate optimization practices also apply to lead capture. Generally, the longer the form, the fewer submissions you'll receive.
It's, therefore, best to keep your forms as simple as possible. Remember that when it comes to lead capture, your target audience is high up in the funnel – they're not at the stage of trust and engagement to give you their life's story.
Ask for simple information now and you'll be able to nurture that relationship to a stage when you can ask for more data later. In many cases, as UK card retailer Scribbler demonstrates, an email address is often sufficient to get your foot in the door: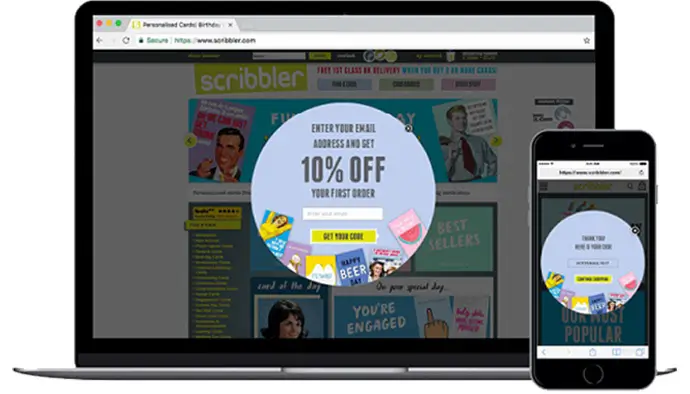 7. Offer the right incentive
In the case of lead capture, incentivizing doesn't have to mean offering discounts. Offering discounts such as 10% off a first order can be a great way to answer the question of "what's in it for me?", but if it's not an option that your margins give you, there are other ways.
One option could be to promise early access to sales or to be the first in line to hear about new announcements – creating exclusivity can be just as powerful as a financial incentive if positioned clearly.
For example, if your user is reading a blog post they may be in the research phase, and not yet interested in purchasing.
To capture email addresses on a blog post you could offer a downloadable product guide, or simply ask to subscribe to stay up to date with the best content around the product they are looking at.
Another option is to offer an incentive related to the product they are looking at or researching. Below we can see an Example from Leatherhead who gives a way a free football in exchange for an email address. This could be a no brainer for potential customers.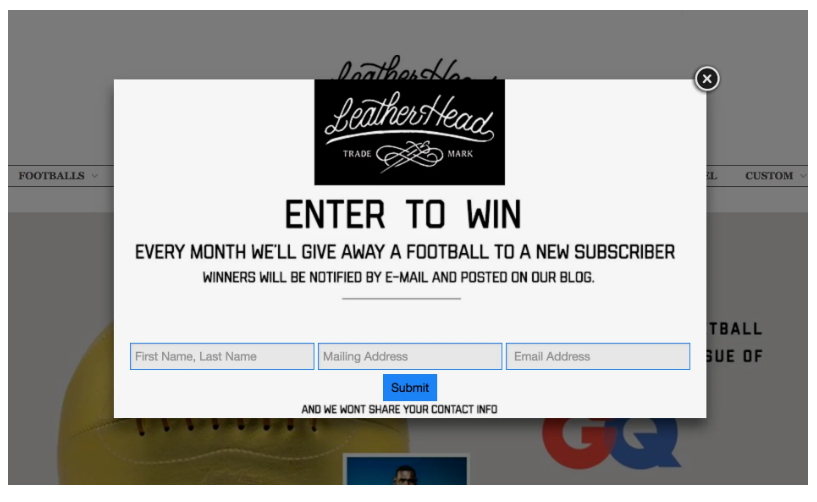 If a customer is researching "how to choose yoga leggings" or "best [product for] you could run specific giveaways on the products there are researching. Depending on traffic and cost of course.
This sets you up to have a personal and meaningful conversation rather than purely transactional. Email capture strategies that take the customer journey into account are the ones that win in the long run.
8. Make sure your forms are mobile-friendly
The amount of browsing that happens on mobile is growing year by year – but it remains a much harder place to get your visitors to convert than on desktop. This goes not just for purchases, but for eCommerce lead generation, too.
Ironically, mobile is also where lead capture is the most important. Mobile visitors are more likely to be browsing on the fly and not in a position to commit to big decisions or purchases (hence a lower conversion rate) – this makes it all the more important to capture their details so that you can continue that conversation with them.
The problem is that on mobile, your visitors are literally all thumbs. Forms are much harder to complete when typing on a mobile, so in addition to the other principles listed above, you need to:
Have a well-tested and responsive site so that forms appear when and how they're supposed to.
Keep data fields as minimal as possible.
Enable autofill if you can.

Email capture tools
Here are five of the best email capture tools on the market right now: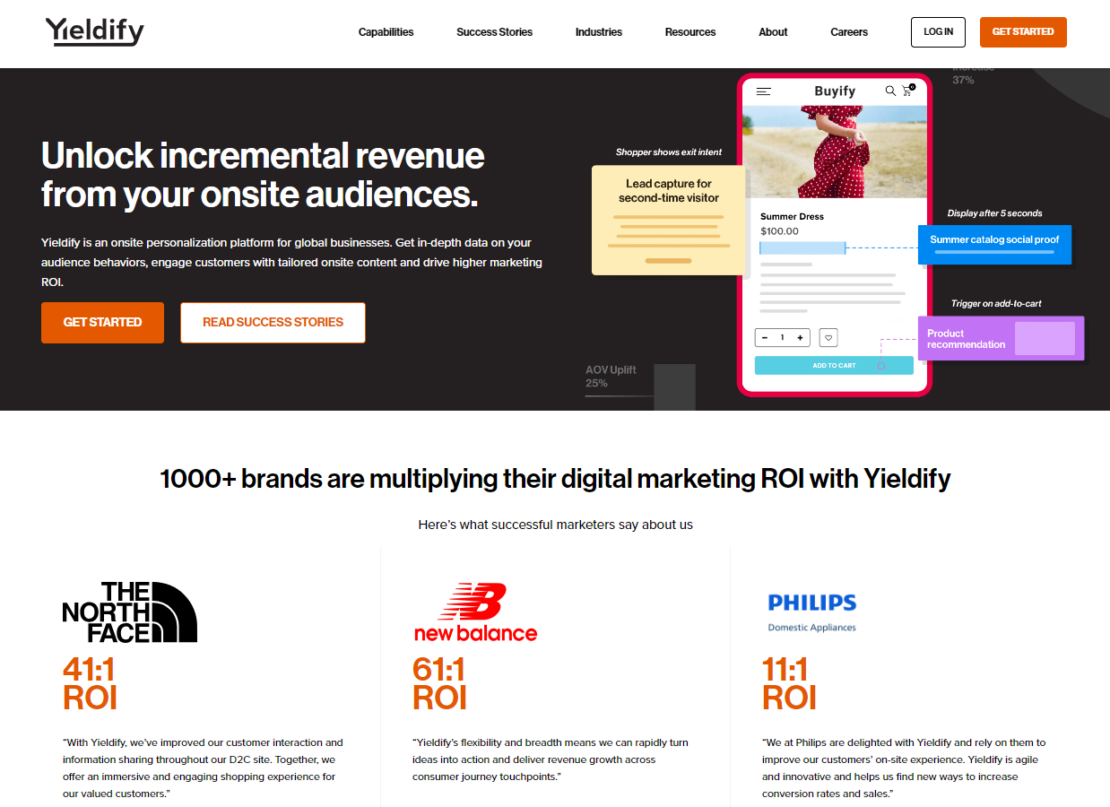 Yieldify is a fully managed personalization platform that helps ecommerce businesses generate more revenue by engaging their customers with personalized experiences – including layered lead capture for both email and SMS.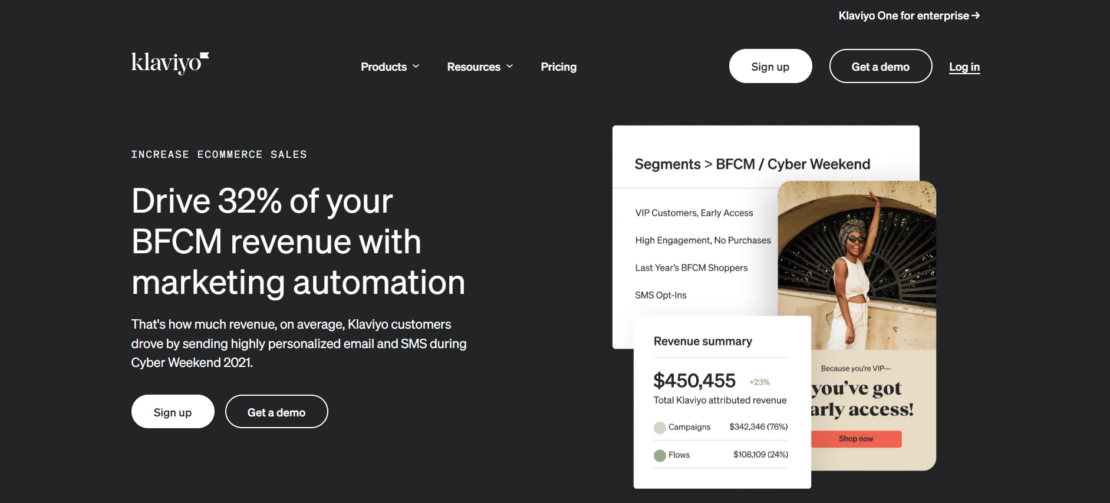 Klaviyo is a self-service growth marketing platform that helps customers deliver more personalized experiences across owned marketing channels including email, SMS, web and in-app notifications.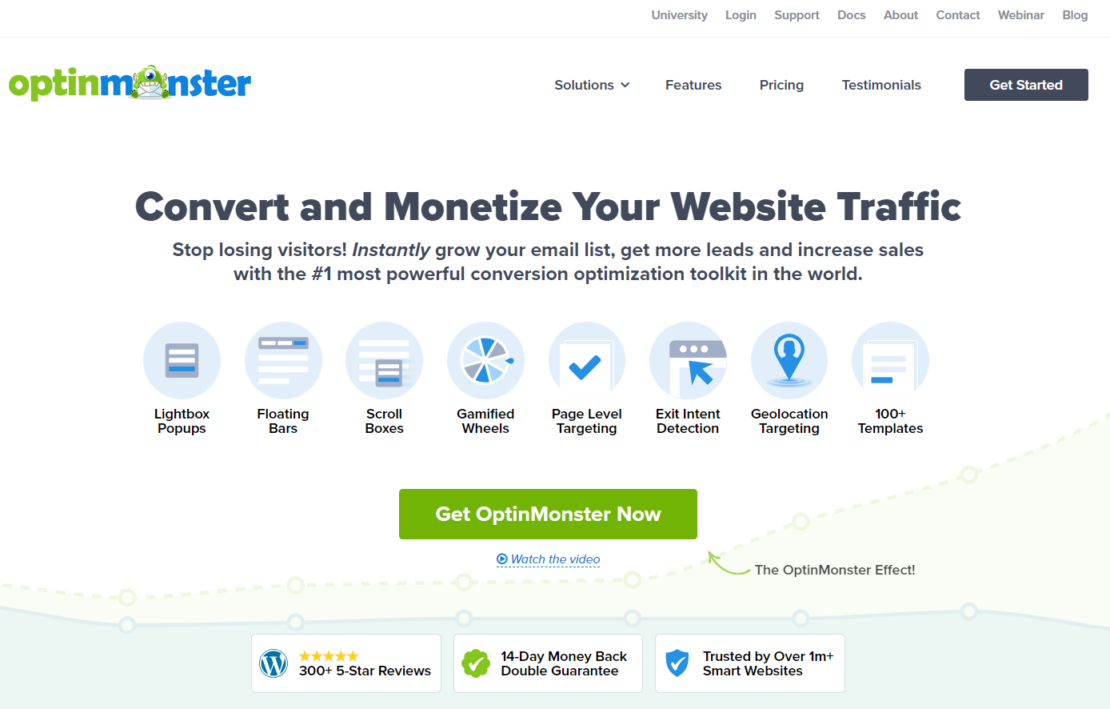 OptinMonster is a no-cide, self-service email capture software and CRO tool which offers more than 400 sign-up form templates to help companies grow their email and SMS lists.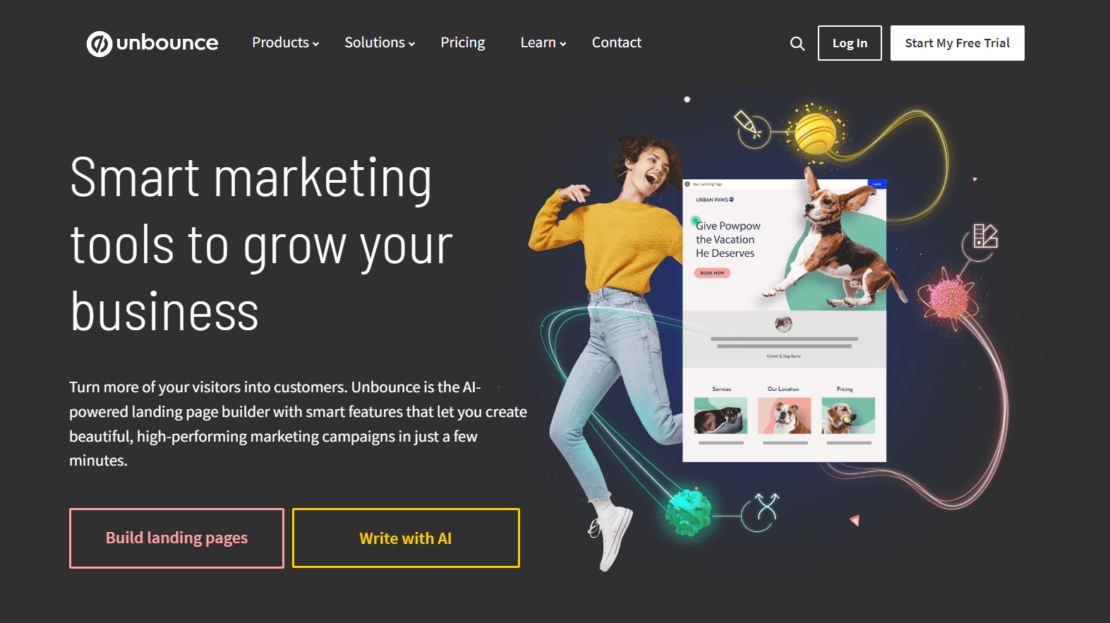 Unbounce uses AI to create engaging landing pages that help businesses turn visitors into new email leads and long-lasting customers.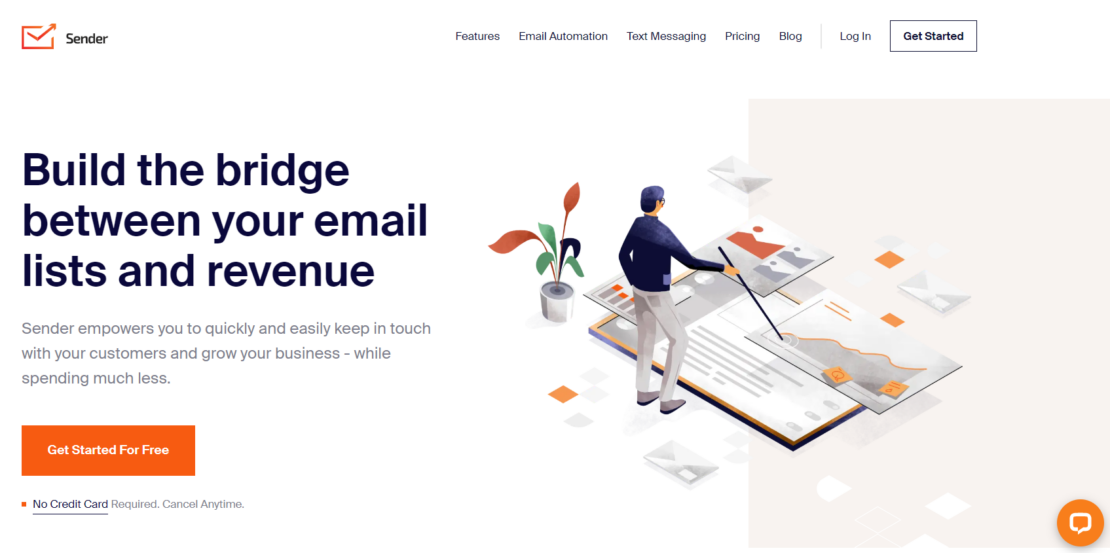 Sender is a no-code, affordable and user-friendly email and SMS marketing tool which gives ecommerce businesses and bloggers access to an extensive library of sign-up forms to help generate email leads.
Why is email capture important?
Email marketing is one of the best channels for eCommerce websites when it comes to ROI and conversions. For every $1 you spend on email marketing, you can expect an average return of $42 (DMA, 2019).
Email subscribers are people who want to hear from you, they are interested in your products or services and have given you permission to contact them.
With the world of digital marketing moving towards privacy 1st party data is becoming more important than ever. The best way to get more of this? Email capture.
So, find the best email capture tools, figure out the way you wish to capture emails, segment your customer lists and launch your targeted email campaigns.
Email capture: In conclusion
Any marketer knows that good leads are worth their weight in gold and that they're more expensive than ever to come by.
Asking for data is now a conversation as weighted and valuable as asking for money – and viewing it in a similar way to optimizing for purchases can actually be helpful to your lead strategy:
Target carefully. Asking the wrong person at the wrong time is offputting.
Deliver value in exchange for data – and be clear about what that is.
Make it easy. You wouldn't want your customers to jump through hoops to spend money, so why make lead capture any harder?
At Yieldify, we've run thousands of lead capture campaigns for clients all over the world. If you'd like to see how our experience and tech can help you with your strategy, click here to get a free demo.
---
Email capture FAQs
What is email capture?
Email capture is a marketing technique used to grow subscriber lists by asking website visitors to submit their email address in exchange for a value offering: a discount or promo code, access to exclusive content, etc.
How do I capture email leads?
There are a number of ways to capture email leads. You can hold giveaways, provide discounts for newsletter sign ups, embed a sign up form on key pages, and much more. Read on to find our best practices.
Why is email capture important?
Email capture is important as it allows you to build your customer base and 1st party data. This helps fuel your email marketing activity which is still one of the best digital marketing channels when it comes to ROI and engaging with customers.