BLOG
Behavioral Segmentation Defined with 4 Real-Life Examples
Published: Sep 9, 2020
What is behavioral segmentation and why is it important to your eCommerce business?
Let's answer this question and define some key behavioral segmentation examples.
Marketing Segmentation has always been a key component of the most effective marketing strategies. Dividing customers into smaller groups based on their needs and actions ensures you are best placed to efficiently solve their problems and in turn, sell more of your products.
Whilst understanding information such as your average customer's location, age, and gender are essential first steps to begin addressing those needs, sometimes it is necessary to go one step further.
Leveraging other useful customer metrics like behavioral data can help you identify how your customers interact with your business.
For example, behavioral segmentation can answer questions like How many times they visit your online store before purchasing?; or Which promotional message – a discount code or a free shipping guarantee – is more likely to nudge them towards a higher-value purchase?

This level of insight is what makes behavioral segmentation a must-have marketing strategy for eCommerce businesses. In this post we'll cover:
1. Behavioral segmentation definition
2. Behavioral segmentation benefits
3. Four main types of behavioral segmentation
– Purchase behavior
– Occasion and timing
– Benefits sought
– Customer loyalty
4. Behavioral segmentation examples
5. Other types of behavioral segmentation
– Customer journey stage
– Engagement
– Satisfaction
Conclusion
What is behavioral segmentation?
Behavioral segmentation refers to a process in marketing which divides customers into segments depending on their behavior patterns when interacting with a particular business or website.
These segments could include grouping customers by:
Their attitude toward your product, brand or service;
Their use of your product or service,
Their overall knowledge of your brand and your brand's products,
Their purchasing tendencies, such as buying on special occasions like birthdays or holidays only, etc.
Going beyond the traditional demographic and geographic segmentation methods and utilizing behavioral data allows for the execution of more successful marketing campaigns.
At the very least, behavioral segmentation offers marketers and business owners a more complete understanding of their audience, thus enabling them to tailor products or services to specific customer needs. Below we take a look at four more benefits of behavioral segmentation.
Why is behavioral segmentation so important?
Identifies the most engaged users. Being able to filter existing customers and potential prospects that display highest levels of engagement – for example, those regularly opening your emails, or spend the most time with your product pages – enables marketers to make more informed decisions on how and where to best allocate time, budget, and resources. In return, this makes your marketing more cost-effective, as you're not burning through budget trying to warm up predominantly cold leads. You can focus on those most likely to make a purchase.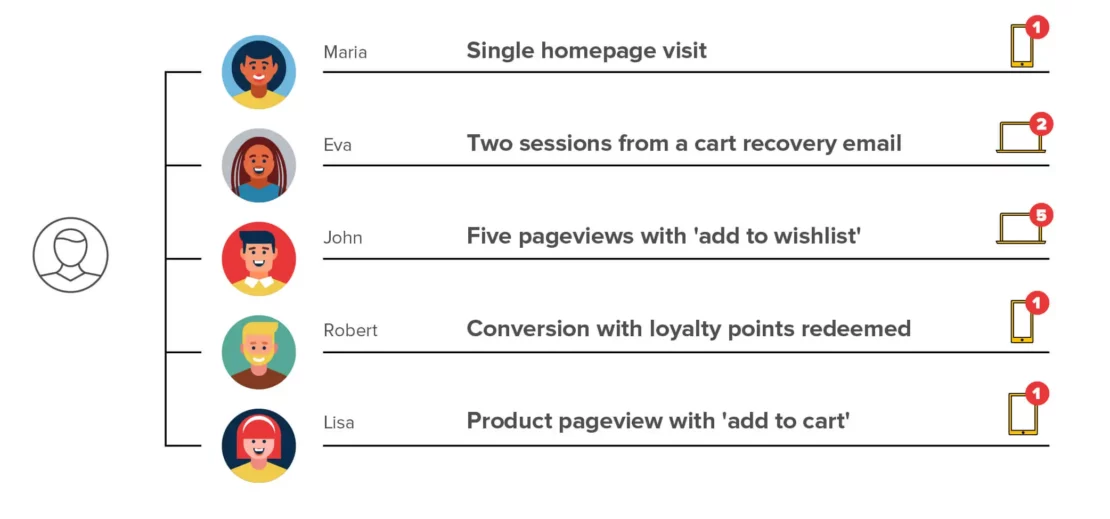 Improves messaging accuracy. Behavioral segmentation allows marketers to optimize their positioning and marketing messages toward the customer data at hand. Imagine you've already identified that 24-35-year-olds are the most active segment on your fashion eCommerce store. Behavioral segmentation allows you to enrich this demographic data by splitting the segment based on their interests and preferences, such as "interested in activewear" vs "interested in formal attire," or "one-time shopper" vs "wardrobe overhauler."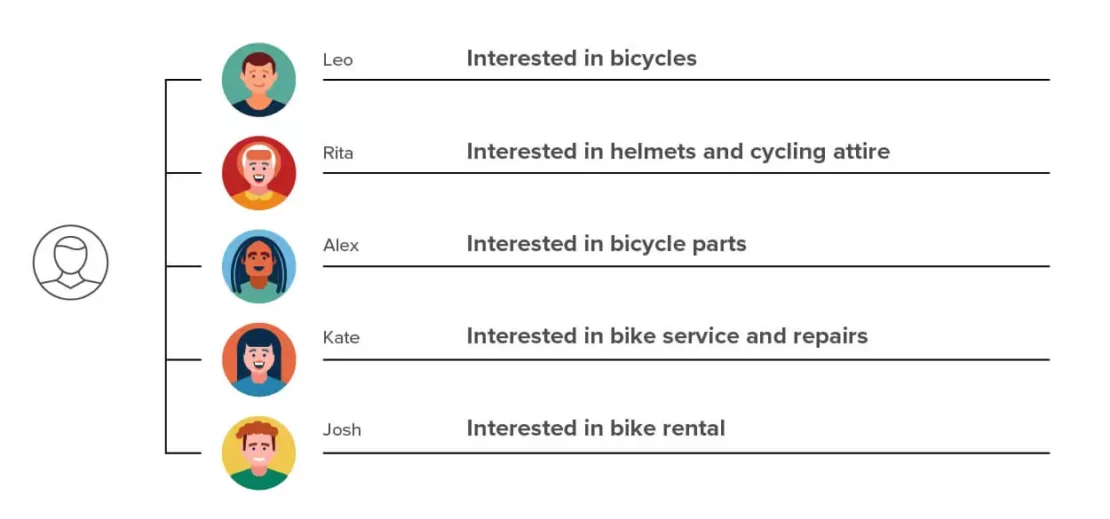 Provides refined personalized experiences. To provide a sense of brand persona and uniqueness, deeply analyzing your audience and resonating with customer needs, wants, concerns, and demands can make noticeable differences. Specifically, personalized approaches, such as displaying complementary products on the website or sending an upsell email after a recent purchase can not only lower bounce rate, reduce cart abandonment, or speed up the purchasing process, but also cement customer loyalty.
Builds brand loyalty. Customers who feel they are being attended to throughout their customer journey will instinctively favor the brand over competitors. Behavioral segmentation enables eCommerce businesses to reach extraordinary levels of customer satisfaction & retention, increase customer lifetime value, and boost long-term revenue. All due to increased targeting accuracy and higher levels of personalization.
What are the 4 types of behavioral segmentation?
There are four main types of behavioral segmentation that help form a complete customer profile throughout their buying journey. Each nuance provides actionable insights, which can be embedded in a variety of marketing channels and encourage customers to act on their purchase decisions.
You can break these down into four main behavioral segments.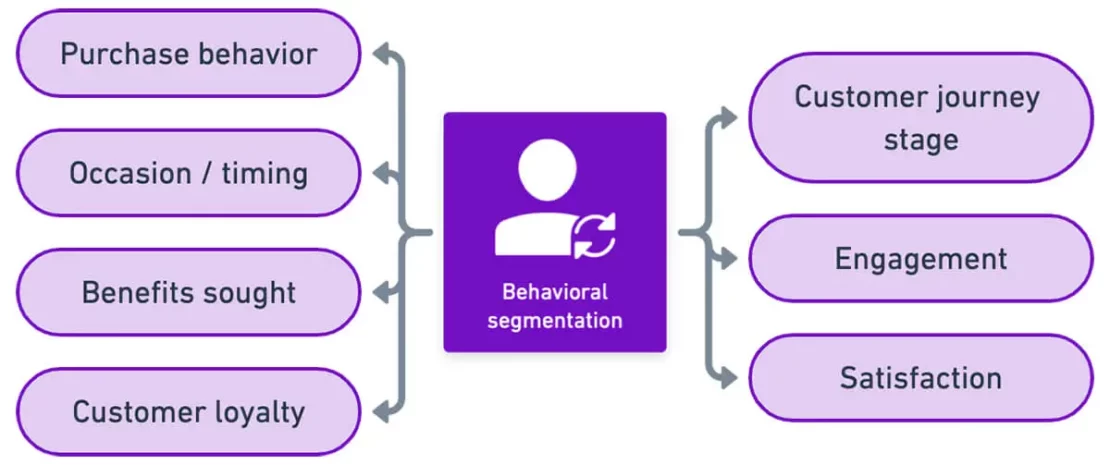 1. Segmentation based on purchase and usage behavior
Segmenting by purchase behavior disentangles the varying trends and behavior patterns that customers have when making a purchase decision.
Segmenting by purchase behavior disentangles the varying trends and behavior patterns that customers have when making a purchase decision.
This form of behavioral segmentation provides insight into the buying stage that your customer might be in, their role in the purchasing process, the obstacles they are facing, the incentives they're most likely to respond to and much more.
For example, customers who prefer to undertake research will often turn to search engines or reviews to be assured they are making the right decision purchasing from you, whilst customers that are particularly thrifty may only interact with your brand or product when on sale.
Ultimately, both of these customer types can fall into the same product affinity category. However, targeting all of them with the same marketing materials and messaging is destined to waste resources. The aforementioned careful consumer may not respond to discount promotions in the same manner as the thrifty one.
This is where segmenting by purchase behavior comes in. You can break these behaviors down into categories depending on:
How many interactions with your business does a customer need before proceeding to conversion;
What search queries a customer used to locate your brand, product or service;
What questions a customer asks when using a live chat or virtual assistant; etc.
Knowing this information allows you to respond to your customer's needs in a relevant manner.
For example, customers who are in the research phase and are likely to leave to compare prices could be retargeted with a "best price" or "price match" guarantee. Alternatively, a shopper that is keen on social proof and buys in accordance with popularity trends could be targeted with a message suggesting that the item is in high demand, and moving fast.
2. Occasion or timing-based segmentation
Occasion-based segmentation categorizes customers who are most likely to interact with your brand or purchase from your website on either specific occasions or set times.
Occasions could include national holidays like Labor Day, a holiday season like Thanksgiving or Christmas, or life occasions, such as a wedding, new house, or vacation.
Occasion-based purchasing can also occur in a customer's daily routine. Purchases like a happy hour round of drinks after work and a caffeinated morning drink are all types of occasion-based purchases as they are only bought at precise times.
Grouping customers using this form of segmentation involves monitoring a customer's purchasing behavior to establish a pattern so that you preempt the targeting process.
For example, if your store has customers that participate yearly in your Thanksgiving promotions, but do not buy anything else from you throughout the year, you can use this information to market to the customer in weeks in advance.
3. Benefits sought segmentation
Segmenting by benefits sought refers to dividing your audience based on the unique value proposition your customer is looking to gain from your product or service.
Let us explain further. When we make purchases, we do so based on the belief that we will receive a certain value or benefit from using the product or service.
Even when purchasing something as mundane as toothpaste, we lean towards different value propositions: Some may be looking for whitening benefits while others seek comfort to their sensitive gums. Dividing consumers based on these factors embodies the benefits sought segmentation.
Grouping your data by benefits sought helps you narrow down the specifics of what drives customer purchases, revealing which product feature or service aspect they feel most attuned to. Divide data by these benefit categories when using this form of behavioral segmentation:
Quality: What makes your product better than your competitors?
Usage: How will it benefit your customer when they use it?
Customer Feedback: Are your customers happy with the product or service, or are there areas for improvement?
USPs: What makes your product unique from other already existing products?
Additional Benefits: Are there other advantages a customer could receive from purchasing your products or services?
4. Segmentation based on customer loyalty
Loyalty-based segmentation measures the level of loyalty a customer has with your brand, either through a rewards program, number of purchases, or general engagement with your marketing efforts.
Using loyalty-based behavioral segmentation helps you to zero in on existing repeat customers, their needs, behavior patterns, and more. Besides generating repeat revenue from your business, loyal customers are incredibly useful in terms of referrals, word of mouth, and feedback.
Extracting valuable information from this segment can help you optimize future campaigns, improve your value proposition, strengthen positioning, and more. Consider identifying factors such as:
What the key behaviors were throughout the customer journey that nurtured loyalty;
Which customers are the most appropriate or ideal type for loyalty programs;
What factors are most essential in keeping those segments of customers happy;
Which ways value received from loyal customers can be maximized.
The most common examples of customer loyalty segmentation can be reflected in the travel industry which regularly promotes frequent flier programs and the finance industry who offer rewards for big-spending platinum credit card members.
Behavioral segmentation examples for eCommerce
When used effectively, behavioral segmentation can produce astounding results, transforming previously cold leads or customers into newly engaged and retained ones. Here we list some real-life examples, so you can see behavioral segmentation at its subtle, very best.
Usage behavior: BabyCentre UK
Part of the Johnson & Johnson multinational corporation, BabyCentre UK is a pregnancy and childcare resource located in the United Kingdom. The company uses a Facebook Messenger app to suggest personalized advice and make targeted recommendations based on the input that it receives from the user, through a series of questions and answers.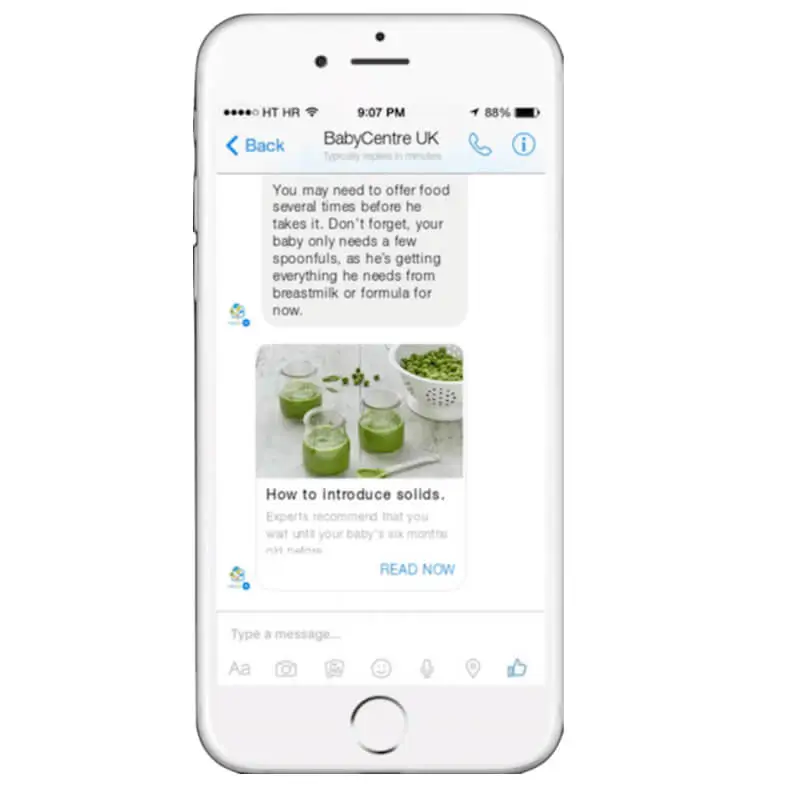 For example in the promotional images above, when the parent selects weaning as the problem they are encountering, the BabyCentre app engages the user by giving them a list of signs to look out for, as well as then suggesting recipes for when the child is ready for solid food.
This tailored experience provides BabyCentre with actionable data that it can use to segment the user by the information obtained through their selections: For example, their child falling into an age category that experiences weaning. Categorizing by this data can help target the customer with repeat, relevant information – such as recipe guides or other helpful advice.
When Babycentre investigated what drove the highest levels of traffic to its website – the chatbot or email marketing – it revealed that the messenger bot recorded a read rate of 84% and click-through rate (CTR) of 53%. Together the stats made for an overall engagement rate that was 1,428% higher than its email funnel, adding further evidence to how effective segmentation can be when categorized correctly.
Occasion-based: Guinness
One out the box example of occasion-based purchasing segmentation came from a campaign initiated last year by famous Irish stout manufacturer, Guinness.
Guinness gives their brand name to sponsor the Guinness Six Nations Rugby Cup each year and regularly experience sales boosts through fans purchasing their drinks to complement the matches.
However, with industry stats showing that 6.1 million people now actively choose not to consume alcohol, Guinness wanted to find a way to diversify their marketing strategy to appeal to those who don't drink, whilst also aiming to retain previously existing customers, and those most likely to purchase again from them throughout the time of the tournament.
So, just before the Rugby Tournament was due to begin they aired a 30-second advertisement advertising their new product: Guinness Clear.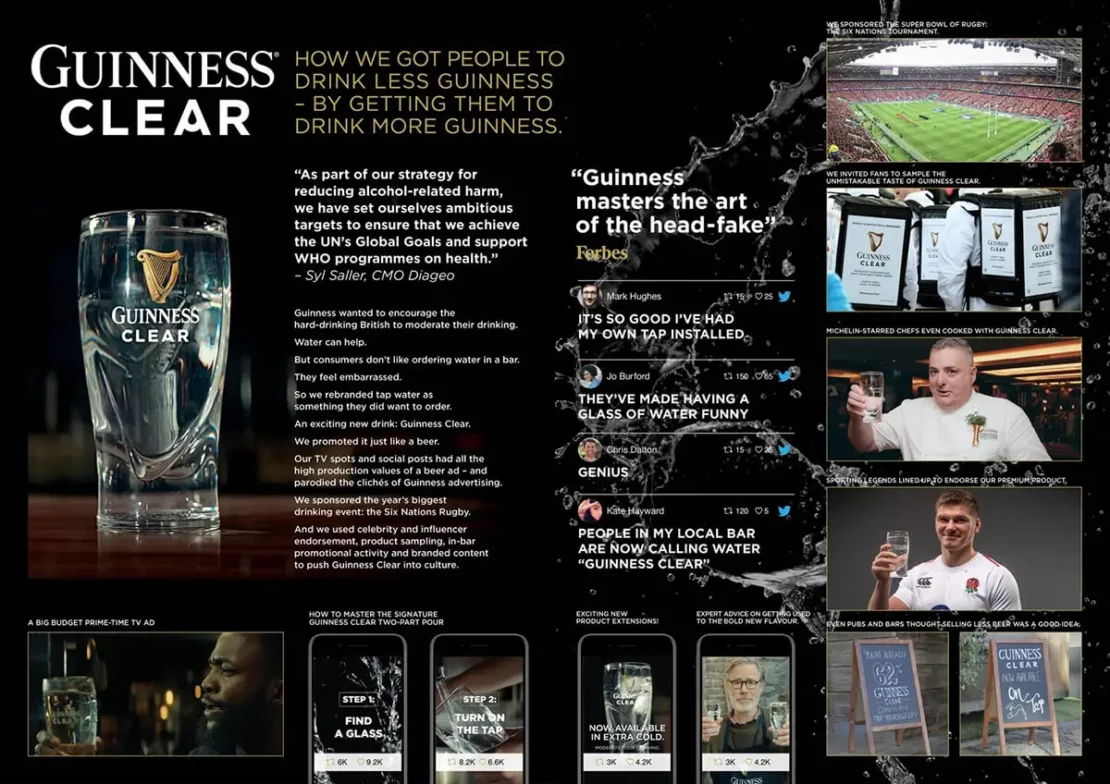 The campaign used slogans such as "Make it a night you'll remember," and "Sometimes less is more" while alluding to the brand new ingredient of H20. The campaign reached 21 million people and immediately generated global media attention, with customers confused as to whether the product was a new product, or whether it was just water – which in the end, it turned out it was.
This process of segmentation worked across multiple audiences. For existing loyal customers, they immediately flooded manufacturers with questions as to where they could purchase the product, whilst those consumers that Guinness knew were more likely to buy, but only in conjunction with the event, were also targeted with a timely reminder of their brand to be enticed once again into purchasing.
Additionally, it had the potential to acquire any new or occasional drinkers who could be won over by a creative marketing campaign.
Benefits-sought: Olay
American skincare brand Olay used benefits sought behavioral segmentation when creating its Skin Advisor. The artificial intelligence beauty tool collects data from customers by asking them five to seven quick questions about their skin. The advisor then reveals the true age of the customer's skin, and recommend products accordingly.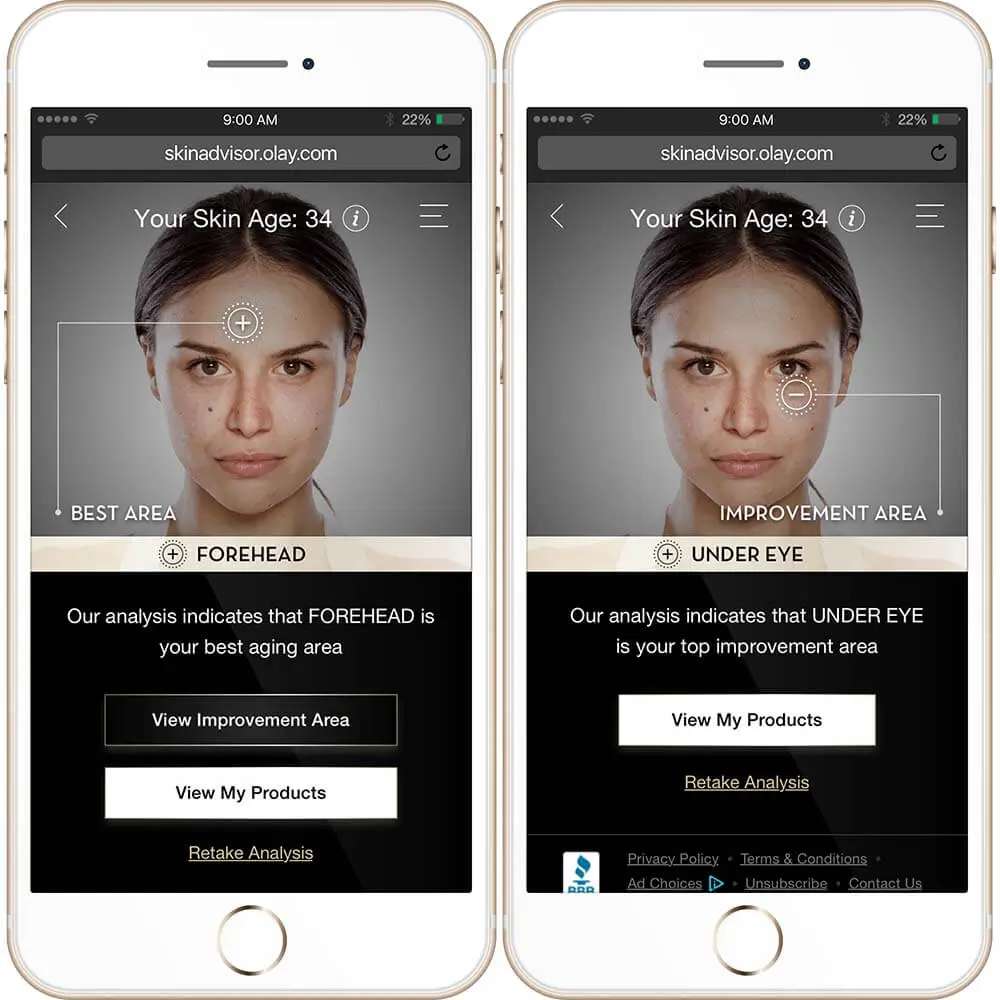 By asking the customer questions based around their skincare routine, and their preferences, Olay can collate data that can influence its product development, allowing the brand to bring out products that are most sought after and most relevant to their customers.
For example, through its Skin Advisor app, Olay gleaned that a large percentage of its consumer base wanted fragrance free products. Originally, these products were not even considered by Olay's development team, but they were then able to be actioned for manufacturing.
Olay did the same when data from the Advisor revealed that many customers were seeking Retinol based products, and the subsequent lack of Retinol products in its range was contributing to the brand losing custom. In response, Olay released Retinol 24 which has gone on to be one of the brand's best selling products and which helped to completely transform their sales.
Loyalty-based: DavidsTea
Another behavioral segmentation example is that of DavidsTea who uses behavioral segmentation in their loyalty programs.
DavidsTea is a Canadian specialty tea seller who wanted a fun way to personalize their messaging to their most valued customers. Their timeline style emails won general applause across the internet and are ranked as one of the best email marketing examples, ever.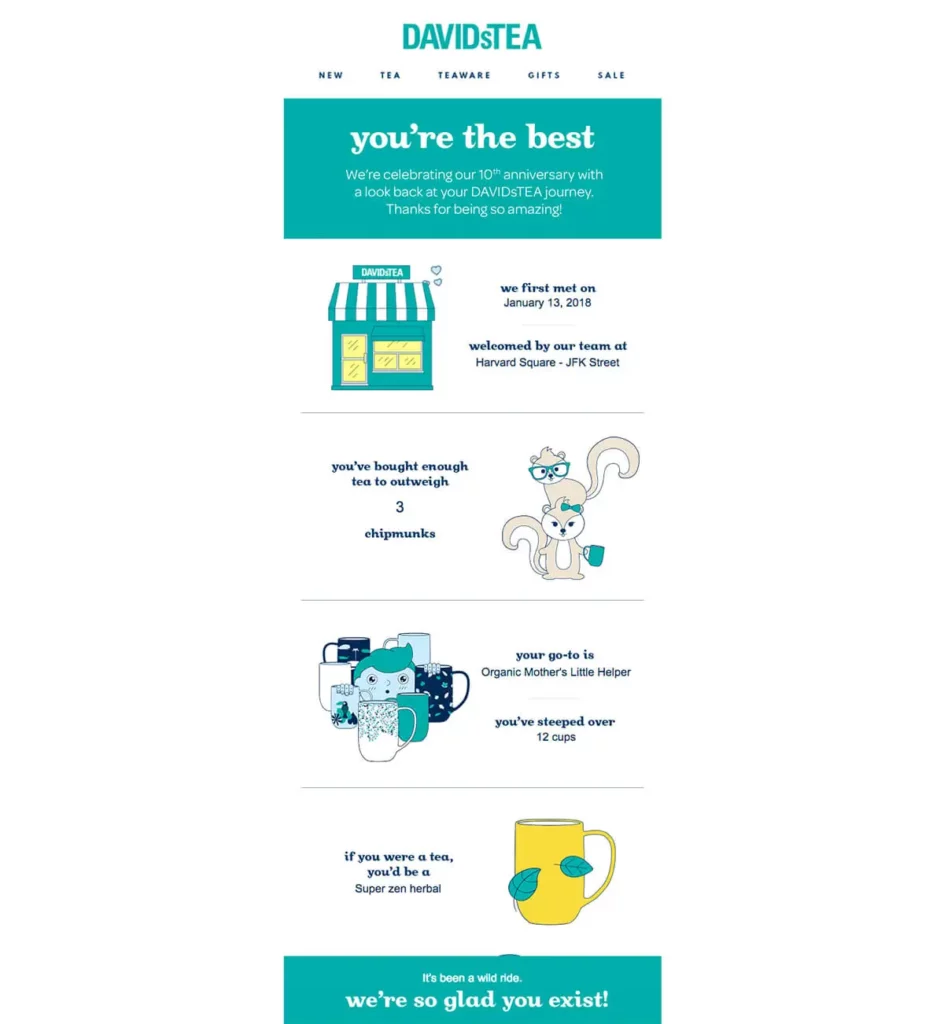 As the above screenshot shows, when a customer reaches a specific anniversary with the company, they receive a "look back" email that contains data such as where their first purchase took place and uses the recording of data such as their most purchased teas to give a fun, by weight, comparison.
By receiving this email the customer feels unique and valued throughout their customer journey and will be more inclined to continue purchasing.
Other types of behavioral segmentation
Whilst we have covered the four main types of behavioral segmentation, there are other strategies that encompass different behavioral segments. These include:
Segmentation based on customer journey stage
A customer's buying journey develops in four main stages, which make up the widely known AIDA model. The AIDA model recognizes this process of deliberation as a sequence of 4 steps:
Attention: The consumer becomes aware of the brand, product, or service.
Interest: The consumer's curiosity develops into a deeper interest.
Desire: The consumer starts imagining the product in their everyday lives.
Action: The consumer is ready to purchase.
It's important to note the eCommerce buyer's journey doesn't end with the purchase. After the initial conversion follow Adoption (your customer makes repeated, regular purchases) and Advocacy (your customer becomes a loyal supporter of your brand, product, or service, frequently purchasing and actively promoting you by word of mouth, social proof, etc.).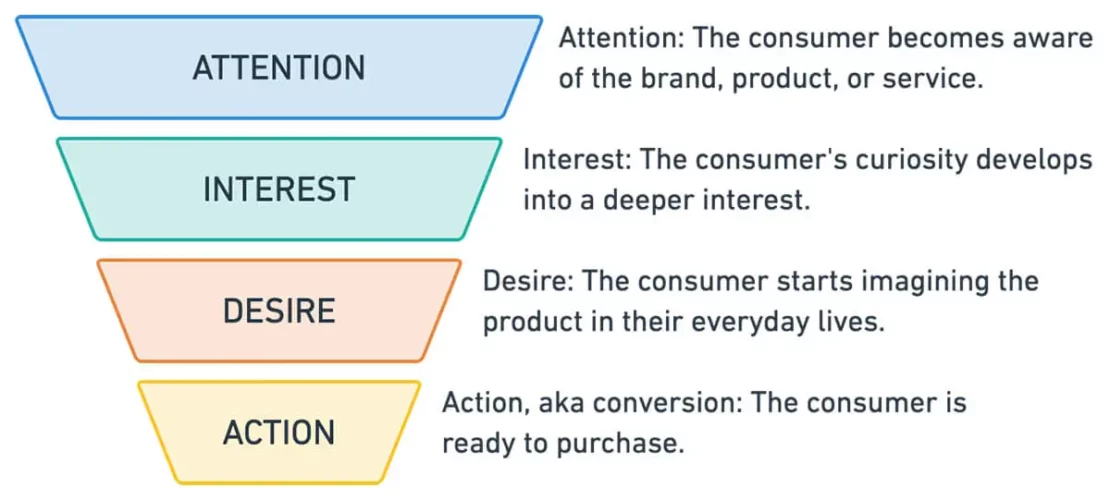 Segmenting by the customer journey optimization opportunities gives direction to your business objectives: To pull customers into the attention stage you'll need strong advertising campaigns, media coverage, influencer support, and all that jazz.
However, to nudge customers from desire to purchase you'll need well-positioned USPs, clear and informative FAQs, associative product imagery, and good website UX. Not to forget that 8 in 10 customers often leave products in their cart, strong remarketing campaigns via email, SMS, or browser will also come in handy.
Our client, Vinomofo, used this type of segmentation to develop a strategy that targeted specific audiences including new, returning visitors, returning clients, and more. New visitors were served with a $15 off incentive, whereas returning clients saw premium services depending on their basket value. Check out the Vinomofo case study in full to learn about the results!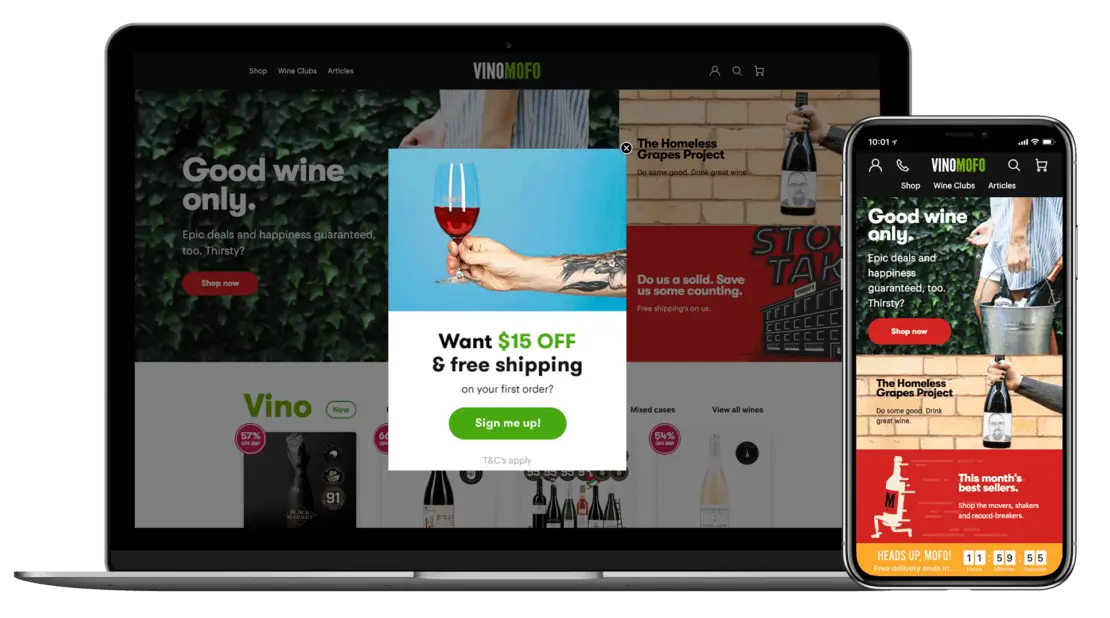 All in all, gaining a comprehensive idea of the stage your customer is in, as well as the touchpoints they interact with, allows you to provide more relevant and timely communication that can lead to higher conversion rates.
Segmentation based on engagement
Customer engagement can be categorized by three levels:
Occasional: Customers sometimes have contact with your brand, product, or service but not regularly.
Regular: Customers regularly interact with your products or services, but fail to use them to the full extent.
Intensive: Your products or services are embedded in your customer's life and they buy from you at any opportunity.
Just like customer journey stage segmentation, grouping customers based on their engagement levels can also help you to understand the reasons why their behavior falls into the appropriate category.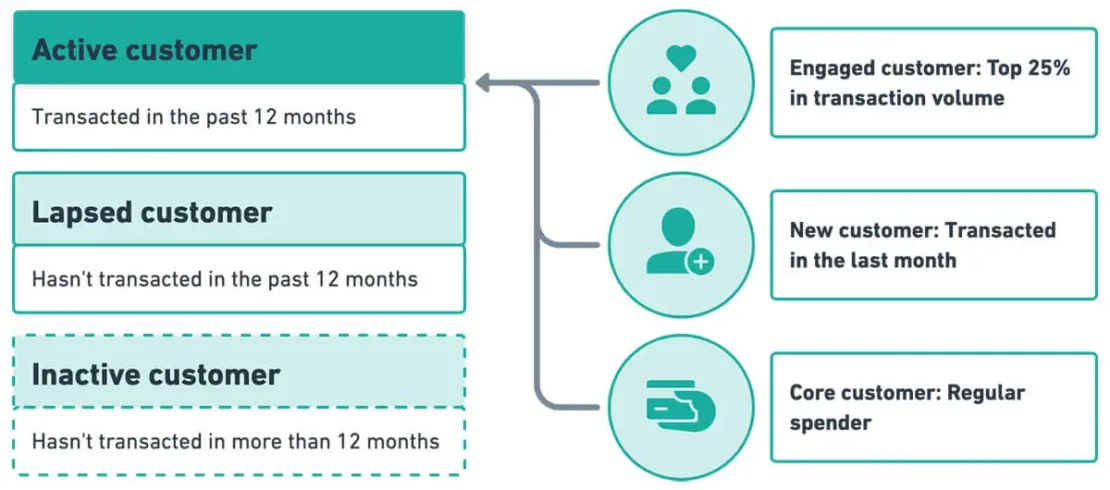 For occasional customers, surveys could be a useful tool in determining whether they lack the motivation or trust to purchase. Providing regular customers with marketing material that highlights all the features of your product or service may display changes in their behavior. Those who are intensive advocates of your product or service could benefit from loyalty or reward schemes in order to retain their custom and incentivize further word-of-mouth marketing.
Use this information accordingly and adjust both your marketing messages and strategies to appeal to each segment. This will aid customer retention by dividing the relevant materials between those engaged, and those unengaged, and ultimately help to reduce churn.
Segmentation based on satisfaction
Behavioral segmentation based on satisfaction is the most straightforward of them all. Utilizing customer feedback can help you to enhance your product or service by understanding which features your customers most desire, or which could help you edge ahead of competitors.
Use marketing tools like surveys and offer incentives for completing the feedback such as a discount off of their next purchase. These will be worth it in the long run.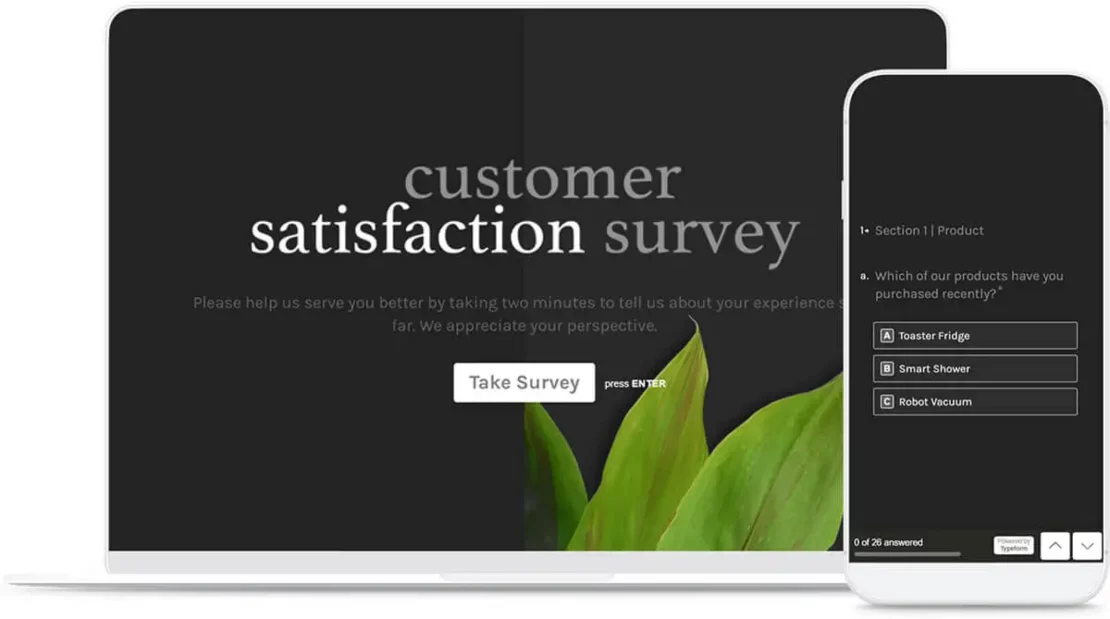 In conclusion
Behavioral segmentation is a vital part of any marketing strategy, and implemented in one of the above methods can display data trends and insights that you may have otherwise never have uncovered.
By understanding customer behavior you can use this to improve performance across other channels such as email marketing, SMS marketing, social media marketing, and chatbot marketing to diversify your results.
By segmenting your users by their behavioral data, you gain a more comprehensive look at how you can adjust your messaging, brand, marketing materials, and ultimately products or services in order to stay ahead of the competition and reduce your customer churn.

Behavioral segmentation FAQ:
What is behavioral segmentation?
Behavioral segmentation refers to a marketing segmentation process in which customers are divided by their behavior patterns when interacting with a business. 
What are the four types of behavioral segmentation?
The four main types of behavioral segmentation are based around purchase behavior, occasion-based purchases, benefits sought, and customer loyalty.
What is an example of behavioral segmentation?
Examples of behavioral segmentation include loyalty programs, happy hour events, survey collection, and recommendations, such as possible travel destinations, or ancillary products.