EBOOK
Keeping Up With Customer Touchpoints
Published: Feb 20, 2019
Let's talk touchpoints
When it comes to creating a successful eCommerce marketing strategy we need to talk about touchpoints – customer touchpoints to be exact.
A customer touchpoint is any time a customer or potential customer encounters your brand, especially when it involves interacting with it.
These interactions occur before, during, and after a consumer becomes a customer, perhaps starting via a Facebook ad they're seeing for the first time, right down to the transactional email they receive after purchasing.
Customer touchpoints are the building blocks of your customer journey, so understanding them, and the right ones to focus on, is the starting point for any eCommerce marketer seeking to improve the visitor experience.
Not only that, but keeping up with (and adapting to) the evolution of customer touchpoints, and how your visitors are interacting with them, is now a non-negotiable part of creating a strong end-to-end customer journey.
Understanding the nuances of customer touchpoints is essential when you begin mapping out the customer journey and your eCommerce marketing strategy. However, it can be hard to know where to start as you try to get to grips with the increasing number of touchpoints available. Yet, it's imperative brands work to do this, in order to deliver on consumer expectations:
"More than 60% of customers interact through multiple channels and irrespective of time, place, device, or medium, they expect consistency."

Source: Deloitte
As technology develops, and consumer behavior evolves, growth of touchpoints has exploded, as brands seek to ensure the experience they're offering is keeping pace with consumers' adoption of new technologies.
Online is often the first customer touchpoint in the overall journey, with 65% of consumers researching products online before purchasing – whether online or in-store. Having multiple digital touchpoints integrated into your eCommerce marketing and user experience strategy is a must.
How to identify your customer touchpoints
In order to identify customer touchpoints, you need to put yourself in the customer's shoes. Get familiar with the steps they will take as they discover and purchase your product. Then, classify them in a way that makes sense for your business.
It's not a one-size-fits-all approach, but one simple way you could to look at classification is by pre, during and post-purchase, for example, for an eCommerce store:
E-commerce marketing customer touchpoints pre-purchase:
E-commerce marketing customer touchpoints during purchase:
E-commerce marketing customer touchpoints post-purchase:
Email follow-up, tracking, and delivery confirmation
Then put it all together, to get something like this: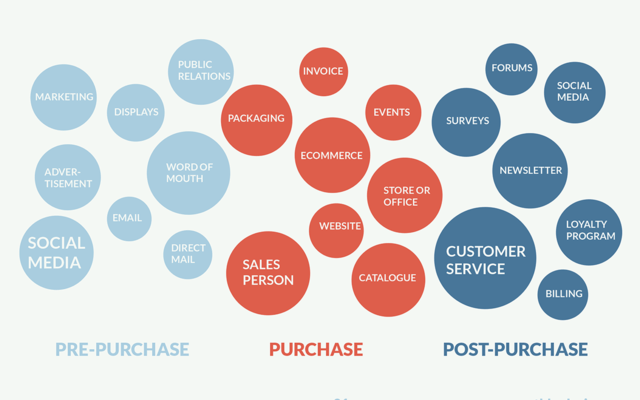 When starting out with Customer Journey Optimization (CJO), identifying these key touchpoints, then mapping how your customer interacts with them across the journey will give you a good idea of what you should prioritize, and where the quick wins are.
This will depend on your audience's needs, habits, and preferences, so your eCommerce marketing strategy should start with research. Read on to learn more about the key customer touchpoints to consider, and brands that are using them effectively.
8 key customer touchpoints (and best-in-class brand examples)
So, where do we start when there are so many potential touchpoints? Let's discover the major of the foundational customer touchpoints, how they've evolved, and what you need to know if they're part of your customer journey.
Email
With so many ways to reach your customers, is email still a relevant touchpoint? Short answer: Yes! The humble email is still one of the most effective eCommerce marketing tools in your arsenal.
The Data & Marketing Association found that 99% of consumers check their personal email every day and check their inbox about 20 times a day.
A message is five times more likely to be seen in an email than via Facebook. Customers are fans of email too: 72% of people prefer to receive promotional content through email, compared to 17% who prefer social media.
It makes sense then that DMA and Salesforce report a high ROI for email (and this has actually grown over the last few years, with Campaign Monitor reporting a $44 return on every $1 spent.)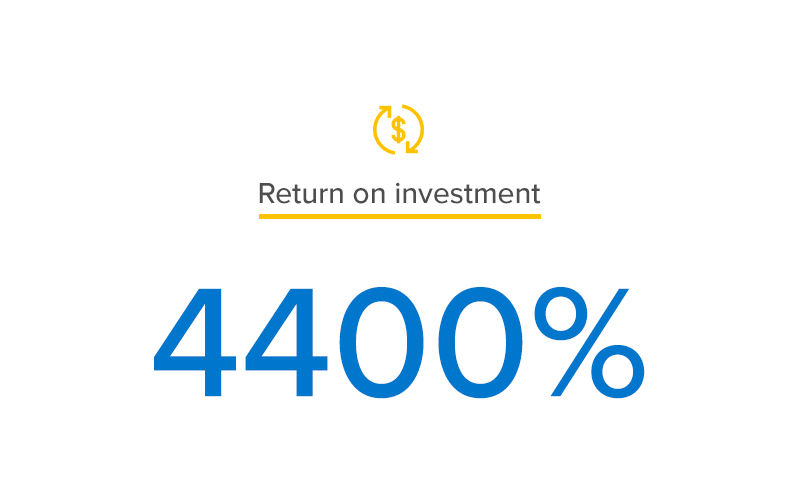 With the implementation of new privacy laws such as GDPR, it's more important than ever to have a solid email strategy in place. Consumers tend to guard email access closely: they generally have 2-3 email accounts, with 44% sending marketing emails to a specific email address. The opportunity to unsubscribe from a mailing list is always available, so the relationship between customer and brand at this touchpoint needs to be nurtured.
In a world where customers are receiving many messages per day, online retailers need to break through the noise. Beauty subscription brands like Birchbox have mastered fostering great relationships with customers via email. Emails are centred around 'value', whether that be the brand's values or the customer experience. Value is also literally provided in emails with a regular offer of free gifts, making it harder for the customer to ever want to unsubscribe.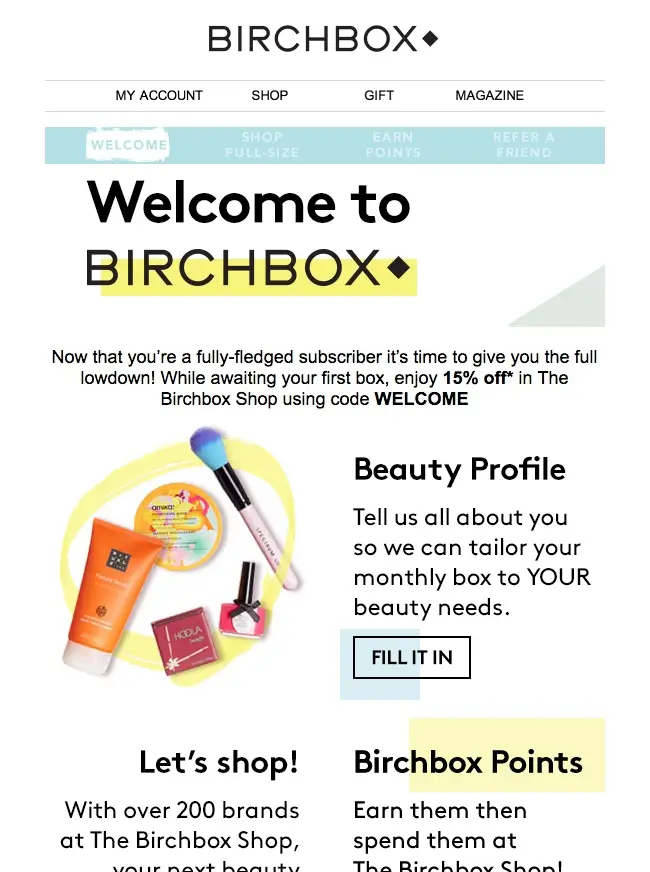 Chatbots
Chatbots are a touchpoint that has exploded in popularity over recent years as artificial intelligence has advanced. They can help customers with whatever they've been programmed to manage, whether that be online support, suggesting products, or assisting at check out.
The important thing is to define the purpose of the chatbot carefully. Experts at Forrester suggest success with a chatbot strategy comes from a narrow field of uses, rather than trying to tackle a broad range of customer inquiries.
With consumers now expecting instant customer service, chatbots are an investment in personalized customer journeys and engagement. Telecommunications brand Vodafone is an example of a business leveraging this technology with their chatbot TOBi.
This digital assistant has accelerated conversion rates online by making the purchasing process two to three times faster. This addressed the significant basket abandonment issue the company was experiencing in customers browsing SIM only contracts.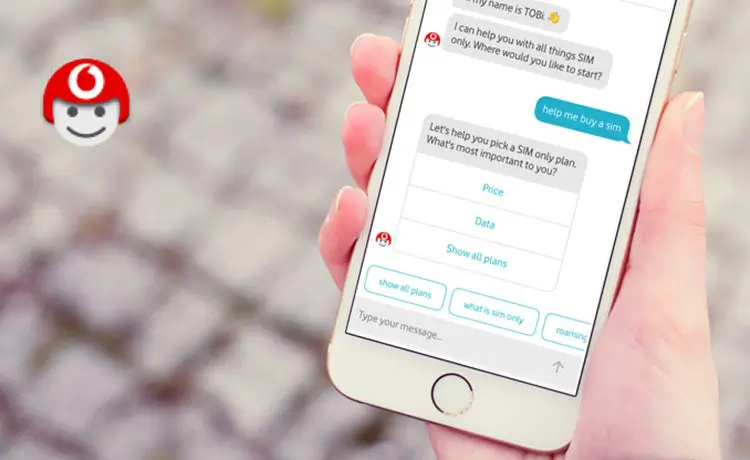 Vodafone was able to address the specific concerns of this particular subset of customers, utilizing the best practice for chatbots by maintaining a narrow field of use.
Nurturing the customer-brand relationship has also been important here in the way TOBi has been designed to provide additional messages. For example, customers can ask TOBi about their plan options when traveling abroad and TOBi can even tell them a joke if they ask for one – all of which serves to increase customer engagement with the brand.
Social media
As a touchpoint, there's no real getting used to social media – the landscape changes every few months. Right when you think you're set, algorithm updates, new features, or even new platforms will inevitably upend your carefully crafted strategy, and change user behavior and buyer habits. But with 94% of online adults now using a social media account on at least one platform, it's a customer touchpoint that can't be ignored.
So what's the state of play when it comes to social media and the eCommerce customer journey? Well, 75% of customers use social media as part of the buying process, and a further 55% go on to make a purchase after discovering a product via social media.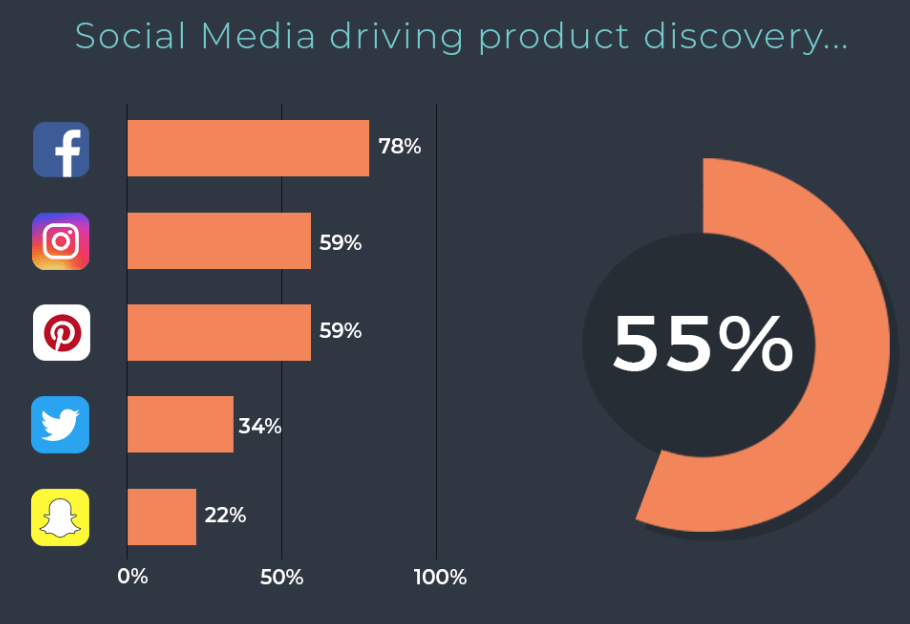 This behavior and social commerce are only set to rise as platforms look to bridge the gap between content and commerce, and remove friction from the purchase process with Instagram shoppable posts a huge hit with brands and consumers alike in 2018. So what do brands need to know?
When designing a strategy for this customer touchpoint, it's important to go back to the customer behavior – brands need to think about the new kind of customer journey these social formats are creating. Given the important role social plays in product discovery – personalization is key.
The goal for any visitor arriving from these channels is to get as much information as possible about the item they've discovered, so consider creating specific landing pages, or using tailored messages based on referral source to help guide them toward purchase.
Getting it right can see significant uplifts in traffic and sales, for example, luxury shoe brand Dear Frances saw a 4.6x increase in sales and an 8.6x return on shoppable ads shown to already engaged users over the key Black Friday trading period.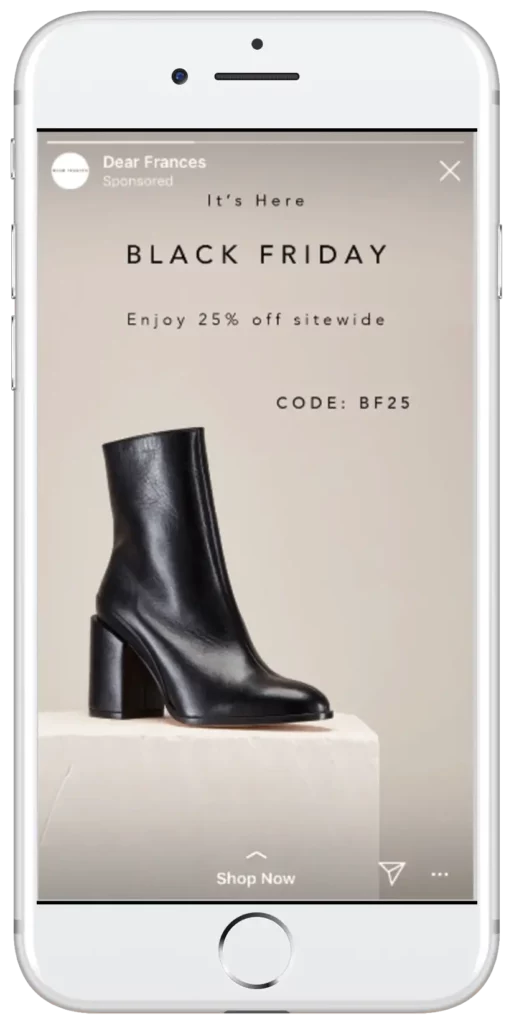 Website
Websites have evolved as a touchpoint, from something that was an afterthought for many brands selling via bricks and mortar shops, to now being the central focus and face of a brand and its identity. Within the website itself, there are many touchpoints to consider, so it's one of the most important areas to get right.
The visual and functional capability of an eCommerce website needs constant reviewing to keep up with demand for seamless customer experiences. Forbes predicts that by 2021, mobile eCommerce will account for 54% of all online sales, so a mobile-first website strategy is key.
For websites to act as effective touchpoints, they must quickly connect with visitors and then retain that connection, given that you have around 6-8 seconds before they leave. To do this effectively it's important to consider their journey up to that point, for example, via which channel did they arrive on your site?
Bathroom retailer soak.com recognized the importance of personalizing its website for different visitors. Working with Yieldify, the brand targeted valuable PPC traffic that was exiting its site. An overlay asked users for more information on the reason for their visit, with three calls-to-action: shop by style, by room, or by color.
On the one hand, it helped ensure that traffic acquired at a high cost would not be easily lost. In this respect, the campaign continues to help drive conversion rate increase. On the other, it also helped the team at soak.com improve their understanding of their user experience and gauge the success of their PPC campaigns in driving users of high intent
Online influencers
Online influencers are valuable customer touchpoints, as they establish trust with customers as a credible source for a specific industry. Via a YouTube channel or Instagram page influencers have access to a large audience of potential customers.
Influencers don't have to be celebrities now, with micro-influencers becoming increasingly used for marketing as they can engage and relate with more consumers in a targeted market segment.
Rather than spending an influencer budget on one celebrity post with 500k followers, you can tailor the message to more specific groups via 10-20 micro-influencers for the same price and higher engagement.
Nike is a market-leading user of influencer marketing. When promoting their new Air Vapormax series, they teamed up with father and son YouTube team, Dan and Lincoln Markham, for their series "What's Inside?" where they cut open everyday objects.
Nike and the Markhams created seven sponsored videos filming a trip to Nike's headquarters and dissecting Nike's newest shoe, the Air Vapormax. This last video alone has been watched over 5.5 million times and received over 40,000 likes so far, reaching a large, but more importantly, a highly engaged audience to promote their new campaign.
Text message marketing (SMS)
Using Text Messages (SMS) as part of your eCommerce marketing strategy is a customer touchpoint that is growting in popularity with brands. It's simple to create an affordable bulk SMS marketing campaign, generating a high reach and response rate. SMS marketing brand SlickText outlines why this touchpoint is so effective today:
Texts have a 98% open rate within 5 seconds of being received.
People take an average of 90 minutes to respond to email, but only 90 seconds to respond to am SMS.
More than 75% of consumers would like to have offers sent to them via SMS.
Around 35% of consumers who receive a text message from a bulk SMS marketing campaign click on the link that they receive, and 47% go on to make a purchase.
64% of consumers are likely to think positively about companies that offer text communications.
Sandwich chain Subway has used SMS marketing successfully since 2015. They now have over 5 million subscribers with an 85% retention rate. Their average return from SMS customers is impressive:
"On average, 26% return more often, 13% spend more when they do, and 15% make more purchases than before being in the SMS program. Not only are these customers more engaged, but they have a clear impact on the success of Subway and their bottom line."

Source: Motivity and Subway presentation at Mobile World Congress 2018
Voice assistants
Voice assistants like Alexa, Siri, and Google Assistant are part of a rapidly developing customer touchpoint that offers brands the opportunity to engage directly with consumers, especially in their own home.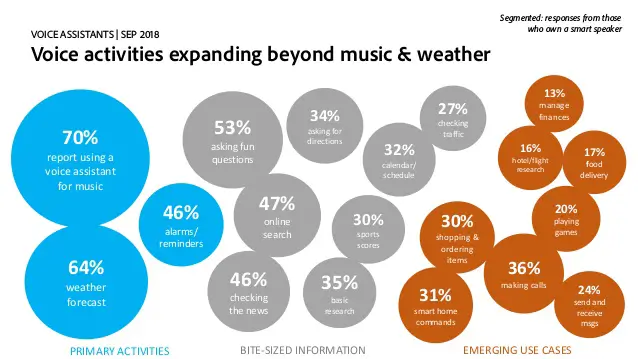 Adobe's statistics reveal voice assistants' primary activities include acting as a search engine to ask about the weather or utilizing a particular purchase such as subscription music brand Spotify to stream music.
However, voice assistants are starting to emerge as a marketing and customer experience tool, with a small (but expected to grow) proportion of users engaging with voice assistants for online shopping and food delivery.
Amazon has been quickest off the mark, partnering with brands like Domino's, Johnnie Walker and Tide to offer services and products to customers:
Although voice commerce is not currently the primary activity of voice assistants, RBC Capital Markets predicts that voice shopping on Amazon's Alexa alone could generate more than $5 billion per year in revenue by 2020, so early adopters in this space will likely see the benefits.
Customer support
Whether via online chat assistants or call centers, effective customer support touchpoints are vital for smooth CJO. PwC reports that businesses seeking to offer a great experience for customers see a 16% price premium on products and services.
However, a McKinsey survey demonstrated 57% of customer service managers in call centers focus on reducing customer inquiries. This intention is understandable cost-wise, as call center interaction is more expensive and customer support touchpoints are having to rely more on online self-service platforms instead.
Forbes Technology Council member Puru Govind theorizes that a combination of customer support touchpoints could help balance this particular touchpoint to make it more effective
"I believe the key is to adopt a holistic customer service approach. When it comes to call centers and self-service, it is not a question of embracing either-or. Rather, I think you should seek to reap the benefits of both."

Puru Govind, Forbes Technology Council
Camera manufacturer Canon did just this developing a self-service web portal. Customers can order consumables, perform self-diagnosis, and raise track and trace service requests wherever and whenever they want. Consumers and businesses are able to share knowledge with Canon, so the company is better equipped to tackle future queries.
The portal is designed to resolve a vast number of queries as the first point of contact, re-routing inquiries away from the call-center. This in turn frees up call center staff to respond more efficiently to customers who need support over the phone.
Whether offering customer service via chat or call, brands should seek to integrate this tightly with the website touchpoint. Recognizing customer behavior, such as dwelling on a particular page, offers brands the opportunity to offer assistance proactively via a chat message or click-to-call notification.
Conclusion
As we've touched on (excuse the pun) there are a huge range of customer touchpoints available to consumers and brands, and they are constantly evolving. However, as we found, it's also important not to dismiss more established channels such as email and call centres.
Hopefully this guide has provided some food for though when it comes to identifying and prioritising the most important touchpoints for your business.
Once you've identified these key touchpoints for your brand, the next steps are to start mapping how they interact with each other along the customer journey, benchmark how they're performing, and, from this, develop your CJO strategy.
Need a hand identifying and prioritizing your customer touchpoints? Get in touch to book your free consultation with our customer journey experts.