BLOG
Email marketing for E-commerce
Published: Nov 13, 2019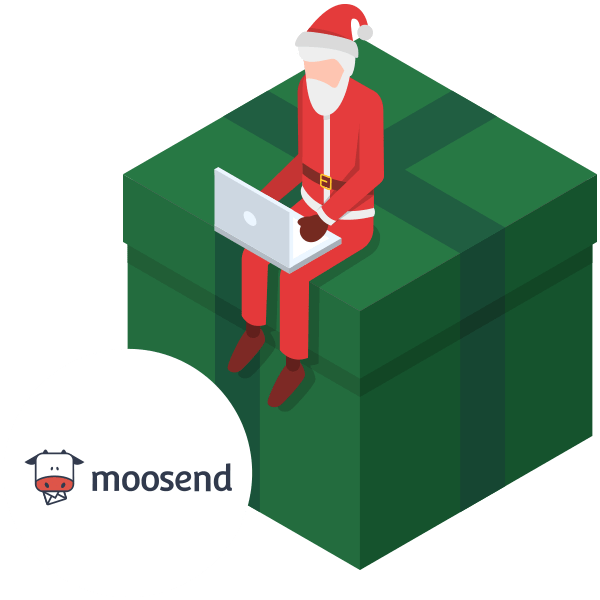 Email marketing for e-commerce: 'Tis the reason for the season! Learn how to supercharge your holiday email campaigns in this guest post from Marilia Dimitriou, Creative Writer at Moosend.
The holidays have always been the best time to reach your customers with amazing offers that will incentivize them to put more items in their carts and skyrocket your sales.
To win the war of seasonal shopping, e-commerce stores need to use email marketing and marketing automation to reach their subscribers and give them something more than the usual newsletter or the weekly offer.
Holiday emails need to be big and loud to inspire your potential shoppers to buy and turn them into happy customers.
To use seasonal email marketing the right way, increase your conversion rate and benefit from the holiday blast, we are going to take a look at some useful tips to jingle bell rock your way to the top.
Now let's take a look at four tips to create the perfect seasonal emails for your store…
1. Get into the Holiday Spirit
To come up with successful seasonal emails you need to fully embrace the holiday spirit and turn it into an amazing message. Whether you are creating Halloween or Christmas emails, you have to make the theme of your email stand out.
For instance, the perfect Halloween email must be able to take Halloween's spooky spirit and turn into an amazing offer that your customers will be glad to take you up on.
Here's an amazing example from American Eagle that fully embraces the Christmas theme and delivers a solution to one of the most difficult holiday tasks: buying presents your family and friends will like!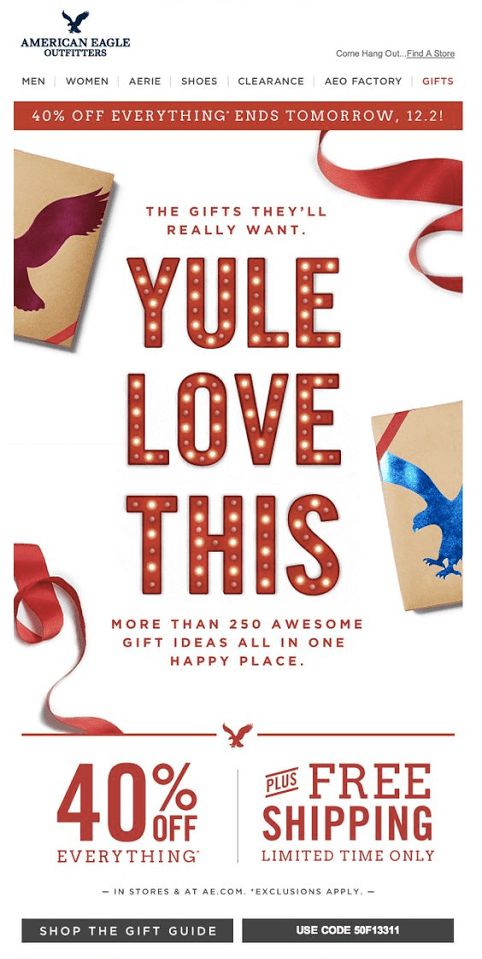 Seasonal emails that have stunning visuals will attract your customers' attention and give them more reasons to make a purchase to celebrate the holiday.With a nice holiday pun, a great offer and free shipping, American Eagle's campaign is here to save Christmas!
And to make your emails into massive conversion bombs, you should take care of the post-click step that will drive them further down your sales funnel. All you have to do is to sit down and create a landing page that will amaze your audience.These pages will influence the efficiency of your emails and determine whether the potential shopper will make a purchase or not.
If you want your landing pages to work miracles, the should be able to continue your subscriber's email experience rather than offer them a completely different one. Also, to save time you should consider using a landing page builder to put your holiday ideas on digital paper faster.
2.Subject Lines That Rock
To turn the holidays into your store's most wonderful time of the year, you need to focus on the click-through and open rates of your wonderful email marketing campaigns.
After all, if you don't have the numbers, then you won't be able to reach your KPIs and goals.While the body of your email will play a major role in converting more customers, you should first focus on creating the perfect email subject line for it.
Subject lines are more important than the entire email itself since they are the first thing your subscribers will see when they check their inbox. Subject lines like "Sales" or "Holiday Sales" might not give you the numbers you desire.
So what do you do?
As with your email copy, you should make your subject line holiday appropriate and appealing to boost your open rates. Here is a creative idea from Stocksy United:

The Christmas emojis are the perfect fit to make the subject line more appealing to your audience, whereas the words "almost!" and "spend and save!" are meant to add urgency to the message. To increase the impact even further, Stocksy connects their subject line with the theme of their email. Take a look:

With a subject line that delivers on its promises and visuals that correspond to the holiday theme perfectly, Stocksy has the perfect recipe to amaze their subscribers.
3. Kiss Cart Abandonment goodbye
Cart abandonment is an ongoing issue that e-commerce stores need to deal with, regardless of the holiday season. But as your traffic spikes across the peak season, there's a lot more to lose when it comes to Christmas cart abandonment.
Your potential customers might not be ready to make a purchase or find shipping costs too much. These are just two reasons why cart abandonment has become a major revenue loss issue, here's a few more: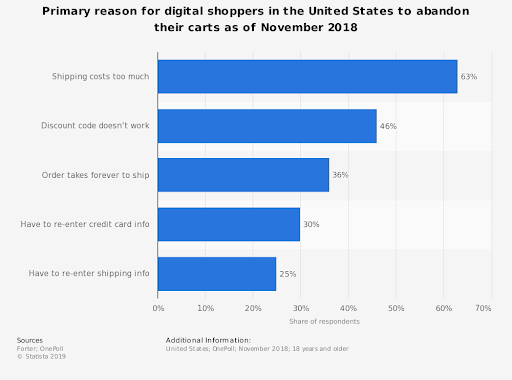 To win back your visitors, you need to plan your email remarketing strategy carefully and give them more reasons to stay than leave you for your competitors.
Here is where marketing automation comes in to assist your email remarketing attempts. With marketing automation, you can set up automated workflows that will be triggered when a customer abandons their cart, minutes or even days after the initial abandonment.
Especially during major holidays like Christmas where shopping can turn into a battlefield of deals and offers, getting potential customers to buy from your store rather than your competitors' can make a huge difference.
However, to power up your remarketing endeavors, you should send your cart abandonment campaigns as soon as possible. So to reduce your cart abandoners and kiss cart abandonment goodbye you have to create irresistible emails with offers that will make your potential customer's hesitation go away.
Here's how Kenneth Cole does it: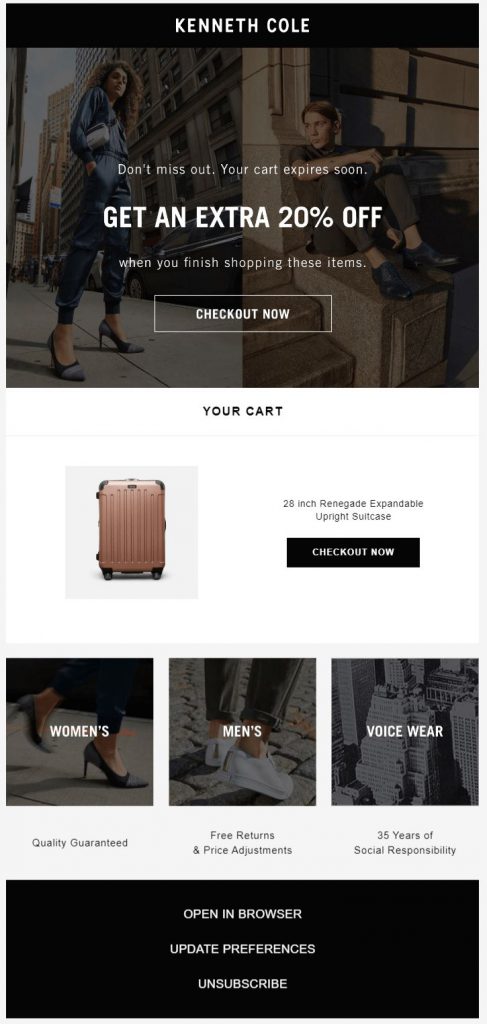 4. Send Your Emails at the Right Time
When it comes to sending successful holiday email marketing campaigns, you should come up with a schedule to roll them out at the right time.
Finding the best time to send emails will maximize your open and click-through rate and lead to more conversions and sales.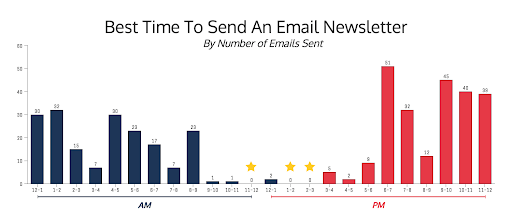 The easiest way to deliver your seasonal emails is to set up an automated workflow that will be triggered days before or after a specific holiday.
Giving your potential customers what they need, the moment they need it will better motivate them to click your CTAs and turn them into loyal customers who will buy all year long.
Email marketing for ecommerce: Takeways
Seasonal emails are the perfect way to skyrocket your sales in a time where consumers are most likely to spend more than any other time of the year.
To send successful holiday campaigns, you need to create the best content and subject lines, pay attention to detail and deliver a post-click experience that will amaze even the most difficult shoppers.
So what are you waiting for?
Start sending your seasonal emails now and in no time you'll see your holiday sales go through the roof.
About the author:
Marilia is a Creative Writer working for email marketing software Moosend. Her passion for writing has made her find new ways to combine the art of Creative Writing with SEO Copywriting. When she's not writing articles, you'll find her spending time on her drabbles.