EBOOK
How to Create a Customer Journey Map
Published: Mar 20, 2019
Have you created a customer journey map yet? According to Yieldify's State of Customer Journey Optimization survey, over 40% of marketers are already using customer journey mapping in their marketing strategy.
A further 34% are planning to invest in it this year, so there's no time like the present to get your head around what customer journey mapping is all about.
Whether you've already tried your hand at mapping your customer journeys, or you simply want some ideas on how to refresh your existing customer journey maps, this guide will cover it all.
We will examine the following points:
Why it's so important to map the customer journey;
When's the best time to create a customer journey map;
Who to involve in the process;
And how to actually do it – all in 10 simple steps!
Along the way, we'll include plenty of examples, and then some real-life applications from brands including Virgin Trains, soak.com, and more.
What is customer journey mapping?
Creating a customer journey map is the practice of creating a visual representation of the journey a user makes from being unaware of a brand to becoming a customer.
It's a simple but powerful idea that's based on qualitative and quantitative data that helps you understand more about customer touchpoints. That is, how they discover your brand and how they get from one touchpoint to the next to move down your sales funnel toward becoming a customer.
Why is customer journey mapping important?
Customers have never had higher expectations of brands: over 50% are prepared to go to another brand if the one they're using doesn't personalize the user experience. But in order to personalize the experience, you need to first understand what that experience looks like – enter customer journey mapping.
Creating a view of your customer journey can seem daunting, especially as the number of digital touchpoints continues to grow. But, it's highly worthwhile for marketers, salespeople, developers, and eCommerce executives to get on the same page about how visitors are experiencing the brand, across different channels, moving toward making the first purchase – and then hopefully many more.
By understanding this customer journey via a data-first approach, marketers can capitalize on the most effective customer touchpoints and improve the points in the journey where people drop out. It's a highly effective tool for improving conversions and ROI, so indispensable for marketing teams.
When to carry out customer journey mapping (and who to involve)
Creating your customer journey map should be a task that's completed as soon as possible, but is particularly useful if you're undergoing a stage of growth, adding new marketing and communications channels (such as new social accounts, chatbots, etc), or replatforming your e-commerce site.
Ideally, customer journey mapping should be an ongoing project, since e-commerce audiences evolve and shift rapidly. A year-old map may not give you the same information and guidance as an up-to-date one, especially considering that digital touchpoints are growing by 20% each year, according to McKinsey.
Creating your customer journey map is a complex task that requires input from stakeholders across the business. It's not just for marketing to worry about!
For example, you might need help from your IT team to provide data from your digital channels, your sales team for front-line feedback from customers, your fulfillment or delivery partners, and the list goes on. If your journey map is going to help you truly understand your customers, having a cross-functional team that interacts with different aspects of the customer journey is vital.
So that's the what, who, when, and why of customer journey mapping. But we did say we'd be helping out with the how.
So although every business is different, and there is no single right way to create a customer journey map, the examples and frameworks illustrated here should give you a good head-start at better understanding the journey that your customers travel through as they engage with your company, brand, products, partners, and people.
How to create a customer journey map
If just a little over 40% of marketers use a customer journey map as a part of their strategy, that means there's almost 60% who aren't using this incredibly useful tool at all.
Here are the 10 steps you need to follow to create your first map (or improve your existing one!):
1) Get clear on your objectives
A customer journey map might fill many purposes (and the more people you involve in the process will complicate this further). Here are a few examples of goals for a customer journey map:
Understanding the user journey;
Improving the current user journey;
Visualizing a multi-channel marketing approach;
Creating a starting point for a new marketing strategy;
Understanding and finding new market segments;
Engaging or re-engaging a market segment;
Zeroing in on where to conduct testing;
Acquiring or converting more customers.
And these are just a few ideas. So at the outset, consider what you want to get out of the customer journey mapping project, so you can define its scope (and stick to it!)
2) Assemble the A-Team
Given that your customers interact with many different parts of your organization, it makes sense that your customer journey mapping team should reflect this. Build a cross-functional project group with stakeholders from across the business, including:
Marketing and communications;
Sales and product development;
Software engineers and front-end developers;
Fulfillment, order management, and shipping partners;
Customer service;
Executive stakeholders.
It may be that your customer journey map requires several iterations, with one team creating the first draft and then input from other teams being incorporated to add detail and sophistication.
3) Forget complicated templates
Type 'customer journey map template' into Google (or your search engine of choice) and you'll find hundreds of results showing different ways companies have created customer journey maps.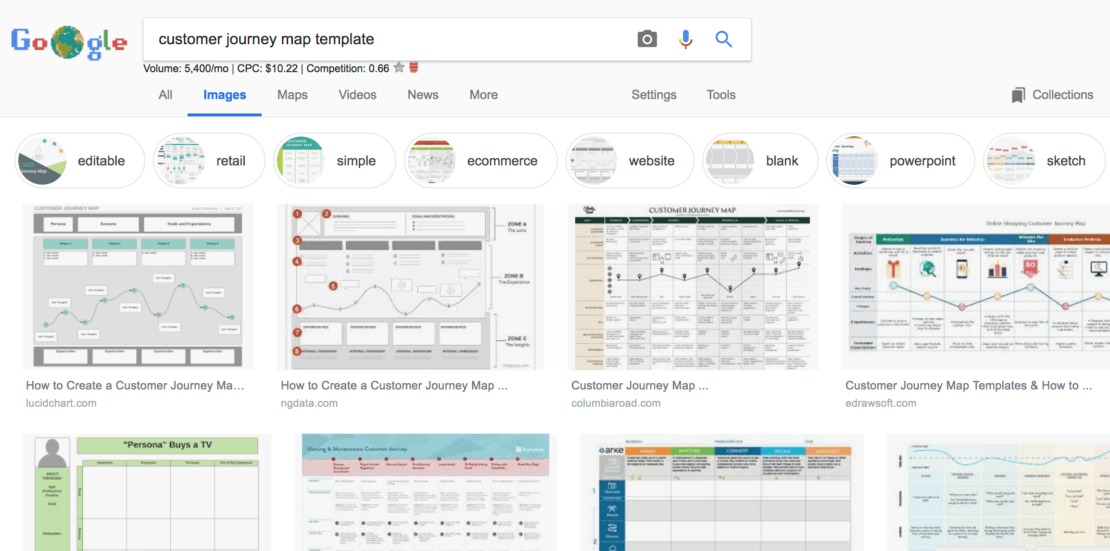 However, every business is unique, and that goes for the customer journey too. Your customer journey may not fit neatly into one of these structures (and nor do you have to have a beautifully designed one for it to be functional).
While we'll share some examples throughout this report – don't despair – take them as inspiration if you like, but simply start with pen and paper, sticky notes, or mind maps before formalizing your 'finished' map with your graphic design team if preferred.
Here are a few useful layouts you might start with that can be created with post-it notes or a whitebord: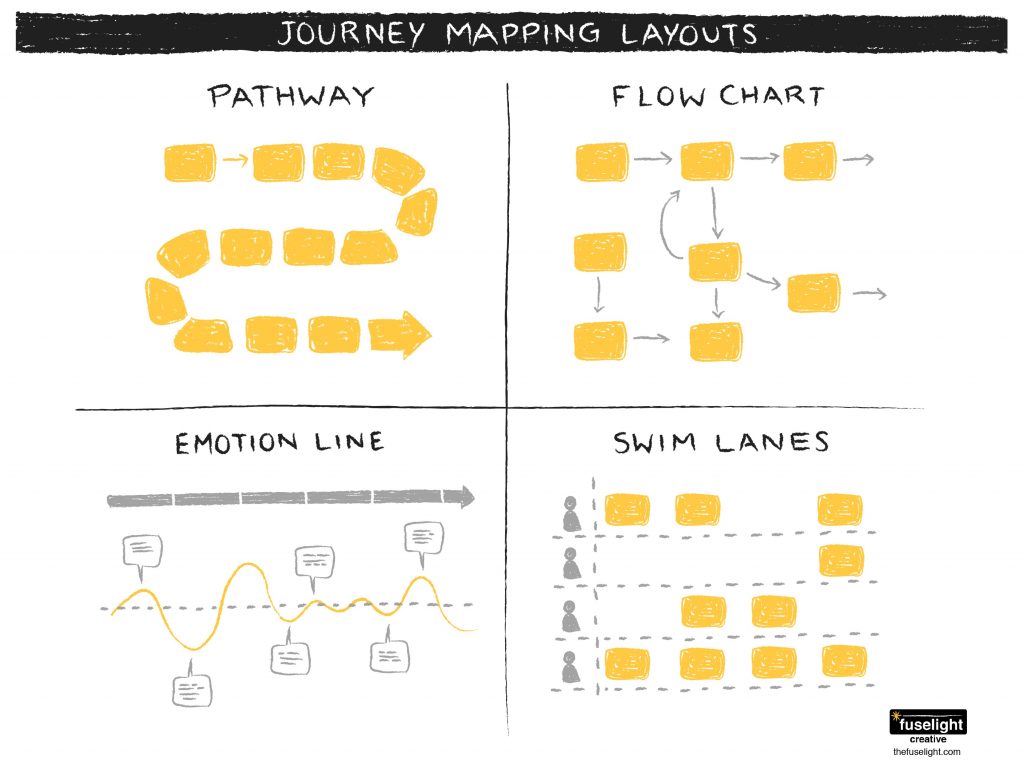 4) Start with your customer personas
Another feature of the user journey is that it may be different for each of your user personas. A customer journey map shouldn't be retro-fitted from the perspective of the brand, but rather a quantitative reflection of your customers' genuine experience of it.
Put yourself in your personas' shoes, and start there, rather than starting at the point of sale and working backwards. Doing this for each of your key personas is vital to personalizing and improving the user experience. And given that 55% of consumers are willing to pay extra for a guaranteed good experience, there's a lot of incentive to get the personalization right. Orienting your customer journey strategy around your customers is an important step in customer satisfaction.
Here's a great example from LEGO's customer experience team. In this customer journey map we see the approach for a business traveler flying to New York – the persona, who has specific needs and preferences, is at the center of the map: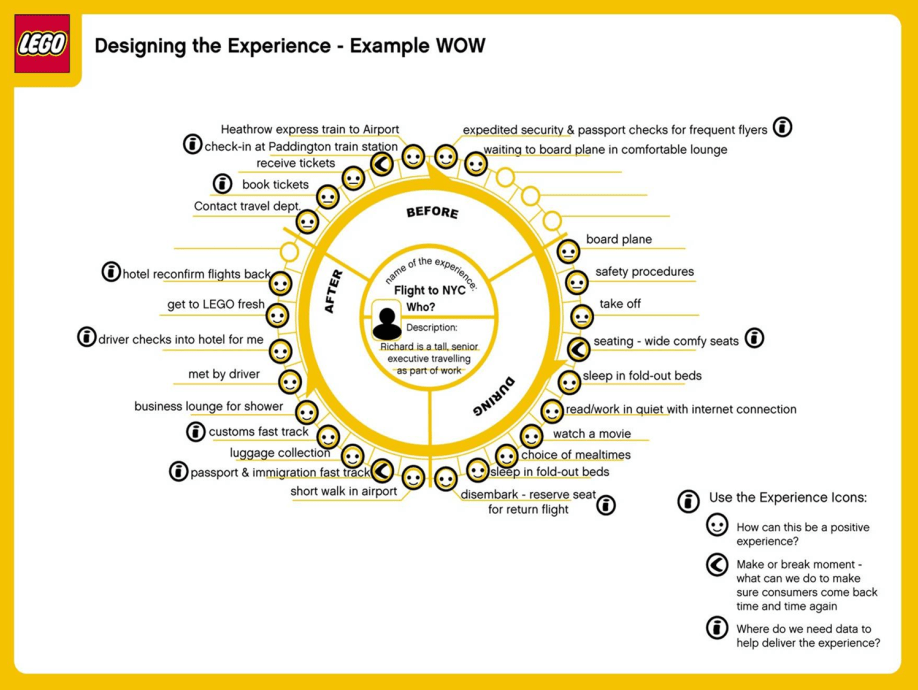 5) Gather your data
Now, we've used the word 'quantitative' a few times, and that's no accident: the best customer journeys are data-driven. Even the best marketers' instincts about how people interact with your brand need to be backed up by data. You may want to collect statistics around:
Macro and micro-conversion rates;
Traffic driven from different channels;
How people navigate through your site: where they begin, where they go next and how they end;
Bounce rates, basket abandonment, and exit rates;
Peak times of day, days of the week and busy seasons.
You can find most of this data in your analytics tool, but sometimes it can be a challenge to bring it to life visually, and tie it together into a coherent journey (especially if you're short on time, or lack advanced analytics skills).
Not only that, but with so much data now available you could end up spending a lot of time looking at something that isn't going to have a real impact.
Here at Yieldify, we help our clients overcome data fatigue with smart visualizations that offer an easy to understand, yet data-rich analysis of how customers move through your website: From acquisition, through to the end of the funnel or their exit.
Here's an example, showing the various customer journeys that happen as visitors arrive on site: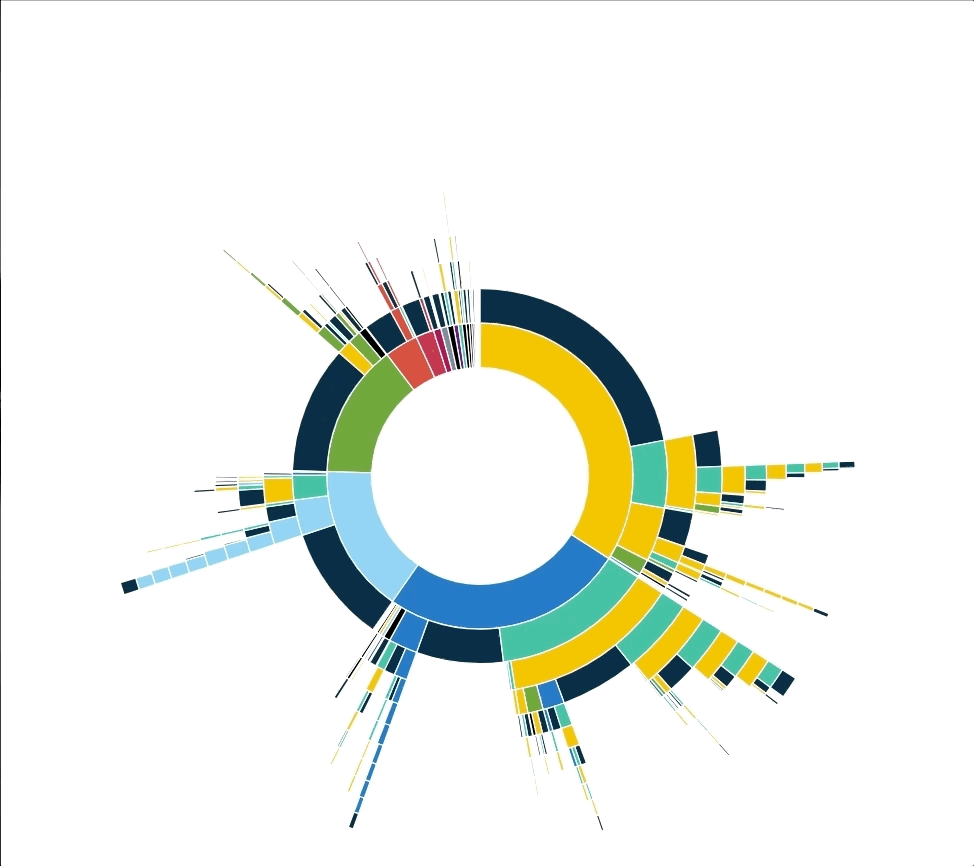 6) Start mapping your touchpoints
You've probably got more customer touchpoints than you're even aware of.
A touchpoint is any situation where the customer interacts with your brand, so it could be on social channels, email, chatbots, call centers, voice search, and many more.
First, make a list of all your touchpoints, then once you have an idea of the key ones for your business, you can start to plot how they interact along the customer journey.
In the simple example below, for a returning customer choosing a new mobile phone, the touchpoints are listed in blue, and the stages of the customer journey in yellow. Key decision points or 'moments of truth' are shown in red.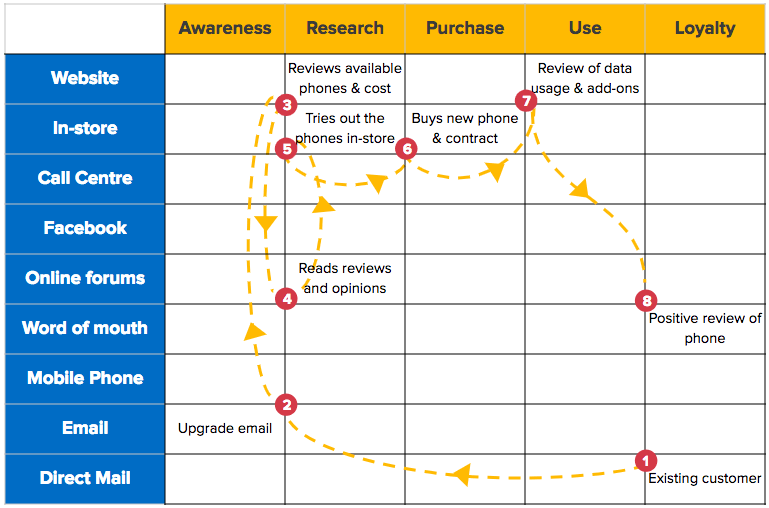 7) Include the internal actions
The last example showed the journey from the customer perspective, but don't forget what's going on behind the scenes. For example, when a complaint is raised on Facebook, where does the ticket get routed to and how does it get resolved?
A lot of these internal actions are invisible, but by creating a coherent document you can capture the internal processes – this is also useful for codifying the company's workflow and making it more efficient.
To help get a clear vision of how this interplays with the customer journey, you may choose to color-code for internal actions that are triggered by the customer's journey. In this example for a pizza restaurant, the backstage and support processes are listed out alongside the customer actions and touchpoints: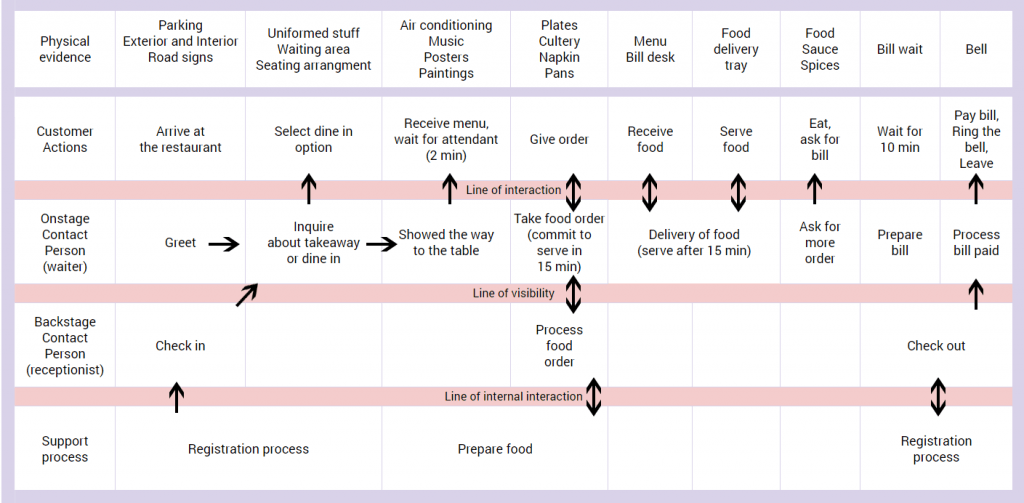 8) Add timelines to the customer journey map
How long does it take from a customer to move from one touchpoint to the next? How long does it take them to get from first becoming aware of the brand to making a purchase, or from buying for the first time and the second, or from asking a question on the chatbot to adding a product to their basket?
Each of these intervals will give you a significant amount of data to work with, and it will particularly show you where the efficiencies or opportunities lie.
Another important metric is time of day – when dealing with large volumes of customers, peak times for certain customer requirements will become more apparent, and lead to greater insights and easing of pain points.
See for example this telecommunication provider customer journey map, which indicates at what time of day the most demand is for certain services, helping with internal resourcing, such as customer service or order fulfilment: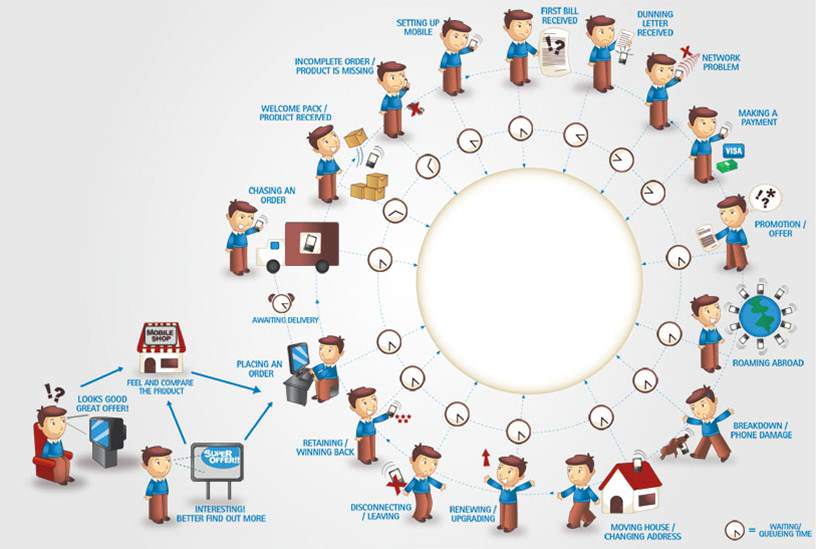 9) Pay attention to customer emotions
Consumer behavior is driven largely by emotion and psychology. If you understand their emotional state at every point in the user journey, you can cater to it.
For example, if they're curious in the beginning, serve informative content to pique their interest further. If they're uncertain, create triggers that will inspire more urgency to buy. If they're frustrated, fix the part of the journey that's causing the frustration.
Capturing customers' feelings on paper can be as simple as choosing the right emoji to reflect the situation. In this example, all the possible crisis situations are illustrated with how the customer might be feeling, and potential solutions below.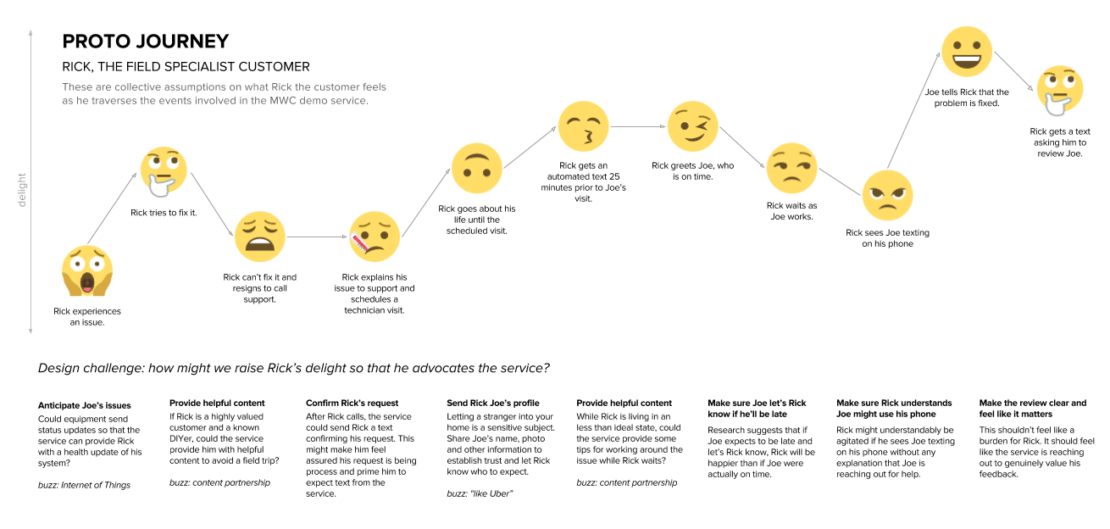 Here's another example related to completing an application for a new bank account online. The emotional experience has been mapped against the journey phases, revealing exactly where it can be improved: security, simplicity, and ease of registration.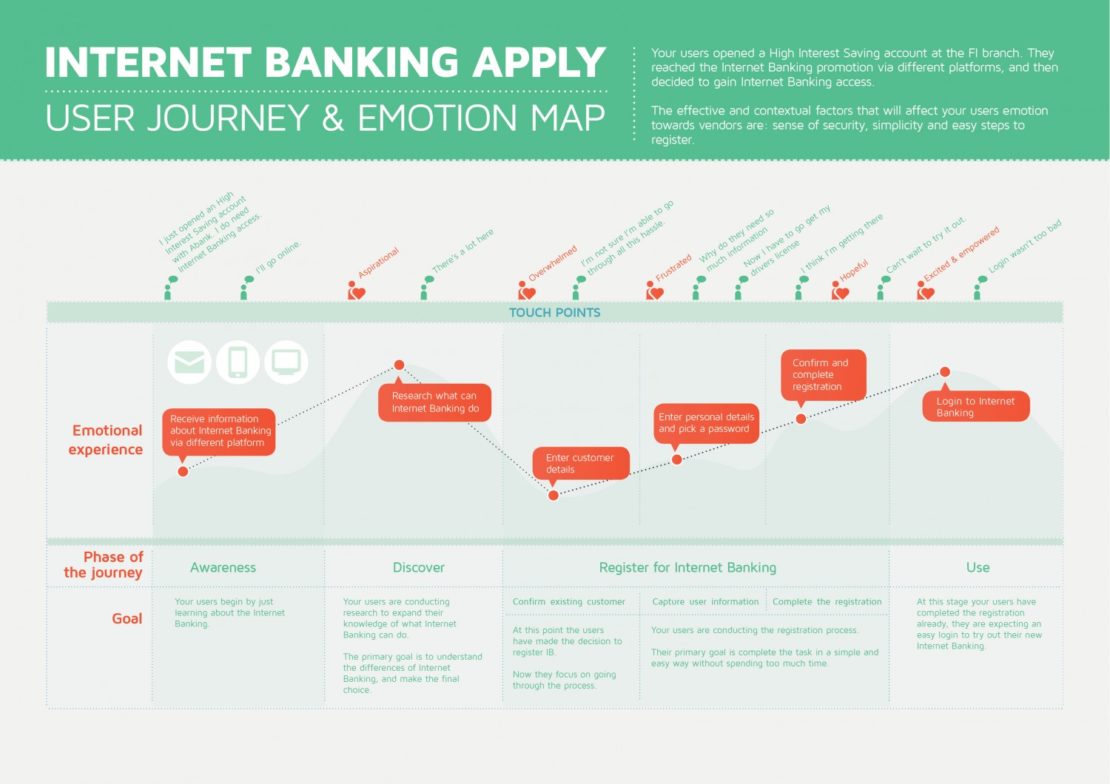 10) Note your evaluation criteria and metrics
As part of your map, benchmark your metrics next to each touchpoint so you can track the impact of any adjustments you make.
For example, if targeting idle browsers to inspire them to check out, make a note of the conversion rate so when you next run tests you can have an easy reference for what tactics are more or less successful.
This will also tell you which touchpoints aren't pulling their weight and need to be improved. Some metrics you might want to include are:
Bounce rate;
Average time on page;
Average order value (AOV);
New vs return customer order values.
It can be extremely difficult to know how you're comparing with competitors and industry standards here, so it's useful to take advantage of external data and benchmarking services, so you can understand where you stand in relation to the rest of your industry.
Using your customer journey map
Now, your map isn't an end goal in itself. It's an evolving tool you can now use to optimize the customer journey, closely analyzing the different stages of the journey and fixing the touchpoints that have been flagged up in your analysis as causing problem journeys.
The map is also a tool to identify opportunities for improvement, capitalizing on big opportunities to improve ROI, such as re-engaging visitors arriving from paid channels who have fallen idle or who are showing exit intent.
Bathroom retailer soak.com utilized its understanding of the customer journey, gained through strategy workshops and customer journey mapping with Yieldify, to target PPC traffic to understand more about this touchpoint, and visitor segment. The campaign provided insights into visitor behavior, as well as re-engaging visitors who would have otherwise come to the end of their journey.
Virgin Trains offers another example of fine-tuning touchpoints based on user experience mapping. A big challenge within travel is the booking process, by analyzing this stage of the customer journey in detail it found room for improvement.
To combat customers dropping out of the booking funnel, a proximity to purchase message was added to show customers how close they were to completion, along with messaging that reassured users of no hidden fees and the best price guarantee. This approach resulted in a 16.6% uplift in conversions from abandoning customers at the bottom of the funnel.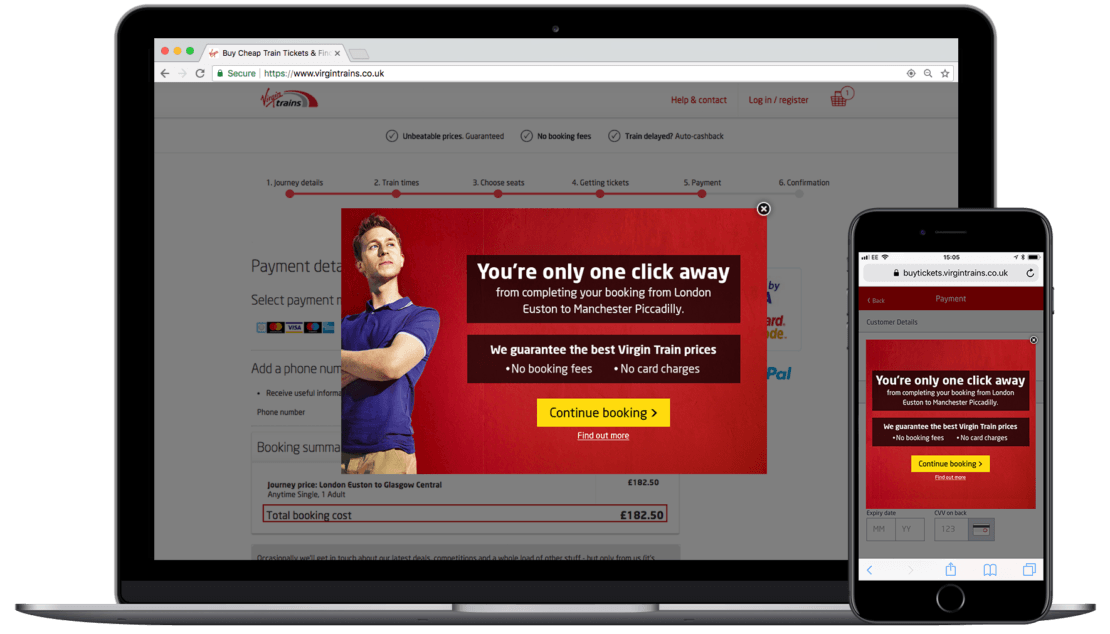 Customer journey mapping is not only useful in preventing abandonment, or understanding your visitors more clearly, but can also help identify opportunities to increase average order value.
From their in-depth understanding of the customer journey, beauty eCommerce brand Skyn ICELAND knows that the key to cross-selling successfully is to suggest value-added products that focus on the skincare needs of its visitors.
The brand created a campaign that targeted visitors purchasing Hydro Cool Firming Eye Gels. Using flexible targeting they were shown an overlay that recommended a complementary product, the Brightening Eye Serum.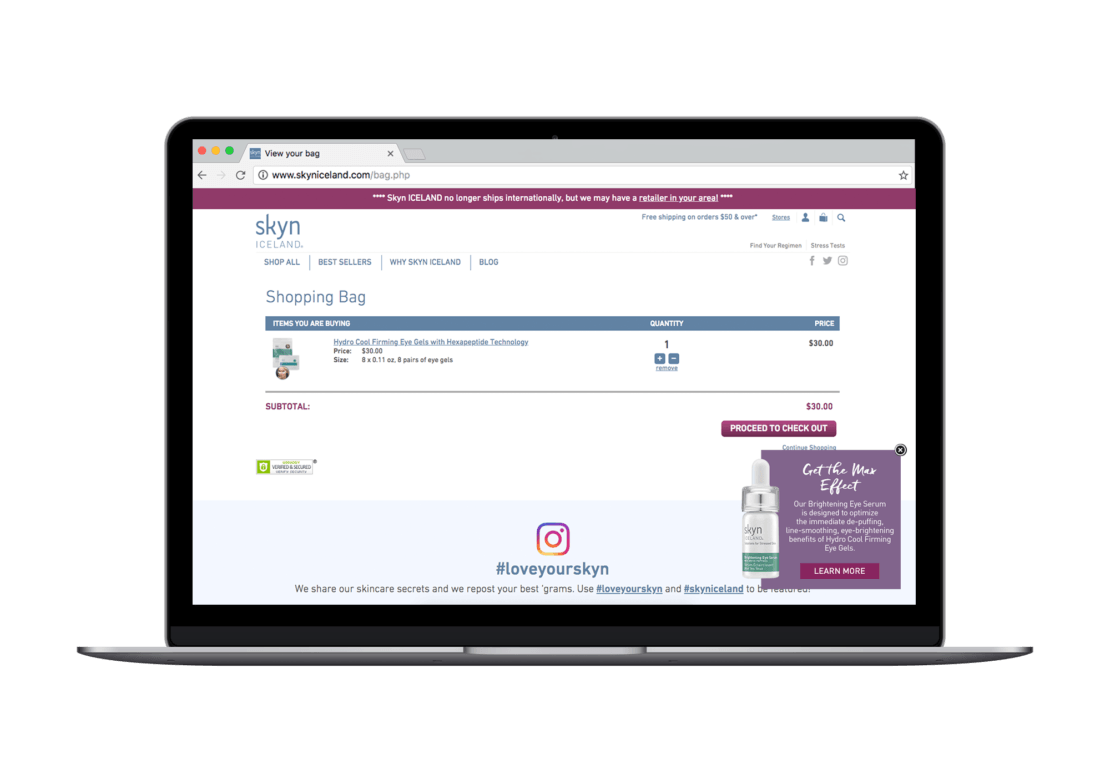 The campaign took the form of a notification that appeared at the bottom-right of the screen immediately when the user added Hydro Cool Firming Eye Gels to cart. Providing more education on why this product would help visitors achieve their skincare goals resulted in a +23.1% uplift in conversion rate and boosted order value by 14.94%.
Conclusion and next steps
Although customer journey mapping can seem like a big task, it's a powerful tool for marketers who can ensure that their customer journeys are sophisticated and robust, able to be personalized to the individual customer's expectations, needs and preferences. It's your roadmap to successful touchpoint interactions and conversion rate optimization.
After you've created a thorough working customer journey model, you can and should return to it again and again to base marketing strategy decisions, or when adding new marketing channels or touchpoints.
Using this as your launchpad, you also have a framework for drilling into customer behavior, uncovering more and more information about your customer base, and feeding this back into how you create your customer engagement and marketing strategy.
Ultimately, customer journey mapping allows marketers to embed the customer experience at the heart of all marketing activities and campaigns, what better reason to get started?