BLOG
Abandoned Cart Emails That Win Back Customers: Examples and Best Practices
Updated: Feb 8, 2023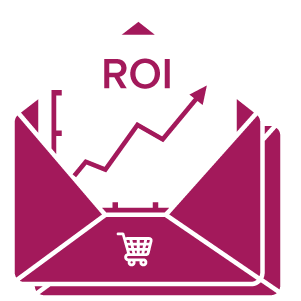 Cart abandonment isn't a problem – it's an opportunity. Here's how you can use cart abandonment emails to re-engage abandoning visitors and maximize your ROI.
Cart abandonment – it's the worst, isn't it? We certainly couldn't find any fan pages for it on Facebook, and a cursory Google of 'I love cart abandonment' brought back absolutely nothing of relevance.
When your customer abandons cart, it can feel like they're teasing you – putting the prize right before your eyes, only to cruelly snatch it away at the last second. But with around 75% of visitors abandoning their shopping carts, the feeling can become all too familiar.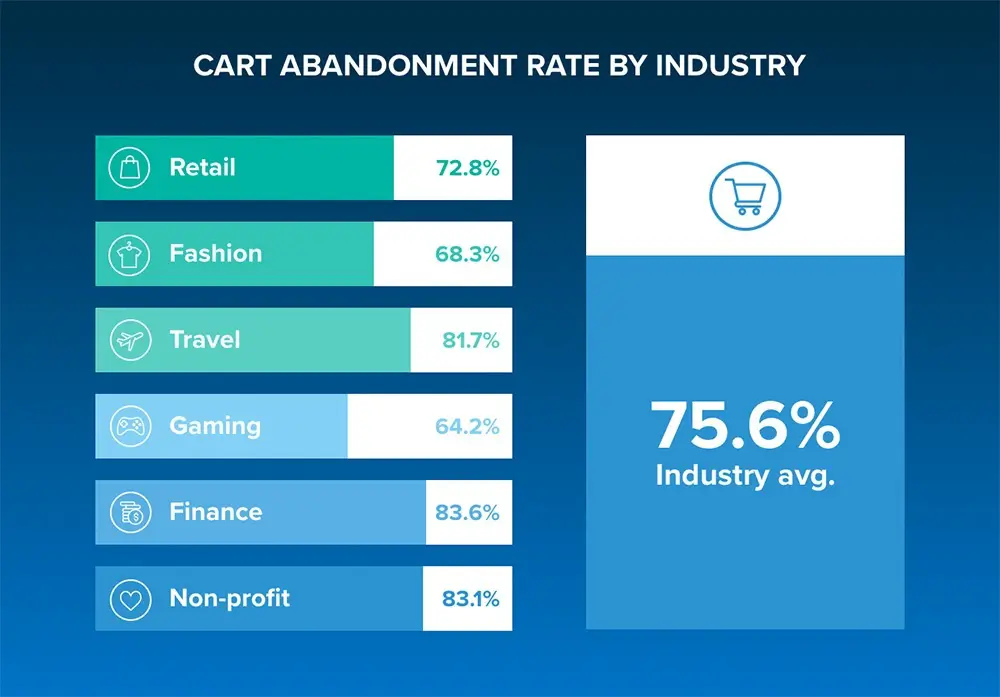 Not only is it damn frustrating, but it is also costly for your business. It's estimated that abandoned carts are worth $4 trillion a year to retailers.
Even if you divvied up this purported $4 trillion between every retailer, that's a fair chunk of cash for your business. But here's the good part – if you're willing to get smart about it – more of that cash is destined for your bank account than your rivals.
It's worthwhile quickly getting some perspective on the whole cart abandonment issue. Not everyone who abandons their cart is intending on making a purchase in the first place. However, vitally, a fair amount of them are genuinely thinking about buying (if not straight away): research from Business Insider suggested that 63% of abandoned cart revenue is potentially recoverable.
As a result, cart abandonment isn't a problem – it's a huge opportunity. Just think, if you could recover just a third of that 63% of revenue, you'd be laughing all the way to the bank.
Why do visitors abandon your site?
Before we look at getting your customers back, it makes sense to look at the reasons that cause cart abandonment in the first place. It's clear that website visitors rightfully despise unexpected costs and, as you'd expect, they're prone to just browsing and shopping around.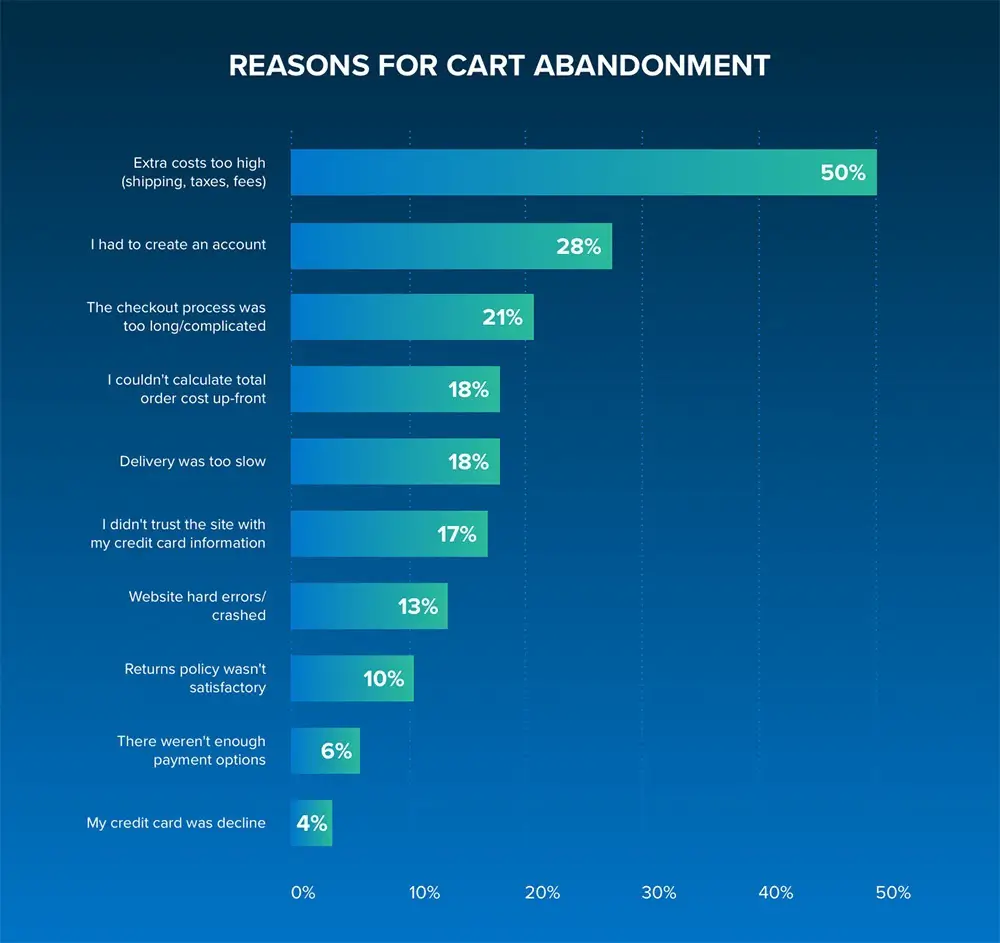 Along with these fairly obvious reasons for cart abandonment, there are a host of user experience issues – from navigation down to payment problems – which cause visitors to leave without purchasing.
So, as well as fixing some of these UX problems and being upfront with all your costs, is there you much else you can do to re-engage your visitors that are abandoning cart?
Well yes, there's plenty. These days there are a fair few ways to maximize your ROI by making your visitors reconsider leaving their cart behind. From giving them a reason to stay on your site in the first place with personalized exit-intent overlays to tempting them to come back with cart abandonment emails.
As you clicked on this blog, first and foremost you probably want to hear about email remarketing – so let's get to it!
Cart abandonment emails
Abandoned cart emails, cart abandonment emails, basket abandonment emails, email remarketing… Call it what you will, but how do the emails actually work? And should you be using them?
How does email remarketing work?
At its most basic, email remarketing is used to send an email to a user who has abandoned their basket. This email could give the visitor a reminder or maybe feature an offer, but ultimately the aim of the game is to give them a reason to return to your site and convert.
You can do a bunch of smart stuff with your emails to increase the likelihood of conversion, from sending them in batches to using clever design.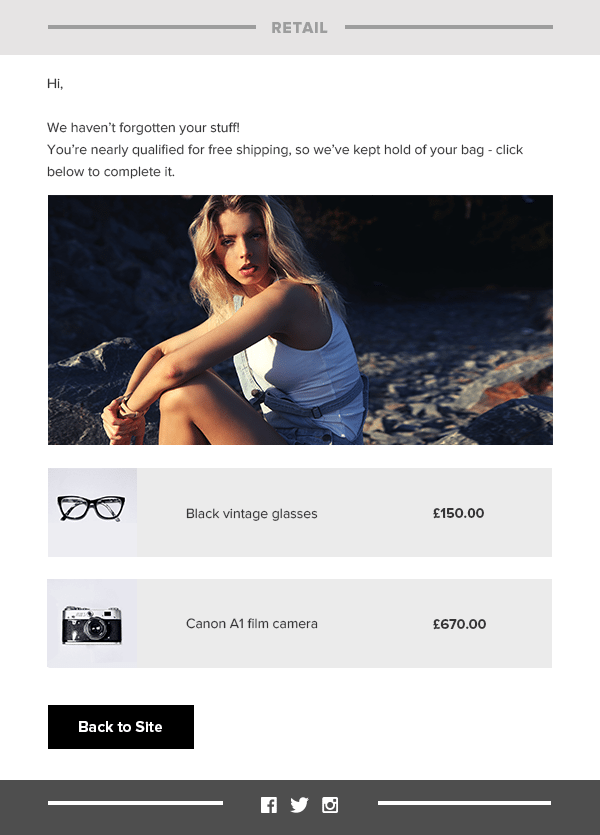 Should you be using cart abandonment emails?
The results make a compelling case. Cart abandonment emails have been shown to increase purchases at a rate that's 19 times higher than traditional promotional emails.
The mixture of personalized, relevant content that's still fresh in a visitor's mind means that cart abandonment campaigns are far more effective at re-engaging users.
A SeeWhy study revealed that 75% of new visitors abandon with intent to return at some point. With this in mind, doesn't it make sense to give them a reminder or incentive to come back?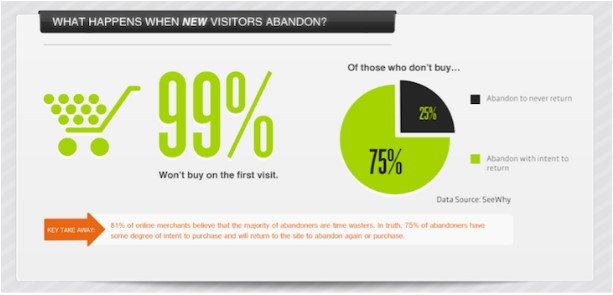 At Yieldify, we've seen email remarketing produce top results for clients across every vertical. From 66.2% open rates in the cosmetics industry, to 30% conversion rates for a home and garden eCommerce retailer.
There's no reason your eCommerce site won't see these kinds of returns – cart abandonment emails could well be the key ingredient to maximizing your marketing ROI.
So, we've shown you how well cart abandonment emails can work, the next step is to figure out how should you go about using them. To get you started, we've quickly summarized some of the basic best practices below.
Top tips for cart abandonment email
1. Make them mobile-friendly
Data shows that 42% of emails are now opened on a mobile device. This means one thing for your emails – always make sure they're mobile optimized! Otherwise, your cart abandonment emails will be practically unnavigable for more than half of your customers.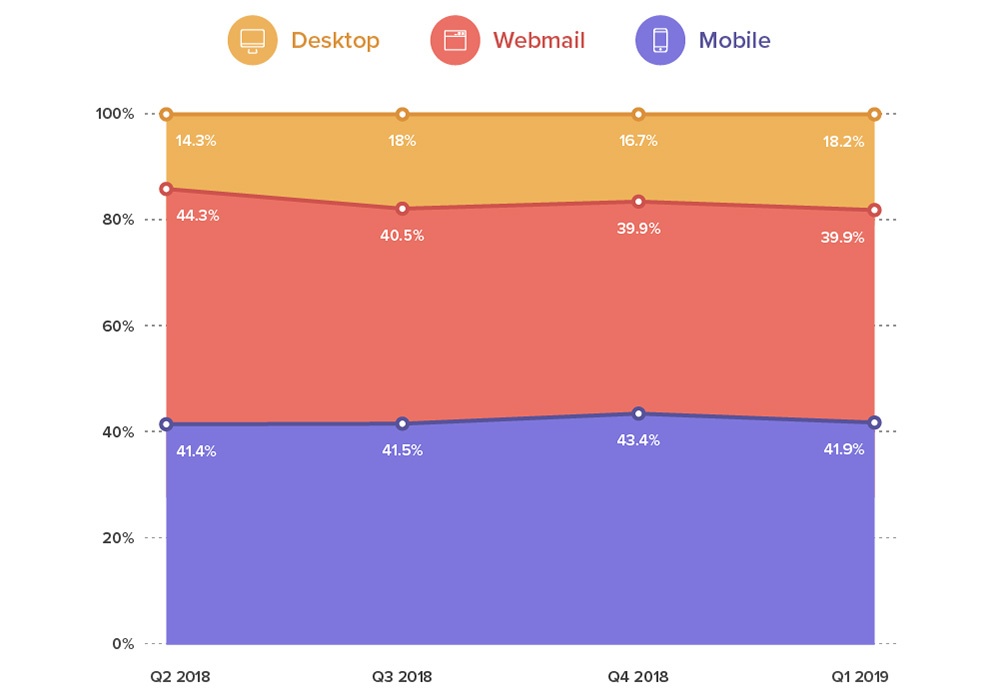 2. Clear pricing
Unexpected costs are the main reason for your customers to abandon in the first place, so don't go making the same mistake twice. Your pricing, including shipping and returns, must be expressly clear in your email. If you're offering a discount, apply this to the basket to entice your customer with the improved price.
3. Time to perfection
From half an hour to a day, retailers like to play with the timing of their email remarketing to see what works best. Results show that usually the sooner you send your email, the better.
But don't take this for gospel, test what works for your brand. Emails close to the time of abandonment generally work as they're fresh in the customer's mind. However, for more expensive items they'll probably need longer to consider making a purchase.
Your timing may also be dependent on how many emails you intend to send, which brings us to our next point…
4. Send multiple emails
Don't forget, visitors who have abandoned basket are essentially warm leads – so treat them accordingly. A sequence of drip emails is a good way to nurture your visitor and to help push them down the funnel.
Sending multiple emails works: sending a second cart abandonment email has been shown to bring a 54% lift in revenue.
N.B. If you're sending your cart abandonment emails in a drip sequence, don't offer your incentive until the final email. You may well be able to convert your prospect beforehand by pushing other content such as a simple reminder or by emphasizing our USPs. By leaving that incentive (eg. 10% discount or free delivery) till last, you won't cut into your margins unless you really need to.
5. Sense-check your subject line
Your open rate is going to largely rely on your cart abandonment email subject line. Ambiguous or 'clever' subject lines aren't really needed here.
Stay true to your brand's tone of voice, but whether you're sending a reminder, inciting urgency or offering an incentive – make it very clear what the email contains.
6. Slick design
Your abandoned cart emails' success will lean heavily on their design and layout. Here are a few key tips.
Make the email design consistent with what your user expects from your brand, and purchasing online in general:
Incorporate your website branding.
Show the products a visitor has added to cart or the products a visitor has shown interest in.
Make the email look like a checkout page.
Make any drip email sequences consistent in look and feel.
Your cart abandonment emails really should be a continuation of your visitor's onsite experience. In terms of usability, ensure it's as easy as possible to make a purchase directly from the email. This means things like linking through to your checkout page and, if you're offering one, automatically adding discounts to your onsite cart.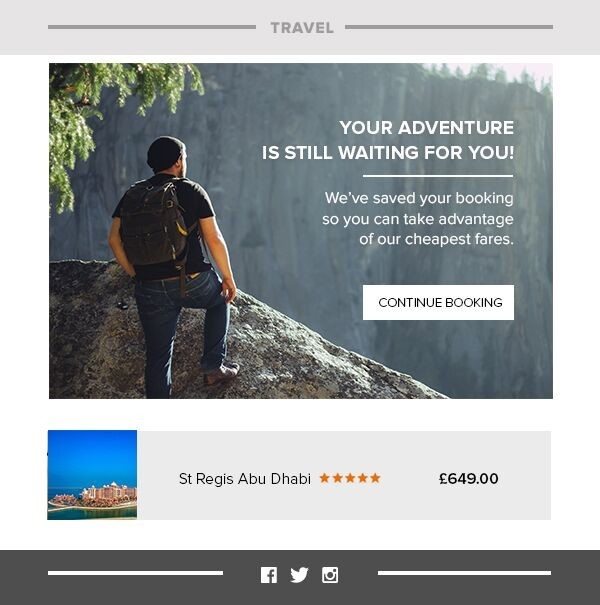 7. Welcome your user back on site
Again, this is all about consistency and giving your customers a coherent customer experience across channels.
By linking your email remarketing with onsite remarketing you can create a full-circle customer experience. Essentially you can target visitors based on their onsite behaviors both when they're browsing and once they've left with targeted emails.
When your user returns to your website via email remarketing you can then welcome them back onsite with messaging relevant to the email's content and take them directly to where they want to go. By creating this coherent loop we've seen customers increase conversions by up to 13% in comparison to just using onsite overlays.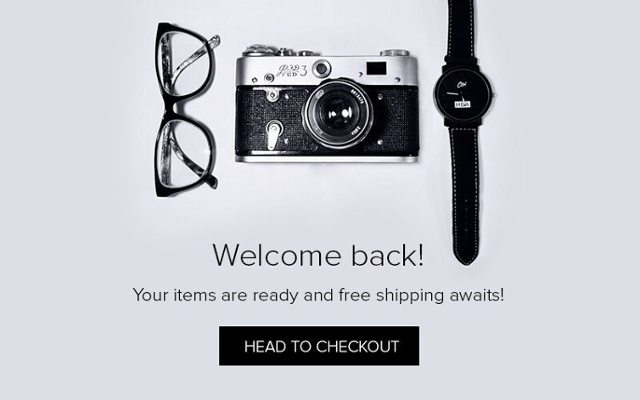 Bonus tips
Scarcity & Urgency – scarcity is a psychological sales principle as old as time. We're all more likely to buy something that's running out. Apply this to your email remarketing to incite urgency and give your customers fear of missing out.
Incentive – a 10% discount on their cart abandonment campaign saw Yieldify's client, a leading home and garden brand, get a 30% conversion rate. If you don't want to damage your margins pushing existing relevant offers or your brand's USPs. However, an incentive such as a discount or free delivery will usually see a greater boost in conversions.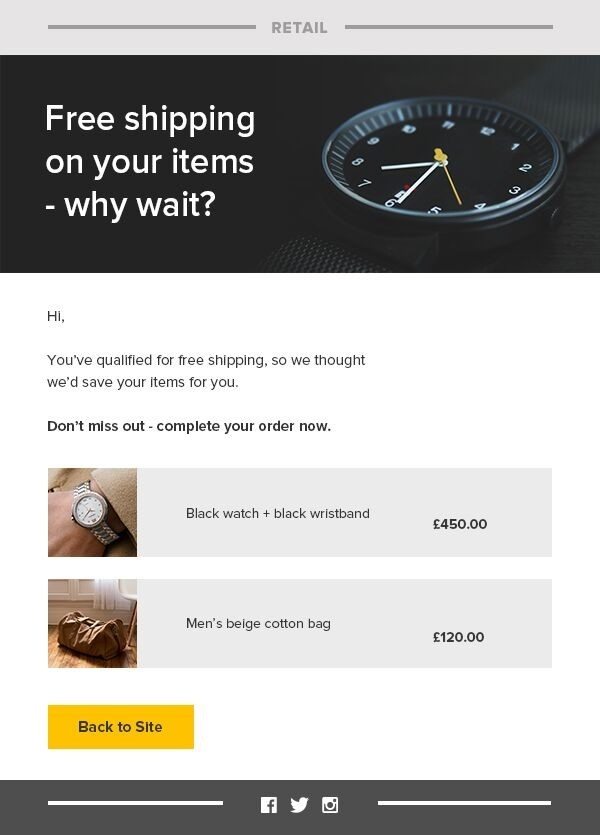 Social proof – 88% of consumers trust online reviews as much as personal recommendations and 90% read online reviews before visiting a business anyway. Do the leg work for our customers and by providing some social proof with customer testimonials and reviews in your emails.
To sum up…
You put heaps of time and money into getting traffic onto your site in the first place… You then spend endless hours optimizing your onsite experience… Don't let cart abandonment spoil all your hard work.
Try to shift your perspective and see it as an opportunity, not a problem. By using cart abandonment emails and other cart abandonment solutions to re-engage and convert just a small percentage of the visitors who've left your site you can maximize ROI and smash your revenue targets.