BLOG
Home and Garden eCommerce Trends: What's Driving Growth In 2020
Published: Apr 28, 2020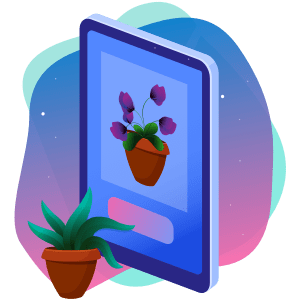 Find out the trends driving Home & Garden eCommerce sector growth and discover our top tips for success.
The home and garden eCommerce sector is set to explode over the next few years. Brands are stepping up from what was traditionally bricks and mortar stores, embracing the opportunities that come with an omnichannel or pure-play online presence.
Digitization and new technologies, such as website personalization tools, play a strong role in all this. By offering automation and process optimization, they enable brands to scale at unprecedented rates.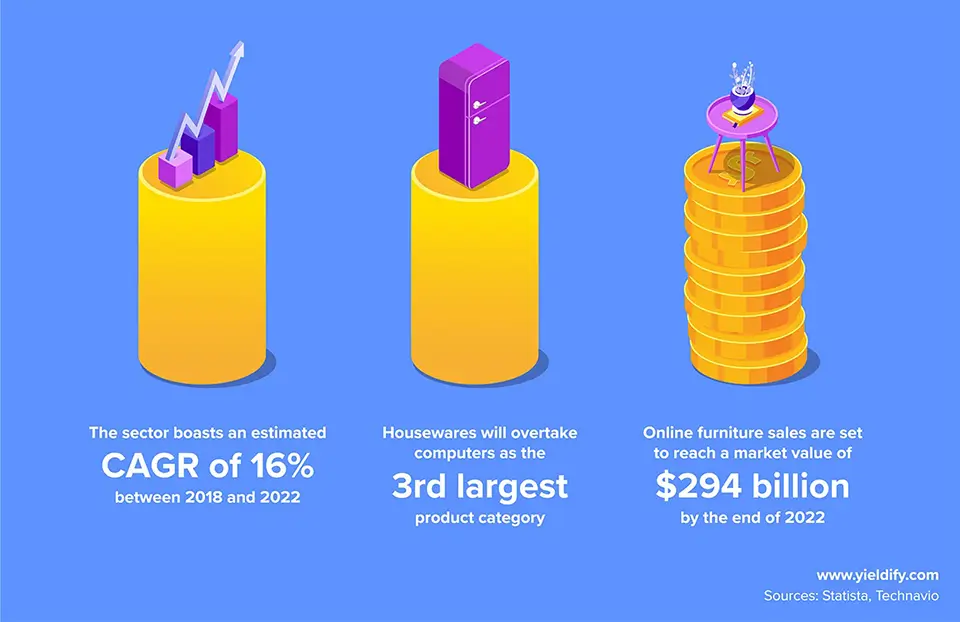 The sector boasts an estimated CAGR of 16% between 2018 and 2022, outshining the CAGR of 5.3% projected for the entire retail industry by over 10%. According to a Forrester Research report, housewares alone will overtake computers as the third largest product category in the retail market by the end of 2020. It's a truly pivotal time for the sector.
But what are the reasons behind this sudden boost in consumer spending? Well, there are many factors that come into play….
Home and Garden eCommerce trends for 2020
Home and garden eCommerce customers are evolving
According to research, online furniture sales are growing at a rate of 11.9% and set to reach a market value of $294 billion by the end of 2022. However, what is particularly interesting is that 50% of the customers contributing to this growth are millennials and Gen Z.
The reason? Millennials and Gen Z are growing up and buying their first home is one of their top priorities. Due to higher than ever house prices, many are having to compromise, potentially looking at smaller or older homes that require renovation. This translates to extra sales for home and garden eCommerce.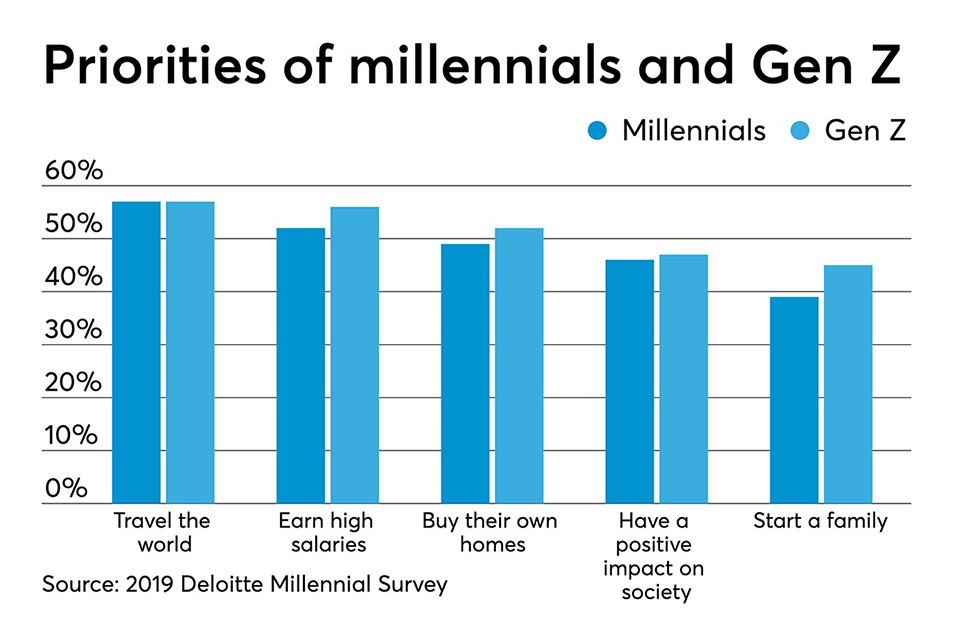 Even for renters, their surroundings are extremely important to their happiness and wellbeing. There's a lot that can be done to customize an apartment within the confines of rental agreements. Furnishings/personal effects can really make a house into a 'home'.
But it's not just about the younger generation. Baby boomers are also a great source of revenue for home and garden brands. As they reach retirement age, it presents the perfect time for many to dedicate their newfound time to undertaking home or garden renovation projects. A chance to fix all those little things that they've been putting off and refresh their home decor in line with recent trends.
Pro tip: Make sure you're showing up where your customers are searching. For digitally-native millennials, this could mean building up activity and engagement across your social media channels. For baby boomers, investing time into improving your Google search rank is far more likely to get you the visibility you need.
Social media is more popular than ever
When you decide that you are going to re-design your home, where do you head to get inspiration? It's highly likely to be social media, home of the 'insta perfect' interiors.
Channels such as Pinterest, Houzz and Instagram have truly exploded for home and garden eCommerce. They are bursting with stunning photography and how-to guides for doing it yourself. Basically, the place to be for amateur home design enthusiasts.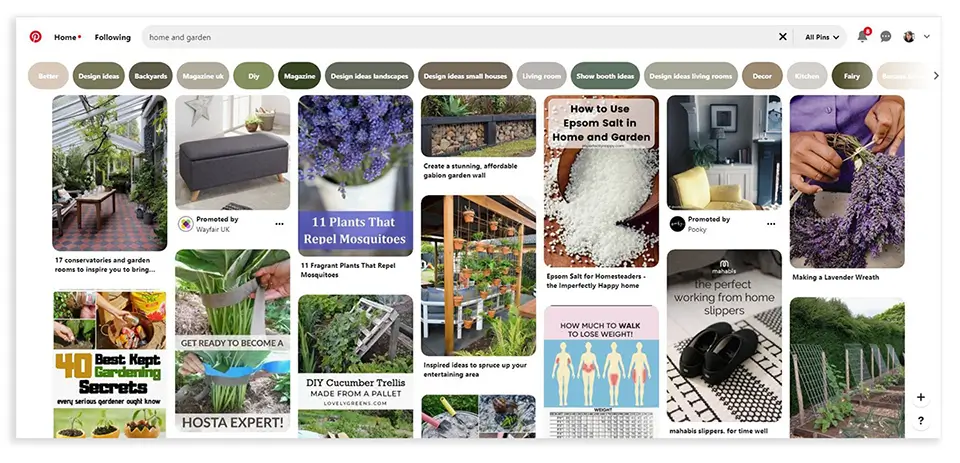 In addition to this, there are social media influencers taking the home and garden industry by storm. The most prominent example of this is Mrs Hinch. An extremely popular mother-of-one with a passion for cleaning and furnishing her house with affordable homewares.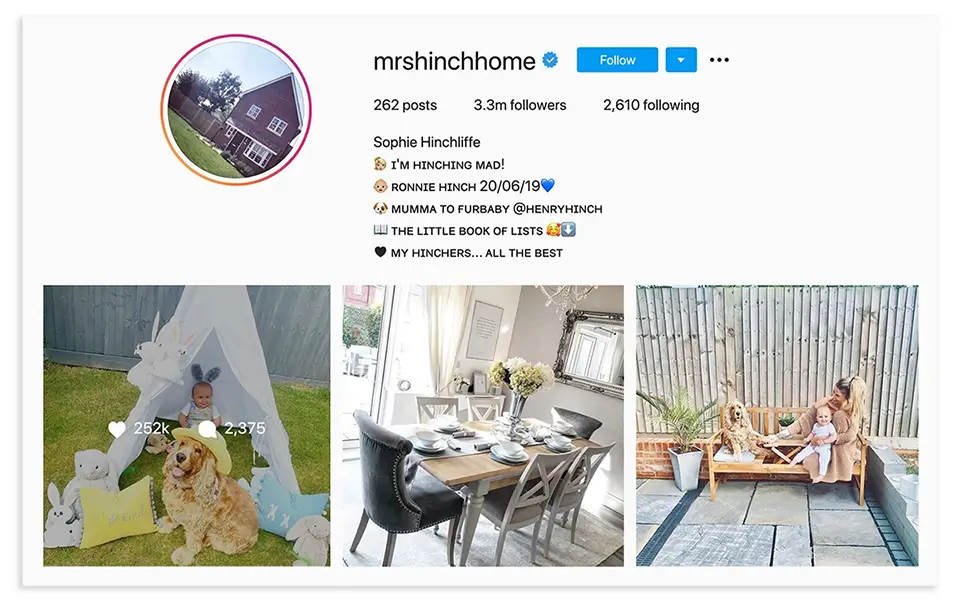 She has turned this passion into a business, collaborating with leading home and garden brands. This translates across to an Instagram following of over 3million 'Hinchers'. Her name is now synonymous with beautiful home interiors and DIY 'hacks' and a great example of influencer collaborations at their best. Any products featured on her feed sell-out instantly, a marketer's dream!
Pro tip: Consider the benefits of building your own online community. Think about how you can leverage user-generated content for your brand. Showcase the amazing results your customers are achieving through your products. This is another way of employing social proof to drive sales.
Homeowners are staying not selling
Market uncertainty is causing many homeowners and renters alike to hit the pause button and stay put where they are. HomeAdvisor's True Cost Report showed that 80% of homeowners surveyed plan to stay in their existing homes rather than move.
As a result, those homeowners are planning to spend more on home improvement projects this year. In fact, half of all respondents are considering a remodel. On average, homeowners spent $6,649 on home improvements per household in the last 12 months. However, those improvements might essentially pay for themselves.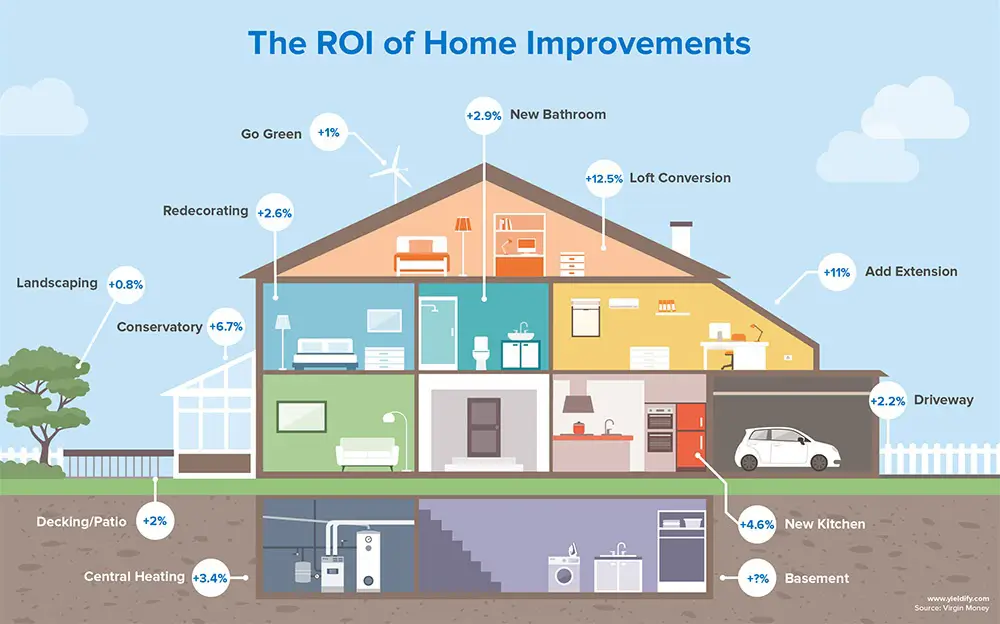 Yielding an ROI of up to an estimated 12.5%, home improvements add significant value to your house. This makes them an extremely worthwhile investment. Thus, giving prospective customers the impetus to get started and buy home and garden products now instead of later.
Pro tip: Leverage loyalty programs to incentivize your customers to keep coming back and sharing products with their peers. Consider crafting a post-purchase email flow that keeps engagement going and encourage further sales
COVID-19 is impacting home and garden eCommerce sales – for the better
With consumers across the globe quarantined in their homes, it's safe to say that they acted very quickly in terms of making that home environment as pleasant as possible.
Research by MentionMe revealed that on average, order volumes for brands in this sector have increased by 55% year-on-year. Over the same period, referrals have increased by 83%. For example, home offices are now essential fixtures as the world's workforce goes remotely. Desks and office chairs sold out almost instantly once lockdown was announced.
Our customer data corroborates this, with home and garden eCommerce seeing a surge in both site traffic and online sales. In the chart below you can see that the peaks directly correlate with the original announcement of the COVID-19 pandemic and countries going into lockdown.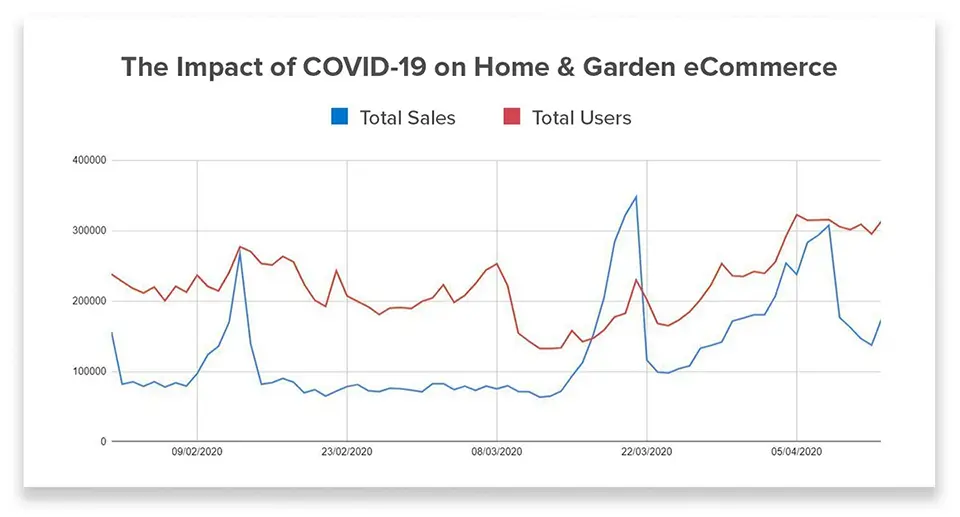 Now the dust is starting to settle, interest is shifting from quick, obvious wins like a home gym, home office, or BBQ. Consumers are now interested in starting projects such as gardening or DIY. They can help offer much-needed relaxation, especially for those currently furloughed.
Pro tip: Use dynamic content to help replicate the in-store experience online and aid decision making. Want to bring to life a garden set to get the deal across the line? Give the user a helpful video that shows a 360-degree view of the product and how to put it together. Chatbots are also great in a crisis where human to human contact isn't possible, giving instantaneous answers.
How to use website personalization to boost your home and garden eCommerce brand
So, we've covered the top trends and why consumers are turning to the home and garden eCommerce sector right now. But how can you build on this further and drive even more sales through website personalization?
Well, it doesn't get more personal than furnishing your home with furniture and trinkets that you have specifically sourced to appeal to your own taste and personality. It's imperative that the buying experience reflects this, especially when online.
80% of shoppers are more likely to buy from a brand that offers a personalized experience, presenting a lucrative revenue opportunity for retailers. It really does go without saying that consumers are more likely to buy products that are highly relevant to their needs. This means if home and garden eCommerce brands can deliver that, it can be a great way to increase AOV and upsell.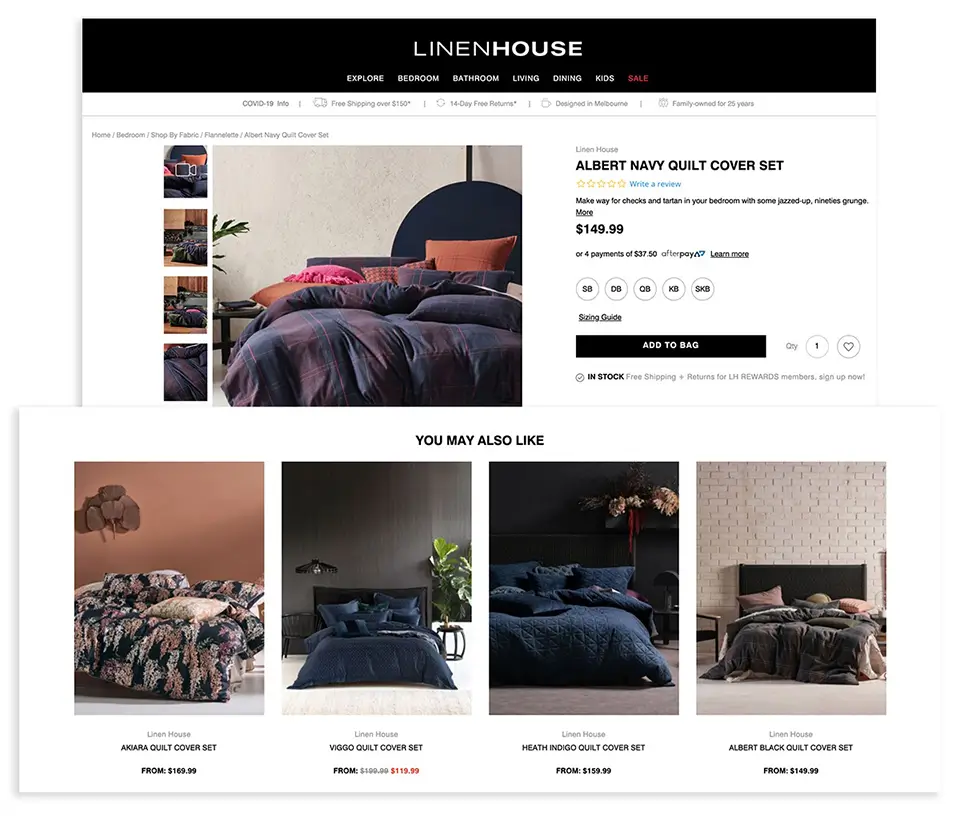 Technology is key here. By employing behavioral segmentation, brands can display hyper-personalized and extremely targeted product recommendations based on the users' exact preferences. Think about Netflix: every user receives a completely customized home screen based on what they've been watching. This is exactly the same concept, only with homewares instead of films.
Ultimately you want to take the visitor through a carefully curated customer journey optimization process, keeping them on your site and exposing them to as many products as possible. The aim is to create predictive relationships with customers instead of reactive, taking you from a static website to a trusted advisor.
Pro tip: Think about your lead capture strategy, is your website optimized with a form that compels users to submit their details? Post-sign-up, ensure you are making the most of that data, and tracking on-site behaviors to deliver the personalized experience that your customers crave.
In conclusion
The opportunities are vast for home and garden eCommerce brands to really capitalize on the increased consumer demand and market growth potential. However, to do this, it is imperative that you get personal with your audience.
By creating a personalized on-site experience, you will not only drive conversions but also raise AOV. A one size fits all approach simply won't cut it for those looking to rapidly scale, and those first to act will ultimately reap the best rewards.
At Yieldify, we've personalized thousands of customer journeys for clients all over the world. If you'd like to see how our experience and tech can help you with your strategy, click here to get a free demo.