BLOG
15 Best eCommerce Marketing Automation Software & Platforms
Published: 19/07/2022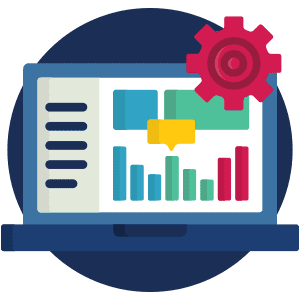 Marketing automation tools allow marketers to reach more prospective customers with less effort. While well-established as part of the B2B marketer's stack, they're a less common feature of B2C and eCommerce.
But here's the thing, eCommerce marketing automation tools can be a nightmare to choose between.
Here's our guide to how to pick the best one for your eCommerce business.
In this article we're going to cover the following on eCommerce Automation:
1. What does automation software do?
2. What is eCommerce Marketing Automation?
3. How to pick the right software
4. What is the best software?
4.1 Dot Digital
4.2 Oracle Bronto
4.3 Sender
4.4 Active Campaign
4.5 MailChimp
4.6 Keap
4.7 Hubspot
4.8 Rejoiner
4.8 Act On
4.10 Sharpspring
4.11 Omnisend
4.12 Hunch
4.13 EngageBay
4.14 HubSpot
4.15 Drip
If you're choosing a marketing automation tool for the first time, here's what you need to know.
What can eCommerce marketing automation platforms do?
According to Marcus Taylor at VentureHarbour, "At a fundamental level, marketing automation is about optimization. From optimizing your staff's time, to optimizing which customers your sales team focuses their effort on, the scope of marketing automation goes way beyond simply automating your marketing department's repetitive tasks."
In a nutshell, a marketing automation tool is a piece of software that allows you to automate a lot of the functions that marketers are used to doing manually: sending emails, scoring and nurturing leads, posting to social media – and much more. The definition is as long as the proverbial piece of string.

What is eCommerce marketing automation and how can it benefit my team?
For a marketing or eCommerce business, eCommerce marketing automation's benefits include reduced staff costs, improved accountability, and more consistent marketing of creative – instead of repetitive – content.
There are three things that every piece of eCommerce marketing automation software needs to have:
A database – you're going to be triggering activities depending on what your contacts do, so you need all of that data captured and stored.
A way to orchestrate actions – simply put, 'workflows'. This is the core of what we mean by 'automation'.
A way to create eCommerce reports – the point of the tool is to become more effective, so you'll need to be able to see whether or not you're getting it right.
Evaluating Marketing Automation Platforms For eCommerce
Writing on CMSWire, Dom Nicastro says, "Marketers deploy strategies through their marketing automation systems in a number of ways." These include specifying criteria, leveraging cookies, using forms for contact information, and mixing inbound and outbound strategies.
Before investing in eCommerce marketing automation software for your business, you should know what you need automation to accomplish for your business. Do you want to track visitors? Send real-time sales alerts? Market upgrades to past buyers? Collect email addresses? Or store, segment, and select data to pinpoint the right messaging for the right customer?
It's important to remember that not all automation is good automation. If a platform only moves certain tasks from hands to machines, it may not do enough. Alternatively, if a software provider assures you that it can automate everything, that's an alarm bell.
Knowing what's needed prior to purchasing a platform or eCommerce marketing automation software saves money, minimizes frustration and maximizes marketing benefits. At this point, your first step should be to make a list:
Your goals in getting a new marketing automation tool.
The tool's 'must-have' features.
What are you prepared to compromise on?
With your specifications in hand, you're ready to start searching the marketplace. There are a few good ways to see what your options might be:
Use a tag-monitoring plug-in such as BuiltWith to visit sites similar to yours to see which tools they're using.
Talk to the providers of other software in your stack and ask which platforms they integrate with – this can make adoption much easier.
When you're ready to engage with a provider, Justin Gray at LeadMD recommends asking several questions, such as:
Is there an associated community?
What will the ROI look like?
How does the functionality align with your goals?

What is the best marketing automation software for eCommerce?
For an eCommerce marketer, the thing to remember is that many eCommerce marketing automation software offerings have tools that aren't well-built for what you're trying to do.
The likes of Marketo, for example, sit squarely in the B2B space. This is actually one of the key reasons it was recently acquired by Adobe, which seized on the opportunity to extend its reach into B2B markets. However, many marketing automation tools are realizing the potential new markets in eCommerce and developing their offerings accordingly, so watch this space.
To make things a little easier, we've searched the market and compiled a shortlist of some of the eCommerce marketing automation tools we'd recommend taking a look at…
1. Dotdigital (formerly Dotmailer)
Since 1999, this marketing automation platform has built its services around email, the number-one performing digital marketing tactic. More than 70,000 customers in 150-plus countries use Dotdigital to build automated email programs that follow the full length of a customer's journey.
Pricing – Packages run from $150 per month to $600 per month with a 20% discount for nonprofits and charities.
Ease of use – Dotdigital is one of the simplest as well as the most powerful platforms on the market. It's a great place to start for growing businesses that are familiar with Email Service Providers like MailChimp and who now want to take the next step.
Features – Training, Campaign Management, Creative Studio, Strategic Services, and Custom Integrations. Integration with Yieldify.
Best for – Email marketing professionals who need an all-in-one package with powerful capacity in a drag-and-drop template.
2. Oracle Bronto
Focused on high-growth eCommerce retailers all around the globe, Oracle Bronto provides email services that can integrate with all commerce platforms. Bronto also gives users the capacity to deliver responsive social and mobile media campaigns with an emphasis on cart abandonment recovery. The platform includes an array of powerful apps beyond core functionality.
Pricing – Free demo. Quote-based plan.
Ease of use – Capterra users gave Bronto 4 out of 5 stars for ease of use.
Features – Drag-and-Drop Automation, Post-Purchase Campaigns, Cart Abandonment Reminders, VIP and Loyalty Programs, Precise Segmentation. Integration with Yieldify.
Best for – eCommerce retailers who need an ultra-powerful marketing automation platform with an intuitive interface.
3. Sender
Sender is a rising star. This tool provides a full range of features to help lead to effective email marketing. Sender is most suitable to send newsletters, automated follow-ups, or triggered emails and transactional emails.
Pricing – Free Forever plan up to 2500 contacts and 15 000 emails/month. The paid version starts from $10/month for all premium features and supports 24/7.
Ease of use – Rated as a TOP3 user-friendly email marketing tool by Capterra.
Features – Drag&drop design-builder, Advanced subscribers and campaigns management, Drip automation (with triggers for abandonment carts, birthdays and etc.), Pop-ups, and forms builder.
Best for – Smaller businesses looking for a user-friendly tools with all premium features, high deliverability for the best price in the market.
4. ActiveCampaign
ActiveCampaign's pricing makes it an attractive option, with good value for money spanning across a number of features. Its feature set is more focused on acquisition than conversion, so marketers looking for landing pages will be disappointed.
Pricing – starts from $17/month, rising depending on the feature set and the number of contacts.
Ease of use – A simple platform with a wide variety of self-learning guides and courses makes this an ideal option for those happy to work their own way through it – more substantive services have to come from a partner agency.
Features – Email Marketing, Site and Event Tracking, Contact and Lead Scoring, SMS Messaging.
Best for – Smaller businesses looking for a good entry-level solution.
5. MailChimp
If you've heard of any marketing automation software, it's likely to be MailChimp. Many think of it as solely email marketing, but it's actually a full-scale marketing platform offering a CRM, design, website and campaign services.
Pricing – While a free option is available, the paid version starts at $9.99/month, scaling to $299.99/month for all the bells and whistles.
Ease of use – most digital marketers will have some familiarity with MailChimp so you're not starting from zero. With plenty of DIY guides and 24/7 support available from the cheapest.
Features – Email Marketing, Site Tracking, CRM, Audience Insights, Behavioural Targeting, Social and Search Marketing, Website Integration, Drip Campaigns, Website Visitor Tracking, Landing Pages, Forms.
Best for – small to medium businesses set to grow, people who are looking for an all-in-one marketing platform.
6. Keap (formerly InfusionSoft)
Keap offers customer tracking and daily task management all in one place, promising to free marketers up from the repetitive tasks to focus on the creative.
Pricing – free trial, then prices start from $79/month.
Features – Analytics/ROI tracking, Segmentation, ROI/Analytics, Drip Campaigns, Landing Pages, Website Visitor Tracking, Search/Social Campaigns.
Ease of use – you get training when you purchase the software, although some reviewers on Capterra have said that because of the endless applications and possibilities, they need extra training to access the full power.
Best for – Keap says it's specifically geared to smaller businesses and is also widely used by startups and entrepreneurs. One Capterra reviewer says it's perfect for eCommerce.
7. HubSpot
One of the most-recognized names in marketing automation tools, HubSpot offers a full stack of sales, marketing, and CRM tool dedicated to business growth (we also use it here at Yieldify). Its products integrate online and social media marketing activities, including email, SEO, contacts, and analytics.
Pricing – Prices range from free to $2,400 a month.
Ease of use – Good, and improving regularly with recently-added features such as drag-and-drop email builders.
Features – Calls-to-Action, Progressive Profiling, A/B Testing Landing Pages, Segmentation, SEO Recommendations, Blog Analytics, Integrated Social Publishing.
Best for – Marketers who need a powerful, all-in-one tool for segmentation, contact management, push-button social media control, and report creation. Hubspot's weakness is that it's not really built for eCommerce, but this is changing with features such as a native Shopify integration and ability to connect a custom store.
8. Rejoiner
Rejoiner offers a done-for-you email marketing solution, from design to strategy and analytics. It promises marketers the ability to maximize lifetime revenue per customer with highly personalized automation.
Pricing – starts from $95/month.
Features – Design and Strategy, Email Campaigns, Event-Triggered Emails, Analytics and ROI Reporting.
Ease of use – its Capterra reviewers give it 4.9/5 stars (and 5/5 for customer service and overall).
Best for – eCommerce companies who want to outsource their email campaign management.
9. Act-On
For businesses with a high turnover, Act-On is a highly customizable tool that integrates sales, marketing automation, and many other features.
Pricing – Prices start at $900/month, with a free demo.
Ease of use – It takes some practice and testing to understand the possibilities because of the endless applications, but there's 24/7 support to help you through.
Features – Email Marketing, Website Visitor Tracking, Lead Management, Social Media Management, Analytics/ROI, Segmentation, Drip Campaigns, Lead Scoring, Search and Social Marketing.
Best for – Business that make $10M to $500M in revenue.
10. SharpSpring
SharpSpring concentrates on driving leads and converting them to sales through behavior-based email, blog building, dynamic landing pages, and social media.
Pricing – Onboarding costs $1,800. Monthly fees range from $450 to $875, and quote-based options are available.
Ease of use – SharpSpring provides onboarding, but the system is easy to learn and use. It integrates with more than 700 third-party tools.
Features – Behavioral Based Email Automation, Dynamic Forms, Lead Scoring, Robust Rules Engine, Dynamic Web Content, Daily VisitorID Email, Smart Emails, and Point-and-Click WYSIWYG Editor. Integrations with Shopify, BigCommerce and Magento.
Best for – Smaller retailers who need powerful analytics and highly customizable content.
11. Omnisend
Omnisend is a rising star in the marketing automation world, and it's easy to see why. Taking workflows far beyond email, Omnisend supports several channels, making it easy to manage your channels from one platform.
Pricing – Omnisend offers a free plan for basic email marketing, then the Standard Plan with automation starts at $16 per month. From there, the Pro Plan adds more channels and starts at $99 per month.
Ease-of-use – Omnisend is known for being user friendly, employing a drag and drop builder for anything you need to create: emails, workflows, forms, popups, landing pages, etc. The platform is definitely intuitive from onboarding to sending.
Features – Email marketing, SMS marketing, Omnichannel automation workflows, smart segmentation, contact capture forms, sales reporting, eCommerce-focused features, and so on.
Best for – Marketing professionals who have outgrown basic email marketing and are looking to dive into omnichannel automation without sacrificing ease of use.
12. Hunch
Hunch is a Smartly alternative and is a marketing automation tool used in various eCommerce businesses. It helps you create thousands of different dynamic creatives for single or multiple products in a single click.
You can even personalize your creatives based on various user's data – such as target location, the language they speak, the current weather, and many more personalization factors.
This allows you to reduce your design cost and time needed to create visuals for your Facebook and Instagram ads, as well as to add high-touch personalization to your creatives.
Pricing – Quote-based plan.
Ease of use – Capterra gave 5/5 stars for the ease of use.
Features – Create 1000s of creatives for multiple products in a single click, Personalize your ads, A/B test different creatives
Best for – eCommerce retailers and agencies looking to take their Paid Social game to the next level and quickly make 1000s of high-quality creatives.
13. EngageBay
EngageBay has a lot of features to support your marketing and sales activities. From live chat and landing pages to email sequences and ticket management it can provide your team with all in one marketing support.
Pricing – EngageBay offer a free plan with limited functionality, it's highest package which includes are it's features is going to cost you $79.99 per month per user.
Ease-of-use – All of EngageBays features are easier to use with intuitive design, for example the landing page and email builder are both drag and drop so all members of your team should be able to use the tool fairly easily.
Features – Email marketing with automation & sequences, CRM, landing page builder, live chat, customer contact centre, helpdesk software and more
Best for – Small marketing teams who work closely with sales and customer service.
14. HubSpot
HubSpot is probably one of the most well-known marketing automation tools on the planet. HubSpot can integrate with popular eCommerce platforms such as Shopify, BigCommerce and WooCommerce.
It can help support and automate key marketing initiatives such as automated campaigns targeting new customers, and automated emails based on browsing behaviour and customer interactions.
Pricing – HubSpot offer a free plan with limited functionality, Its starter package starts at £38/mo and its enterprise level will set you back £2,624 per month.
Ease-of-use – All of HubSpot's features are fairly easy to use with drag and drop functionality across all aspects of its marketing tools. It may be worth signing up for a free version and testing out the platform.
Features – Email marketing with automation & sequences, CRM, landing page builder, live chat, customer contact centre, product & landing page builder & revenue tracking.
Best for – Small marketing teams who work closely with sales and customer service.
15. Drip
Drip is a CRM tool specifically designed for eCommerce companies. It integrates with a number of eCommerce platforms, including Shopify and you also get quite a few pre-built marketing automation you can use right away.
There's a heavy emphasis on email marketing automation, but for eCommerce brands, this is normally the case and where you'll see the biggest benefit. This can help you create campaigns designed to improve customer retention and engage customers who have abandoned baskets or cross-sell based on past purchase history.
Pricing – Drip starts from $49/month for the Basic version of its platform. This comes with a limit of 2,500 contacts, the next level will cost you $122 for up to 5,000 contacts. If you want to go above that, you'll need to talk to their sales team.
Ease-of-use – Drip is very easy to use with drag and drop features across most of its marketing tools. Its dashboards are always very user-friendly clearly displaying key eCommerce data.
Features – Email builder and with automation & sequences, CRM, customer journey personalization, multi-channel marketing, revenue tracking & analytics.
Best for – eCommerce business owners who don't have a great deal of experience with CRMs.
What tool will you use?
The 15 tools above are some of the best eCommerce marketing automation tools you'll find on the market today. There's plenty more to choose from as well.
Don't rush into a decision, take your time to really understand and think about what you need the tool to do and where it can make your current operations and processes more efficient. Think about what eCommerce platforms they integrate with, what marketing channels they can support you with and of course how much they cost.
You may even want to look at other tools, for example, social media automation tools to save yourself even more time.
If you found this guide to marketing automation useful, check out our rundown of the factors to consider when choosing a website personalization tool or a lead generation tool for eCommerce
---
eCommerce Marketing Automation FAQs
What is eCommerce automation?
Ecommerce automation is software that can automatically execute tasks, processes, or campaigns for businesses when needed or if certain criteria are met.
Do I need marketing automation in eCommerce?
Almost every business will have some need for marketing automation. The most efficient marketing teams use automation to improve campaigns, quickly qualify leads and ultimately achieve great ROI.