BLOG
How to Collect Email Addresses in 21 Simple Ways
Published: Oct 14, 2022
If you're under pressure to increase your lead generation rate, you're certainly not alone. Most email inboxes are flooded from years of signups, so it's harder for ecommerce brands to drive new subscribers into their databases.
Fortunately, there are plenty of tools to help you get more leads. If you're looking for a list building tool, then check out our post on 12 B2C Lead Generation Tools. But if you need strategic advice on how to optimize your current strategy, you're in the right place.
I'm here to help you collect more emails with 21 tried-and-tested strategies – all of which fit into three key categories:
Use a full-funnel strategy
Incentivize your customers
Customize opt-in forms
Why you need to build your email list
Email marketing is an exceptionally effective way for ecommerce marketers to reduce abandonment, increase repeat orders and ultimately generate more revenue.
For example, the average open rate for a cart abandonment email sits at an impressive 45% and increases to 69% with a follow-up email. This is a huge but often missed opportunity for brands to convince customers to complete their orders. In a market where 69% of shopping carts go abandoned, building an email database to remarket your traffic helps you re-engage lost website visitors and convert interest into increased sales.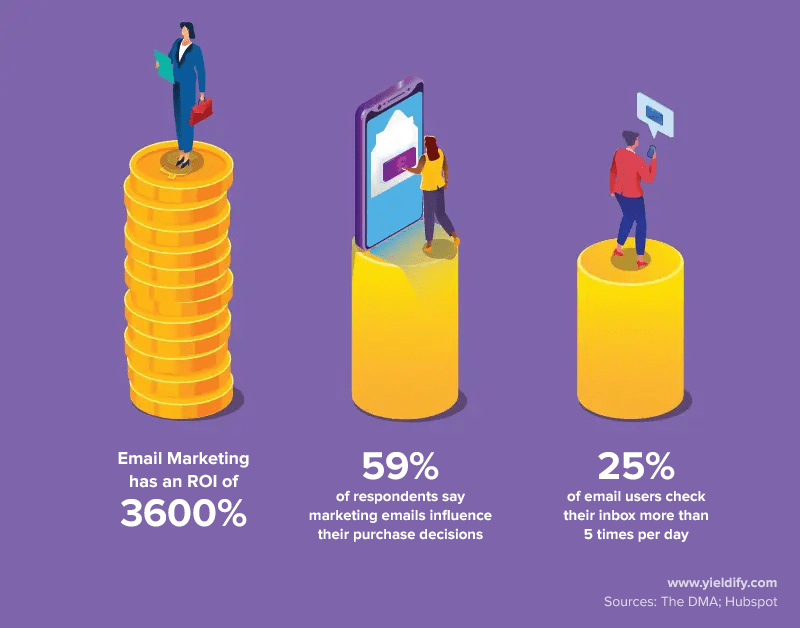 Email remarketing is also a significant driver for recurring business. If you collect email addresses and send post-purchase email remarketing flows, you'll bring customers back to your site, foster brand loyalty and increase repeat orders.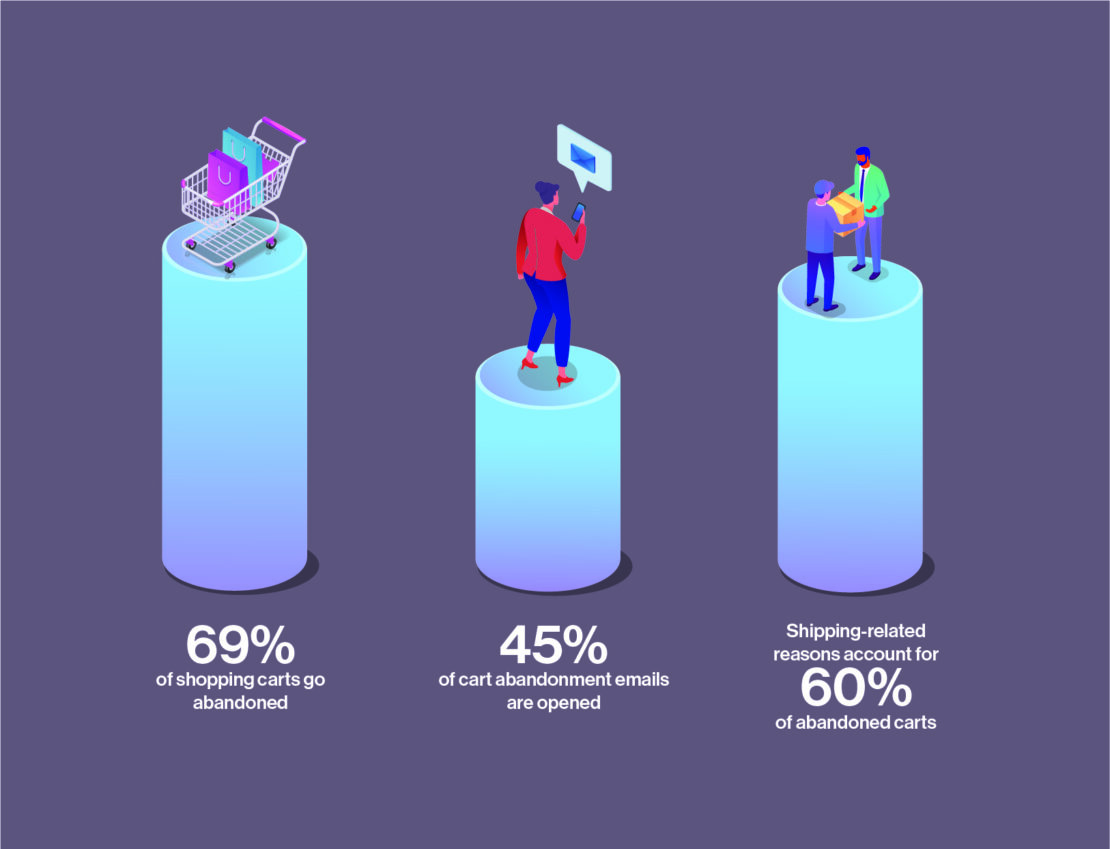 The takeaway: email pays substantial dividends. 1 in 4 people check their emails more than 5 times a day and 59% of consumers state their purchase decisions are influenced by marketing emails. In fact, the data shows you can expect a return of up to $36 for every $1 you spend on email marketing campaigns – that's an ROI of 3600%.
21 ways to collect email addresses from website visitors
Use a full-funnel strategy (1-9): To maximize your chances of getting a new subscriber, you need to target customers at every stage in their journey. Show opt-in forms from website entry through to exit with these 8 strategies.

Incentivize your customers (10-17): Customers rarely provide their email address without receiving something in return. Give customers a reason to sign up with these incentives.

Customize opt-in forms (18-21): Generic opt-in forms will limit the number of email addresses you can collect. Make your brand stand out with these 4 customization options.
Use a full-funnel strategy
1. Layered lead capture
Why give yourself just one chance to collect your visitors' email addresses? With layered lead capture, your opt-in forms carefully accompany customers on their entire journey, giving them the option to sign up at different stages in the purchase funnel.
A typical layered lead capture strategy looks like this:
Entrance overlay
Floating button or toaster
Embedded messaging on product page
Opt-in CTA at checkout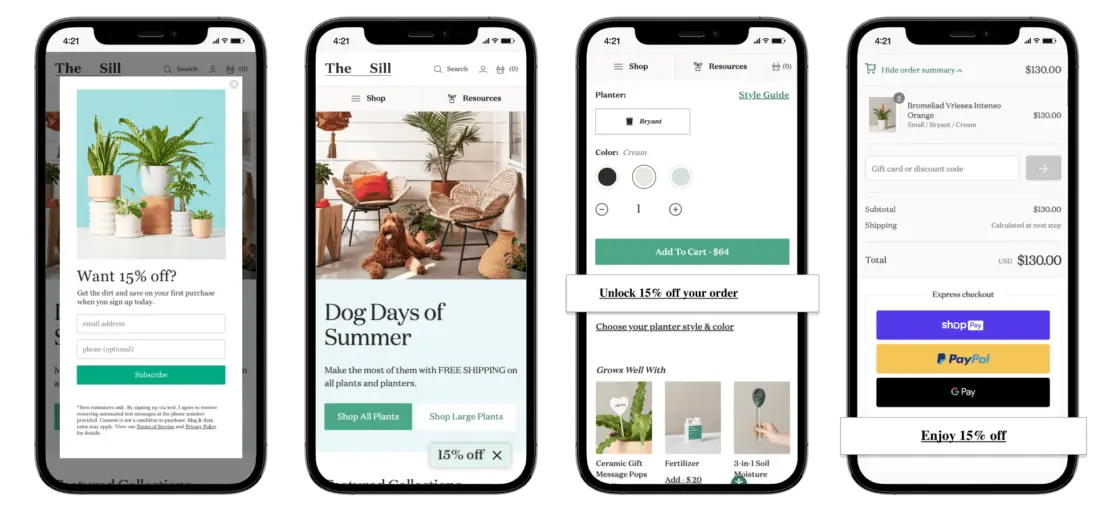 Yieldify pioneered the layered lead capture strategy and has helped thousands of brands collect more email addresses with it, including:
2. Overlays on entry
On-entry overlays have long been the bedrock of email collection strategies. Ask customers for their email when they land on your website with a large, eye-catching opt-in overlay. To drive the maximum number of signups, you'll also want to A/B test the copy, design and placement of your forms.
3. Display a floating action button
If a customer closes your on-entry overlay, it doesn't necessarily mean they won't subscribe. If they're a first-time visitor, they'll likely want to learn more about your brand before signing up. Show a subtle floating action button in the corner of the page to quietly remind visitors that joining your mailing list is still an option.
Not only can this strategy earn you more subscribers, it can also generate more sales too. For example, leading D2C houseplant retailer The Sill worked with Yieldify to improve their lead-to-customer conversion rate by 126% by using floating buttons in their email collection strategy.
4. Display a sticky bar
A sticky bar is a page element fixed to the top, bottom or side of your page. They help you to keep your signup form visible without compromising the user experience. You can use a variety of triggering rules – from website entry to page depth – to display a sticky bar.
Check out the sticky bar California-based fashion brand BYLT Basics used to collect email addresses with Yieldify.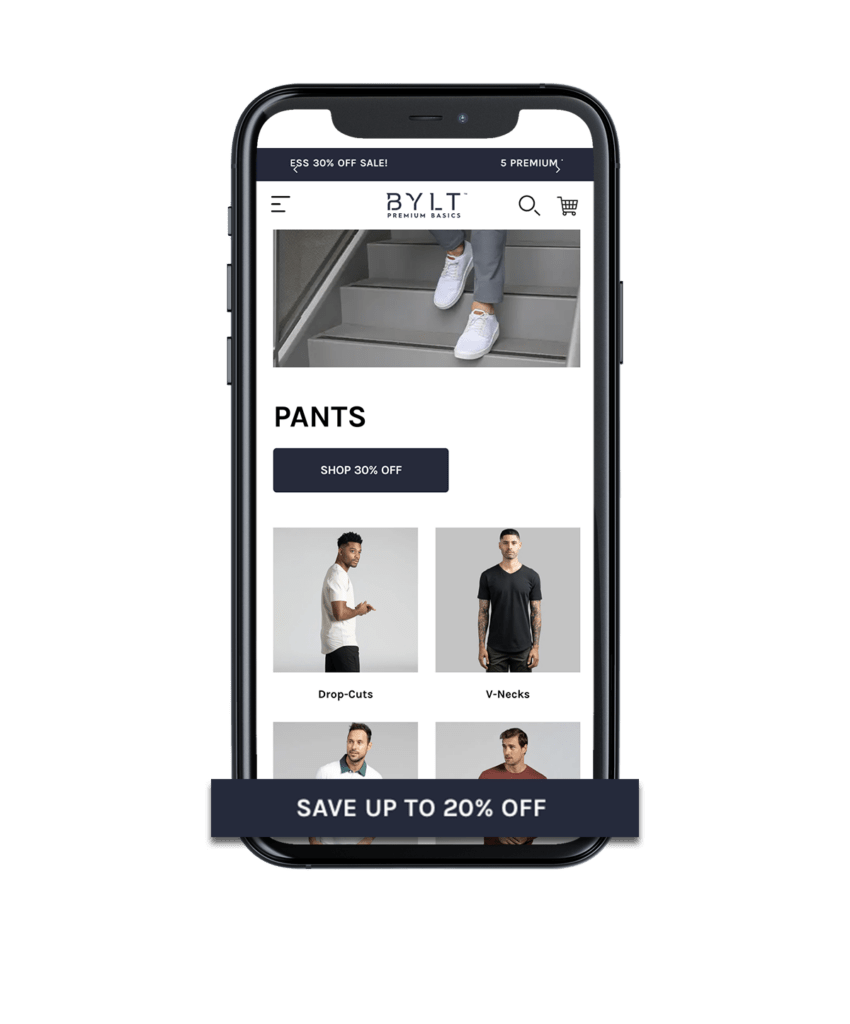 5. Display a slide-out (aka toaster)
A slide-out form – or toaster – sits on one of the edges of your site and expands when you tap on it. They're similar to floating buttons but even more discreet, helping you keep your signup form tucked away but still in your visitors' field of view. For example, home furniture store Heal's used a toaster to drive more signups with Yieldify.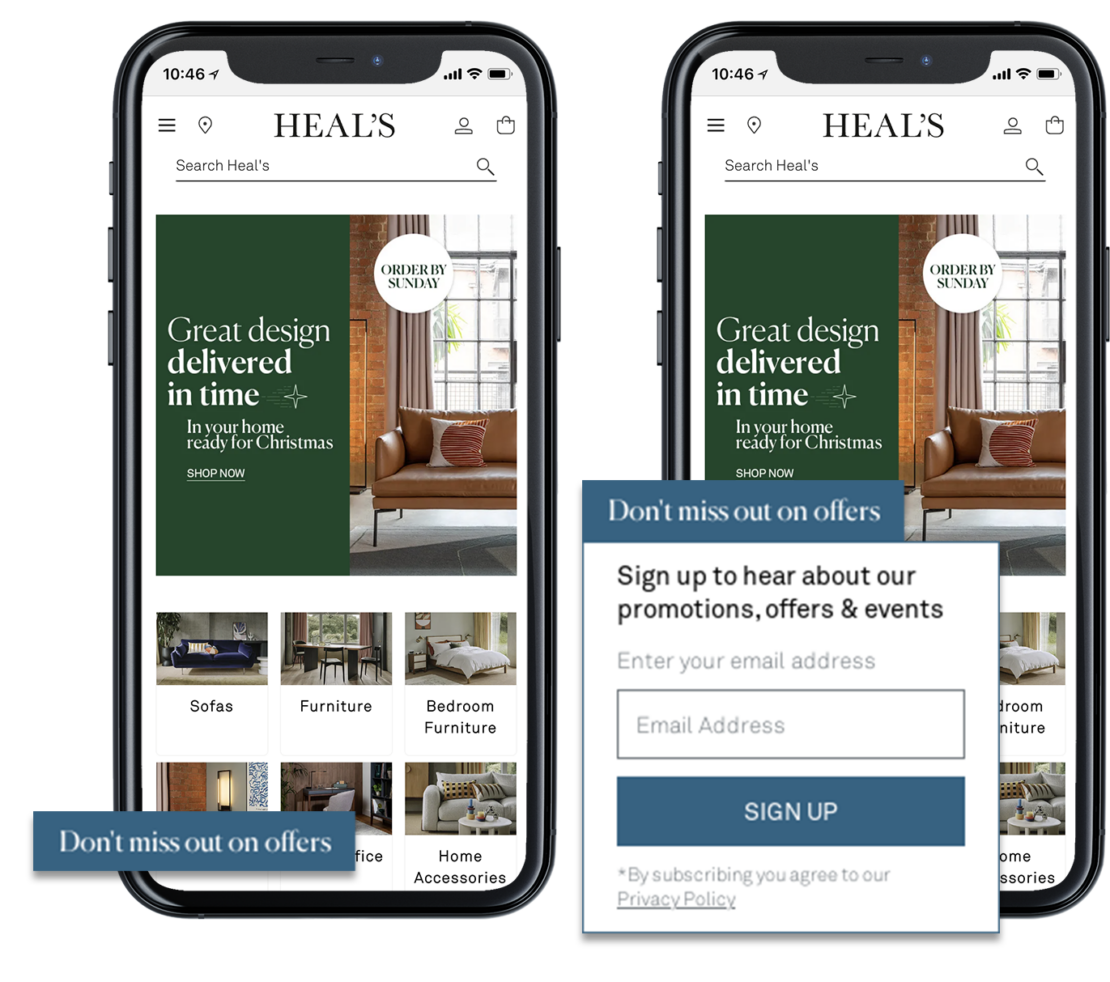 6. Embed on product pages
When visitors click through to one of your product pages, it's a good sign of interest – and a great opportunity to collect their email address.
Use a discount code or another incentive to draw attention to your email opt-in form. The allure of a discount at this stage in the purchase funnel will typically increase your chances of gaining a new lead – as well as your chances of driving a conversion.
7. Embed at checkout
Your checkout flow is the most delicate stage in the purchase funnel, so don't distract your customers with anything that could get in the way of them placing their order.
With that in mind, embed a subtle opt-in CTA to get customers into your database. For example, offering a discount code in exchange for an email address could be the extra incentive they need to finalize their purchase.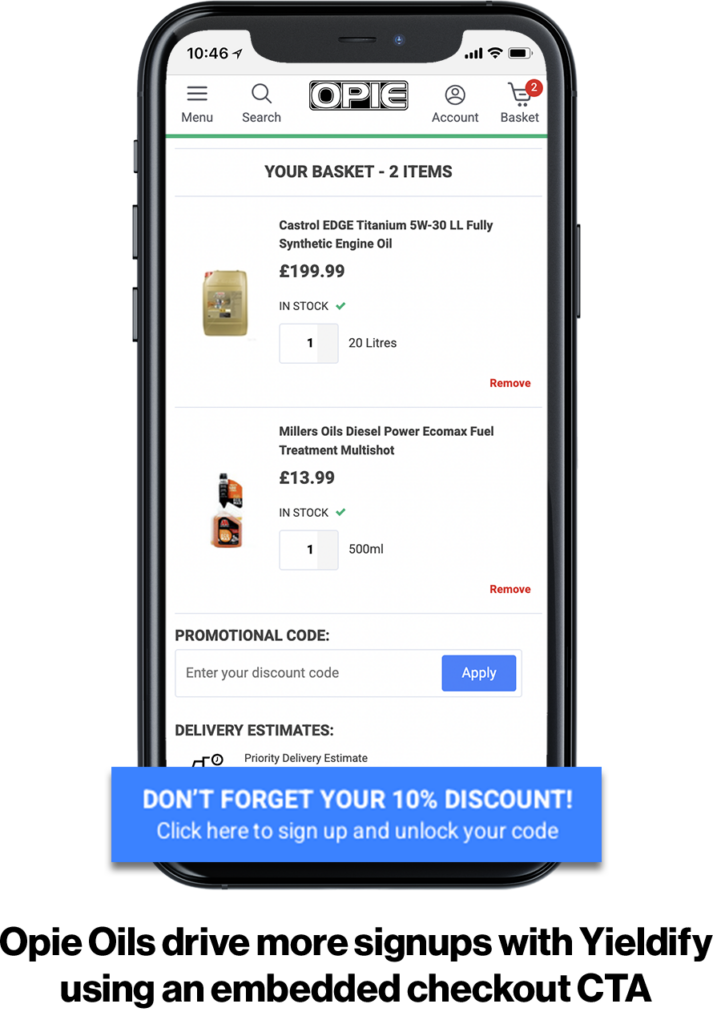 8. Display an overlay on inactivity
Your customers get distracted by the smallest thing when shopping online – but don't let that damage your email collection strategy. Recapture their attention with an eye-catching email overlay that triggers after a set period of inactivity e.g. after 10 seconds.
Make sure you choose a time period that matches the page and device your customers are on. For example, customers reading blog posts will likely be inactive for longer periods of time – particularly on desktop – compared to a customer browsing a product page.
9. Display an overlay on exit
No matter how engaging you make your website, visitors will inevitably exit – whether from your homepage, your product pages or your checkout. There's a high chance they won't return once they leave – so this is often your last chance to collect an email address.
Whether your customer has just entered your site, spent time getting to know your brand or reached the checkout, you need to show them an opt-in form before they exit. For desktop users, the overlay should trigger when your customer moves their mouse over the toolbar. For mobile and tablet users, you can trigger an on-exit overlay when they change tabs – they'll see it when they return to your site.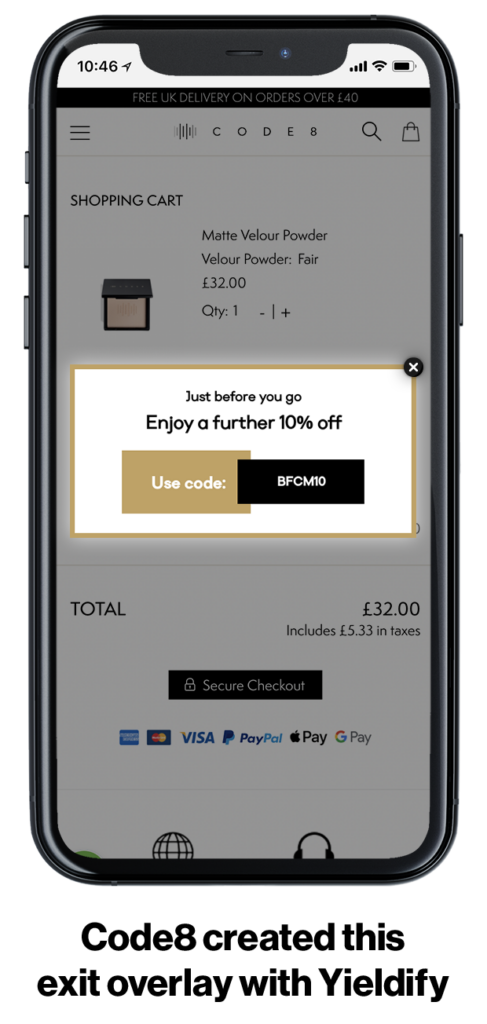 Incentivize your customers
10. Get a discount
Ecommerce websites have given away discounts in exchange for email addresses since online shopping began – and they're still the go-to incentive if you want to build your database.
Because so many brands offer discounts in exchange for signups, you need to match the competition to stay competitive. You'll have to sacrifice margin on your customer's first order, but that's a small price to pay to add them to your email remarketing flows.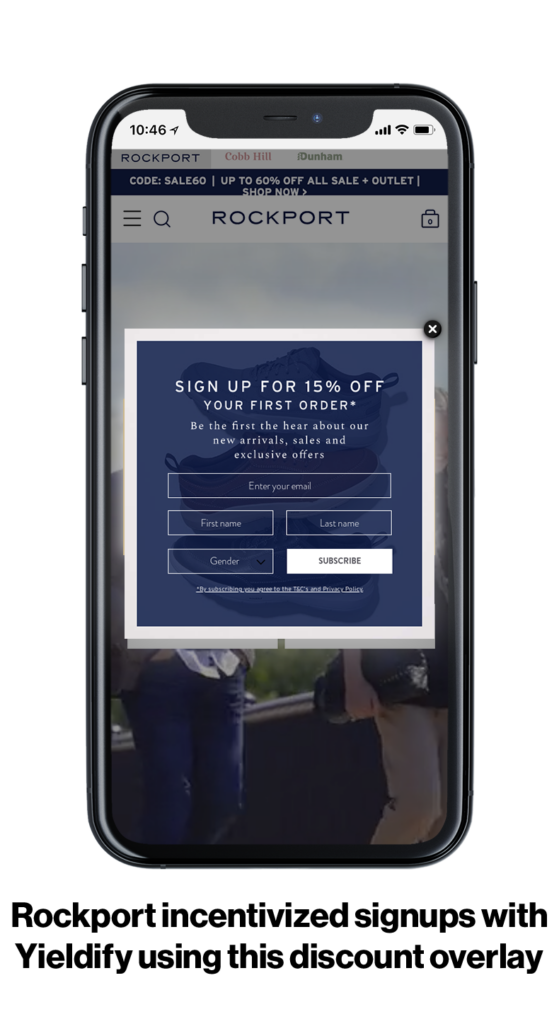 11. Get back-in-stock reminders
Your most popular products are bound to sell out from time to time – but you can still turn a lack of stock to your advantage.
Give customers the opportunity to join your email database and find out when a product they're interested in is back in stock. That way you can add a new subscriber to your list and increase your chances of converting.
12. Save your cart
When your visitors find the products they're looking for and add them to cart, it's likely they won't check out straight away, but that doesn't mean they won't convert later on. If they show exit intent at this point, show an email opt-in form offering to save their cart contents, then send them a basket reminder email. For example, Ariat ran this save your cart experience using Yieldify's technology as part of a lead generation strategy that drove 10X more email signups.
13. Win a reward
Gamification is a hot marketing tactic right now. Many brands run lead capture campaigns asking customers to submit their email for the chance to win a reward – such as a gift card, discount code or free gift. Some popular gamification incentives you can try include:
Spin to win
Click to win
Lotteries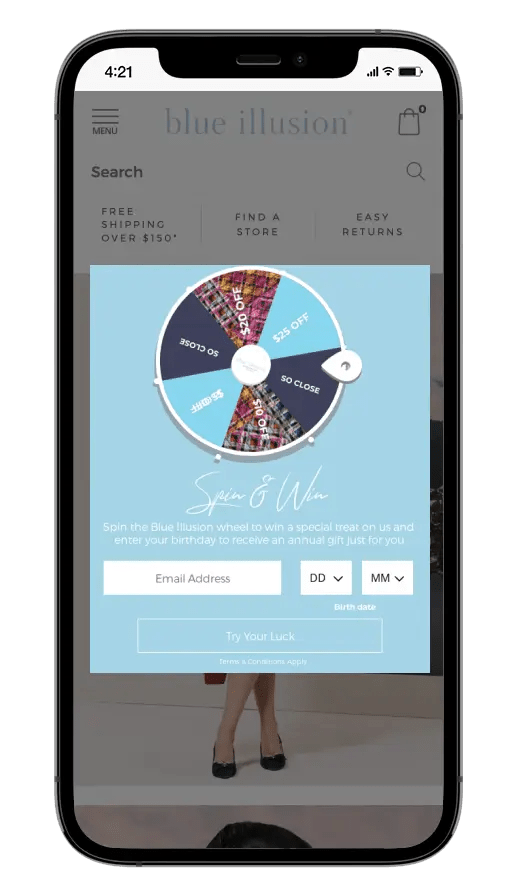 14. Get a free download
Offering your customers downloadable content is a great alternative to discount codes. Not only do downloads help you get more subscribers, they also help you grow brand awareness.
If you're going to offer downloadable content, remember it's important to provide something genuinely useful. For example, CJ Wildlife offered their audience a wildlife guide in exchange for an email signup as part of a strategy that drove 58% more leads with Yieldify.
Meanwhile, Philips ran a similar campaign with Yieldify to offer their customers a beard guide.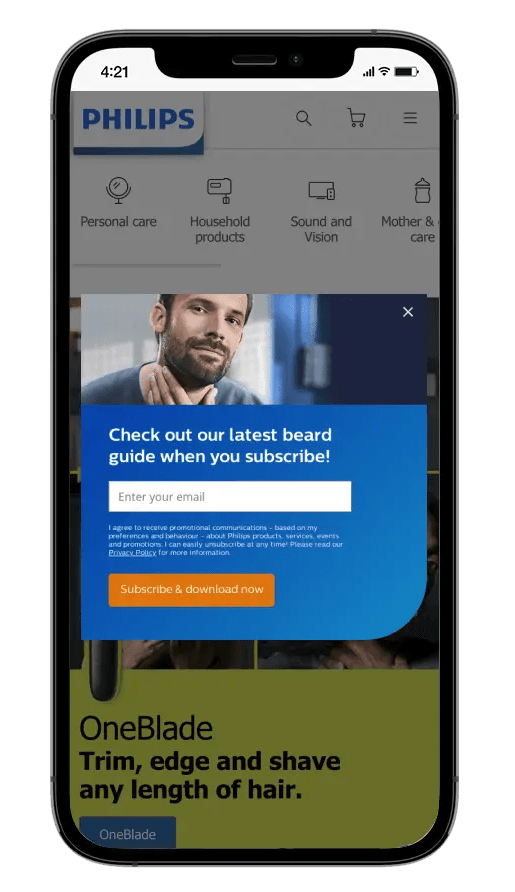 15. Get a free sample/gift on next order
Gaining trials is a big problem for many brands – particularly those in the beauty industry. Unlike browsing a brick-and-mortar store, customers often struggle to gauge quality and suitability when shopping for new products online. You can remove some of their doubts by offering to add free samples to their next order in exchange for their email address.
You may lose out on a small amount of margin but the increased product exposure could win you a long-term customer. Check out how Kiehl's, the global health and beauty brand, incentivized signups with Yieldify.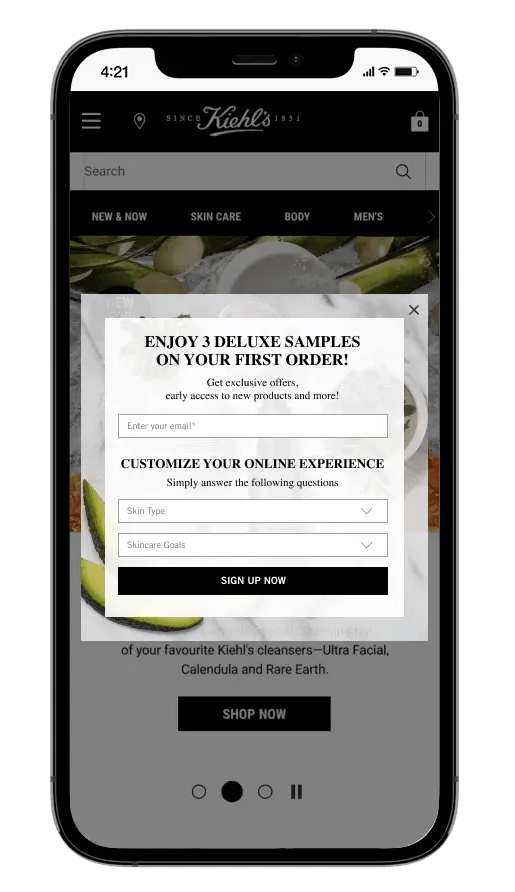 16. Be the first to hear about promotions
Shoppers are always hunting for discounts but they don't necessarily know when your next sale season starts. Email remarketing is the most effective way to tell customers about your sale periods, so drive new subscribers by telling them they'll be the first to know when you drop prices.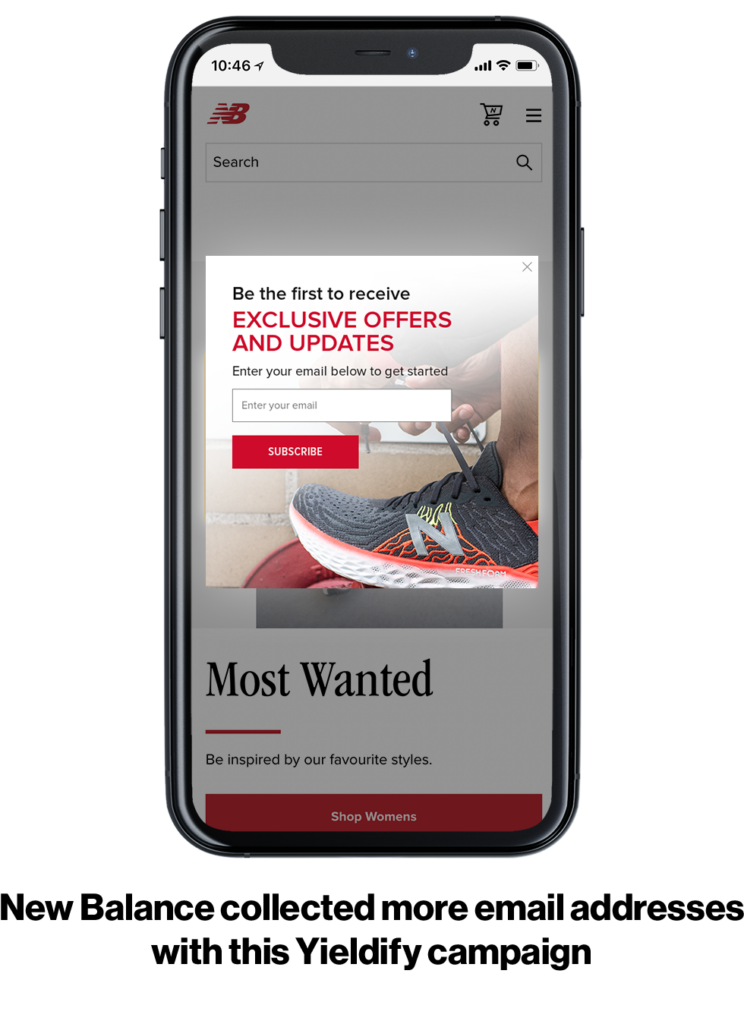 17. Find your perfect product
Incentivize customers to complete a product quiz and submit their email in exchange for personalized product recommendations. Many ecommerce brands that Yieldify partners with – particularly in health, wellness and beauty – use quizzes or questionnaires to guide customers to the products that most suit their needs.
Customize opt-in forms
18. Personalize forms to your visitors' browsing behavior
You're even more likely to collect email addresses if you personalize your opt-in forms to your customers' browsing behavior. Segment your audience and serve up campaigns that make your customers feel like they were made just for them.
Test the following personalization strategies – and watch your email list grow:
Segment new vs returning users: change your opt-in form copy to reflect your customers' position in the funnel
Pull images from product pages: embed images of customers' recently browsed products into your opt-in forms
Category interest: use messaging related to the category page your customer is viewing – e.g. a beauty brand could ask a customer to "subscribe to see more skincare products"
Acknowledge your customers' referral source: personalize your opt-in form copy for customers arriving from paid social ads
You can use these strategies to give your brand the edge over generic opt-in forms. Using Yieldify's technology, Petal & Pup personalized their opt-in forms for customers landing from Facebook ads as part of a strategy that increased email leads by 116%.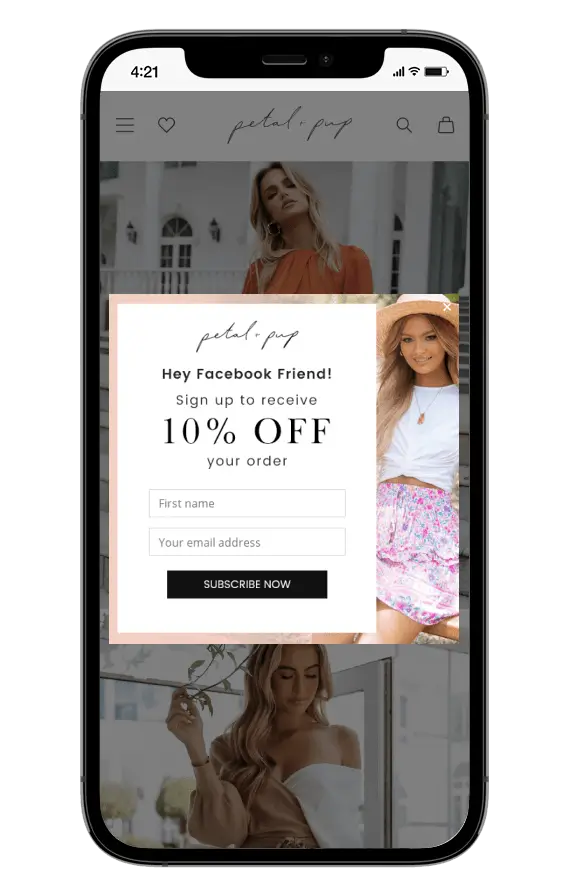 If you're interested in personalizing customer journeys beyond lead capture, check out our post on the 10 best personalization tools for ecommerce brands.
19. Display device-responsive forms
Whether it's a laptop, mobile or tablet, your customers use a variety of devices when shopping online – so your opt-in forms need to adapt. Create device-specific forms to drive the maximum number of signups.
20. Run forms with on-brand design and copy
Your email opt-in forms should match your brand identity. That means your copy should reflect your tone of voice and your designs should follow your visual guidelines.
Lacoste ran this on-brand email sign-up with Yieldify, including their products in the design and a brand reference in the copy.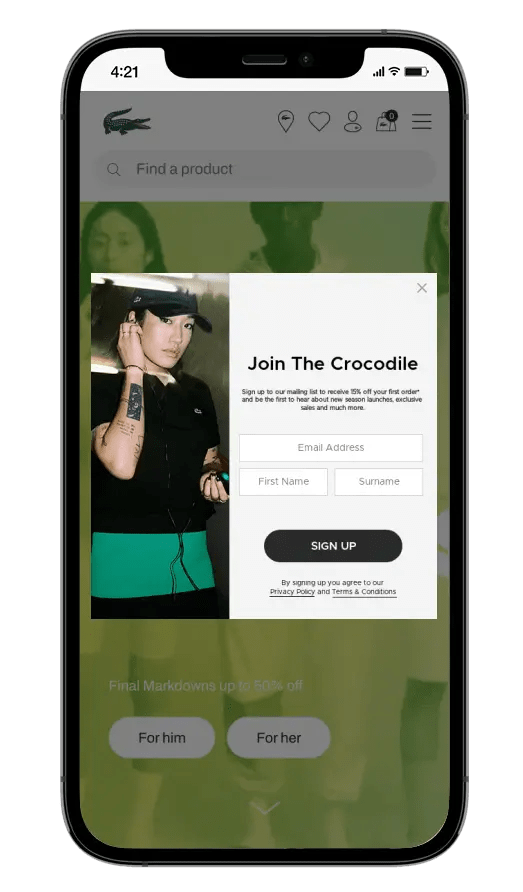 21. Run page-specific forms
Go one step further with customization by creating page-specific forms. With Yieldify, tailor your opt-in form to the category page your customer is viewing. For example, Philips worked with Yieldify to display lead generation forms including beard trimming imagery on pages featuring shaving products.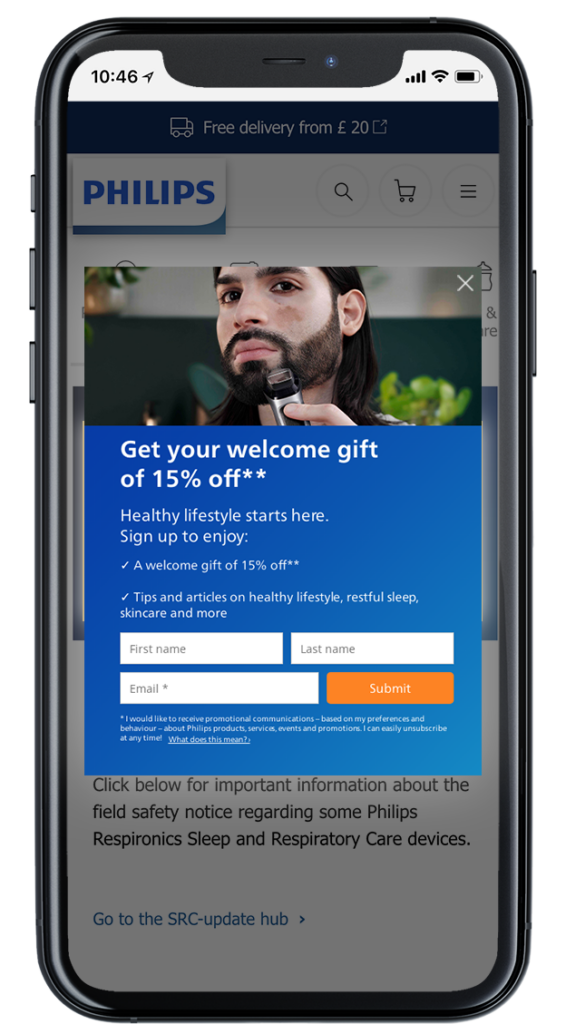 Timing is key to your lead generation strategy – the goal is to present the right message, to the right customer, at the right time. But when is the optimal time? The best way to find out is to A/B test different triggering rules on your website.
Check out these 6 triggering rules you can test to grow your email database. You can use all these triggers (and more) with Yieldify lead capture:
1. On inactivity
Set your lead capture campaign to trigger after a period of user inactivity, e.g. after 15 seconds. That way you can re-engage visitors who might have switched to another tab or put their device down.
When they return to your site, you can collect their email address with an attention-grabbing form.
2. On timer
If you show an opt-in form the moment someone lands on your website, especially their first interaction with your brand, you interrupt their natural browsing flow.
Trigger your campaign when your visitors have been on the page for a set amount of time, e.g. after 30 seconds, so they have time to get to know your brand – they'll be a warmer lead and more likely to share their details.
3. On exit
Set your campaign to trigger when your visitors move their mouse off the page i.e. when they show exit intent. They might be about to type a new URL, close your tab or click 'Back' to a different site.
On-exit strategies catch customers just before they end their session so they're usually your final chance to collect an email address – encouraging them to 'Save Your Cart' or offering a discount can be particularly effective.
4. On scroll
Similar to time spent on page, an on-page click (or a tap on mobile) is a positive customer engagement with your site, whether it's to play a video, view a product or open a menu.
Set your campaign to trigger after your customers interact with your page – then you'll increase your chances of collecting their email address.
5. On click
Similar to time spent on page, an on-page click (or a tap on mobile) is a positive customer engagement with your site, whether it's to play a video, view a product or open a menu.
Set your campaign to trigger after your customers interact with your page – then you'll increase your chances of collecting their email address.
6. On hover
When your visitors hover over elements on the page, they may be considering their options or they may be unsure of something – it will often depend what kind of page they're on.
For example, hovering on a category page might point to customers being indecisive about which product to choose. At that point you could display an email capture form to get their email address in exchange for a product questionnaire or a free product guide.
Capture email addresses with Yieldify
I hope this blog post has provided you with some actionable tips to help you collect more email addresses. You can use all 21 strategies with Yieldify's personalization technology, which hundreds of brands rely on to increase their lead generation rates and optimize their CRO strategy.
If you'd like a preview of how you can optimize your email capture strategy with Yieldify's fully-managed, all-in-one personalization platform, feel free to schedule a discovery call here. One of our advisors will be delighted to share more.
---
FAQs
What is the best way to collect email addresses?
The best way to collect email addresses is by asking customers to subscribe using opt-in forms. To collect the maximum number of emails, use a layered, full funnel strategy to target customers throughout their journey. If you need a tool to help you drive more email subscribers into your database, check out our post on the 12 best B2C Lead Generation Tools. 

How do I collect email addresses from customers?
Collect email addresses from customers using strategic signup forms throughout the customer journey. There are many ways to increase your email database, but a core strategy will typically include: 

– Entrance overlay
– Floating button or toaster
– Embedded messaging on product page 
– Lead capture at checkout 

A/B test your designs, copy, placement, triggering rules and targeting rules to ensure you're driving the maximum number of signups.