BLOG
Leads, Leads, and More Leads: How to Effectively Collect Email Addresses on Your Website
Published: 16/04/2020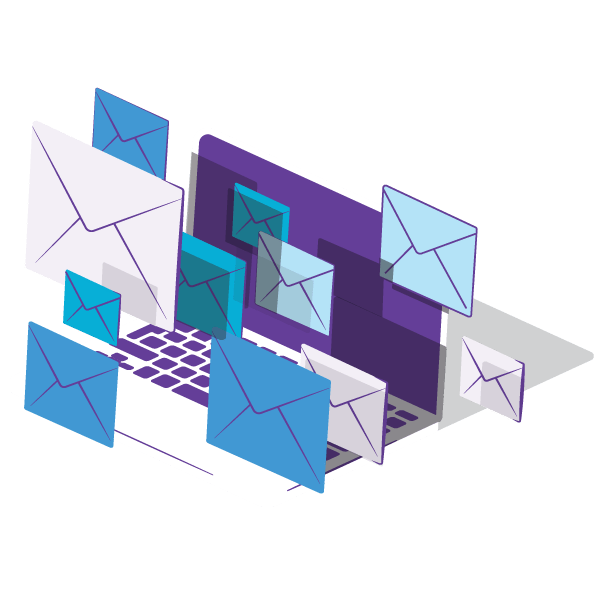 Grow your email database to unlock additional revenue opportunities by employing these lead generation tactics as part of your email marketing strategy.
Online shopping represents an abundance of choices for consumers across the globe, 2.05 billion of them to be exact. For eCommerce retailers looking to increase their market share, this is an exciting opportunity.
With consumer demand at an all-time high, website traffic isn't necessarily a problem right now. Instead, the real challenge is converting visitors into fully-fledged customers. This has led brands to re-evaluate email capture strategies and tools they use, allowing them an opportunity to engage with consumers at scale.
But what makes email addresses so valuable to retailers? Which tactics carry the most impact and how can you build a database of leads in the most effective way? In this blog post, we will explore exactly that!
We're going to cover the following:
1. Why you need to build your email list
2. How to collect emails on your website
3. Overlays
4. Floating action buttons
5. Sticky Bars
6. Embedded Forms
7. The importance of timing
8. The window of opportunity
9. Summary
Why prioritize building out an email database in the first place?
Simply put, email marketing is an exceptionally effective tool for any eCommerce marketer. Boasting an estimated ROI of 3800%, that's an average $38 return for each $1 spent on email marketing campaigns. But it doesn't stop there…
If you consider that over half of consumers check their emails more than 10 times a day, appearing in consumer's inboxes can equal fantastic exposure for your brand. Not to mention, it can significantly increase the chances of conversion to a sale, with 59% of consumer's purchase decisions influenced by the content they received.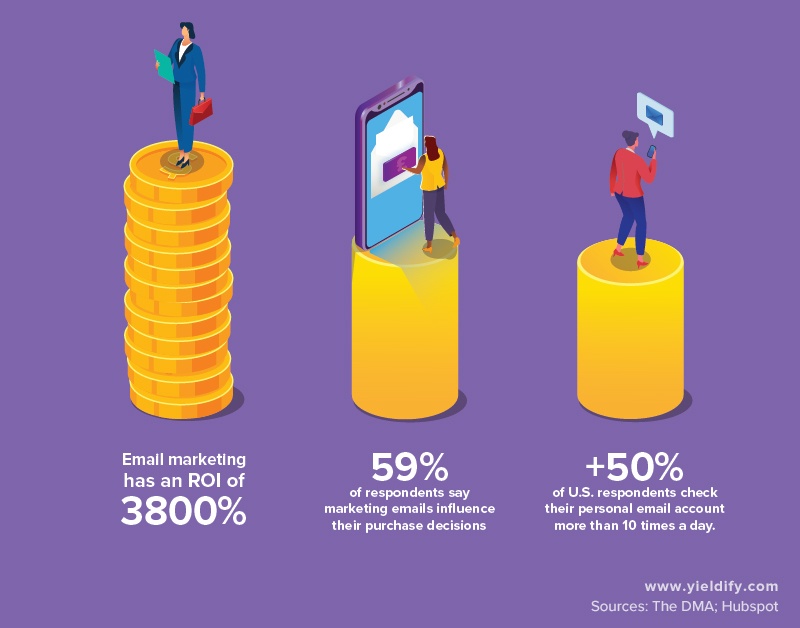 Additionally, in the current market where 69% of shopping carts go abandoned, email marketing offers an enticing opportunity for retailers looking to re-engage lost visitors. It creates another chance of converting that sale and represents a significant amount of potential revenue for retailers.
The average open rate for a single cart abandonment email sits at an impressive 45%, increasing to 69% on the second email sent – meaning the chances of your message being seen are high!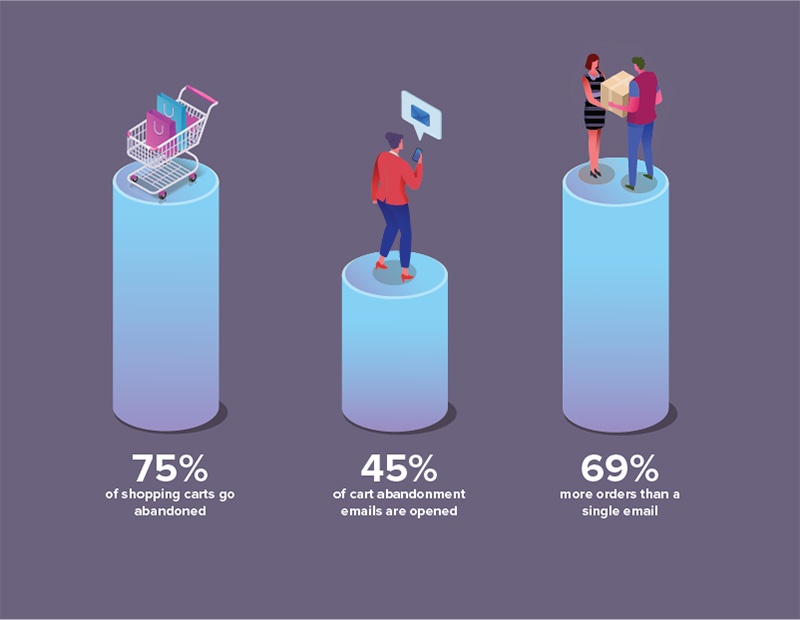 There is also the post-purchase stage to contend with. The initial sale may have converted, but of course, you don't want that sale to be a one-hit-wonder. If you collect email addresses on your website, you can keep that journey going by re-engaging with customers via email marketing flows.
So, now that we have established why, let's get into the how.
How to collect email addresses on a website?
E-commerce retailers have many tricks up their sleeves that they can apply when trying to collect email addresses on a website: from popups to sticky top bars, slide-in requests and surveys, to name a few. Even retailers that don't use any particular eCommerce platform and operate via marketplaces like Etsy or Amazon, can collect email addresses by using Google forms or their social media channels.
But it's not always as easy as simply asking for a customer's email – modern consumers expect a value exchange. Whether it's early access to sales, exclusive product updates or discount codes, the incentive needs to be attractive if you are to achieve the desired impact.
For the purposes of this blog, we're going zone in on several most common formats based on our experiences with thousands of eCommerce clients.
1. Overlays
What is an overlay? An overlay is a creative that appears in the very center of the screen and requires the visitor to interact with it before continuing their journey. The dialog box is displayed on top of an existing web page layout, obscuring the content in the background.
Overlays can also be referred to as popups, lightboxes, and modal windows. They serve the sole purpose of attracting the user's attention to the call to action within the box. In this case, the call to action is to enter an email address.
A great example of an email capture overlay in action is the below creative by George's Whitstable.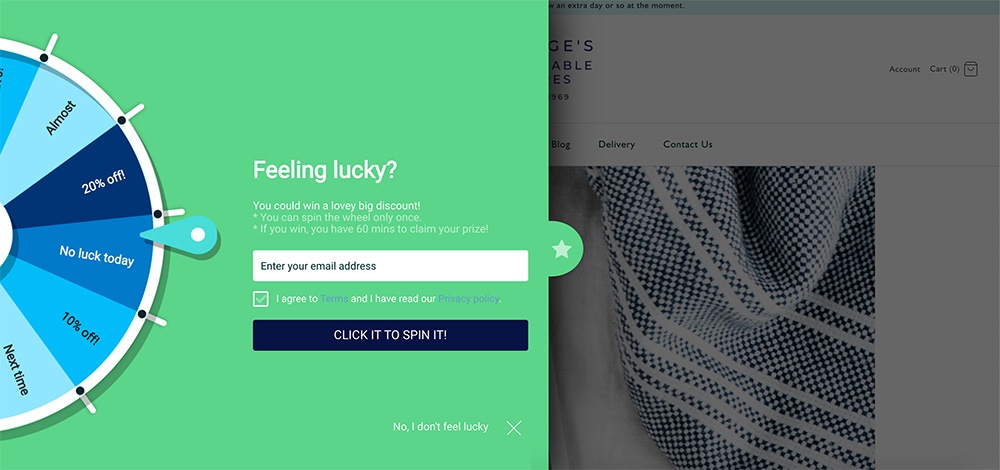 The overlay employs gamification via a spin-to-win, also known as the wheel of fortune concept. In exchange for the user's email address, there is a chance to receive benefits such as discount codes or free delivery, incentivizing the user to share their personal details.
2. Floating action button
What is a floating action button? A floating action button sits on top of existing site content around the edges of the page. It is usually a lot smaller than an overlay and doesn't require the visitor to interact with it in order to continue their journey.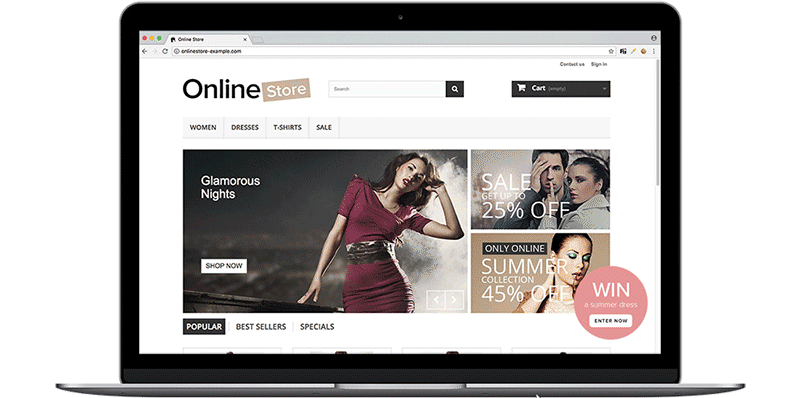 Floating buttons are designed to be less intrusive to the overall user experience and the power is put in the user's hands. They decide for themselves whether or not they would like to engage with the creative that is displayed.
3. Sticky bar
What is a sticky bar? A sticky bar is a page element that is fixed to the top, bottom or side of a webpage. It is shown to the user upon entry, exit, scrolls down or up, on a timer or after clicking a link or button.
In the BeautyBay example below you can see the sticky bar displayed at the very top of the page. It has a dark background and emojis to make it stand out, fixed at the user's eye line for optimal visibility.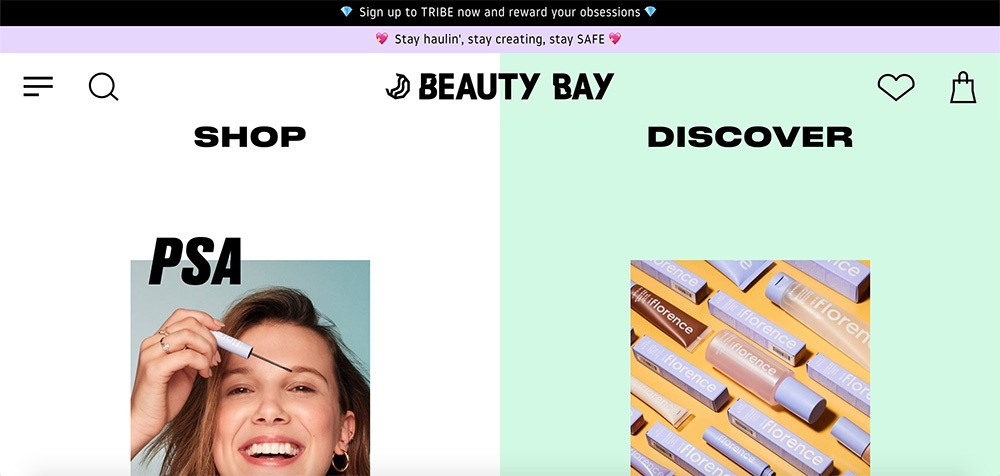 4. Embedded forms
What is an embedded form? An embedded form is a static page element that is displayed as part of an existing webpage. It doesn't require users to click through to an external site in order to complete it and is often seen at the bottom of the page.
Embedded forms can be incorporated as part of your page footer and are often used for newsletter sign-ups as shown in the below example.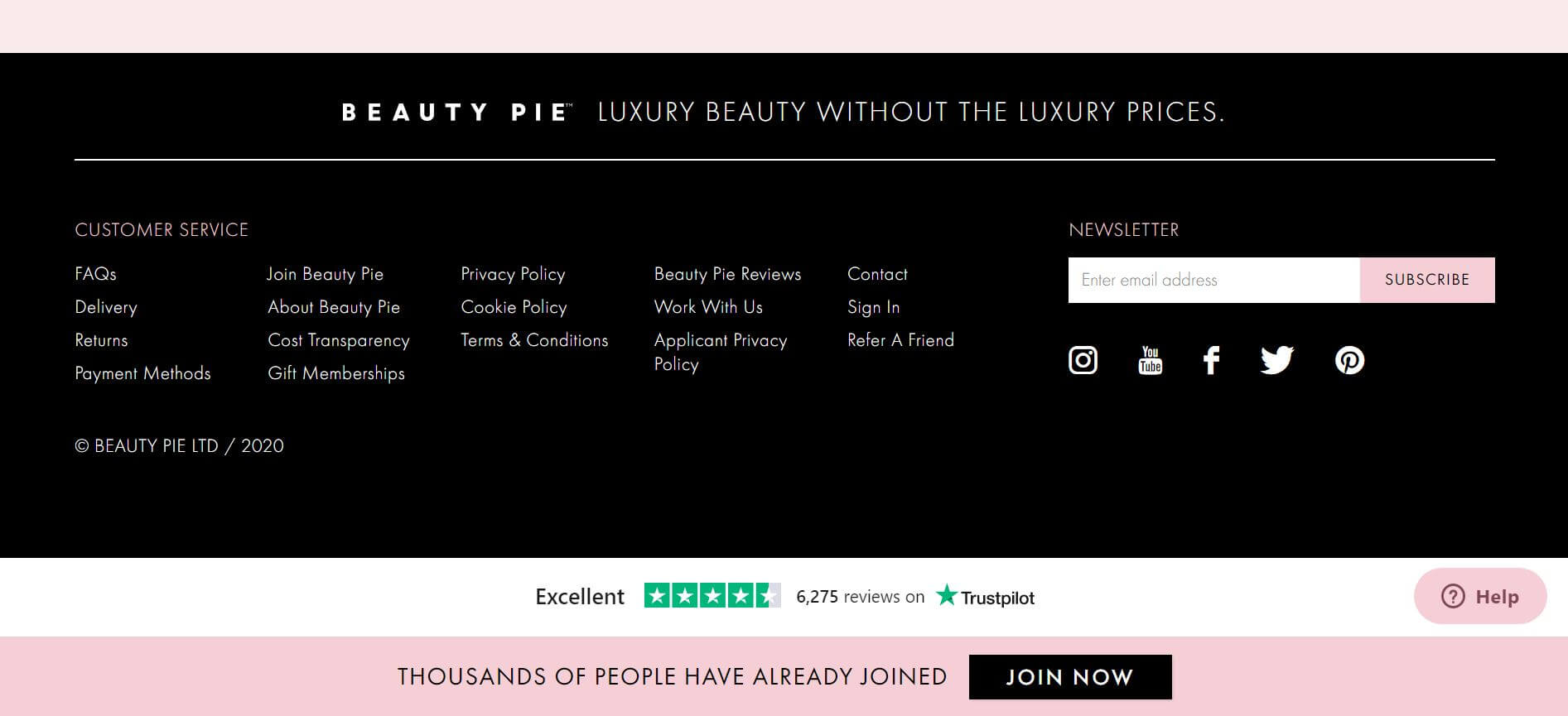 They can be placed next to social media links, putting all the methods for communication with your brand in one easy to find location. Due to the static nature, embedded forms yield lower engagement than the other dynamic options shown above, however, do serve the purpose of collecting email addresses on a website.
Whichever tactic you choose to collect email addresses on your website, the next step is to figure out when you want your campaign to trigger.
How to time your lead capture forms?
When trying to collect email addresses on your website, timing can play a key role in your conversion rate.
The goal is to present the message at exactly the right moment. You want to find the point at which the user will be the most likely to complete your form and give you what you need: their personal data. But when is the right moment?
6 windows of opportunity to collect email addresses:
1. On inactivity
If you trigger a lead capture campaign after a defined period of inactivity, you grab another chance to re-capture that user's attention. Whether they have left their device unattended or simply switched to another tab, the user still remains on your site. All is not lost. Deploy an eye-catching campaign creative or incentive and it will be the first thing they see upon their return.
2. On timer
Another tactic is to trigger after the user has been on the page for a set amount of time. Sometimes it doesn't make sense to go straight in with a form the second a visitor hits your website. This is especially true if it's their first interaction with the brand. By allowing them the time to familiarize themselves with your brand offering you can improve that customer experience. Thus, increasing your chances of conversion in the meantime.
3. On exit
Setting your campaign to trigger when the user is about to exit is a great way to boost visitor retention. As soon as the user passes the search bar to exit the page, the campaign springs into action.
Considering the user is at the very end of their customer journey, a call to action such as 'save your basket' or 'enter your email now to receive X% discount' can be particularly effective for conversion. That's not to mention that they actually prove helpful to the user, either saving them money or making it easier to checkout when they decide that the time is right.
4. On scroll
Similar to the above point, if your campaign triggers when the element you specify is visible on the page, you give that user extra breathing room. Allow them to fully digest the page and proactively hit scroll. That's a positive engagement with your website and a green light. The user is interested enough to proceed further down the sales funnel and start a customer journey.
5. On click
Triggering your campaign when an element on the page is clicked is another example of a positive engagement made by a user with your web page. Whether its a click to watch a video, view a product or open a menu, it's a great time to ask them for their email address. Thus, allowing you to better tailor their on-site experience from that point onwards, offering personalization to appeal to their exact preferences.
6. On hover
Lastly, you can set your campaign to trigger when a user hovers over an element on the page. A hover is both a proactive action to explore the web page further, but also one of indecision. When a user hovers, it could be to view other options, expand information or seek guidance. By presenting the user with an email capture form at this point, you can begin to guide that customer journey and further improve their on-site experience.
In conclusion
Ultimately taking a journey-based approach to collect email addresses on your website will garner the best results. You always want to ensure that you are mapping the right message to the right user at the right time.
The key things to remember are:
Customize – make sure every lead capture form speaks directly to the consumer. This makes sure that the message resonates and the chances of completion are the highest possible.
Target – refine your targeting options. Each of your audience segments should have an on-site experience relevant to their interests and behaviors.
Trigger – be sure to trigger your message at the right time for the most impact. You want to capture the user's attention at the exact moment when they are most likely to convert.
Master those main points and you are destined for lead capture success. As a result, you will quickly reap the business benefits associated with email marketing such as improved ROI.
? How do I collect email addresses from customers?
You need to ensure your providing value and giving users a reason to provide you with their email address. This could be in the form of whitepapers, ebooks, competitions, discounts etc.
At Yieldify, we've run thousands of lead capture campaigns for clients all over the world. If you'd like to see how our experience and tech can help you with your strategy, click here to get a free demo.