BLOG
BOPIS Strategy In Retail and eCommerce With Examples
Published: Aug 7, 2020
Retailers across the globe are adopting the BOPIS model to meet customer expectations and needs. But what exactly is BOPIS and what impact can retailers expect from it? Discover that and more in the article below.
You'll struggle to find a successful eCommerce company that doesn't offer BOPIS (buy online, pickup in-store) option to their customers, and there's a good reason for it.
This method is a good stepping-stone between traditional brick-and-mortar companies and online retailers who are looking for ways to keep customers happy. It's also a great compromise between those who love in-store shopping and those who swear by shopping online.
Below, we'll take a look at the impact that the BOPIS strategy has had on eCommerce and the retail industry as a whole, as well as how you can use it to drive performance and sales.
Here's everything that we'll cover today:
1. What is BOPIS
2. How BOPIS works
3. BOPIS impact on retail and eCommerce
4. Benefits of BOPIS
5. Challenges of BOPIS
6. BOPIS in action
7. Conclusion
What is BOPIS in retail?
BOPIS simply means buy online, pick up in-store.
It's become a popular retail strategy that allows customers to have the best of both worlds: online shopping and in-person pickup. That way, customers don't have to pay for shipping, wait a long time for their items to be delivered, and deal with delivery errors that often arise with order fulfillment. They can shop from the comfort of their own homes, purchase the item online and go to the store when it is time to see the item is ready for pickup.
BOPIS is a great strategy for eCommerce that allows you to create a great blend of online shopping and physical stores, making the shopping process more convenient for everyone.
Brick and mortar businesses with eCommerce functionality have been making the most of this online and in store experience. Many retailers now offer bopis as part of their checkout process.
How the (BOPIS) buy online pickup in store strategy works
The BOPIS strategy is fairly straightforward to implement. If you have both an eCommerce website and a physical retail store, all you have to do is simply add an extra delivery method and ensure your stores can process these orders efficiently and provide a good bopis experience.
You'll also need to ensure that there is a designated area that allows customers to quickly pick up their items. This could be a specific section within your store location or even curbside pickup to effectively deal with bopis orders.
Here's a more detailed look at the BOPIS shopping experience:
Customers will browse the online inventory to see what's available, and when they find an item they want, they will be given an option to select "pick-up" or "delivery."
Once the order has been placed, the local storefront will fulfill and hold onto the order.
The customer will go to that local storefront to pick up their order; there is typically a designated pickup area or help desk that can assist with online orders.
BOPIS is most effective when highlighted across the entire customer journey: from first seeing the option in the product list, to being reminded of it on the product detail page and all the way to the checkout.
Best Buy is a great example of adopting buy online pickup in store. On their website, shipping details and pick up options are clearly and consistently displayed throughout the buyer's journey.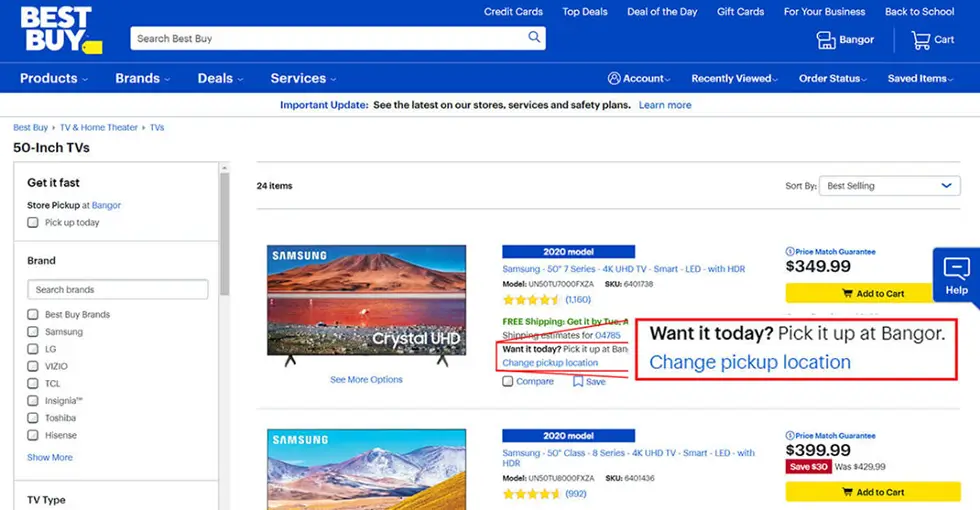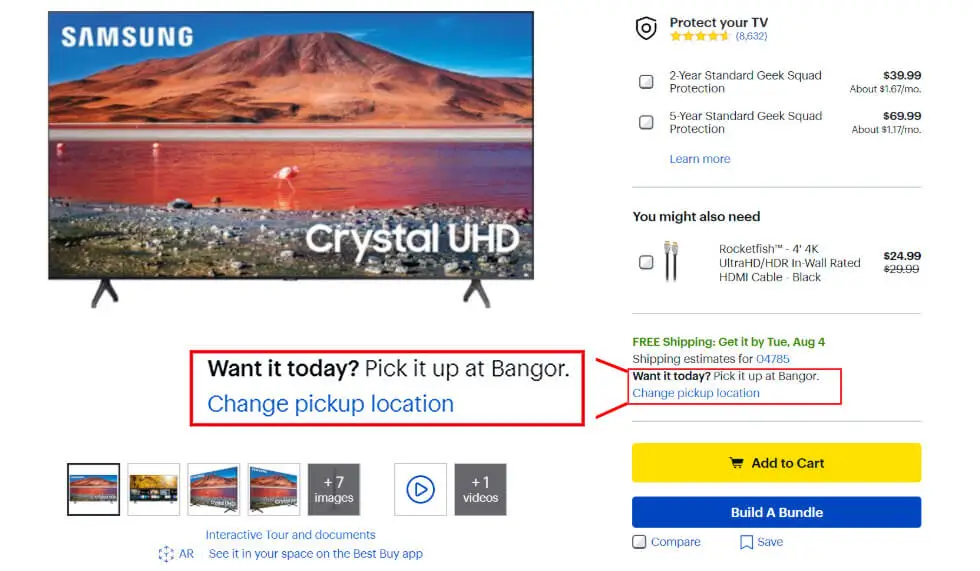 BOPIS statistics & its impact on retail and eCommerce
BOPIS has been increasing in its adoption rate by retailers consistently over the past few years. It's reported that by 2021, 90% of retailers will offer the Buy Online Pick Up In-Store (BOPIS) option.
The below chart by Microsoft shows that BOPIS searches surged across retail categories: "Categories that contained necessities saw the largest growth in BOPIS as a result of the pandemic, with grocery and mass retailers leading the way. Pet supplies, home and garden, and beauty also saw significant increases in BOPIS shopping."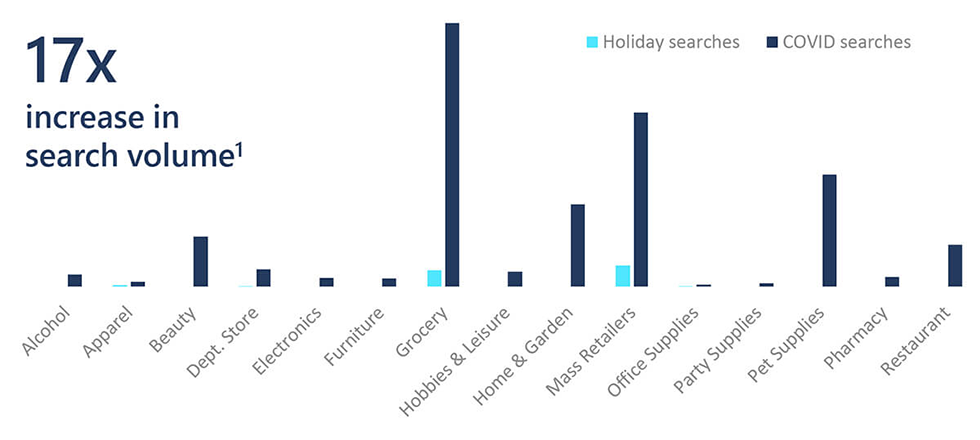 So why are more and more eCommerce websites adopting a BOPIS model? Why is offering in-store pickup becoming more popular?
The short answer is – BOPIS leads to more sales.
BOPIS leads to increased online activity and sales
Major eCommerce companies that adopted BOPIS in recent years have seen an uptick in sales as customers are more eager to buy online and pick-up in store. This behavior was amplified by recent conditions around the globe as retailers battled with the ongoing coronavirus pandemic.
KIBO Commerce data shows retailers are seeing customers select the BOPIS option four times more than they were before the pandemic began. What's more, compared to 2018, BOPIS orders have increased dramatically and now make up around 40% of total retail orders.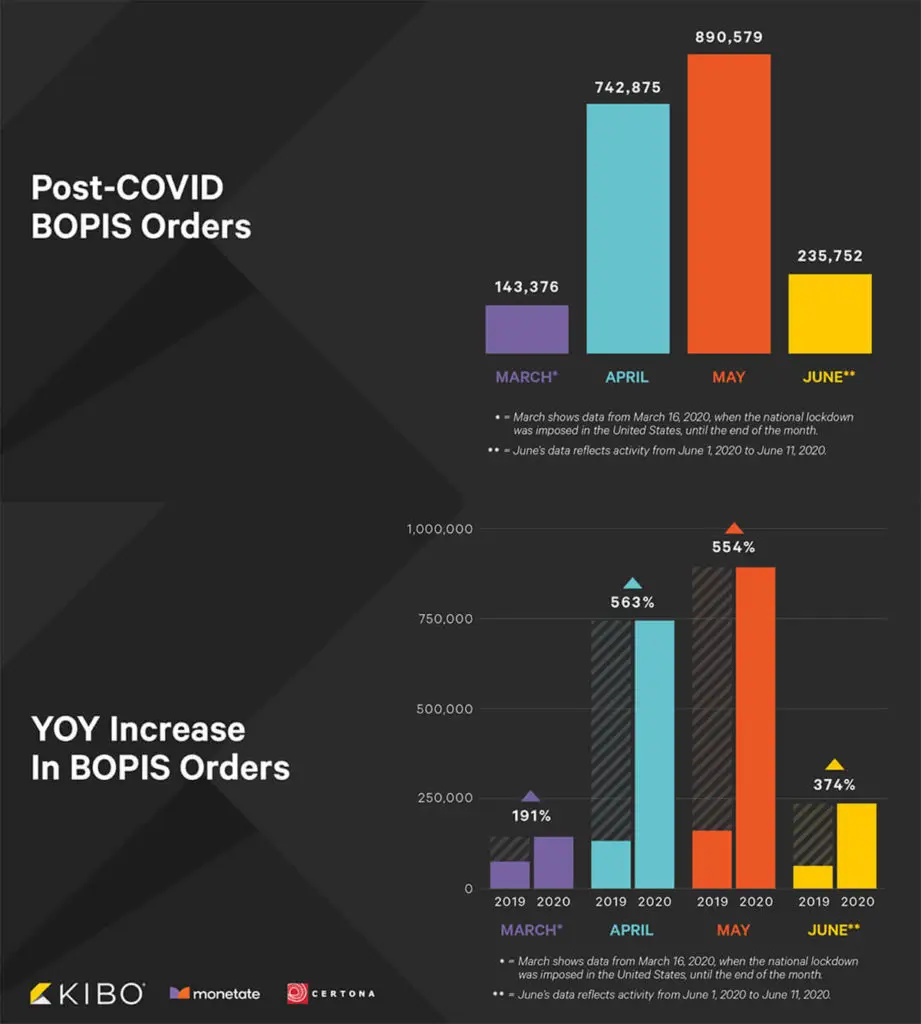 Companies such as Petco and Dollar General have seen an increase in their overall sales figures thanks to the introduction of a BOPIS option. According to AdWeek, Home Depot saw 48% of its online sales in 2018 use the BOPIS method.
The biggest reason for increasing sales is that customers are more likely to purchase additional items when picking up their orders in-store.
According to the International Council of Shopping Centers (ICSC), over 50% of adult shoppers use BOPIS, and 67% of those people add additional items to their carts when they know they can pick them up immediately.
This behavior was also seen by Lululemon – the brand reported 20% of shoppers who chose to pick up their orders in-store made an additional purchase when they came to collect it.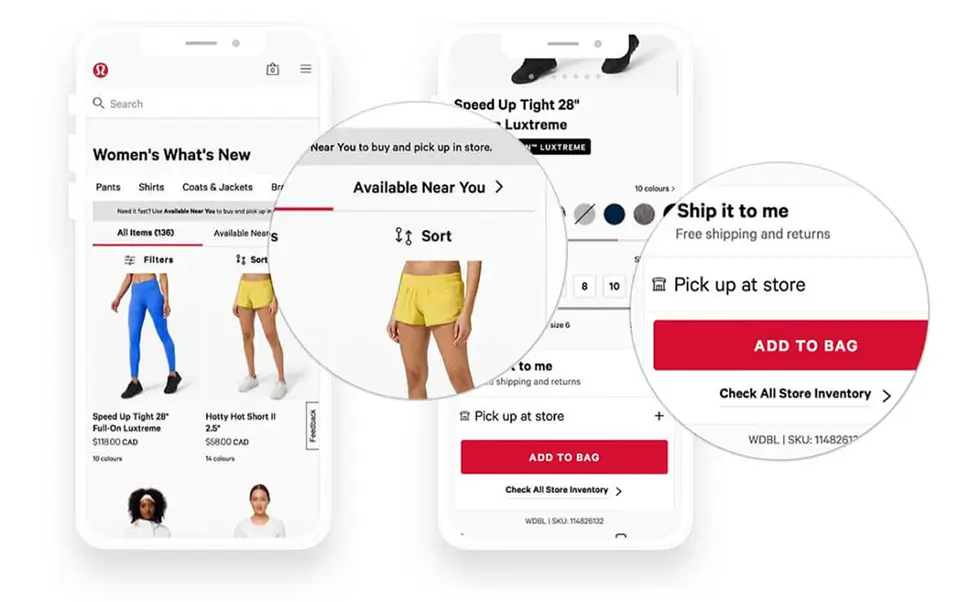 BOPIS growth & why it's growing
Possibly the biggest driving factor behind the growth of BOPIS is convenience. Recent research from The National Retail Federation found that 83% of consumers find convenience while shopping to be more important to them than it was five years ago.
Added to this the report also found that 97% of respondents backed out of a purchase because it was inconvenient. On the opposite end of the scale, 70% of respondents said BOPIS improved their shopping experience. So it's clear there is a continued interest in buying online, pick up in-store.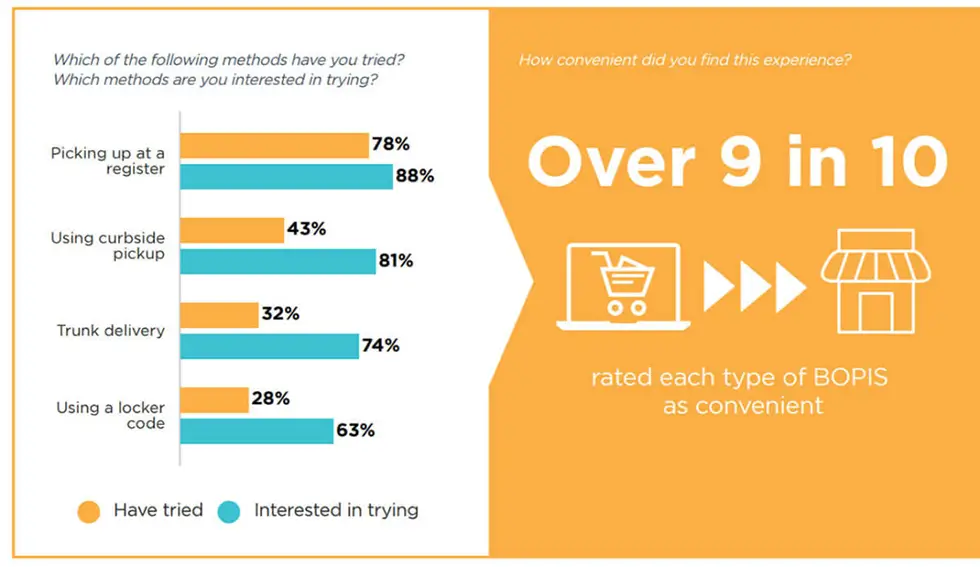 The benefits of BOPIS for retail
As seen above, BOPIS can potentially help eCommerce stores increase sales numbers by providing a delivery option that customers will use and appreciate. There are also some other advantages.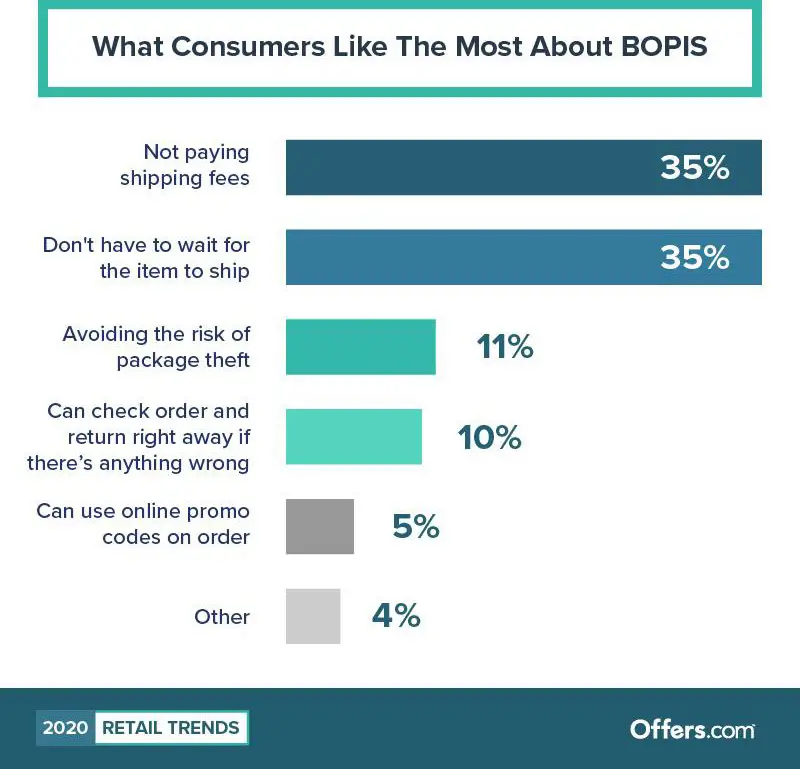 Lower or no delivery costs. According to Offers.com study, 35% of respondents said they favor the BOPIS method because it allows them to avoid shipping costs. And in the odd times that you do have to pay to pick up in-store, the fees are usually much lower than home delivery.
Ultra-fast service. It can be stressful tracking a package that's coming from somewhere else in the globe, hoping that when it arrives (if it does), it's the correct item and it is undamaged. Picking an item up in-store means that customers can place an order and then go to their local store to pick it up if it's in stock. Of course, you may still need to wait a few days if the item is not in stock.
Peace of mind. Some shoppers don't like the uncertainty of waiting for a package to arrive without even being able to look at the physical item first. BOPIS offers a kind of in-stock insurance that online stores can't always provide. Customers can open, view, and determine whether the product is right for them and meets their needs. If not, they may be able to return it straight away.
Extra purchases and increased foot traffic. Customers are more inclined to make purchases when they know they can pick it up in the store, so they are much more likely to add extra items to their purchase. Moreso, BOPIS will actually get people into your store. This presents you with an extra chance to make that point of sale display, or in-store only offer work even harder.
The Challenges of BOPIS strategy in retail
BOPIS can be a great strategy that yields very positive results, but it's not without its own set of challenges. There may be some times where the BOPIS model causes an overwhelming or unsatisfactory experience for customers, and you may not feel completely satisfied with it on your end, either.
Research from NAPCO found that the biggest challenges stemmed from the physical store itself.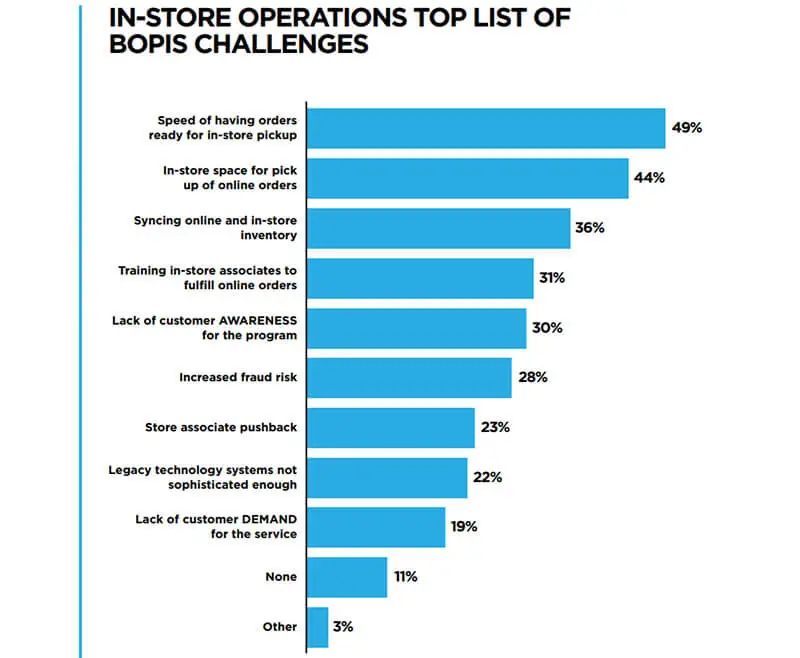 So here are some things to look out for if your planning on using a BOPIS strategy which left unchecked can lead to poor results and annoyed customers:
Potential pick up queues. If too many customers are taking advantage of your BOPIS strategy at once, and they are all rushing to their local store for a pickup, that local store may have long lines. Make sure you have a designated area and even designated staff to deal with these customers quickly.
Lack of inventory. There are times where larger eCommerce companies cannot keep up with certain inventory demands. It's important to keep an eye on what's selling so you can keep them stocked up. Your POS or stock system needs to be in constant communication with all other systems involved to ensure that inventory levels are where they need to be.
Lack of participation by the storefront. The in-store pickup location needs to be fully on board with your BOPIS model. Unfortunately, some stores do not do a good job telling customers where to go, what line to stand in, or who to talk to in order to pick up their online order. Ensure that the BOPIS model is ingrained in your stores and new starter packs.
5 examples of successful BOPIS strategy implementation
So what companies have been using the BOPIS model the right way? Here are some examples of those benefiting from this strategy.
Dollar General
Dollar General is a chain of variety stores in the US. In late 2019, they introduced DG Pickup, their own name for BOPIS, under the slogan "Get in, out and done even faster."
"Our digital efforts are focused on making things easier for our customers by providing an even more convenient, frictionless, and personalized shopping experience," the CEO Todd Vasos said of the initiative.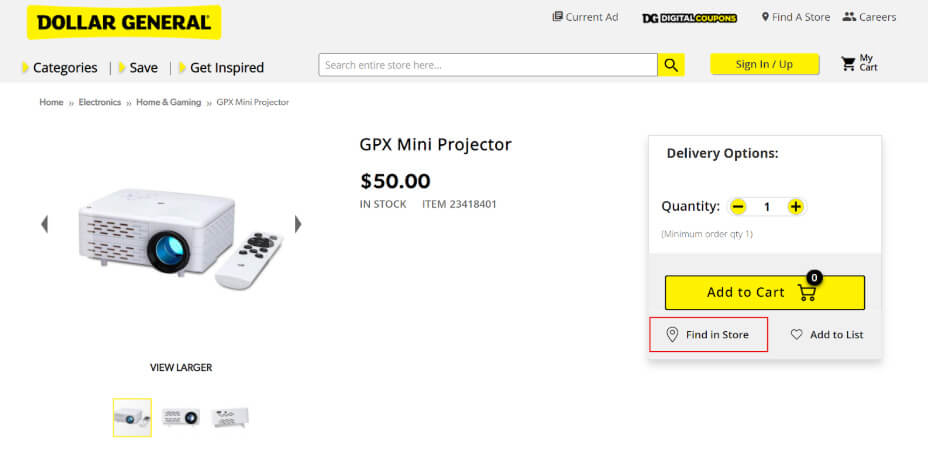 This ended up helping Dollar General increase sales by 27.6% to $8.4 billion in the first quarter of 2020. It is also one of the biggest reasons why the store was able to stay open during mandated COVID-19 restrictions.
Lowe's
Lowe's is an American retailer specializing in home improvement with 2,000 stores nationwide, so, of course, BOPIS is ideal for them. Lowe's identified the need to improve their systems and rolled out over 88,000 mobile devices capable of processing BOPIS orders.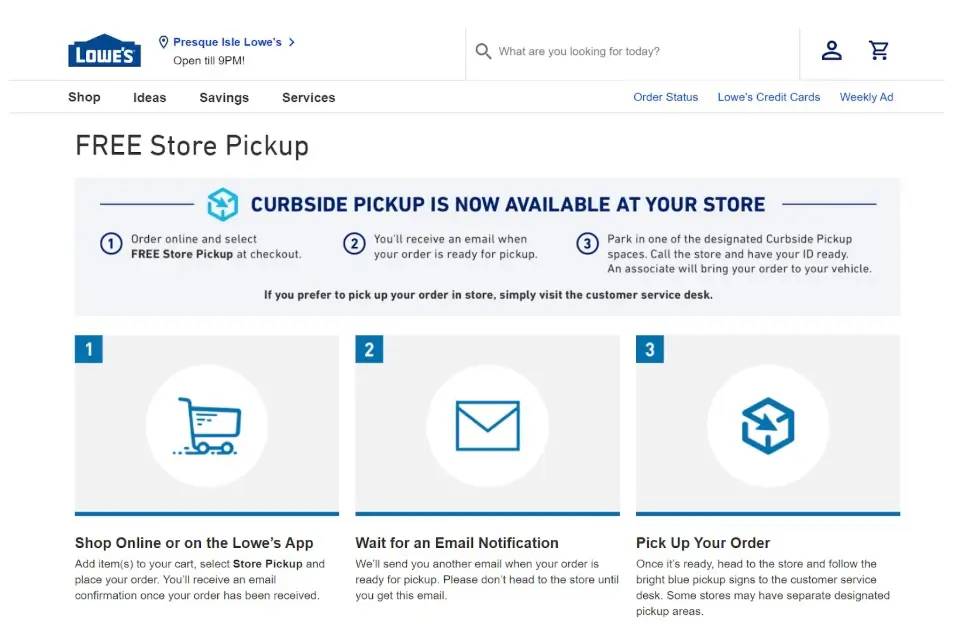 The aim was to help customers get in and out of the store faster, to streamline their experiences, to better manage inventory, and, of course, to increase sales. Which it did.
In the first quarter of 2019, Lowe's saw a whopping 60% of its online purchases being picked up at local stores, as stated by Lowes EVP Joseph McFarland.
Petco
Another American retailer that's making the most of BOPIS is Petco. Petco is an American pet retailer in the United States with over 1,500 stores nationwide. Another perfect candidate for BOPIS.
So it may come as no surprise to know that within the first month of offering BOPIS transactions, Petco drove 100,000 BOPIS orders and a 5% increase in net new customers and eCommerce revenue.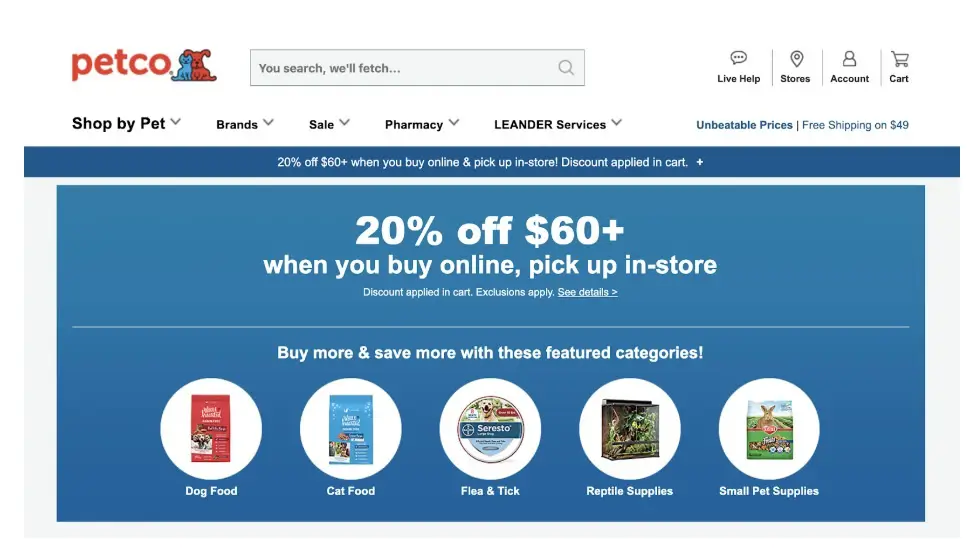 Nordstrom
In the third quarter of 2019, Nordstrom reported one half of its department store digital sales growth coming from order pickup. Added to this in Los Angeles, two-thirds of digital sales growth came from in-store pickup.
Co-president Erik Nordstrom has even said that order pickup is the company's most profitable transaction: "Leveraging existing store assets and digital capabilities enabled us to implement their shared inventory approach without making additional material investments … This represents a meaningful opportunity to increase convenience for customers during the holidays and at a lower cost for us."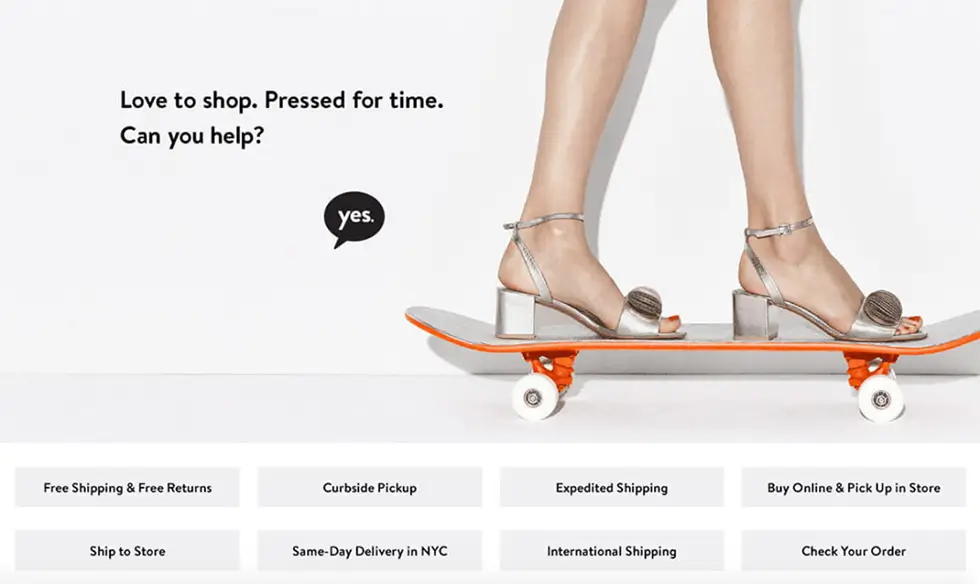 Home Depot
In 2018, Home Depot began a three-year plan to invest over $11 billion dollars into improving its retail experience. A big part of this strategy was to better blend its physical and digital selling experiences.
According to CEO Craig Menear, the strategy is paying off as he described 2019 as a record year for the company. Sales for the fiscal year 2019 were $110.2 billion, up 3.5% from 2018's $108.2 billion. He also went on to add that its online customers choose to pick up their orders in stores more than half the time.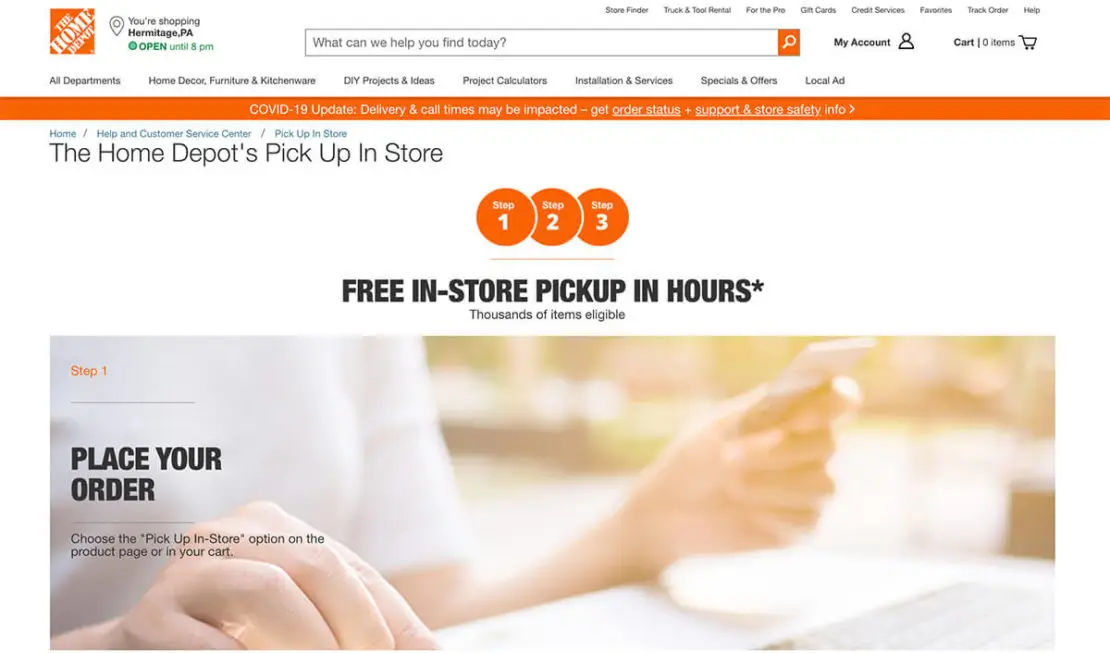 The BOPIS bottom line & best practices
So if you're a brick and mortar retailer with an online presence who isn't offering BOPIS you may want to start looking into that. You'll be providing your customers with a convenient delivery method that has been proven to increase sales across multiple retailers.
Just make sure you have, or can get the following requirements in place to ensure a successful BOPIS offering:
A website or app for ordering.
At least one brick and mortar location.
Real-time inventory capabilities.
A location that allows for easy pick up in store or even curbside pickup
Online shoppers are always on the lookout for convenience, this is the main driving force behind retailers adopting the buy online, pick up in-store model (BOPIS). This presents you with an extra chance to make that point of sale display or in-store only offer work even harder.
The key here is to work with the best fulfillment companies, which ultimately places orders in the hands of your customers much faster.
BOPIS FAQ's
What is BOPIS in retail?
In retail & eCommerce BOPIS simply means buy online, pick up in-store. Customers can purchase items online, but choose to collect their purchase in-store rather than getting it delivered.
How does in store pick up work?
If a website offers in store pick up you can select this option when checking out. Your purchase will then be stored at a designated pick up area ready for your collection.