BLOG
10 of the Most Successful Shopify Stores & How They Did It
Published: Jan 16, 2023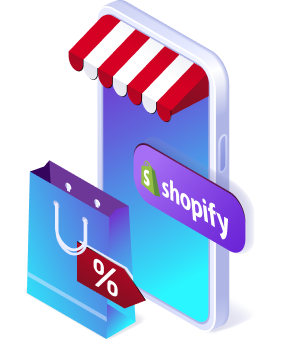 Shopify is one of the best and most sought after ecommerce platforms available today with 29% of ecommerce market share.
The Canadian ecommerce company started out selling snowboarding equipment, but today they host millions of businesses in 175 countries worldwide, supports 5 million jobs via their merchants, and drove more than $444 billion in global economic activity in 2021.
If you're still wondering if Shopify stores are successful, the answer is yes. Some of the most successful ecommerce brands, such as Kylie Cosmetics ($630 million) and Gym Shark ($223 million), are developed and hosted using the Shopify platform.
In this blog I'll walk you through 10 Shopify success stories and highlight winning tactics to inspire your own business journey.
Here's a snapshot of the 10 Shopify stores:
We'll dive into some of those above in more detail below and breakdown some of their secrets to success.
Are Shopify stores profitable?
There's no guarantee that you'll turn a profit if you platform with Shopify, but it's certainly a strong indicator of future success.
Shopify data shows that 81% of merchants are profitable after two years, and the average annual revenue for a Shopify store is $155,000.
No wonder Shopify is widely regarded as one of the best ecommerce platforms on the market.
Why is Shopify one of the best ecommerce platforms?
So, what makes Shopify one of the leading ecommerce platforms?
Here are 7 reasons that make Shopify stand out from its competitors:
It's beginner-friendly: Shopify stores are really easy to set up, and even as a beginner, you can get things up and running in a couple of days.
It offers variety: Over 100 free and paid Shopify themes are available for all categories of ecommerce businesses. These are easily customizable and can be personalized for all genres of businesses.
It's affordable: Shopify prices start at just $29 a month. They also offer a risk-free 14-day trial option.
It's easy to use: Web-hosting and other technicalities are taken care of by Shopify to "reduce barriers to business ownership."
It provides 24/7 support: Shopify provides 24/7 customer service through options like live chat, even during the trial period.
It's committed to sustainability: Shopify offers social-impact initiatives such as the use of renewable energy and reducing the carbon footprint.
It helps with marketing: Shopify also offers various SEO and marketing tools so that you don't have to start your marketing efforts from scratch.
Over the years, countless businesses have gained success using a Shopify website. You too can model these businesses and pave your way towards ecommerce success.
If you are looking for useful insights and the secrets behind the most successful Shopify stores, then you've come to the right place.

8 common traits of the most successful Shopify stores
It is estimated that by the end of the year 2023, worldwide retail ecommerce sales will hit $6.1 trillion.
The market demand is there, but how can you stand from other stores?
The first thing you should do is to identify common traits of the best Shopify stores – and this is exactly what we've done for you here.
Here are a few common traits found in the most successful Shopify stores:
1. They provide best-in-class customer experiences
Pick any top-grossing Shopify store and you will find a brilliant customer experience. This makes sense because research shows that 80% of customers will leave your store because of a poor customer experience.
Good CX includes everything from aesthetics like minimalistic design, visual appeal, pleasant color palettes, and good photography. And other functionality based aspects too, such as an easy checkout process, easy navigation, no irritable pop-ups, and chatbots to provide 24/7 assistance.
2. They've created a winning brand
High brand value is another major factor that helps customers decide which store to pick from. Top Shopify brands do this by having a strong presence on social media platforms, especially Instagram, Pinterest, and Facebook. Having a unique USP, collaborations with popular brands/influencers, and taking sustainability initiatives also majorly contribute to their brand appeal.
3. They streamline payment
Hassle-free payments are one of the basic expectations of buyers. Top Shopify stores overcome this by offering risk-free payment options and avoiding any additional costs during the checkout. Free shipping and risk-free return policies are also offered by many successful stores.
4. They leverage social proof
Positive reviews and testimonials have an impact on the minds of your buyers like nothing else. And displaying social proof prominently on the home page has contributed to increased revenues for many top Shopify stores.
5. They write accurate product descriptions
Research is the first thing that buyers do before taking any decisions. So, having accurate and high-quality product images, extensive product descriptions and accurate size charts are a must-have for top stores. Many stores take it up a notch by integrating augmented reality and 360-degree views for their product images and videos.
6. They provide excellent customer service
Building good relationships with customers and making them feel valued is another common trait observed in top ecommerce stores. This includes things like quick assistance, best customer support, engagement through email lists, and quicker resolution for payment and shipping issues.
7. Their website loads quickly
The majority of your customers are going to browse through your online store on mobile devices. Hence quicker page load speeds are again one of the crucial factors which are carefully taken care of by many leading Shopify businesses.
8. They use cart abandonment techniques
Utilizing various cart abandonment solutions, such as electronic direct mail marketing, email remarketing and web push notifications, plays an important part in almost all successful Shopify stores. Capturing abandoned cart details and re-engaging with potential customers and has proven to be super-powerful in bringing back lost revenue.

Shopify stores with tactics to steal (10 best examples)
Successful Shopify fashion stores
Fashion Nova emerged as one of the most popular fashion ecommerce brands and has crossed $400 million in revenue in 2019.
Their USP is that they offer affordable clothes for men and women of all shapes and sizes. This is in contrast to the stereotypical sizing offered by other fashion brands. They have set out to make fashion inclusive of curvy women which makes their plus-size customers feel more special and valued.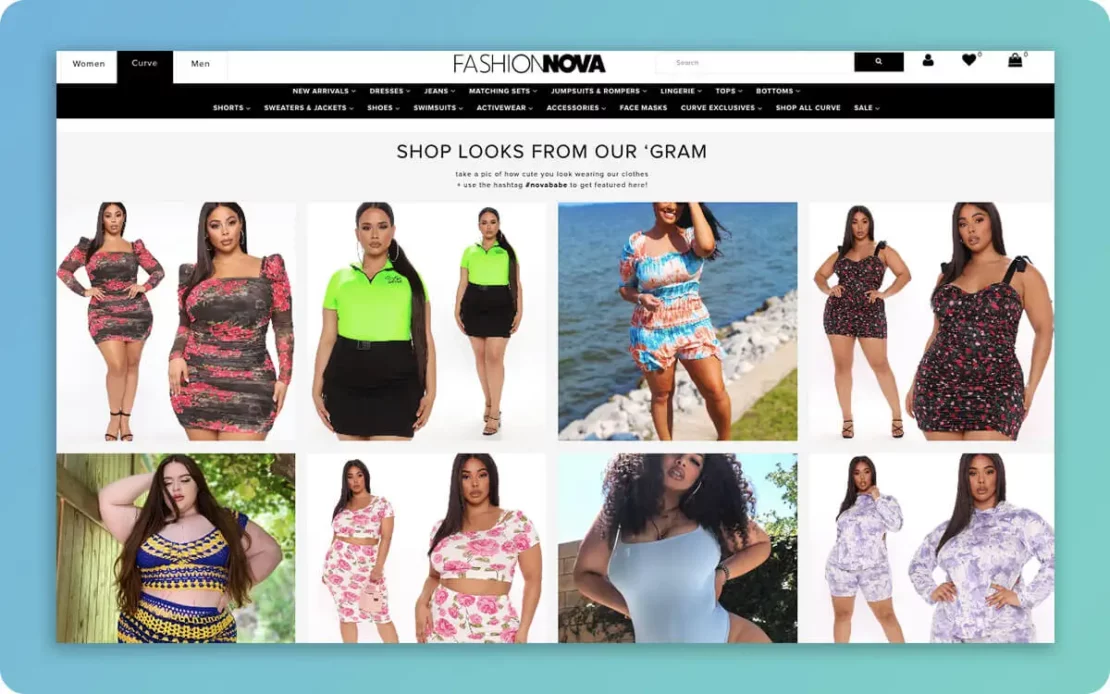 But what stands out the most, is their brilliant social media strategy and incorporation of user-generated content. Fashion Nova ask their followers to post with Fashion Nova's clothes on Instagram to win a chance to get featured on their homepage. This feature has worked really well for them.
Their massive success can also be attributed to their influencer strategy which includes collaborations with world-famous influencers like Cardi B.
Tactics to steal from Fashion Nova:
Post consistently and frequently on social media to gain a decent following.
Make use of user-generated content to skyrocket your customer engagement and bring more traffic to your store.
Founded by CEO Ben Francis back in 2012, Gymshark is an extraordinary business. Working from his garage in Birmingham, Ben was just 19 years old when he started his mission to unite the conditioning community.
Today, Gymshark has more than 18 million social media followers and customers in 230+ countries worldwide.
Having reached unicorn status with a $1.3 billion valuation in 2020, Gymshark is a true Goliath of the fitness industry.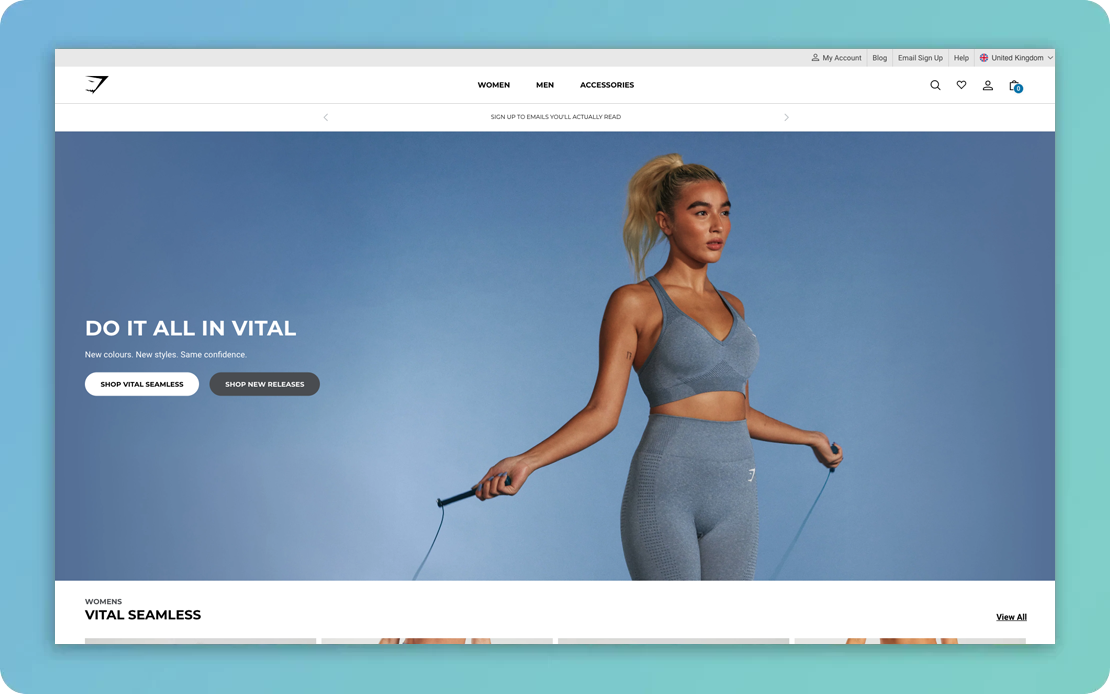 Tactics to steal from Gymshark:
Build a community. Gymshark have united a community of like-minded fitness enthusiasts through intelligent social media and influencer marketing.
Put your customers first. For example, when the Gymshark website crashed for more than 8 hours on Black Friday, Ben personally wrote more than 2500 apology letters – including discounts – to disappointed customers.
Chubbies was founded in 2011 by a group of friends who wanted to take a stance against the traditional world of men's fashion.
The founders' aim was to challenge the status-quo with a relaxed, fun and irreverent fasion brand and help their customers achieve that Friday at 5pm feeling every day of the week.
Chubbies is a shorts company at heart, but today their product lines include performance polos, aloha shirts and hoodies – and everything else their customers need to build a year-round weekend wardrobe.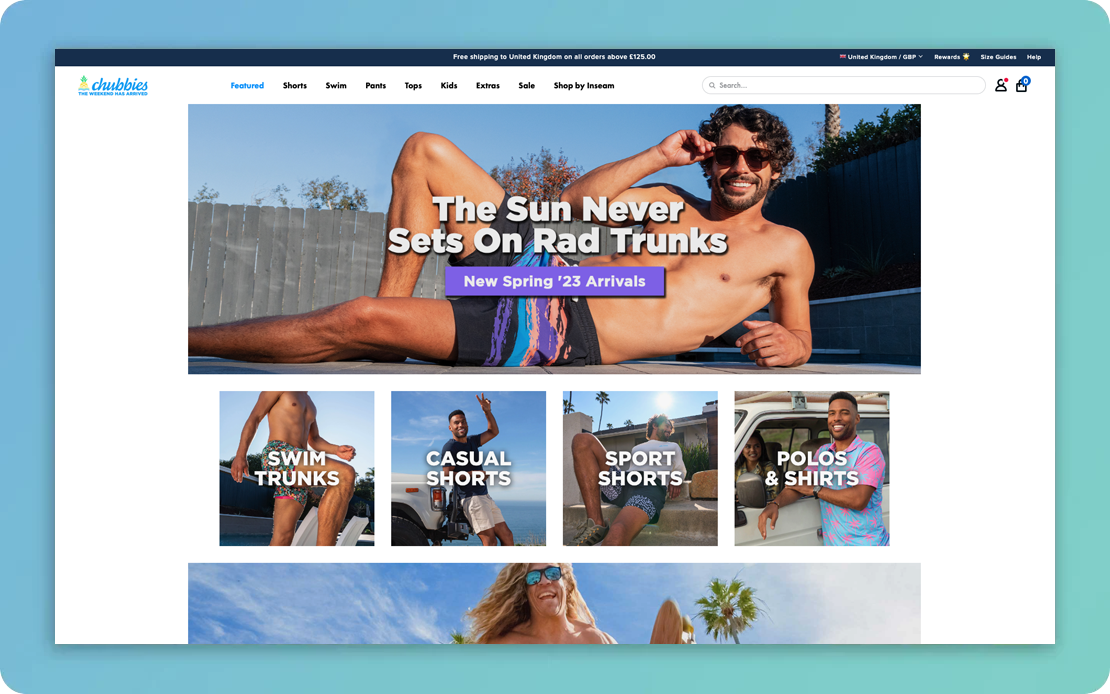 Tactic to steal from Chubbies:
Define your purpose. Chubbies aren't just selling clothes – they're selling fun. Speak to your customers' emotions and give them something beyond your product to keep them coming back
Successful Shopify beauty stores
Kylie Cosmetics is owned by American superstar Kylie Jenner. She launched Kylie Cosmetics in 2014 to give her fans access to the same products she uses to create her look.
With three product lines, Kylie Cosmetics, Kylie Skin and Kylie Baby, a commitment to clean ingredients and a global celebrity at the spearhead, Kylie Cosmetics is a is a highly successful Shopify store.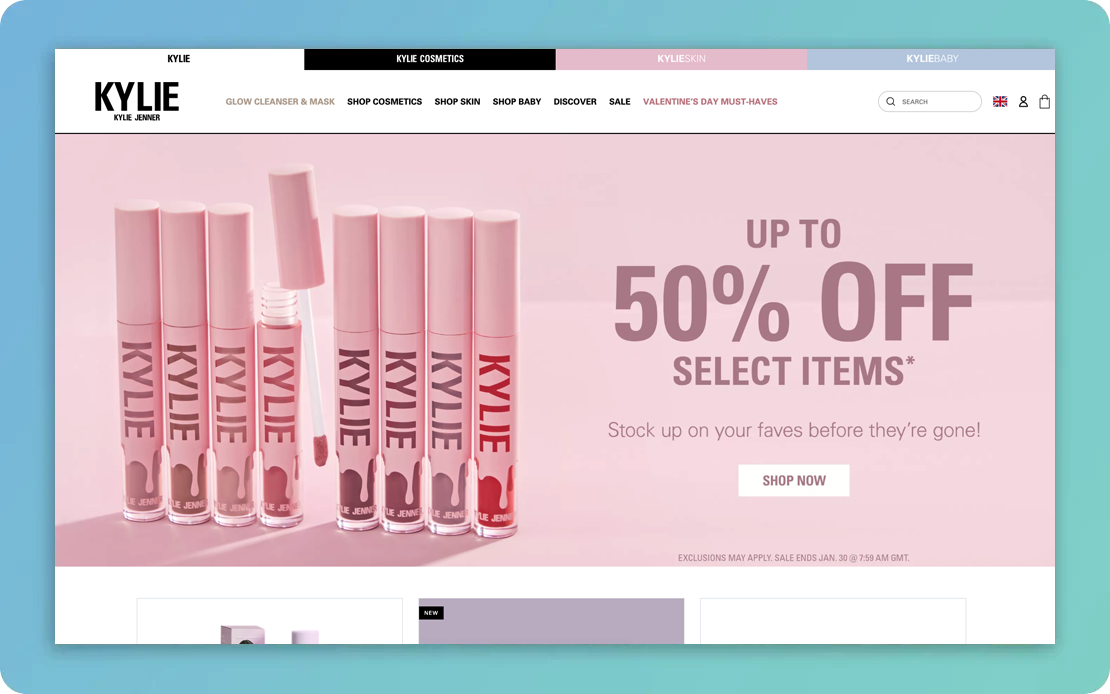 Tactic to steal from Kylie Cosmetics:
Build a clear brand identity. Kylie's focus on vegan, cruelty-free, paraben and sulfate-free ingredients appeals to the increasingly environmentally conscious beauty customer.
ColourPop store stands out amongst thousands of other cosmetic brands because it's a strikingly beautiful and colorful Shopify store.
No wonder they have crossed an estimated $4 million in revenue. They have even collaborated with huge names such as Disney and Sofia Nygaard which has generated a large chunk of ColourPop customers through social media.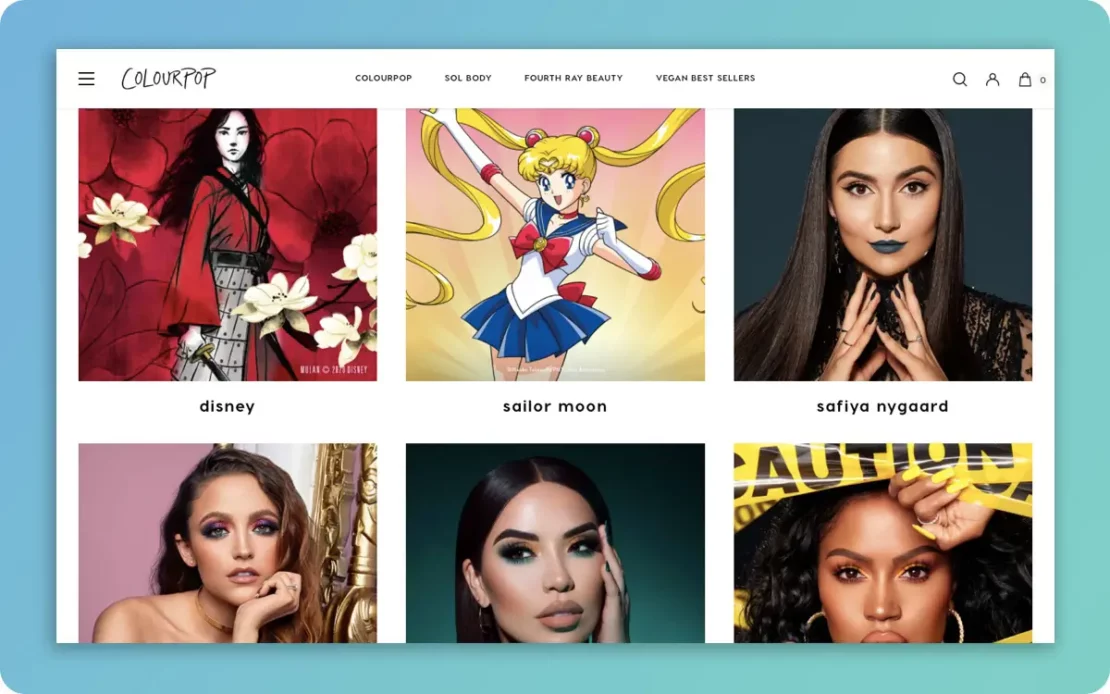 With their captivating play of colors and elaborate product reviews, ColourPop is a great Shopify store. They also offer vegan and cruelty-free product options which is a huge plus.
Tactics to steal from ColourPop:
Sending free products to influencers has been their play using which they have crossed 4,000 influencer mentions.
You too can do that by focusing on both organic and sponsored influencer strategy.
Successful Shopify home goods stores
Ruggable is a popular Shopify shop in the home decor category with 85,000 unique monthly website visitors.
Apart from serene photography and beautiful design, their on-point copywriting is what stands out the most. Their USP lies in the fact that their rugs are washable. And one look at their home page instantly lets you know about the amazing benefits of their products.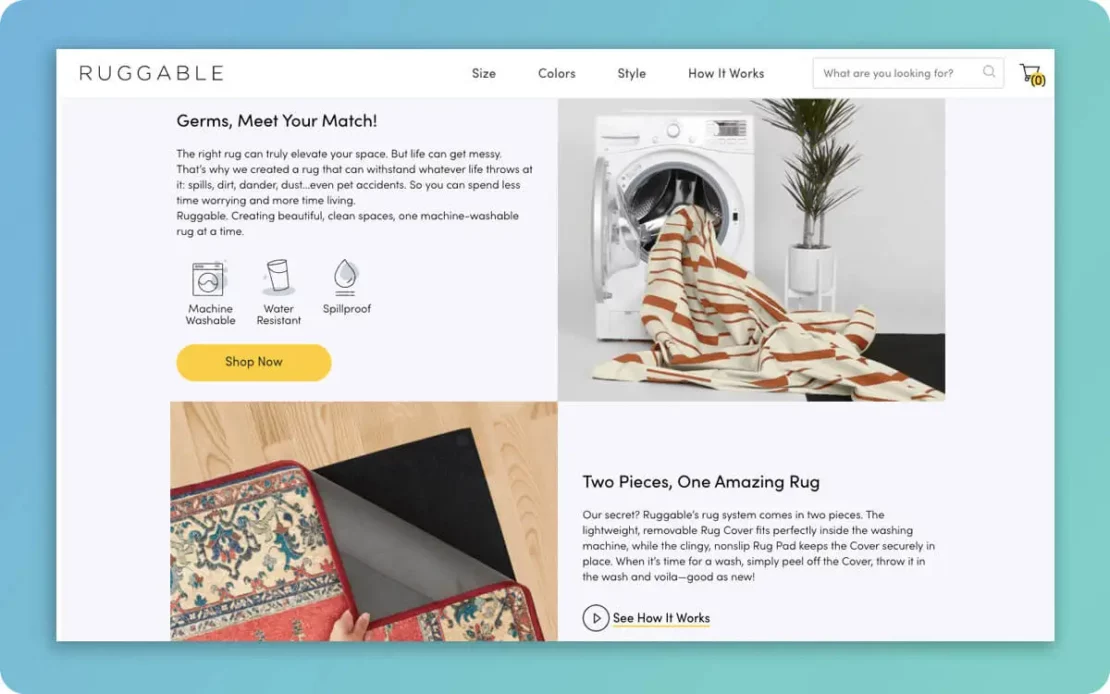 Another thing to note is their focus on SEO because of which they rank for competitive keywords like "washable rugs."
Tactic to steal from Ruggable:
Efficient and benefit-driven copywriting definitely pays: create a fluff-free copy which chalks out all your amazing benefits in the most minimalistic way.
Successful Shopify electronics stores
Raycon is one of the top-grossing electronics stores with over 52,000 unique monthly visitors. With beautiful high-quality images and social proof displayed above the fold, you will want to visit their site again and again.
The most noteworthy page on their website is the one with "Celebrity Sightings" where you get to see Mike Tyson calling these "the best earbuds in America." Now, who wouldn't want these earbuds?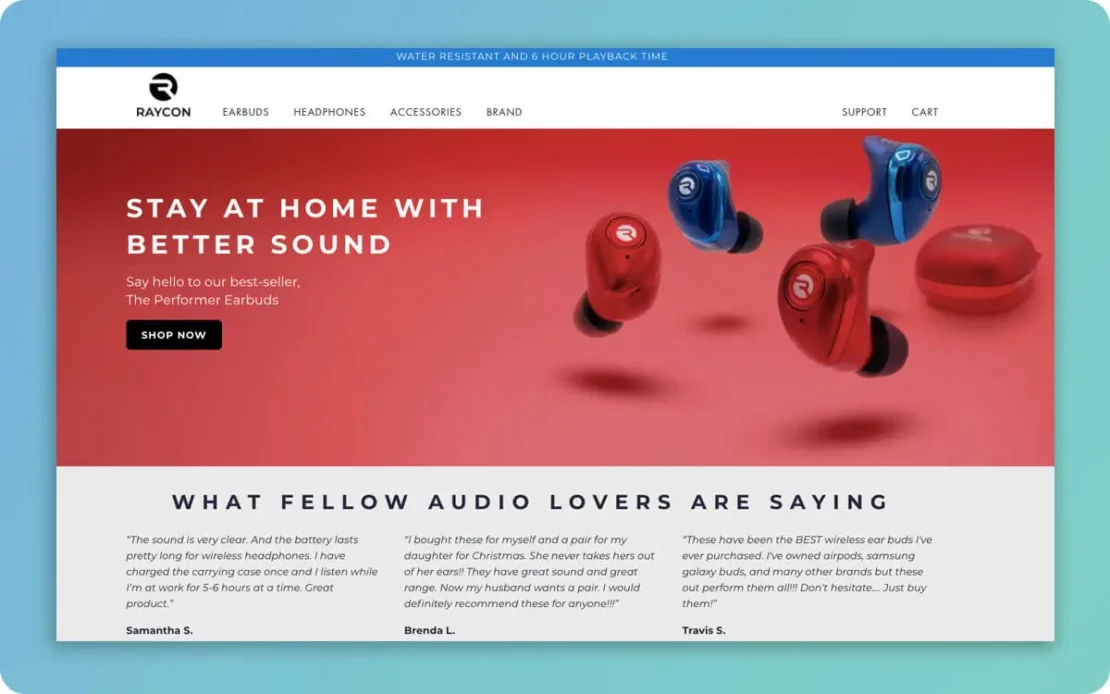 Their minimalistic product detail pages featuring beautifully laid out benefits are hard to miss. They have invested in high-quality images and minimized all kinds of distracting elements on their product pages.
Tactics to steal from Raycon:
Adding social proof, especially above the fold, can have an immense subconscious impact on the minds of your buyers.
Using celebrities as social proof works like magic because research says that 49% of buyer decisions depend on influencer recommendations.
Successful Shopify outdoor stores
BioLite is a new age, innovative Shopify store example with a clear mission. They offer off-grid energy products for camping and other outdoor recreational activities.
What stands out is that, with their mission, they have impacted thousands of sub-Saharan African lives. They help in bringing safe-cooking, lighting, and charging to these families by investing a part of your purchase.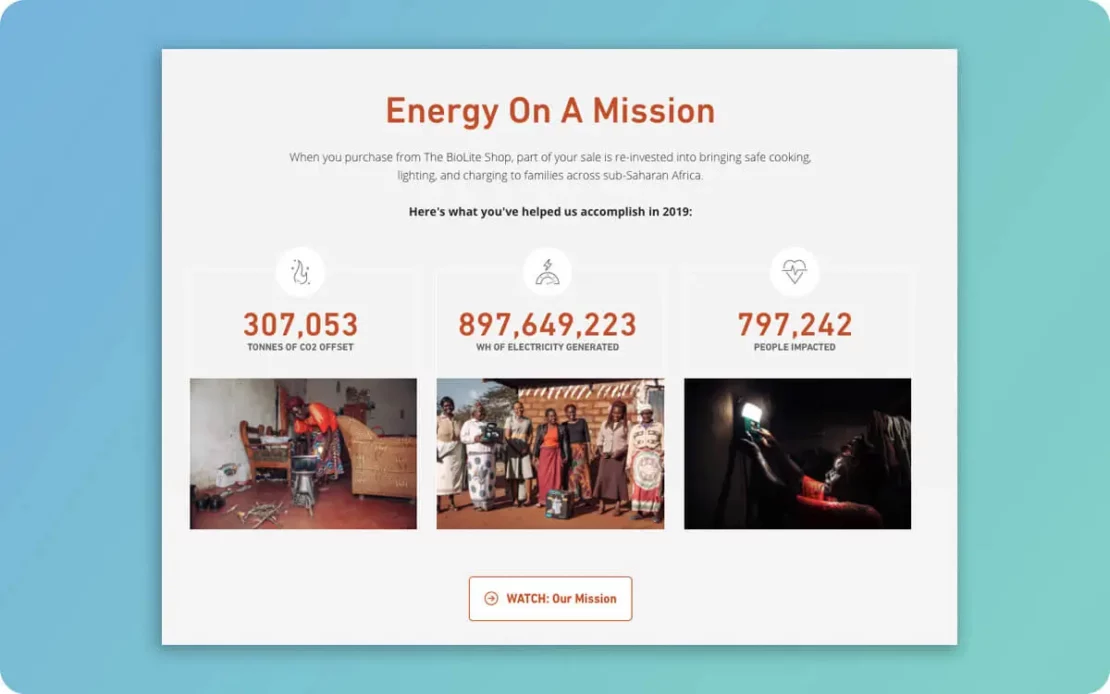 People who purchase from their store feel accomplished on having contributed to the less fortunate in some way. This value proposition is what helps them stand out.
Tactics to steal from BioLite:
Make use of your proprietary data.
Let customers know how exactly they are contributing to making the world a better place by showing them the hard numbers.
Top eco-friendly Shopify stores
When we think about eco-friendly men's fashion brand, Taylor Stitch is what comes to mind. They only offer affordable clothes that are recycled and use regenerative fibers or fibers that are made from 100% natural products.
They also partner with local organizations to offer community service. These things have increased their brand affinity and helped them stand out amongst competitors.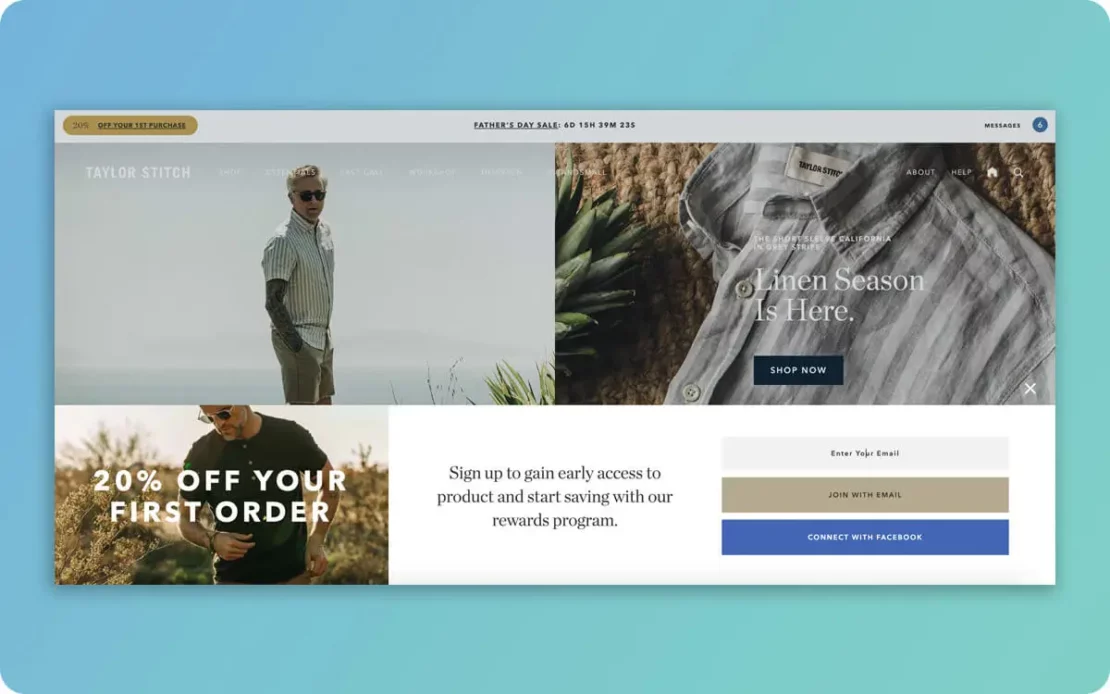 Taylor Stitch makes great use of lead generation pop-ups and other onsite messaging formats, such as a sticky bar with a countdown clock. Their elegant and non-intrusive format appeals to a majority of customers and, in combination with trustworthy lead capture software, helps the brand seamlessly grow its customer database.
Tactics to steal from Taylor Stitch:
Sophisticated and non-intrusive popups are a great way to expand your potential customer base.
Don't overwhelm your visitor with notifications, rather give them a variety of options to choose from by segmenting your customer base and using behavioral triggers.
Top Shopify travel stores
Great copy and well-displayed testimonials are what adds to the appeal of Exist Travels successful travel booking Shopify store. Their website fits the needs of any travel-hungry person and offers travel packages to a variety of destinations.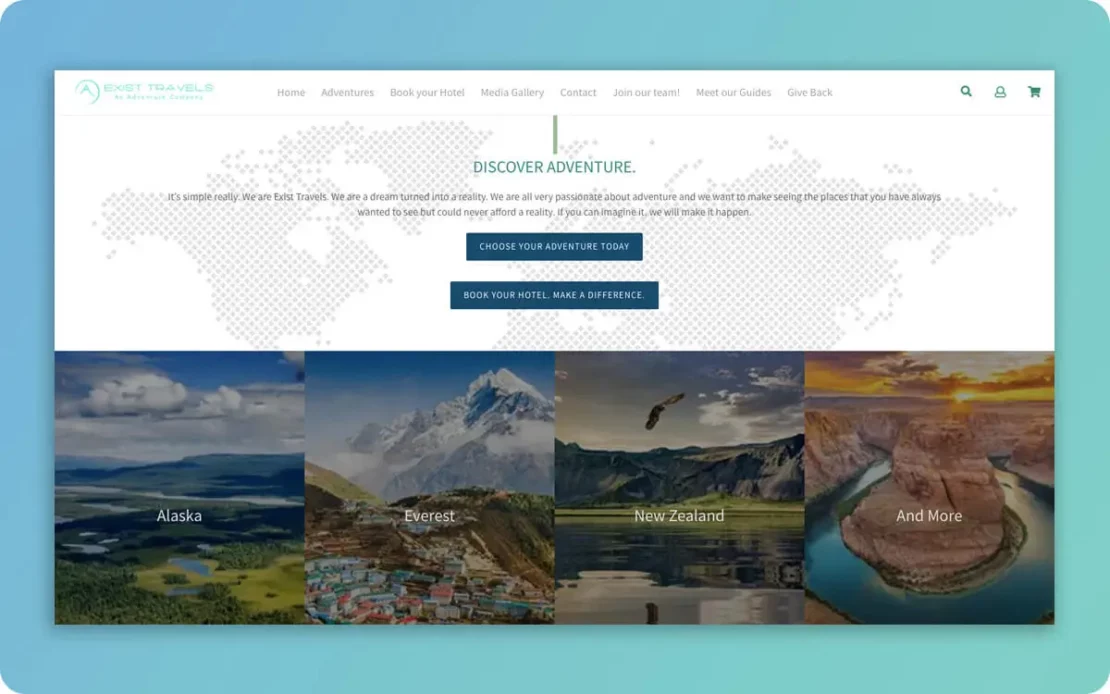 The addition of multimedia also sparks the imagination of people and gives them a glimpse of the journey with them.
Tactics to steal from Exist Travels:
Having an easy to navigate contact page provides a hassle-free way for your customers to connect with you.
Chatbots are also great for offering assistance round the clock.
In conclusion
If you are looking for versatility, affordability, technical support and the best UX for your customers, Shopify is a brilliant option for your ecommerce store.
Take inspiration from these top Shopify stores and build your own today. Remember that you are just a few clicks away from designing your dream store.
If you're looking for a solution to help you provide more personalized on-site experiences for your customers, then check out our post on the 10 best website personalization tools. Or if you'd like a preview of how you can optimize your website with Yieldify, feel free to schedule a discovery call here. One of our advisors will be delighted to share more.
---
Most Successful Shopify Stores FAQs
What are the most successful Shopify stores?
Kylie Cosmetics, Gymshark, Allbirds, MVMT watches, Rebecca Minkoff & Boo Tea are just some of the hugely successful Shopify stores.
How many Shopify stores are successful?
In October 2019, Shopify announced they surpassed one million merchants worldwide. In May 2020 New stores grew 62% between March 13, 2020, and April 24, 2020, vs the prior six weeks. Shopify will give ecommerce websites all the features they need to be successful.
How successful are Shopify stores?
Shopify stores can be extremely successful. Around 800,000 merchants use their platform across the world. This generated over 1 billion transactions in the last 12 months.