BLOG
Skyrocket Your Conversions with Countdown Timers This Christmas
Published: Dec 3, 2015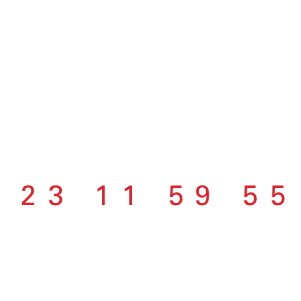 How to use countdown timers over the holiday season to incite action and improve your customer experience – leading to increased conversions on your eCommerce site.
The Christmas period presents a huge opportunity for eCommerce stores. Last year 40% of Christmas shopping was completed via the internet and, if Black Friday results are any indication, this year's numbers should be even higher.
eCommerce is the perfect solution for Christmas shopping. Customers don't need to navigate the high street crowds, they have a huge product selection just a button click away and purchases are delivered directly to your door.
Christmas almost equals Black Friday in its ability to send customers into a shopping-fuelled frenzy. The potential for stock shortages or late deliveries can cause a month long period of panic buying.
The holiday season's innate sense of urgency forces customers to spend more money. The fear of missing out convinces customers to make purchases they may otherwise have waited to complete.
Whilst the holiday period comes with its own inbuilt element of urgency, it can't hurt to bolster the need for immediate action with the tactical use of countdown timers.
Below are a few of the potential countdown timers you could use in your Xmas campaign to increase urgency and drive extra conversions.
The delivery countdown
Few people have their Christmas purchases planned in advance. Barclays reports that nearly a quarter of Brits struggle to find a suitable present with 10% waiting until Christmas day to buy their presents.
The struggle to find the right gift isn't just related to not being able to find the right product. According to MetaPack's Delivering Consumer Choice, 51% of people surveyed failed to complete an online order because of delivery options – this included not being able to guarantee a certain date.
A countdown timer highlighting the order deadline for Christmas day deliveries is a huge benefit to your customers. Knowing they'll get their delivery "in time for the tree" could be the difference between a customer choosing to complete a purchase or taking their custom elsewhere.

The above is an example from Ruroc.com. They've soothed delivery worries with a site wide countdown banner. This banner lets customers know exactly how long they have left to order for Christmas shipping regardless of which page they're on.
The remaining stock countdown
The run up to Christmas often sees stores run out of popular products.
Customers, despite being aware of this possibility, will put off purchasing now in the hope of finding a better deal elsewhere. They leave your site without purchasing because they think they have plenty of time to shop around.
You can reduce the number of people who abandon their search by adding a product stock count to your products.
Notifying potential customers that there are only a few products left catches attention and prevents them from leaving. It reinforces the fear of missing out and urges them to take immediate action.
There are a number of different ways to approach remaining stock countdowns. A basic stock counter will likely do the job.
However, if you want to reinforce the need for immediate action we recommend following the lead of travel websites.
Here's how booking.com reinforces the need for immediate action.

Booking.com increases the fear of missing out by highlighting how quickly the remaining stock is selling out and how many other people are currently interested in that product.
Including the speed your products are selling increases the desire to act now. By coupling a display of current interest with the remaining stock number you create a highly motivating scarcity element.
The sale countdown
Black Friday may well be over but customers are still looking for the best deals.
They want to know where they are when they're happening and what they can get.
As with any promotional event you need to build a little buzz for a successful launch. An online sale is no different. Include a timer on your site which signifies the start of the sale to ensure customers flock to your site the second discounted products are offered.
To really stir your customers into action, let them know exactly when the sale ends. You can do this with a secondary countdown timer that replaces the first or by reaching out to customers via email with full details of the sale.
Playstation reaches out to their customers with an email campaign in the run up to their December sale.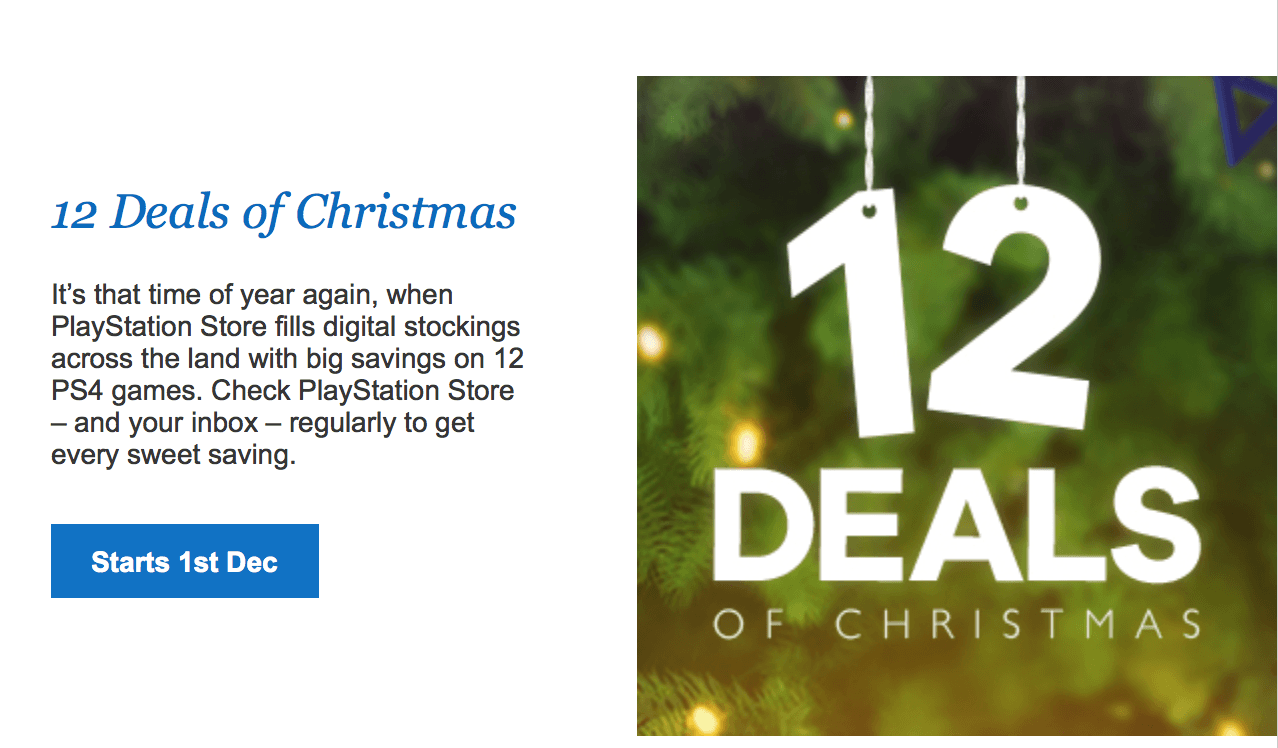 The email provides a link which forwards you to a page outlining the 12 deals and in which 48 hour period each deal is available. It's a simple yet effective method as it notifies of both the start of the sale, what's on offer and when each deal ends.
One potential pitfall with countdown timers
Countdown timers are a simple yet effective way for eCommerce stores to increase conversions, especially during a period already rife with panic buying habits.
However, there's one golden rule to adding any scarcity or urgency element to your site. It has to be honest.
There's a temptation to reduce the number of products or display fake deadlines to really drive panic conversions. This is a very risky approach. If customers suspect that you've lied to earn a little extra money you destroy their trust in your brand and reduce the likelihood of them returning to your site.
Whatever form of countdown or stock timer you implement, be sure that the time or stock limits are 100% honest and accurate.
A little urgency never hurt anyone
Urgency is a key factor in driving conversions and countdown timers are one of the best methods of increasing the perceived need to act. They're effective even in the slower periods of the year as they pander to the customer's fear of missing out.
Using countdown timers this festive period potentially offers a win-win solution for you and your customers. You gain increased conversions by harnessing your customers' fear of missing out, but you also provide an improved customer experience by giving clarity on stock levels, sales events and delivery times.