FREE GUIDE
8 Black Friday Marketing Ideas for eCommerce + A 2020 Special
Learn how to get a slice of that $135.35 billion dollar revenue with your Black Friday marketing campaigns.
Published: Oct 8, 2020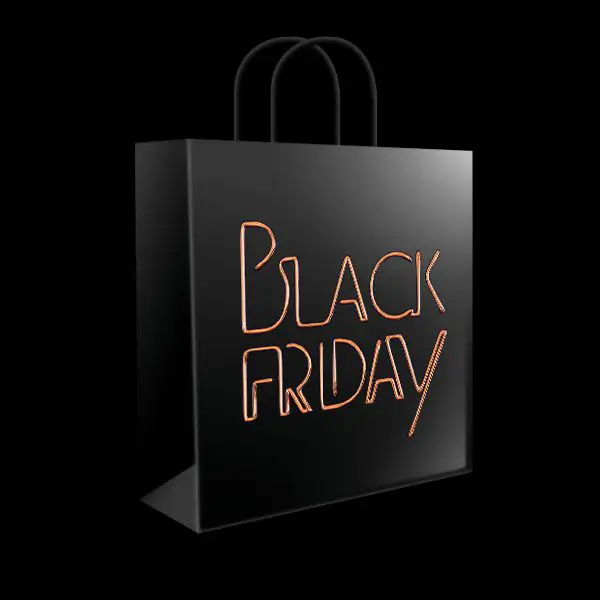 Introduction
Each year, Black Friday marks the beginning of the holiday shopping season. A favorite pastime that's originated in the US, Black Friday is now a global phenomenon overtaking physical and online shops everywhere.
But what's it going to look like this year with the global pandemic front and center in consumers' and retailers' minds?
In this guide, we'll take a look at Black Friday statistics to see where the trend is going, as well as outline some evergreen Black Friday marketing campaign ideas that will set any eCommerce retailer on the path to BFCM success.
Table of Contents
1. Black Friday: How it all started
2. Black Friday importance for retail
3. How to prepare your website for BFCM
4. 8 Black Friday marketing ideas for eCommerce
5. BFCM marketing: A 2020 Special
What is Black Friday and how did it start?
Black Friday is the name given to the Friday after American Thanksgiving and signals the start of the Christmas holiday shopping season.
The name was first coined in the 1950s when huge crowds of shoppers descended on Philadelphia's high streets commencing the weekend before the eagerly anticipated Army-Navy football game. Philadelphia Police were overrun with the sheer numbers, and worked unexpectedly long hours to cope with both the foot and vehicle traffic in an event they referred to as 'Black Friday'.
By 1961, Black Friday was fully established in Philadelphia, and by the late 1980s retailers used consumer psychology to reinvent the meaning of Black Friday. Retailers implied the meaning reflected on their profits, claiming that stores would be "in the red" (operating at a loss) for the entire year up until Thanksgiving when they would suddenly earn a profit and be "in the black" thanks to holiday shoppers wanting to spend on discounted merchandise.
The notion of discounted products, sales and deals caught on and now Black Friday is as much of an American holiday tradition as the Thanksgiving turkey.
How important is Black Friday for retailers?
For any retailer, eCommerce store owner, or business owner, Black Friday is an exceptionally important day. In 2019, Black Friday sales totaled $7.4 billion in the United States alone, marking a 19.6% increase from the year before, and making it the second most profitable day of 2019 right after Cyber Monday.
Year on year, Black Friday sales and popularity continues to increase. Earlier this year in February 2020, eMarketer predicted that the total retail spend will increase by 3.4% to $1.042 trillion, whilst the eCommerce net spend was likely to increase by 13.9% to $156.69 billion.
This seems to be supported by findings from Yieldify's own Peak Season 2020 report. We surveyed 400 eCommerce leaders and 2,000 consumers and discovered that 34% of consumers plan to increase their peak season spending year-on-year and only 18% plan to decrease it.

This consumer research suggests that Black Friday 2020 is perhaps even more important for retailers than the last, especially when taking into account the economic ramifications of the Coronavirus pandemic.
How should eCommerce prepare for Black Friday?
So how should businesses and eCommerce stores prepare for Black Friday 2020? One of the first parts of Black Friday marketing should be to properly prepare and optimize the website for both desktop and mobile users.
In Deloitte's 2019 Holiday Retail Sales consumer survey, when asked how they'd split their holiday shopping going forward into 2020, 59% of consumers stated they'd use online shopping over 36% who said they would remain shopping in-store.
Likewise, findings from Yieldify's Peak Season 2020 report revealed that consumers who are increasing their spending across all three peak events will be most likely to do so online. An average 8pp. growth is predicted for consumers shopping either mostly online or only online.
In addition, sales attributed to mobile devices have been growing year on year, with mobile traffic increasing by 14% each year and contributing $64.29 billion out of the total $142.5 billion in United States eCommerce sales.
Here are four crucial things to consider checking on a website before the Black Friday bonanza:
1. Website traffic
On Black Friday 2019, traffic to the top 100 shopping sites increased by 137%, proving how on the day, eCommerce stores will be handling more visitors and more requests than ever before.
That same year, despite spending thousands of dollars on better servers, retailer SweetLegs missed out on an estimated six-figures worth of sales because their website crashed through being overwhelmed with requests.
To make sure that a site won't be returning error messages, developers and website owners should run tests on their site with tools such as Load Impact or Pingdom. These tools simulate peak traffic numbers so that developers or owners can gain an understanding of how a website is performing under increased visitor numbers.
Then optimizations such as compressing images, refining HTML and CSS elements, and utilizing plug-ins that balance server-based requests without affecting site speed can be implemented before the traffic arrives.
2. Website speed
Throughout Black Friday, a website should be giving high conversion rates, not high bounce rates, which is what will happen in the event of site slowness. A Google study once reported that for every second of load time, conversions drop by 12%.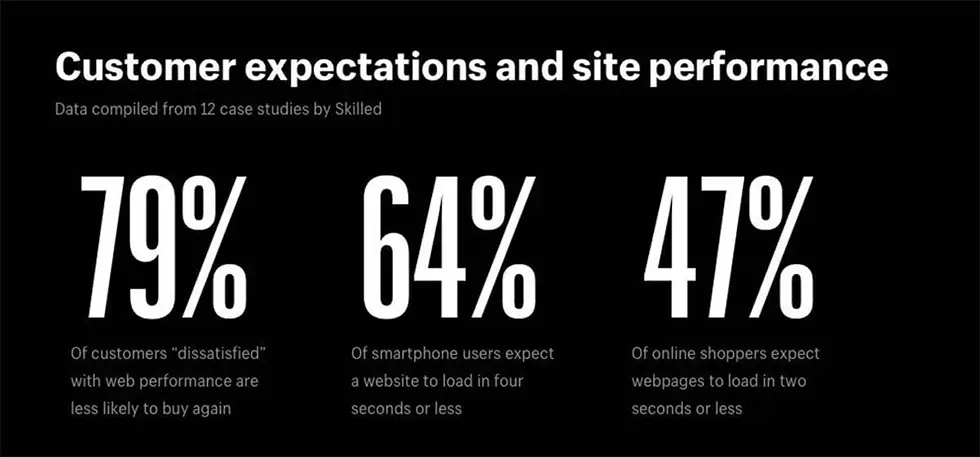 To prevent losing potential consumers to competitors, use tools like Google Labs' own PageSpeed Insights. It assesses core elements of CSS and Javascript that could be slowing down the site and supplies personalized suggestions as to how to improve site performance and speed.
Similarly, Google's Test My Site tool will calculate how to increase your mobile conversion rates using your site speed and loading times.
3. Website navigation
Up to 80% of visitors will abandon a site because of poor user experience, and a large part of that user experience begins with navigation. If your site is confusing or unintuitive to navigate, visitors will become frustrated and go in search of another, more responsive site.

One way to check a site's ease of navigation is to ask willing friends, colleagues, or family members to test the site. Give each person a product, and ask them how easy they found the search experience. If the responses aren't positive, implement faceted search that will help users find their way to your most popular items.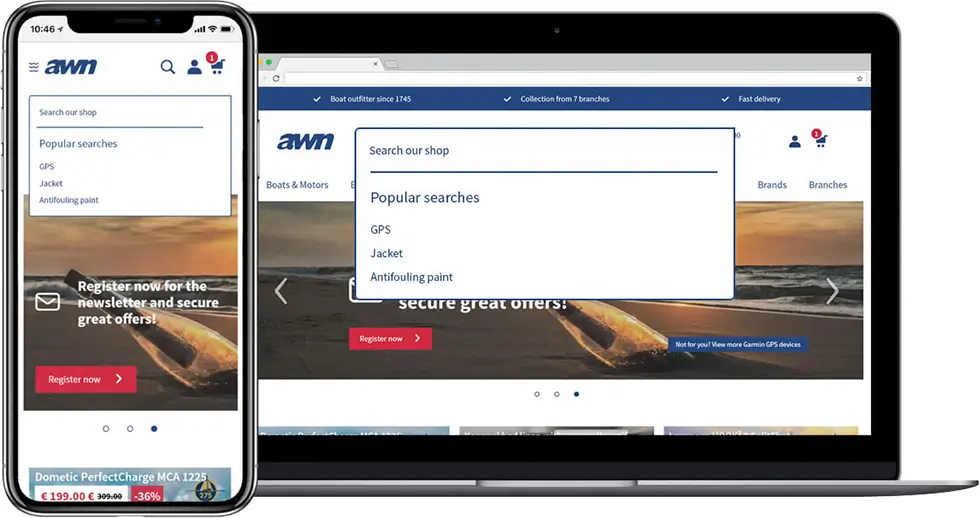 In addition, if your site will be categorizing products by discount prices or as exclusive Black Friday products, make sure that category is on prominent display: Either as a segment on the homepage or as one of the very first options on a navigational menu. This makes it easy for Black Friday bargain hunters to find the section you want them to purchase from.
Despite Thanksgiving traditionally being a time of relaxation, Black Friday jolts that perception with an omnipresent feeling of hurriedness. Consumers feel pressured to get onto a site quickly, find their item, and checkout before moving onto the next site and repeating the process, ahead of product sell-outs.
To optimize your site for this psychology, remove any barriers to buy that could seem as too time-consuming. Implement one-click buying that utilizes a secure mobile wallet with the customer's information readily available, such as Apple Pay, Android Pay, Google Pay, or Paypal.
If your eCommerce site is hosted on a platform like Shopify or WooCommerce, dynamic checkout buttons are available to create a seamless one-click shopping experience. These buttons allow users to skip the checkout process and purchase instantly using their preferred payment method. For example, on an Apple product, the checkout button would change to display the Apple Pay sign.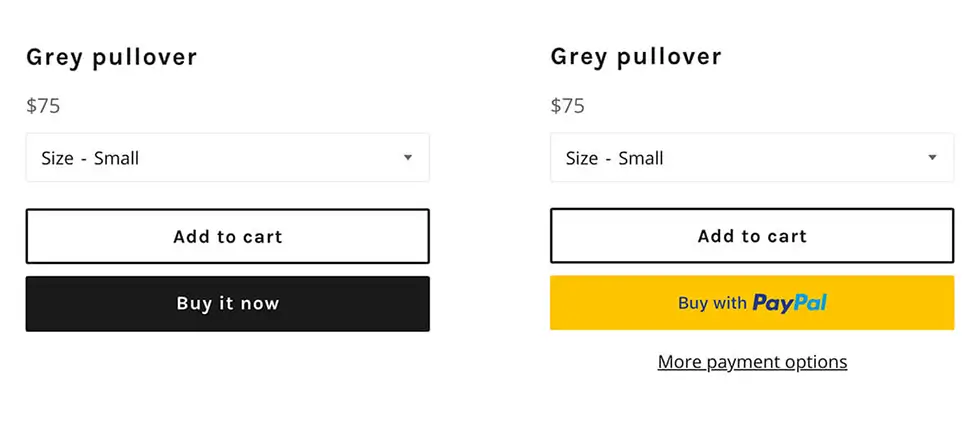 8 Black Friday marketing ideas for eCommerce
Now that you've ensured your website can handle the onslaught of Black Friday-Cyber Monday traffic, it's time to consider holiday eCommerce CRO tactics that you can deploy. Below are our eight best recommendations to help you achieve Black Friday marketing success no matter the industry.
1. Optimize website landing pages
Unbounce did a quick analysis of Black Friday landing pages to answer the question of how many retailers create custom pages for their holiday promotions. Out of 34 websites analyzed, only 8 BFCM campaigns sent their traffic to a specialized landing page.
The rest were either using a custom headline or a banner and a whopping 10 websites simply sent their BFCM campaign traffic to their homepage with no mention of Black Friday or Cyber Monday whatsoever.
This is a huge missed opportunity. Holiday landing pages will not only help you get organic traffic from people searching for specific offers, but also better match the intent of shoppers coming from your ads, social media, and email communications.
See how Dyson uses squeeze pages to capture leads interested in their Black Friday offers: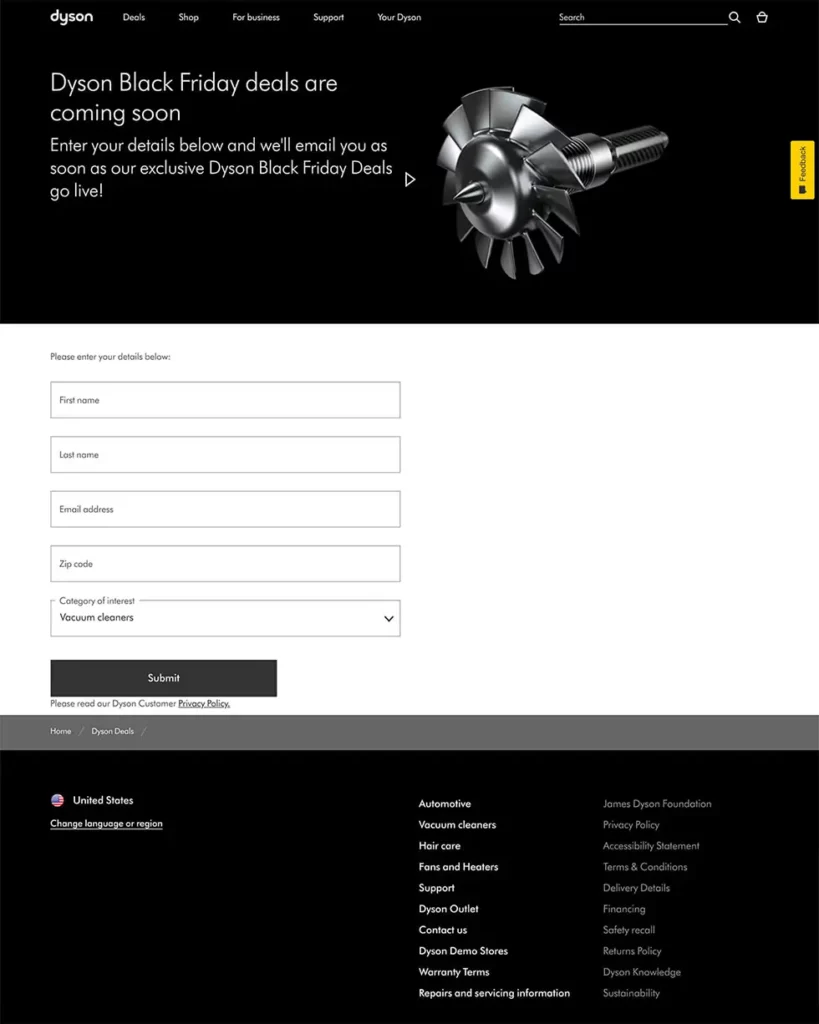 To illustrate with a theoretical example, see how searches for "laptop sale" spike around BFCM each year – you can make use of that by creating an SEO-optimized landing page for this search query, set up PPC, and social ads promoting your laptop discounts, and send traffic to that page.
The reason a landing page like this will beat a generic product listing page or homepage is that these pages are designed for conversion:
They focus on one specific offer;
They're information-rich;
They speak to a high-intent audience;
Usually, these pages use FOMO and urgency tactics.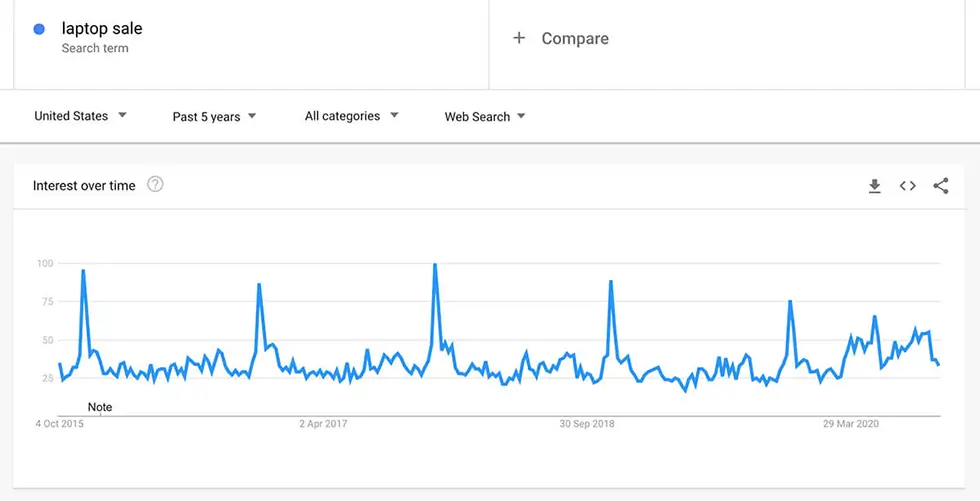 If you don't have the means to create holiday-specific landing pages, at least update your hero images and use other elements, such as banners and overlays, to help website visitors locate your offers. You can utilize additional features like countdown timers to nudge visitors to convert.
Don't neglect your category pages, product listing, and product pages as well. Product detail pages, in particular, should cater to the time-sensitive Black Friday shopper: Make sure your product descriptions are clear, product images are high-quality, use anchor pricing ($150 $99), real-time social proof ("27 people are looking at this"), and other psychological tactics to boost conversions.
In addition, make sure your delivery, return, and exchange policies are displayed prominently. Free and expedited shipping, as well as free returns, are considered big motivators for Black Friday shopping – in 2019, about 40% of shoppers decided to buy online due to flexible options such as free delivery and buy online pick up in-store (BOPIS).
Get our free product page design template here!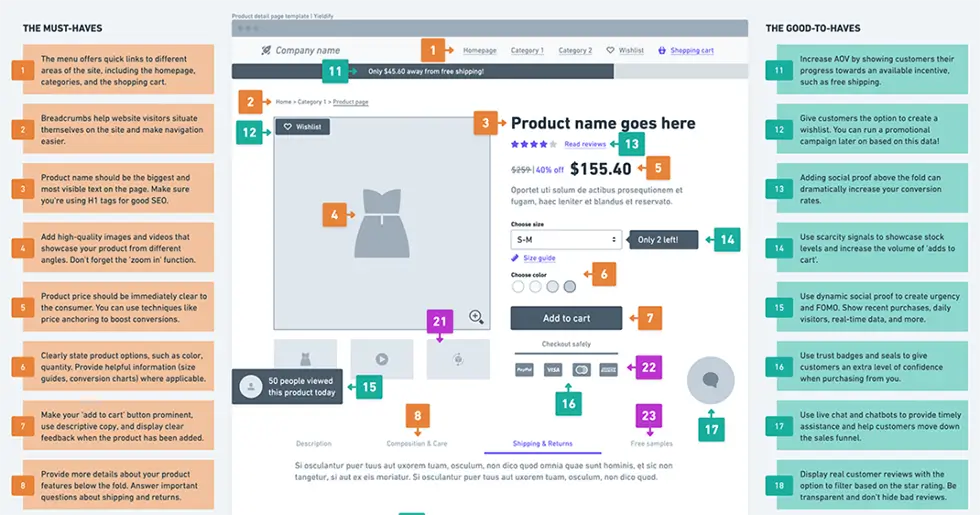 2. Deploy holiday lead capture and nurture sequences
With 59% of subscribers stating that marketing emails influence their purchase decisions, email marketing is an already crucial part of day-to-day marketing strategies. In peak season times, it receives an additional boost.
In Yieldify's Peak Season 2020 Report, when marketers were asked which tactics they were most likely to deploy this holiday season, unsurprisingly, email marketing came out on top.
Ahead of the peak season and days such as Black Friday, eCommerce stores should have a lead capture software ready in order to build a comprehensive email list. List building tactics are most effective when they offer a value-exchange, i.e "10% off when you sign up to our newsletter" or exclusive access to pre-sale.
Once a lead has been captured, the next step is to nurture them with relevant email marketing campaigns that will eventually nudge them towards purchase. The most powerful lead nurturing campaigns use segmentation to group users based on a number of variables, such as browsing or purchase history, category/product affinity, gender, location, etc.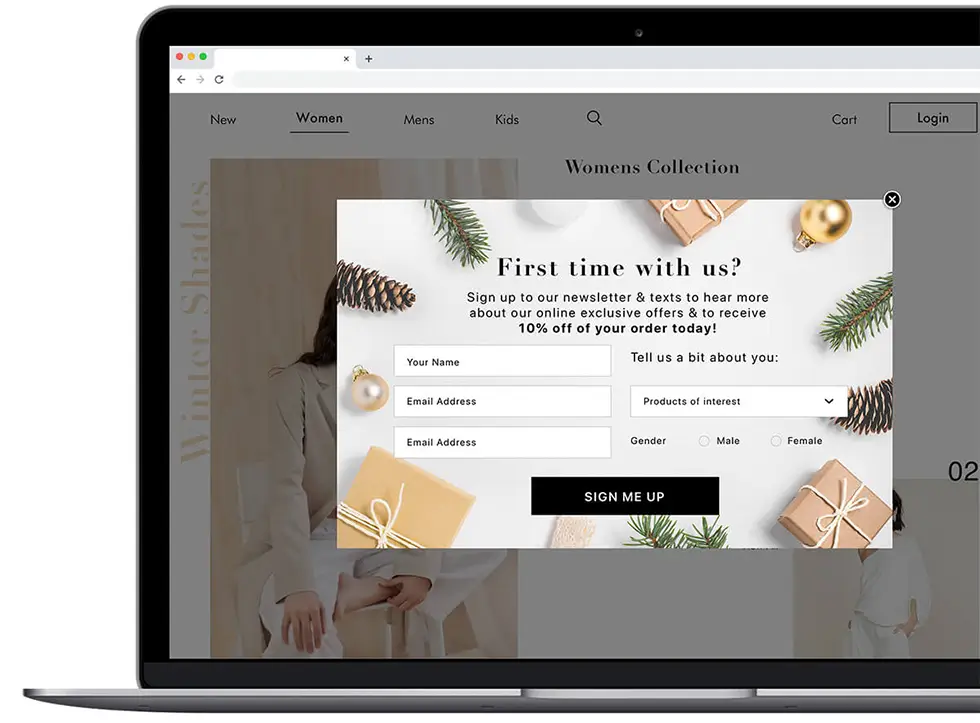 Segmentation ensures that consumers receive emails relevant to their buyer's journey, and can encourage engagement and conversions. In fact, segmenting an email list can produce ROI of up to 122%, according to an eMarketer study.
Segmentation for Black Friday marketing campaigns can be as simple as grouping new vs returning customers. For new customers – a drip campaign introducing the brand and its offers for BFCM weekend will do just fine. For existing customers – leverage loyalty programs and inform them how to earn the most points with holiday shopping.

3. Encourage wishlisting
Wish lists work similarly to abandoned shopping carts – they signify interest and mean the consumer is already in or very close to the decision stage of their purchasing journey.
Wish lists are also mutually beneficial for both shoppers and store owners: Customers have a convenient place to store products they wish to acquire, while retailers can gather a slew of data and make informed decisions behind discounting, use that information to send relevant email communications, analyze reasons behind purchasing barrier, and more.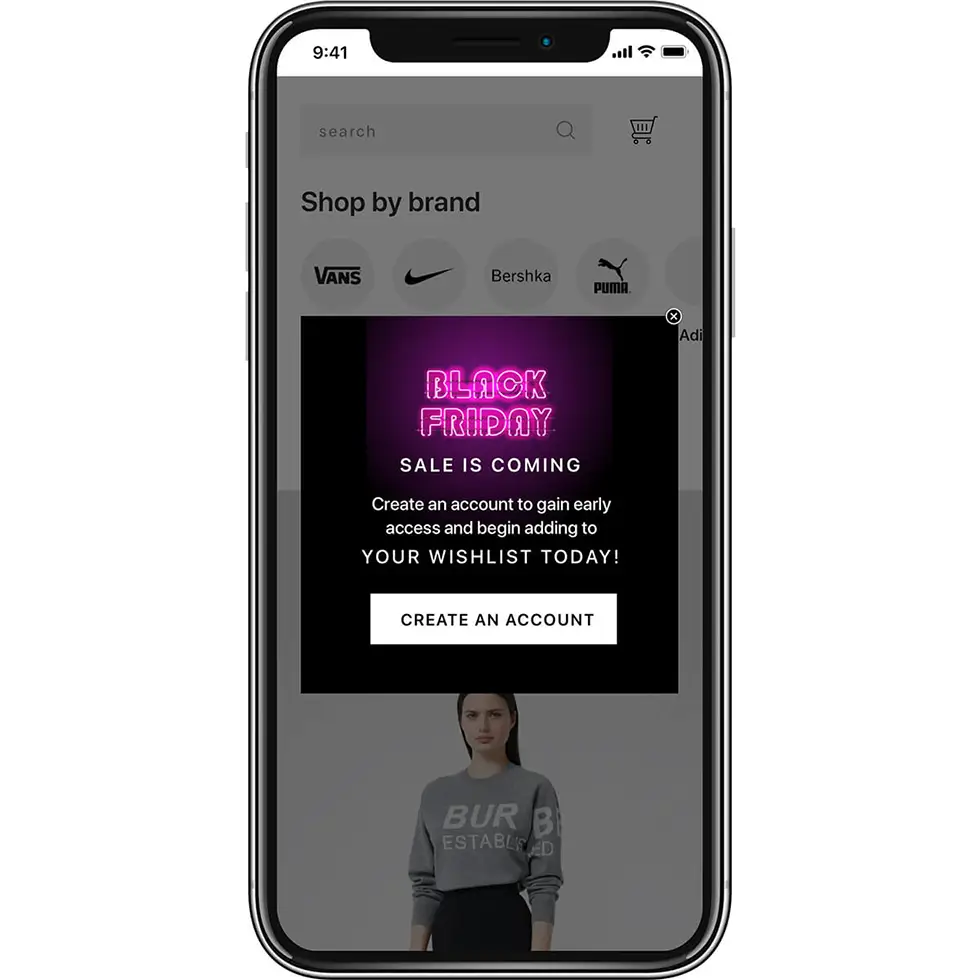 During Black Friday and Cyber Weekend, wish lists can be effectively utilized in many different ways:
To encourage app downloads or account signups;
To grow your email subscriber list;
To optimize your drip email campaigns;
To cross-sell and upsell relevant products;
To boost website traffic if you choose to create your own curated wish lists based on the most 'wished for' items.
4. Offer flash sales
In the build-up to Black Friday, many retailers prepare blanket offers – for example, 20% off for the entire promotional period. Whilst this will surely drive conversions, businesses should also take advantage of flexible sales methods, such as flash sales.
Flash sales are recurring discounts or promotions offered for very limited periods of time. These sales are short-term and data shows that flash sales have the potential to boost conversion rates by 35% because they use consumer psychology – most notably, urgency and scarcity – to increase the rate of impulse purchases.
Flash sales can be implemented for Black Friday as well, with offers set to a specific time of day, like a "Midnight Special" where everyone who shops from 11:00 PM to 01:00 AM will get an additional 5% off their order. Or, a flash sale for just the last day of the Black Friday-Cyber Monday weekend that will push surplus stock.
With statistics suggesting the average website visitor makes at least seven visits before converting, flash sales broadly entice new visitors whilst working to re-engage familiar customers, whether they are newly acquired or existing loyal advocates.
See how soak.com used time of day targeting to boost conversions: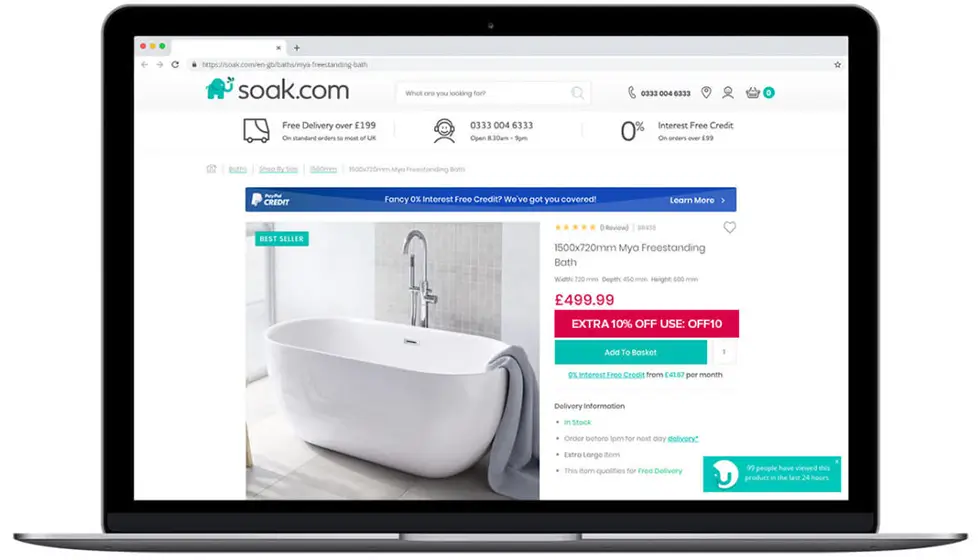 5. Cross-sell and upsell
Cross-selling and upselling are vital sales tactics for retailers all year round, with upselling techniques increasing revenue by 10-30% on average. During the peak season, however, disguising cross-sell and upsell as time-sensitive opportunities can tempt customers through increased value perception and convenience.
Cross-selling offers to purchase complementary products, for example:
A rental car when you buy airplane tickets;
A charger when you purchase a new smartphone;
A soda drink with your lunch order.
Upselling, on the other hand, offers an upgraded product version or a product bundle, for example:
A holiday package that includes airplane tickets, a rental car, and a hotel;
An iPhone X vs iPhone 7 Plus;
A combo meal instead of ordering a burger and a fries separately.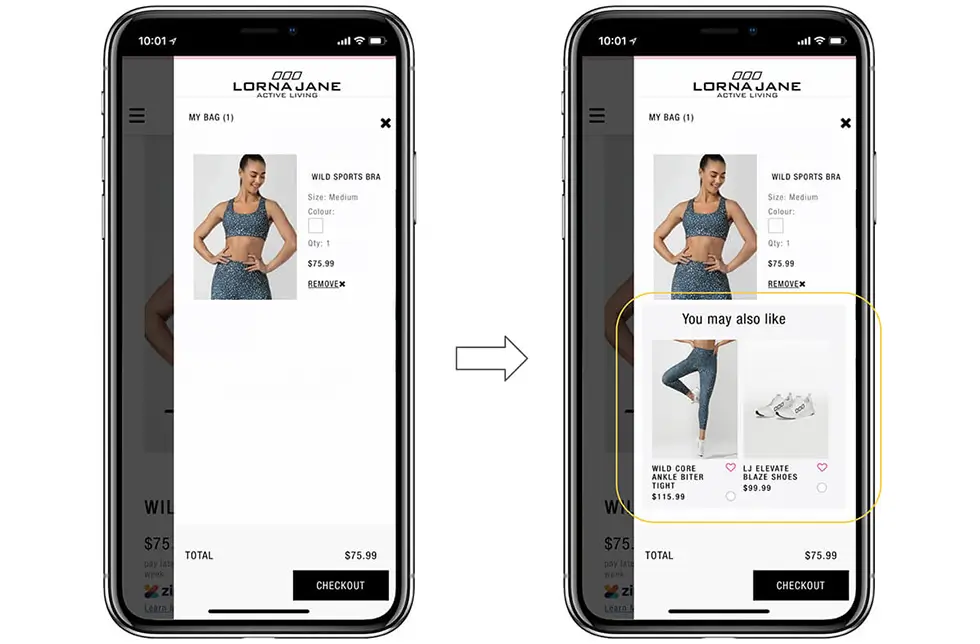 In the above example, cross-sell plays on the ease of creating a finished activewear set by offering shoes and leggings that match the sports bra that's already in the customer's shopping bag.
To execute cross-sell or upsell campaigns, you will need a product recommendation engine of some sort. You can use apps like Product Upsell for Shopify, One Click Upsells for WooCommerce, and Beeketing for Magento that will automatically display these offers when a relevant product is selected.
6. Abandoned cart recovery
While shoppers abandon their carts all year round, Black Friday sees an average 5% increase in cart abandonment. In 2019, Black Friday's global cart abandonment rate was recorded as 73%, with an average of 3 out of 4 shoppers not concluding their sale.
Two years ago in 2018, Shopify released data that suggested had all Black Friday cart abandonments been rescued, retailers could have made an extra $1 billion in revenue.
While the numbers might be higher for Black Friday, the reasons for cart abandonment remain pretty much the same. Usually, shoppers decide to abandon their carts due to high shipping costs, unexpected taxes, discount codes not working, or simply because they are looking for the best possible deal and compare prices.
Either way, you want to make sure you've done everything to stop them from leaving or to make them come back. Here are some popular cart abandonment solutions that you can utilize in your Black Friday marketing efforts:
Implement exit-intent overlays to stop shoppers from leaving;
Offer an exclusive discount or other value exchange if they choose to convert now;
Offer the ability to save their shopping cart for later;
Retarget abandoners with social and display ads;
Send timely cart abandonment emails (more on that below).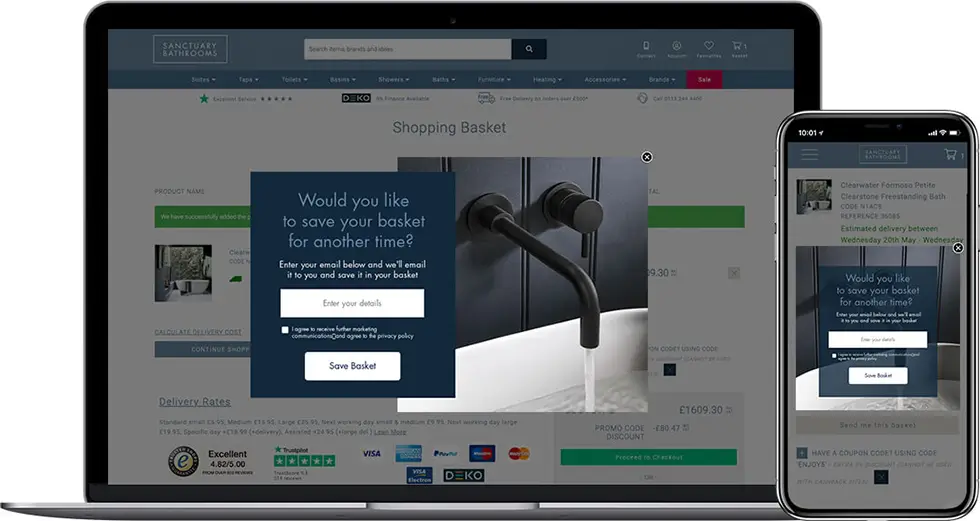 Cart abandonment email campaigns are particularly effective when trying to recover an abandoned cart. With a click-through rate of around 40%, they also boast an avg. 18% conversion rate.
Cart abandonment emails should include an instant reminder of what the consumer has left in their cart and direct, personalized copy that engages the reader, tempting them back onto your site. During a peak sales weekend, additional discounts can be offered if the item is of high value as this may help to encourage the removal of a purchasing barrier.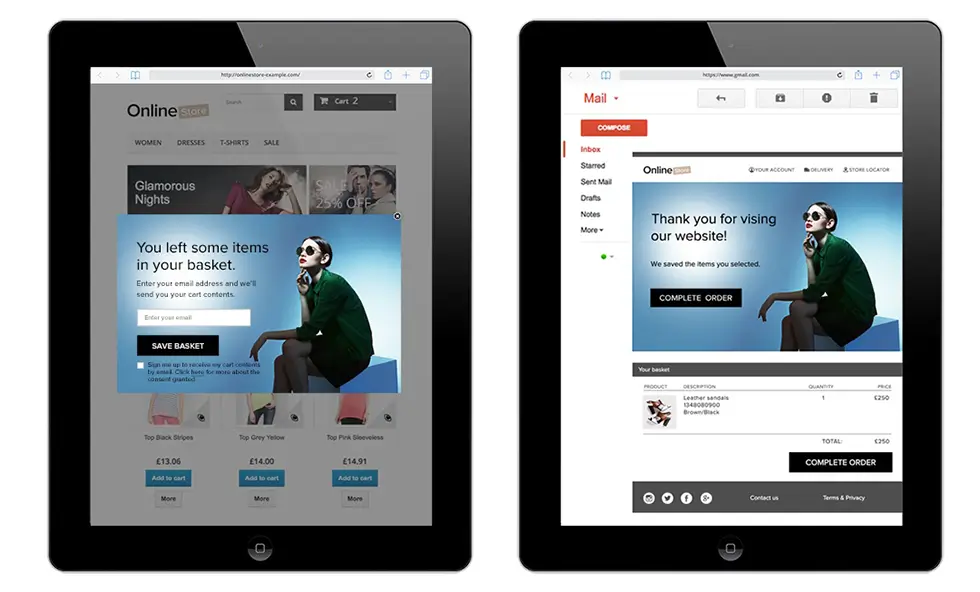 7. Increase advertising spend
It may sound counterintuitive to do the same as a whole raft of other marketers, but during Black Friday and throughout Cyber Monday advertisers justify increased ad spend by good returns on investment.
Year-on-year, advertisers spend 134% – around 2x – more on Black Friday than they spend prior to the holiday ramp-up period, beginning on November 1st, according to Kenshoo.
And each year, their investment yields returns: Black Friday sales increase 348% when compared to an average day in October, and 229% when compared against the initial increases in holiday preparation across November. ROI jumps by as much as 55% while cost-per-acquisition (CPA) sees reductions of up to 16% compared to October, and 14% compared to the period beginning November 1st-21st.

When choosing your advertising channels for Black Friday marketing campaigns, think carefully. Search engines, such as Google or Bing, provide opportunities to advertise to consumers who are already actively searching for products and deals, and therefore closer to converting.
Whereas on social media, your audience will have a lower intent to purchase but you might be able to reach a much wider demographic.
Aside from prospecting campaigns, Black Friday is the perfect time to invest more in retargeting ads. Almost all advertising platforms now offer dynamic ad formats that allow you to insert products from your store and remarket to customers who've already expressed interest. Here's how they work in a nutshell:
Prospecting campaigns use pre-determined target audiences to reach people based on a number of variables: Location, Interests, Job titles, etc. These campaigns are designed to attract new customers who are unaware of your business yet but give you reasons to believe they might be interested. (See below on the left)
Retargeting campaigns use tracking codes, such as Facebook Pixel and LinkedIn Insight, to recognize people who have previously visited a website and match them with profiles on their respective platforms. As such, retargeting audiences are groups of people who have already interacted with your business. Based on their level of interaction and your tracking parameters, you can serve retargeting ads that show the products they have browsed or added to cart. (See below on the right)
8. Give the gift of giving back
For the past couple of years, brands and retailers have been under intense scrutiny for participating in events like Black Friday and Cyber Week, which do inevitably encourage mass consumption and go against environmental concerns and fair trade regulations.
Encouraging by the increasingly negative sentiment around these shopping events, some businesses choose to opt-out from Black Friday marketing campaigns completely. In 2019, for example, skincare brand Deciem made headlines after choosing to close its brick-and-mortar stores as well as shut down its website on Black Friday.
Also supporting the movement is outdoor clothing brand Rei, who run their #OptOutside campaigns each Black Friday to drive focus to the links between fresh air and better mental health. On Black Friday, the retailer also closes its doors and proudly announces on its website that it has paid its 13,000 staff to "go outside and make a difference."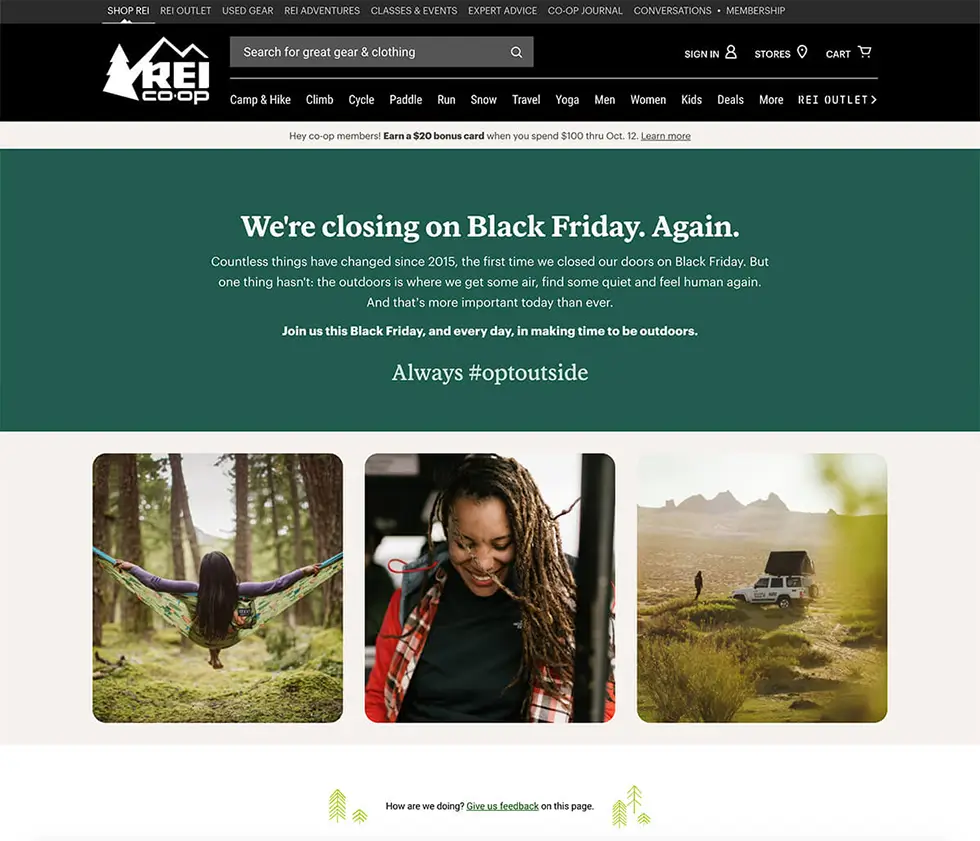 Others, however, use this opportunity to collect donations off the back of their profits. Everlane is a good example to illustrate this. The brand partners with ocean protection charity Oceana to help eradicate the production of single-use plastics by donating $10 of every Black Friday sale to the charity.
These campaigns are generally successful and generate great returns because they offer consumers the ability to better justify their purchases. With this in mind, they might feel inclined to spend more and are more likely to become brand ambassadors.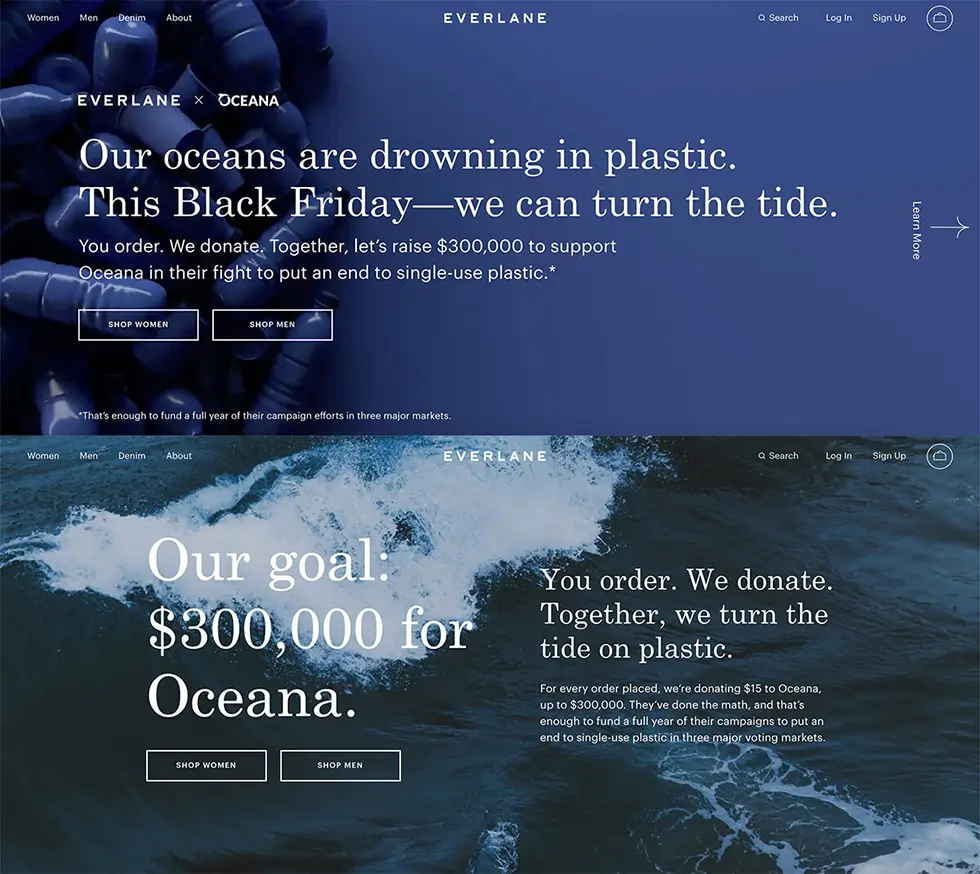 Related events, such as Giving Tuesday have been on the rise too. Giving Tuesday refers to the Tuesday after American Thanksgiving and aims to create an international day of charitable giving at the beginning of the Christmas and holiday season.
Leesa mattresses used #GivingTuesday not only to encourage sales but also to remind everyone of their ongoing mission to donate one mattress for every ten they sell.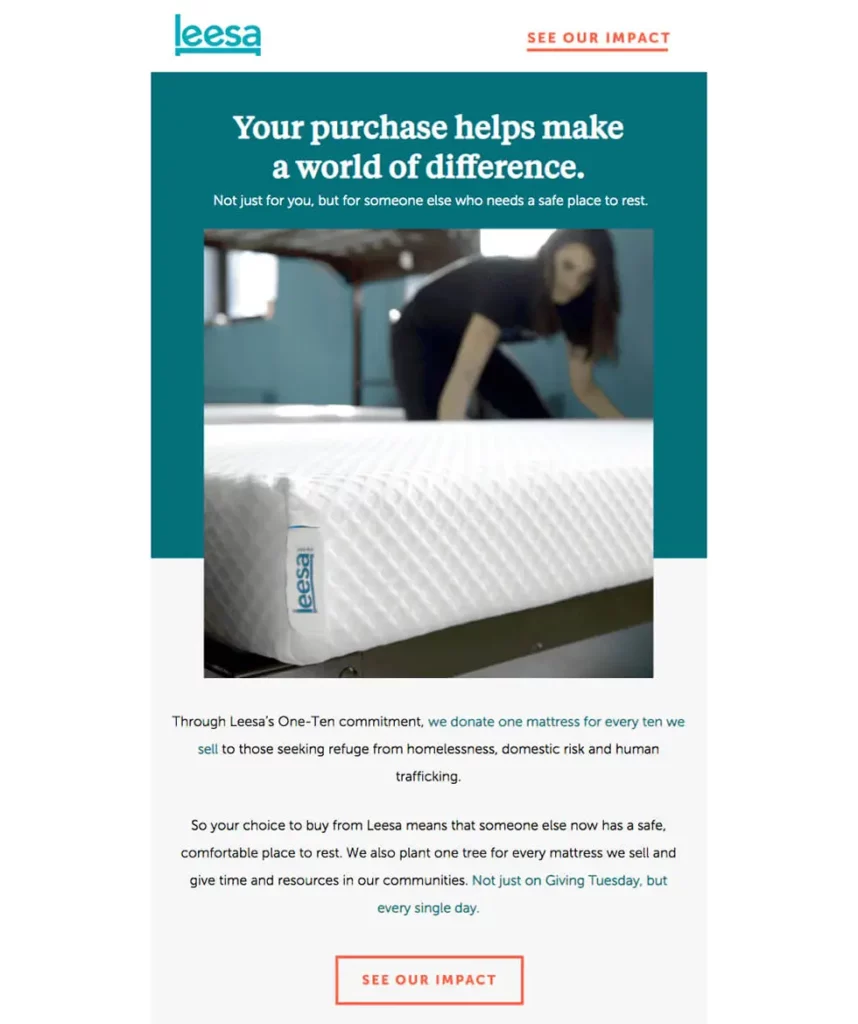 Black Friday marketing: A 2020 Special
Despite economic restrictions, consumer spending habits indicate a willingness to indulge in this peak season. Based on the findings of Yieldify's 2020 Peak Season report, 34% said they will be increasing their spending year-on-year. What's more, most of that spending is going to be happening online.
The latter findings aren't particularly staggering – a recent report by Adobe sees Black Friday transactions growing 23% year on year with a 1.7% decrease in retail store footfall across the US, and a whopping 5% in the UK.
What is surprising, however, is the number of eCommerce businesses that are opting out of 2020 Black Friday marketing activities completely. Even household names like Walmart and Macy's are prioritizing the protection of their customers and staff by closing their doors across the Thanksgiving weekend.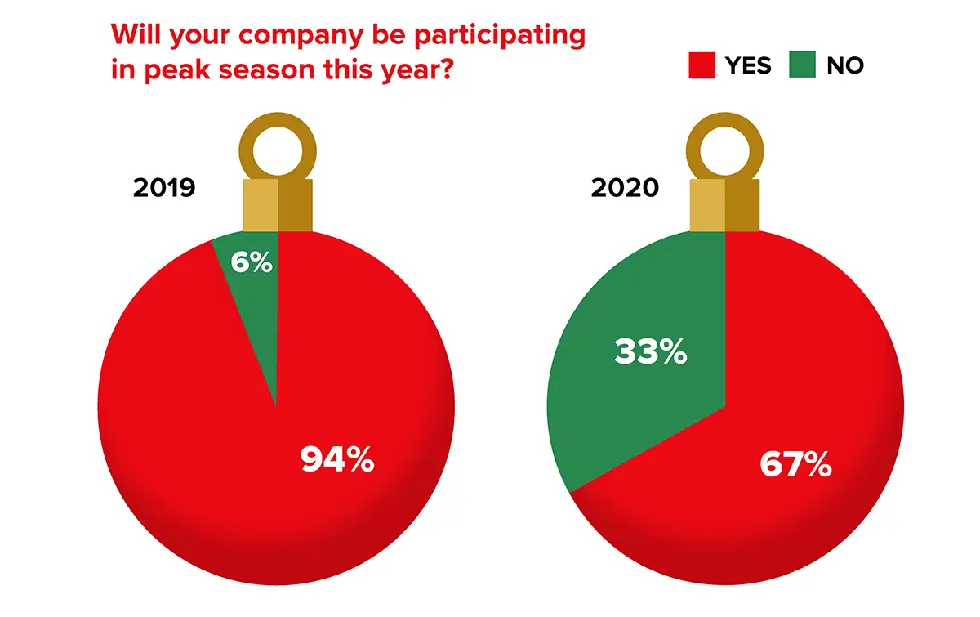 Choosing to pull back from the biggest shopping event in the online sales calendar, especially with the rise in consumer demand, seems confusing at first. But on closer inspection, the reasons for doing so become clear and justifiable.
One of the key concerns facing retailers this peak season was the ability to meet consumer demand, recalling challenges with fulfillment services, and supply chain management. Some brands have taken it upon themselves to find creative solutions to this.
Sustainable fashion retailer Alohas started running its "It's Over, Black Friday" campaign that encourages consumers to buy on-demand instead of holding off all their purchases till the last day: "We would like to cordially invite you to say NO MORE to Black Friday and buy on-demand instead. This year, shop whenever works for you, at transparent prices, from the comfort of your home, via sustainable on-demand shopping. Start any day and quit waiting for Friday."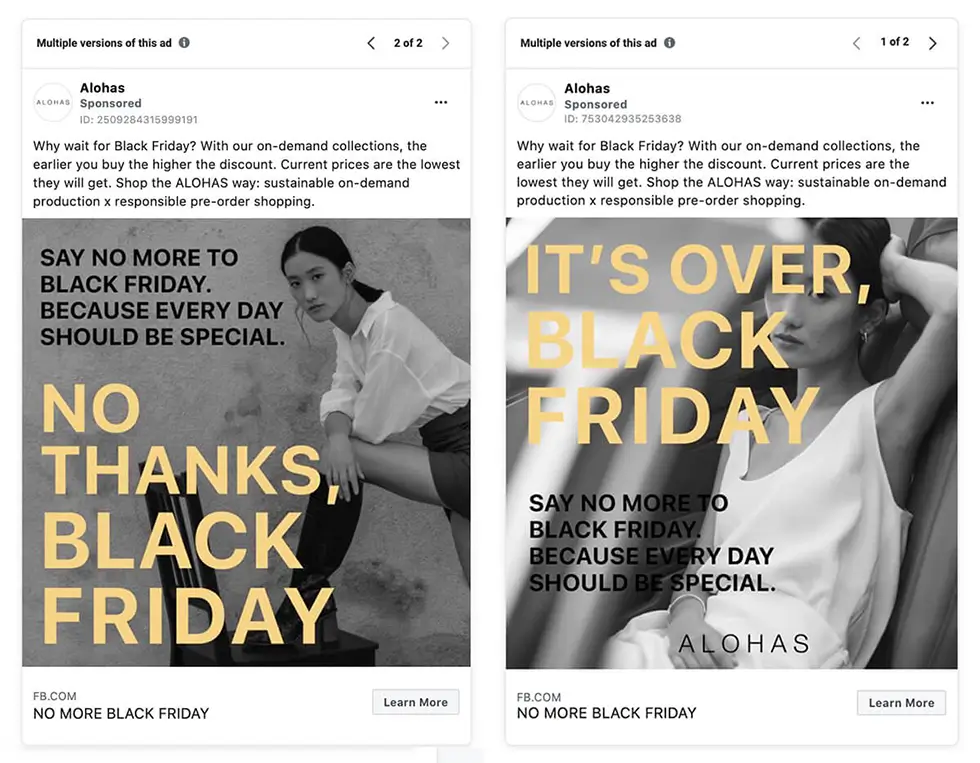 The events of the COVID-19 pandemic, coupled with online shopping continuing to take precedence over brick and mortar stores may be responsible for altering the face of Black Friday to a purely digital event. With online sales rising, footfall dropping, and consumers increasingly aware of their safety, eCommerce stores are best placed to optimize stores and potentially see revenue increases like never before.
Opportunities like the starting sales promotions ahead of time, optimizing sales channels with targeted advertising campaigns, and promoting discounts that last longer than a singular weekend could potentially expose brands to larger audiences and offer chances for new and repeated custom.
Want to win this Black Friday?
Get ahead of the competition by optimizing your website to convert all of that Black Friday traffic! Our team has investigated the most popular BFCM campaigns of last year and put together an exclusive Black Friday marketing strategy – get in touch to learn more about it!