BLOG
Coronavirus and Online Retail: 5 Best Practices Marketers Can Use Right Now
Published: Mar 25, 2020
What does coronavirus mean for online retail and its marketing? Here's our advice on how to act now.
Coronavirus has prompted a global domino effect, affecting all industry verticals in one way or another. The measures taken to contain the virus spread have already had a crushing impact on the travel industry in particular, which in return has plummeted the demand for oil and gas, thus crippling the energy sector… You get the idea.
Retail is no exception.
Based on a continuously updated list by CNBC, more than 60 major retailers have already closed all their stores nationwide (that's approx. 49,200 locations). This is not even taking into account the small and medium-sized retailers, or even businesses outside the US. In the UK, all "non-essential" shops (read: clothing, books, electronics, etc.) have been forced to shut as of March 23rd.
Not being able to operate their brick and mortar locations, suffering from decreased foot traffic, disrupted supply chains and trying to cover for lost wages mean only one thing: a hard hit to the companies' bottom line. A survey by DigitalCommerce360 found that at least 47% of retailers expect some downside revenue implications.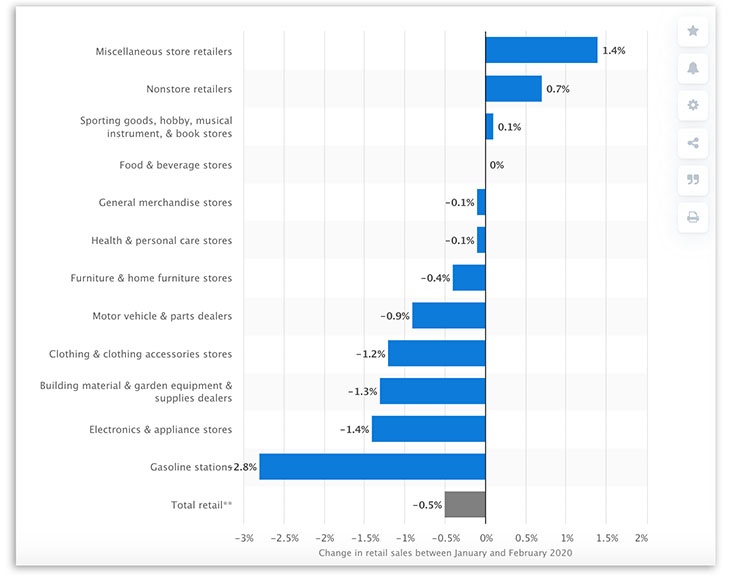 A knight in shining armor, or is it?
While traditional retail is coming to grips with the impact of coronavirus, the spotlight has been naturally cast on e-commerce. The expectations aren't totally unreasonable. As more consumers stay home due to forced lockdowns, it only makes sense they will shift more and more purchases online.
However, interestingly, several consumer behavior research studies show that spending more time at home does not immediately translate to shopping online. Not yet, at least.
A global survey of 10,000 adults conducted on March 12-14 found no impact on online food and grocery sales. Statista's data shows that as of March 15, 2020, over 40% of respondents in the United States stated that their frequency of e-commerce shopping had not changed at all." Finally, a GlobalWebIndex study confirms that only 20% of people in all age groups said they bought more items online due to coronavirus.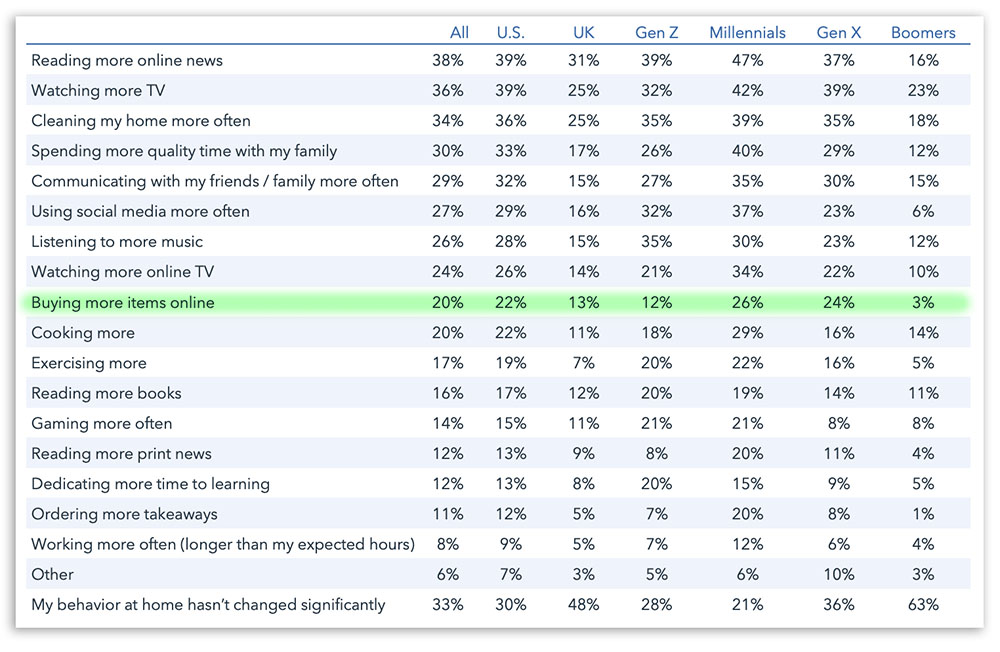 Another thing to note before singing Hail Marys to e-commerce is that online retail has its own inexhaustible list of coronavirus-induced challenges, such as:
Issues with stock and supply chain;
Transport route disruptions and delivery delays;
Contamination concerns;
Amazon capitalizing on market share;
Difficulty forecasting sales volumes;
Digital and mobile readiness as a whole.
The most recent example comes from US-based e-commerce retailers. According to Glossy, "several fashion companies have halted operations entirely" due to distribution and fulfillment center closures.
Examples of retail chains that have shut their online retail stores are Reformation, The Frankie Shop, Marysia, TJ Maxx, Marshalls, HomeGoods. Others, like Victoria's Secret, Pink, Tucker, have otherwise been affected by international restrictions.
What's a brand to do? 5 tips for online retail marketers
The caveat with this – and every other article on coronavirus for that matter – is that the situation changes every second of every minute of every day. Research done last week can have zero validity tomorrow because of new regulations, market shifts, crazy acts of God or who knows what.
Nonetheless, for now, it seems that online retail certainly has the upper hand when it comes to coronavirus. Forbes' Shelley E. Kohan suggests that consumers who turn to online shopping based on specific circumstances or events – holiday shopping, for example – are more likely to continue to use this behavior going forward. Thus creating a long-lasting impact that will extend past the current crisis.
This means that strengthening your online retail operations right now can only have a positive impact in the future.
Let's look at some of the ways you can achieve that.
1. Adjust your messaging
Depending on your category, you may see a larger or a smaller increase in sales. According to S. Kohan, "categories more prone to increase during times of physical retraction of a population are health and beauty, grocery, and consumer product goods." In other words, consumers will stock up on the essentials, pushing "nice to have" luxury products aside.
Dan Barker has run some interesting Google Trends reports to find that furniture, home and garden stores have seen an increase in traffic, whereas fashion sites – especially the ones known for "going out" attire – have predictably suffered a decline.
As a fashion brand, knowing that the majority of your customers have worn the same sweatpants and t-shirt combo for the past seven days, you might want to adjust your messaging to make your brand relevant.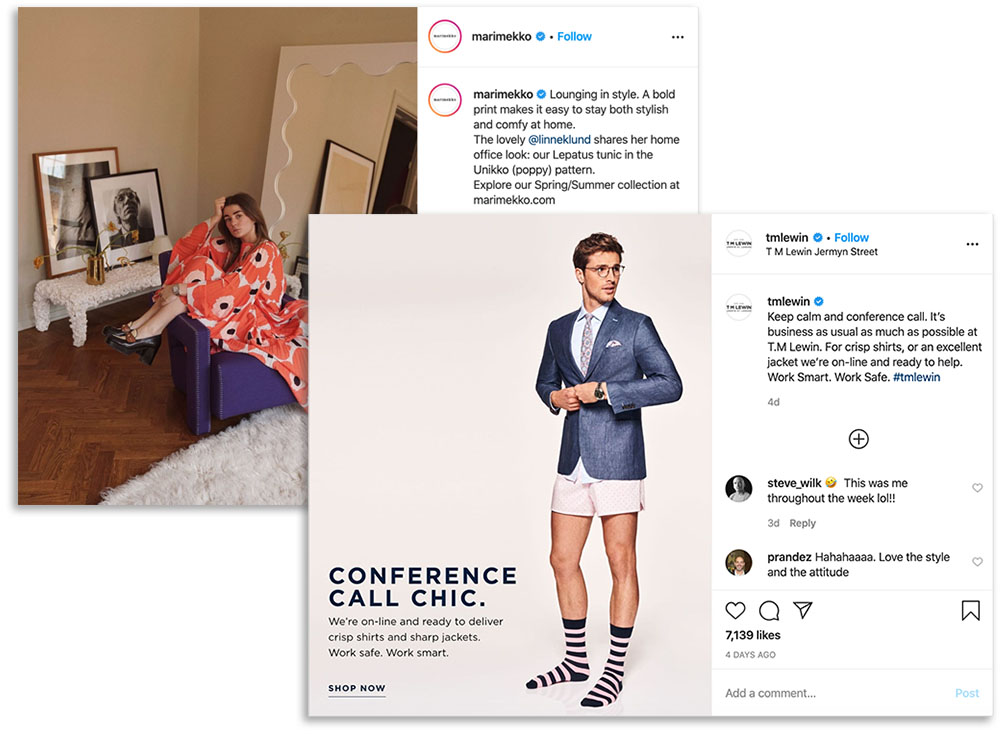 2. Show that you're in the know
DigitalCommerce360 data shows that 75% of retailers in the Top 100 have a coronavirus-related message on their website. These come in various formats – starting from lowkey in-page banners at the top or the bottom of the page to full-page statements (see Restoration Hardware).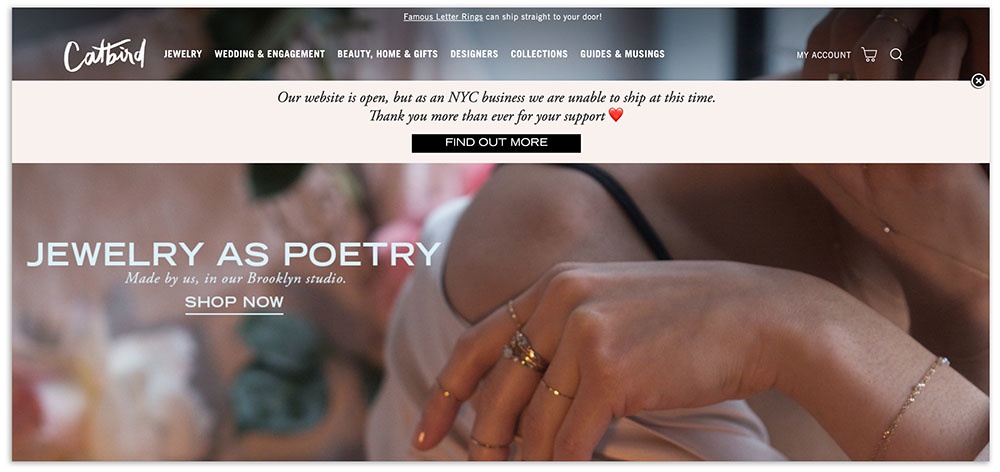 This type of messaging is non-intrusive (which has been flagged as a problem with commercial emails) and gives you the chance to share your policies, recommendations, and any other relevant information around COVID-19.
3. Adapt delivery and return processes
One of the most important lines of communication for an e-commerce retailer in a time of crisis is around delivery and returns. Failure to inform and meet customer expectations can have catastrophic effects, and can result in a long-term loss of brand loyalty.
Through the Coronavirus crisis, several trends have emerged, one of them being "contactless" deliveries in which delivery workers leave packages at the door. Curbside pickup has also been adopted by many food and grocery retailers, as well as retailers like Dick's Sporting Goods, Michael's and many others.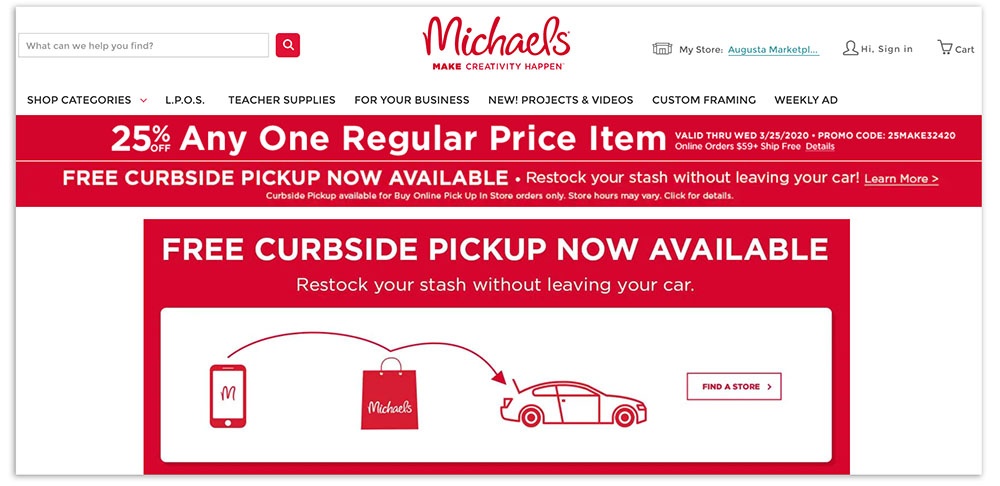 As many as 19% of the Top 100 retailers have also extended returns and exchanges period with an uptick in free delivery options, all in a bid to appeal to consumers and keep the cash flowing.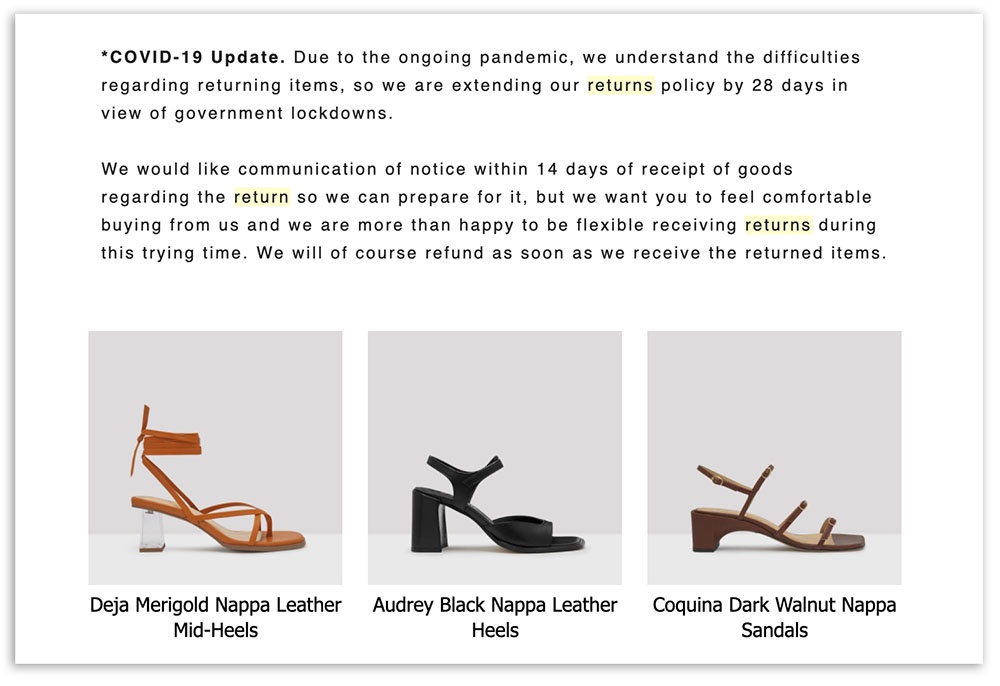 4. Help customers get a feel for your product
If there was ever a time to make sure your product looks irresistibly good online, that time is now. Without the ability to see, touch, feel or even measure your product in real life, consumers will expect to discern that information from your product photos.
Product dimensions and size charts will be absolutely crucial to online furniture, interior decor and fashion stores. When it comes to the FMCG sector, The University of Cambridge has developed Mobile Ready Hero Image Guidelines to help online retailers accurately represent physical products in online shopping environments, especially on mobile devices.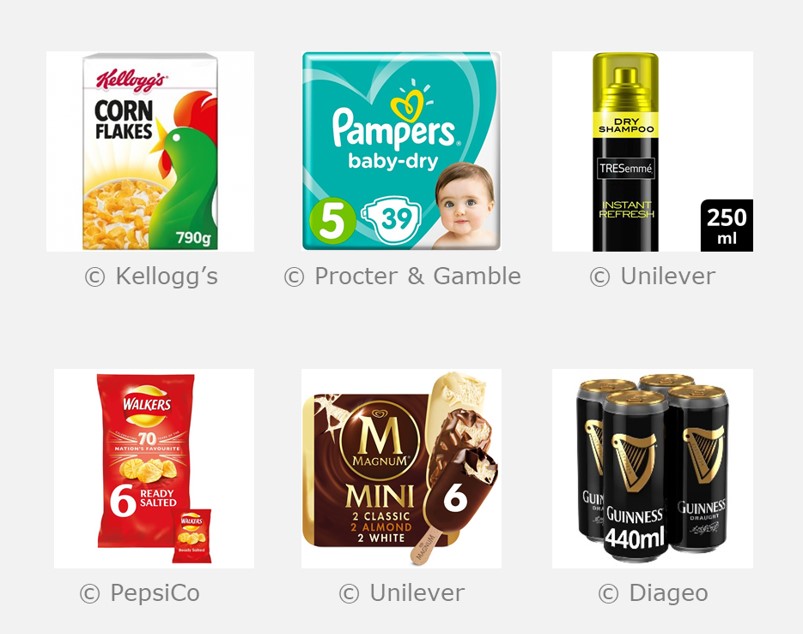 But don't forget to include lifestyle images as well. Here's a good example from LARQ, a self-cleaning water bottle brand. Their website is a comprehensive mix of product specs, visualizations, product photos and inspiring lifestyle shots.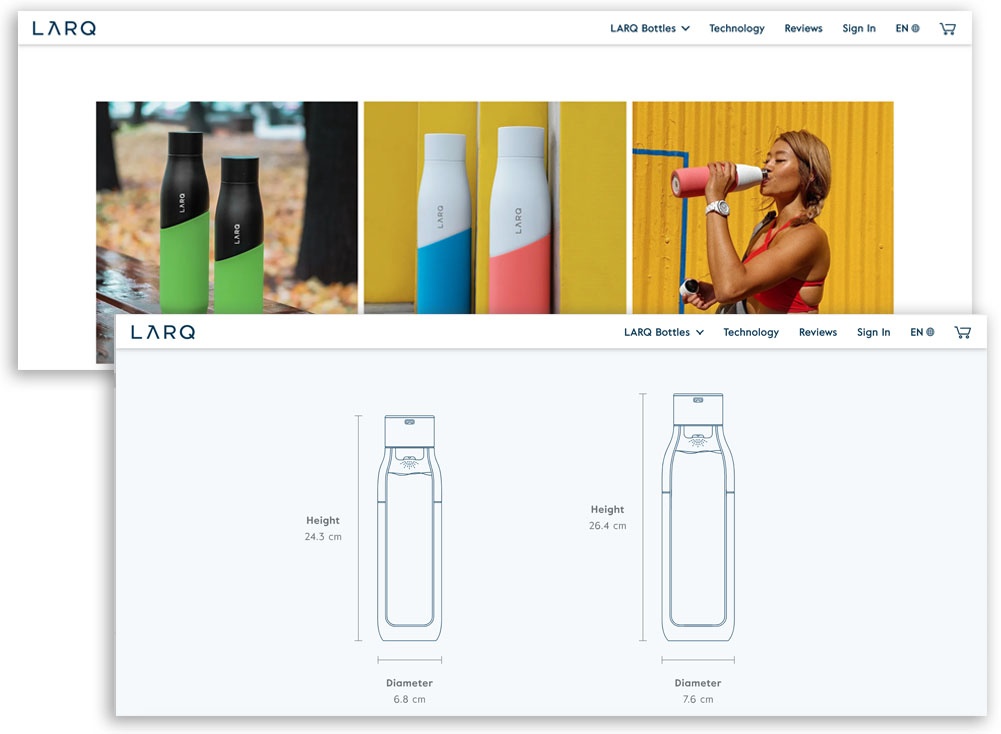 5. Offer face-to-face interactions online
Praised as the introvert's sweet dream, coronavirus-induced quarantine and physical distancing aren't playing out that well for many of us. Mental health professionals are widely discussing the rise in stress levels, anxiety and loneliness with recommendations to stay socially active as much as conditions allow.
Consider this opportunity as a chance to not only increase conversions, but also humanize your brand and maybe help someone in need of human contact. Take a page from Burrow's playbook.
With its physical showrooms closed, this D-to-C furniture brand decided to offer 15-30 minute virtual appointments with its store specialists to go over any design or product questions customers might have.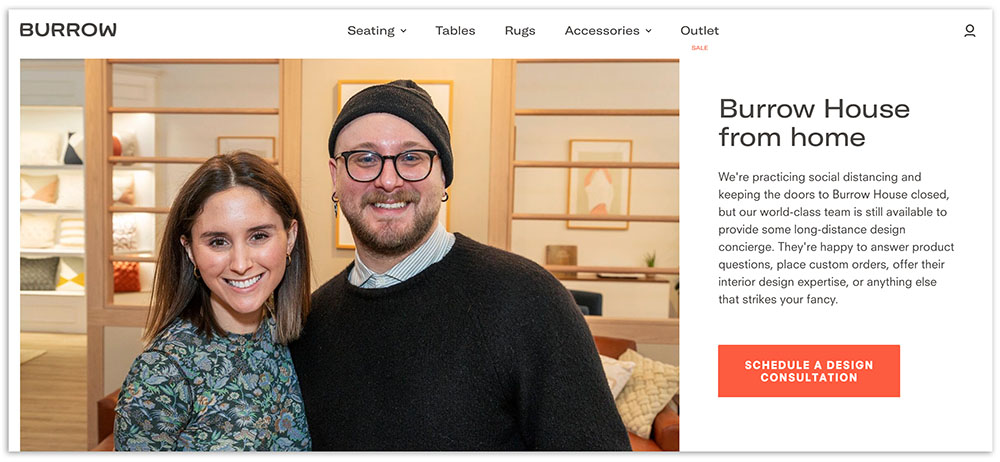 Closing thoughts
Staying static ultimately won't help you win in the retail fight against coronavirus, and it's those that can be reactive to the changing business environment, adapting quickly, that will yield the best results/rewards.
While deemed a crisis, it's clear that there are indeed opportunities for e-commerce retailers to minimize the risk of losses seen by those in traditional retail, some even making gains. If you make the right business moves now, with your customers at the heart of your strategy, you might just reap long-lasting benefits when the storm comes to close.
Online Retail FAQs
? How is coronavirus impacting the online retail industry?
The impact of coronavirus is different across industries. Some have seen tremendous and instant growth due to lockdown restrictions, others have seen sales fall to very low levels. For example, Amazon has seen a huge 40% year-on-year growth in net sales. Whereas Travel related websites would be affected in a much more negative way,
?️ How can online retailers adapt to coronavirus?
We detail 5 ways that online retailers can adapt, these include:
1) Adjust your messaging
2) Address the issue
3) Adapt delivery and return processes
4) Help customers get a feel for your product
5) Offer face-to-face interactions online