BLOG
Coronavirus and Online Travel Booking: 3 Facts Travel Marketers Should Know
Published: Mar 25, 2020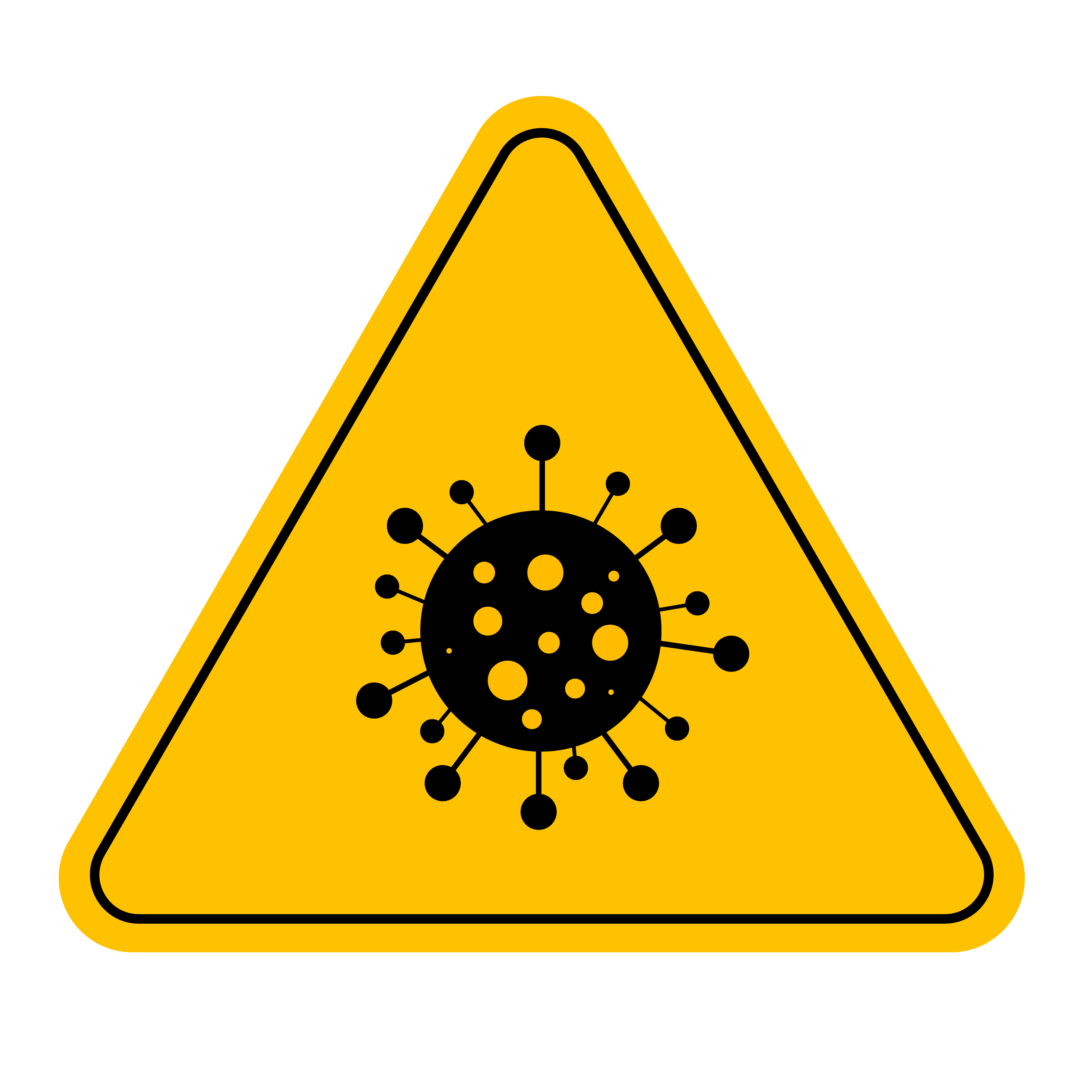 Discover the data on how coronavirus is impacting online travel bookings.
The coronavirus outbreak has already had a measurable impact on many industries, including online retail, tourism and travel. Two weeks ago, we took a closer look at the latter trying to discern the impact coronavirus has had on the online travel industry. Since then we've seen over 1,000 airport workers laid off, and that's in the New York City area alone.
In this time of daily change, we've gone back to the data.
We've analyzed hundreds of online travel booking websites, looking closely at their traffic figures, their sales numbers and the paths that visitors have been exploring. This time, our analysis has focused on looking for the key turning points to date. Then we looked at what this means for travel industry professionals bracing for the future. Here's what we found…
3 key facts on coronavirus and online travel booking
1. The tipping point came with Italy's shutdown
On March 9th, Italian Prime Minister Giuseppe Conte imposed a national quarantine, describing the outbreak as the nation's 'darkest hour'. At the time of writing, these restrictions still remain in place.
While similar restrictions have since appeared in multiple countries in Europe, at the time this was an unprecedented move for a European government. The shockwave that this sent through consumers was immediately visible in what then happened to the travel industry as a result.
For websites selling holidays, we saw that both sales and visitor numbers had been volatile since the outbreak gained traction. However, the news in Italy was a tipping point. It was at this moment that even the idea of booking 'staycations' – a popular option that saw a peak during the earlier days of the outbreak, was hit by the worry that even movement in-country might be ruled out. From this point on, sales dropped dramatically: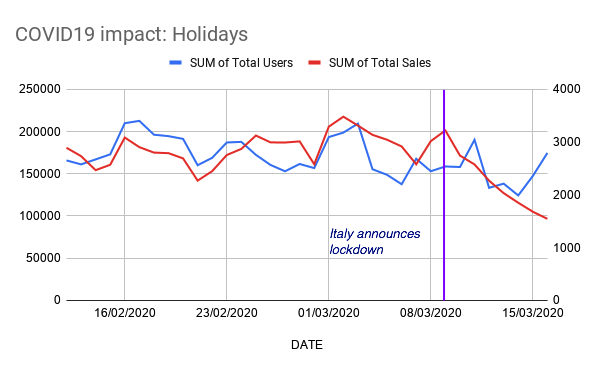 Similar can be said for transport. This category includes domestic travel such as buses and trains, but was far less impacted in terms of sales up until this point. However, once Italy locked down we can see the number of sales drop drastically: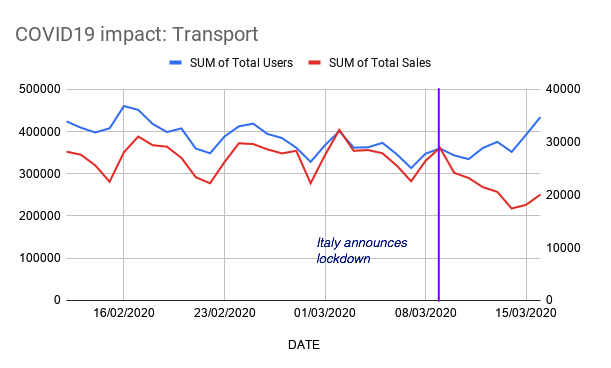 Interestingly, we saw the number of users landing on these websites rise – one theory is that these users were looking for information about what services would be running or cancellation policies. This is seemingly confirmed by the levels of traffic visiting coronavirus-related URLs on these Transport websites: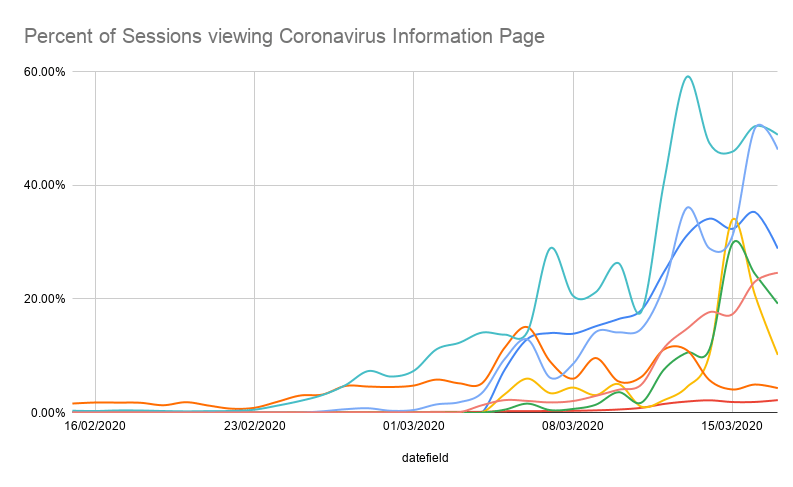 So what can we learn from this as travel marketers?
Our broadest conclusion is that the unexpected causes the biggest impact – Italy's decision was relatively unprecedented, therefore creating an extreme consumer reaction. However, the more expected the change, the flatter the curve of impact (to borrow an overused term).
2. Leisure and Tourism suffered an 80% drop in sales
Possibly the worst-hit sub-vertical within the travel industry has been leisure and tourism. In the last month, this industry has seen an 80% drop in the average number of online sales made each day. This has also come with a 63% drop in the average number of visitors per day: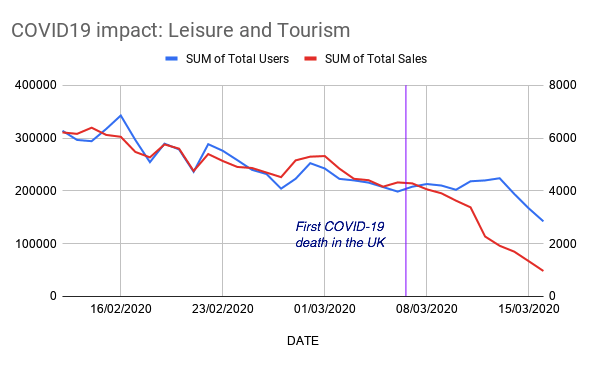 Upon inspection, the tipping point for this date interestingly aligns with the date of the UK's first death as a result of COVID-19. This came a few days before Italy's lockdown and caused a drop in interest in transport and holidays. This indicates that the hesitance for leisure activities set in a while before any concerns about simply moving from A to B.
The learning for travel marketers here is about how this kind of trend may apply to recovery. With the logic that we've seen so far, we can expect transport to pick up first. Additionally, business travel will recover quicker than leisure travel. Keep this in mind for when you re-accelerate your acquisition campaigns when the coast is clear.
3. Traffic isn't the challenge: conversion is
In these circumstances, it's normal to expect that the traffic to travel industry websites would drop sharply. That's not necessarily the case.
Below we take a look at the change in traffic levels across our three key travel sub-verticals: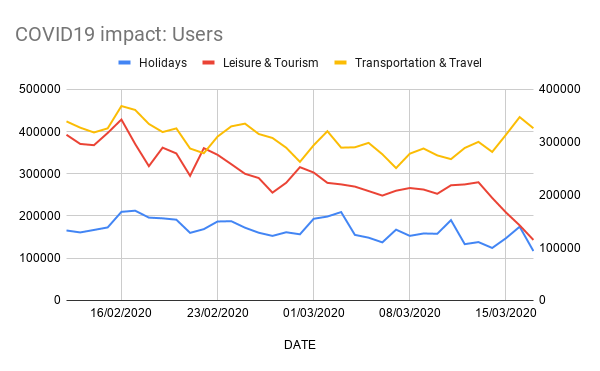 What's clear is that – as discussed – Leisure and Tourism sites have definitely taken a hit to their traffic. However, this isn't the case for transport or for holidays: their traffic levels have remained relatively steady.
Contrast this with the picture when it comes to sales: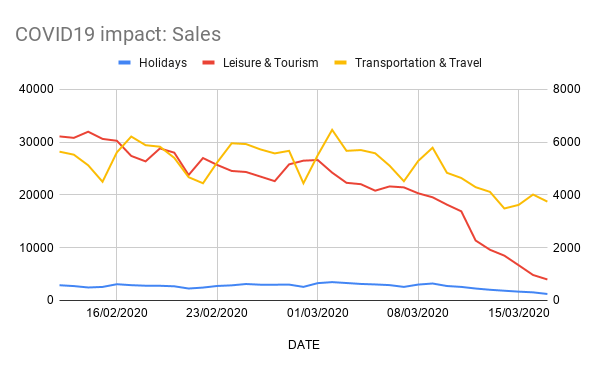 The story here is very different – all three of our sub-verticals have seen a downward trend (some more recently than others). In this position, marketers need to focus on making quick changes to their websites in order to assuage concerns and encourage bookings.
Take a tip from Student Universe, who have posted a lengthy FAQ page about coronavirus, clearly linked to from their homepage: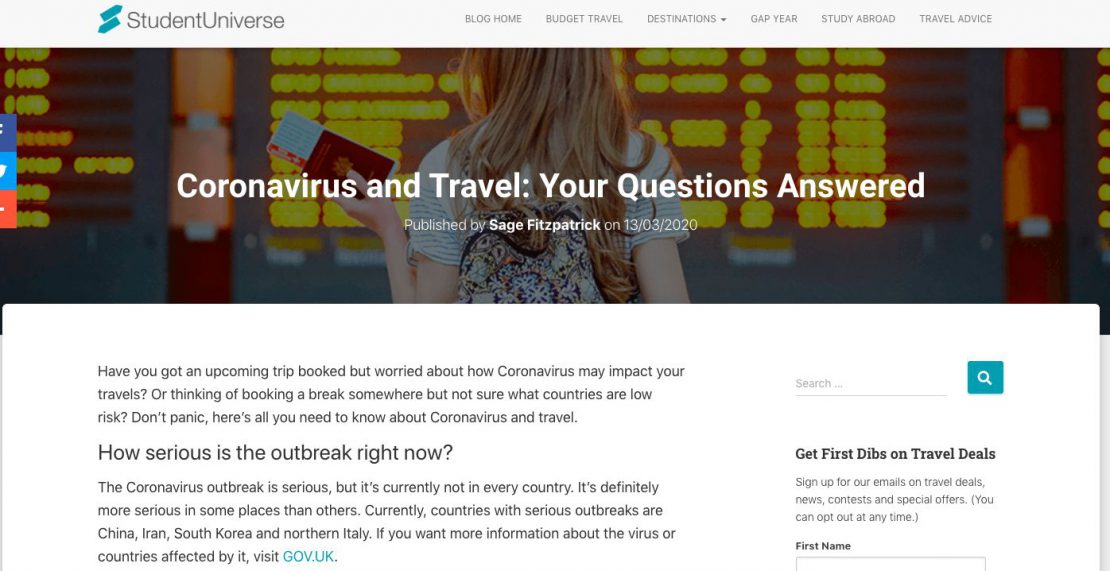 The onsite experience has never been more critical to the success or failure of your marketing efforts. This means that now is when you should invest time and effort into getting it right.
Appendix: The timeline so far
While the rolling news cycle means that we've seen dozens of updates on the development of the pandemic, we looked to identify some of the critical dates for the travel industry. Take a look at the turning points below and see if you can find a correlation in your own online travel booking data:
31st Jan: UK confirms its first case
11th Feb: WHO gives name to new coronavirus disease
29th Feb: US reports first coronavirus death
6th March: UK reports first coronavirus death
9th March: Italian PM imposes country-wide lockdown
11th March: US restricts travel from Europe
11th March: WHO declares coronavirus pandemic
17th March: EU closes external borders for 30 days