BLOG
Coronavirus and the Travel Industry: 8 Tips for Marketers
Published: Mar 9, 2020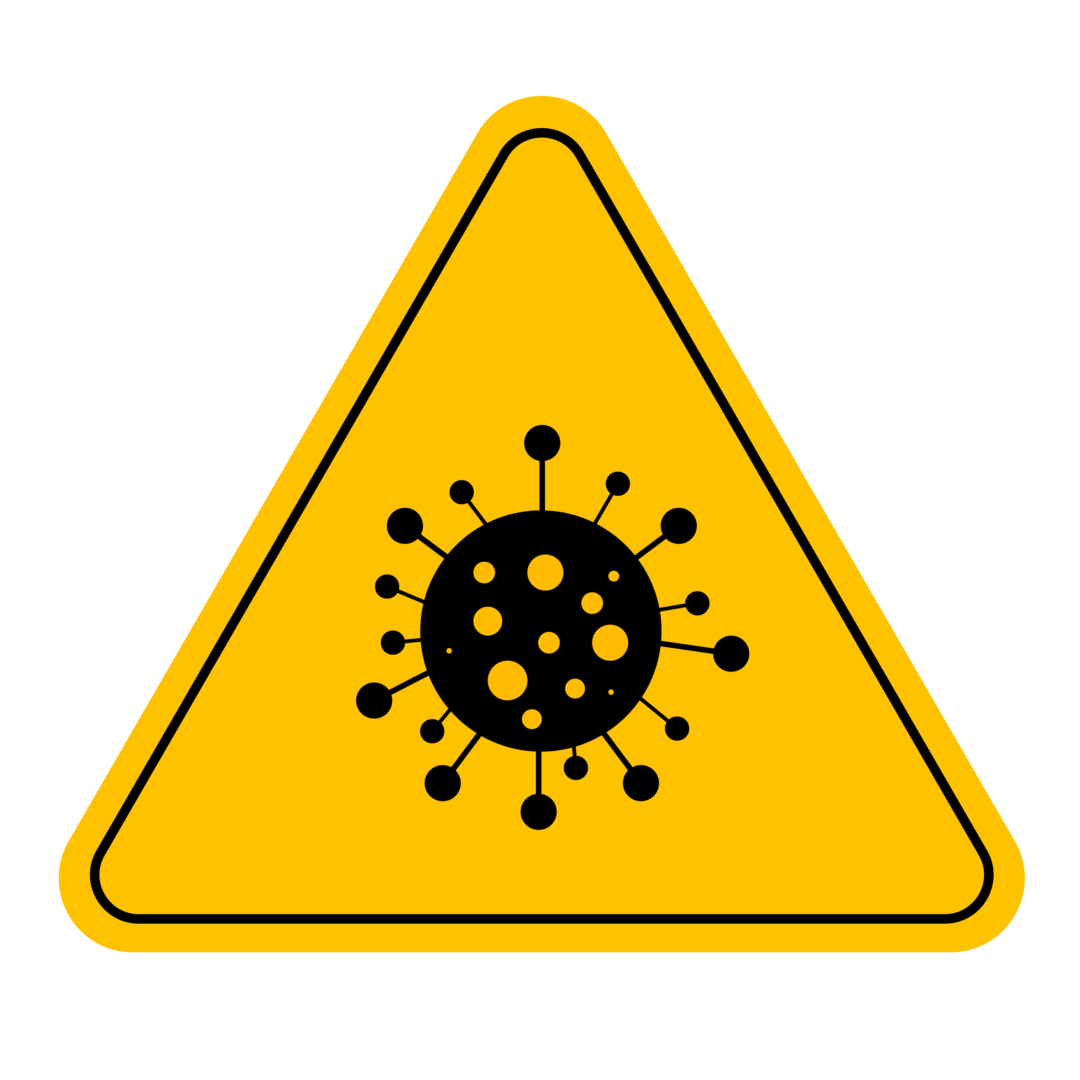 What does coronavirus mean for the travel industry and its marketing? Here's our advice on what do to next…
As COVID-19 (coronavirus) spreads throughout more countries, the travel industry has been at the sharp end of the impact. As of early March, the IATA has forecast that the aviation industry's global losses could be between $63 billion and $113 billion. With Flybe becoming the first corporate casualty, the picture looks intimidating.
Working with hundreds of travel brands across the world, we're seeing strategies unfold minute-by-minute as the situation changes. There are decisions to be made at every level, but what about marketing in particular?
Here's what Mark Murray, Yieldify's Head of Travel, recommends for travel marketers to cope with the crisis. Plus, importantly, what the travel industry can do to be positioned for a good recovery when the time comes…
How to cope with the coronavirus hitting the travel industry
1. Take control of the conversation at every touchpoint
If there's one point to be clear on, it's this: every consumer engaging with you is thinking about coronavirus. This means there's no benefit in trying to avoid the elephant in the room. It's critical that you're proactive in your messaging, getting on the front foot to assuage concerns wherever you can.
Take a cue from Topdeck Travel. We've added a notification on their website to proactively inform their visitors about their policies in light of the outbreak:

Being proactive is important, and being consistent is equally so. Don't bury a message in an email and consider it done. Make sure that you're reassuring customers across every touchpoint, including your website.
2. Don't assume the worst for the travel industry
Our data indicates that the impact of COVID-19 varies hugely depending on different businesses within the travel industry.
For example, we've actually seen conversion rates on holiday booking websites grow with the impact of coronavirus. This could be due to many consumers pivoting from international travel to more domestic 'staycations':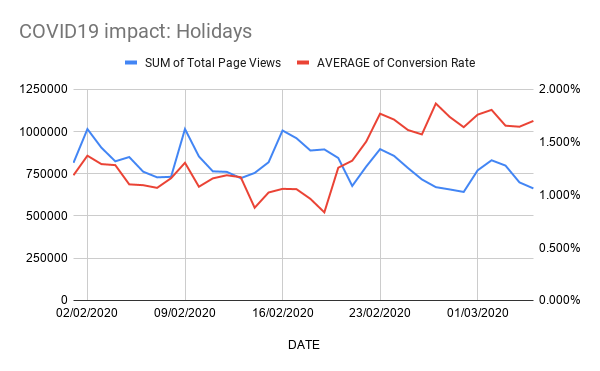 If you're in the staycation business, it'll pay to double-down on this message for those travelers who have recently had to cancel or postpone international travel.
The picture for transportation (buses and trains) has been similarly mild. Engagement remains steady, along with conversion rates. Again, it indicates that domestic travel remains steady for the time being: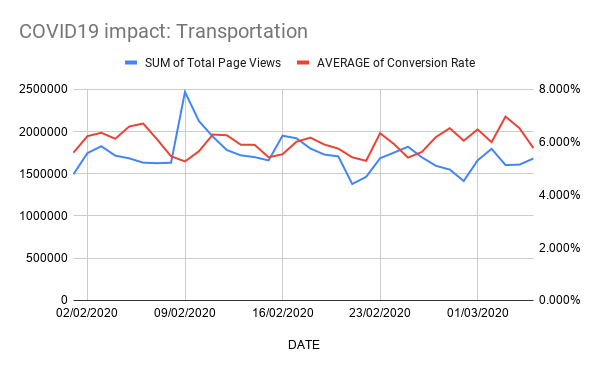 Unfortunately, we're unable to say the same for leisure and attractions. Both traffic levels and conversion rates have plummeted: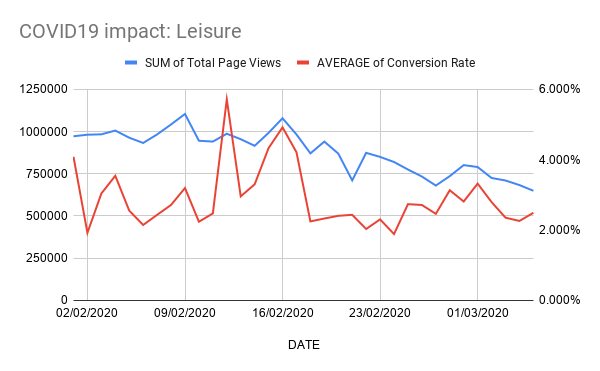 Seemingly indicating that consumer behavior has immediately moved away from the short-term booking of activities that involve crowds, this is one segment of travel that needs to be the most on its toes.
3. Move your focus from acquisition to conversion
Whether you've already been hard-hit or simply preparing for a worst-case scenario, one of the most important things you can do now is to pivot your focus from acquisition strategies to conversion strategies.
Fluctuating traffic levels within the travel industry are inevitable at this juncture – there's no amount of budget that can secure interest that's simply not there. In fact, going overboard with promotional activity and fire-sale-like behavior could negatively impact your brand equity for when the current crisis passes.
All this means that the traffic you succeed in acquiring now is all the more important – work on making sure that it converts.
Working on your conversion rate isn't just a short-term concern – it's critical to ensure that you have the quickest-possible recovery once the crisis passes. If you focus on your conversion rate now, you'll be on a much stronger base when traffic starts coming back, enabling your overall revenue to be higher: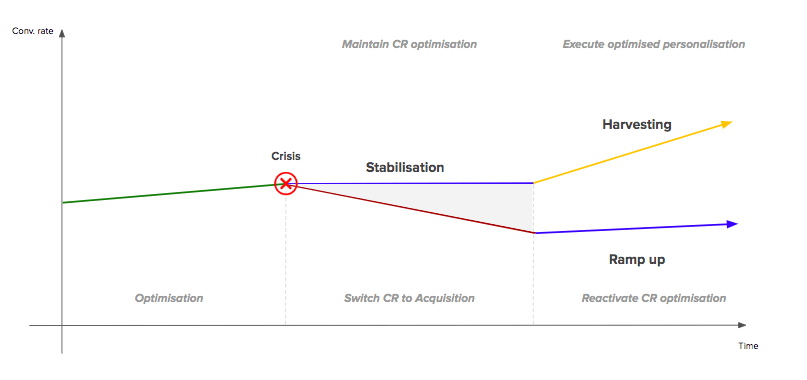 4. Re-evaluate your channels
At this point, your channels won't be doing their normal job. In this time where 'business as usual' has gone out of the window, you need to rethink what those channels can be doing instead.
Now is the time to invest additional energy into your brand positioning and messaging. Aim to solidify relationships, rather than attempt to generate bookings that simply won't be happening for a little while.
For example, if social media is normally a major acquisition channel that's suddenly dried up, how can you use it to deliver value-add content instead? Now's the time to really double-down on your brand and building recognition. This means that when traffic starts coming back, it's in a much better place to book quickly.
5. Be proactive with policies to assuage doubt
For many travel companies, you'll have seen spikes in queries from both existing customers and potential customers asking about what should happen if coronavirus impacts their travel plans. This data below shows how the number of sessions on coronavirus-related pages on travel industry websites has grown rapidly in the last week: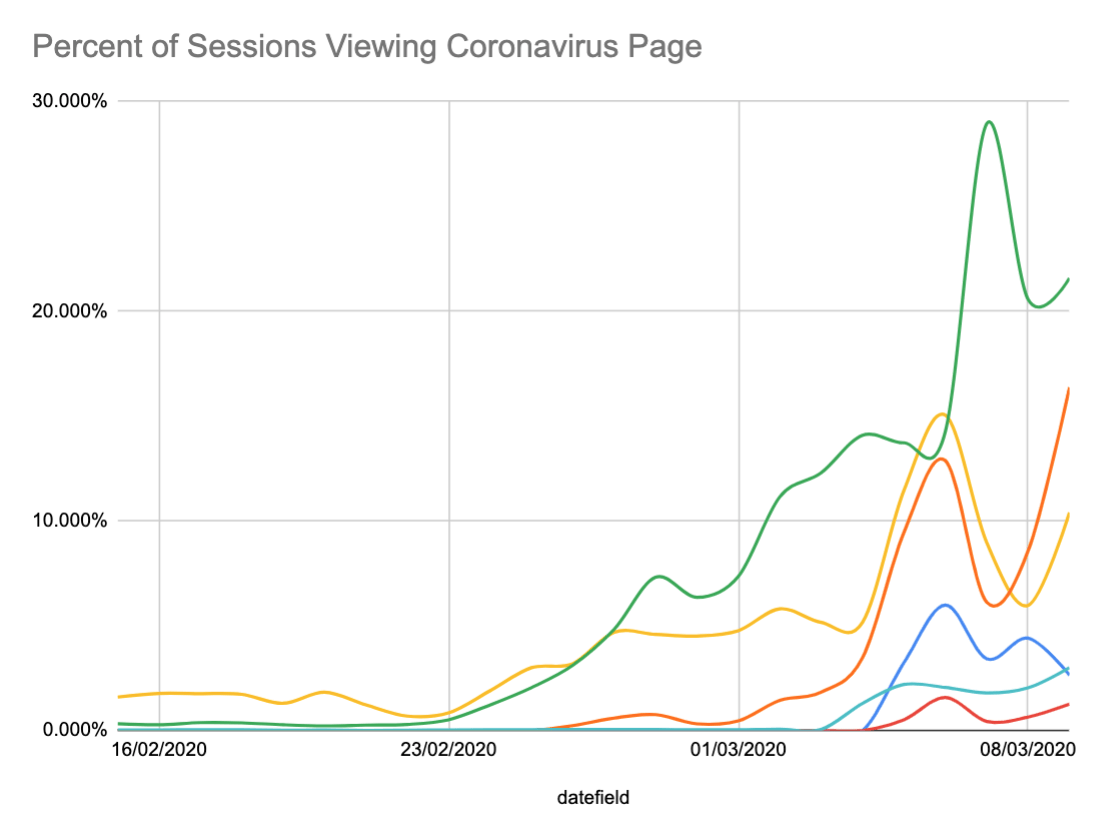 Now's the time to shout loud about the meaningful action you're taking to protect your customers. Take the approach of proactively showing your customers that you've got policies in place in order to earn trust. Here's an example from JetBlue: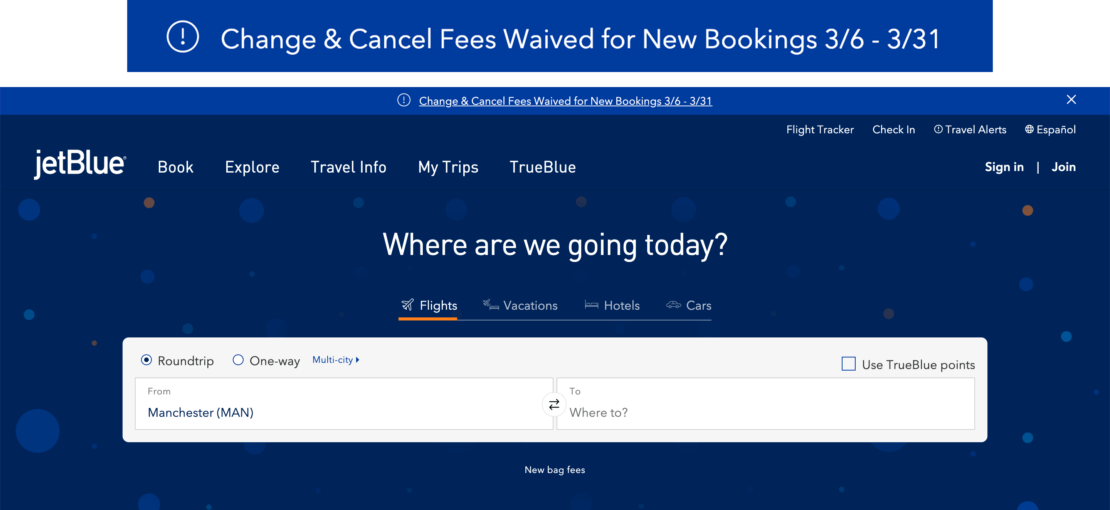 This approach doesn't just apply to your policies regarding cancellations or flexibility – surface your health and safety credentials in order to reassure customers that you're taking clear action in their interest.
6. Take stock and be ready to act quickly
The constant change to travel advice and restrictions means that you may need to change your existing marketing campaigns quickly. Marketing destinations that have become no-go areas is at best a waste of money and at worst could be perceived as distasteful.
Thoroughly audit the campaigns that you have scheduled and the targets they're aiming at. Be ready to take action fast if needs be, and stay on top of activity within the wider travel industry.
7. Re-segment and re-forecast
Crisis mode is all about prioritization. During a time when your new customer acquisition is likely to take a hit, consider what kind of audience your time is best spent engaging. Now's a good time to step back and re-segment your customer base. This will give a clearer picture of where your advocates are and where your vulnerabilities might lie.
Try to do this exercise early on so that you can engage your advocates before the recovery comes. Then, continue to work on your less-engaged customer base so that your brand shines through. You should also review the kind of engagement you have with customers who have existing bookings. Question whether the volume and message are enough to sustain confidence.
It also goes without saying that reviewing your forecasts sooner rather than later will help manage expectations for the rest of the business.
8. Be ready for the travel industry recovery
Use the time you have now to ensure that your 'all clear' message and strategy is ready far in advance of when you'll need it.
It might be tomorrow, it might be in two months' time – it might be longer. Know that that recovery will be hard enough in itself – don't make it any more difficult by having to scramble to show that you're back in business.
---
Read Part II here: Coronavirus and Online Travel Booking: 3 Facts Travel Marketers Should Know