BLOG
The Complete Guide to Onsite Remarketing
Published: Nov 8, 2018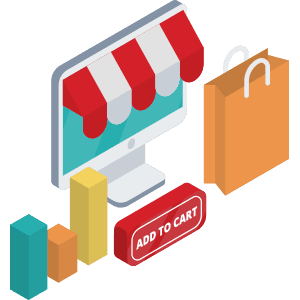 Onsite remarketing is much more than pop-ups. This guide unpacks what it can do for eCommerce conversion rate optimization and more.
The concept of onsite remarketing is not necessarily a new one, but it's often misunderstood.
In this guide, we'll unpack what it is and how to apply it to your marketing activity. At Yieldify, we've been doing onsite remarketing for 5 years and created over 200,000 campaigns – so we hope that you'll be able to take our learnings with you!
What is Onsite Remarketing?
If 'offsite' remarketing is like waiting for someone to leave your store before trying to entice them back, onsite remarketing is roughly the equivalent of having a helpful sales associate engage them while they're still in-store.
Also known as behavioral targeting, onsite remarketing involves creating a data-driven strategy to engage visitors while they're on your website.
While many people consider onsite remarketing as consisting solely of exit intent pop-ups and lightboxes, the truth is that a strong onsite remarketing strategy is much more. It draws heavily on the principles of behavioral psychology in order to deliver an effective, agile way to engage your visitors that static UX simply can't achieve.
By relying on a data-driven strategy designed to produce specific outcomes, it can have a major impact on your site's performance while remaining unintrusive for your visitors. So how does it work?
How to put together an onsite remarketing campaign?
Before you start
The danger in onsite remarketing is to think that you put a pop-up on your site and then wait for the conversions to roll in. In reality, onsite remarketing is all about personalizing the customer journey – you're creating experiences that adapt and shift to the individual user's behavior.
To do that effectively, you need a strong strategy that's grounded in analytics. Start with a clear goal (you'll discover more about these later on in this article). Then, get a clear idea of what your customer journey looks like and start to put together your campaigns with an eye to the overall journey.
Then you can get started on building those campaigns. The first thing to understand about onsite remarketing is how it's put together – each campaign has 4 simple components:
1. Who to target
This is arguably the most important part of the campaign: deciding who you'll show it to. Target too broadly and you run the risk of showing irrelevant content, target too narrowly and you'll take a long time to reach a significant result.
You'll want to create a segment out of a number of carefully-chosen attributes. In this example below, we've used the Yieldify Conversion Platform to create a target segment of returning users on desktop or tablet devices who are currently on the checkout page with more than £40 in their cart: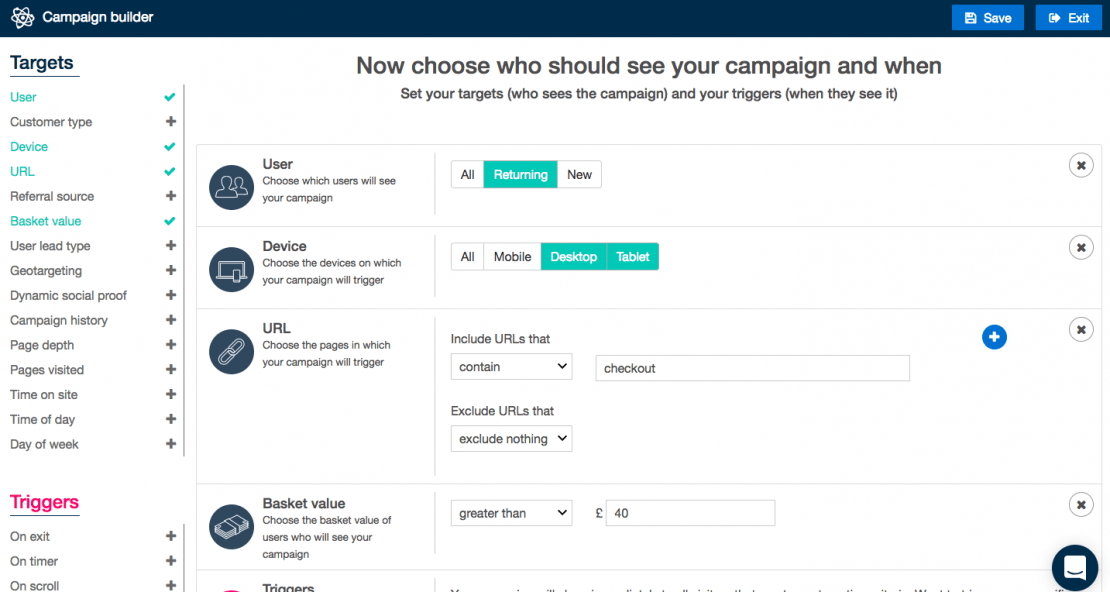 The options on the left-hand side of the image show that there are numerous other options from which to create a target segment, ranging from location to time of day.
2. When to trigger
Once you've decided who you want to show your campaign to, you need to decide what behavior they'll need to exhibit in order for the campaign to trigger. Simply put, if targeting is deciding 'who', triggering is deciding 'when'.
The most common options are exit-intent, timer or scroll trigger. Used well, you'll be engaging your target user at the perfect moment to elicit a lead or a conversion.
3. What to show
Once you've decided on the right person and the right time, it's time to choose the right content.
Starting with static content, you can offer discounts, highlight promotions or even use grow your email database by utilizing the power of a lead capture software. At this point, many people assume that you need to offer a discount in order to keep your potential customer engaged – that's not the case. While discounting can be great when offered to the right target customer, there are many more effective ways to encourage a conversion.
Check out this example from the beauty brand Skyn Iceland. They A/B tested two creatives on abandoning visitors and found that the discounting message didn't perform as well as one that simply highlighted the brand's value proposition: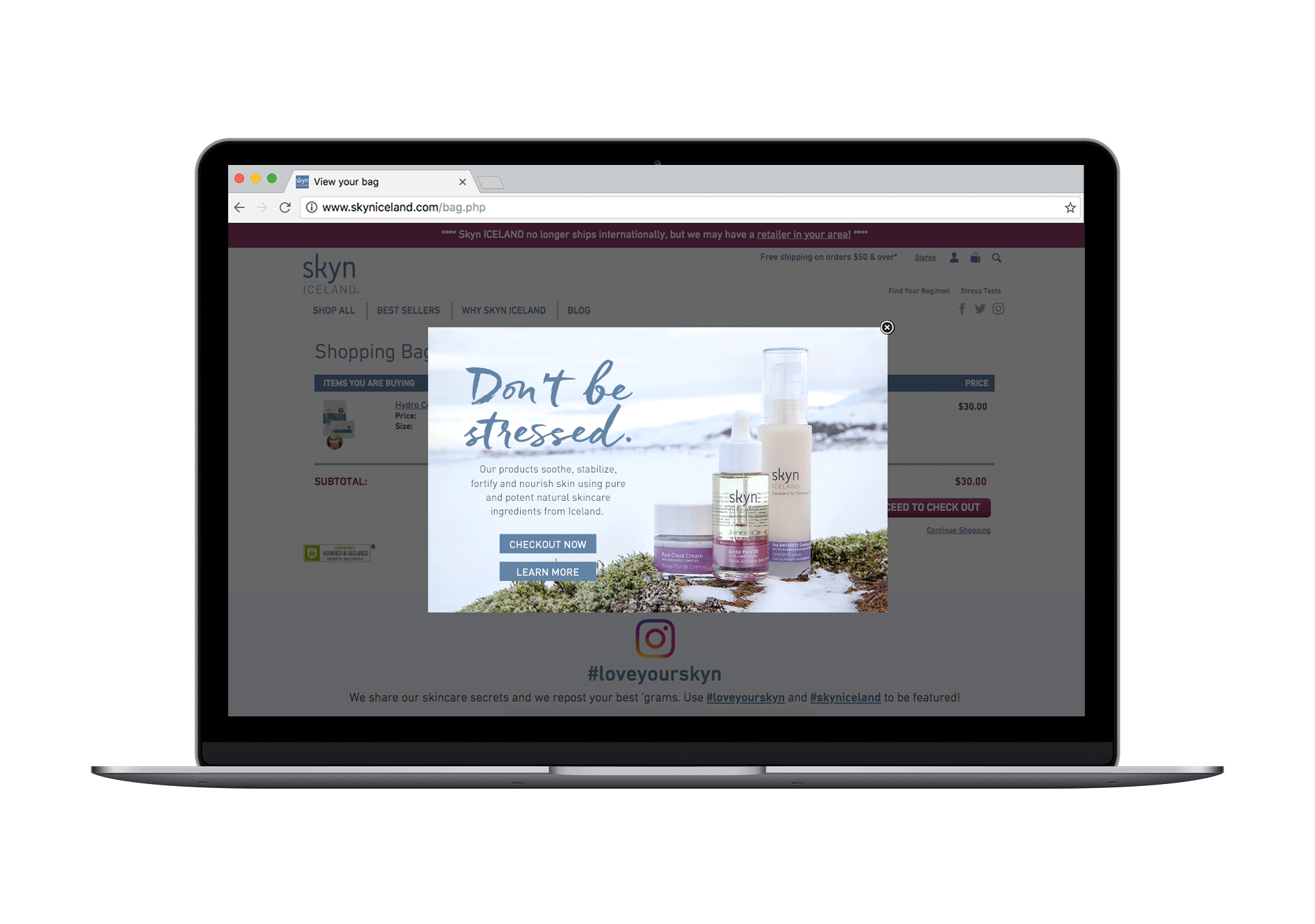 To take things to the next level, your content should get smarter. One of the best and most effective ways to do so is with Dynamic Social Proof, which shows your user how many other visitors have been engaging with the product that they're looking at. This can create a powerful sense of urgency, helping drive your visitor further through the funnel. Here's an example from shoe brand Kickers: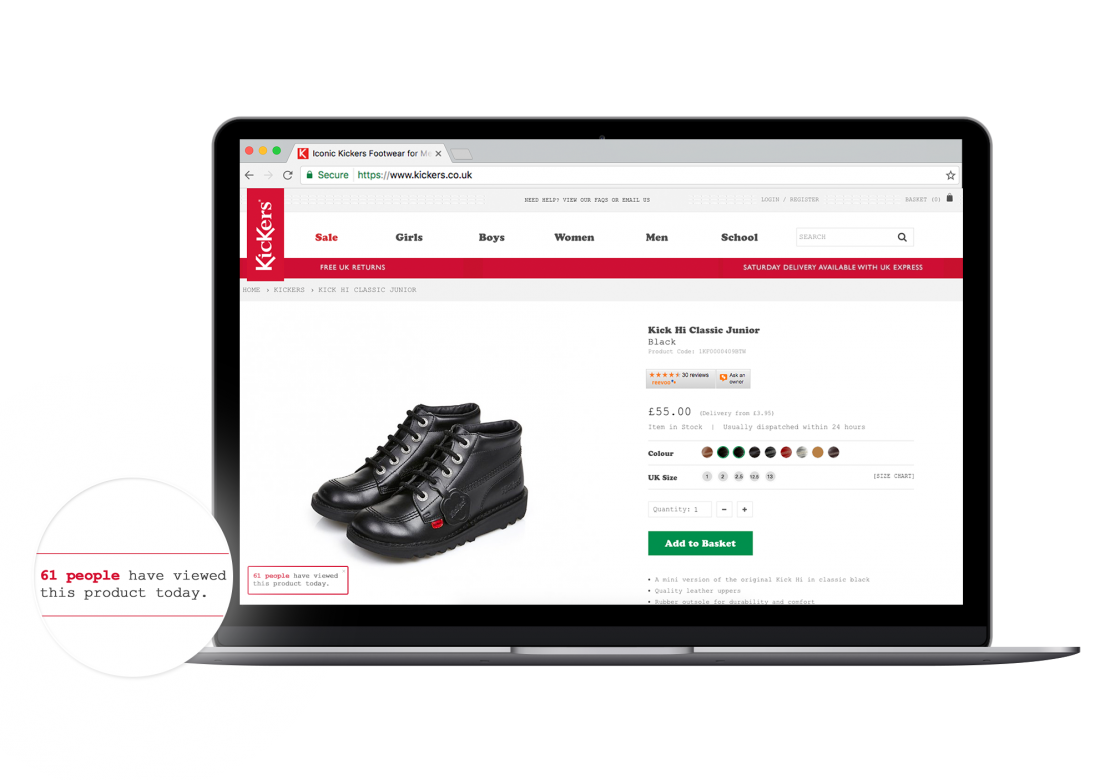 Best practice here is also to A/B test your creative – a simple change in artwork or CTA messaging can make all the difference to your click-through and conversion rates.
4. How to show it
Finally, decide what the best format is for your content. As we've said before, onsite remarketing is much more than pop-ups. While these are an impactful way to engage your visitor, you have many others at your disposal.
For example, notifications can appear at the bottom of a screen to deliver a subtler message – or even two of them: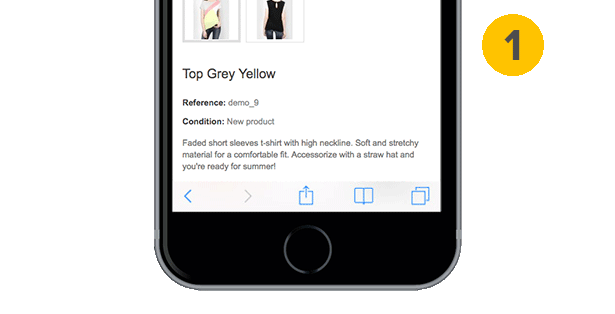 Add banners to the mix and you have multiple ways of delivering your onsite remarketing.
Now you know how a campaign is constructed, let's look at three of the key ways you can use them.
Cart abandonment
Cart abandonment is still one of the biggest challenges facing an e-commerce marketer, with over two-thirds of shopping carts going abandoned. After all, creating the perfect checkout process is much easier said than done.
Here are some examples of how onsite remarketing can reinforce your brand and turn those apprehensive visitors into paying customers.
1. Use exit-intent wisely
Exit-intent technology is probably one of the best-known elements of onsite remarketing, and for good reason. It's perfect for those 'last ditch' attempts at recovering a user who would otherwise be leaving your website.
2. Use social proof
If you look at the key reasons behind cart abandonment, there are two that stand out. Firstly, would-be customers are looking to see if they can get a cheaper price elsewhere. This can be very easily beaten by using social proof. This example from Omni Hotels is a very simple message that shows would-be price comparison shoppers a guarantee that this is the best possible price. It resulted in an impressive 39.5% conversion rate uplift: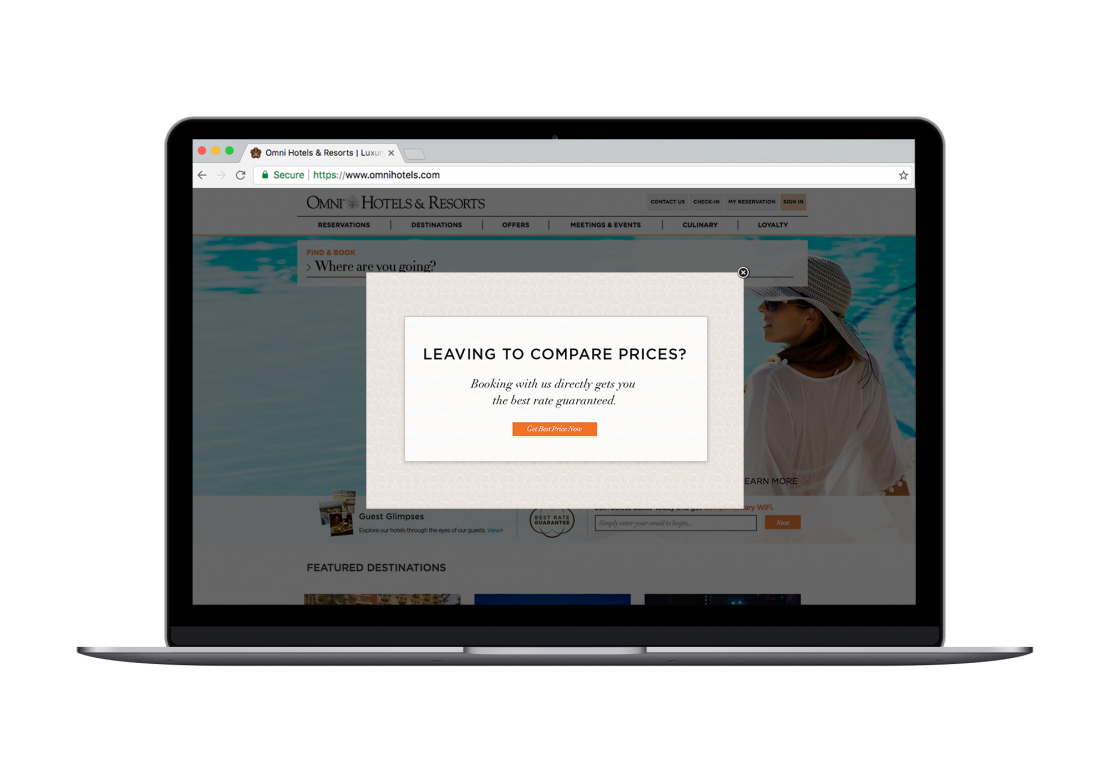 Secondly, visitors sometimes think that they can simply return later when they've time to think about their purchase. Onsite remarketing's answer to this problem is to create a sense of urgency. As we previously mentioned, Dynamic Social Proof is one of the key ways to do this – but it's not the only way.
Like French holiday company Homair, you can use dynamic countdown timers to show that your offer is time-limited. This is a powerful way to drive urgency (in Homair's case, increasing conversions by over 100%):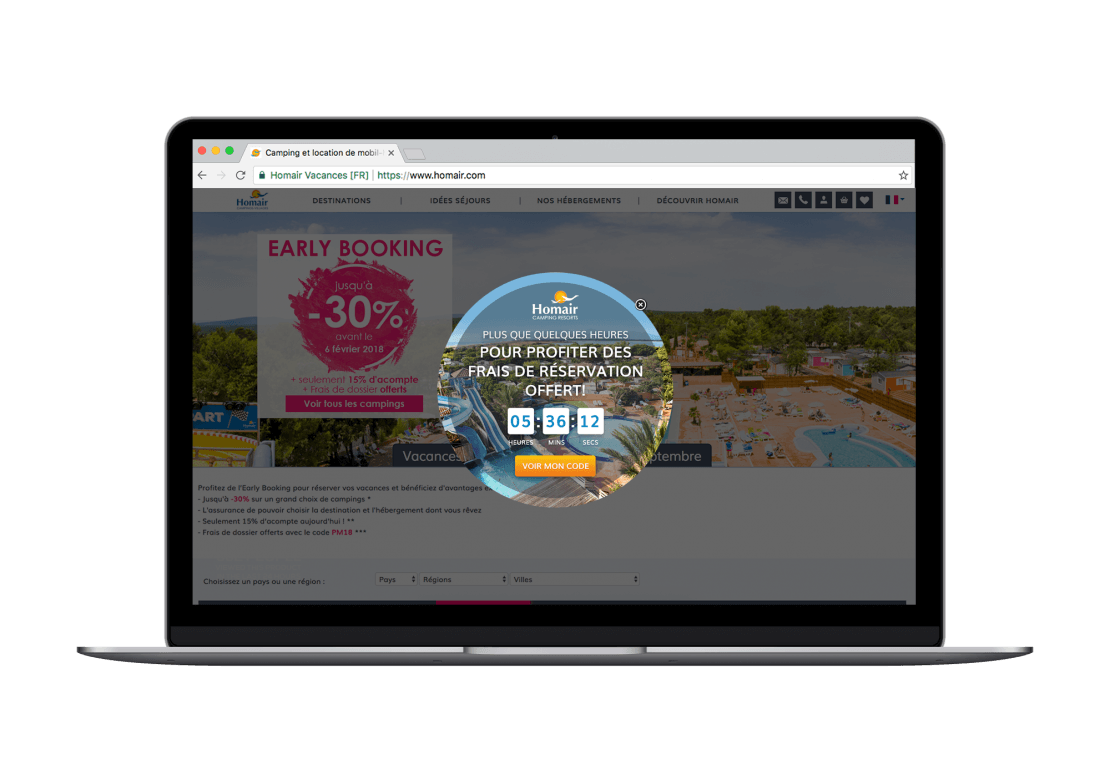 c) Be helpful
One of the key reasons that carts get abandoned is because the purchase process is too complicated – this can result in confusion, frustration and giving up. Changing your checkout process is difficult, so onsite remarketing is a great way to quickly and easily make the process simpler for your customer.
Take this example from Virgin Trains. To avoid abandonment in the booking funnel, the team implemented an overlay campaign to show users that they were only a few steps away from having their ticket booked: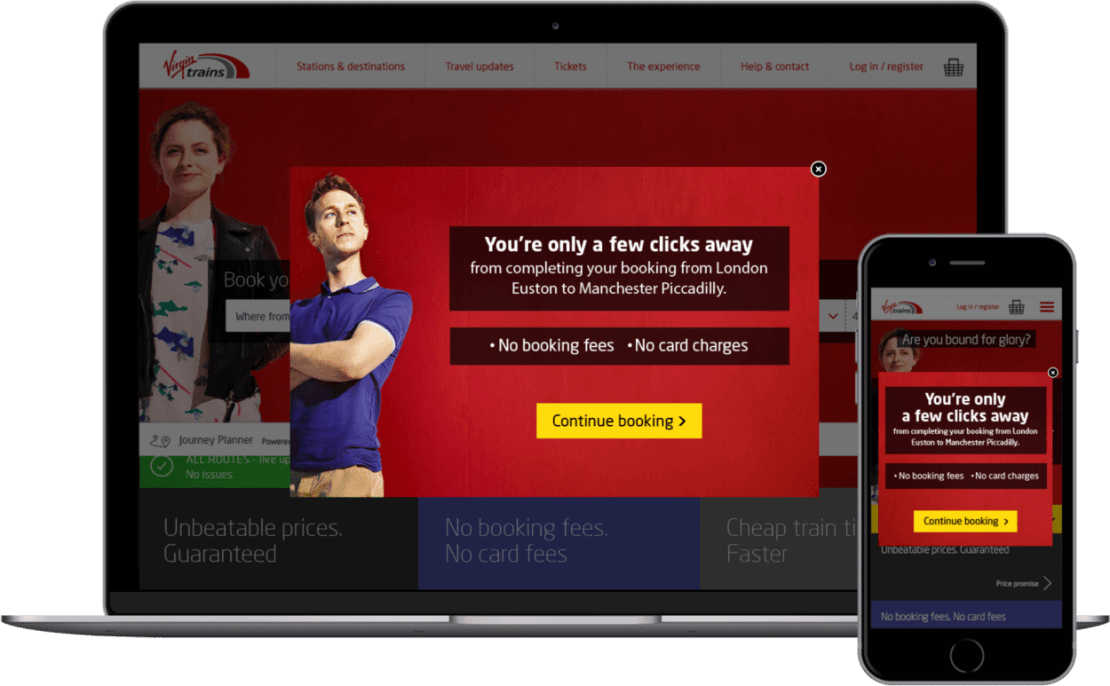 Other ways to be helpful include highlighting your call centers (if you have them). Click-to-call campaigns (which you can track with services like Infinity) are great for more considered purchases in finance and travel.
Increasing average order value
Once you have a customer purchasing from your website, you have a golden opportunity to increase the value of that customer's order. However, trying to increase average order value comes with a risk of distracting your shopper from getting to the checkout. Your approach needs to be well-targeted and strategic: this is where onsite remarketing comes in.
1. Use the cart
When it comes to onsite remarketing, reading the cart value of your shopper is your best friend. Even better, reading exactly what's in the cart.
By seeing what your customer has in the cart, you an offer relevant up-sells and cross-sells. For example, if a customer has added $40 worth of bedsheets to their cart, you might want to offer them some matching pillowcases.
This logic applies as much to who not to target. If your shopper has only added a few dollars' worth of product to their account, they might not yet be done with their decision-making. Better to wait until they're further invested before you try to push them a little further.
2. Limit choice
Making it easy to add a new product to the cart without getting distracted is key to effective up-sell and cross-sell. The best way to do so is to limit choices (avoiding analysis paralysis), making those choices completely relevant to what you know that customer to be engaged with.
For a great example, we go back to Skyn Iceland. One of the brand's best-selling products is its Hydro Cool Firming Eye Gels, which has a complementary product in its Brightening Eye Serum. By targeting customers who had already added the gels to cart, Skyn Iceland was able to effectively upsell the Serum with little disruption to the journey: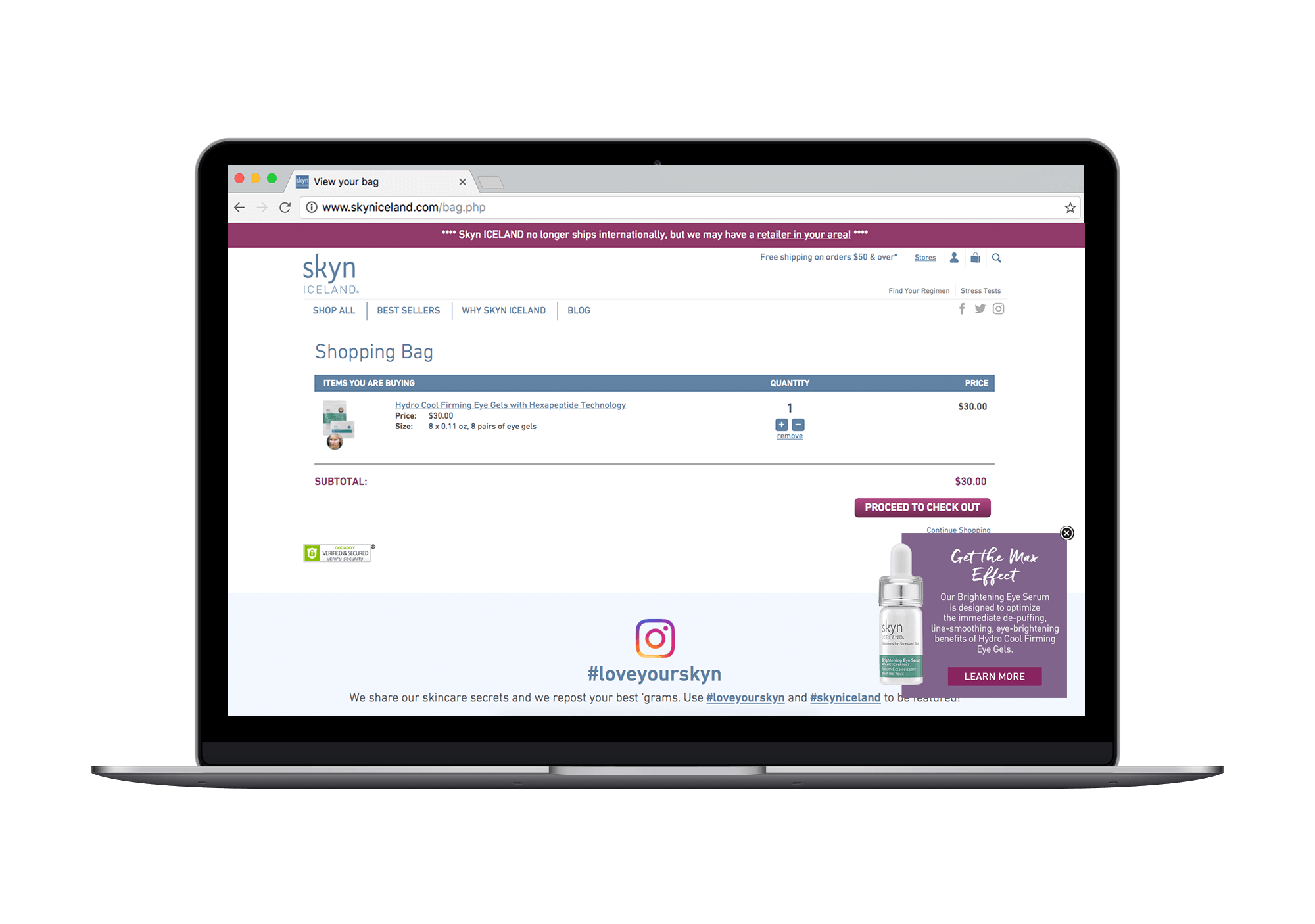 The campaign's success drove nearly 15% extra average order value.
3. Stretch to an incentive
While not every onsite remarketing campaign requires incentives in order to be effective, there's a time and place for them. If you have an existing incentive on your site for shoppers who spend over a certain amount, onsite remarketing campaigns can be an effective way of leveraging them.
The below example from Hylete shows this in action. The clothing brand offered discounts to its customers depending on how many products they purchased: the more products, the bigger the discount. In this case, it used a progress bar that showed shoppers how far they'd qualified and what potential there was to gain bigger incentives. It led to a near 5% increase in average order value: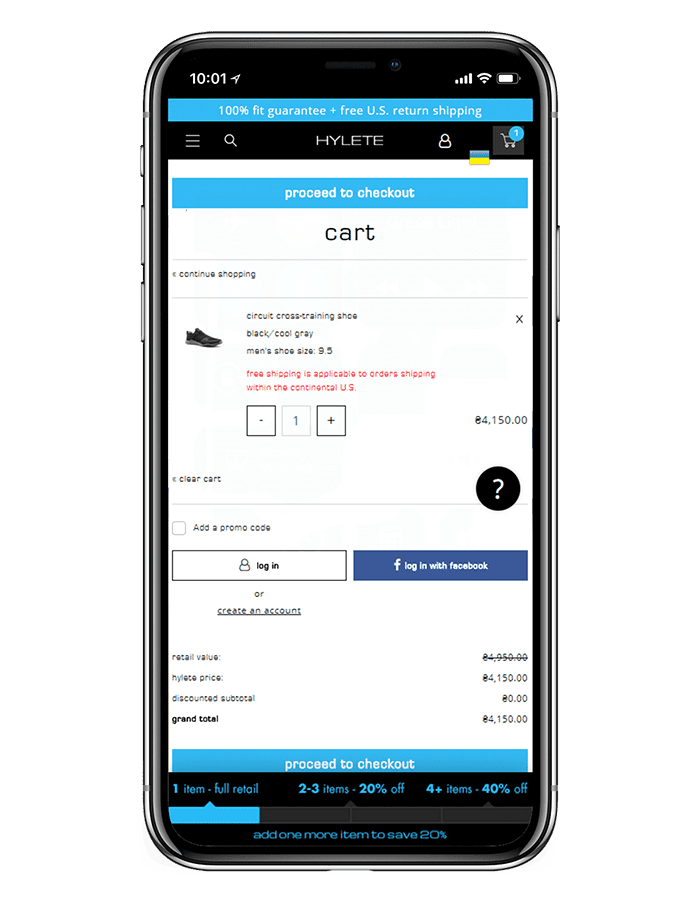 You can learn much more about increasing average order value with our dedicated guide to upsell.
Lead generation
In the wake of new privacy laws such as GDPR, many marketers are frantically trying to find new ways to replenish their email databases. Onsite remarketing is a major channel to do this. Yieldify data for 2018 shows just how much marketers have used it to increase their lead generation efforts: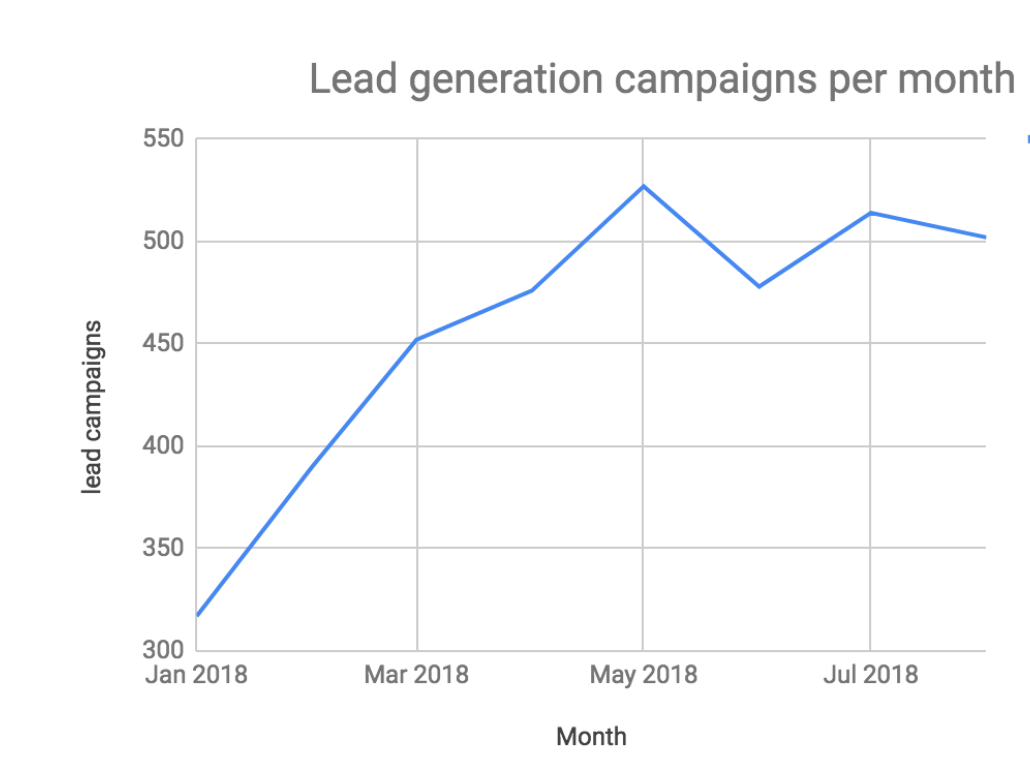 So how do you do it? Here are a few things to keep in mind…
1. Wait
Everyone has an experience of a pop-up appearing on-screen to ask you to sign-up a mere second after landing. That's liking asking someone for their phone number before you've even said 'hello'.
Our experience tells us that it's much more effective to allow your visitor to explore your site a little before asking them to hand over their valuable data.
b) Offer value
It's not uncommon to offer a discount in exchange for signing up for a newsletter – this can work well, as shown by High Street TV.
The brand used a Double Notification campaign, offering target visitors the opportunity to receive a 5% discount on their first order in exchange for submitting their email address. Once the user had submitted their email address, the second Notification appeared with a Dynamic Coupon code.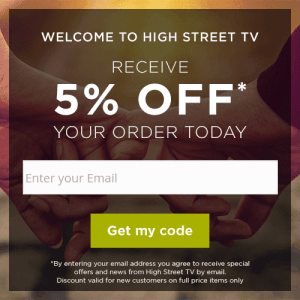 This strategy achieved the dual goals of the campaign: capture more leads ahead of GDPR's staging date and encourage conversion on first orders. It outperformed industry benchmarks with respect to both: the campaign increased conversion rates by 8.6% and collected nearly 20,000 leads.
You can learn much more about how to use your website to generate new leads in this in-depth guide to lead capture.
Conclusions
By virtue of its speed and agility, onsite remarketing is one of the easiest ways to quickly make your customer journey more relevant and effective. It's also much more than that – it's one of the few ways to react in real-time to customer behavior. This makes it a powerful element of personalization that can turn a simple website into a high-achieving one almost overnight.
If you're ready to start on your onsite remarketing journey, you can get a free Yieldify demo by applying here. We can help show you what other sites like yours have done and what you might be able to achieve with yours.