BLOG
The 7 Dangers of Overlay Shops
Published: 06/10/2017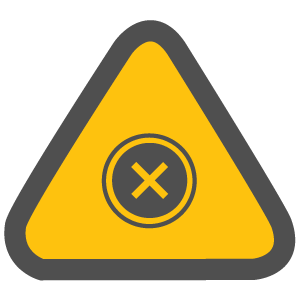 Overlays, pop-ups, lightboxes, modals – when done right, onsite remarketing is a great way to increase conversions. But beware making the wrong choice of solution…
In a world where acquiring traffic seems to cost more every day, a fast and simple answer to converting that traffic sounds like every marketer's dream.
Onsite remarketing, otherwise known as overlays, notifications, pop-ups (you name it, we've heard it all) – is often positioned as a CRO panacea that takes that traffic and converts it like a dream.
In many cases, that can be true – we've seen it ourselves with brands as diverse as Domino's Pizza, HMV and Virgin Trains: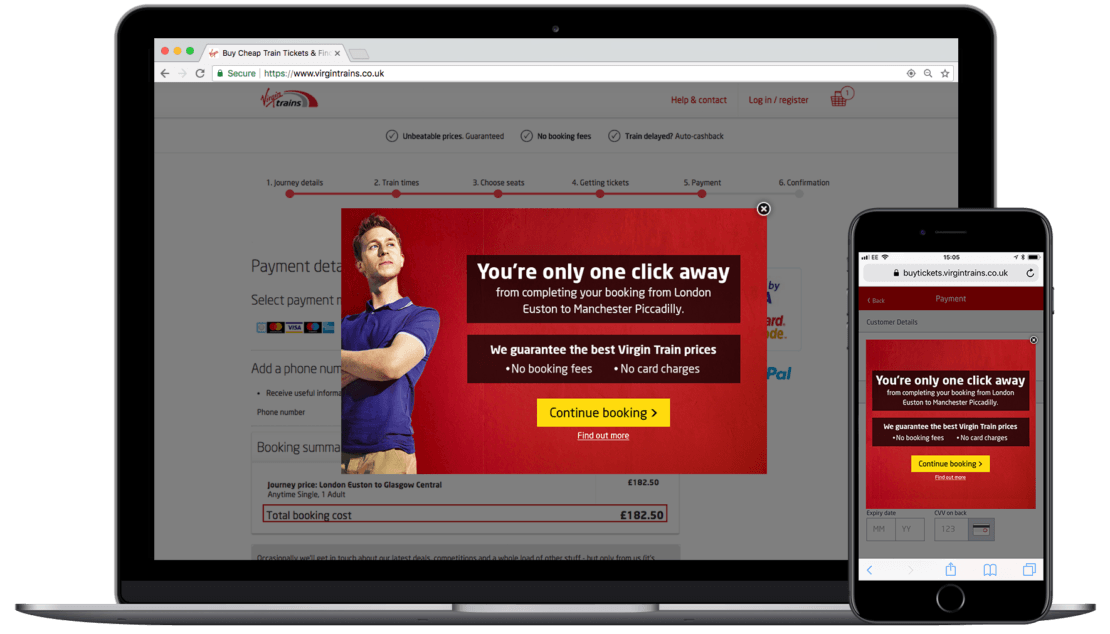 But with onsite remarketing (as with most things), you get what you pay for.
The problem is that there are plenty of cheap-and-cheerful solutions – also known as 'overlay shops' – entering the market promising shortcuts and silver bullets when the reality can be a very different picture.
Why? It's because this is your website – the importance of the quality of the experience here can never be overstated. Do a good job on your site and you have the opportunity to see your acquisition investments pay off – but attempt to cut corners and your acquisition efforts can go down the drain faster than you can say "leaving so soon?"
At Yieldify, we believe that the customer journey you deliver on your website demands rigorous strategy, attention to detail, and optimization pathways. Without this, you could end up doing more harm than good to your CRO.
The cheap-and-cheerful overlays shops on the market might let you launch overlay campaigns easily, but won't necessarily help you launch good overlay campaigns. Here are seven key things to be aware of when shopping for your onsite remarketing solution:
Danger 1: Compromising your brand
Consider how much time, effort, and resource you put into the design of your website. Everything from the color and shape of the CTAs, responsiveness and imagery – you're probably even running plenty of tests to keep iterating on what's working well.
Why should your overlays and notifications be any different? They should deliver an experience that's completely aligned with your brand guidelines, upholding the quality of imagery that you have elsewhere on your site.
The problem is that many overlay shops will restrict you to some pretty rigid templates, where you can change some colors and text, but not much more. For small businesses who want to launch overlays themselves but without design resources in-house, this is great – for a more mature e-commerce business, this can be a jarring experience for the user.
Danger 2: Annoying your customers
Campaigns trigger based on a user's behavior – but what that behavior is is up to you. The problem here is that if you choose the wrong trigger setting, you can disrupt the customer journey and potentially annoy your customers, doing more harm than good.
The risk with overlay shops is that in an attempt to give you more control as a retailer, they'll often give you triggering options that run against best practice. The usual suspect here is 'trigger on entry', which is often used with lead generation overlays to ask the user to sign-up to a newsletter. While this might seem a great idea for your brand, it's the website equivalent of asking for someone's number before you've even said 'hi', which never seems to work out well.
Danger 3: Being trapped into broad targeting
In deciding who's going to see your campaign, you need to make sure your targeting is on point, or you risk sending irrelevant messages. While many overlay shops will give you the basics, some of the most effective forms of targeting are based on your shopper's in-session behavior – such as the value of their basket.
This is hugely valuable because it means that you can safeguard offers such as free delivery only for those shoppers for whom their purchase value will ensure you protect your margins. Domino's Pizza used it to huge success in engaging the right type of visitor with the right discount incentive: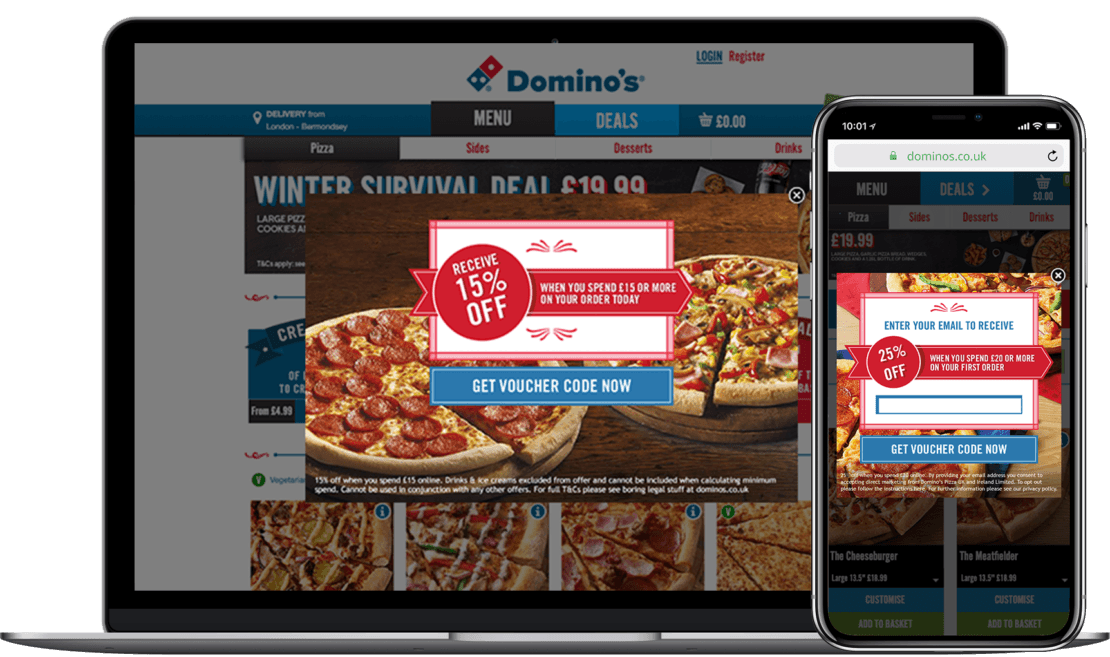 The problem with basket-value targeting is that this requires an extra level of site mapping – something that overlay shops will rely on you to do (if they offer the functionality at all).
This in mind, it's really worthwhile digging deep into how targeting actually works out-of-the-box with overlay shops, as you'll often find that the valuable stuff relies on more technical set-up from your side.
Danger 4: Disrupting the journey too many times
There's huge value in having different campaigns set up for different customer journeys – but what if a single customer ends up in several different target segments across the course of their journey? With some simple onsite remarketing vendors you run the risk of having a visitor trigger multiple campaigns in the course of their session, which is a sure-fire way to get them to abandon your site.
The solution to this is smart frequency capping, that takes into account the fact that some interventions (little notifications in the corner of the screen) are fine to be seen multiple times on the user journey but more disruptive messages (like overlays) are a one-time thing. It's not as simple as 'one message per session' just as your visitor's journey isn't as simple as 'click-click-buy', so you need a solution that reflects that subtlety.
Danger 5: Being ill-equipped to test and learn
There's a reason that Yieldify has a Consultant team who spend their days poring over pivot tables: if you want good performance, you need to run smart tests and learn from them.
A big part of this is the ability to A/B test your messaging and creatives – this isn't something that every overlay shop will provide you with. Without this ability, you'll never know if you're getting the best possible performance from your campaigns.
Danger 6: Being distracted by executions that don't drive value
Having great-looking overlay and notification campaigns is important (as we've said earlier) but beware of being distracted by cosmetic features that may not necessarily drive value.
The most important elements of your campaign are: a compelling message and careful targeting and triggering – all of which should be refined and optimized through testing. Funky animations are all well and good, but they're usually 'nice to have's' – make sure that the core functionality and capabilities we've listed elsewhere in this article are there first.
Danger 7: Being unable to track real impact
Everyone knows what they're here for: making more sales. The problem is that the ability to track the impact that your campaigns are making depends on two things: being able to track sales and run incrementality tests. The bad news is that very few overlay shops provide such functionality.
The reason for this is that tracking sales involves more website mapping – every e-commerce site's set-up is a little different, so the ability to track sales requires a slightly different approach every time.
If you've got a provider who can track sales for you, then the other thing you'll need is the ability to run an incrementality test (essentially a split-test where half your target group sees no campaign). Through running these tests to statistical significance for a limited period of time, you'll be able to see definitively whether or not your campaign is making an impact on your sales.
All of this is essential if you want to ensure that your investment and work is paying off – without it, you'll never know if it's worth it.
In conclusion
Onsite remarketing is great because of course it's an easier way to increase your conversion rate than starting for scratch or running a labour-intensive programme of A/B/n testing. But don't let that fool you into thinking that this means that all solutions are the same. As with all things in life, you get what you pay for.
If you're looking for a smart solution that comes with an even smarter team to ensure your campaigns are on-point and fully-optimized, check out Yieldify's free Customer Journey Optimisation consultations.