FREE GUIDE
Email List Building: 8 Best List Building Strategies for 2023
Want to take your list building strategy to the next level? Read Yieldify's 8 tips based on creating thousands of lead capture campaigns for our clients.
Published: Oct 30, 2020
Introduction
The term list building refers to the process of collecting email addresses from visitors or users of a website. This is done via lead capture software in order to grow the subscriber database and empower future business communications with prospective or existing clients.
For marketers, email list building is an essential strategy. Statistics show that 59% of consumers state marketing emails either positively or negatively influence their purchasing decisions. 80% of business professionals attest to email marketing increasing customer retention.
59% of consumers state marketing emails either positively or negatively influence their purchasing decisions.

hubspot.com
An engaged email list is a business's best asset because it is part of owned media, i.e. media channels that your business has complete control over. The benefits of owned media are that it's immune to sudden algorithm changes, it lets you shape your brand storytelling, and it has far better reach than paid media as well as being far more cost-effective.
If – in the worst case marketing scenario – a penalty is accrued and Google drops you from SERP rankings, or a social platform algorithm suddenly favors organic posts vs sponsored content, an email list remains untouched.
However, email list building is a rather complex task. You can't create one lead capture form and expect to generate thousands of subscribers overnight. Building an effective email list requires patience, and above all else, a strategy.
A quick recap…
What is an email list?
An email list is a list of email addresses and other data, such as name, gender, location, which is generated by collecting data from website visitors, customers, event attendees, et al. 
What is email list building?
List building is the process of collecting email addresses from visitors, customers, and other patrons of a business. This can be done using a website, social media accounts, events, in-store signup sheets, and more.
How do you create a mailing list?
List building can be done online using website pages, pop-ups, embedded signup forms, and social media accounts. You can also build a mailing list offline at your events or in-store signup sheets.
Why is list building so important?
For every $1 spent on email marketing, the average expected return is $42, according to DMA Marketer Email Tracker. When compared to the return on investment of other channels, such as PPC advertising – just $2 for every $1 spent – emails' high ROI makes it a desirable if not imperative marketing channel.
For every $1 spent on email marketing, the average expected return is $42. In comparison, PPC advertising yields $2 for every $1 spent.

dma.org
No matter the size of the business, prospects on an email list can prove vital in shaping the success of your marketing campaigns. Easy to track performance metrics, such as email open rate, click-through rate, and conversion rate, all relay useful information to marketers as to what they're getting right, and what needs tweaking.

For example, by evaluating email click-through rate or open-to-click ratio marketers can ascertain whether their audience is interested in the content they're producing. A/B testing email subject lines like "20% Off" vs "Free Shipping" can offer more insight into what type of value proposition resonates best with your customers, and so on.
The 8 best ways to build an email list from scratch
Whilst comprehensive email lists cannot be generated overnight, there are equally fast and effective ways to grow email lists that go beyond traditional email sign up forms. Some popular methods include:
Enticing content upgrades
Exit intent pop-ups
Fully or partially gated content
Squeeze pages
Loyalty and referral programs
Discounts and deals
Exclusive notifications
Social media
For the majority of businesses, websites are where email list building begins: From static embedded opt-in forms to dynamic pop-ups and overlays or specific lead capture pages.
Using Yieldify's lead capture software, we've created thousands of campaigns for clients big and small (you see the list of our featured clients here). Some notable examples include Sol de Janeiro who generated 25,000 new subscribers in under five months using our layered lead capture approach, as well as Busbud who saw a 40% increase in revenue generated from email marketing.
Australian company Healthy Chef went a step further by adding a lead capture slide-in bar on their checkout pages. In a nutshell, visitors that did not engage with their previous opt-in forms were presented with an additional prompt at the checkout stage offering a last chance to receive a 10% discount in exchange for their email address.
These results suggest that even the smallest additions to your website can have considerable effects on your list building strategy.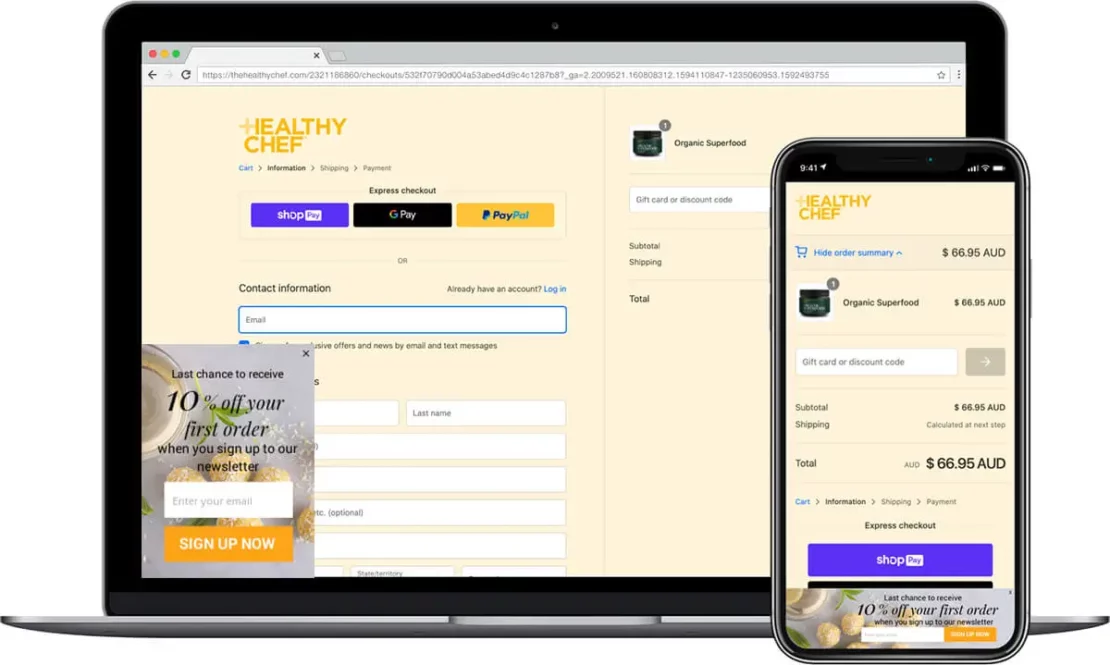 How to build an email list using your website
1. Use embedded signup forms
Embedded signup forms are perhaps the most traditional of strategies for attaining email subscribers. Static embedded forms should be placed on high traffic pages in visible areas, such as headers, footers, sidebars, and splash pages.
The benefit of embedded forms is that they're non-intrusive. They serve as a humble reminder for the visitor that they have the option to sign up and nothing more. That's why they're best used together with the more proactive and dynamic list building strategies that we'll discuss below.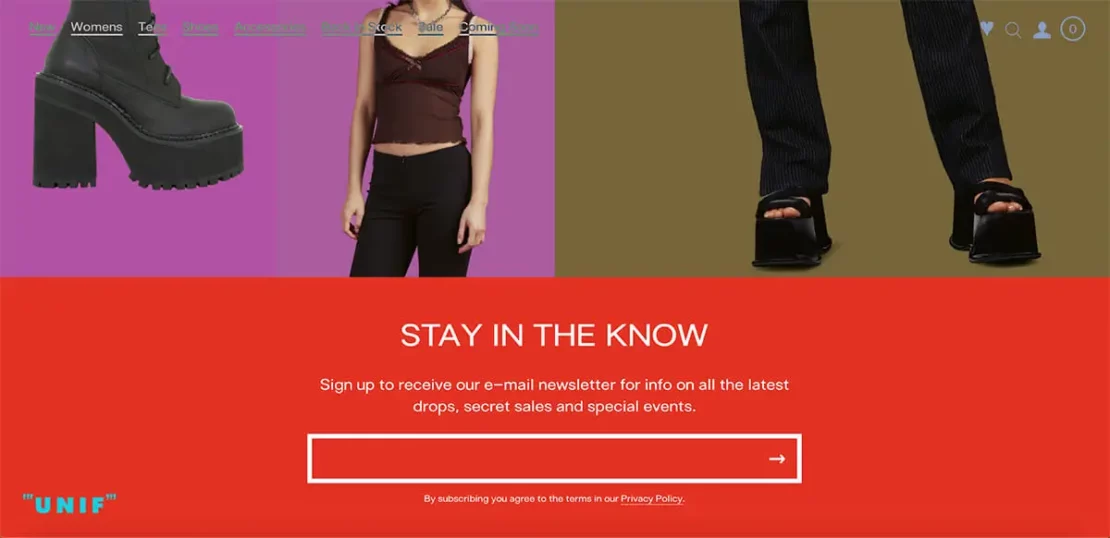 2. Deploy pop-ups and overlays
Studies have shown that on average, pop-ups have a conversion rate of 11.09%, with the top 10% converting at around 42%. While these stats are mouthwatering on their own, you need to be careful with your use of pop-ups and consider Google's interstitial ad guidelines. If you don't, you risk a penalty.
The guidelines lay out the 'correct' use of pop-ups from Google's view point. The mains points being:
Don't show a popup that covers the main content either straight after a user hits the page from search, or whilst they are scrolling through the page.
Don't display a standalone interstitial that the user needs to close before accessing content.
Don't use a page layout where the above-the-fold section of the page appears similar to a standalone interstitial, but the original content has been inlined underneath the fold.
Google did, however, state that the penalty would not impact these types of interstitials when they are used correctly. Some examples of correct usage are below:
Interstitials that need to appear due to a legal obligation. For example, cookie usage or for age verification.
Log-in requirement on sites where content is not publicly indexable. For example paywalled content.
Banners that are deemed to use a reasonable amount of screen space and can be easily dismissed.
Now that you know what NOT to do when deploying pop-ups on your website, let's look at some of the most common types of pop-ups and overlays used by eCommerce businesses to substantially grow their email lists.
Welcome pop-ups
Welcome pop-ups are used to greet visitors to the site mostly within the first 15 seconds of them settling on the landing page. A strong call-to-action is crucial for a welcome pop-up so it doesn't get dismissed as disruptive. Best practices include offering a discount, a sales notification, telling them more about your USPs, or some other form of value exchange for the visitor's email address.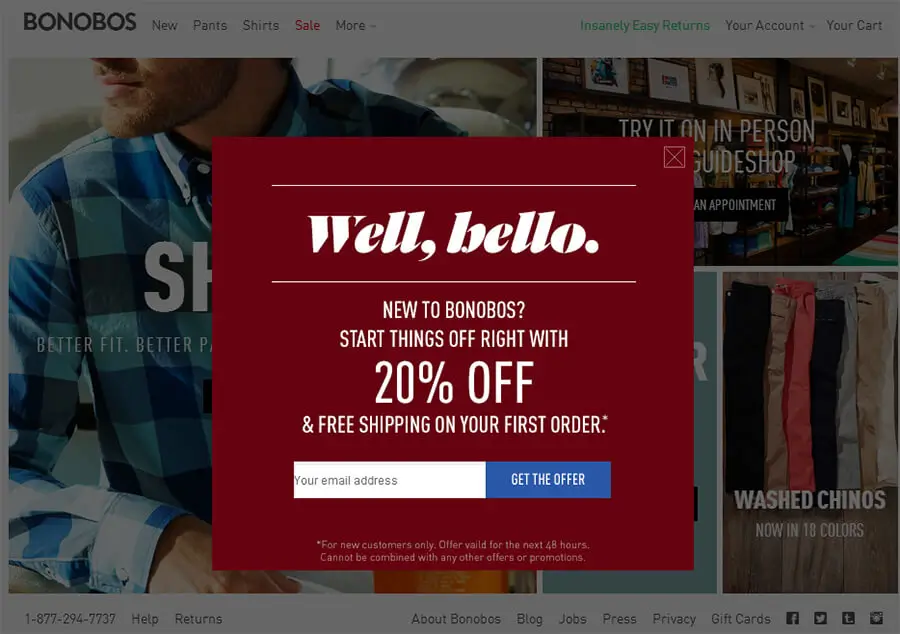 To lessen the intrusion, welcome pop-ups should be kept as simple as possible. Most feature a single field asking to enter an email address. Complicated forms with multiple fields and weak copy are less likely to convert.
Timing is key here and it will be important for you to find a time that's specific to the page you are implementing this pop-up on. To find the best time to implement a welcome pop-up, you can use Google Analytics to find the average time a user spends on that page.

If you're doing this on the homepage – a page that visitors are meant to leave quite fast when navigating deeper into your website – you might want to serve it right away. However, if your new visitor lands straight on a product listing page where they're meant to dwell longer, you can set the welcome pop-up to appear after 7 seconds or once they've scrolled 30% of the page.
Exit intent pop-ups
According to Conversion Sciences, 10-15% of potentially lost visitors can be saved with a well-crafted exit intent pop-up. These pop-ups are served using exit-intent technology that monitors user interaction with a website page and can detect when someone is about to leave.
The premise behind exit intent pop-ups is that they reduce the possibility of an exit or bounce by capturing visitor's attention and offering a valid reason for them to stay on the page or submit details. Offers and discounts work well, but depending on their niche, eCommerce owners can offer much more than just that.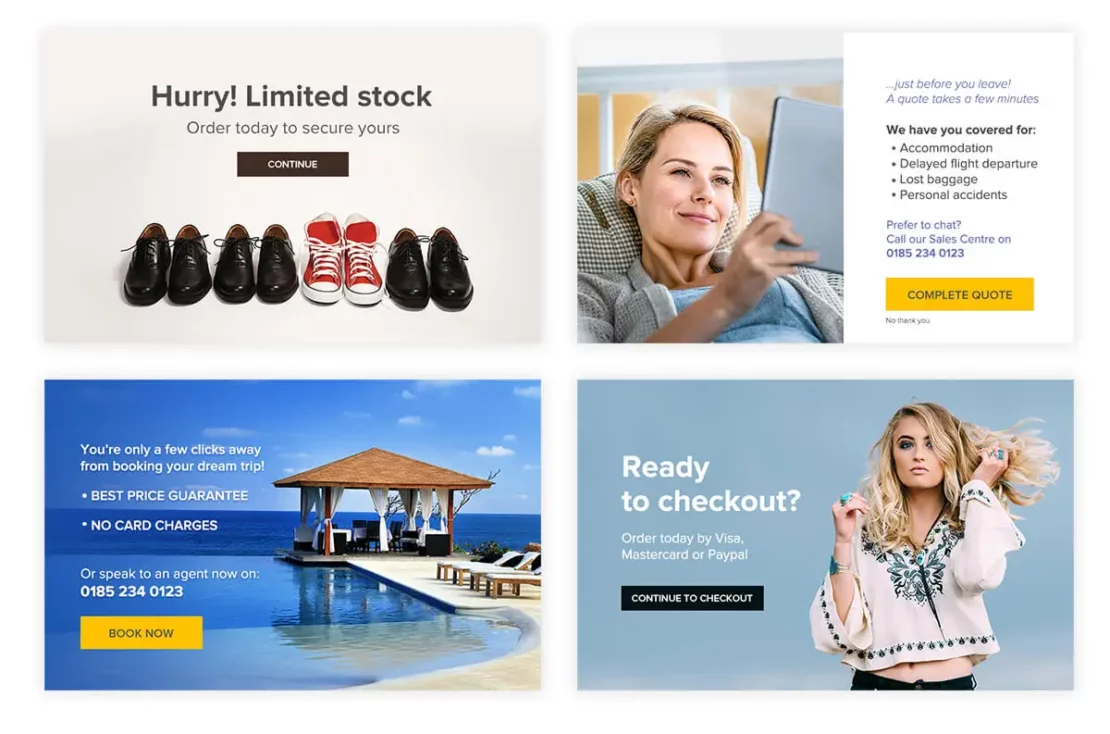 For example, a financial services provider could list reassuring benefits that make them the go-to choice, a retailer selling hiking gear could offer a guide to the best new trails, and a travel agent might want to display social proof of how many trips they booked in the past 24 hours. Above you'll see some exit intent pop-up examples that don't use discounts and promotions to entice shoppers back.
Yieldify client, Sanctuary Bathrooms, went a step further and targeted abandoning visitors with an overlay that offered to 'save their shopping cart for another time'. This is a smart cart abandonment solution because it offers convenience for the shopper, but also seamlessly grows your email list.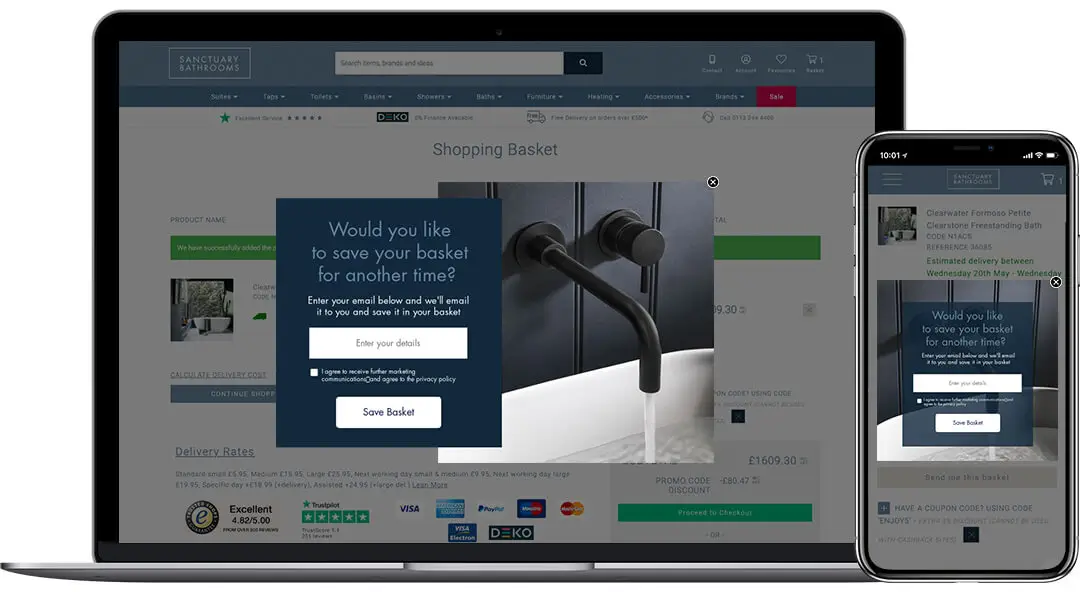 Promotional pop-ups
Promotional pop-ups can appear throughout the customer journey and make use of exclusive discounts and offers. Contrary to welcome pop-ups that appear when you first land on the site, or exit intent pop-ups that show up as you're about to leave, promotional pop-ups appear as you're actively browsing.
To create a high-converting promotional pop-up you must achieve relevancy. Start by understanding what stage of the buyer's journey your customer is currently in and then match your promotion to nudge them further.
For example, a visitor has landed on the homepage and proceeded to navigate to a category: Women's clothing. They've shown interest but are yet to enter the consideration stage. Do: Show a promotional pop-up announcing you offer 20% off women's clothing for subscribers only. Don't: Show a product-specific promotion, like 'Buy X get Y."
As the visitor proceeds to a subcategory (eg: Women's trousers) and opens several product pages to compare, then you can show the BOGO promotion. If they proceed to add items to the cart but do not qualify for the 20% discount and have not yet signed up to your email list, maybe you want to show them a 'Subscribe and get free shipping" message.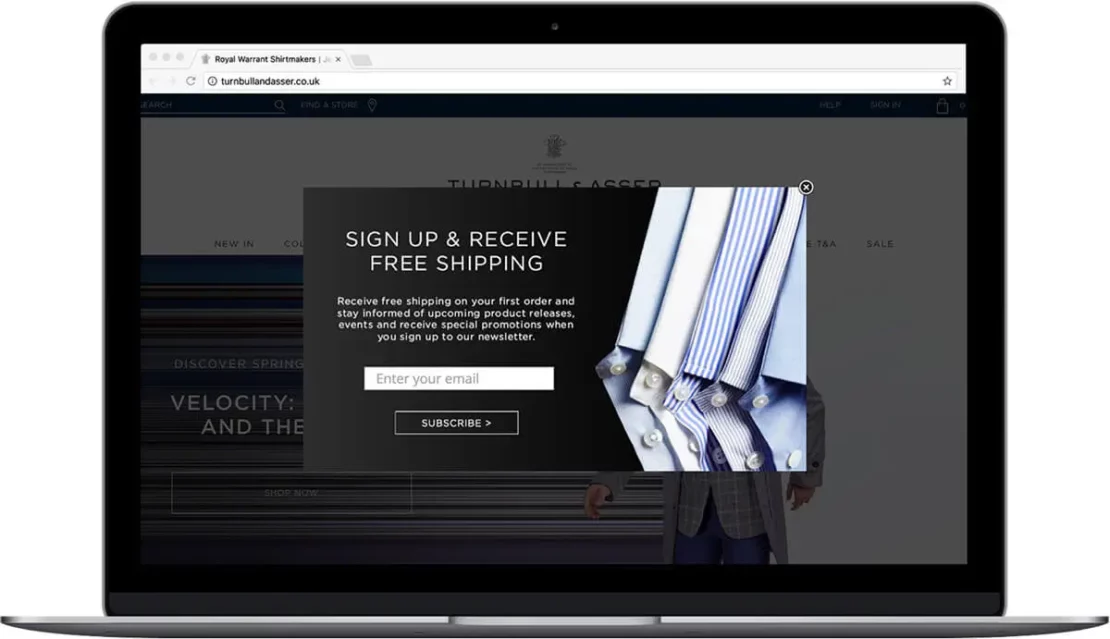 All in all, promotional pop-ups often play on emotions: People feel more willing to hand over their data in exchange for receiving something unique to their experience and to make the most of a discount deal.
Timed Pop up forms
Timed pop-ups are great for generating leads because you only show your lead generation offer to people who have been on the site or page for a determined amount of time. If they bounce after less than 5 seconds, then it's likely that this visitor isn't interested in what you offer and would never become an email list member!
It will again be important to reference Google Analytics as highlighted above so you can figure out who are more engaged users within your target audience to show this type of sign up form to. Not everybody will want to sign up so this is a nice way to segment engaged users.
This type of sign up form helped the University of Alberta massively grow its email subscribers by almost 500% in just one year.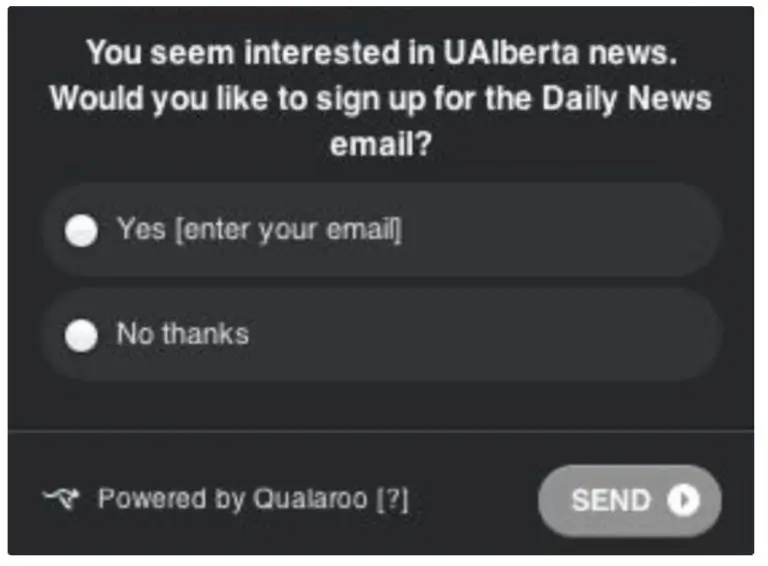 You can start quite small with this type of sign up form, look at your most engaged pages in Google Analytics and see if you can subtly start to capture customer's email addresses this way.
3. Introduce gamification
Gamification in list building is the process of applying interactive elements of game playing to encourage engagement with a lead capture form. Some examples of gamification include quizzes, tests, surveys, spin-to-win (aka wheel of fortune) pop-ups, and scratchcards.
Gamification offers exclusive prizes, like 10-50% discounts or other freebies that shoppers must claim by entering their email address. The value of gamification lies in its ability to appeal to consumer psychology. Customers are motivated by prizes that appear easily attainable. This enthralls visitors who feel they are getting something for nothing, and will therefore eagerly sign up to take advantage.
Likewise, contests, giveaways, and sweepstakes can also be used as a form of gamification in your list building strategy. Brands like to participate in joint-promotions to create a higher value prize and thus enlist more subscribers to their database. In fact, 33% of contest participants are open to receiving further marketing communication about the brand and partners.
Online furniture seller Blu Dot has been, frankly, killing it with giveaways. Not only did give away $5,000 worth of furniture for their 20th anniversary, but they've also recently hosted a Modern Heist promotion gifting a '72 El Camino filled with their own furniture.
4. Create squeeze pages
A squeeze page – now that's a term you might've not heard before. But the meaning is encoded in the name itself – a squeeze page is a dedicated lead capture landing page designed to "squeeze" information out of a visitor by restricting access to desired content or offer by placing it behind the so-called 'gate', i.e. a lead capture form.
Squeeze pages will come with high exit rates, and that's fine. Their sole purpose is to capture visitor information, so as long as their conversion is high, you don't have to worry about much else. However, if you do want to give visitors the option to browse other pages as well, you can include a link to the homepage or product category pages.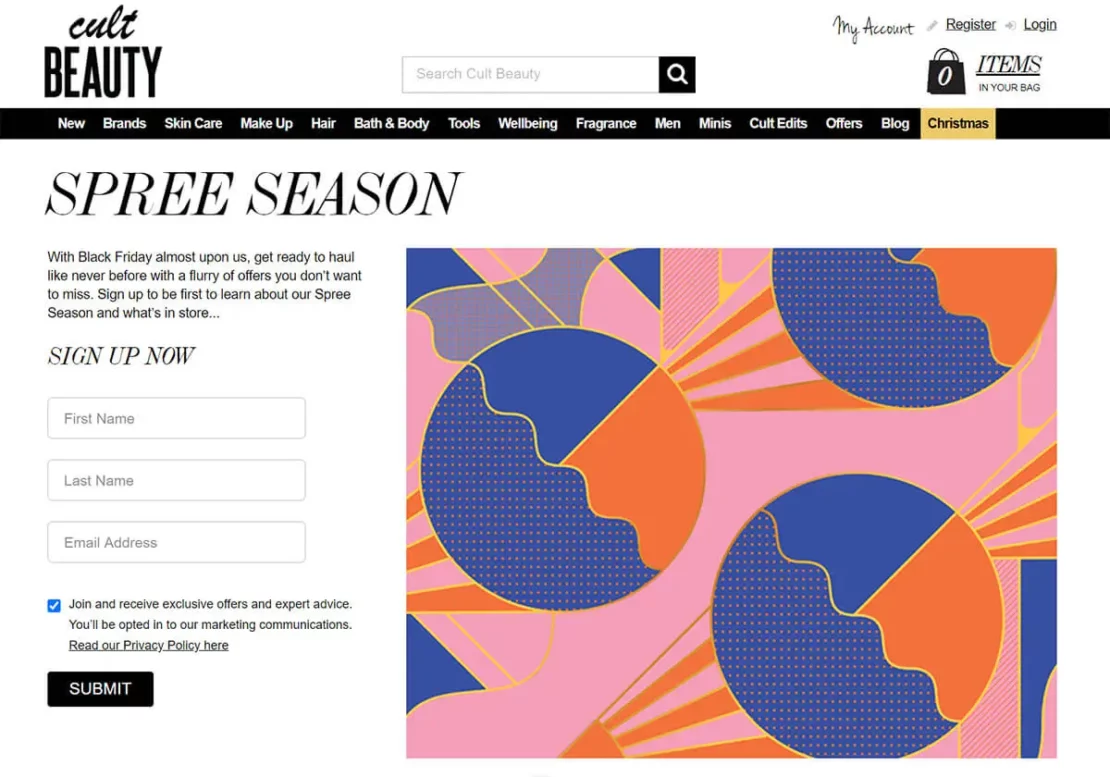 Here's an example from Cult Beauty. For their Black Friday marketing campaign, the brand built a dedicated squeeze page to allow shoppers to enroll in their 'waitlist'. The page features a short description of what they're signing up for and an opt-in form. Simple.
5. Invite to sign up for notifications
One mailing list growth strategy that works well is the use of various notifications. Depending on the type of notification, these can feature as overlays on landing pages, be statically embedded into product pages, or be placed in sliders on page headers.
Pre-sale notifications
Pre-sale notifications are a good eCommerce list building strategy that utilizes convenience as well as marketing psychology tactics, such as urgency, scarcity, and feeling of exclusivity.
Pre-sale notifications serve as convenient reminders to busy consumers who may want to shop your sale, but who don't have time to refresh your page in anticipation. For the sake of convenience, shoppers will be more willing to hand over their information so they don't miss out on bargain deals.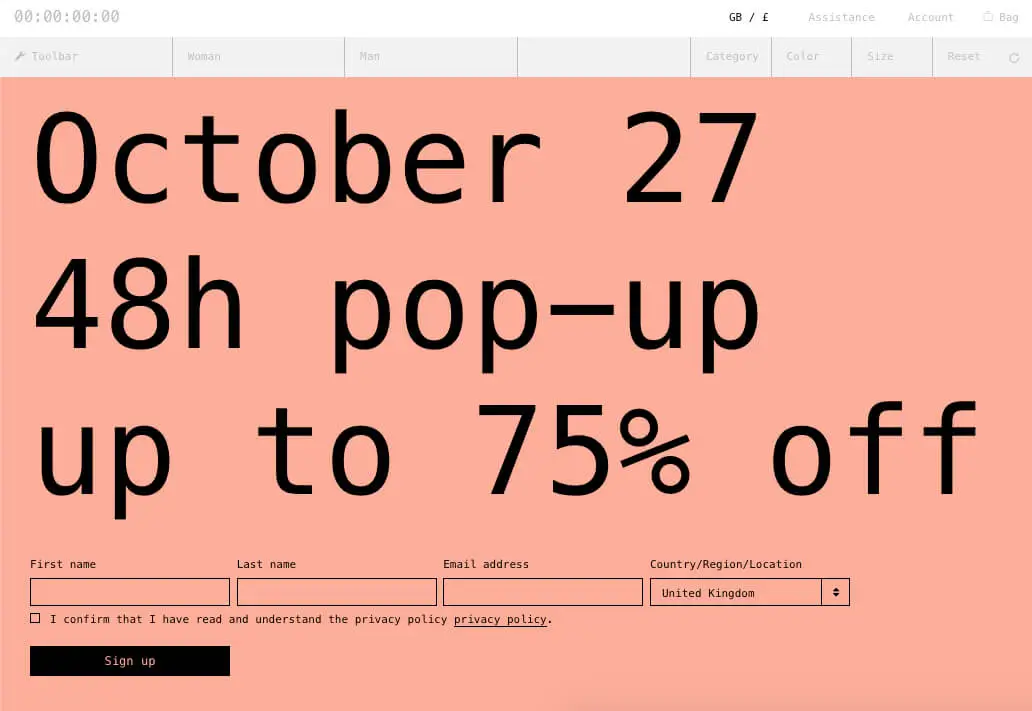 Also, the feeling of exclusivity, aka 'first dibs', is what entices many people to sign up. They might not even shop, but being let in on something before everyone else gets to join is a powerful tool in millennial psychology. The above example from Acne Studios illustrates this tactic well. The brand was running a 48-hour sale and invited shoppers to sign up to be notified of the sale start.
New collection notifications
Another way to give shoppers exclusive access is by inviting them to sign up for new collection updates. If you're selling particularly in-demand items that tend to go fast, your visitors and customers might be inclined to hear about new arrivals first.
Yieldify client Petal & Pup utilized this form of list building and achieved a 116% uplift in new leads by simply inviting users to sign-up for their latest additions to the collection.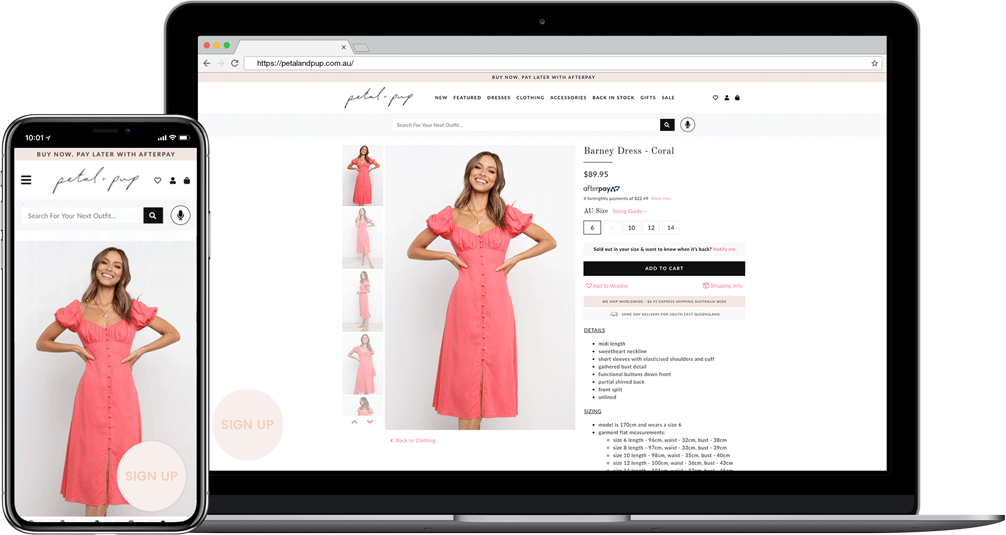 'Back in stock' notifications
Back in stock notifications can be used to capture the information of consumers who are ready to purchase but can't convert due to product unavailability. Not only is it a powerful list building strategy, but this also offers a slew of useful information for marketers and product managers because demand levels across products can be easily identified and monitored.
If for example, a larger audience has submitted their email address to be notified of one type of product over another, retailers will be able to plan to develop and sell items that are similar to the most sought-after type. Utilizing this information is likely to lead to higher revenue as well as customer retention.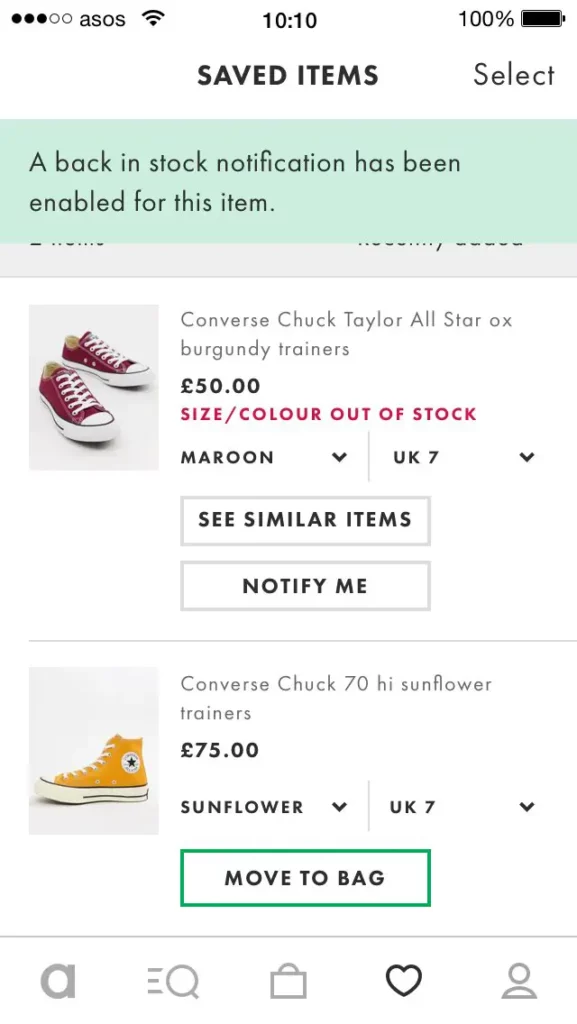 6. Offer content upgrades
A content upgrade, also referred to as a lead magnet, is a gated piece of content a business can offer to their website visitors in exchange for their email address. In eCommerce, this can be everything from exclusive access to members-only sale to actual gated pieces of written content, such as guides, catalogs, and more.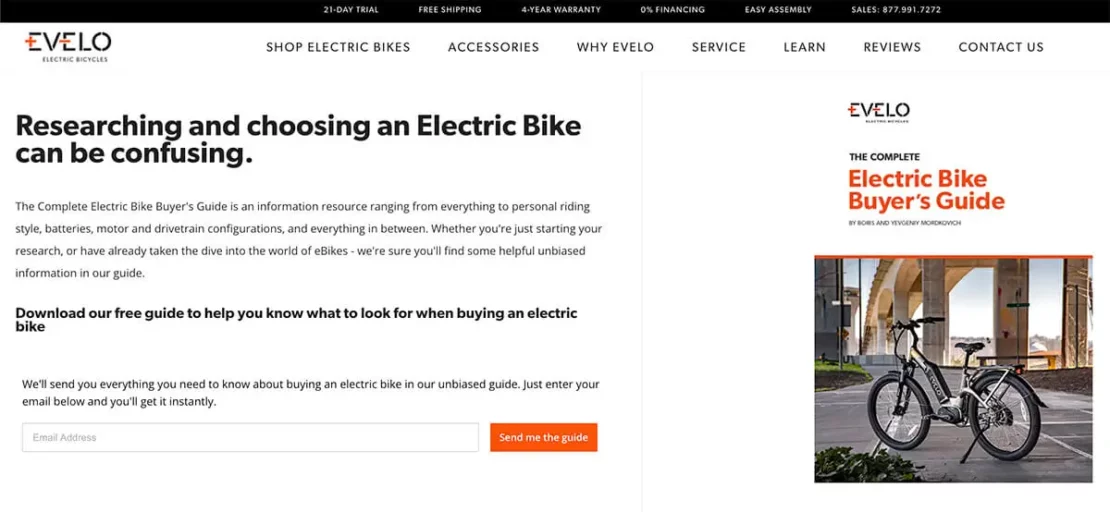 In the example above, electric bike manufacturer Evelo used this list building strategy by creating a buyer's guide for electric bikes. It has been implemented on their product detail pages so it's safe to assume that visitors will find this content useful as they are likely in the consideration/research phase of the purchase cycle.
Visitors who might not be ready to buy a bike right now will be provided with all the information they need to make an informed purchase, putting Evelo in their good graces. From Evelo's point of view, they get the email of someone who is interested in buying electric bikes and can now nurture them via email and EDM marketing campaigns to try and secure the sale at a later date.
7. Include opt-in fields at checkout
Most online shoppers have come to expect checkouts to take personal information. When making a purchase, all of us feel more secure if we receive a confirmation of our order by text or email, and we feel more assured knowing the business has some way of updating us on the order progress.
As shoppers are already familiar with entering their information in a secure checkout environment, including an option to join an email list is a non-invasive way to encourage mailing list subscriptions. (As per GDPR rules, the check box option cannot be pre-checked however.)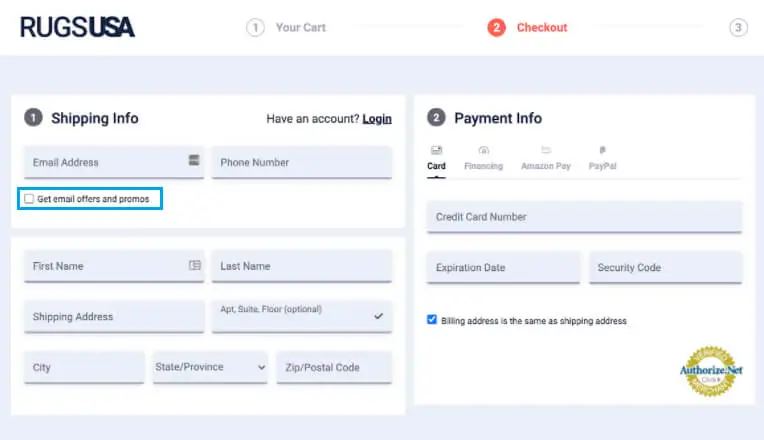 8. Utilize loyalty and referral programs
Strategized customer loyalty and referral programs can also help when growing your email list from scratch. Programs that offer rewards can encourage brand new subscribers as well as nudge existing subscribers to upgrade, generating more lifetime value.
Loyalty programs
Loyalty programs are a great way to build your email list and drive repeat purchases. According to Technology Advice, people are more inclined to shop with stores that offer a loyalty or rewards program.
However, new data from CFI Group and Radial suggests that 38% of consumers choose not to join loyalty programs due to their lack of perceived value. KPMG went further to look into millennial thoughts on brand loyalty and rewards programs, and here's what they found: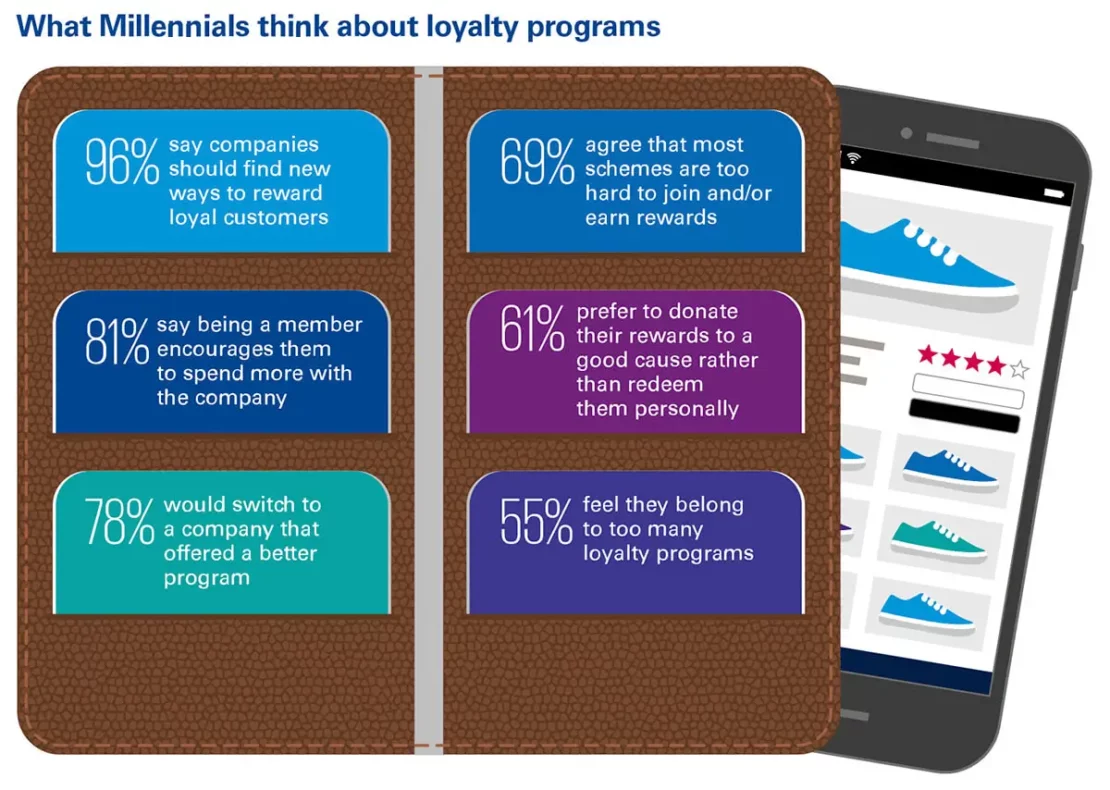 To make the most of your loyalty program and utilize it as an effective list building tactic, make sure you make it easy to enlist, offer some really noteworthy benefits like access to members-only sales, free gifts, events, content, and more. Also, make sure to personalize the experience once the person has signed up.
Referral programs
When you have established a loyal customer base, the next step is to utilize the power of word of mouth marketing. Give your loyalists and advocates to receive even more benefits by referring their friends to your product or service. After all, data shows that people are more inclined to trust recommendations from friends and family than brand communications.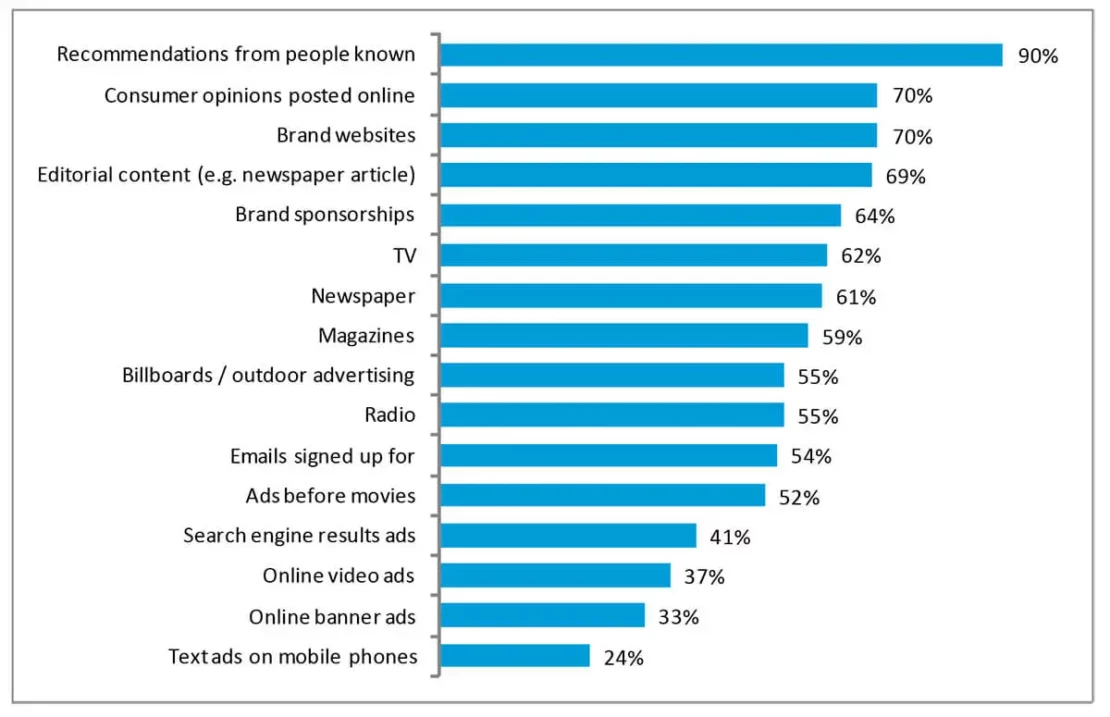 Referral programs work by rewarding customers who successfully refer new people to your business. Usually, you'll have to offer an incentive for both, the referral and the referee. This can go something like: Give $20, get $20; or Get $25 when your friend spends $75 or more, etc. eThe reward will only be issued once the referee submits their details or makes a purchase.
Another way to structure your referral campaign is to allow users to invite friends with similar interests to pre-sale events. This way you don't have to discount initially but will be able to contact those who have been referred.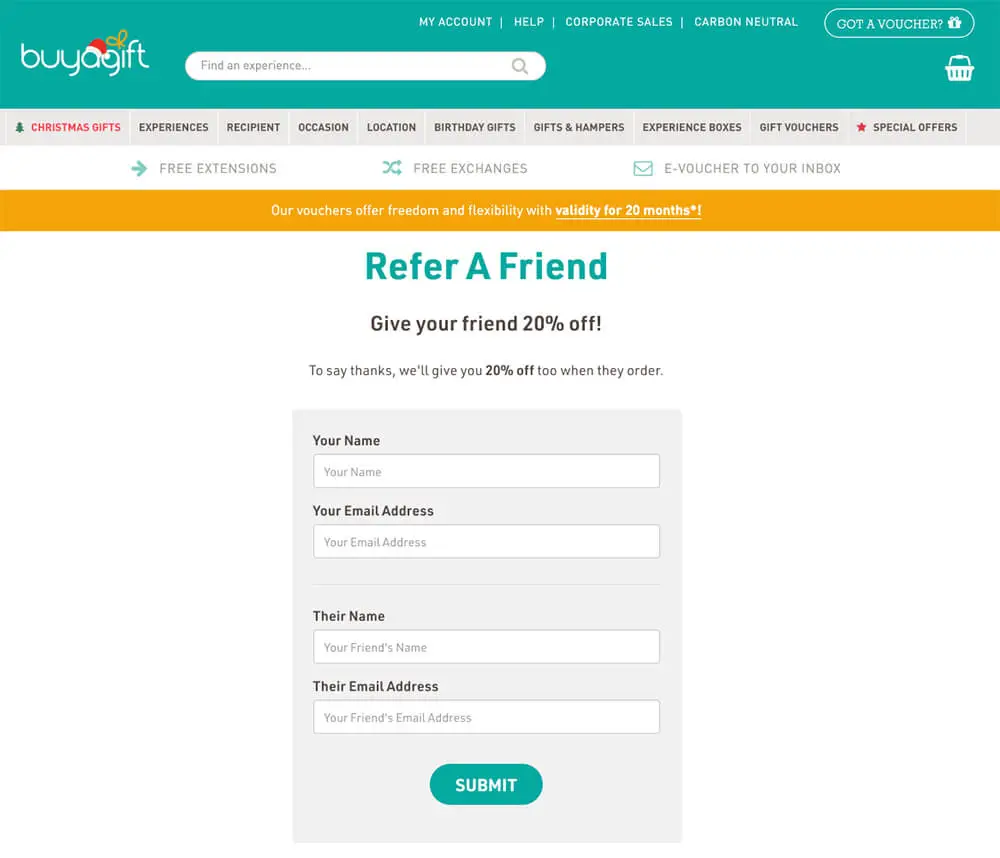 Referral programs have a lot of overheads, including the need to invest in a referral management software, and an affiliate manager. Consequently, it is only worth the effort when you have dozens (or even hundreds) of affiliates promoting your products.

Build an effective distribution plan that includes promoting your referral program on your website, sending email newsletters to your customers on the latest referral rewards, as well as leveraging email signature software to promote your referral program in your employees' email signatures.
BONUS: How to build an email list using social media
Social media marketing is one of the best ways to drive traffic to your website and get more subscribers. Social media strategies for generating email signups include:
Embedded signup buttons on social accounts. The easiest, no-cost way to advertise your company newsletter to social media users is to add a call-to-action on your social profiles. Facebook and Instagram allow you to do it by featuring a "Sign Up" button on your profile but can also always share posts that invite people to join your email list.
Giveaways and contests. Social media platforms are making brands more reachable, personable, and above all, interactive. Instagram stories especially include polls, quizzes, and Q&A features that can generate user engagement. By promoting a contest, giveaway, or even limited-time special event, traffic can be driven to a landing page where followers can sign up to take part.
Lead forms via Facebook Ads. Facebook Ads allows businesses to run lead form ads, which basically mean that a person can convert, i.e. subscribe, without leaving the platform. Due to convenience, lead form ads are known to boast quite high conversion rates.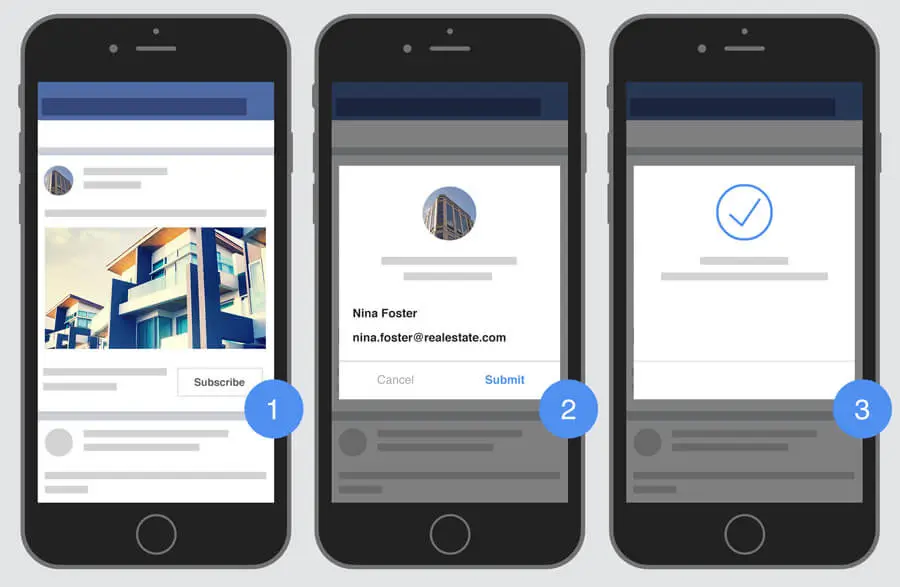 Twitter Lead Generation cards: Twitter's Lead Generation Cards are the perfect way to engage your followers and turn them into subscribers. All you need is a tweet that contains an expandable card, which will automatically enter their name, email address (as entered in settings), as well as @handle so they can subscribe right from Twitter.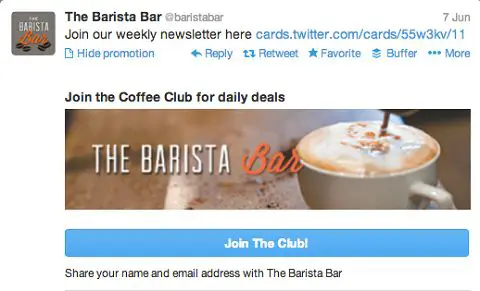 BONUS: How to build an email list offline
Your website will be your best option when it comes to building your email list but that doesn't mean you have to rely solely on it. You can also grow your email list by making the most of offline channels. Some easy ways to do this are:
In-store. Foot traffic can be converted to mailing list subscribers by using signup sheets at your store or checkout desk. Get creative – if someone at the changing booth requested an item that's currently unavailable, nudge them to signup for stock updates or new arrivals. Just make sure you get their full consent when collecting this information offline.
Trade shows. Trade shows offer great opportunities for businesses to network with other wholesalers as well as selling directly to consumers. Email information can be captured using the same signup sheets, upon purchase, hosting giveaways, etc. If you're handing out business cards here you could also encourage sign-ups on these.
Direct mail. If your business uses direct mail to send marketing collateral, you might want to include a call-to-action or QR code that links people to sign up for "paperless" news. Most people will opt to receive information about sales digitally rather than traditionally, and promotions are easier to manage when they are digitally recorded.
Best practices to follow when building your mailing list
Just like any marketing, there are best practices to follow that can help your email list building efforts if followed, or hinder them if not. The recommended best practices include strategies like:
Don't purchase an email list. A purchased email list is not only a guaranteed way to have your emails end up in a spam folder, but it is also illegal.
There are serious ramifications involving both the European Data Privacy Act, the General Data Protection Regulation (GDPR), and the United States 2003 CAN-SPAM act. All of these laws place restrictions on the collection of users' personal information as well as monitoring email opt-in sequences. If businesses are found to be in breach of these restrictions, there are substantial financial penalties.
Send a welcome email or series. Nobody likes to feel as though they're just a number. Once you have subscribers' email addresses, you must work to retain them. Plus, if you don't nurture your lead, your previous acquisition efforts become useless. Make sure you have a welcome series set up to introduce new users to your brand.
Use social proof. Showing many people have already subscribed to your email list builds trust, instils FOMO, and tempts new people to sign up. Use copy like "Join over 100,000 subscribers" and "Join a community of 100K fans."
Taking email data one step further
So now we have covered how to build an email list from scratch how can we take this one step further?
The goal of email marketing is to deliver the right content, when it's most needed. Companies should know their customers well enough so that they can personalize emails with targeted offers and information just for them.
Now, most of the ways to quickly build an email list will involve minimal data entry on sign up forms, you'll likely just have an email address and possibly a first name. To really make the most of new subscribers in future email campaigns you're going to need a bit more data.
If they become a consistent customer you may be able to figure out what products or services they are interested in over time.
However, a quicker way would be to introduce them with a welcome series email that aims to get more useful data.
A nice example of this is below from Ann Handley, you'll notice she asks new subscribers want they hope to learn, if they reply she will have a very good idea of what content and emails to send them going forward.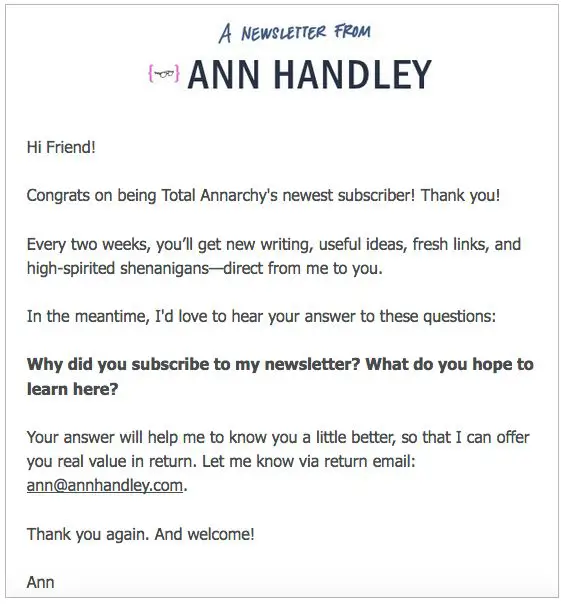 In summary
To summarize, even into 2023, email list building continues to come out top of the most popular and effective marketing strategies. Engaging on a personal level with customers is where email marketing is unrivalled. Curated and highly personalized email lists are guaranteed to drive repeat business for your eCommerce website.
Remember to carefully select and review what landing page you use to capture email addresses, and what method you use to build your email list. A test and learn approach works well so don't be afraid to switch things up. And if you're going to use a list building tool to drive more subscribers, make sure you consider your options carefully before committing to a provider.
These 8 strategies should hopefully provide you with a great place to start building your email list effectively and provide you with another way to reach your target audience. Lead generation is just the start.
Once you have their email address and your subscribers are growing you need to have an effective email marketing strategy that keeps them engaged and as paying customers. Sending segmented and targeted emails that are super relevant is your next challenge, and don't forget your email call to action.
If you need any help growing your list, we're only a demo away!
How to build an email list FAQs
What are four ways you can build your email list?


Four ways you can build an email list are with website pop-ups and lead capture forms, running competitions, social media giveaways, and content upgrades (giving their email address for exclusive content)
What is the fastest way to build an email list?


The fastest way to build your email list is to use a variety of different tactics on different channels. For example. Use opt-in forms on your website, whilst running social media competitions. Test and see which methods get the best results for you over time and then double down on the best method.
How long does it take to build an email list?


It depends on how big you want your email list to be! If you run a successful opt-in campaign you could have a solid email list within a few days, but if you wish to build a big email list with hundreds of thousands of subscribers this will take a bit of time!