BLOG
17 Email List Building Tools You Need to Grow Your List
Published: Sep 30, 2022
Building an active and engaged email list should be a top priority of every website owner. But how do you do it? When it comes to email list building, there are several tools out there that can help you do this. We've analyzed the top 12 and how you can use them.
Never underestimate the power of building an engaged email list. This list will be the first to receive special offers, blog posts, webinar invitations, new product launches. They will be loyal fans, brand advocates and therefore highly likely to convert.
If you're actively sending traffic to your website it could be argued that this is of little value if they aren't transacting with you or at least giving you their contact information.
From pop-up customizers, to lead magnets and even marketing automation software, it's never been easier to quickly build an email list.
You just need the right tools to do so. Here are our top picks:
Why You Need To Build Your Email List
With over 3.9 billion daily email users registered and 47% of marketers stating that email marketing is their most effective marketing channel, it's obvious that email list building is now an essential requirement for any modern business.
In a study by DMA, they found that 91% of marketers rated email marketing as an important part of their marketing strategy.
By actively building your email list you're building an audience that wants to find out more about you and stay up to date with your latest offers and news. These are essentially "warm" leads that have a much better chance of converting than a brand new click from a Paid Search ad.
When you build your email list you'll be able to consistently find new leads, nurture prospects, and eventually convert visitors to customers.
While building an audience on Facebook or LinkedIn is a quick way to get in front of potential customers you're essentially "renting" the audience. But by building your email list they are yours and can become one of your greatest fixed assets.
This is because email marketing is one of the best ways to nurture an engaged audience. This engagement is what boosts business revenue through increasing customer lifetime value.
Research shows that for every $1 spent on email marketing, expect an average return of $42. This is the highest return on investment for any digital marketing channel.
Further research has shown that almost 50% of customers actually want to hear from their favorite brands every week – just make sure you're writing intriguing email subject lines when you reach out.
To summarize:
Building an email list gives you an engaged audience that's fixed. They will always be there ready to receive product updates and special offers.
They do want to hear from you
You will likely get a positive ROI on email marketing activity
So the next question is, how do you go about building your email list?
17 Of The Best Email List Building Tools
If you're a budding entrepreneur or business owner it can be hard to know which list building tool to choose from with so many available.
We've compiled a list of our best-rated list building tools on the market and an overview of their features to help narrow down your selection.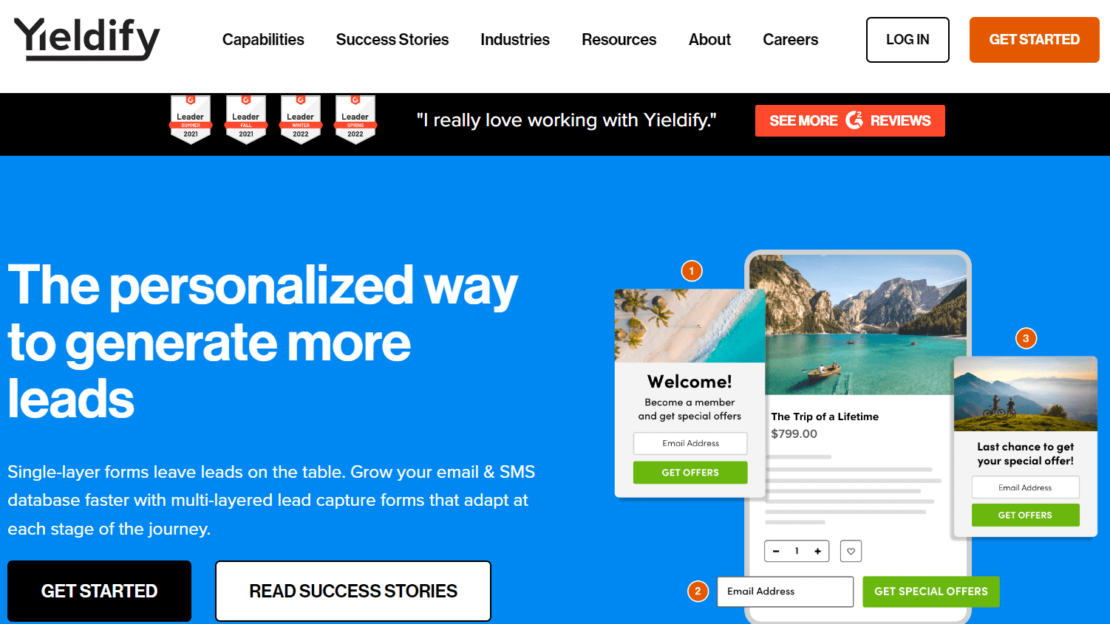 Yieldify is a fully managed personalization platform that helps ecommerce businesses generate more revenue by engaging their customers with personalized experiences. Their lead generation functionality is a highly rated feature that will help you build your email and SMS lists.
Top features
Fully managed service
With a fully managed service, Yieldify's service team will handle your list building strategy for you. You'll get expert support from a dedicated account manager as well as a team of graphic designers, technical engineers and quality assurance specialists.
Together they'll help map out your strategy, set up and monitor campaigns, and optimize performance.
"Even though we have a very complicated funnel, the entire Yieldify team – including product, design, and engineering – have worked with us to help increase conversions. Stellar team!"
Custom, on-brand forms
Yieldify's graphic design team will create forms for you with custom copy and creative to match your brand guidelines – on mobile, desktop and tablet.
You can also add custom elements to your forms – including free text fields, radio buttons and dropdown menus – to capture visitor data such as gender, preferred products or clothing size.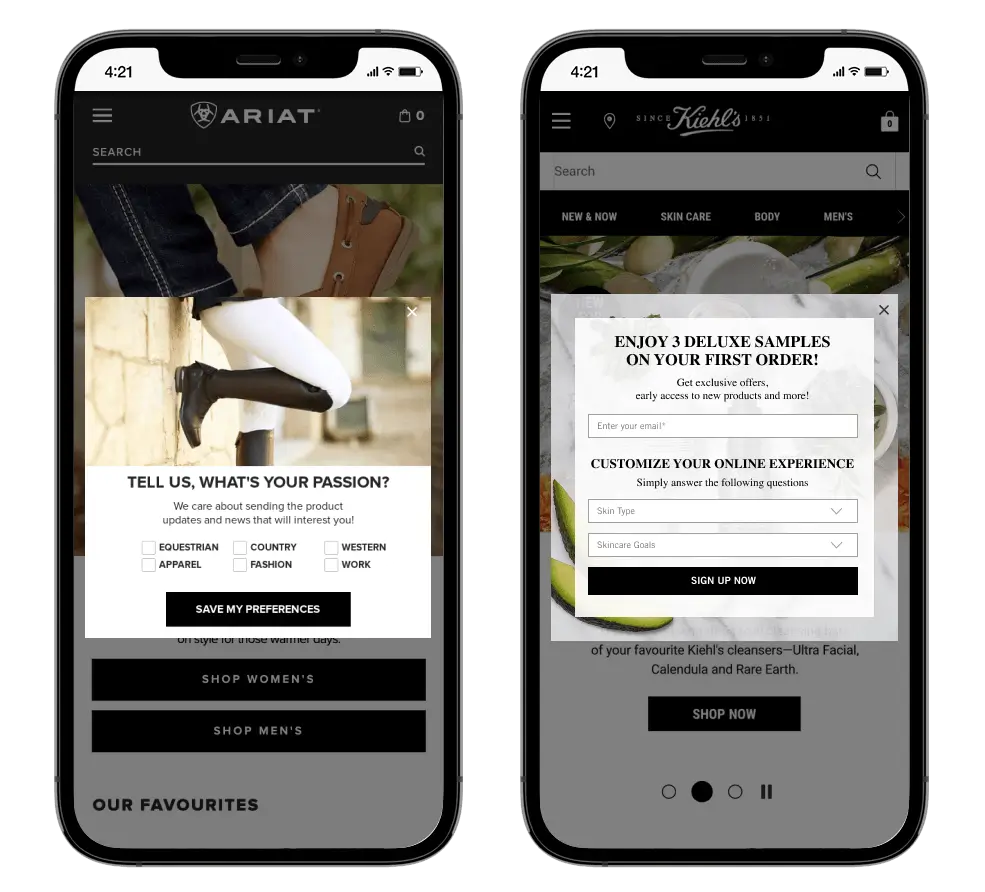 Audience segmentation
Yieldify's audience segmentation functionality lets you reach different customer groups by setting custom combinations of targeting and triggering rules. That way you can direct your list building campaigns to the right customers at the right time with the most tailored messaging.
Their targeting and triggering rules are comprehensive, including segmenting by new vs returning visitors; referral URL; session number and time on page.
A/B and A/B/n testing
Yieldify's A/B and A/B/n testing engine lets you test up to 5 different list building forms against each other at the same time. That means you can settle on the best performing optin messaging, design, placement or incentive faster and drive the maximum number of sign-ups.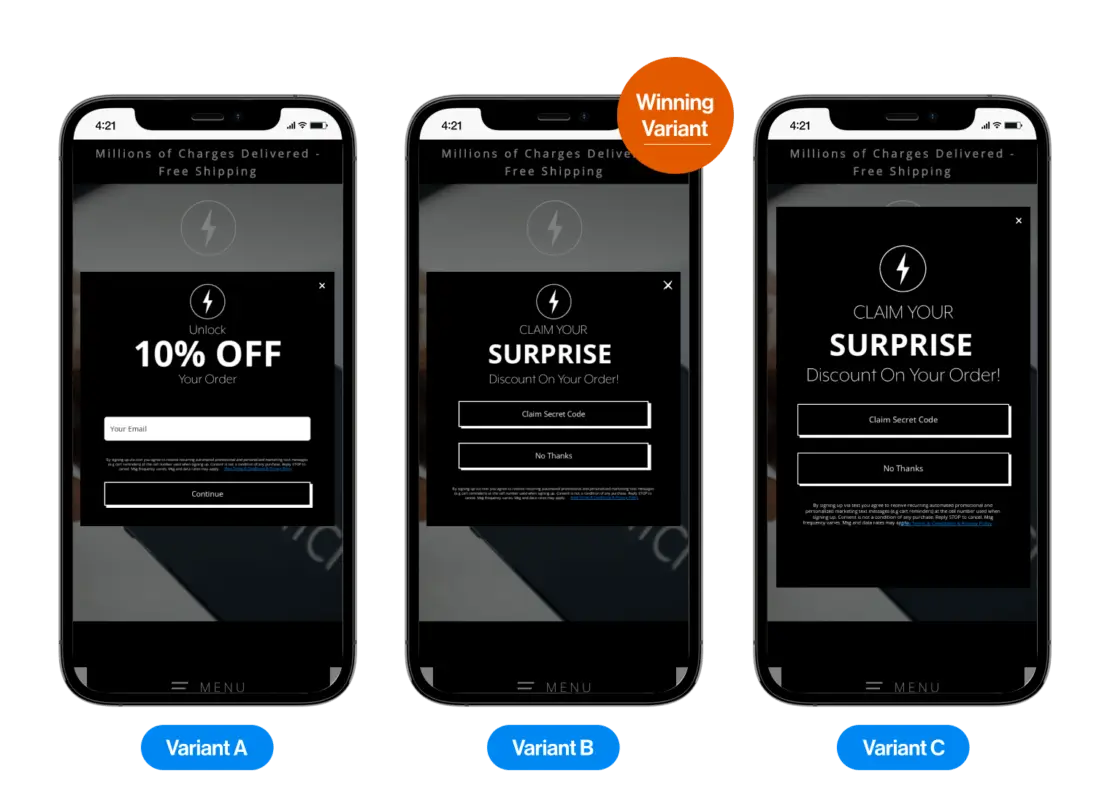 Integrations
Yieldify integrates with all major email service providers (ESPs) and SMS providers so you can be sure your leads get saved in your database. They also have an advanced integration with Klaviyo – which you can read about here.
Pros of Yieldify
Count on expert service: Yieldify's service team is second-to-none in the lead capture and personalization industry. Read their G2 reviews to see what their clients say
Capture 20% more leads: You can generate 20%+ more leads on average with their layered lead capture feature vs a standard lead capture approach
Run personalized campaigns: Improve your user experience and maximize sign-ups by using segmentation to adapt your optin forms to different stages in your customer journeys
Gather comprehensive data analytics: Gain deep insights into your customer behavior with Yieldify's customer journey reports (called Sunburst charts) as well as their in-depth campaign reporting
No developers needed: With their easy-to-integrate tag and no-code campaigns, you can get your first list building tests live within 14 days – no developers required
"I view Yieldify as a data analytics company as much as a lead generation and personalization platform. It sets them apart.
Cons of Yieldify
Not an ESP or SMS provider: Yieldify lets you capture emails and phone numbers but you can't send email or SMS marketing from their platform
Pricing
Speak to Yieldify's sales team for more information.
Mailchimp is an all-in-one marketing platform that helps you grow your email lists with unlimited free sign-up forms.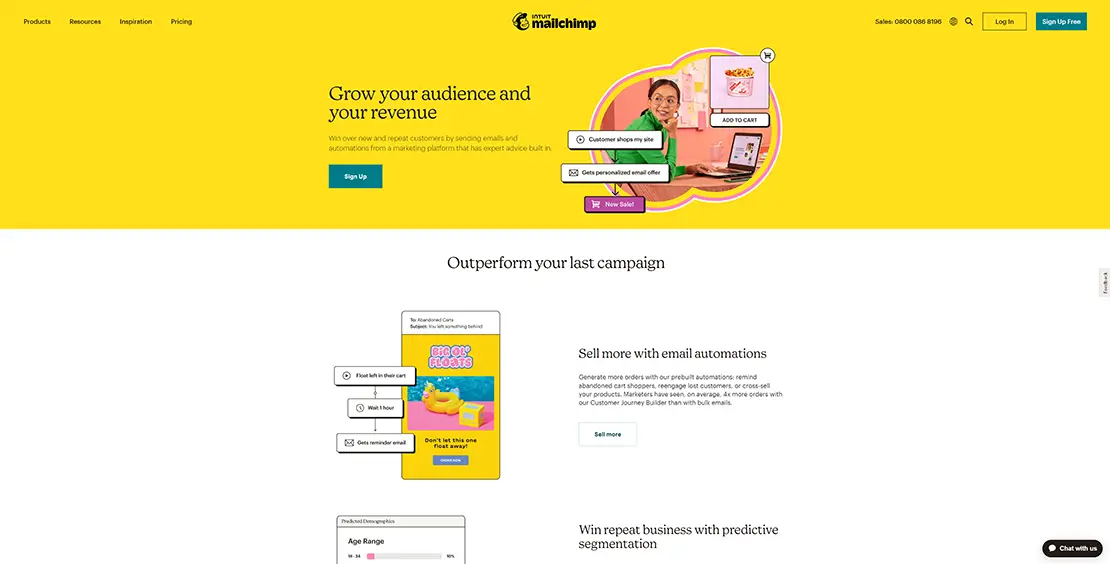 Top features
Customization: The plugin allows you to create targeted landing pages, overlay popups, and embedded sign-up forms within your ecommerce platform – and automatically integrates the designs with the brand theme.
Personalization: All of Mailchimp's user-created landing pages, popups, and sign-up forms are personalized to maximize conversions.
Segmentation: Users can be categorized into relevant campaigns based on their behavior.
Integrations: Mailchimp integrates with WooCommerce and many other ecommerce platforms.
Pros of Mailchimp
Highly versatile: Mailchimp's list building tool is suitable for freelancers, startups, mobile apps, developers and ecommerce brands
Award-winning support: Mailchimp's support team is available 24/7 to guide users through platform problems and queries
Free version: You can trial Mailchimp's basic features with their cost-free plan
Cons of Mailchimp
Complicated interface: Mailchimp's interface is not the most intuitive and can be difficult to navigate
Limited reporting: At its price point, Mailchimp's reporting capabilities are lacking sophistication
Pricing
Mailchimp's pricing is tailored to the size of your contact list. Pricing for Mailchimp's premium package starts at $299 per month. They also offer a free version with their most basic features.
Specifically designed for ecommerce, Klaviyo is an email service provider with a focus on marketing automation.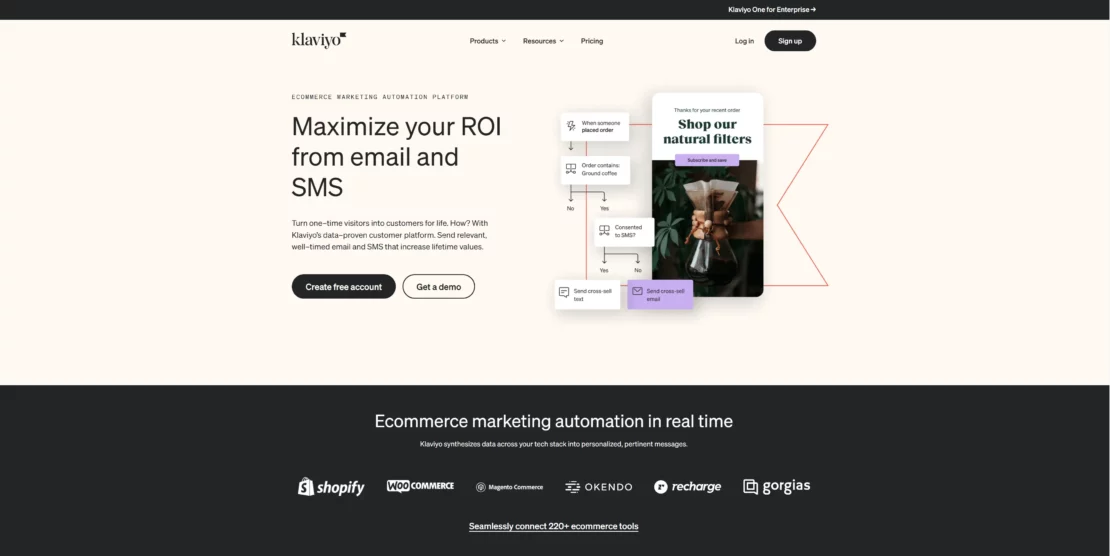 Top features
A/B testing: Optimize your optin forms by running tests to determine the most effective messaging, design and placement for your audience.
Segmentation: Groups users by their behavior, open rates, bounce rates and demographics such as age and location.
Adaptive forms: Set your forms to pop up in the middle of the browser window, sit at the side of the page or open via a small widget.
Social integrations: Seamlessly integrates with Facebook to maximize social media marketing.
Pros of Klaviyo
Shopify integration: Shopify customers report a seamless experience integrating with Klaviyo
Template library: Choose from 50+ ready-to-customize templates that have been optimized to build subscriber lists
Cons of Klaviyo
Customer service: Some clients have been disappointed by the speed and quality of communication from Klaviyo's support team
Steep learning curve: Klaviyo's self-service platform is relatively complicated and takes time to learn
Pricing
Klaviyo's pricing is tailored to the size of your contact list. Prices range between $35 and $1970 per month for Email and SMS packages, but you can trial Klaviyo for free if you have less than 150,000 contacts.
Rafflecopter is a unique email list building tool that helps customers create contests and giveaways.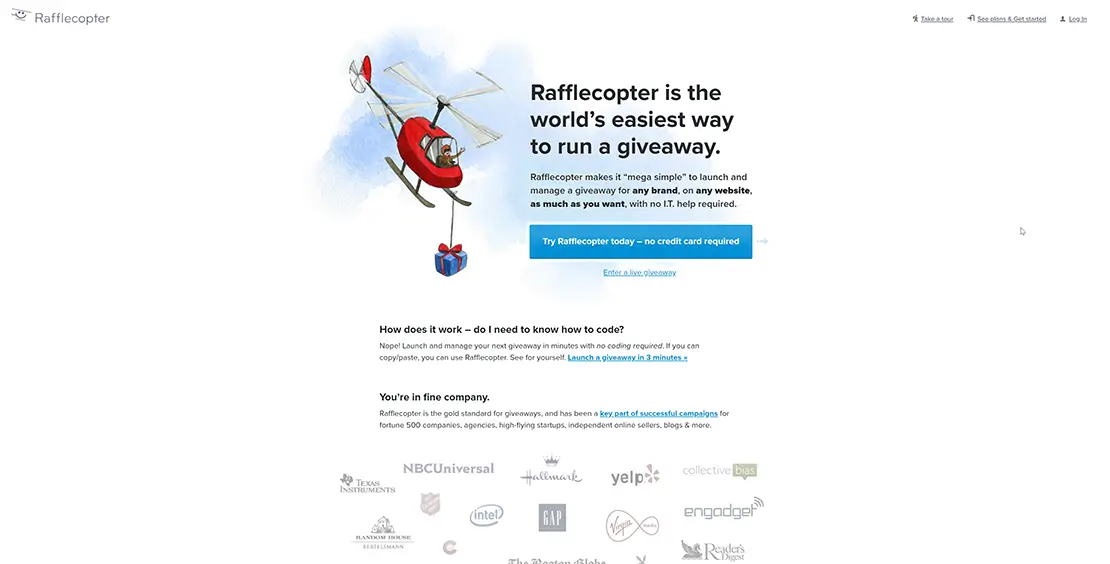 Top features
Giveaways: Rafflecopter enables brands to build lists by running giveaways across websites, social media and blogs.
Custom theme designs: Customize the design of your giveaway to keep it on-brand.
Pros of Rafflecopter
Speed: Launch your giveaway within minutes using Rafflecopter's pre-built features
No coding required: No IT expertise is needed to use or install Rafflecopter, making it highly accessible to any ecommerce brand
Cons of Rafflecopter
Limited platform: Rafflecopter only enables you to increase your email lists with giveaways
Pricing
Rafflecopter packages range from $13 to $84 per month.
Attentive is a leading SMS marketing solution that empowers brands to build strong customer relationships with personalized text messaging.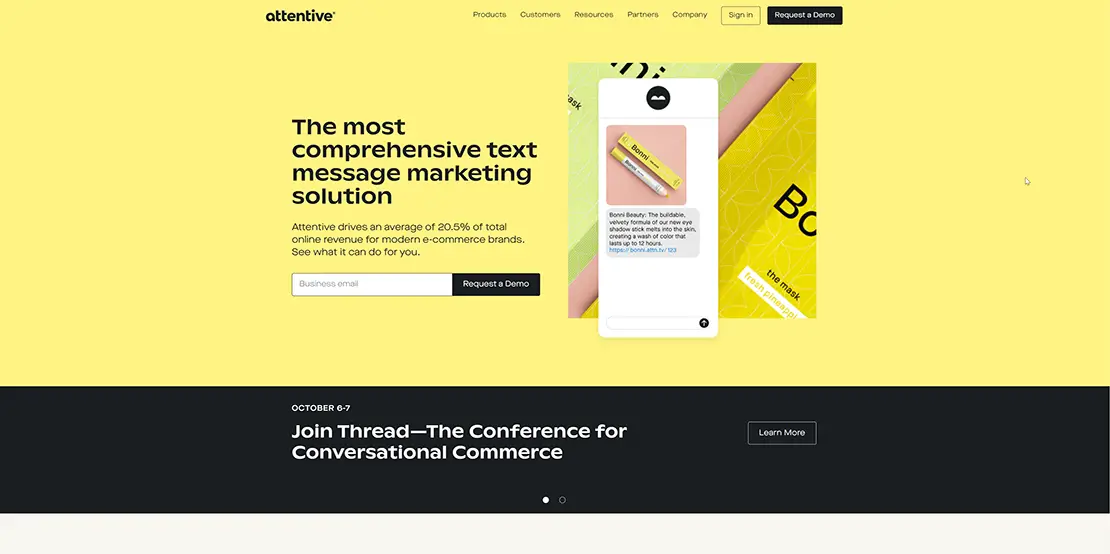 Top features
Multiple sign-up units: Attentive can increase your SMS lists on your mobile and desktop websites, through your social media channels, via email remarketing and more.
Design editor: Customize sign-up units to align with your brand.
Deliverability: Message customers in your SMS list at scale and track performance in real time using Attentive's data dashboard.
Pros of Attentive
SMS-first: A leading solution for anyone looking to specifically build their SMS list
Managed service: Every Attentive customer gets a dedicated account manager from day one
Cons of Attentive
Analytical discrepancies: Attentive's reporting suite doesn't always accurately align with results in Google Analytics and other analytics platforms
Pricing
Speak to Attentive's sales team for more information on pricing.
OptinMonster is a leading self-service lead generation and CRO tool which helps companies grow their email and SMS lists.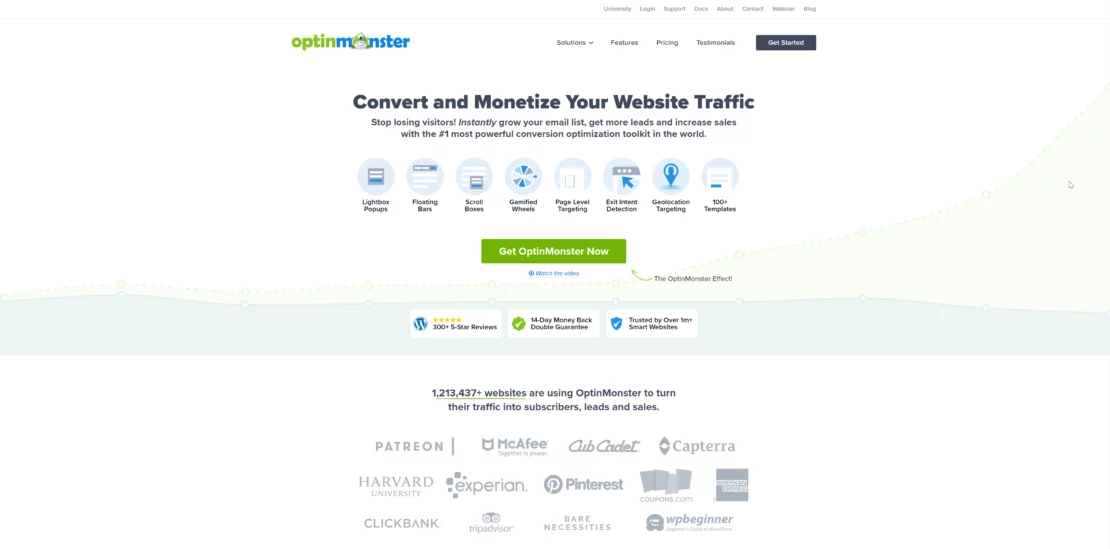 Top features
Templates: 400+ optin form templates to choose from.
Drag and drop builder: Anyone can create sign-up forms from scratch with or without coding experience.
OptinMonster University: Get access to online courses, webinars, downloadable cheat sheets to grow your database.
Pros of OptinMonster
Variety of strategies: OptinMonster offers everything from geolocation targeting to gamified wheels to help customers increase their email and SMS lists
Cons of OptinMonster
Learning curve: Clients have reported a steep learning curve to understand how to maximize OptinMonster's features effectively
Pricing
OptinMonster packages range from $16 to $82 per month.
Thrive Leads is a list building tool that is designed primarily for integration with WordPress and WooCommerce.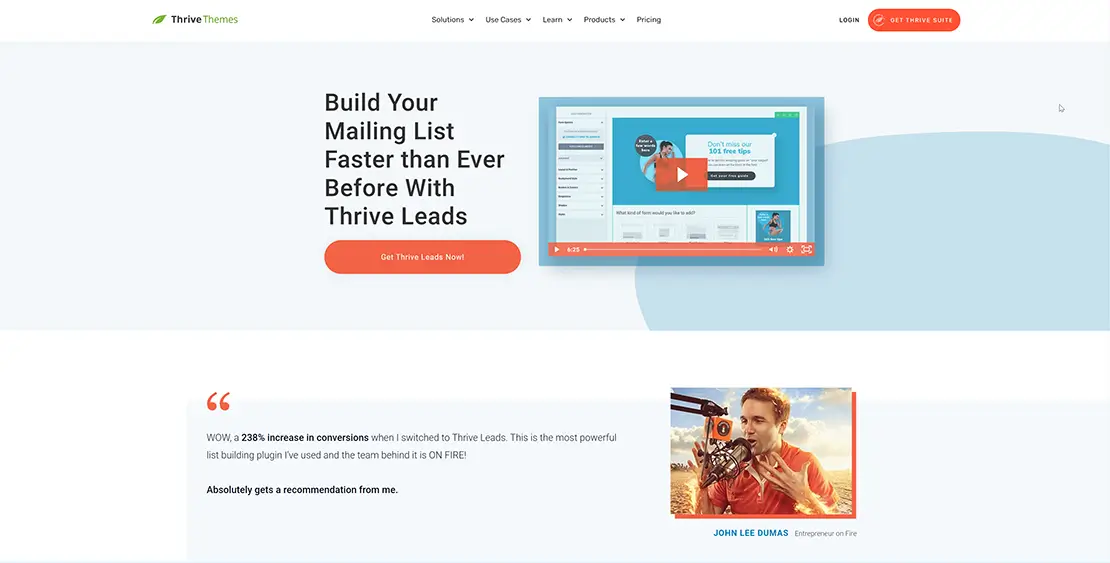 Top features
Design: Thrive Leads' drag-and-drop editor enables you to create impactful designs that drive more leads.
Advanced targeting: Show the most relevant messaging to your audience.
A/B testing: Test different lead forms to find the most effective messaging, placement and design.
Actionable insights: Thrive Leads provides analysis on how your optin forms are performing over time.
Pros of Thrive Leads
Multi-use: You can install The Thrive Leads suite on up to 5 different websites
30-day money back guarantee: If you're unhappy with Thrive Leads, they'll give you a refund within the first 30 days of signing up
Cons of Thrive Leads
Platform limitations: Thrive Leads is exclusively a WordPress plugin and isn't compatible with Shopify or other providers
Pricing
Thrive Leads costs $299 per year or $99 per quarter depending on your billing preferences.
Hello Bar is a popup tool that creates exit-intent popups, timed popups, and floating signup bars to convert more visitors into leads.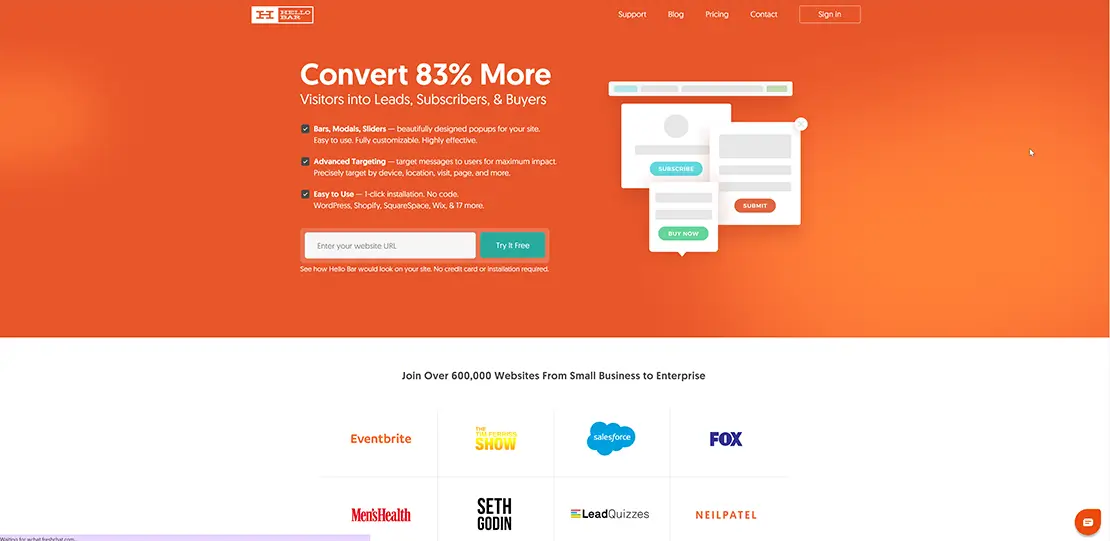 Top features
Customization: Choose from hundreds of pre-built themes, or customize any element of the sign-up form to align with your brand. Hello Bar's design assistant tool also matches colors, fonts and styling with your website's design.
Targeting: Increase your email lists by targeting visitors based on their location, traffic source, time and more.
Tracking: Create custom reports with the data you need to measure performance effectively.
Pros of Hello Bar
Seamless integration: Hello Bar's one-click installation requires no code. It easily integrates with WordPress, Shopify, Mailchimp and other platforms and tools
Variety of popups: Every Hello Bar plan gives customers access to five different types of popups
Cons of Hello Bar
Customer support: Hello Bar have a detailed knowledge base to answer customer queries, but there is no access to telephone support
Pricing
Hello Bar packages range from $0 to $99 per month.
Typeform is a web-based platform you can use to create anything from surveys to apps, without needing to write a single line of code.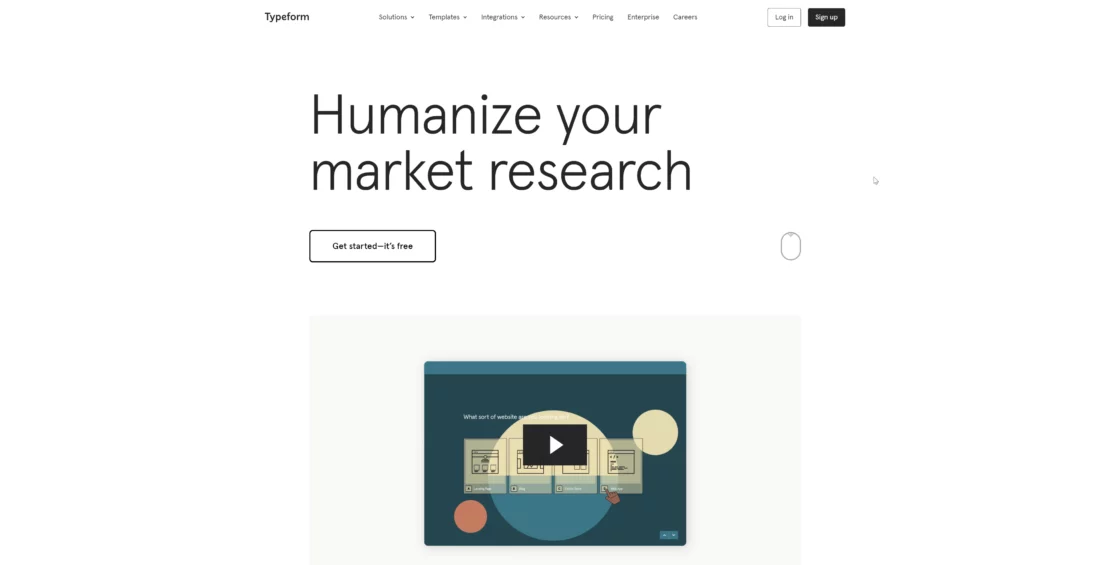 Top features
Quizzes and surveys: Typeform collects leads by inviting visitors to answer questions about anything related to your product.
Adaptable questions: Follow-up questions adapt according to previous answers.
Slack integration: Your colleagues are immediately notified when a new lead completes the questionnaire.
Pros of Typeform
User friendly: The platform is well designed and robust
Cons of Typeform
Customer support: Typeform's support team can be slow to respond
Pricing
Typeform offers five types of plans, with prices ranging from free to $77 per month. You'll need to contact their sales team for pricing information on their enterprise plan.
Outgrow is a content creation tool that allows you to make contests, surveys, giveaways, and quizzes.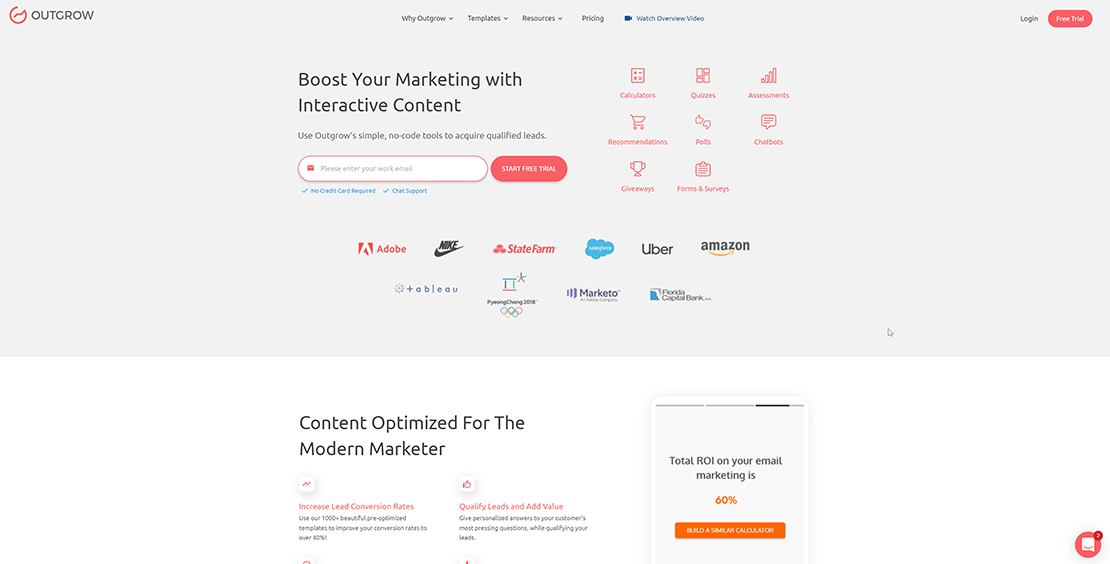 Top features
Chatbots: Outgrow's chatbots make you available to visitors 24/7, helping to convert potential customers into leads round the clock.
Quizzes: Access more than 1 million stock images powered by Unsplash to create visually stunning quizzes that encourage participation and build your email lists.
1000+ integrations: Outgrow integrates with Mailchimp, Hubspot, GetResponse and thousands of other marketing tools.
Pros of Outgrow
Quality of support: Outgrow give plenty of support and guidance during the onboarding process and have a highly responsive, 24/7 chat system
Design: The depth and variety of design tools available makes it both easy and enjoyable to use
Cons of Outgrow
Feature limitations: Many of the best features are not available unless you upgrade to the business plan
Pricing
Outgrow plans range from $14 to $600 per month. Enterprise businesses will need to speak directly with Outgrow's sales team for a quote.
VoilaNorbert is an email finding tool – all you need is your prospect's name and the company URL to find an email address.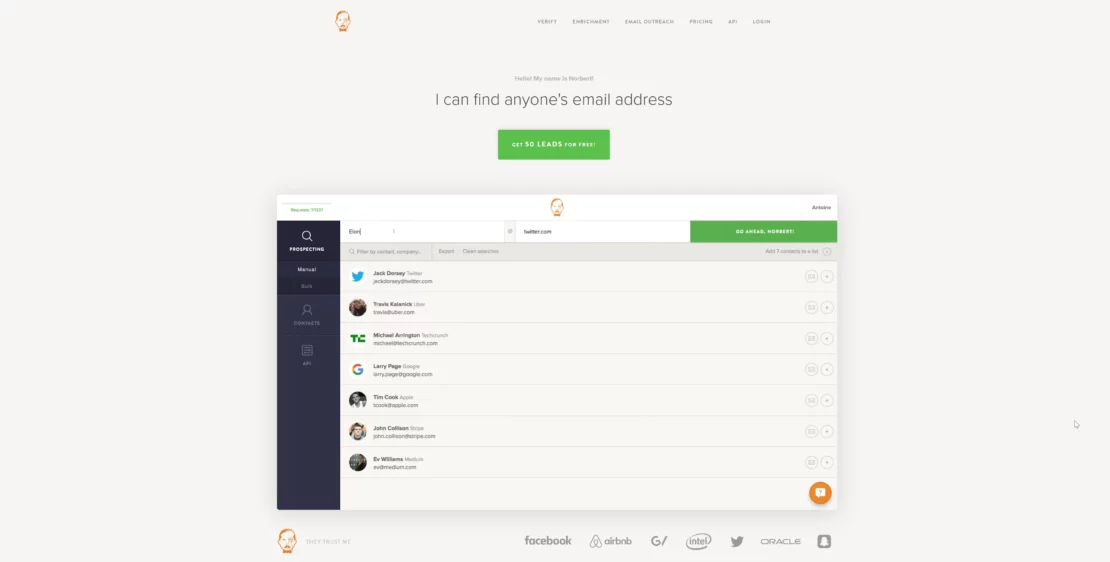 Top features
Fewer bounces: VoilaNorbert's 8-step verification process filters email addresses from your list to ensure you're targeting the right people.
Better sender score: Improve your sender score by ensuring emails land in the primary inbox.
Increased deliverability: By improving your sender's reputation, you increase the chances of getting emails to land in the right inbox.
Pros of VoilaNorbert
Reliability: VoilaNorbert has a 98% deliverability score
Cons of VoilaNorbert
Free trial: You can only acquire 50 leads for free before you need to sign up to a paid version
Pricing
VoilaNorbert pricing starts at $49 per month for their Valet package and rises to $499 per month for Counselor.
SignUpAnywhere is the flexible way to increase email and SMS lists and is used by businesses, organizations, restaurants, bars and charities.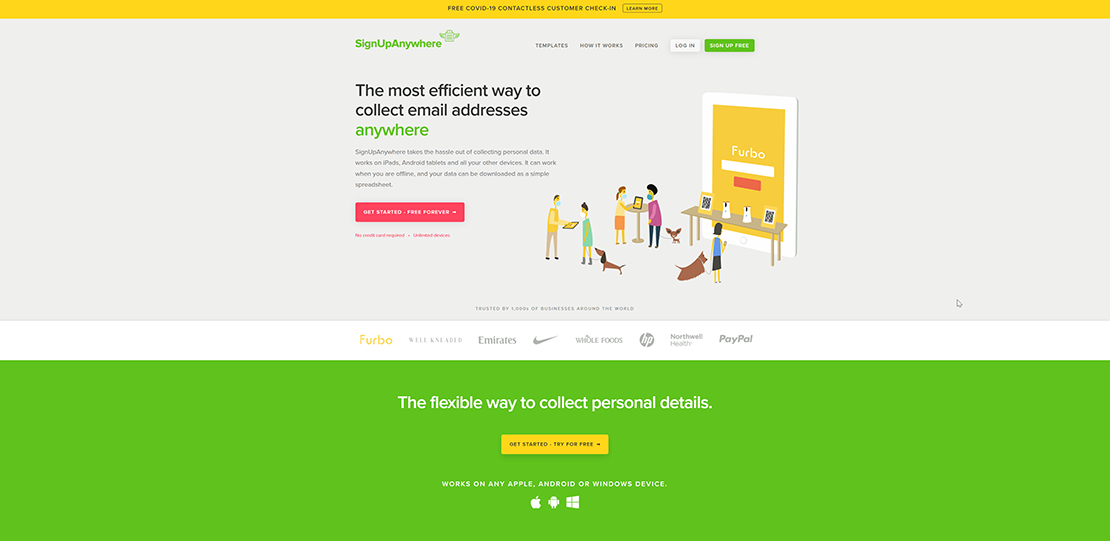 Top features
Templates: From satisfaction surveys to product feedback and email sign-ups, SignUpAnywhere has a variety of templates to choose from.
Works without WiFi: SignUpAnywhere forms sync data even when you're offline.
Pros of SignUpAnywhere
Anytime cancellation: Flexible pricing means you can cancel your subscription at any time
Cons of SignUpAnywhere
No social proof: There are no reviews on G2 to gain insight into how satisfied customers are with the product
Pricing
SignUpAnywhere's pricing ranges from free to $70 per month for their Corporate package.
ChatBot is an all-in-one platform to create, deploy, and track chatbots across channels.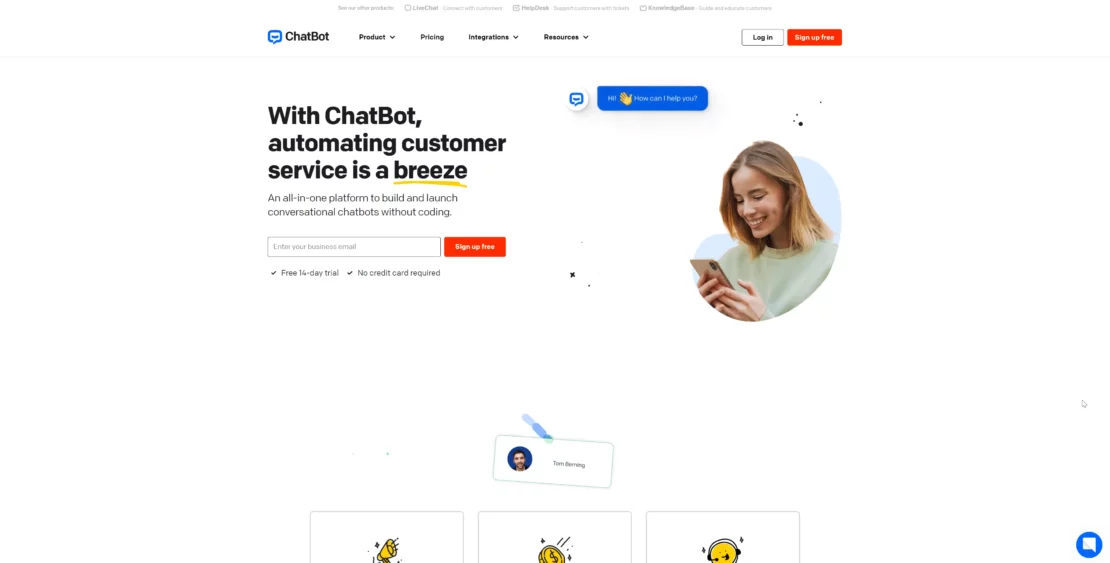 Top features
No-code builder: Easily build your chat bot's response formats and actions using the drag and drop builder.
Testing tool: Preview your chat bot experience before setting it live.
Customizable widget: Align your ChatBot widget with your brand and site design.
Pros of ChatBot
Easy integrations: ChatBot easily integrates with LiveChat
User-friendly: The learning curve is small and users can quickly get up to speed with the platform
Cons of Chatbot
Sophistication: There are more intelligent chat bot tools on the market, albeit typically for a higher price
Pricing
ChatBot's Starter package is $52 per month, with prices rising to $424 per month for their Business package. Contact the ChatBot team directly for more information about their Enterprise package.
Made by marketers, for marketers, Sleeknote positions itself as more than your average pop-up builder.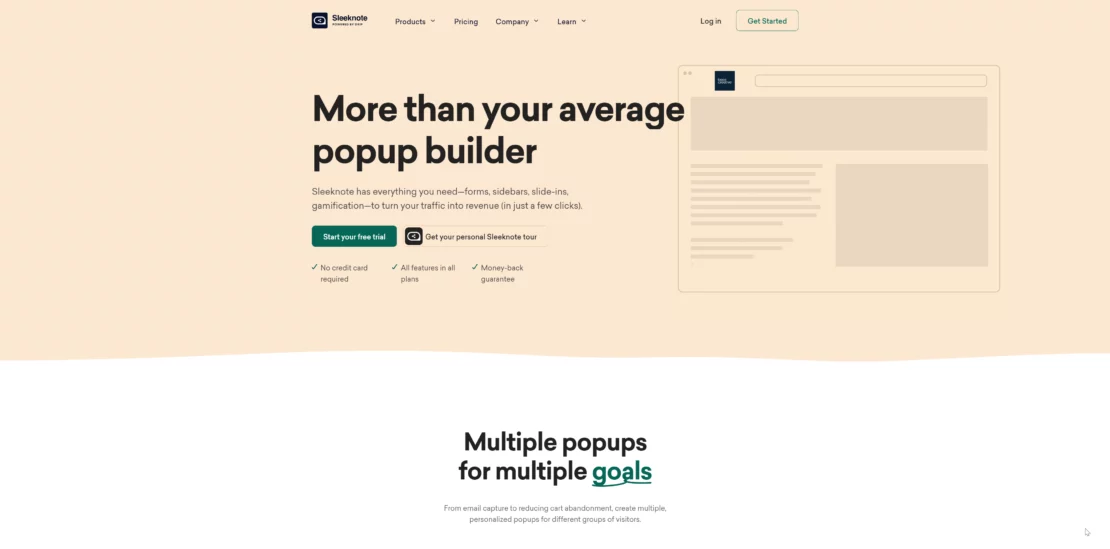 Top features
Reduce cart abandonment: Surface optin forms to customers with items in their basket when they're about to leave the site.
Gated content: Incentivize sign-ups with forms that give customers access to content in exchange for their email address or SMS.
Integrations: Sleeknote is integrated with 1200+ tools.
Pros of Sleeknote
Money back guarantee: Trial any of Sleeknote's plans and receive your money back if you're not satisfied after 30 days
Cons of Sleeknote
Tracking: No campaign performance tracking with Sleeknote Lite
Pricing
Sleeknote has five available packages ranging from $49 to $374 per month.
Trustmary leverages the power of social proof and customer testimonials to improve lead generation by embedding reviews into optin forms.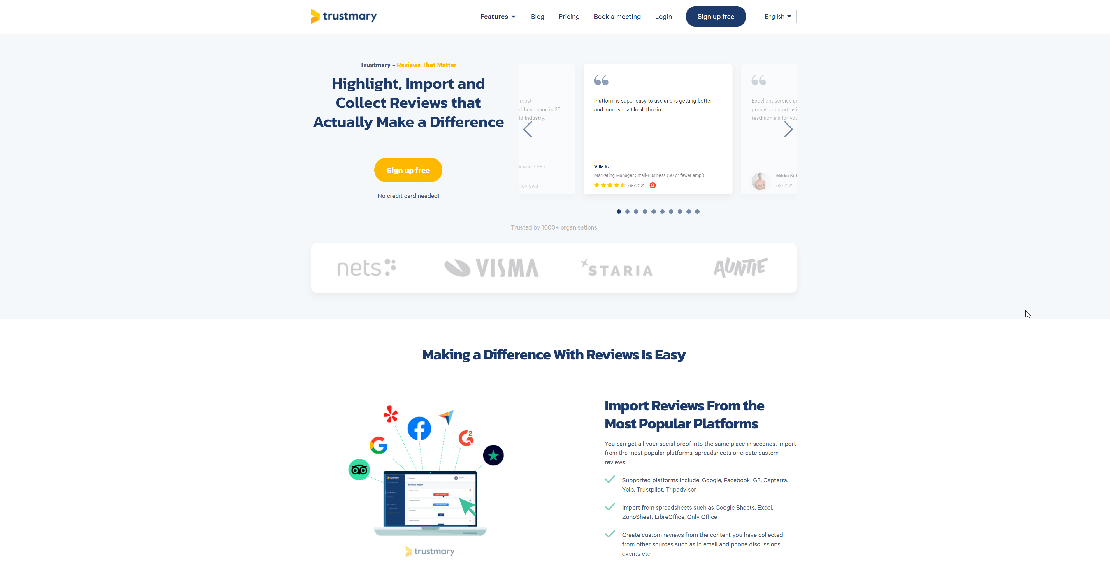 Top features
A/B testing: Pit different testimonials against each other to determine which quote drives the highest number of leads into your email and SMS lists.
Triggering: Surface lead gen forms to website visitors based on page URLs, acquisition source, UTM tags, devices, timing, new vs returning and more.
Templates: Trustmary's optin forms have already been tested and optimized to ensure you maximize sign-ups.
Pros of Trustmary
Multi-purpose: Allows you to collect customer testimonials and subscribers simultaneously
Cons of Trustmary
Limited forms: Trustmary lacks the variety of optin forms provided by other list building tools
Pricing
TrustMary's Solo package is totally free, and they have three more packages ranging from $99 to $499 per month.
Mailmunch is a lead growth and email marketing service for bloggers, solopreneurs, startups, and enterprises.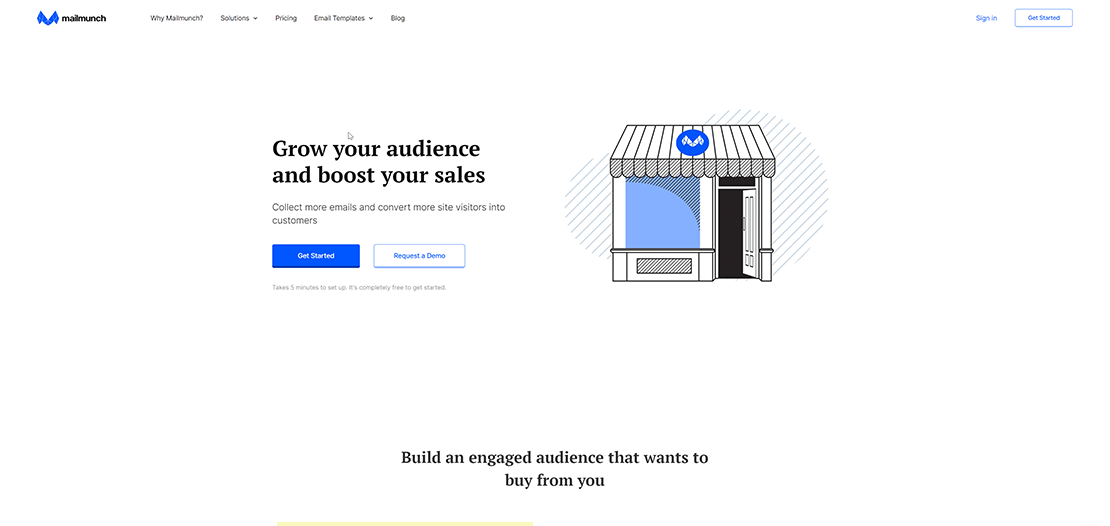 Top features
Optin forms and landing pages: With Mailmunch you can drive more subscribers into your lists by customizing optin forms and landing pages.
Template library: Choose from hundreds of free optin forms and landing page templates.
Imagery: Mailmunch integrates with Unsplash, Pexels and Pixabay to provide customers with thousands of royalty-free images.
Pros of Mailmunch
Versatile: Mailmunch is suitable to all industries and verticals
Cons of Mailmunch
Customization: The landing page builder is clunkier to use than the optin form builder
Pricing
Access Mailmunch's Premium marketing solution for $13.99 per month.
Leadpages is a landing page and squeeze page builder that doubles up as a comprehensive list builder.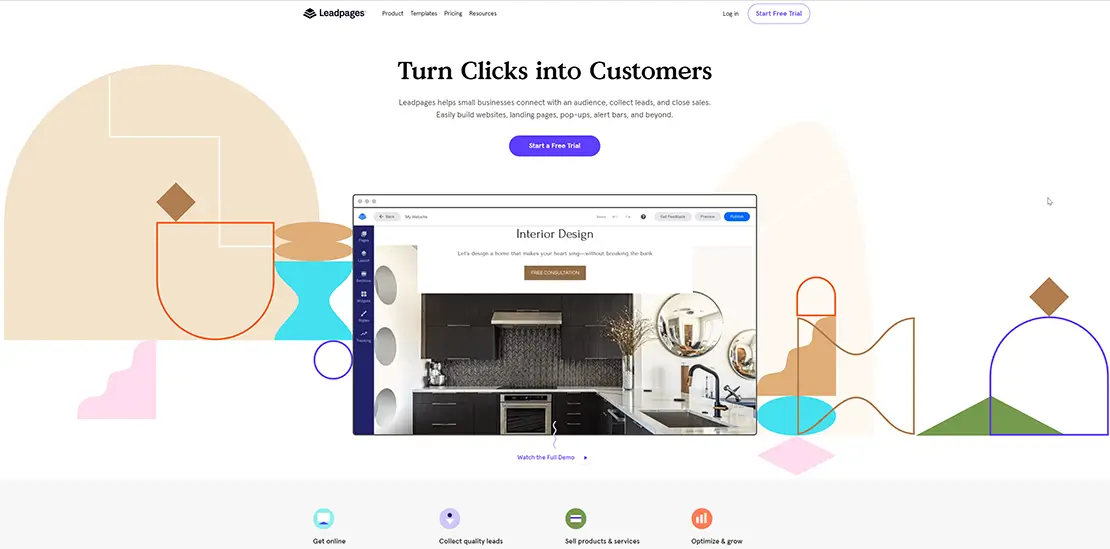 Top features
Conversion guidance: Leadpages' performance predictor assesses the effectiveness of your landing page before you publish and gives you recommendations for improvement.
Unlimited lead collection: There are no limits on list growth with Leadpages.
Rapid page load: Leadpages claim their landing pages load 2.4 seconds faster than other leading page builders, which bodes well for your SEO and PPC quality scores.
Pros of Leadpages
Customer support: Weekly hands-on coaching sessions help customers to quickly get up to speed with the Leadpages platform
User-friendly: The Leadpages platform is highly intuitive and features an extensive library of pre-tested and optimized landing page templates
Cons of Leadpages
Desktop-focused templates: Leadpages have a shortage of templates with a mobile-first design
Pricing
Leadpages standard version is $37 per month and their pro version is $74 per month.
List Building Tools Compared
| | | | | | |
| --- | --- | --- | --- | --- | --- |
| | | | | | |
| | | | | | |
| | | | | | |
| | | | | | |
| | | | | | |
| | | | | | |
| | | | | | |
| | | | | | |
| | | | | | |
| | | | | | |
| | | | | | |
| | | | | | |
| | | | | | |
| | | | Self service (Enterprise package is fully managed) | | |
| | | | | | |
| | | | Self service (Enterprise package is fully managed) | | |
| | | | | | |
| | | | | | |
Choose the Best Email List Building Tool for Your Business
The right list building tool for your business depends on your objectives, budget and bandwidth. If you need a fully-managed platform with market-leading features, Yieldify is a perfect solution to help you drive more email and SMS subscribers. Either way, I hope this blog has helped you find a tool that meets your requirements.
If you'd like a preview of how you can build your email and SMS lists with Yieldify's fully-managed, all-in-one personalization platform, feel free to schedule a discovery call here. One of our advisors will be delighted to share more.
Email List Building Tool FAQs
What is a list building tool?
List building tools are software solutions that help ecommerce businesses drive more email and SMS subscribers into their databases. To increase long-term sales and revenue, list building tools primarily use pop ups to acquire contact information from website visitors. If you want to secure more email and SMS leads, speak to Yieldify's sales team.

What are the top email list building strategies?
While there is no one-size-fits-all email list building strategy, it's important to incentivize sign-ups using tried and tested techniques including: 

– Discounts 
– Free gifts 
– Gated content 

You should also make sure your sign-up forms are visually appealing, adapt to customer journeys and don't interfere with the user experience.