BLOG
Social Proof: What, Why & How With Examples
Published: Apr 13, 2020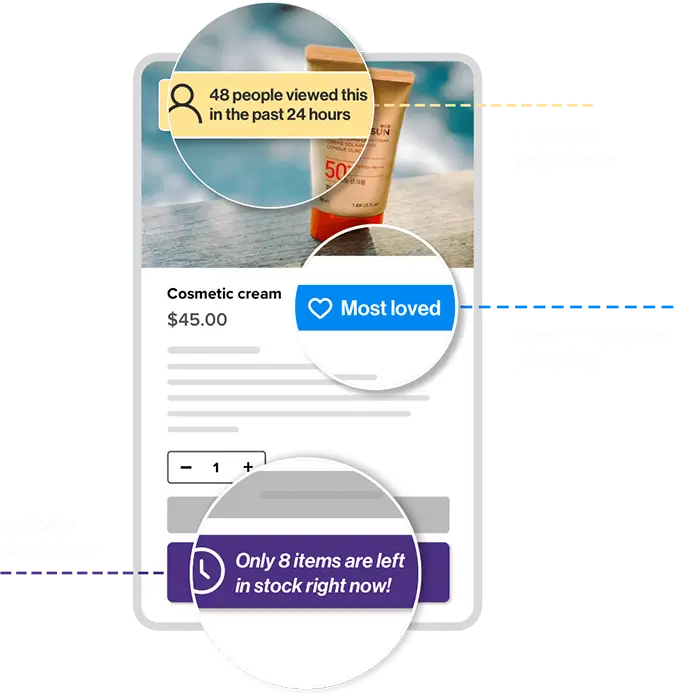 What is social proof and how does it help eCommerce businesses boost sales and revenue? Let's take a look at one of the most powerful principles of persuasion.
Even the most novice eCommerce marketers know that psychological principles play a huge role in consumer purchase decisions. Using psychological triggers and cues to nudge customers in the right direction is widely used online and offline: from savvy product placement on the shelf to serial positioning on an eCommerce website.
One of the most widely adopted frameworks for using psychology in eCommerce marketing is Robert Cialdini's 7 principles of persuasion. In his 1984 book "Influence – The Psychology of Persuasion," Cialdini outlined six (he added the seventh in 2016) key principles that make people say 'yes':
Reciprocity: Instil a sense of indebted gratitude in your customers.
Scarcity: Make customers aware of how they might miss out.
Authority: Encourage customers through trusted voices.
Commitment and consistency: Lead customers to big purchases through smaller commitments.
Liking: Make customers feel good about buying from you.
Social proof: Let the wisdom of the crowd lead your customer's decision-making.
Unity: Help your customers build a sense of belonging.
We have already analyzed scarcity to some extent in our eBook Creating Urgency to Purchase (there's also a webinar version).
This time we'd like to dive into the increasingly popular tactic and psychological phenomenon – social proof.
This article will cover the following:
1. What is social proof?
2. Types of social proof
3. Social proof examples
3.1 Customer reviews
3.2 Urgency tactics
3.3 Stock levels
3.4 Best-selling products
3.5 Product recommendations
4. Final thoughts
5. Why is social proof important
What Is Social Proof?
While it is pretty evident how social proof functions in the physical world – word of mouth being the most apparent example, how does this psychology principle translate to eCommerce marketing?
Well, when it comes to boosting online sales, social proof is mainly used as a conversion rate optimization (CRO) technique to encourage customers to make purchases on the spot and reduce website abandonment.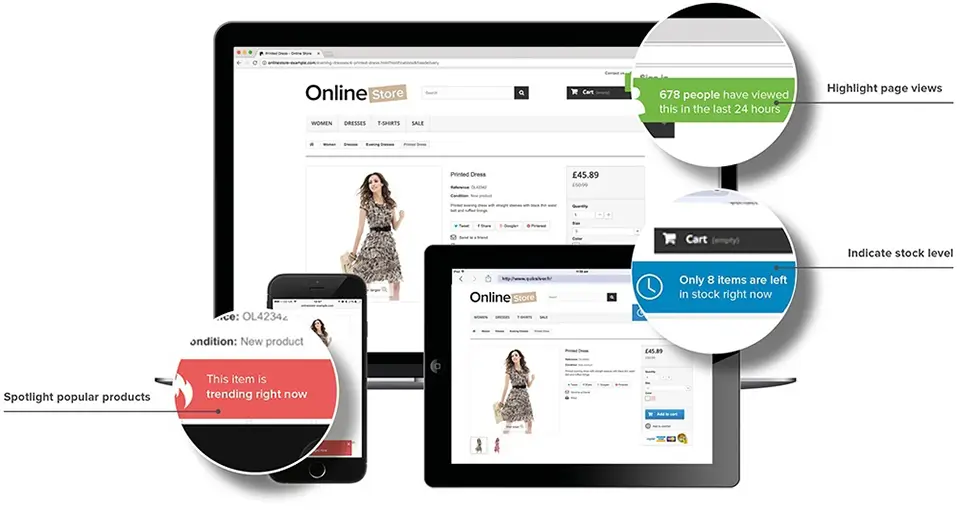 Robert Cialdini studied the principle of social proof in-depth in his book, Influence: The Psychology of Persuasion. Within the book, he states "we view a behaviour as more correct in a given situation to the degree that we see others performing it".
In situations where we are not 100% sure about what to do we look for reassurance or the "correct behaviour" to help us make a decision.
But what types can help with this reassurance?
The Different Types of Social Proof
You're probably already familiar with some types of social proof, such as customer reviews and testimonials or referrals from friends. But there are, in fact, at least six different types of social proof:
Customer testimonials/User social proof – comes from your existing customers or users. Example: a positive review on your website from satisfied customers.
Expert social proof – This can come from industry experts. Example: a public endorsement of an industry expert on social media or in press mentions.
Celebrity social proof – much like expert social proof, celebrity social proof is a celebrity or influencer endorsement of your product or service.
Friend referrals – this type of social proof is seeing your friends approve or endorse a product or service.
The wisdom of the crowd – this type of social proof is seeing large numbers of people follow, endorse and recommend a product or service. As human beings, we want to reflect correct behavior, people assume if everyone else is doing it then it must be right.
Certification – this type of social proof is having an authoritative figure assign a mark of approval. Example: a 'verified' badge on your social media profile or a 'secure payment' trust badge on your website.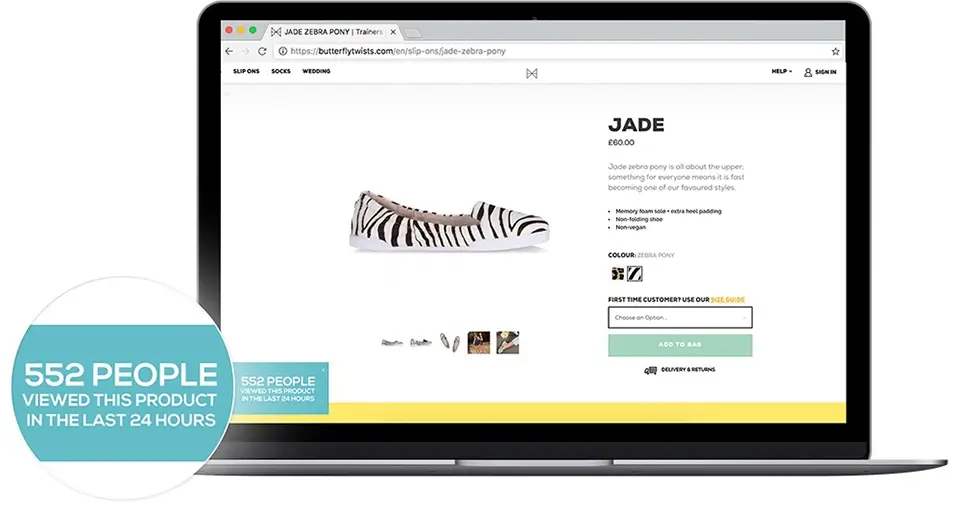 How to get social proof
They are many different ways you can go about getting social proof and it all depends on the form of social proof you want to use. Some are quicker and easier to get than others.
Customer testimonials/User social proof – Make sure you have a review platform that can embed widgets onto your website. One of the most popular review sites is Trustpilot, but there are also specific apps for different eCommerce platforms. Yotpo for example has a Spotify app that has a free version you can use.
Expert social proof – Identify industry experts and see if there's a way you can collaborate with them.
Celebrity social proof – You can use the social influence of celebrities to get in front of your target audience. This is touching on influencer marketing, so you just need to find the right person to collaborate with.
Friend referrals –This one may happen naturally if you're product or service delights a current customer. You can encourage this type of social proof using referral programs.
The wisdom of the crowd – this type of social proof is seeing large numbers of people follow, endorse and recommend a product or service.
Certification – Some of these will be easier to get than others, getting your Facebook page verified will be easier than gaining a industry specific certification. Research what certifications you can get within your industry, check what your competitors have, and see what payment badges you can quickly add to your website if you're in the eCommerce space.
Pick what type of social proof you think will work best for your website and put together an action plan of how you can first get it, and second how you can use it.
In terms of using social proof, these examples below should help.
Social Proof Ecommerce Examples with Yieldify
Visually, there's a huge range of means at your disposal to create social proof for your website visitors. It might come in the form of overlays or notifications, enhanced images, highlighted text within product descriptions and other attention-grabbing features on the page.
Yieldify helps ecommerce businesses use the power of social proof with its Dynamic Social Proof feature. If you'd like to hear more about it, sign up for a free demo.
Disclaimer: Yieldify is our product. We've done our best to present the information fairly because we want to help you make an educated decision but we're especially proud of what we offer. We've seen it transform conversion rates, lead generation and revenue for so many brands – large and small – all over the world. You may have seen we use the Yieldify platform and services on our own website too. Learn more here and schedule a call with an advisor.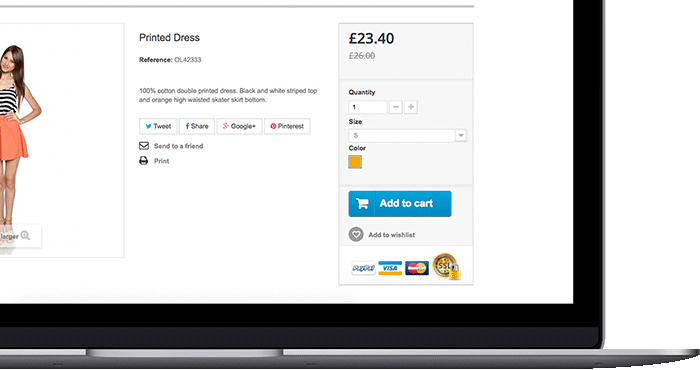 Here we take a look at six different social proof examples that eCommerce retailers can easily employ on their websites.
1. Build trust through customer reviews and star ratings
A classic example in eCommerce is putting customer reviews and star ratings alongside products to help the visitor feel confident in the product. According to Consumerist, up to 70% of online customers check product reviews before they purchase.
Here's how one of Yieldify's clients, Caudalie, utilizes various forms of social proof on their product pages. Starting with the 'best rated' stamp to showcasing the number of times this product was favorited along with customer reviews.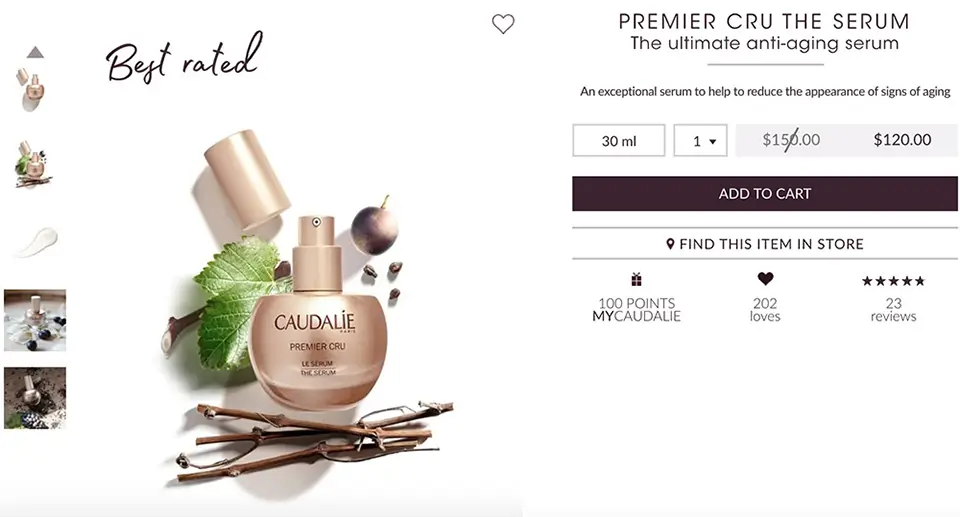 These third party 'trust signals' can be at their most powerful when it comes to high-ticket items or other big purchasing decisions. Take Ovo Energy, for example – they're trying to get their visitors to switch energy providers, which is a pretty substantial purchase to make.
So they showed their visitors social proof in the form of their Trustpilot ratings to help give them the confidence to continue on to conversion (resulting in a conversion rate increase of 18%):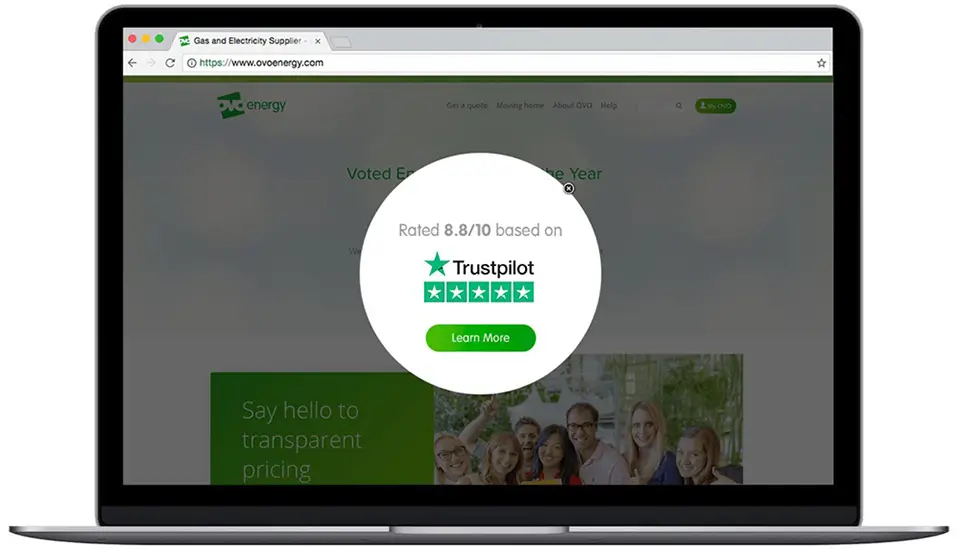 So when your visitors can't touch and feel (or even taste test) the item or speak to a sales assistant, social proof in the form of reviews can help:
Promote trust with a sense of transparency.
Create a sense of confidence: "If someone else loved it, I might too!"
Answer questions the visitor might have about the product that will help them decide whether it's right for them.
2. Create urgency by showing the number of people viewing a product
We all know that a sense of urgency drives purchasing decisions. When deployed well, it can be used to encourage the user to make a purchase where they otherwise may have put it off or left the website, increasing the risk that they will fail to return to the sales funnel.
Using this social proof feature, brands such as Kickers and Butterfly Twists have seen how this sense of urgency creates an online shopping FOMO (fear of missing out) and can increase conversions.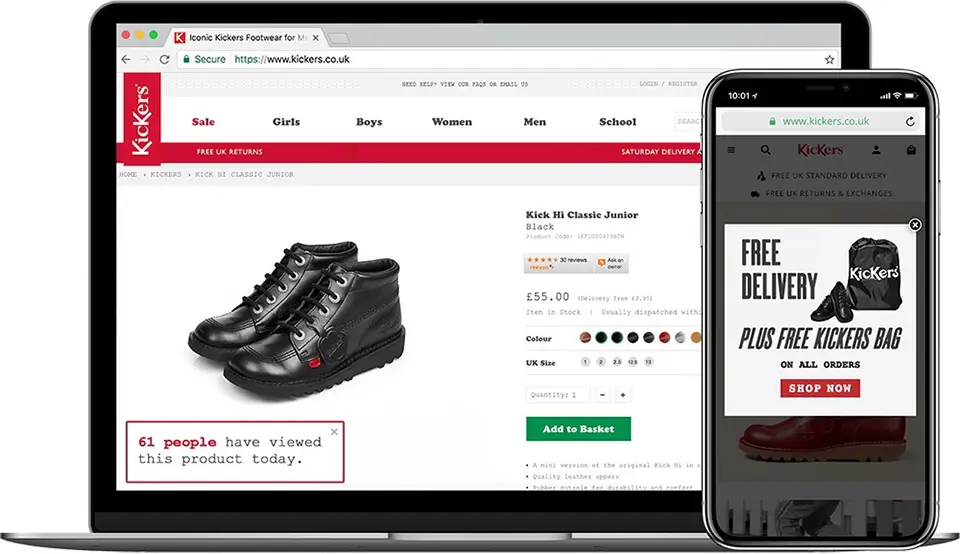 In brick-and-mortar retail stores, it's easy to see how many people are looking at a product – queues, crowded stores, people browsing the same racks. All of these things pique interest, and shoppers come in to see what people are looking at, creating a positive cycle.
E-commerce retailers can simulate this experience online, recreating the sense that the consumer is in a crowded store with others vying for the same products. Showing how many people are viewing a product:
Creates a sense of urgency: "Someone else might take this if I don't act now!"
Proves the value of the product: other people are interested, too.
3. Boost urgency by showing stock levels
Along with urgency, scarcity is one of the go-to tactics for marketers everywhere as it creates a desire for immediate action.
Again, in a traditional store, you can physically see how much stock is on the shelf. Digital shopping experiences erase this physical visibility, but eCommerce retailers can replicate the experience by alerting customers to when stocks are low – whether by giving a specific number (i.e. 'Hurry – only 3 left!') or simply indicating a low stock level.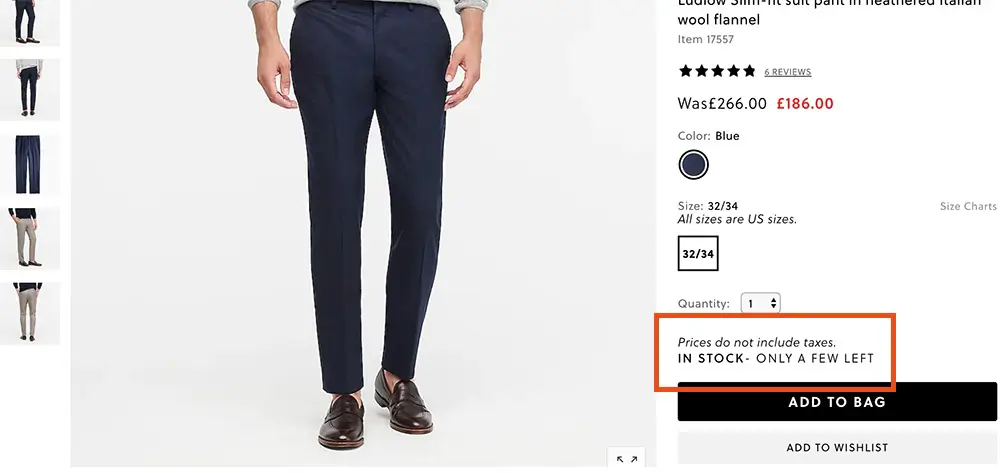 Highlighting stock levels:
Encourages people to act immediately, reducing website abandonment.
Creates a good customer experience by reducing frustration.
4. Drive interest with 'best sellers'
Consider the New York Times Best Seller list. Often considered the highest accolade a book can receive, it's plastered all over the merchandising for any book that can make the boast. The logic is of course that if lots of people like it, it must be good.
E-commerce retailers can use the same principle to help sell their items. It might be a search filter, as in the below example from beauty retailer Kiehl's, which also uses a header image with compelling copy to emphasize the popularity of the products. It can also be highlighted in the product description or as a design feature on product images.

Presenting items as 'best sellers':
Helps people select an item they'll feel they're more likely to enjoy.
Assists consumers in sorting and searching through products on your website more easily.
5. Give recommendations by showing what others have purchased
Showing products that others have bought or viewed alongside the item a customer is already viewing is a true 'one-two punch' of an eCommerce cross-selling technique.
Why? Not only does it remind the user that people have bought the product they're viewing, providing social proof for the product they're already considering, but it introduces a sales funnel for further products, giving those products social proof as well.
This is best known as an Amazon technique – but considering that 35% of Amazon sales are driven by their recommendation algorithm, it's an extremely valuable practice to adopt.
Suggesting items based on the purchasing behavior of others reduces website abandonment by helping users explore further products. Here's how another Yieldify client, Serenata Flowers, employed it on their website:

6. Build interest with curated lists and endorsements
Another source people look for social proof is in well-known identities and experts. Celebrity endorsements are an enduring marketing phenomenon for a reason: they work. If people perceive that a product is being recommended by someone they know and like, it builds trust and a sense of quality.
But you don't have to get a Hollywood A-Lister to endorse your product: experts and influencers work in a similar way. For example, Glossier uses its founder, Emily Weiss, to promote a set of its products.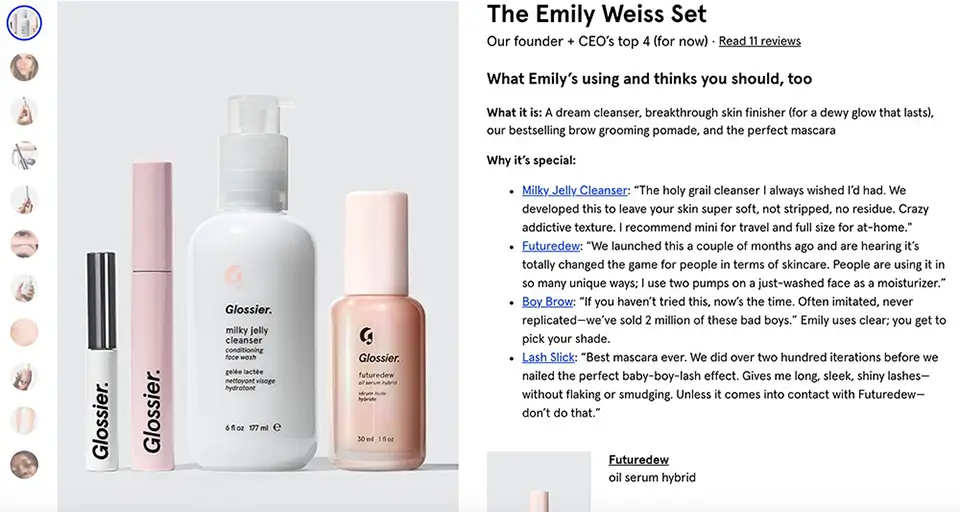 Using expert and celebrity endorsement:
Is memorable – recognizable faces help sell products.
Creates trust and assurance through positive association with people they like and admire.
Helps people feel an affinity with the brand and its products.
Why is social proof important?
Social proof can play a key role in convincing potential customers to buy from you and increase conversions on your website. From improving landing page performance, or encouraging blog readers to leave a valid email address, to making your online marketing more effective social proof can touch every customer touchpoint.
But why is it important?
Well, research has found that 92% of consumers read online reviews, and 80% of shoppers trust reviews as much as personal recommendations.
Combined with the above, it's been found that people will read up to ten reviews before making a purchase decision, and 54% of respondents will visit a website after reading positive reviews.
The keyword is proof. Customers want to feel safe in making a purchase decision and that's why social proof is important.
In conclusion…
Social proof is a powerful means of encouraging consumers to act with immediacy. It's important to select the right kind of tactic to use on your site: not all will be appropriate for every kind of retailer or product. And social proof in itself is just one of many ways to improve conversion rates and reduce website abandonment.
Disclaimer: Yieldify is our product. We've done our best to present the information fairly because we want to help you make an educated decision but we're especially proud of what we offer. We've seen it transform conversion rates, lead generation and revenue for so many brands – large and small – all over the world. You may have seen we use the Yieldify platform and services on our own website too. Learn more here and schedule a call with an advisor.
Social Proof FAQs
What does the term social proof mean?
Social proof is a psychological and social phenomenon that stems from behavioral economics. When you're viewing a product page and see a number of 5-star reviews from verified customers, that's social proof.
What is an example of social proof?
Examples of social proof are customer reviews & star ratings, showing stock levels, endorsements, showing "other people bought" and highlighting best sellers.
How can I get social proof?
There are a number of different ways you can get social proof. The quickest way is to make use of your current customers and past work. Review, Case Studies, Testimonials etc are all quick ways you can get social proof.