BLOG
The 5 Best Trust Badges To Boost eCommerce Conversion Rates
Published: Jul 8, 2022
Trust badges could be the key to increasing your eCommerce conversions. But what are they and how can you use them to your advantage?
In this article, we will explain all there is to know about trust badges, from what is the best, where to add trust badges and how they can help boost sales.
We'll cover:
1. What Is A Trust Badge?
2. The Best Types Of Trust Badges
3. How Trust Badges Can Improve Conversion Rates
4. Which Trust Badges Work Best?
5. Where To Place Trust Badges
6. Free Trust Badges
What Is A Trust Badge?
A trust badge is a badge or seal you can place on your website to build customer trust. They work in a similar way to social proof software by alleviating potential customer hesitancy.
Trust badges are traditionally visible during the checkout process, but a new trend of placing them directly on the home page is gaining traction. 
These trust badges let website visitors know that your page is legitimate and that any data they share will be collected through secure third-party service providers. Because the trust seal company has agreed to place their badge on your website, customers will know that all the processes taking place are safe and secure.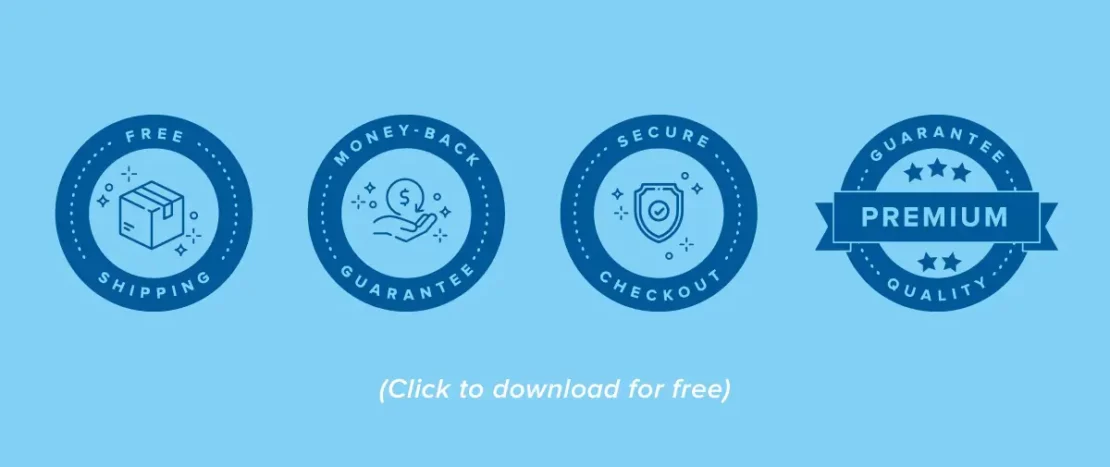 Usually, trust badges denote security features that keep credit card details and other private information safe. These badges come in different shapes and sizes and signal different things to potential customers.

The best types of trust badges
There are five main types of trust badges that you can add to your website. Each one has a different meaning and is used for a different purpose – you can use all five types of trust badges on your site simultaneously, it all depends on what you are trying to achieve.
1. Guaranteed Safe & Secure checkout badge
Arguably the most important type of trust badge, the secure checkout badge is the seal given when you sign up with a company that provides an SSL certificate. Secure Socket Layer (SSL) protects the internet connection and the information that is shared across that connection.

This badge indicates that your checkout process can be trusted: the information is encrypted and your customer's credit card information is safe and secure. This kind of trust can help to improve your conversions. Customer data breaches have become a lot more common and publicised in recent years, from a DDoS attack to phishing scams and more, these are all terms customers will likely have heard now. So any potential customers will need to be sure they can trust you and that you take their data security seriously.
There are many safe checkout badge options, but the most trusted and recognized badges quickly let your customers know that your site can be trusted. Possibly the most well-known SSL badge is from Symantec – you may recognize them better as Norton, VeriSign or LifeLock. You can also get trust badges that are recognized the world over from PayPal and Shopify.
Data security will always be one of the biggest concerns for online shoppers, especially when credit card details are concerned. Adding trust badges, such as the Verisign trust badge can help build customer trust.
Safe Checkout Badges are most effective when displayed near your "Add to Cart" buttons and on your checkout page.
2. Free shipping and free returns trust badge
Introduce feelings of trust and safety in your customers with a "Free Shipping" and/or "Free Returns" badge. By letting your customers know that they can receive and return any products ordered without any additional fees, you take away some of the perceived risks of ordering from an online store.

This badge has more flexibility in placement and can be used effectively in an array of places across your website. We recommend having a Free Shipping and Free Returns badge on all "Add to Cart" and "Checkout" pages. It can also be effective on your homepage – consider adding it to your header – and on your Frequently Asked Questions page, or a dedicated Shipping and Returns page.
Gaining the trust of your customers is incredibly important. By offering free shipping and free returns, you are letting your customers know that not only do you believe in the quality of your products, but you also value their happiness and satisfaction above all else.
This trust badge is a perfect accompaniment to a Money-Back Guarantee Badge, if you are choosing to use one.
3. Accepted payment trust badges
When people see a recognizable brand, it helps them feel more confident – that's why accepted payment badges are so effective. When you have Mastercard, Visa, American Express, and PayPal badges as your payment options, you boost the level of trust in your website with just a few logos.

A study conducted by ConversionXL found that when people are familiar with a brand they have a perception of security. "For the most part," the study said, "greater familiarity also meant a greater feeling of security."
You can place these buttons in the footer of your website, and you can also have them listed on your payment page.
4. Third-party endorsements
Third party endorsements are all about showing that your business is credible – because these programs usually involve an application and review process, they signal to people that you are an established business. If you can't think of any third-party endorsement badges, think about the Better Business Bureau Accredited Business and Google Customer Review badges – two of the most trusted examples.

A third-party endorsement badge does take more work. As mentioned earlier, you need to submit an application, be reviewed, and approved before you can add the badge to your eCommerce site.
But the extra work is worth the extra payoff as these badges can have a drastic impact on your conversions. Think about when you shop on Amazon – you look for highly-rated items with lots of reviews and even an Amazon Best Seller badge if you can. Think of these third-party badges in the same way. They signal to your customer that others have had a great experience buying from your online store.
These trust badges are usually placed in the footer of your website and should be more prominent than the accepted payment badges.
5. Money-back guarantee badges
Possibly the most effective trust badge of all, the money-back guarantee badge all but completely eliminates the fear and perceived risk of buying a product or service online. While this doesn't address any of the technical security issues, it does let potential customers know that you have their best interests in mind.

This is a free trust badge, you can make it yourself so that it matches your branding, or you can find a free downloadable version online and quickly add it to your own website.
If you can use money back guarantee badges, you should display them loud and proud.. You want to make sure that every single customer sees it and takes note. It should be in the same places as your Safe Checkout Badge – near the Add To Cart button and the Checkout button. This can help ward off any potential shopping cart abandonment.
Can trust badges improve your conversion rates?
In the digital world, it is normal for people to be wary of online shopping – we've all heard the horror stories of people losing their identities, their cash, and more simply buying a product online.
When someone comes to your eCommerce website for the first time, they are being introduced to your brand. If they have never interacted with your brand before, this is their introduction to your business. You want to ensure that they know your eCommerce website is a safe, secure place. And of course, you want them to complete their purchase.
On average, 75% of potential customers who visit an eCommerce site abandon their carts. Trust badges will help you tackle shopping cart abandonment.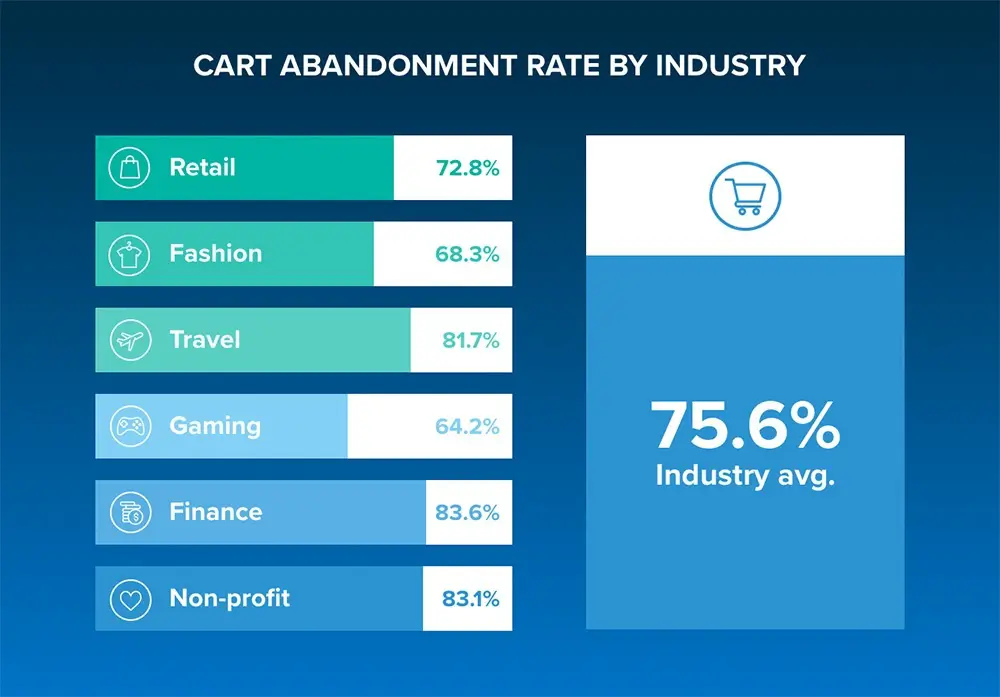 There are a variety of reasons why almost three-quarters of customers don't complete their purchases – this study from the Baymard Institute outlines the major factors.
Almost 1 in 5 respondents said that they didn't trust the website with the credit card information and that is why they abandoned the checkout process. With 18% pointing to the lack of trust in an online store, it's clear that building that trust is an integral part of increasing your conversion rate.
A survey conducted by Econsultancy asked consumers the factors that influence their trust when shopping from an online retailer they don't know very well.
There were a lot of different elements that played a role in building trust, but the most important factor was having trust badges displayed on the website. A whopping 48% of respondents said that trust badges reassure them that the site is secure and trustworthy.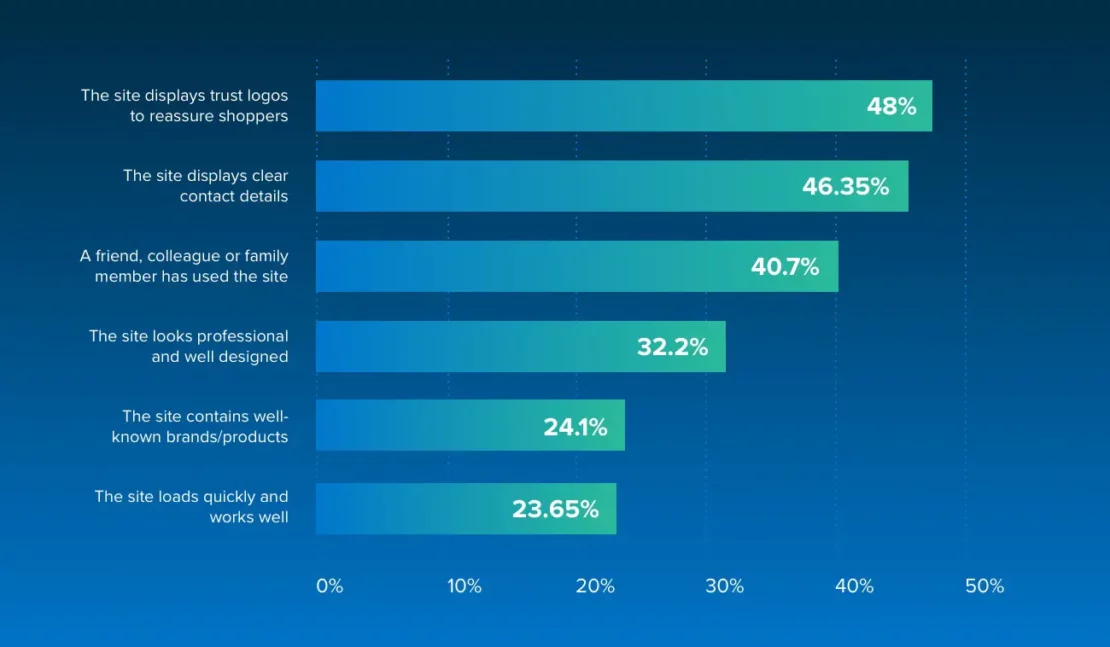 The same survey found that 76% of respondents said trust seals affected their sense of trust in a website. Another 61% said that they had not made a purchase because there were no visible trust badges or logos when they went to a website.
If you run an online business trust badges tend to be a quick and easy way you can showcase website security. For eCommerce businesses ensuring customers are comfortable paying online is vital to their success and growth. As the data above shows, they can make quite a big difference.
Which trust badges inspire the most trust?
Each trust badge has its pros and cons, but all of them have been shown to increase trust and conversions – which is why they're a common feature offered by top CRO tools. So how do you know which badge will be the most effective for you?
With regards to online security and safe checkout badges, the brand that you choose has a large impact on how much reassurance it gives to your customers.
In a study conducted by CXL, the three most recognized branded trust badges for safe checkout were McAfee (79%), Verisign (76%), and PayPal (72%).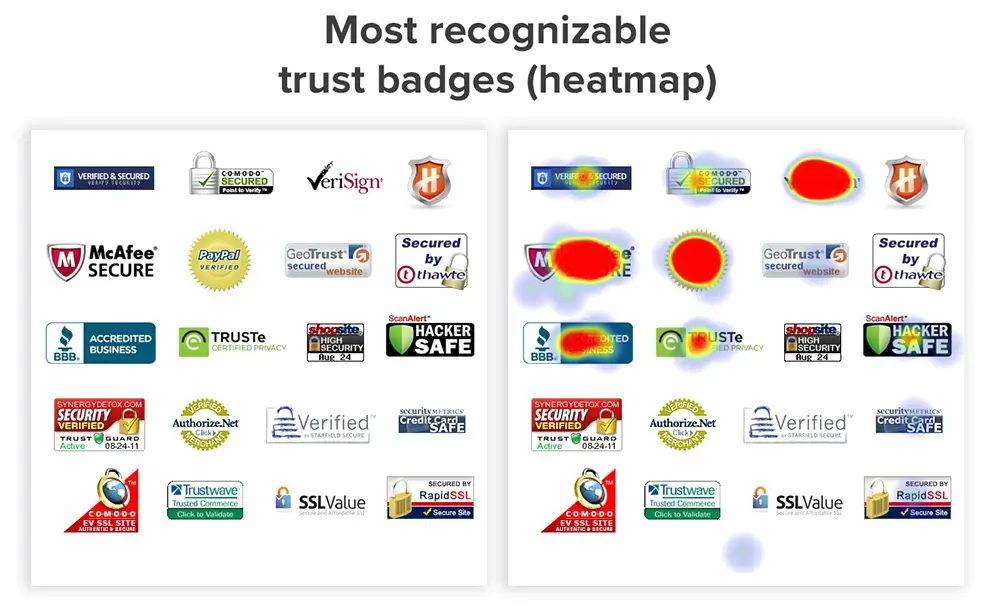 Brand recognition is important, as it is correlated with the logos that give customers the most reassurance. Once again PayPal, Verisign, and McAfee topped the list (in that order). The results show that the gap between the recognizable brands and the others is considerable.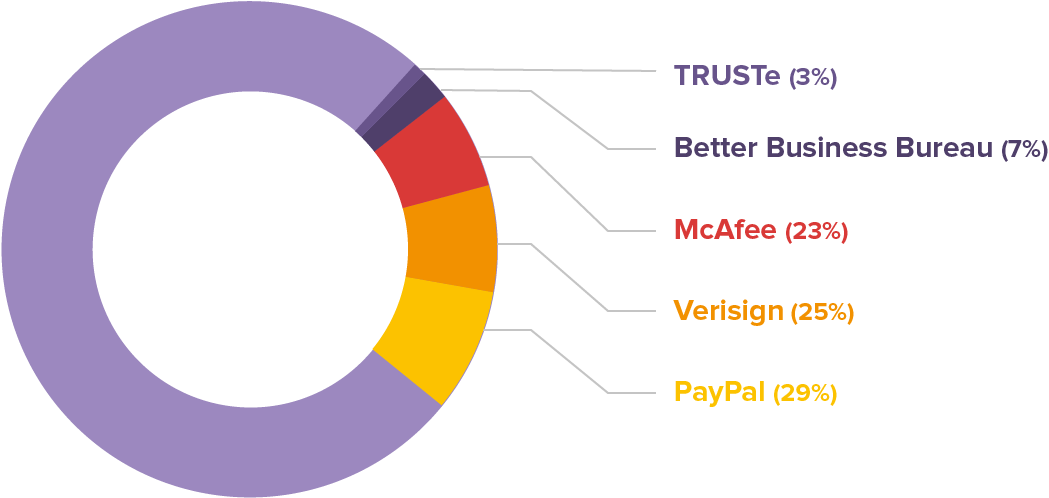 If you are in a position to offer a money-back guarantee, it is one of the most powerful trust badges you can implement. Visual Website Optimizer put a "30-day money-back guarantee" badge on a site and saw a 32% increase in sales over an 11 day period. Let that sink in: it took less than two weeks for VWO to see their sales increase by more than a third after adding a free badge to their site.
Free shipping badges and offers have been shown to increase sales by as much as 90% – Red Door saw a 90% increase, 2BigFeet saw a 50% increase, and Comscore saw a 16% increase once they've added free shipping trust seals on their websites.
The best solution is to use a few trust badges together. That will have the biggest impact on your conversion rate. Crunch the numbers to find out which badges are most cost-effective for your business.

Where do you put trust badges?
Trust badges can be used throughout your website but will have the most impact where users may still have initial doubts about purchasing from you or are required to give personal information.
For example, placing secure checkout badges on the payment page of your website will show users you can be trusted with their data and their transaction will be safe.
If your product has won any awards this is, of course, the best place to put those trust badges.
Your homepage is also a great place to put trust badges to instil overall confidence and trust in your brand. New users who are searching for your brand will most likely land on this page so it will be important to showcase reviews, awards, or any other badges here.
For eCommerce websites, you have a lot of options when it comes to trust seal placement with potentially all the above options being relevant.
Trust tends to be tested the most when a customer is about to make a purchase. So the checkout page naturally is very important.
CXL looked into customers' observational patterns when they were preparing to make online purchases, and it turns out they are quite similar. They search for quick reassurance.
You'll notice the pattern is pretty much the same across each checkout option, they scan the page looking for quick reassurance they can trust the website and continue with the purchase. So you need to make sure they are easily visible during the micro-moments where trust may waver.
Free trust badges you can add to your eCommerce site today
There are many options when it comes to trust badges. Some of the most esteemed badges don't come cheap – McAfee Secure, for example, starts at $15/month but scales up as the size of your store grows. If you're running an online business hopefully one of the below options will be of use to you.
If you have a Shopify eCommerce store, then this app available through the Shopify App Store is the perfect addition to your website.
With this app, you have access to 670 different accepted payment badges in a variety of design styles. You can easily drag and drop your trust badges to your product pages. If you'd like to have the badges in more than one location on your site, you can upgrade to premium and have your accepted payment badges on your cart page, homepage, and the footer.
If PayPal is one of the ways you accept payments, their free trust badges are a perfect way to start increasing your conversions.
With downloadable PNGs as well as source code available, you can have a PayPal badge up on your eCommerce store today. They have three different types of badges available:
Return Shipping is On Us
Backed by PayPal
Support Small Businesses
With 60 free badges that cover 6 major sales objections, Convertful's free downloadable PNG badges are great for any eCommerce store. Each badge comes in five different styles, so you can find something that works with your store's design.
Convertful looks at the problems that customers identify that lead them to abandoning their carts and tailor their badges to solve those problems.
Badges include:
Free Shipping & Free Delivery to combat those that feel the extra costs are too high.
Express Checkout to avoid losing the 35% of people who abandon carts when they have to create an account.
Secure Payments for those worried about sharing their information online.
Fast Shipping & Delivery for those worried about slow shipping times.
Money-Back Guarantee to instill trust in your product and services.
Payment Options to list the variety of payment options you accept.
TrustLock.co has over 120+ free website trust badges that you can use on your eCommerce store. You must link back to their homepage to use them for free, but that is a small price to pay for a somewhat recognizable badge. They also provide some that are ideal to place on your checkout page as discussed above.
The free trust badges include:
100% Money-Back Guarantee
Guaranteed Safe Checkout
Fully Secured SSL Checkout
AES 256-BIT SSL Secure
30-Day Money-Back Guarantee badge
100% Satisfaction Guaranteed
Best Price Guarantee
Free Shipping
Credit Card Processor Logos
PayPal Logos or Stripe Logos
The free badges do not have the TrustLock logo featured on them. To access badges with the logo you need to pay for a premium account, which costs anywhere from $9 to $20/month.
In conclusion
You have approximately five seconds to build trust with your potential customers. Trust seals can instantly start this process.
Ultimately eCommerce customers want to know that when they are shopping online brands take website security seriously and personal data is not at risk. As we have highlighted these trust seals can have a big impact on your website.
Make sure to leverage trust badges on your website, and use the different types highlight strategically across your website to quickly build trust with your customers, increase conversion rate and ultimately drive more sales.
Not having trust badges on your website is simply a bad idea.
Trust Badge FAQs
What is a trust badge?
A trust badge is a symbol or icon placed on your website that ensures your visitors that the page is legitimate and all processes are safe and secure.
Do trust badges work?
Numerous studies have shown that trust badges can increase conversion rates. For example, In one survey 48% said that trust badges reassure them.