BLOG
Managing Customer Expectations: How to Close the Expectation-Reality Gap
Published: Apr 19, 2020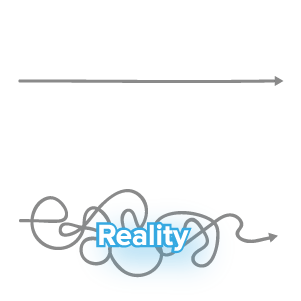 Is your eCommerce business struggling to meet customer expectations? In this blog post, we explore how to improve customer experience and retention by closing the expectation-reality gap.
Out of all the traps marketers fall into, there's one that ensnares more than most. It's a trap often sprung by creator blindness, a phenomenon that prevents product developers from staying impartial to the quality of the products they create.
That's why when it comes to product marketing, you see so many claims of the greatest, the fastest, the most disruptive, the one-of-a-kind, the ultimate, etc. etc. It feels good – and even necessary – to boast about something you've poured your heart and soul into, but doing so can have a drastic negative effect on customer experience and be a huge detriment to sales.
How? Creator blindness and overblown claims lead to inflated customer expectations. Expectations that you simply can not meet.

Saying your product is the greatest only serves to bloat your ego. If you have nothing to prove your claims, you can expect public backlash due to mismanaged customer expectations.
What are customer expectations? Customer expectations are the feelings and needs that the customers have towards a product or service. Customer expectations are formed by reading or hearing information about the company or product, observing other people's sentiment towards the company/product, previous experiences with similar companies/products or direct interaction with customer service.
Why is it important to manage customer expectations?
To successfully launch a self-sustaining business, you need a critical mass. And to reach a critical mass, you need things like positive cash flow, brand engagement, and reliable e-commerce customer retention strategies. In other words, you need to attract customers by promising value, but you also need to keep customers by delivering on that promise.
Managing customer expectations allows you to strike a healthy balance between the two: you set the bar just high enough so that customers are willing to consider you and feel satisfied when reality meets their needs.
But simply saying you have to meet (ideally – exceed) customer expectations is like saying a successful business has to increase sales. Here are 5 steps that will help you improve your brand's customer expectation management.
5 actionable tips for managing customer expectations
1. Understand what your customers expect from you
You can't meet customer expectations if you don't know what it is they want from you. We're not talking about the generic wants and needs: every brand should be striving to provide great customer service, streamlined purchase journey and excellent brand experience.
You need to get more specific than that. You need to know exactly what it is your audience wants from you. As the old saying goes, people don't want a drill, they want a hole in the wall.
In reality, the "hole" metaphor still isn't clear enough – to successfully manage customer expectations, you must know what the hole is for. Is it for putting up shelves to create more storage space? Or to hang pictures of a loved one? Or to build a treehouse for kids to play in? Customers in all these scenarios will have different levels of experience, a different purpose for your product, and thus, different expectations towards it.
2. Start collecting data
Want to know what your users want? Then ask them. There are plenty of great survey tools available now that will make finding exactly what your users want from you a breeze. Of course, the basic advice of running surveys applies.
Use open-ended questions to get the best answers.
Link your questions to your objectives.
Keep your questions short and simple.
To get the most out of your surveys you want to take them a step further and use them to find out which areas you're failing to meet expectations in. For this, we recommend following the advice of Convince & Convert's Jay Baer:
"Great customer experience occurs when you exceed customer expectations in a palpable way. Poor customer experience occurs when you fail to meet customer expectations."
Thus, the best way to measure customer experience is to mine that expectation gap. Ask every customer (or a random sample) a simple question: 'On a scale of 1-10 how much better (or worse) was your experience with our company compared to what you expected?'
Integrate different types of communication channels in your contact centre; from VoIP to email marketing and surveys you can use all these different channels to collect data across different customer journey touchpoints. You may also want to consider customer service software. This will help streamline and makes easier customer communication across different channels.
Rather than only asking about the business as a whole, we recommend using the Jay Baer method and asking how your company compared with expectations in specific areas such as purchase experience, customer service, delivery, etc. Doing so will make the feedback you receive that little bit more targeted and actionable.
3. Analyze where you're not meeting expectations
Now you've got a good deal of information on your customer's expectations, it's time to analyze your business to understand where you're not meeting them.
If you've followed the advice thus far you should already have an indication of which areas of your business aren't up to the standard your customers expect. However, at the minute that data is incomplete.
To bolster the information and really ensure that you have the complete information, you're also going to have to delve into your analytics data.
The implicit data that's provided through engagement statistics might, on first thought, seem pretty useless. However, they provide a good indication of which areas of your business are failing to meet customer expectations.
Look through your analytics data to find areas of your site that experience high bounce rates, low time on page, a disproportionate number of exits or any other negative results.
For example, let's imagine that you see a larger than average exit rate on the page that details your shipping fees. Your explicit data also suggests that users are very concerned about price. Below are a few test ideas that could potentially increase conversions:
Offer cheaper / free shipping.
Keep a running total in the corner of the screen throughout the purchase journey (as demonstrated below).
Add the shipping fees to the running total in the corner so users aren't hit with an unexpected cost.
Cart abandonment due to shipping costs is a well-documented issue. It also proves the point that implicit data can be the smoking gun to a particular expectation gap.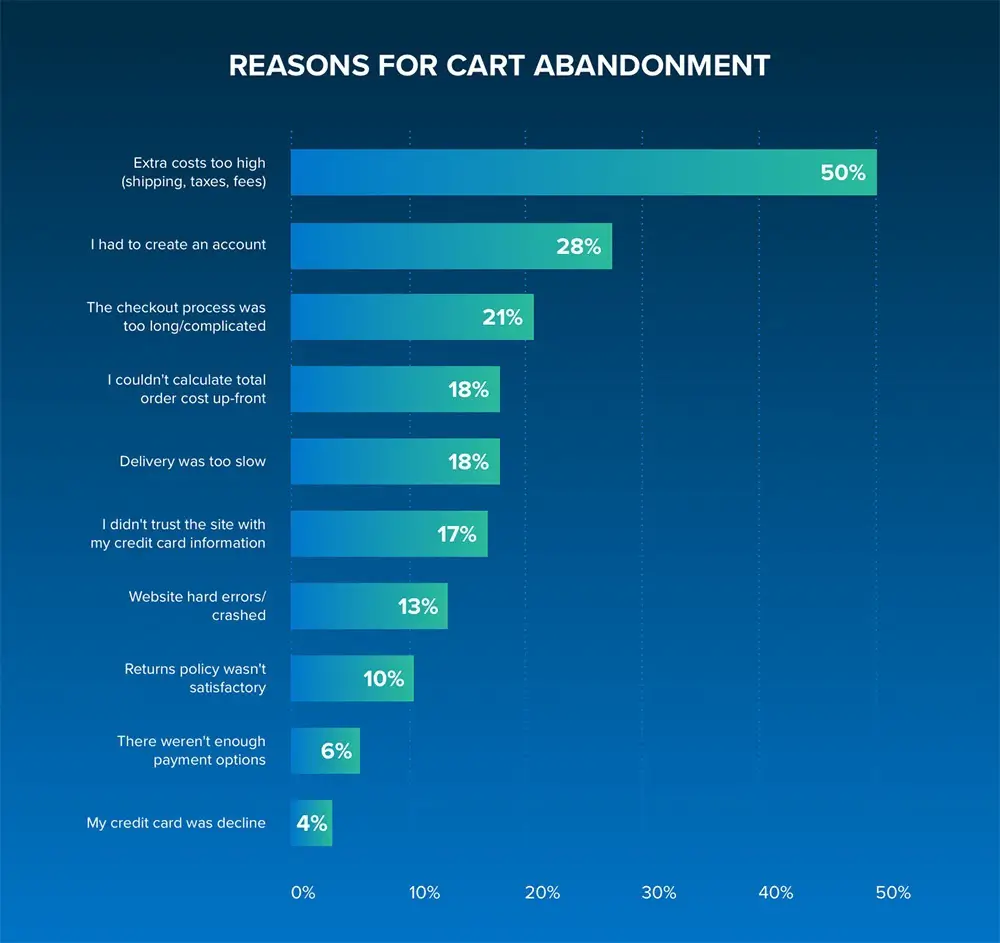 Find the pages that see low engagement and fail to hit key metrics, examine them, don your detective hat and try to identify the most obvious reason. Couple your explicit and implicit data and you should have a good idea of what it is your audience wants from you.
4. Optimize areas where you're falling short
We know what your users want from you and the areas of your business that are letting you down. The next job is examining how you can improve the areas that are lagging behind and optimize them to meet customer expectations.
Don't worry about getting this right first time around. As with any other optimization effort, this is an iterative process. You're going to go through many different rounds of testing before you've improved to a level where few customers complain.
The most important thing right now is to get started. You know the problem areas and you know what people want to get to work on giving it to them. For example, take a look at the below complaint made via Twitter: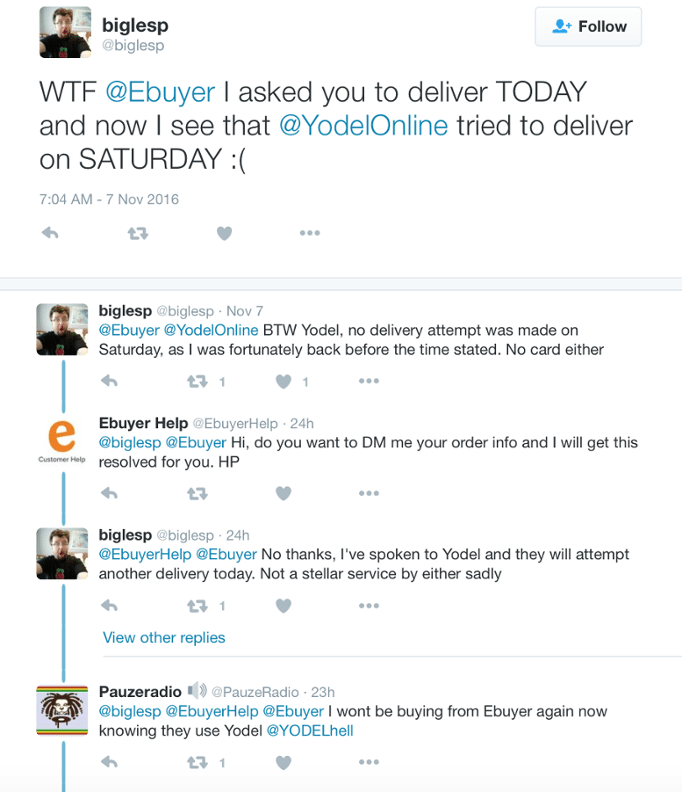 Without knowing the full story our guesses at how to narrow the customer expectation gap are just that, guesses. However, Ebuyer could have explored the below options:
Clearly, display the deadline for placing orders for Saturday (this assumes the customer missed that deadline yet still thought they were entitled to Saturday delivery).
Stop offering Saturday delivery entirely.
Speak to Yodel about delivering what was contractually agreed and if the service doesn't improve, hire a more reliable service that will deliver on time.
These aren't huge actions and won't take a lot of time to implement, but they could have a huge impact on your business. Once you've implemented these changes it's a case of tracking future engagement and amending further iterations of improvement based on the results.
5. Honesty is the best policy
Before you start cracking on with optimizing your processes to reduce the customer expectation and reality gap, there's one overriding rule that needs to permeate everything you do: Be honest.
Most expectations are inflated thanks to over the top claims and grandiose brags. Ensure that what you say you're offering really is what the user is going to get.
Are you the best service in the city? Who says so and what's the proof? Can you guarantee delivery in 24 hours or did you just include that after reading it can help increase conversions?
There's a real temptation to lie simply because such imposing terms make a bigger impact, but they do you no favours when it comes to customer service.
If you're honest, the number of people who can complain when you don't provide what you've promised will be drastically reduced. You'll have fewer negative social reviews, a more succinct marketing campaign but most importantly, a happier customer base.
Customer Expectation FAQs
? What are customer expectations?
Customer expectations can be defined as a set of behaviors or actions that the customers anticipate they will receive when dealing with a company or website.
? How do you meet customer expectations?
You can meet customer expectations by:
1) Understanding your customer base and their needs
2) Monitoring customer satisfaction levels & regularly collect feedback
3) Provide first-class customer service
4) Develop a customer-centric approach throughout every aspect of your business.
? How do you manage customers expectations?
The best way to manage customer expectations is to be as transparent and honest as you can throughout their journey. Use the realistic images, clearly display delivery timelines, use reviews, and social proof. Put simply, don't over-promise.
❓ Why is it important to manage customers expectations?
It's important to manage customer expectations so customers have a realistic view of what to expect, and therefore more likely to be satisfied or delighted with the service they receive from you.