EBOOK
Customer Retention in eCommerce
Published: May 27, 2019
Setting up and running your e-commerce business is one thing – but how do you grow that business?
That's the difficult question that every company must ask itself sooner or later. There are, of course, well-established answers.
The first one most people think of is this: 'I will grow my company by widening my customer base'. It seems like a simple enough solution, but in practice, it can be much harder to achieve than most would like it to be. The other option, however, is often a much easier path to tread – even though too many people overlook it as a strategy for growth. This strategy is e-commerce customer retention.
Why should I be interested in customer retention?
E-commerce customer retention strategies look to ease the pressure of finding new customers to make purchases by increasing the potential for return visits and repeat purchases from your existing customer base.
There are all sorts of benefits to a strong customer retention strategy. It can cost five times as much to invest in attracting a new customer as it can to retain an existing one. And having that customer onside can prove incredibly profitable. After all, if a customer decides to buy from you twice, they're likely to be open to buying from you for a third, fourth and fifth time too – especially if you've got an effective customer retention strategy to keep tempting them back.
According to research by Bain & Company, an increase in customer retention of just 5% can increase profits by as much as 95%.
When should I be focussing on customer retention?
It's important that customer retention strategies work alongside your acquisition strategies, and aren't seen as a replacement. Without new customers, even a business with plenty of active returning customers will stagnate eventually, and struggle to grow beyond a certain point.
The smartest approach is to build your online customer retention plans as you build your business up. When a company is first starting out, it won't have made any sales. As such, there won't be any need to look at how to retain customers. But as the business develops, and the e-commerce site begins to make a few sales each week, opportunities will arise to reach out to those who have already made purchases and the business will want to look at how to increase customer loyalty.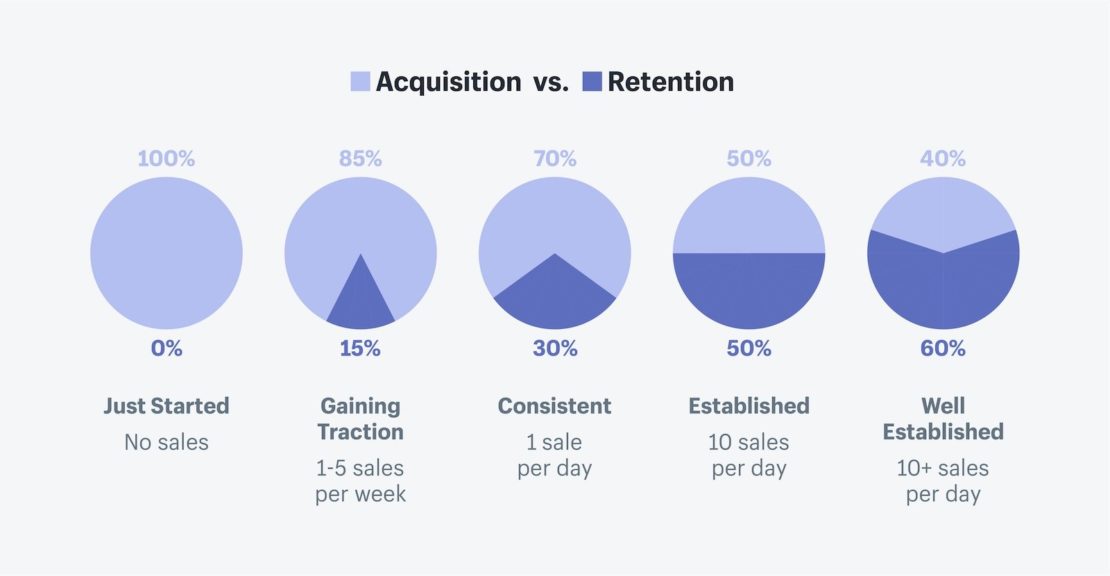 At this point, though, the main focus should still be one bringing new customers in – you can put more time into retaining customers once you've actually got them.
The more you utilize the full potential of a lead capture software and grow your user base, the more you'll be looking to balance new customer acquisition with reaching out to those who have made purchases before and encouraging them to do so again. Eventually, you should be looking to be focussing at least as much on customer retention as you are on acquisition.
When Yieldify asked marketers how they chose to split their time between acquisition and retention of customers, the results were clear – most marketers keep their efforts very balanced, with 21% opting for a 60:40 ratio in favor of acquisition, and 18% favoring the same ratio in favor of retention. Overall, 50% of marketers were giving at least 40% of their time over to focusing on how to retain customers and increase loyalty to their brand.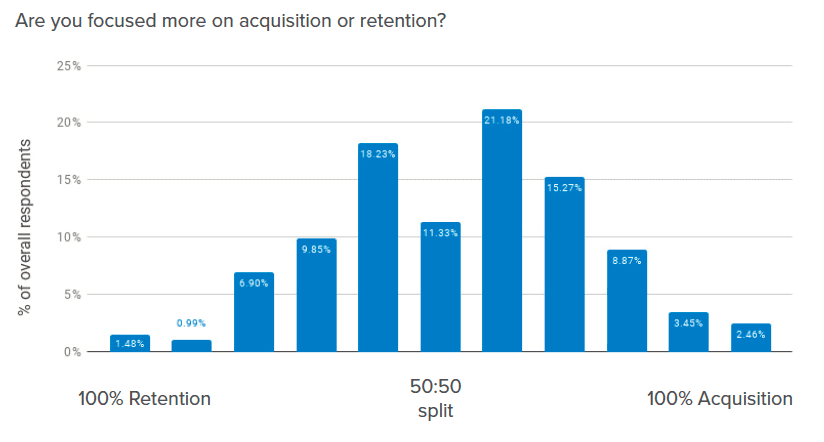 What can I do to measure customer retention rates?
There are four major metrics you'll want to consider to best understand your customer retention rates:
Repeat Customer Rate
Average Order Value (AOV)
Customer Retention Rate
Customer Lifetime Value (CLV)
The repeat customer rate gives you a quick, basic overview of where you stand with customer retention. Who is buying from you, and how many are coming back to buy again? It is the simplest of the metrics to calculate and gives you a basic overview of what percentage of your customers are repeat buyers.
To work out your repeat customer rate, simply divide the sum total of all customers who have purchased from your site more than once by the total number of paying customers – every individual who has made a purchase, whether it was just once, or on multiple occasions. Both figures should be available via your analytics provider.
Average Order Value (AOV) allows you to have an idea of how much each customer is spending on your website. This is an important number to acknowledge, as increasing AOV is a fast and efficient way to grow your company. To find it, divide total revenue by the number of orders made. Yieldify has plenty of suggestions for the best ways to increase your average order value.

Your customer retention rate is an excellent metric for understanding how you were doing in a given period. Google's excellent cohort analysis feature is a handy tool that helps separate visitors into groups for just this sort of insight. Working out the customer retention rate itself is a matter of identifying three figures – total customers at the end of your chosen period, new customers acquired during that period, and the number of customers at the beginning of that period: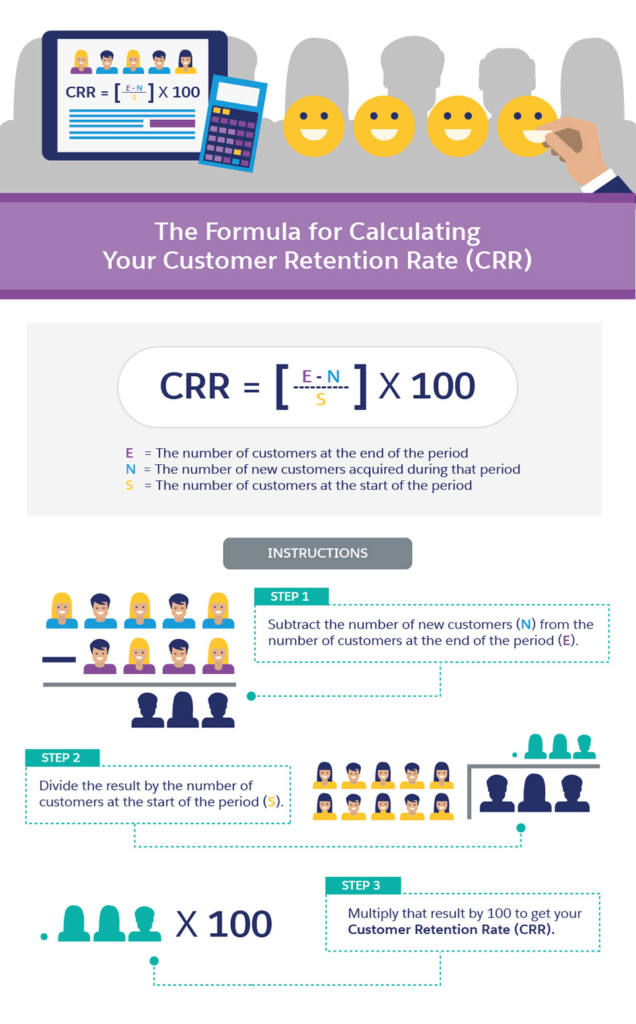 Finally, consider the customer lifetime value figures, which offers you an idea of the long-term value your average customer might offer the business. This metric, often abbreviated to CLV, is a great way to see how practical different acquisition strategies might be in the long-term – allowing you to look at the costs of such strategies alongside the potential benefits of undertaking them.
Unfortunately, it can be the hardest to calculate – you need to know your average customer value, which involves multiplying your AOV by your purchase frequency figure (that's the number of orders made in a one year period divided by the number unique customers in that period). This customer value is then multiplied by the average lifespan for customers on your website – that is the amount of time the average person is an active customer before they drop off and become dormant. This can be hard to calculate, so you might opt to take a rough estimation of three years (a figure suggested by analytics guru Avinash Kaushik).
How do I improve customer retention?
We've seen why customer retention is so important, and have some idea of how to track it – but the key takeaway has to be about how you might implement customer retention strategies. There are multiple ways that you can do this, but the overall aim is to work on your customer journey optimization by engaging each individual through various approaches.
Encouraging Further Purchases
It might sound counter-intuitive, but very often the best strategy to ensure repeat purchases from a customer is one that is implemented before they've even made their first.
A customer that is signed up to an account, or even simply to a mailing list, is a customer that can be easily reached and given an incentive to make future purchases. Here at Yieldify, we've seen the link between a micro-conversion, like lead capture, and customer retention borne out in our data from over 200,000 customer journeys. More than one-third (36%) of users return to the website after submitting their details via a lead capture campaign.
Micro conversions, such as an email address submission or account creation, are an incredibly important part of nurturing both new and returning visitors and customers. This is why it's so key to personalize your 'ask' depending on the stage the visitor is at in their journey. A great example comes from British retailer Marks & Spencer, which created targeted campaigns to support the launch of its new website following a site migration.
The brand knew that the key to retaining its existing customer base, as well as driving conversions, was to ensure that both new and returning visitors shared their details and logged in. To achieve this the brand tailored a free express delivery message to each group of visitors. This was responsible for driving over one-fifth of all registrations on the relaunched website, and helped drive a conversion rate uplift of 5.4% with new visitors.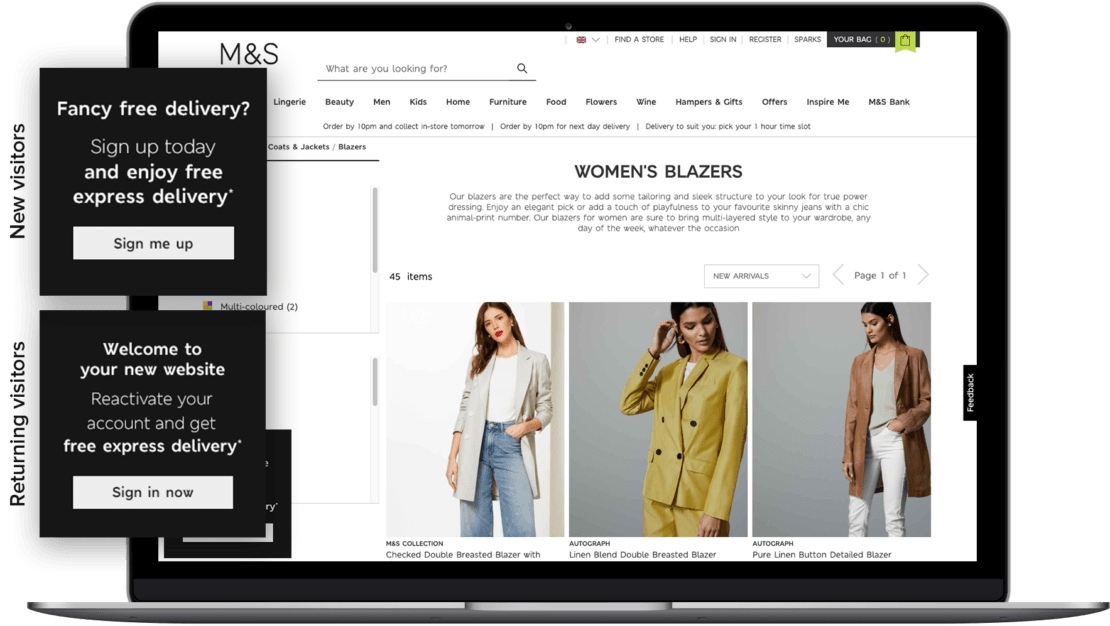 Offering a perk in exchange for an email address is a simple but effective tactic that most consumers will see as an obvious (if welcome) attempt to get them to make an initial purchase from the store. But few will think about all the future purchasing opportunities they'll be exposed to once they're on the mailing list.
Depending on which industry you're working in, lead capture might not be the right micro-conversion to target. Online gaming company Bethard realized that the key to customer retention in their industry was ensuring users deposited money into their online account.
To this end, they worked with Yieldify to remove barriers for customers and encourage online deposits. A notification encouraged customers to easily make deposits directly from their bank accounts, which made them much more likely to engage going forward as well.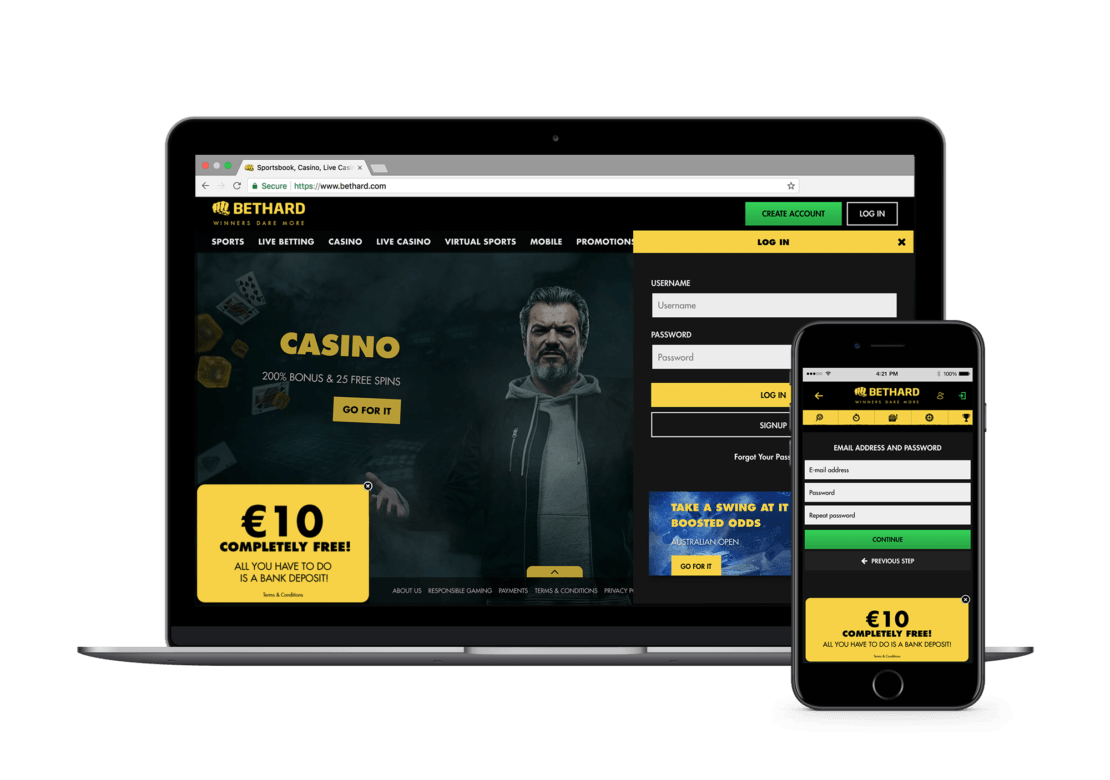 Building Trust
Trust can play a vital part in customer acquisition, with companies often going out of their way to prove to potential buyers that they are in safe hands. But it also plays a big part in maintaining customer relationships. We've all had a bad experience with a company and decided not to buy from them again as a result. Providing great customer service the first time around is the best way to ensure customers will be open to buying from you again.
It's possible to go further, though, and utilize trust in a way that simultaneously works for both customer acquisition and customer retention.
81% of people trust the advice of their friends and family over that of a business, which is why innovative brands and industry disruptors use the tactic to build an engaged customer base. It's important to make it easy for the consumer, such as in the example below from IT Cosmetics where visitors can make a referral across Facebook, WhatsApp and more at the click of a button: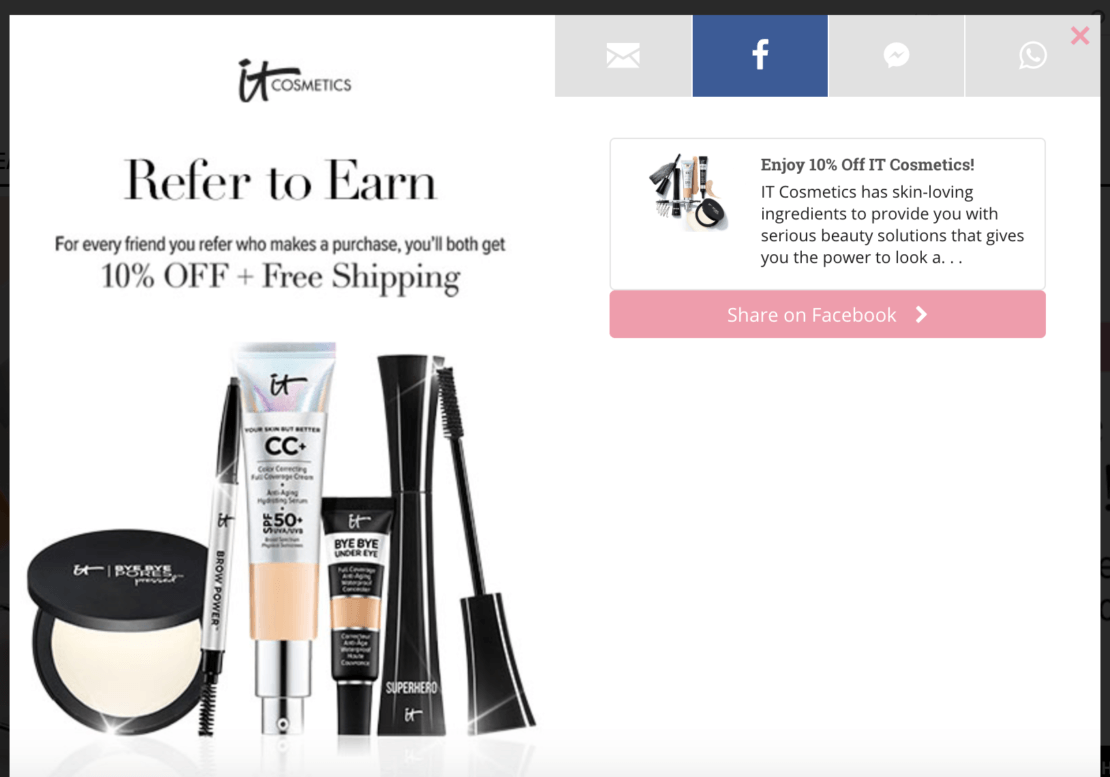 The trust-building works two ways: it provides potential new customers with a voice they trust and respect – that of a friend or family member. Simultaneously, existing customers are encouraged to show commitment to the brand. This calls on the psychological concept of commitment – by making a public commitment to the company in the form of a recommendation, customers are more likely to stick with the business going forward.
Reward Loyalty
Loyalty schemes are another excellent way to encourage return visits to your site. Exclusive offers that are only shared via the mailing list are a popular way of bringing potential dormant customers back into the fold. But what if you could get smarter with loyalty?
Recognizing the challenges associated with building loyalty in the competitive beauty industry haircare brand Ouidad makes sure to give customers a reason to keep coming back. Looking at metrics such as repeat purchase rate, and average purchase frequency, the brand has created a personalized loyalty program.
This includes on-site messages tailored based on visitor behavior e.g offering money off for VIP customers, or making this dependant on a certain spend threshold, and giving different offers to loyalty program members vs. repeat customers: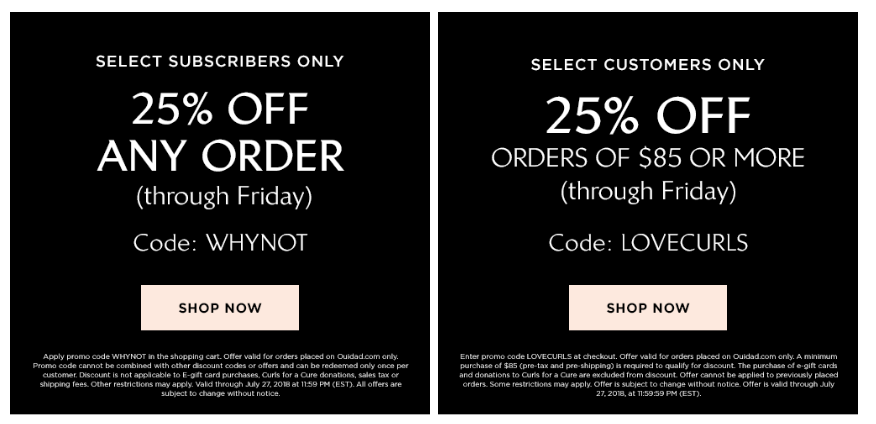 The strategy has worked well for the brand, generating a high level of engagement with the loyalty program. Its loyalty members have a 83% higher repurchase rate compared to non-members and a higher than average annual purchase frequency.
Personalize the Experience
The more you get to know you customers throughout their lifecycle, the greater the opportunity to personalize their experience. Personalization offers endless opportunities to create a relevant customer journey that encourages further purchases from your website. The more personalized the offering, the better for the customer.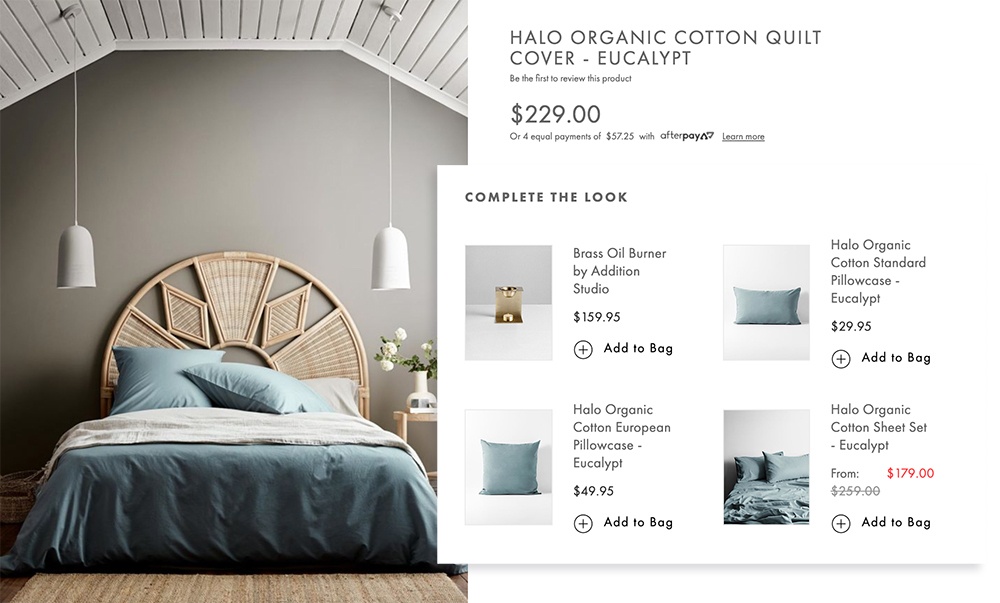 This example is of Melbourne-based design house, Aura Home, which creates contemporary bedlinen & homewares. They use flexible targeting to recommend a complementary product to visitors purchasing cotton quilt covers. The suggestion, which allows users to feel personally catered to, helps to create an uplift in conversion rate and boost order values.
Another easy approach to personalization is to offer a cart saving functionality, whereby customers are able to save their cart for a set period of time.
This enables the customer to make more informed purchases, but also allows for email remarketing to remind the customer of their saved cart and perhaps encourage further additions to it at the same time – or simply to make a purchase they might otherwise have forgotten about.
Travel brand Thomas Cook Airlines used this strategy to build its database after GDPR. By incorporating explicit opt-in into its Save My Booking functionality it was able to mitigate against booking abandonment. Users exiting the site were given the option to save their booking for later by entering their email address and explicitly opting-in to re-engagement: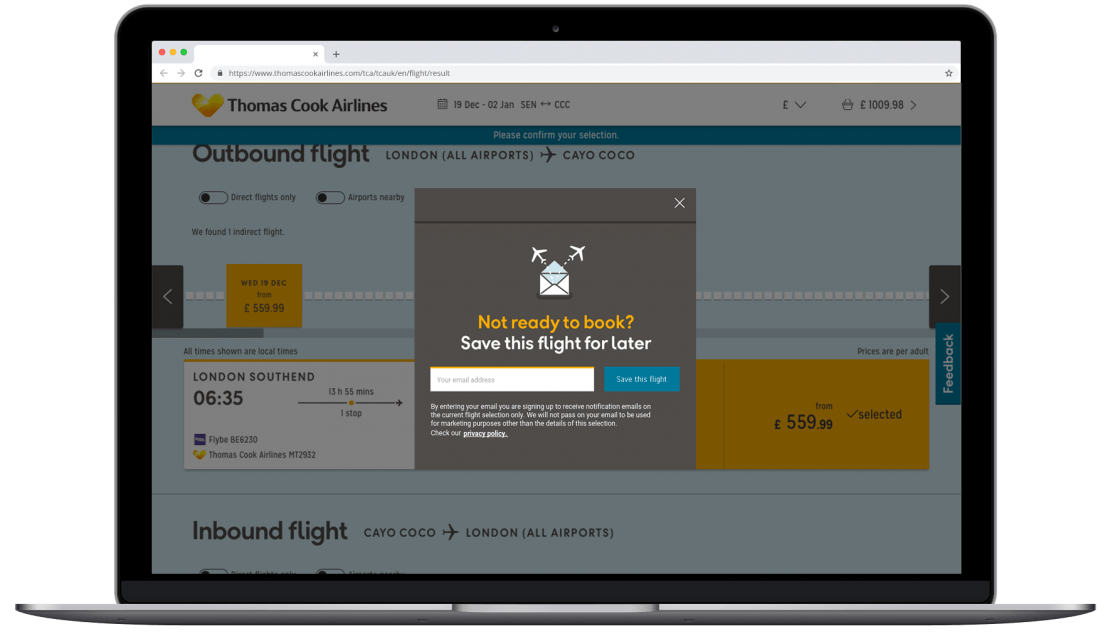 Customer retention: don't leave it to chance
However you choose to approach customer retention, the important thing is that you do approach it. Customer retention strategies are an excellent way to grow your business without the heavy costs of new customer acquisition, and there are so many opportunities afforded to e-commerce businesses in this field.
Remember to encourage further purchases that will increase both your customer's lifetime value to your store but also the average order value on each visit. Build trust and look at how you can increase customer loyalty for your business. Finally, look at how you might be able to personalize the customer journey and offer relevant and helpful ideas that will encourage your customers to return to you time and time again.