BLOG
How to Track Shopping Cart Abandonment In Google Analytics In 4 Steps
Published: Apr 23, 2020
Cut cart abandonment
with Yieldify
Schedule your demo
Not sure how to calculate the cart abandonment rate for your eCommerce store? Want to track cart abandonment in Google Analytics? In four simple steps, we'll guide you through the process.
On average, over 75% of shoppers will abandon their carts and leave a site without completing a purchase. Cart abandonment is like going to the store, picking out what you like, deciding that it's just not worth it and leaving empty-handed. Except it's much easier to do online.
Cart abandonment is a source of serious sales loss for many companies. And despite the overwhelming evidence of this, and the fact that these missed sales opportunities were only moments away from converting, tracking cart abandonment is very often overlooked.
The good news is that this situation is easy to change. The first step is knowing how to identify and track cart abandonments.
? How do I track abandoned cart in Google Analytics?
To find your cart abandonment rate in Google Analytics you will either need Enhanced eCommerce or a Goal set up. Setting up a goal is the easiest way to find your abandonment rate. We'll show you how to do this.
❓ What is abandonment rate in Google Analytics?
Abandonment Rate in Google Analytics calculates what percent of people have commenced a conversion process, but have not completed the process.
? How is abandoned cart rate calculated?
Shopping Cart Abandonment Rate is calculated by dividing the total number of completed transactions by the number of initiated sales. (adds to basket) . You then subtract the result from one and then multiply by 100 to find your abandonment rate.

Calculating cart abandonment rate
Even though cart abandonment causes significant financial losses, it is fairly simple to calculate:
Cart Abandonment Rate formula:

(1 – (#Completed transactions / #Initiated sales)) * 100
For example: Let's say your eCommerce store had 5,000 sales in the last month. The number of initiated shopping carts that did not result in a purchase was 25,000. By subtracting the division of the two numbers from one, you realize that 80% of shoppers didn't complete their transactions this month.
(1 – (5,000 ÷ 25,000)) * 100 = 80%
To understand how your store is performing within the context of other businesses, check how your rates stack up against industry benchmarks: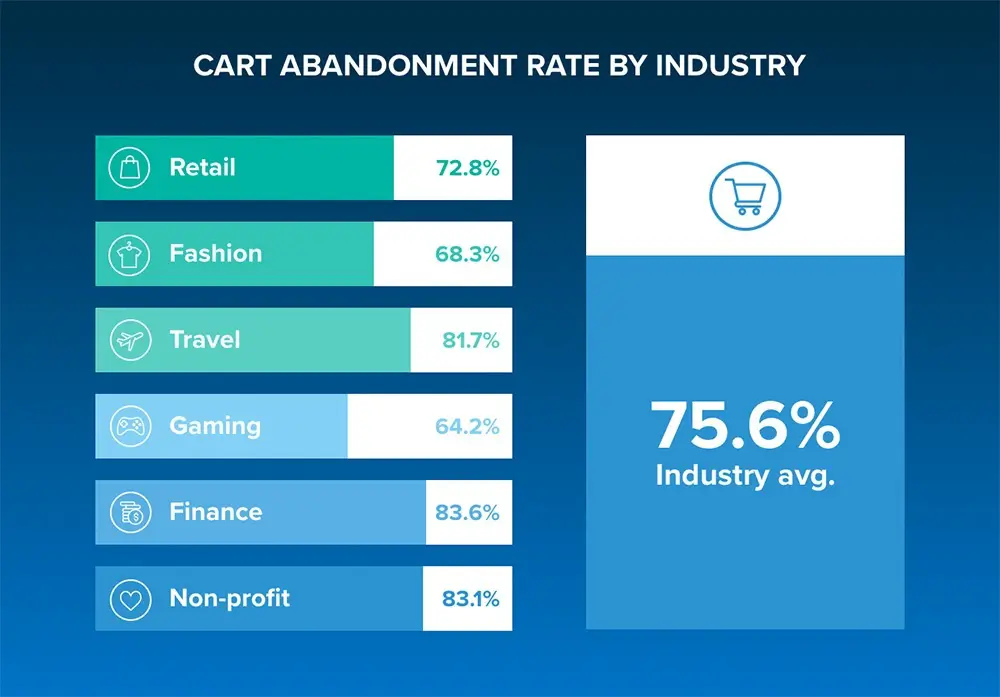 Tracking shopping cart abandonment in Google Analytics
Using the provided formula, you can easily track cart abandonment rates on your eCommerce store. However, if you want an automated and more sophisticated solution, you're going to have to rely on software.
Google Analytics is a free and effective tool that lets you track website traffic and the behavior of visitors. By creating funnels, you can effectively work on customer journey optimization by pinpointing where problems arise in the checkout process.
Step 1: Set up a new goal
Start by logging in to your Google Analytics account and opening the Admin tab at the bottom of the homepage. After choosing the Account, Property, and View that you require, click on Goals at the far right of the page.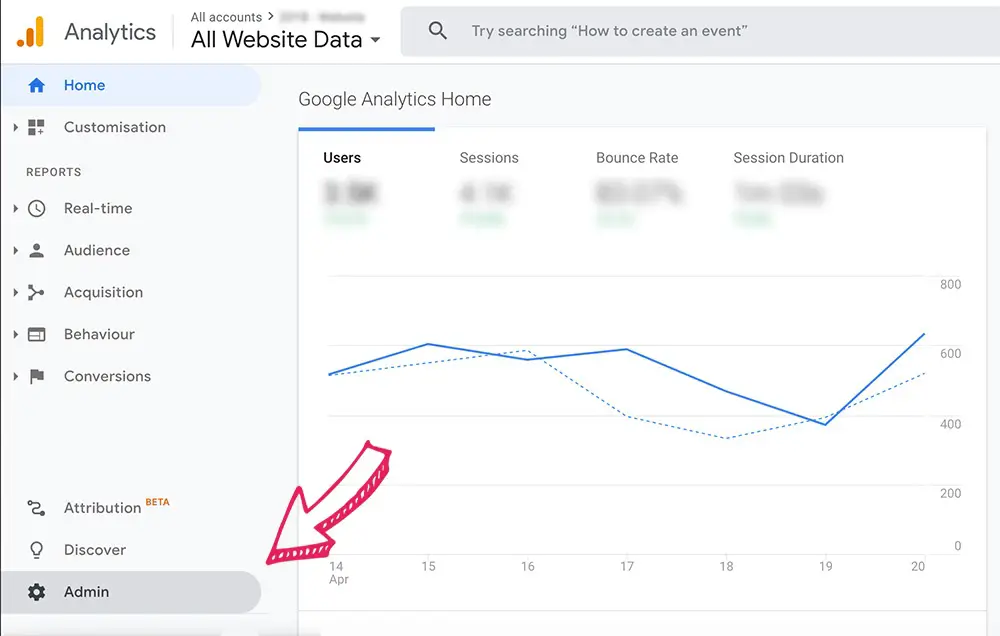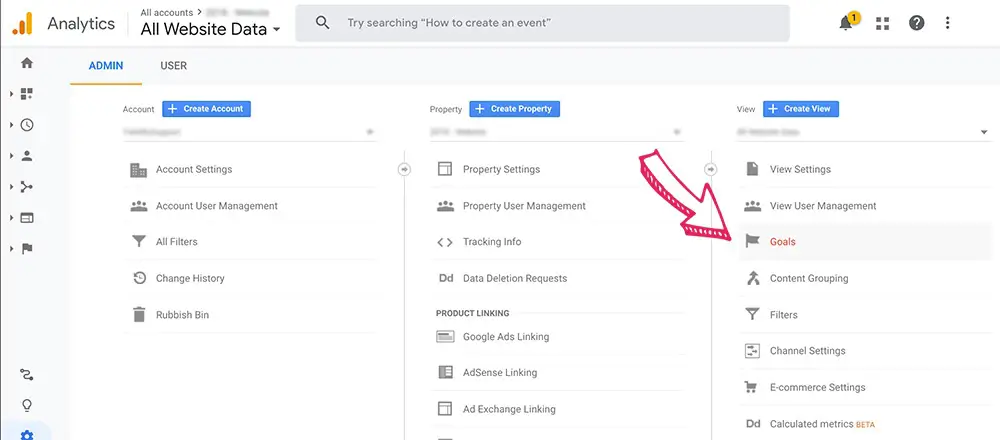 Goals are the specific objectives you set up to measure how frequently website visitors complete specific actions. You can use a template for setting them up or start from scratch by choosing Custom. For the purposes of tracking cart abandonment, we click on Create Goal and choose Checkout Complete.
Step 2: Describe the goal
Describe the specific goal by giving it a name and choose the Destination tab under Type. We choose the destination tab to track whether the customer reached the end destination: usually a page that indicates that a transaction was completed.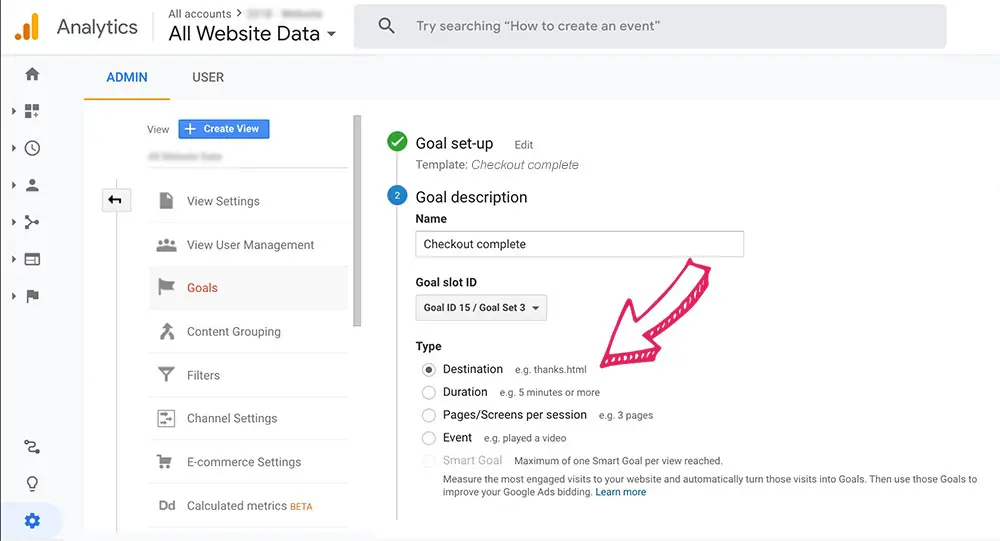 Specify the Destination by copy-pasting the URL of the page customers reach after a successful purchase. Be sure to select Begins with and only input the static part of the URL, for instance, the section in bold:
www.yourstore.com/success/checkout/345632
The number that changes with each checkout should be excluded from the Destination – your website should dynamically inject it at the end of your destination page.

Step 3: Create a funnel
Lastly, create a funnel by adding a link to every step in the checkout process. The simplest checkout funnel would contain the cart page, checkout page, and the successful purchase page. However, some stores have additional steps in the checkout process so check how yours works and adjust accordingly, by adding additional URLs.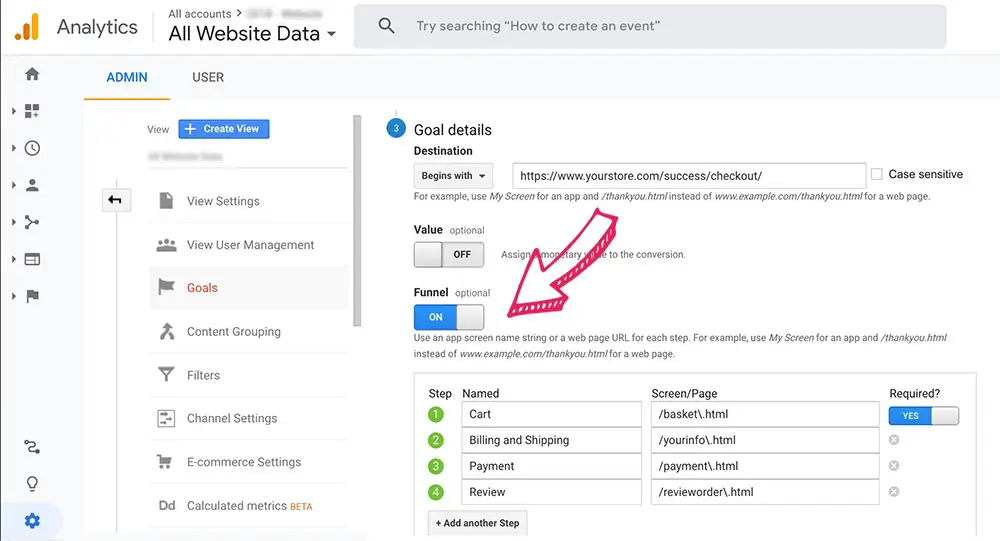 Step 4: Find cart abandonment reports
Now we can find shopping cart abandonments in google analytics.
On the Google Analytics home page, head to E-commerce under Conversions, and select Goals. Note that data collection takes up to 24 hours, so you won't be viewing real-time data.
By clicking on Funnel Visualisation you can see where in the buying process users dropped out, and identify the strengths and weaknesses of your funnel.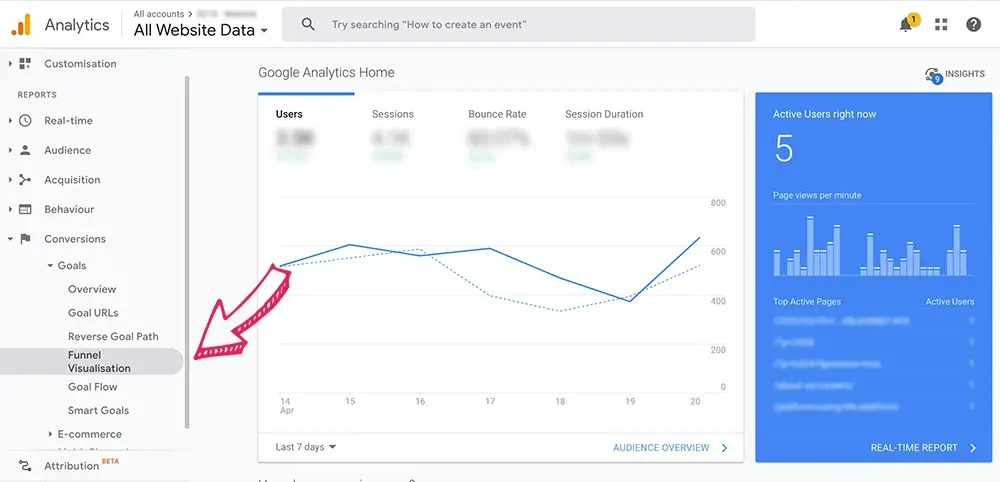 For instance, in the example from the Google Analytics Demo Account, we can see that while over a thousand visitors added an item to their cart, only 14 completed the purchase. By analysing every step, you can determine what makes buyers drop out.
But don't stop there – look at the data in different segments. For example, if you realize that more carts are abandoned on mobile, this could be an indicator that your site isn't well optimized for mobile users. Inspecting different data segments can lead to crucial insights.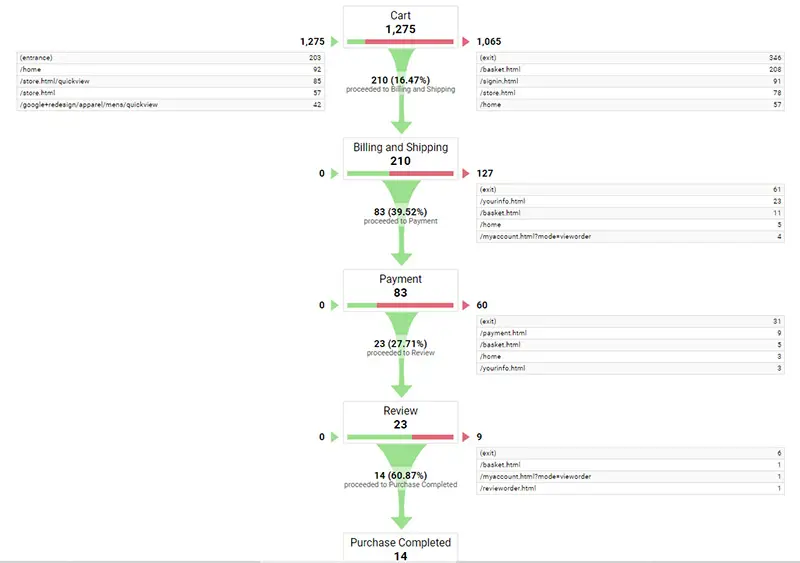 Top reasons for cart abandonment
One of the strengths of tracking cart abandonment is that you can identify what issue is at hand. While there may be a unique issue for your store, here are some of the general barriers to completed sales: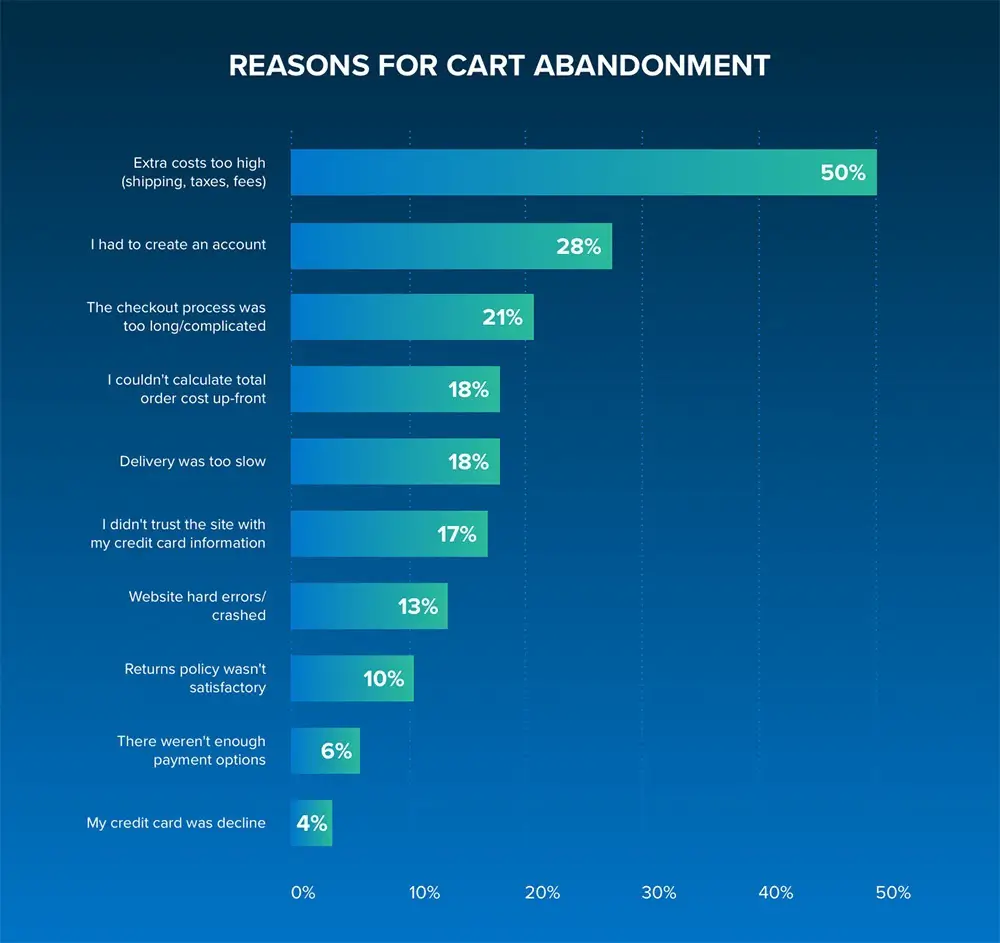 Let's unpick some of them.
1. Additional delivery costs
Perceived "hidden costs" are often the main reason why companies lose potential customers. Many customers feel that costs of delivery, shipping or taxes should be clearly shown prior to checkout. Since almost half of customers give up on their purchase for this reason, the idea clearly has merit.
Prominently displaying information about additional shipping costs prior to the customer reaching checkout is vital. For example, you could indicate on the homepage or on a banner that free shipping is included on all orders over $75 or display a 'free shipping and free returns' trust badge.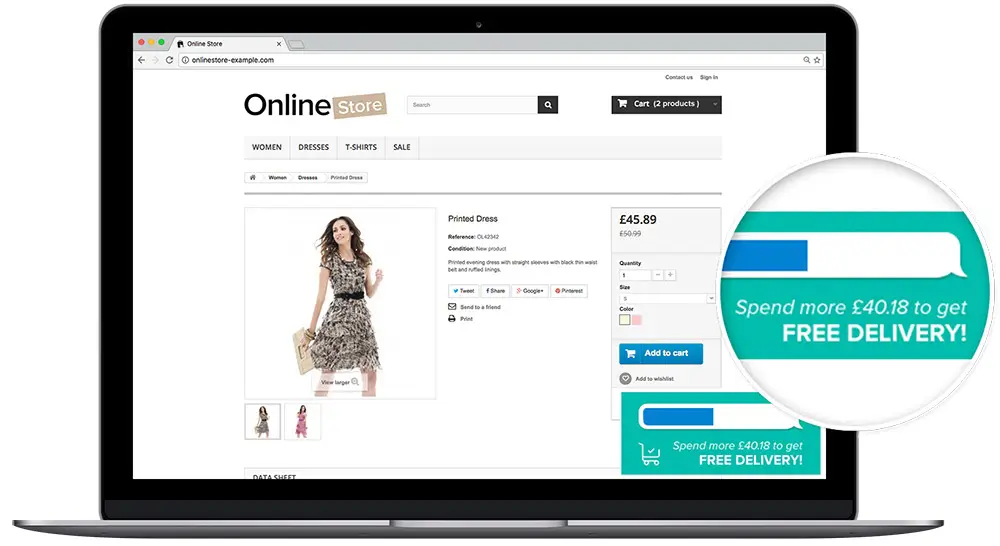 Improve the customer experience by making it easy for customers to obtain shipping and delivery information. This makes it easier for customers to buy, which means more completed sales for your business.
2. Comparing prices or deciding against the purchase
Evaluating alternatives is a normal part of the consumer buying process. While there are other factors at play, such as shipping or warranties, many customers simply check your prices directly against your competitors. And if they find a better deal elsewhere, they take it.
While there is not much you can do to prevent this, you can implement retargeting strategies to remind potential customers of their incomplete purchase. According to a study from VWO, an astonishing 58% of customers have stated that emails and ads which offer a discount on abandoned products will bring them back to the website.
At Yieldify, we tend to use our click trigger functionality to combat comparison shopping, specifically, the 'copy-paste-compare' action.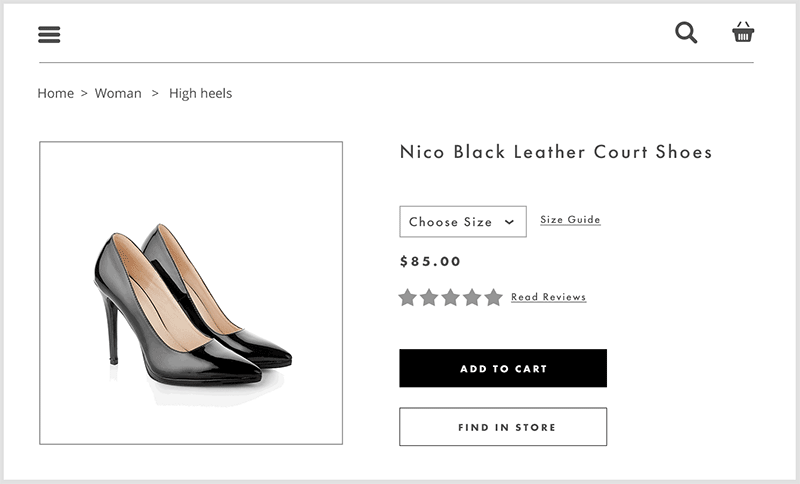 Under the assumption that customers highlight product names to copy and paste them in the search engine, we trigger an assuring message that they've already found the best price.
3. Out of stock
Inventory management is surprisingly vital to providing excellent customer service. While finding the balance between over- and understocking can be tricky, being unable to provide for your customers can have disastrous consequences.
Going through the entire shopping process to find out their items aren't actually available can be frustrating for customers. Therefore, by indicating that an item is currently out of stock and recommending similar items before the customer reaches the checkout process, you can significantly lower cart abandonment rates and increase customer satisfaction.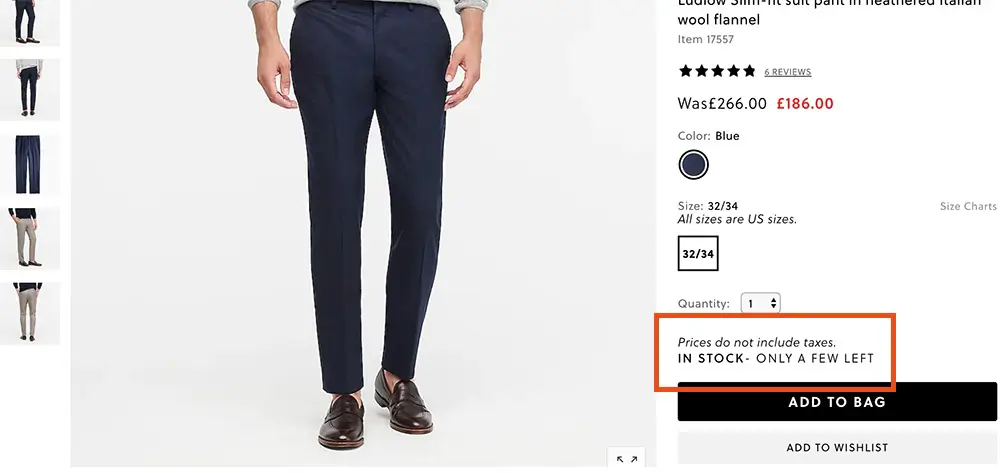 4. Delivery times
A significant number of customers abandon their carts when they realize that the waiting time is too long. Same-day delivery has proven to be incredibly important: progressively more customers expect their products to be delivered in record time and without exorbitant shipping costs. We can thank Amazon Prime for setting this expectation!
While choosing between fast and free shipping is a nightmare for most retailers, setting up adequate shipping prices does help. To ease customers' minds, always include estimated shipping times and offer:
Free shipping for longer delivery times.
Expedited shipping options (with the appropriate charges).
Tracking information that gives customers a sense of control over the situation.
5. Payment methods
Column Five's study has shown that 56% of customers would like to have a variety of payment options. Not being offered their preferred method can result in 20% of customers abandoning their purchase entirely.
By including the most catch-all payment methods such as PayPal, Visa, and MasterCard you will capture the vast majority of buyers. From there it's a case of researching what other payment methods your target customers use, as there are endless smaller platforms that are region- or industry-specific.
Ensuring that customers can pay using their smartphones is also crucial, as studies estimate mobile eCommerce sales will account for the majority of online sales by 2021.
Abandoned cart recovery
There are multiple effective cart abandonment solutions that online retailers use to recover abandoned carts. The most powerful tools, such as email remarketing – often with the help of tools for list building – or retargeting ads, are used to recover as many sales as possible.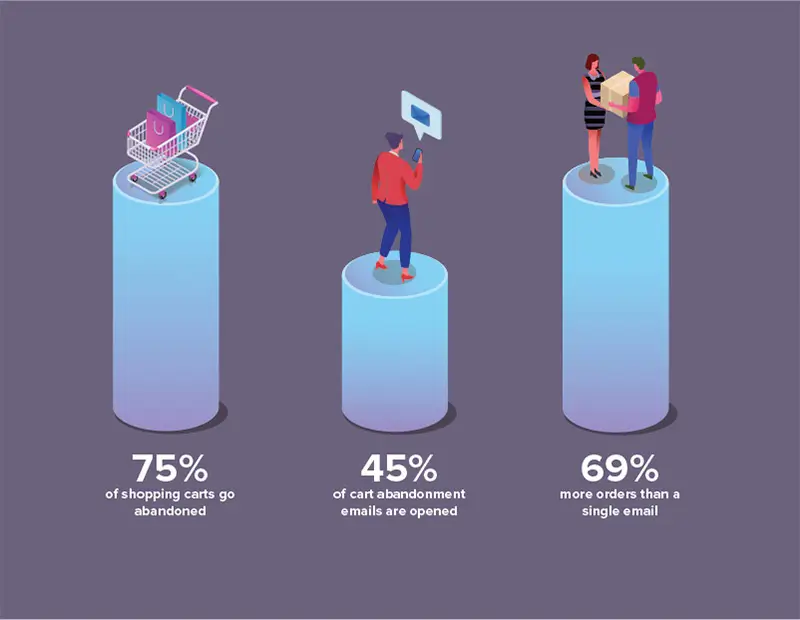 Email remarketing campaigns
Almost a third of cart abandonment emails result in a purchase. EDM marketing is a highly effective method of converting customers at virtually no cost. To improve your recovery email success you should focus on:
Brainstorming captivating subject lines that ensure your emails get opened.
Personalizing emails by addressing the customer by name.
Using urgency and scarcity techniques by indicating how many items are left in stock.
Proposing alternative products if the one the customer wanted is out of stock.
Using clear, simple email designs that let users navigate directly to checkout.
Sending multiple recovery emails, including the first one within an hour of the customer leaving your site. Here, timing is everything.
Ad retargeting
Another useful tool to reach customers that have abandoned their carts is to create ads on Google or Facebook. Retailers have a vast amount of data available to them through Google Analytics and social media, making it easy to target the right customers at an optimal time.
Retargeting ads are 76% more likely to be clicked than regular ads as they influence the customers that have already seriously considered a purchase. To get the maximum performance out of your ads:
Segment customers by sales history, the value of the abandoned cart, by product, or any other core metric which might boost your efforts.
Insert clear and singular-focused calls-to-action.
Test different ad copy and design variants.
Make sure you aren't spamming the customer: according to Moz, 7 to 12 times in a month is optimal.
No cart left behind
Knowing how to calculate cart abandonment rate using a formula, or in Google Analytics, is the first step to recovering your lost sales. By understanding the reasons behind cart abandonment, you can improve the customer journey while securing further sales for your store.