BLOG
Why Travel Sites Must Embrace Mobile and Cross-Device to Satisfy Customers
Published: Apr 7, 2016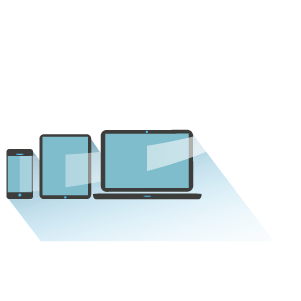 As travel site users' behavior continues to evolve, we take a look at why travel – more so than any other industry – has to embrace mobile and cross-device optimization.
Who doesn't love a good holiday?
The chance to kick back on the beach, sipping cocktails and getting a great tan. Or perhaps you prefer a winter holiday. A few hours every day spent on the piste, taking in the breathtaking views and clean mountain air.
Then there's your adventure holidays. Jet skiing, mountain climbing, skydiving or any other number of physical pursuits.
That's the amazing thing about holidays. They're so personal.
Two people could go to the same resort and have vastly different experiences. No two holidays are alike.
But often, that level of personalisation isn't apparent on many online travel stores.
The days of sitting down with your local travel agent and planning out your perfect escape are long gone. The travel industry has to face the facts that, like everyone else, more of your consumers are moving online.
It's a shift which is causing numerous problems – primarily stemming from modern shoppers' online shopping habits and the popularity of using multiple devices to complete a single purchase.
A potential customer might begin researching holiday destinations on their phone whilst on the bus. They'll then look at hotels on their work desktop, only to continue by researching activities or sightseeing tours on their tablet that evening in bed.
According to eMarketer over 47% of digital travel research will at some point involve a mobile device. This number is set to increase to over 54% for next year and will continue to see steady growth over time.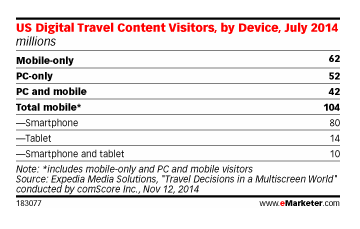 This habit of jumping between devices makes it incredibly difficult for retailers to track individual users and offer the personalised service so closely associated with the travel industry.
However, this disjointed customer journey can be negated by taking a few smart steps towards implementing a cross-device strategy.
Focus on improving your mobile experience
In recent years there's been a huge increase in mobile use resulting in mobile overtaking desktop as the primary device for online browsing.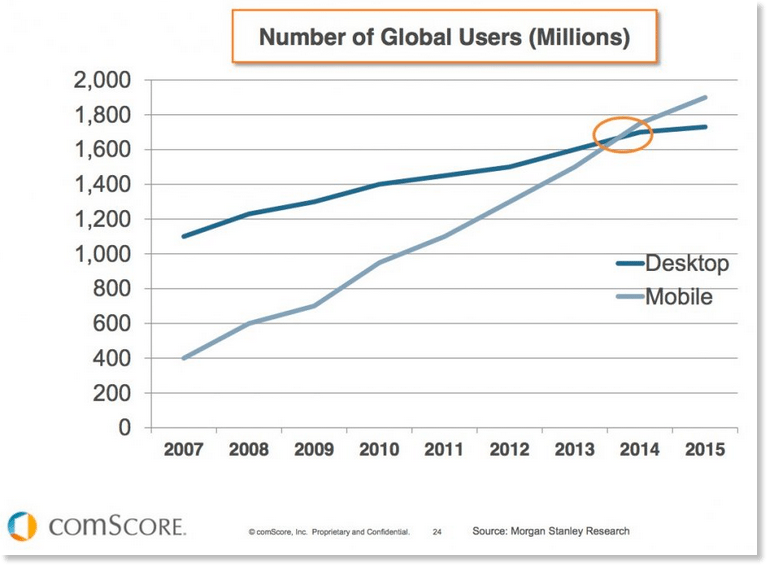 As you'd expect, this has also caused an increase in the number of users who are shopping on mobile devices. While mobile conversions aren't yet up to the level of their desktop counterparts, they are steadily increasing.
Statistics point to mobile soon catching up to and perhaps even overtaking desktop for conversions. For the travel industry specifically eConsultancy predicts that over 30% of travel bookings will be made on a mobile device by 2017.
The mobile market is not to be ignored. Your mobile campaign deserves as much attention as your desktop campaign. However, it's also a completely different beast that requires a unique approach.
The basic rule for improving the mobile experience and conversions is to simplify every aspect of the customer journey. For instance:
Simplify complicated form fields that could seem intimidatingly long on a small screen
Simplify the purchase journey
Understand the design differences between phone and tablet
Use large, easy to read text and images
Whilst simplification should form the basis of your mobile site and funnel design you should also consider the differing habits of mobile users. As mentioned above, conversions on mobile devices are on the rise. But there's still a lot of studies that demonstrate the popularity of cross-device campaigns.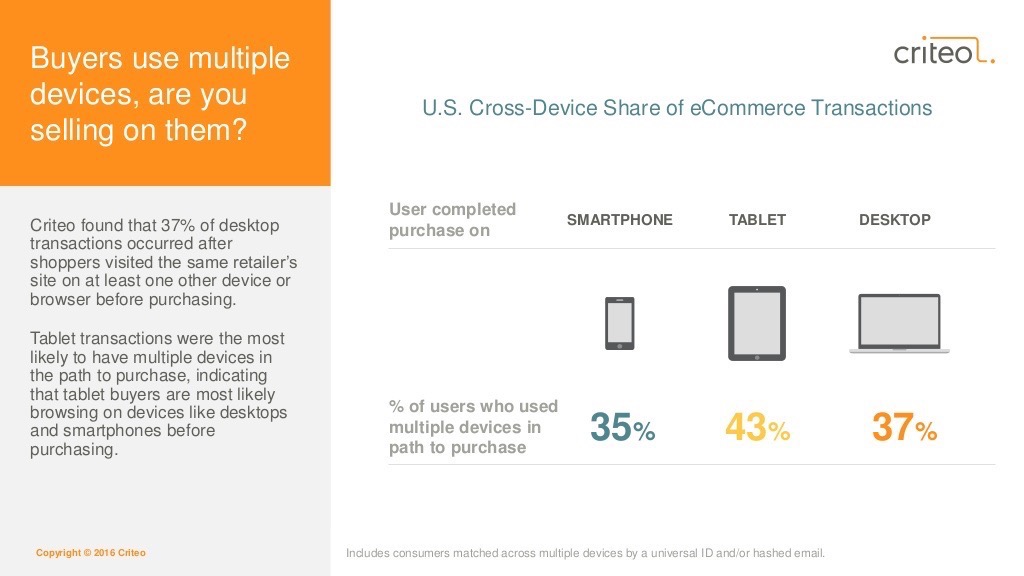 Instead of relentlessly pursuing the purchase on mobile devices consider facilitating the cross-device experience. For example, include messaging that encourages hesitant visitors to save their bookings for later – enabling them to return and convert on another device.
We're not advocating shunning mobile conversions, far from it, but you should have something in place that helps facilitate your customers' growing cross-device habit.
Establish customer experiences that account for all cross-device journeys
Cross-device journeys are nearly always depicted in a linear fashion:
A user starts their journey on mobile before moving to desktop to complete the purchase.
However, this isn't really how things work. Cross-device journeys can take myriad paths. Users will jump back and forth between devices. The above cited Criteo study shows us that users will use the device that's most convenient for the action they want to take.
The linear path belief likely springs from the outdated information of mobile's poor conversion rate. Because mobile historically converted at a lower rate, it wasn't worth our attention. It was a starting point in the journey and unthinkable for anyone to convert on such small displays.
The smart marketer's curse is to focus (often too heavily) on the metrics that directly impact our bottom lines. Conversions, revenue and sales.
Obviously conversions are great, and your bottom line is the most important metric to track. But in this hyperconnected age, businesses live or die on their reputations. A few bad customer experiences could lead to poor reviews that lose you future custom.
Customer experience is just as important as actual conversions and needs to be taken into consideration when optimising for cross-device customers.
You shouldn't act on the now outdated advice 'mobile doesn't convert' . Having a cross-device journey that pushes people toward desktop for conversion's sake creates a bad customer experience. You're forcing your customers to take an action they might not necessarily want to take.
Your cross-device campaign shouldn't be linear. You should look at all options and paths and offer different services and experiences based on different start and end points of the journey. For instance:
Offer easy addition of boarding passes to mobile phones for those who complete their purchase on mobile devices (more than 50% of people have expressed a desire for mobile check in).
Follow up on ticket purchases with in app recommendations of activities or popular sightseeing destinations.
Create an automated after sale email campaign to instruct and educate users on their destination. Email campaigns are great because they can be viewed on any device.
None of the above have anything to do with increasing conversions. They are, however, paramount for improving customer experience, something that will help you gain more repeat business and higher levels of referrals in the future.
Planet of the apps
Apps are largely overlooked in mobile optimisation debates. Which is strange considering they convert at a higher rate than mobile sites.
Apps can yield amazing results for online businesses.
Not only do they convert at a higher rate, but they offer more options for increasing customer loyalty.
Think about it. A customer who lands on your desktop or mobile site through Google is likely a first time customer.
Those who download your app are going to be previous customers who have been impressed with the service you offer. They're already interested and invested in your brand providing you with ample opportunity to offer an amazing service and build some customer loyalty.
This interests manifests in a higher user interest. App users typically spend three to four times longer browsing than their web surfing counterparts.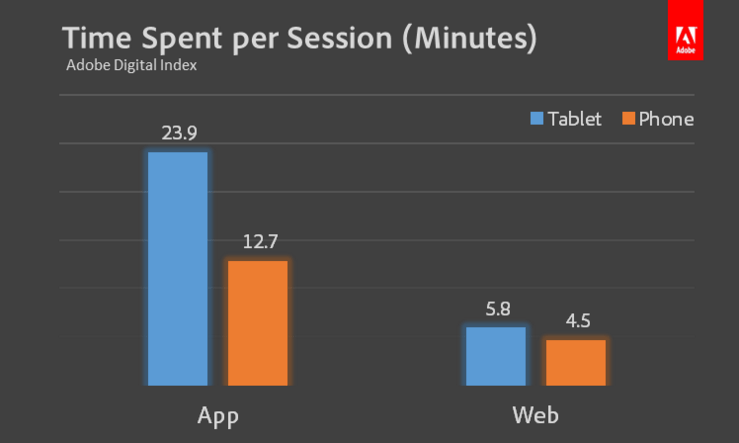 The interest is also a golden opportunity for you to pursue some lucrative upselling opportunities whilst building trust and loyalty within your audience.
Below are just a few examples of the ways you can use an app to stay at the forefront of your audience's mind and establish yourself as a helpful, knowledgeable source.
Real-time communication. Through the use of push notifications you can keep users informed of the latest deals, developments and news. A method proven to re engage those who have downloaded your app.
Increase customer loyalty through app-specific incentives.
Offer enhanced support. This could be through 24/7 in-app communication or something similar to Domino's in app pizza tracker.
Apps often require the user to sign up. This offers better data collection on individual users for a more personalized and improved customer experience.
A comprehensive mobile campaign simply isn't complete without considering how apps fit into the equation. Apps are already proving to be a huge asset to online businesses and seem set to become one of the major influencers in user experience and conversion optimisation.
The travel industry needs to embrace the mobile revolution
Mobile optimisation is too often a case of simply tacking a responsive design on your desktop site and leaving it at that.
That approach once served as enough. But not any more.
Online shoppers now favour mobile devices across the board. It's important for any brand to optimise the experience for any device and purchase journey progression. But it's even more important for travel brands specifically.
Travel purchases are comparatively more fragmented. A user isn't researching a single product, they're looking at the logistics of travel, accommodation, insurance and every other facet associated with a holiday.
Purchases of individual products benefit from an optimised cross-device journey. Purchases in the travel industry require an optimised cross-device journey.
It's no longer a case of keeping up with the current trends and more a necessity for future proofing your business.
The points in this article are a starting point, but there's a lot of work and testing that needs to go into any cross-device campaign.
We've got loads more advice in our resources section to help you face up to the challenge of optimizing for an ever-evolving audience, including free guides on travel optimization, mobile optimization, and the cross-device journey.