BLOG
Meet Your Visitors: E-commerce Segmentation Statistics
Published: Mar 7, 2019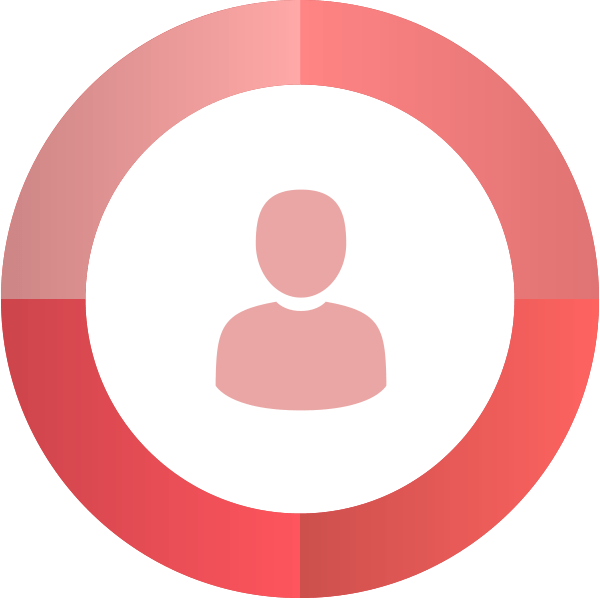 When it comes to creating personalized customer journeys, understanding your visitors is key. One way to achieve that is via segmentation.
There are many different ways to segment your visitors, but your ability to create, and then personalize for these segments rely on data. Not only that but knowing which visitor segments represent the biggest opportunity will help you prioritize your personalization strategy, ensuring you're not wasting time and resource on 'personalization for personalization's sake'. In this blog, we'll take a look at the type of data you might want to take a look at, sharing our benchmarks for 4 common visitor segments that should be familiar to every e-commerce marketer.
So, who are they?
We've aggregated these stats from over 30 billion data points to bring you insights on 4 crucial visitor segments for e-commerce:
New visitors
Returning visitors
Returning customers
Loyal customers
Personalizing for these four visitor segments is the first step toward an intelligent personalization strategy that focuses on the right data, to deliver the right message at the appropriate point in the customer journey. Let's take a look at which segment has the highest conversion rate, and which drives the most revenue, and more, read on to see what we found…
Which visitor segment drives the most traffic?
When it comes to deciding on your perosnalization priorities, and segmentation strategy, is bigger, better? As we can see from the below chart, new visitors make up the largest percentage of traffic, and our data also shows that this holds true across both retail and travel.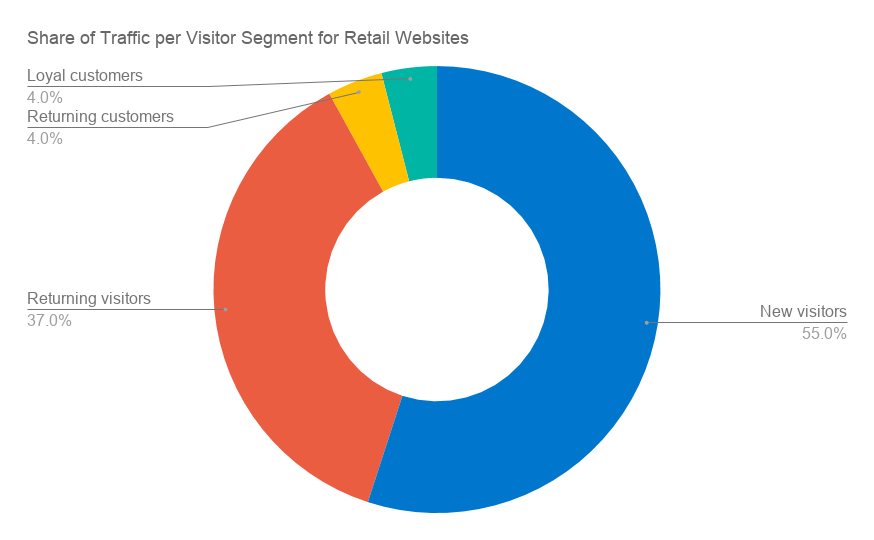 What this means is that, on average, only around 8% of your visitors have bought from you before. So should discount them when it comes to your segmentation and website personalization strategy? Probably not, but we'll explore why you might not want to miss out on them later in this blog. First, what else do we know about these new visitors?
"Only 8% of your visitors have bought from your website before"
Well, when it comes to devices, desktop visitors are the most likely to be new (62%). This falls to around 50% for mobile and tablet, where users might already be familiar with you, and driven back to your site via paid search, email or social (all of which drive more traffic on mobile than on desktop, as shown below):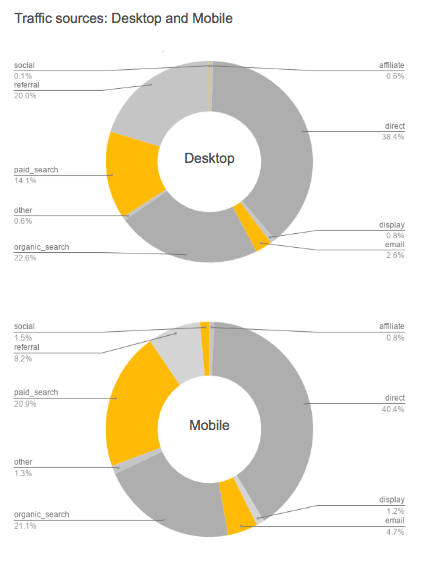 Taking into account this data, and the fact that modern customer journeys are rarely linear when it comes to device usage demonstrates the importance of developing strategies that work across mobile, desktop and tablet, and continually testing what works best for each.
Another thing to think about here is the fact that most marketers are still strongly focused on acquisition. Our State of CJO report revealed that more than half of marketers are dedicating more than 60% of their time and resources on acquisition rather than retention, and this split is reflected in the visitors we see on the average e-commerce site.
How do different visitor segments compare when it comes to conversions?
Well, now we can reveal why you should never discount the loyal customer group, despite the fact they account for just 4% of traffic on the average e-commerce site. This group has the highest conversion rate of all your visitors, with a conversion rate of 31% in Retail and almost 34% in Travel.
Here's how conversion rate stacks up across our 4 visitor segments: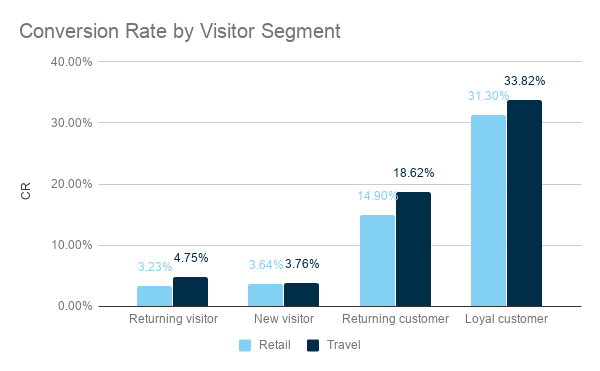 What we can see is that a loyal retail customer, for example, is 8.5x more likely to convert than a new visitor.
"A loyal retail customer is 8.5x more likely to convert than a new visitor"
For travel, we can see that returning visitors and returning customers have a slightly higher propensity to convert than for retail. This is perhaps because this segement has invested more time in researching a more complex purchase or are being driven by urgency around the availability of inventory or their trip timelines.
And how about average order values?
Conversions lead us on to average order values, obviously, these can differ quite a lot between Travel and Retail, but we can see similar trends when it comes to our visitor segments.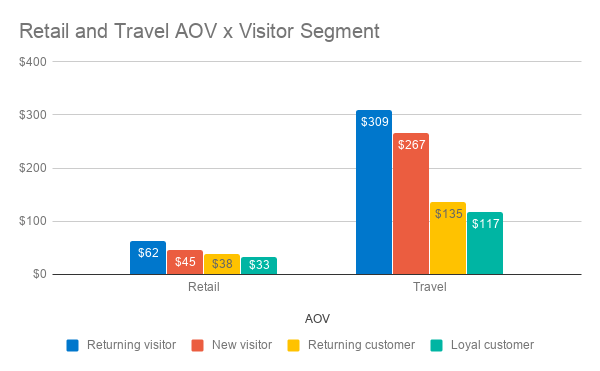 Returning visitors spend the most on average ($62 for retail, and $309 for travel) and if you remember what we saw for conversion rate, this group had the lowest conversion rate for retail at 3.2%. This may indicate that repeat browsing and research leads returning visitors to purchase more, or higher value items.
"Returning visitors spend the most on average – $62 for retail, and $309 for travel."
Loyal customers had the lowest AOV across retail and travel, but buy more regularly and have a higher chance of converting as we have seen. This might indicate that campaigns focused on increasing AOV, such as cross-sell or up-sell, should be a priority for this segment if you're seeing the same trends in your own data.

Which visitor segments drive the most revenue?
There were a few differences when it came to revenue per segment across retail and travel. For example, in Travel less revenue came those who had purchased before (i.e. loyal customers and returning customers) compared with new and returning visitors, who were responsible for 82% of revenue.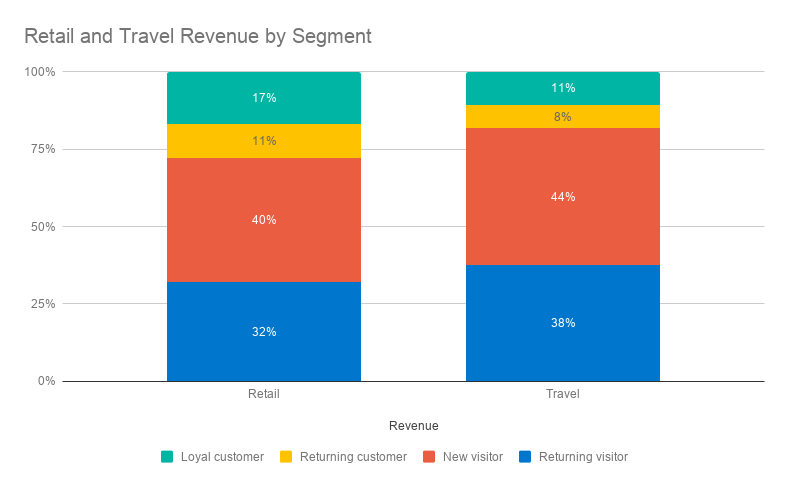 This is not so surprising given what we've already learned about these visitor segments in regards to average order value, and the size of the segments themselves. Retail saw slightly more revenue from these visitor segments, with previous purchasers responsible for 28% of revenue
"New visitors represent the largest percentage of revenue, accounting for 40% within retail and 44% in travel"
Given the longer customer journey within travel, and the fact travel purchases are less frequent, this lack of revenue from previous customers is perhaps not so strange. However, remember that we saw much higher conversion rates for returning customers versus returning visitors for both retail and travel, indicating there is perhaps a missed opportunity here to tailor the customer journey better.
What are the average bounce rates for these visitor segments
So far we've look at how the different segments behave when it comes to purchase, but what about if they just leave? Looking at average bounce rates for the 4 visitor segments we noted a correlation between loyalty and bounce rate: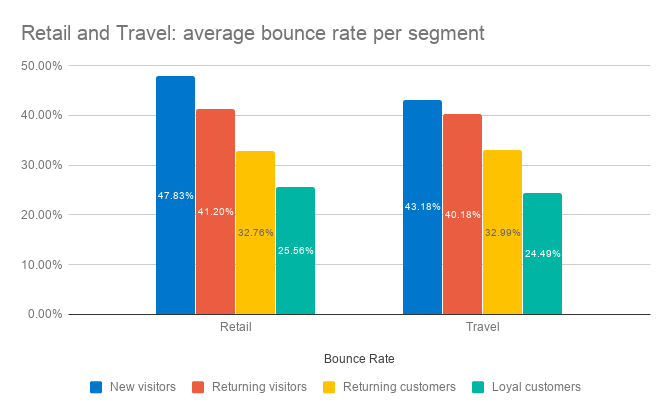 What this tells us, is that campaigns focused on reducing bounce rate should be focused primarily on new visitors, who are likely less familiar with your brand and so more likely to leave. Think about how you can highlight your USPs to re-engage them before they leave. Another consideration is device – bounce rates were lowest on desktop and highest on mobile, suggesting there is still some work to do optimizing the mobile customer journey.
Conclusion
Stats like these are just the tip of the iceberg when it comes to learning more about your visitors via segmentation. As you gather more data, map your customer journey, and benchmark your performance, you'll be able to create a more detailed picture of how your visitors behave and spot the opportunities to improve their experience.
Want more data and insights like this? Check out our other resources.