BLOG
Holiday eCommerce: 7 CRO Tactics Your Website Needs This Peak Season
Published: Sep 30, 2020
We analyzed our data and handpicked 7 conversion optimization tactics known to boost holiday eCommerce sales. Check out these campaign ideas designed to make an impact before, during, and after the 2020 peak season.
If you're selling anything anywhere in the world, then there's slim chance you haven't heard of the Cyber 5: A five-day period from Thanksgiving through Cyber Monday that marks the beginning of the holiday shopping season.
For consumers, this month-long affair leading all the way up to Christmas is best defined by an onslaught of marketing campaigns, deals, and discount offers enticing to shop until they drop.
For retailers, on the other hand, it's the most profitable time of the year. In fact, holiday eCommerce sales account for about 30% of the total eCommerce revenue each year!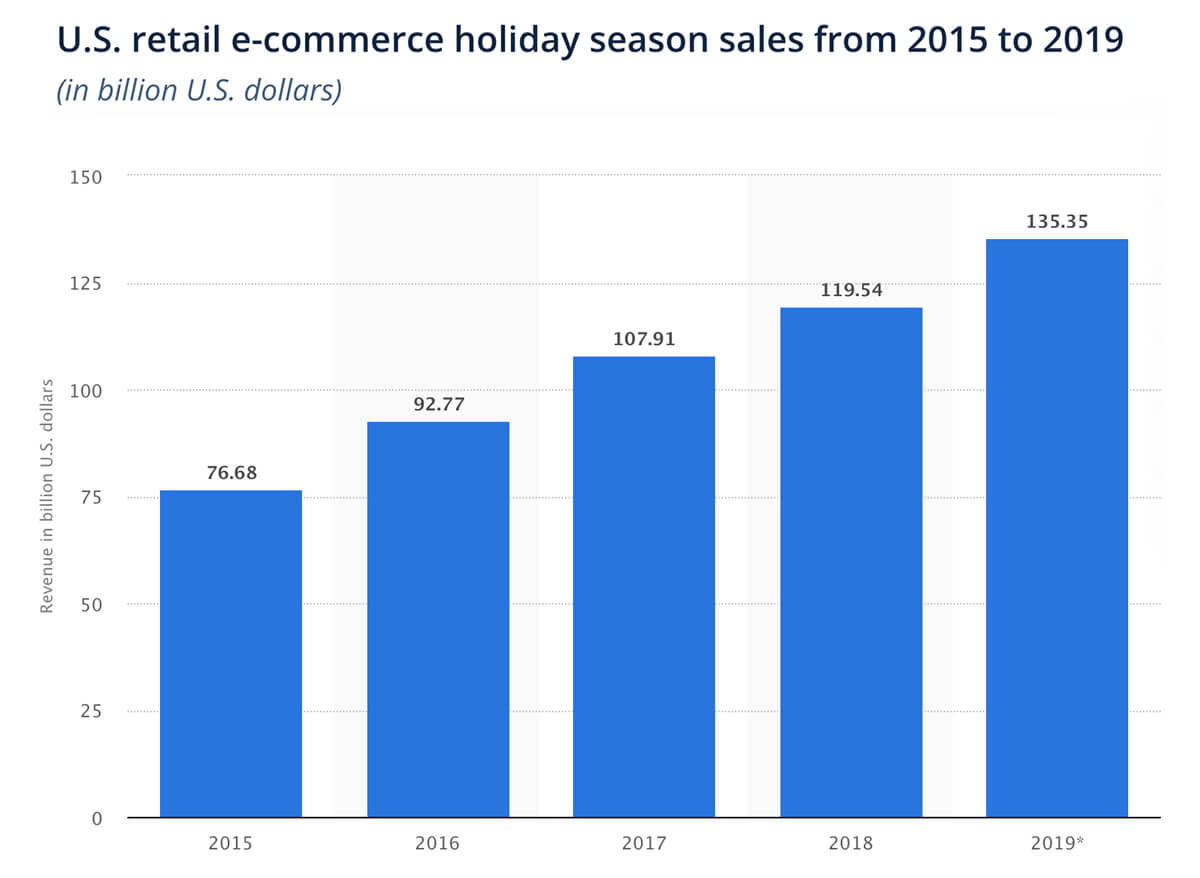 Statista's data shows that in 2019, holiday season revenue for online stores reached $135 billion dollars, which means it was increasing by an average of $14.75 billion ever since 2015. But what does it mean for the 2020 peak season and beyond?
Holiday eCommerce: Market insights
This year, online shopping has experienced a boom. Ushered by the COVID-19 pandemic, social distancing, and stay-at-home rules, consumers flocked to the internet to buy everything from groceries to clothing, office supplies, exercise equipment, and even stuff like bidets.
In three months, eCommerce experienced three years' growth. The leap, christened by McKinsey as 'The Quickening', has thrown many marketers' projections out of whack and gave a valid reason for staggering claims that eCommerce is set to top $1.1 trillion dollars for the first time ever.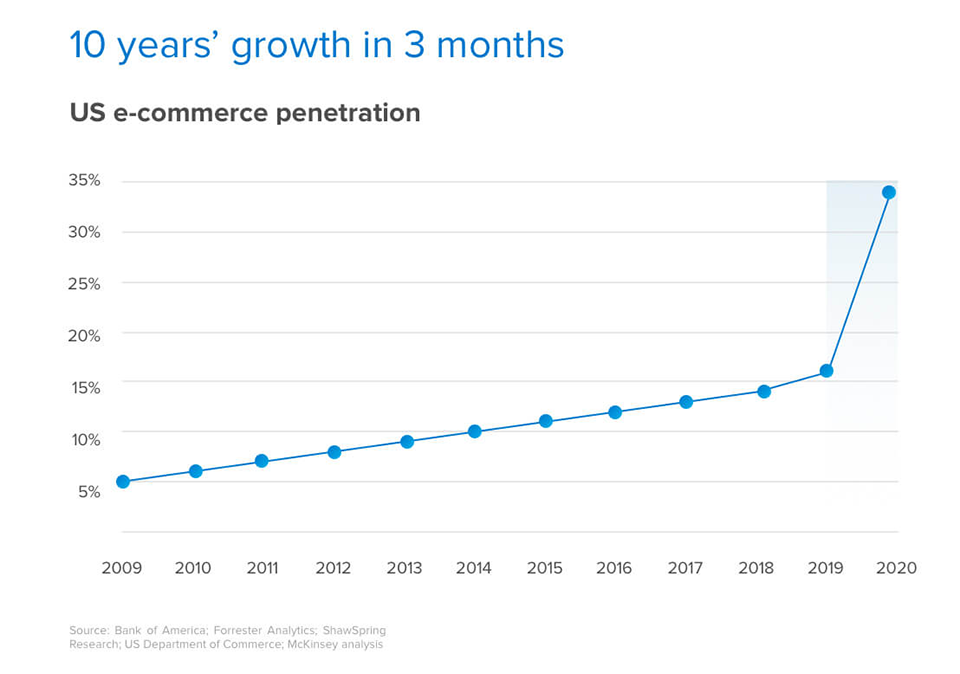 So, answering the question of what to expect from holiday eCommerce this year is as difficult as ever and is best approached with a data-driven mindset. Let's look at some 2019 holiday eCommerce statistics to get a better idea of what's coming.
2019 holiday sales statistics
Total 2019 U.S. holiday sales reached $722.6 billion (+4.1% lift from $694.32 billion).
U.S. holiday eCommerce sales reached $135.35 billion (+12% lift from $119.54 billion in 2018).
Cyber Monday 2019 was the biggest online shopping day in U.S. history with $7.9 billion in online sales.
Holiday eCommerce conversion rate reached 4.3% on desktop and 1.8% on mobile.
Holiday eCommerce average order value (AOV) reached $152.95 USD.
34.5% of 2019 holiday eCommerce spending happened via smartphone.
2019 holiday consumer behavior
60% of U.S. consumers said they start holiday gift shopping before December.
Home improvement was the leading holiday season eCommerce category by YoY growth.
Amazon was the preferred online store for Christmas gift shopping among U.S. adults.
Buy online, pick up in-store (BOPIS) option was implemented by 60% of U.S. retailers.
2020 holiday eCommerce predictions
Based on the insights from Yieldify's Peak Season survey of 400 UK & US eCommerce marketers and 2,000 consumers, there's an increasing divide between the two camps.
On one side, 33% of marketers are choosing to opt out of 2020's peak season campaigns compared to only 6% last year. Their positivity around improving the previous year's results has also dwindled to only 45% saying they're confident in their abilities to increase revenue. They cited concerns about a reduction in consumer demand, followed by increased competition with other eCommerce websites.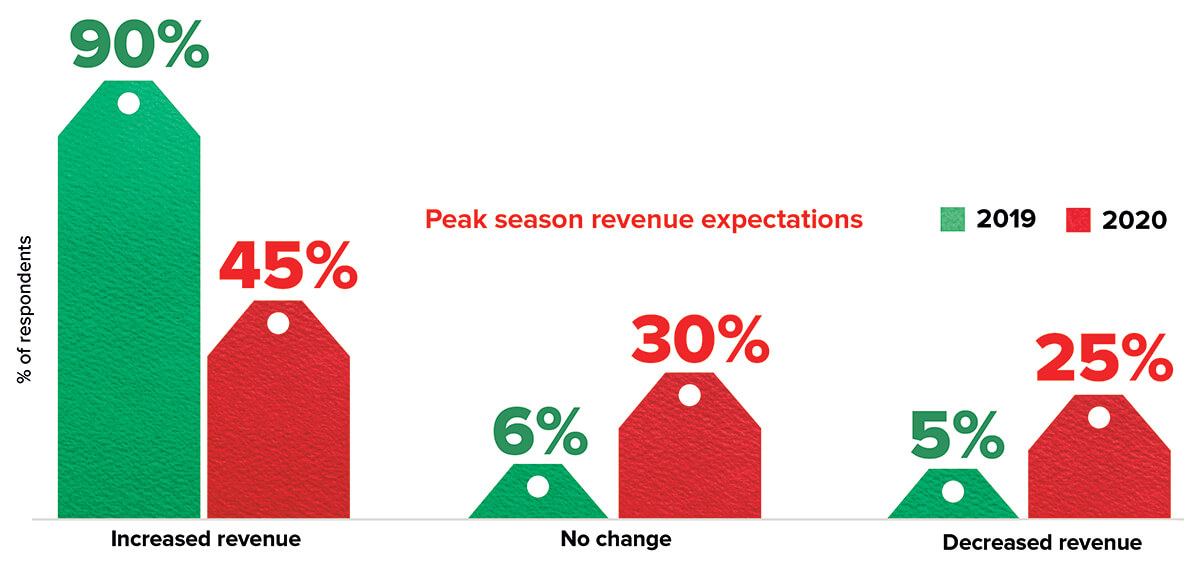 However, this is not at all reflected in the consumer report. In fact, according to Yieldify, 34% of consumers plan to increase their peak season spending. What's more, the majority plan to mainly shop online with 48% of consumers heading to familiar websites and nearly one-third (29%) planning to shop on mostly new websites.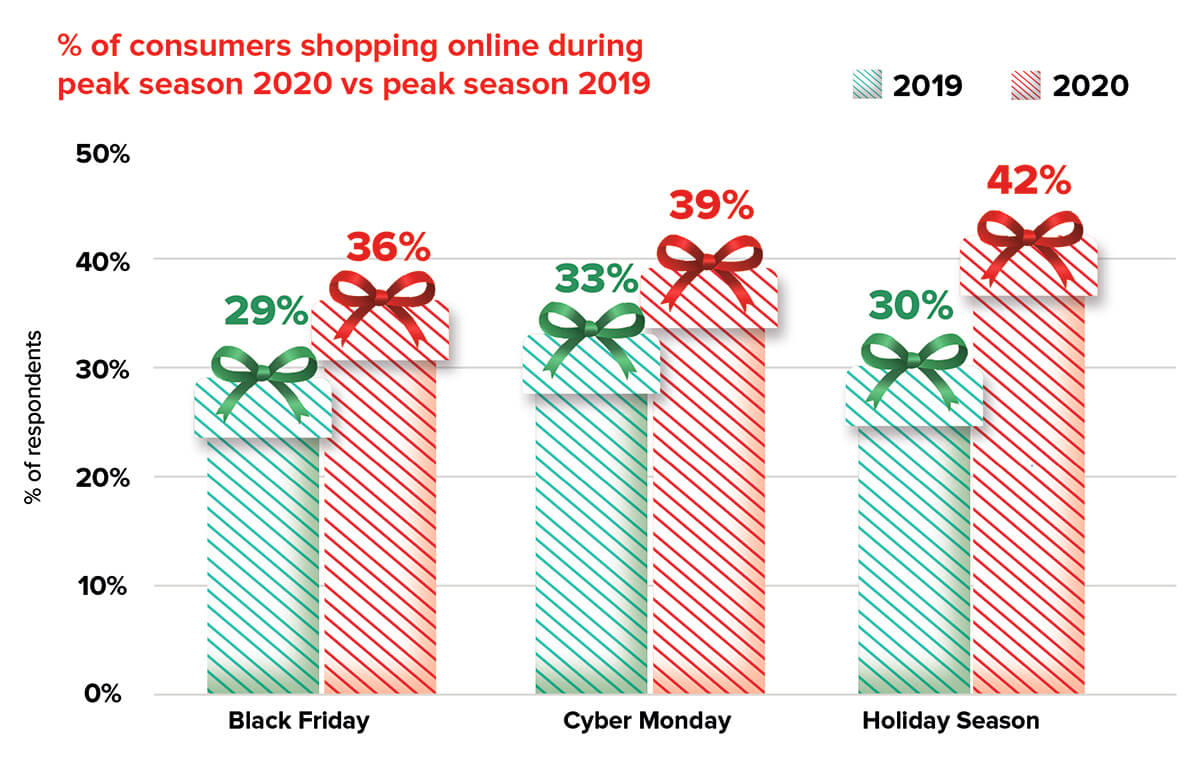 This huge disconnect between what marketers think consumers want vs what they actually want is where the opportunity lies for smart and agile eCommerce leaders. With less competition for an increased and more engaged customer base, marketers have a great opportunity to increase market share this peak season (and beyond).
7 CRO tactics to win this holiday shopping season
In order to help your store come out on top this holiday shopping season, we've delved into our proprietary data and client campaigns from last year and developed a list of holiday eCommerce specific strategies known to turn browsers into buyers (and create an on-point customer journey map). 
Cross-referenced with our research into website personalization trends after COVID-19, these tactics will help you differentiate your brand from the competition, improve your eCommerce customer experience, target promotional offers to customer segments, and make this sales period your most profitable yet.
Jump to a section:
1. Holiday lead capture
2. Holiday wishlisting
3. Social proof
4. Countdown timers
5. Holiday gift guides
6. Cart reminders
7. Return redirects
1. Holiday lead capture
The peak season, as well as the months leading up to it, are a great opportunity to grow your email list. And knowing that email marketing is consistently rated as the highest ROI marketing channel, it's undeniably important to utilize in your holiday marketing campaigns.
As Campaign Monitor research shows, 116 million emails were sent on Black Friday seeing the highest number of opens and clicks. Another 106 million emails were sent on Cyber Monday. Overall, 20% of 2019's holiday website traffic was coming from email.
That's why our number one tactic is holiday lead capture. Here's how to do it right:
Start your holiday lead capture campaigns early to get the maximum number of signups.
Offer holiday-specific incentives, such as access to pre-sale, exclusive discounts, and offers.
Update your creative to reflect the holiday theme.
Add your lead capture forms to high-traffic landing pages.
Experiment with timing, i.e. show the form immediately after load vs some time on the page.
Pro tip: Go one step further and develop a fully-fledged EDM marketing campaign. Not sure what EDM marketing is? Check out our blog post.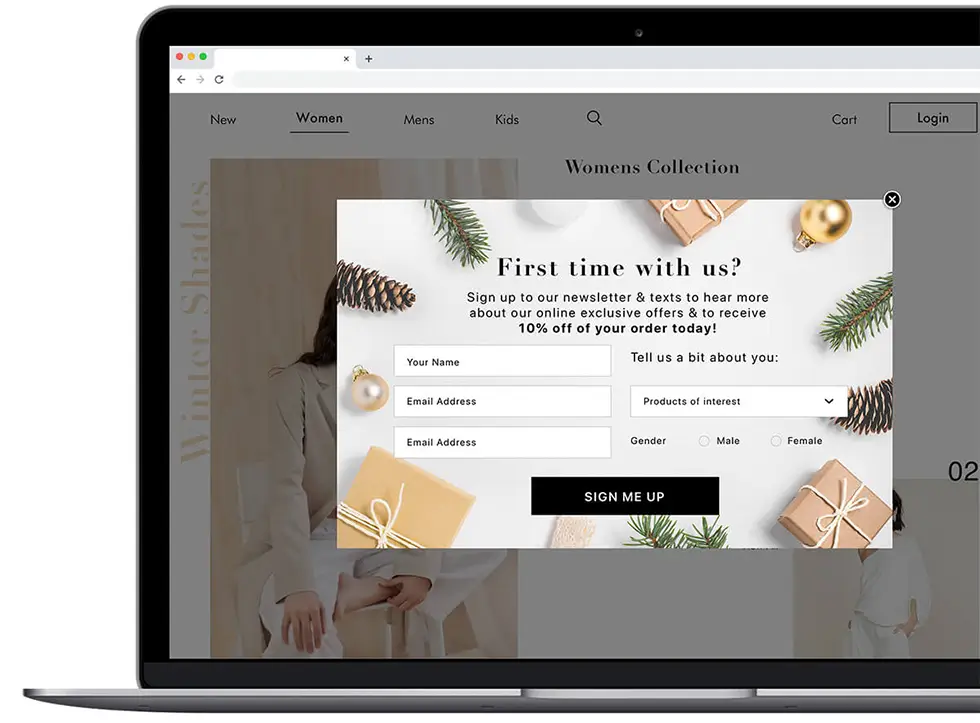 2. Holiday wishlisting
With some retailers opting out of 2020 peak season campaigns altogether and others starting their promotional offers super early (looking at you, Amazon), even your most loyal customers might be confused as to what they can expect from your store this holiday shopping season.
To prevent customer attrition, offer your visitors a wishlist functionality. Inviting them to create an account and save items to their wishlist not only grows your database but it also creates brand attachment for peak season and beyond.
Start your wishlist campaigns before holiday promotions to people have time to create their lists.
Send wishlist reminder emails to get those customers back to your store.
Use the customers' wishlist data to further personalize your marketing efforts.
Pro tip: Incorporate the data you get from the wishlisting customers into your social proof campaigns. For example, display a "Most Wished For" banner on popular items. Not sure how? Get in touch!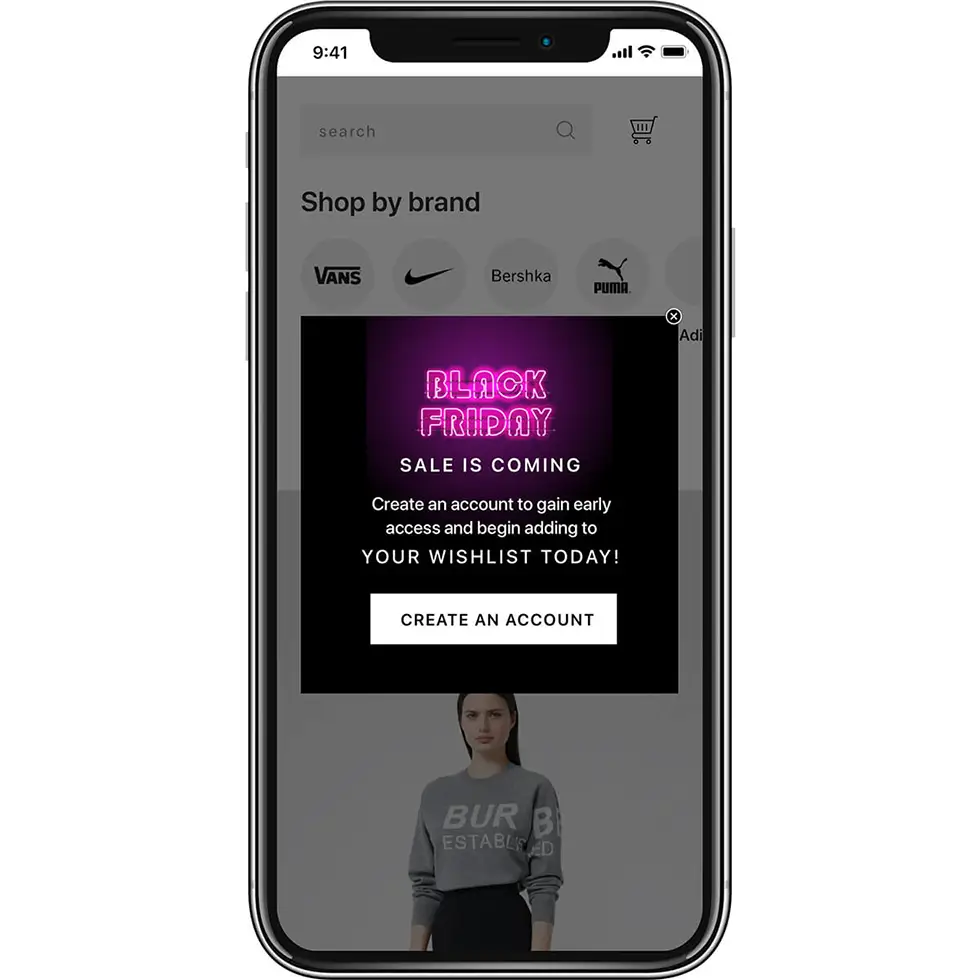 3. Social proof
The fear of missing out (FOMO) is a powerful motivator, and with holiday eCommerce shoppers looking online more than ever, social proof will be an effective way to build urgency and drive conversions.
For the duration of the holiday shopping period, consider running social proof campaigns on both product listing pages (PLPs) and product detail pages (PDPs) alike. Use copy that suggests scarcity and creates an urgency to purchase, such as:
In high demand
Selling out fast
Sell out risk
Almost gone
Pro tip: Use real-time social proof to display customer activity here and how. For example, "X items sold in the last 24 hours" or "Only X items left." For more social proof examples, head over here.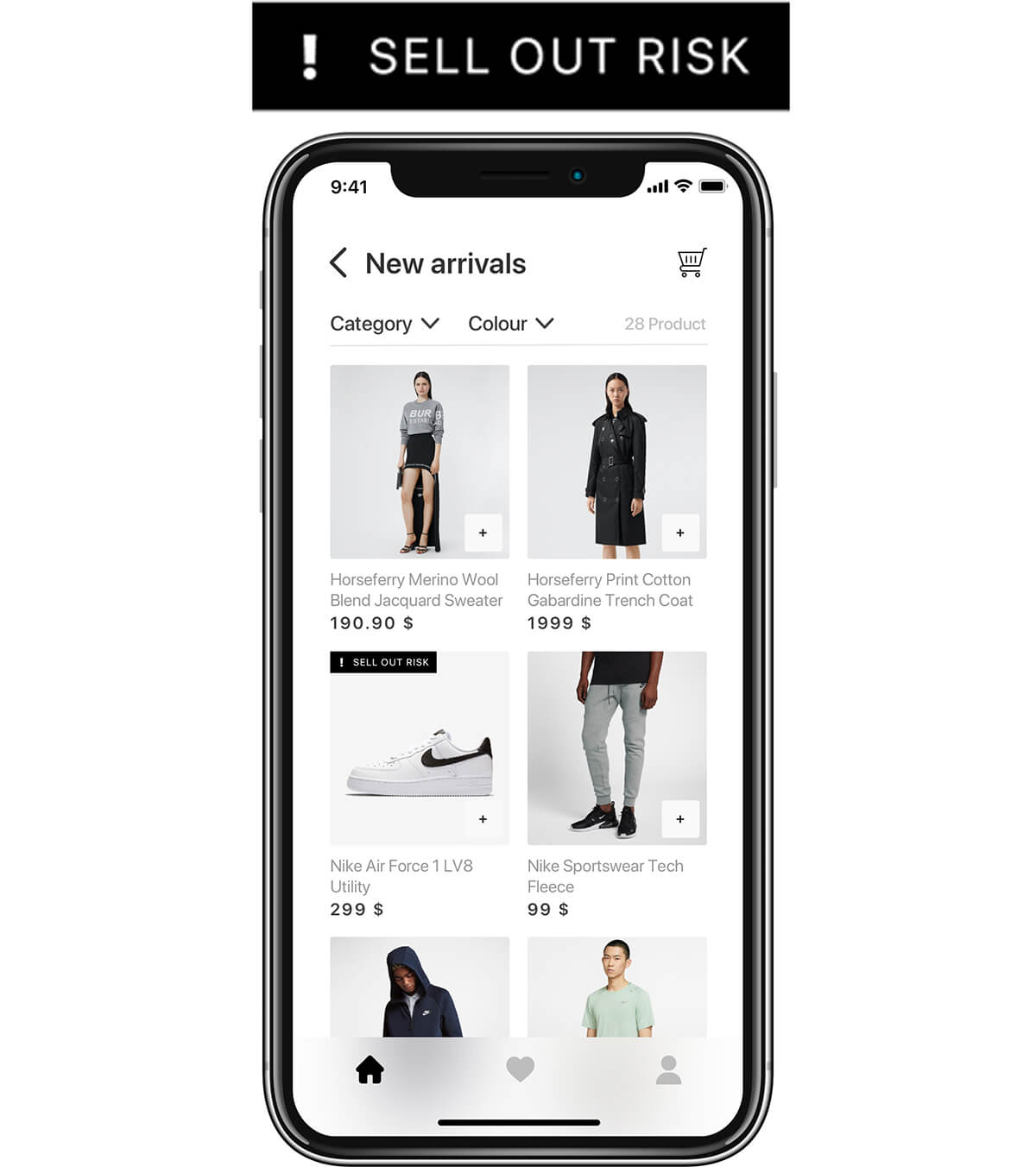 4. Countdown timers
Continuing down the path of marketing psychology, we have another tactic that is known to toy with consumer minds and create urgency to purchase: Countdown timers.
Timers are a great way to encourage shoppers to convert in-session because it makes them anticipate the feeling of regret if they miss the opportunity. eCommerce stores can use countdown timers in a number of ways: From flash sales and limited edition products to holiday campaigns, such as Black Friday and Cyber Monday sales.
Don't forget you can also have your timer count up towards a specific date, for example, 10 days left until Thanksgiving sale!
Pro tip: Optimize your countdown timers for different devices. Whereas a pop-up overlay might work on desktop, mobile requires a different approach and is best served by a floating banner. See how M.J. Bale used countdown timers to boost conversions. Download the full case study here.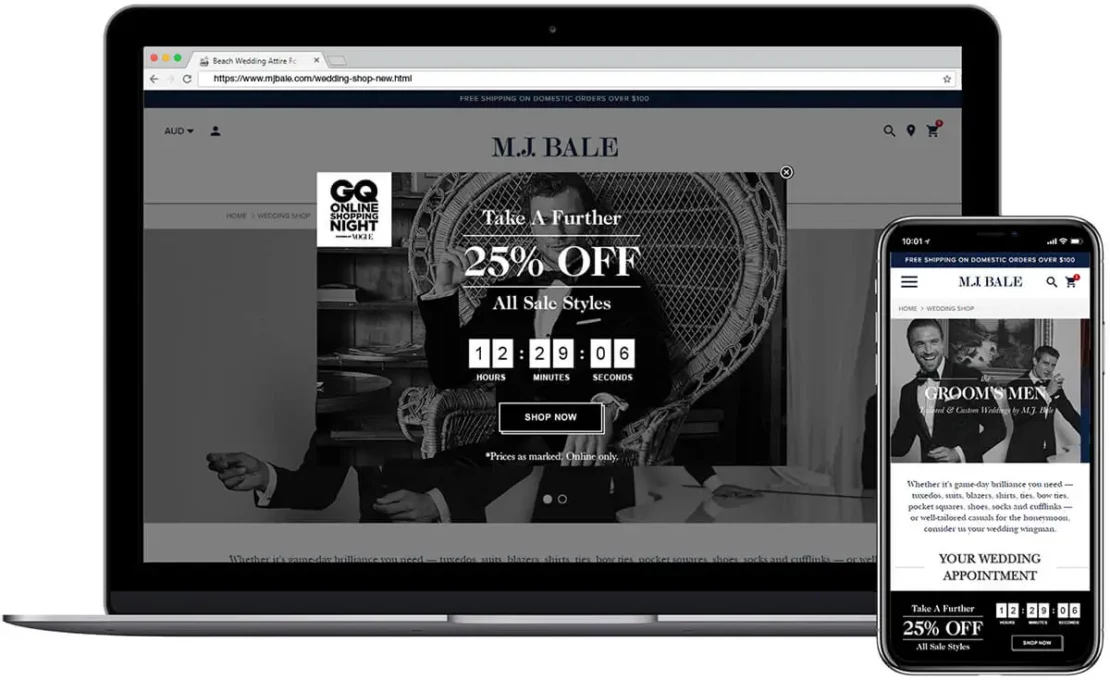 5. Holiday gift guides & recommendations
Don't forget that the holiday peak season is not just about people shopping for their own needs. Gift shopping comes in strong with 9 in 10 Americans (89%) planning to buy gifts for friends and loved ones, and 54% of consumers taking recommendations from retailers, according to NRF.
Holiday gift guides are a great way to improve your eCommerce store's experience by making site navigation easier, gift-searching more straightforward, and your brand more top of mind for the consumer. It is also a powerful tool for eCommerce websites to use cross-selling and upselling campaigns, and boost ancillary revenue.
Create a variety of gift guides based on relatable traits, such as price (gifts under $50), gender (for him, for her), relationship (for dad, for co-worker), hobbies (cooking, reading), etc.
Include gift bundles to increase your average order value.
Tap into influencers to curate and promote a gift guide to their followers.
Pro tip: Create a toaster campaign that shows up once the visitor has added an item to their shopping cart. Show highly-targeted and relevant offers based on that user's in-session behavior. Not sure how? Get in touch!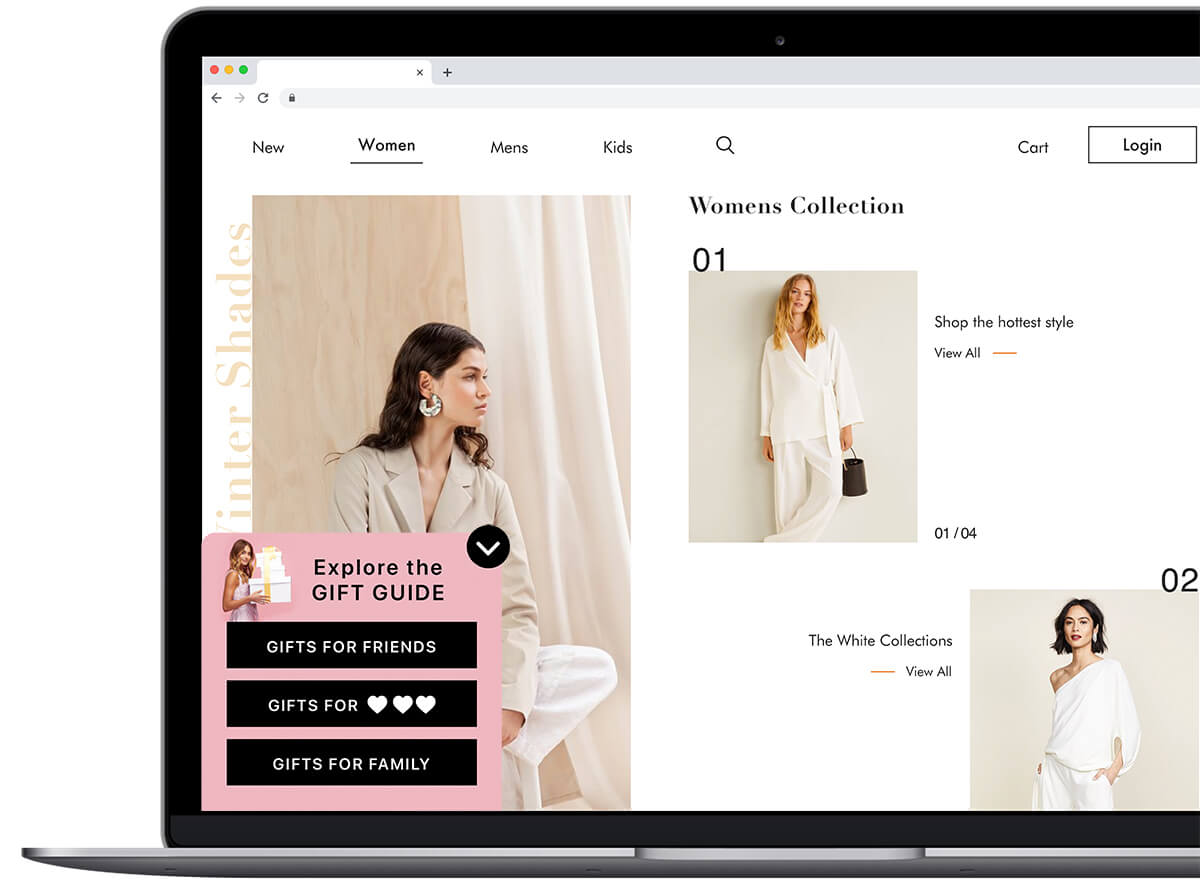 6. Shopping cart reminders
While cart abandonment is a constant challenge faced by eCommerce marketers, it seems like COVID-19 might have introduced even more things to worry about come peak season. Looking at Statista's data, the average cart abandonment rate across industries in March 2020 reached 88.05% (before it was usually cited to be around 75.6%).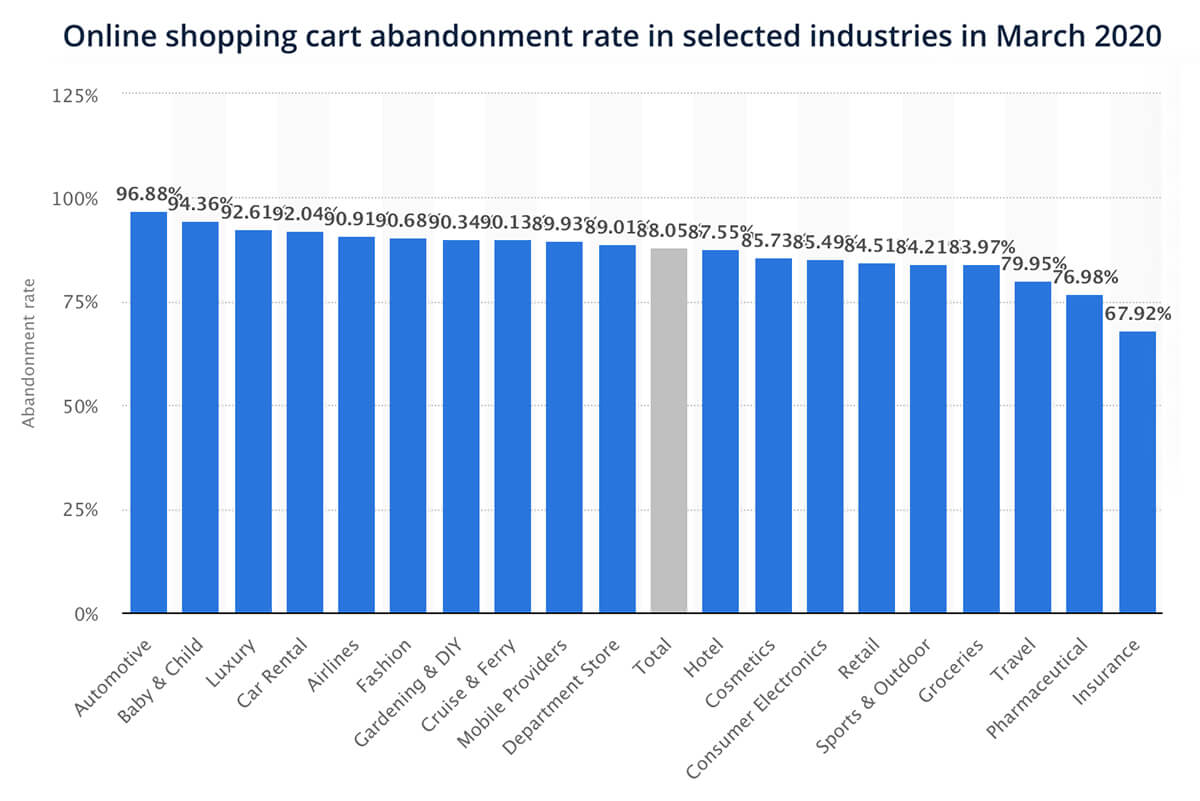 While the rate might be different, reasons for cart abandonment remain the same. Usually, shoppers abandon their carts due to high shipping costs, unexpected taxes, and discount codes not working. Also to blame is the habit of comparison shopping.
Knowing how important holiday eCommerce sales are to the overall revenue of the business, deploying smart cart recovery tactics is crucial for any holiday marketing campaign. Here are our top tips:
Pro tip: Remind visitors of past shopping sessions and streamline their progress to checkout with shopping cart reminders. These can be effectively combined with urgency tactics like inventory warnings and discount deadlines to drive speedy conversions. Not sure how? Get in touch!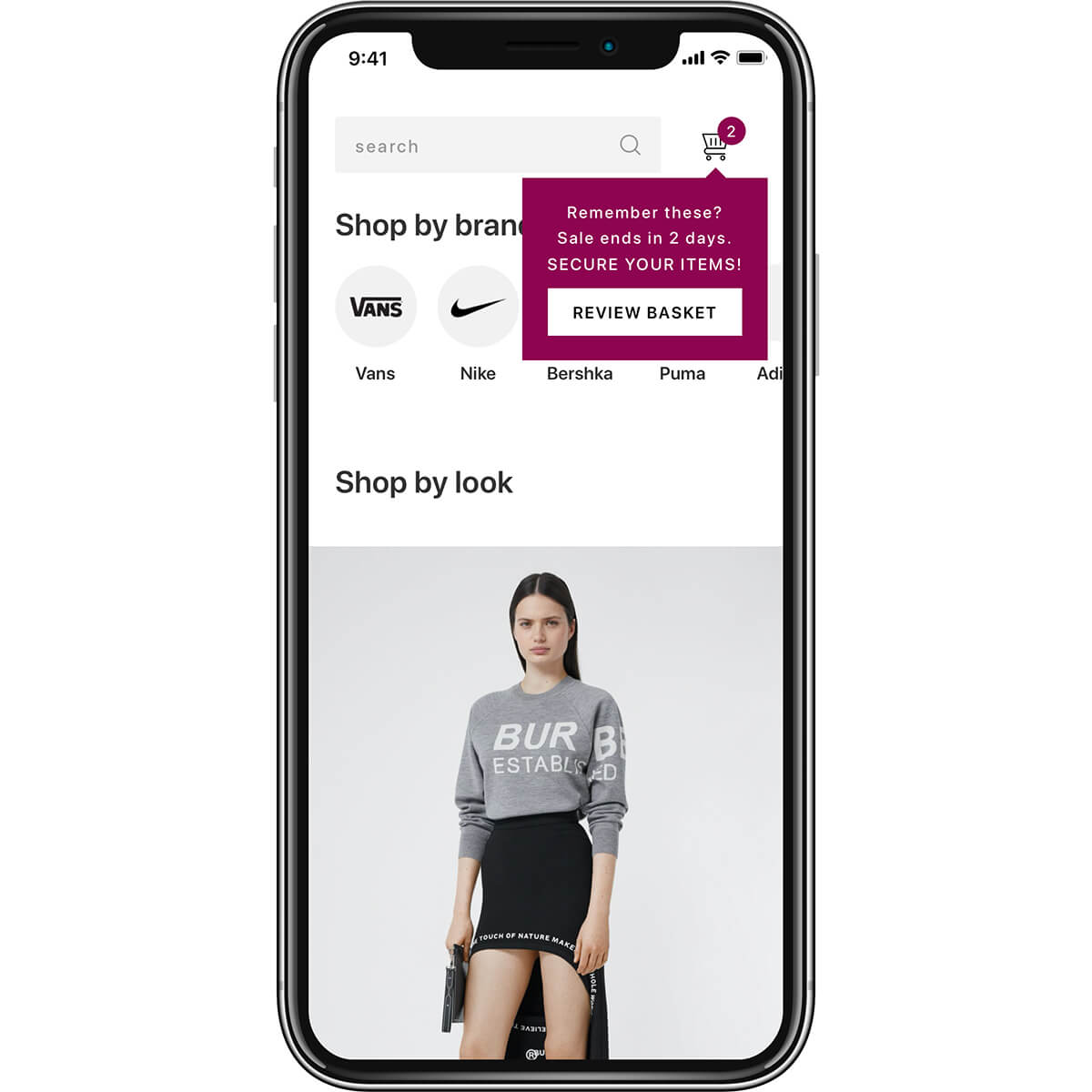 7. Return redirect overlay
Congrats! You did everything there is to optimize your eCommerce store for holiday season conversions. You got the traffic, made the sales. Not to rain on your parade, but inevitably, you're going to be faced with returns. And a lot of them.
The reality is that many customers buy products with an explicit plan to immediately return some or all of their items. When it comes to holiday frenzy with discounts and gift shopping, this becomes even more true.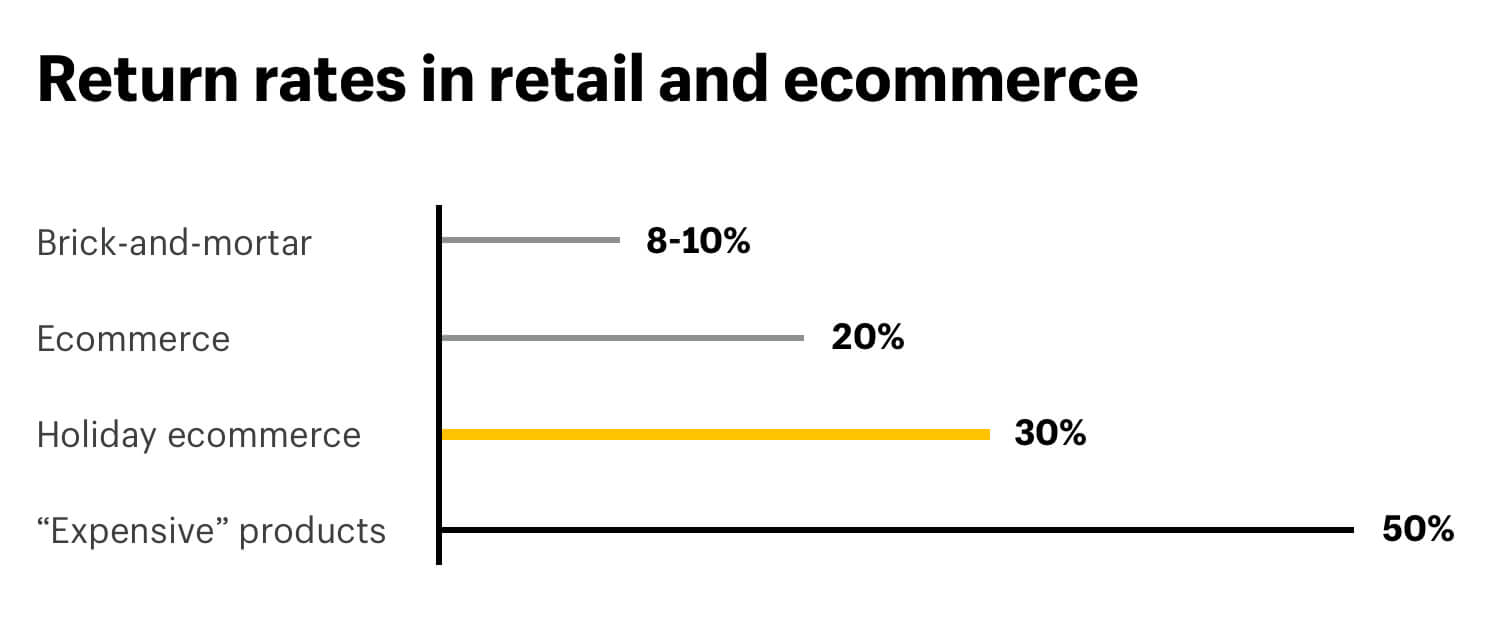 Don't fret. Here's a clever strategy to make those returners convert again. Using behavioral segmentation, you can target customers who have returned a product and serve them a personalized overlay with a copy that acknowledges their return and offers to find a better suitable item.
Pro tip: It's important to know the reasons behind a customer's return, otherwise this tactic might not be effective or even cause more dissatisfaction. Try to gather as much data as you can on the reasons behind a return and create targeting segments accordingly.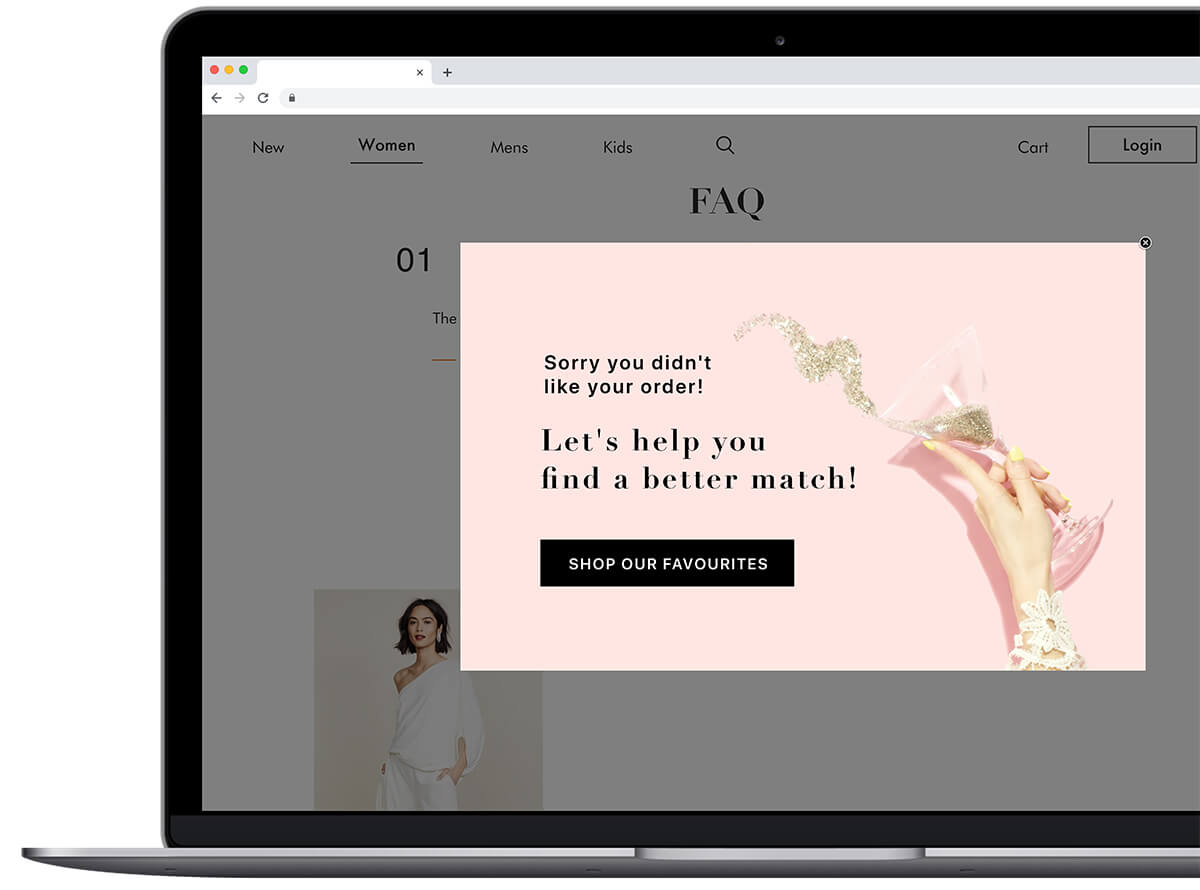 Not enough holiday CRO tactics? Get in touch and we'll share 10 more!
Peak season is just around the corner and it's important to start sowing the seeds – or in your case, holiday marketing campaigns. We can help you reach maximum exposure on your holiday promotions, turn browsers into buyers, abandoners into loyalists, and more.
All you have to do is get in touch with our team and we'll share 10 other CRO tactics that our team has carefully curated for this holiday season.