BLOG
E-commerce Personalization Trends: The Changes After COVID-19
Published: Aug 20, 2020
COVID-19 ushered in meaningful change for eCommerce, but what will the impact be on eCommerce personalization trends in 2020 and beyond? Read our findings from a survey of 400 eCommerce marketers.
The COVID-19 pandemic saw eCommerce make 10 years' worth of growth in a 90-day period, drastically altering not only the present landscape of eCommerce but also its future. McKinsey, the institution that first reported the sector's immense growth, has come to refer to this monumental shift as 'The Quickening'.
However, with COVID-19 accelerating eCommerce to unprecedented levels, where does that leave personalization, a trend that was beginning to experience a surge in growing consumer demand?
In July 2020, Yieldify conducted research with 400 eCommerce leaders* across the UK and US to explore the current state-of-play in regards to website personalization specifically, the challenges it faces, and where it could be heading next. Here, we summarize just some of our crucial findings.
Key personalization trends:
1. Over 74% of companies surveyed already have a website personalization program in place.
2. In 2020, retention (58%) has overtaken conversion (55%) and acquisition (45%) as the key goal for website personalization.
3. Only 54% currently use AI-driven predictive segments. However, this was identified as an area of high potential growth, as 89% expected to be using it by the end of next year.
4. The three biggest obstacles that stand in the way of scaling a personalization strategy are: A lack of expertise (37%), limited functionality (36%), and a lack of time (35%).
Website personalization's winning component? Data, say 74% of marketers
The modern-day consumer is evolving. With access to the global economy, the latest technology at their fingertips, and social sharing working in their favor, today's consumers know they are in control of their shopping experiences.
"Customers in today's era […] have the means to explore, research, and share every purchase decision. […] You have to be responsive to their needs immediately instead of trying to direct them," says Gayatri Patel, eBay's Director of Global Data Infrastructure.
This growing power of consumers means they are increasingly dictating when, where, and how they engage with brands. Instead of a funnel-shaped sales process where brands push information to customers, the process is now inverted – consumers are actively pursuing brands and channels that they feel are relevant to themselves as individuals, whether that's morally, ethically, or environmentally.
The challenge for eCommerce businesses is to keep up with growing customer expectations, and the distinctiveness of them. Enter: Personalization.
Currently experiencing a surge in popularity, personalization enables today's consumers to feel as though their wants and needs are heard, understood, and incorporated as integral parts of their shopping experience.
From a brand's perspective, personalization offers a way to contextualize, and individualize, the messaging, offers, and experiences they deliver using unique data retrieved from each visitor's profile.
So it's no surprise that over 74% of companies surveyed have made changes to ensure website personalization is a key part of their business.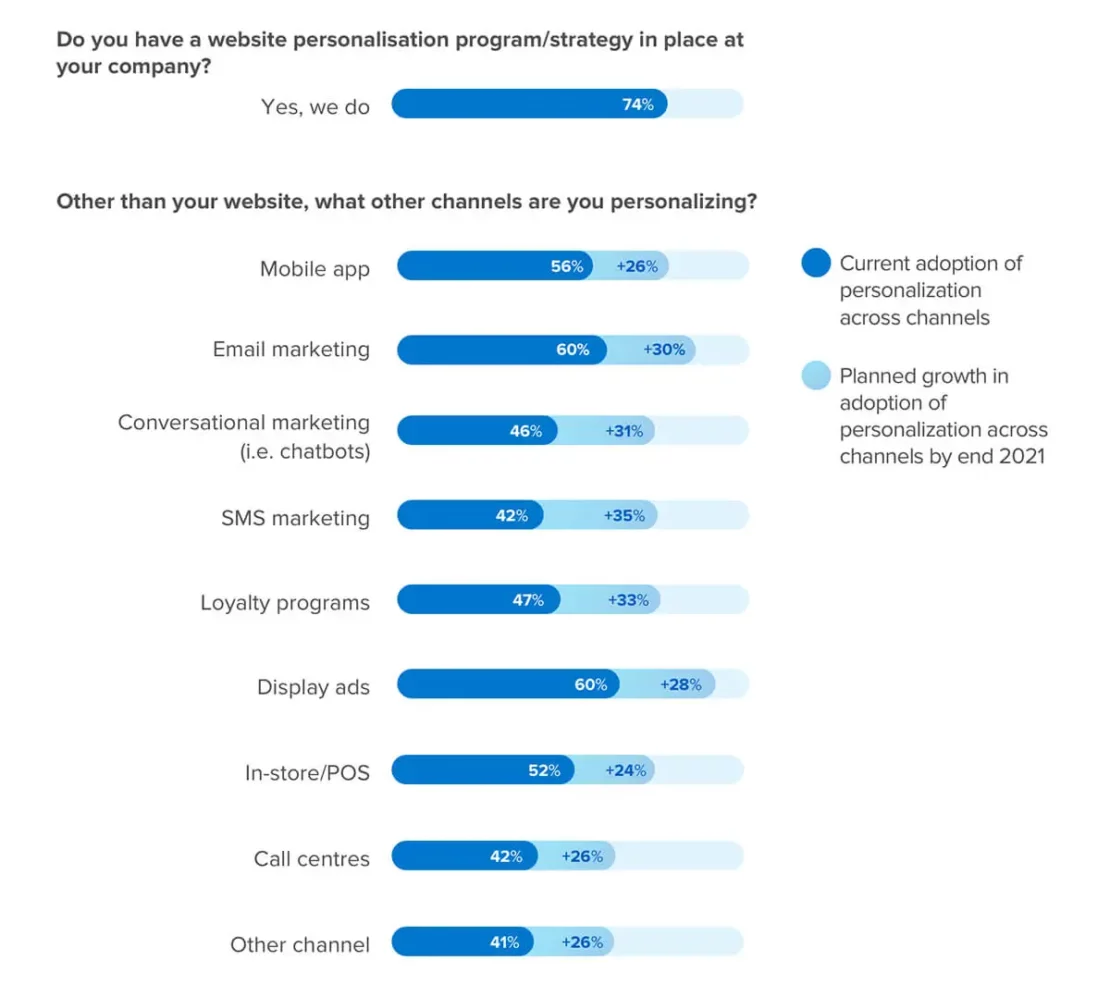 When surveyed, 76% of our respondents said that currently, the most popular option for driving website personalization is real-time behavioral data, ahead of historical cookie data, third-party data, and individual user profiles ingested from CDPs.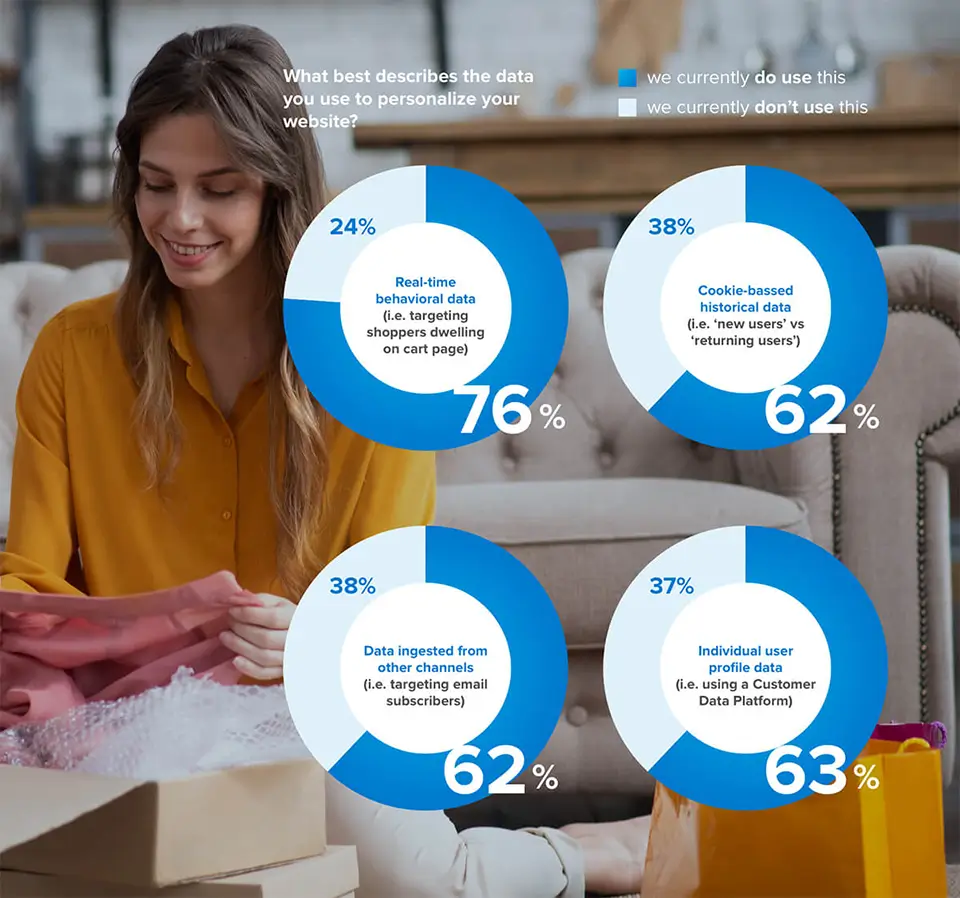 These findings would indicate that website personalization is largely generated in response to in-session behaviors. A user session refers to a group of user-specific actions performed on a website or within an application during a period of time. These sessions contain data that can visualize user behavior by recording their button clicks, page loads, and service requests which give identifiable indicators of visitor motivation and desire.
This data can then be used by developers and marketers alike to increase user retention and reduce churn by better understanding what users seek most from the site. Having that understanding of a user or visitor means personalization strategies can be tailored to those requests.
Scaling a personalization strategy is not without obstacles
At its core, personalization delivers tailored, meaningful, and relevant communication to your consumers. In return, this connection between brand and follower becomes an effective – and desired – conversion rate optimization tool. But juggling a multitude of user behaviors is not without drawbacks, even with sophisticated personalization technology available to assist the process.
Our research showed that there were a handful of obstacles preventing scalability and subsequent, potentially higher conversion rates.
Out of those surveyed, 37% said they lacked the expertise required to either take the next step or optimize their personalization strategy further. Another 36% advocated having limited functionality or personalization tools available to do so and 35% stated they simply did not have the time.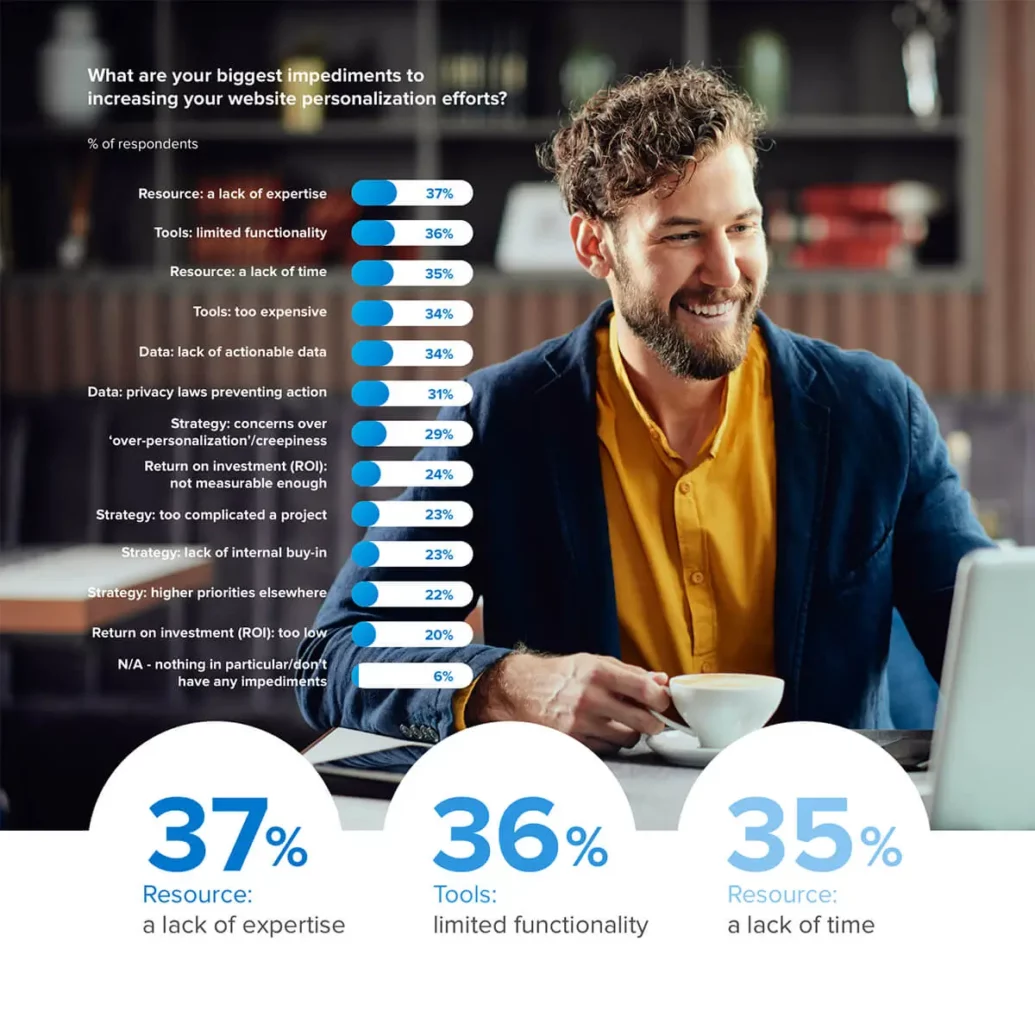 Nonetheless, these findings are still encouraging. Together they indicate that it is not an unwillingness to scale, but a lack of knowledge, skillset, and functionality required to enhance the strategy.
Overall this suggests that personalization is not ineffective, as if more marketers and eCommerce owners were equipped with the time to enhance their knowledge, they would implement larger personalization solutions.
The majority of website personalization will soon be powered by AI
In personalization strategies, Artificial Intelligence (AI) is a valuable, efficient, and time-saving resource capable of consolidating multiple data streams from various channels, extracting valuable insights, and then identifying actionable trends.
AI is quietly powering personalized experiences everywhere, from music giants such as Spotify to fashion industry leaders like Tommy Hilfiger. Whether it's implemented into a live chatbot or a product recommendation engine, it's converting visitors to consumers and most importantly, retaining them.
One of the most important findings from our research was the discovery that whilst 54% of all size businesses currently use AI-driven predictive segments, 89% are planning to be using it by the end of next year.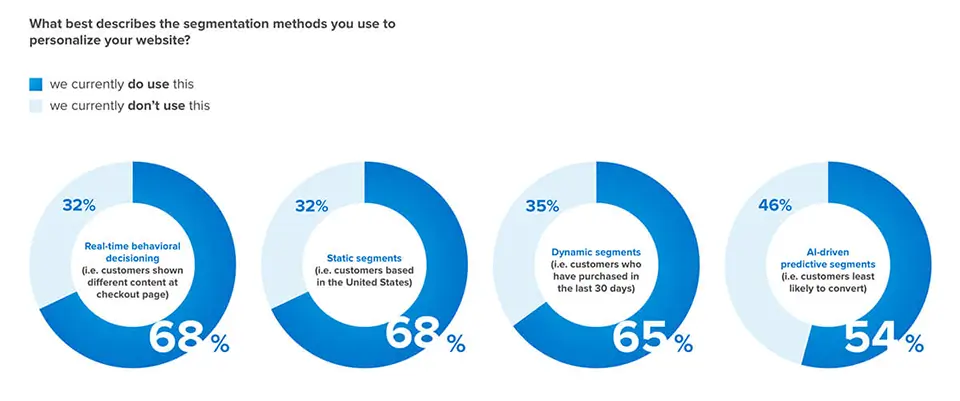 In our research, positive responses to planning to implement AI-driven predictive segmentation by the end of 2021 far outweighed negative responses across all company sizes surveyed. And responses were especially positive in small to medium-sized companies, which is unsurprising given the impact on time constraints due to the ongoing economic fall out of the pandemic.
As eCommerce companies continue to navigate the negative impacts left behind by the COVID-19 pandemic, AI is the perfect solution to the problem of having to do more with less. This is a personalization trend that will continue to be identified as an area of high potential growth as more companies look for time-efficient methods of scaling, growing, and enhancing their business in economic downturns.
In the future, simply being a favorite won't be enough
In the wake of the COVID-19 pandemic, fundamental changes have been observed in consumer behavior. With more independent stores opening up online, offering discounts, or simply better, safer shopping experiences, as well as additional bonuses like faster delivery times, consumers are starting to shift their loyalty from companies they used to purchase from in the past.
As customer loyalty now remains a swirling cloud of uncertainty, within the eCommerce companies we surveyed, 58% stated that their drive to pursue a website personalization strategy came from wanting to retain their customers. In comparison, 55% said that their driving factor was conversions, whilst only 45% were driven by acquisition alone.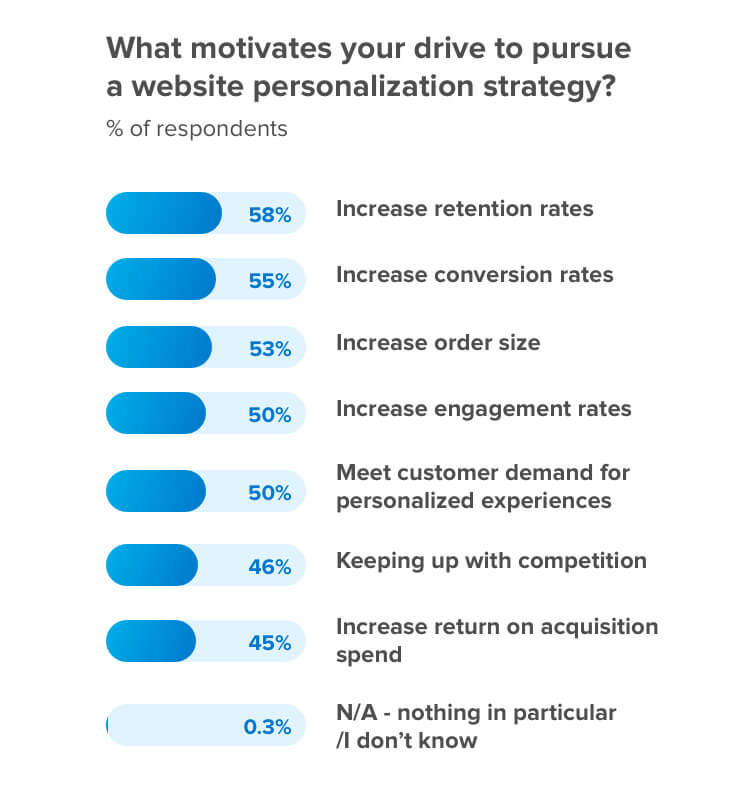 It's reported that between 65% and 85% of consumers intend to continue new shopping behaviors post-pandemic. The pressure is on for eCommerce businesses to not only optimize the entire customer lifecycle but make the personalization experience so effective and intelligent that customers simply return time and time again.
In conclusion
These are only four of our key findings. Within the full report, we dive deeper into personalization trends post-pandemic, as well as evaluate how different types of content (static, dynamic, and user-specific) fit into personalization strategies.
We also identify the key purchase drivers that are reigning king amongst the economic uncertainty and explore how privacy and personalization go hand in hand. You can download the full report here.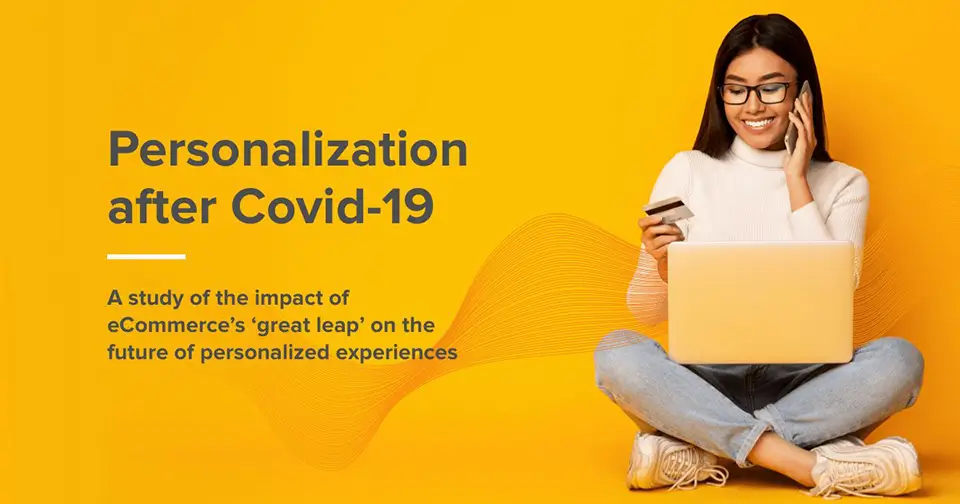 Looking ahead
In summary, the current state of play for website personalization indicates an industry that intends to accelerate rapidly over the course of 2021.
As businesses look to favor e-commerce customer retention over acquisition strategies and supercharge their insights through growing technology such as AI machine learning, eCommerce personalization trends will be prime drivers in helping to provide business saving boosts to enterprises of all sizes. 
Whereas adoption rates in July hovered between 50% and 70% for many executions, many were forecast to reach over 90% in less than 18 months' time and seem on track to do just that.
---
* An online survey was conducted with a panel of potential respondents. The recruitment period was 6th July 2020 to 20th July 2020. A total of 400 respondents completed the survey: 200 respondents residing in the UK and 200 respondents residing in the US. Only senior marketers or eCommerce directors at retailers with an eCommerce presence were eligible to take part and complete the survey. All questions within the survey were verified to be MRS compliant by a marketing research company specializing in online and mobile polling.