BLOG
4 Audience Targeting Strategies Driven by Behavioral Segmentation
Published: Oct 22, 2014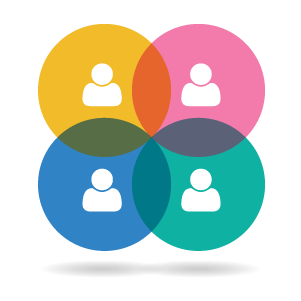 Every brand has an ideal customer. Here's how behavioral segmentation can help you develop smart audience targeting strategies to reach them.
Maybe it's the coveted and highly influential 18-24 demographic. Maybe it's the tech Dad who's got his eye on the latest tablet. Either way, targeting the right customer at the right time can be tricky for a lot of brands.
Whereas targeting used to be as simple as positioning a large billboard over a motorway or taking an advert out on one of the five channels on offer, the Great Optimization has made audience targeting a great deal more complicated.
Now, the ways brands can drive users to their products are far more sophisticated. Aside from how there are far more channels of influence, modern brands can no longer afford to just think in terms of demographics. They need to be able to treat their consumers as individuals – and that's where behavioral segmentation comes in.
Proactive retailers have realized that tracking and using consumer's onsite behavior is the key to creating a highly personalized and immersive eCommerce experience.
Read below to learn our 4 quick tips on audience targeting and behavioral segmentation in the age of information.
4 audience targeting strategies driven by behavioral segmentation
1. Target by basket value
1% of your customer base can spend as much as the bottom 50% combined.
Which customer is more valuable to your business: One with a single £10 lamp in their basket or the one who's on the verge of buying a roomful of furniture? In-store, you'd certainly put a lot of effort into making sure the latter customer got what they wanted. Why not do this online?
How? Create a series of tiered incentives that can be offered to a user when they abandon a shopping basket or based on basket value. In the example below, beauty brand Kiehl's offer free delivery based on basket value, and even tell users how much more they need to spend to qualify!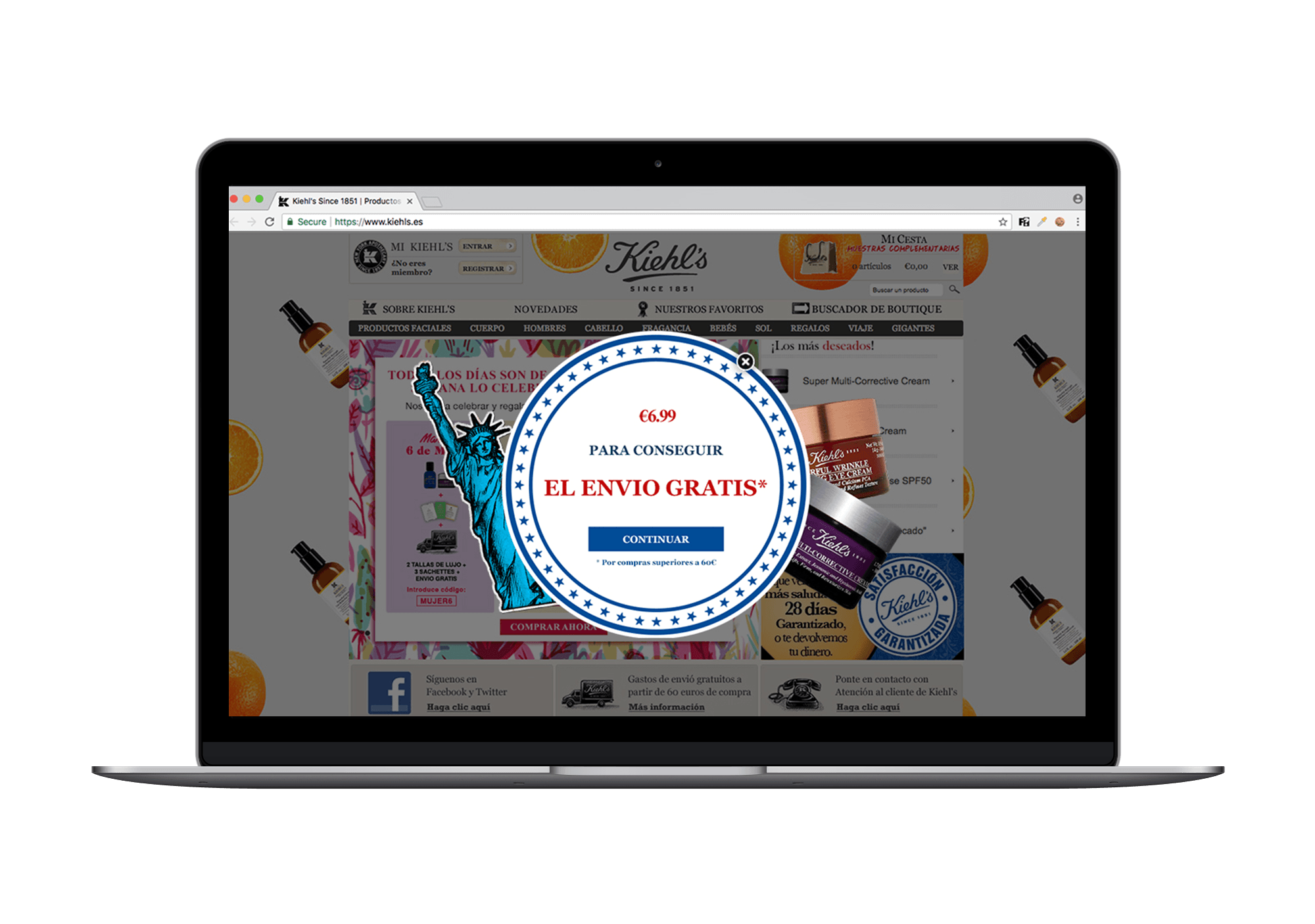 2. Target by geo-location
86% of campaigns in local languages outperform English-language campaigns for both click-throughs and conversions, according to MarketingProfs.
The Internet allows people to shop from anywhere, but this doesn't mean you should ignore where that 'anywhere' might be. Say you are selling concert tickets. Offering users based in Manchester tickets for a gig in Cardiff is not going to be as effective as offering them tickets to a gig where they actually live.
How? Imagine a user is browsing your website in the vicinity of one of your branches. Why not invite them in for a chat with a mobile overlay when they go to leave your page? Or send them a discount code that they can only redeem at that particular branch – encouraging them to come in and have a browse. Menswear brand M.J. Bale highlight in-store services for those consumers who might need a little more encouragement: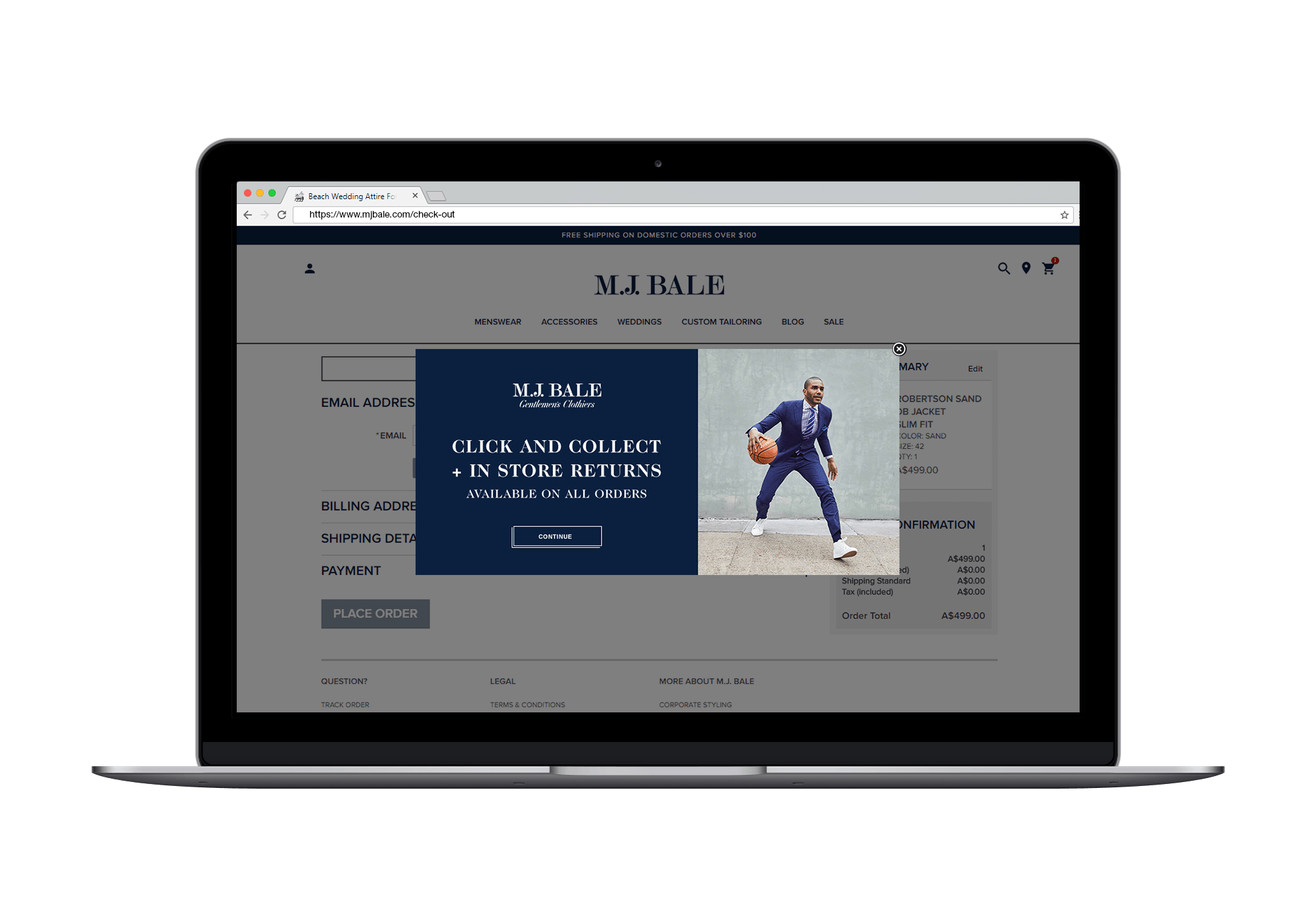 Behavioral segmentation creates personalization, which breeds brand loyalty. And this is one of the most powerful tools in a retailer's arsenal.
3. Target unique and returning traffic differently
Some 98% of first-time visitors don't make a purchase, according to Inc.com.
But these visitors are a paradox: They are the hardest to clinch but present the biggest opportunity for capturing lifetime value if you treat them right. Brands need to make an effort to secure that first purchase and get users on board.
With returning customers, on the other hand, you already know they're willing to make a purchase. You just need to foster their loyalty with tailored promotions to make them feel special and valued.
How? Point them in the direction of products you know they might like. Personalize their journey through your site so they only see the most relevant on-site material. In short, target the right customers, reward them for their loyalty and they will stay happy – and frequent – patrons of your site.
4. Target by items viewed
56% of online shoppers are more likely to return to a site that shows product recommendations, claims Invesp.
If you go into a business negotiation knowing what the other side needs, you stand a better chance of success. Similarly, if you know what products a user is interested in and why then you're already ahead of the game.
How? If someone spends a lot of time looking at, say, headphones, then dynamically changing your in-page content and recommendations or delivering headphones-related offers in your email remarketing campaign are great ways to increase conversion rates.
In the example below, skyn ICELAND recommends a complementary product based on the item in cart: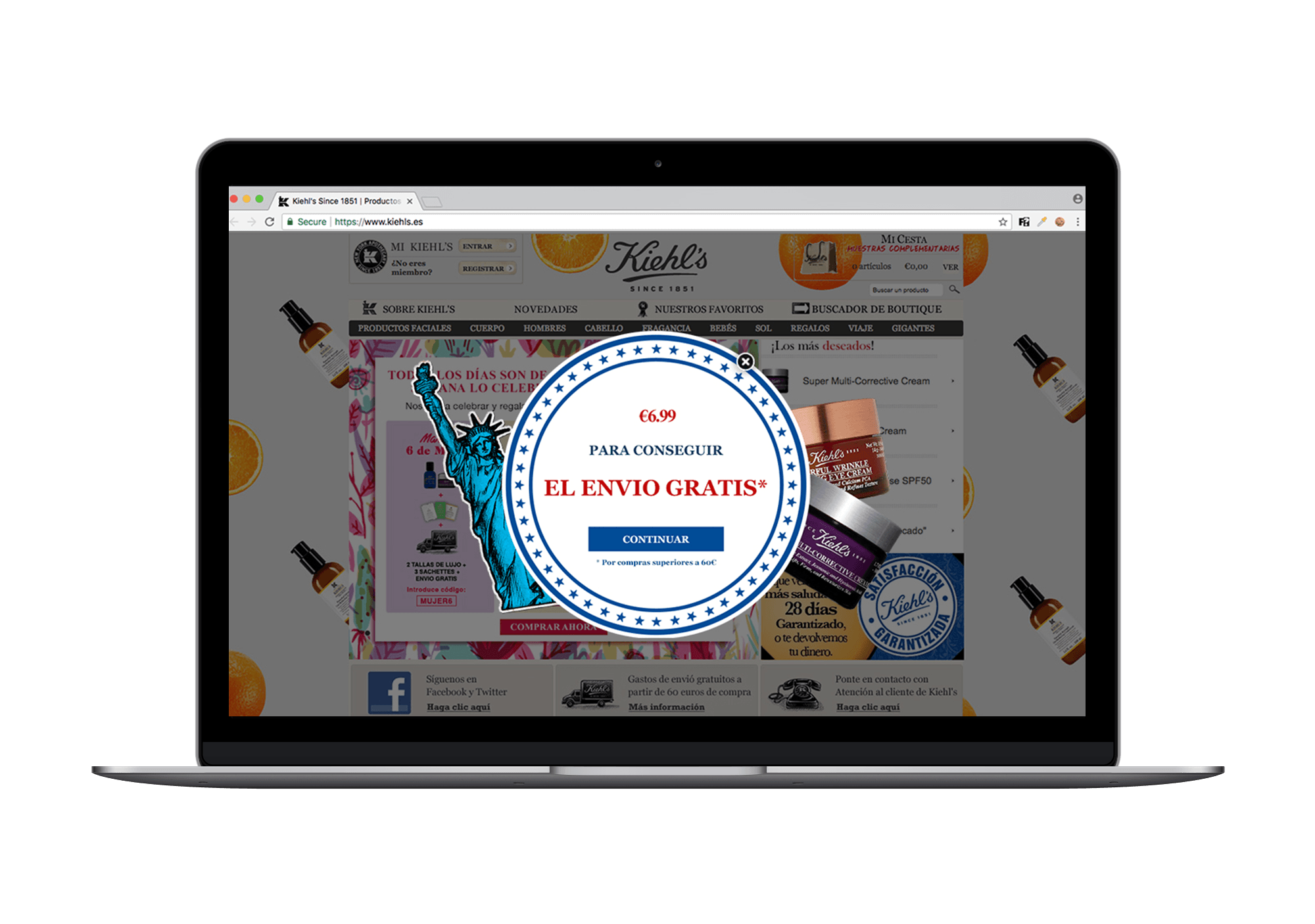 Learn more about your visitors with behavioral segmentation
Think back to the billboard. It worked at the time but today, the impersonal, blunderbuss approach to online marketing is becoming less and less effective. In an era of choice, understanding your consumers and building a personalized connection with them is crucial to ensure consistently high conversion rates.
Behavioral segmentation plays an essential role in building these relationships and the benefits of doing so are readily apparent.
Localized eCommerce offerings can increase conversion rates by as much as seven-fold and geolocation can help reduce online fraud rates dramatically.
As individuals, consumers are all completely unique, each with a broad spectrum of taste and buying behaviors. For a brand to become a leader in any market, this level of personalization needs to be reflected in every online communication with customers.