BLOG
How to Increase Conversions on Underperforming Bookings in Online Travel
Published: May 31, 2016 Online travel sites will always have some underperforming bookings – here are a few simple ways to remedy the problem and increase your conversions.
The travel industry continues to evolve at warp speed.
Scrambling to keep up with the always on consumers whose behaviours change as quickly as the year's hottest destination.
If you're reading this, you're already one step ahead – aware that optimising your site is key in the struggle to keep up in the race to stay relevant for the future of travel.
But amongst all the rapid developments, online travel operators still face problems that have been around since commercial travel began. Namely, how can you increase sales on low performing routes or products?
From flights to cruises and hotels to trains, you are always going to have less popular bookings – but how can you turn these low performing routes and bookings around?
Unless you've got the pricing entirely wrong, or the inventory simply isn't worthwhile, there's no quick fix.
But before you go and cut the route or slash your margins with wholesale discounts, there are a few methods for you to trial and test.
By the end of this blog we'll do our best to arm you with these techniques – helping you to boost flagging conversions on those low performing bookings.
First up we'll look at ways to increase the visibility of your bookings, before looking at a few ways to help increase conversions.
Increase your booking's visibility (to the right people!)
Excuse the exclamation mark, but this clear fix is often overlooked.
Often we see particular routes, packages and bookings underperforming because they're simply not visible enough.
Even if you're using the tactics we'll go into later – if no one sees your clever marketing that's designed to boost your booking you have no chance of improving it's performance.
So, first we'll look at the smart ways we've found effective to increase the visibility of your underperforming bookings.
Make space on your homepage
This one is obvious enough. Display the booking or route where your visitors are most likely to see it – for example, your homepage.

Ryanair signpost their deals nicely – this banner is an example of simply putting the product straight in front of the customer.
Ryanair's deal will change depending on the location or preference of the browser, but the principle is clear – immediately place the product you want to push in the forefront of your visitor's mind.
Display in trending/recommended sections
A trending or recommended section, as featured on Mr and Mrs Smith's homepage, is another place to position your bookings that are receiving little traffic.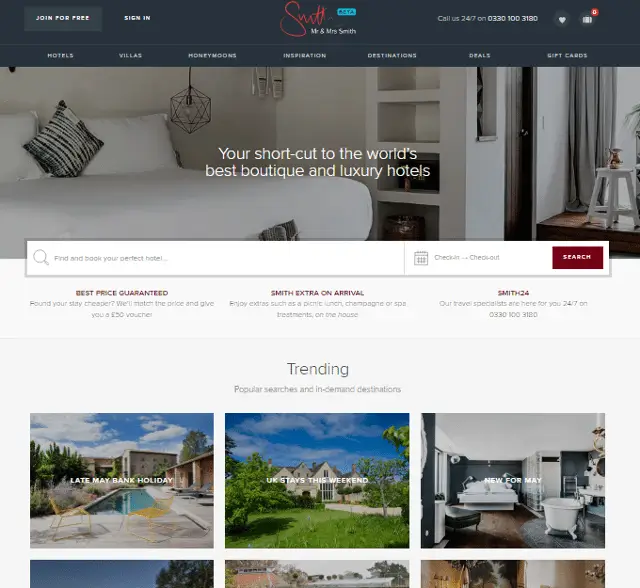 These groupings of bookings are guaranteed more exposure due to their positioning and, just by placing a hotel or destination into a select group you increase its desirability.
You can also get more eyes on your low performing booking by recommending it on the products page when people search other similar products.

As your visitor exits
Despite your best efforts, sometimes your visitor will still miss your booking while browsing your site. Alternatively, they may have already seen the product and forgotten it.
At times like this, a message on exit can be a great way to target your visitor – giving you another chance to convert and increasing awareness of the route.
You don't want to go giving every customer an exit-intent overlay. However, by targeting the right visitors with personalised, timely offers you'll see an uplift in both awareness and conversions.
Perhaps you have a specific country with below average interest for the season – for arguments sake let's say your hotels in Menorca are receiving a low level of visits.
Meanwhile you've got a higher number of visitors browsing similar mediterranean destinations – Ibiza, Majorca or maybe the Greek Islands.
You could target visitors exhibiting this behaviour and if they go to leave after an unsuccessful search, use an overlay asking whether they've considered Menorca.
The overlay could push an incentive (with urgency messaging):
"Can't find a good deal in the Mediterranean? We've got 10% off Menorca hotel bookings for 24 hours only"
Some social proof:
"We have 90 hotels in Menorca within your budget with over 9/10 customer ratings"
Or just some relevant content:
"We noticed you're keen to visit the med. Have you considered Menorca? Check out our guide to the Menorca's 216 km of coastline here."
This messaging and the delivery of the deal could, of course, be tweaked and targeted to specific bookings or to trigger for varying reasons. But the principle remains the same – get the product in front of more (of the right) visitors.
Notifications as they browse
You can also inspire conversion as your user browses your products. The simplest way to do this is using Notifications.
If you're an hotelier, for example, a visitor who has checked out a couple hotels in a city could be informed of one of your less browsed but similar hotels in a subtle Notification…" you may also be interested in."
Or you can use the highlights to incite urgency and give social proof, both of which will help convince your visitor they're onto a good deal.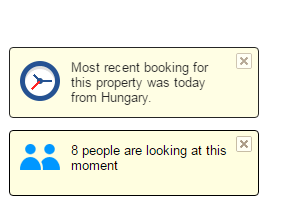 Email
Email is a key channel to raise awareness of any product and the same rings true for underperforming routes.
It also offers you a double threat: you can use both traditional email marketing plus email remarketing to give your conversions a boost.
The below Ryanair email is an example of how you can push specific bookings via an email blast. This email uses an incentive, with the 20% discount, as well as inspiring urgency by making the offer for a limited period.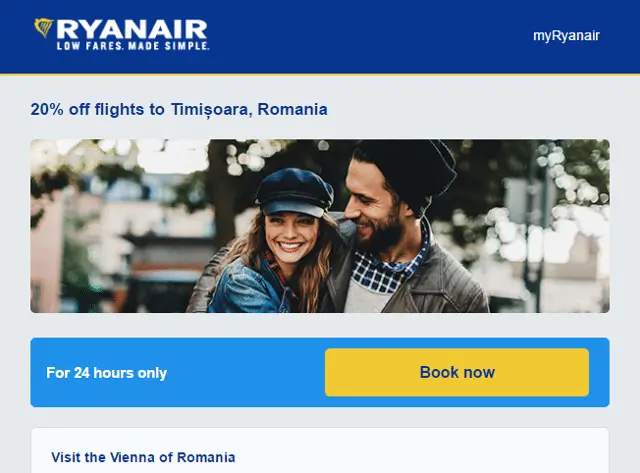 The copy also then nicely sells the little-known destination by comparing it to one the recipient is likely to have heard of 'Visit the Vienna of Romania'. The email is rounded off with some targeted content on why you'd want to visit the particular booking: '5 Reasons to Visit Timisoara.'
This effective trio of incentives, urgency and relevant content is the travel equivalent of fat, protein and carbs found in the most enticing meals. Use it at your will to induce action on your low performing routes.
Email remarketing
As well as using traditional email marketing, if you're receiving a high level of abandonment from certain bookings, email remarketing is an effective way to re-engage customers.
You can tie your email remarketing in with an exit-intent overlay – getting your visitor's details as they abandon and then using your email to follow up with either a single email or a drip campaign based on their onsite behaviour.
You can even bring this interaction full circle by welcoming them back from the email CTA to your site with a tailored overlay taking them to the appropriate booking.
Alternatively, if the visitor has already started the booking and abandoned, they may just need a nudge or the opportunity to complete at a later date. By sending them the details of their booking so far it makes the likelihood they'll come back and convert later far higher.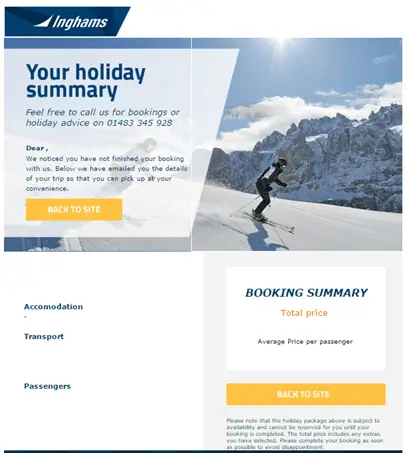 By using a mixture of reminders, incentives, urgency, social proof and relevant content you may just be able to incite that purchase in a follow up email.
Increasing visibility – segment and personalise for success
The key to all these methods of raising visibility is being able to segment your data so you can personalise your messaging and target the right users.
Although you want to get your low performing bookings in front of visitors – the messaging and content still needs to be relevant so as not to be detrimental to your customer experience.
Now that we've seen a few ways to get onsite visitors to see your low performing bookings, let's look at some more specific ways to increase their conversion.
Facilitate cross-device conversions
We have a whole blog on the importance of embracing cross-device and mobile in travel, which is well worth a read for a more detailed rundown on the subject.
But we couldn't mention mobile and facilitating cross-device if only to frame the rest of the approaches in the blog – especially when travel is well on it's way to becoming mobile first.
Euromonitor research states that by 2017 over 30% of online travel bookings by value will be made on mobile devices.
As a result, for your low performing bookings (and all bookings really) making sure your mobile offering is up to speed is vital if you don't want to miss out on a swathe of opportunities.
Facilitating a link between mobile and other devices is a key part of this. Of course, the ideal is to convert mobile visitors then and there. But we all know visitors will research travel purchases first and mobile is quickly becoming the prefered way of doing this.
By linking mobile with other devices, you have more opportunities to convert your user.
For example, you can collect your user's email address on mobile enabling you to email them later with content or offers based on their behaviour.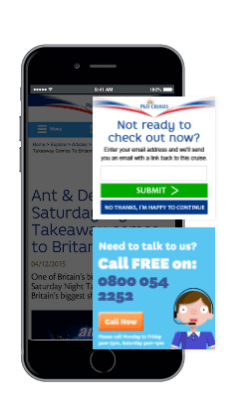 This kind of link creates a coherent journey for your customer and increases your chances of boosting conversions on all your routes.
Use your ancillaries as incentives
Ancillaries, or extras as the rest of the world calls them, are an important part of the travel mix.
Everybody uses them and whether it's a free glass of champagne or a discount on car hire – these supplements can make or break a conversion.
Secret Escapes use them regularly in their hotel listings (and the body copy when you click through). They position ancillaries as additional inclusive options – such as flights for the Madeira holiday below – increasing the perceived value of the booking.

Again, the below Secret Escapes listing uses inclusive extras as a large part of the sell. Realistically breakfast and spa access won't be eating into margins but they're appealing add-ons to the customer.

Extras could come in a variety of forms, from express boarding to cheap upgrades on certain routes or onboard credit – just remember to make sure once you've committed to these deals, to make them visible, as P&O have done below.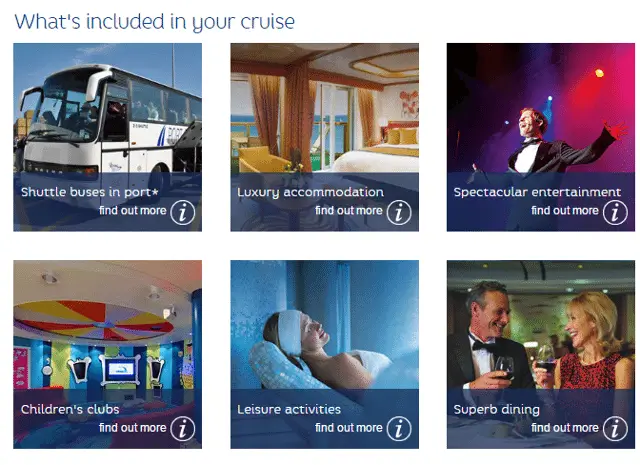 Adding inclusive supplements is a great way to boost your conversions on poorly performing bookings without having to discount too much or damage margins.
Inspire urgency to increase conversion
We've already mentioned urgency a couple of times, but it's worth looking at in a little more detail as a way to boost poorly performing bookings.
Travel and urgency messaging go hand in hand. The idea of missing out – or paying more – for a train, flight or hotel because we've put it off for a couple of days is a powerful motivator.
All the large Online Travel Agencies use urgency messaging, but Booking.com was amongst the first and they have it down to a fine art.

They play on the fear of missing out by highlighting the speed the remaining stock is selling out and give an extra push by showing you how many other people are also looking at that product.
By pairing the current interest and quickly depleting remaining stock you can create a highly motivating scarcity element – even on bookings that are perceived to be less desirable.
The above example also emphasises the value of 'today's deal', playing on your worries that this could change if you leave it for another day. As we saw earlier in the Ryanair email example, this can also be replicated in your emails with limited time period deals/flash sales.
If you're lacking the resources to do produce real-time urgency messaging, there are more simplistic ways to inspire urgency. For example, if you know your best value prices are 6 weeks out from booking and your visitor is browsing during this period – tell them that. They're unlikely to want to miss out.
You could use any of the methods we outlined earlier – from overlays to emails – to make this messaging visible.
Social proof
In the urgency section above we already saw elements of social proof on the Booking.com example: 'just booked' and '9 people are interested in this hotel now.'
This concept works in the same way as if there's a queue for a restaurant we assume it's probably better than the place that's empty next door – if other people are interested we take it as proof it must be good.
As well as using this principle to show the activity around your booking, you can also use social proof in another way – reviews.
The success of sites like TripAdvisor show we're suckers for a review, particularly in the travel sector.
If your underperforming booking actually has positive reviews then you can transform its fortunes by getting these reviews out there.
You can use customer's feedback to market poorly performing bookings as hidden gems:
– Taking standout quotes from actual reviews, as done below by Travel Republic.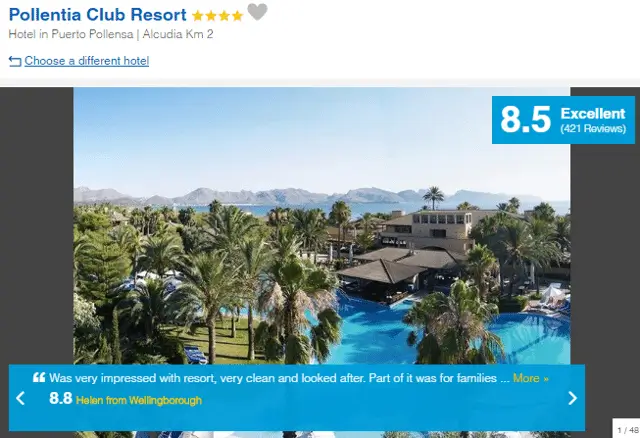 – Using review scores, eg. '90% of visitors rated this booking as excellent' to back up your recommendations. 

With your underperforming bookings, you want to give your customers every reason to convert – for example throwing in a few ancillaries to smooth the deal.
In a similar vein, by reassuring your visitors and offering them flexibility you can reduce the likelihood they'll abandon their booking.
Using best price guarantees or hold the price deposits is a simple way to soothe your customers' worries that the price could go down if they wait, or that they could get a better deal elsewhere. Here's how British Airways give their customers a bit of breathing space to encourage conversion.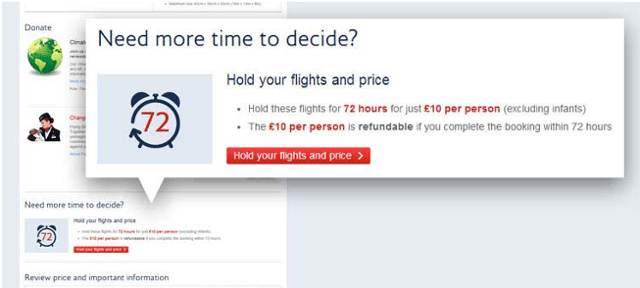 If you've managed to convince your visitor your product is a good deal, this kind of option can be the extra nudge they need to convert.
Similarly, the flexibility and convenience offered by deposit based schemes or long booking cancellation policies give your visitors an added layer of confidence when considering whether to purchase.
For bookings that are undersubscribed anyway, they're well worth testing to see if they improve conversion.
Conclusion
Increasing your conversions on underperforming bookings all starts with visibility – from there on in you need to optimise individual bookings to persuade your visitors that they can't resist clicking the book now button.

Each of the methods we've outlined has seen success on our clients' travel sites. However, by no means will a one size fits all approach work. You need to tailor these methods to your site, continually testing until you unlock the campaigns that boost your underperforming bookings.