BLOG
11 Best Resources To Learn About eCommerce Merchandising
Published: Aug 31, 2020
Looking to learn more about eCommerce merchandising? We handpicked 11 merchandising resources for all types of learners: from online courses to books and webinars – find one that suits you the best!
Most marketers would say that working through their eCommerce merchandising strategy is quite an exciting time. It means you are taking the steps to improve your business model, increase your revenue, and grow a loyal customer base.
The art of displaying products and offers on shelves to increase sales has long been a staple of retail stores. E-commerce merchandising is a relatively new concept in comparison, but it has quickly become just as important for digital stores as it has been for brick and mortar.
We've rounded up the best eCommerce merchandising resources, including online learning courses, books, and workshops that will help you create a winning eCommerce merchandising strategy that works for your business, especially if you combine them with some the best eCommerce merchandising software.
Best merchandising courses online
1. Fast Track Retail Buying and Merchandising. This beginner course introduces you to the specialized terminology, concepts, jargon, and acronyms of merchandising. This Udemy course will give you a full picture of how everything ties in together to help you fully understand the complexities of the buying and merchandising cycle in your business.
2. Shopify Compass' store design courses. Shopify has a series of courses in its Compass program (formerly known as Shopify Academy) that can help you create a stunning eCommerce experience that converts visitors into loyal customers.
The first course – How to Design Your Online Store (with Zero Design Experience) – will guide you through the principles of designing an eCommerce website. You will ensure you are designing for your target audience and will also learn how to create your own visual brand.
The second course – Introduction to Strategic Store Content – will teach you how to leverage strategic content to give your online store the strongest ROI. Lessons include learning how to optimize your website using best practices, and how every page on your website can work to lead potential customers through checkout.
The third course – Product Photography for eCommerce – focuses on the importance of product photography for eCommerce websites and teaches you how you can create your own low budget product photography.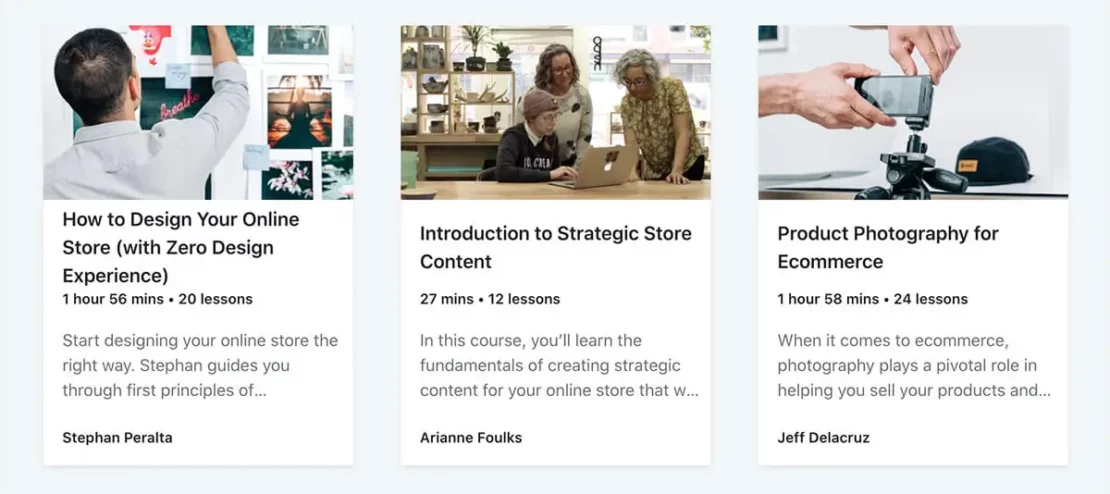 3. The Art and Science of Buying and Merchandising. With this 7.5 hours long online course available exclusively on Business of Fashion (BoF), you will gain a general understanding of the buying and merchandising functions in your business.
Taking this course you'll get advice on how to use your data along with your instincts to make big business decisions. Finally, you'll get a look into best-in-class companies and how they execute their buying and merchandising strategies.
4. Retail Management – Merchandising, Distribution and Marketing. While this free course available on Alison focuses mainly on brick-and-mortar stores, the first half of the course has some great lessons that can easily be applied to eCommerce websites. In Module 1, you will learn how to set price points, the basics of visual merchandising, the principles of design, and how to effectively design to attract customers.
5. Product Styling for a Higher Revenue. Presenting your products in an appealing way in a big part of effective merchandising. Skillshare's course will teach you how to create visually stunning images that are presented in a way that supports your brand story. Learning how to style your photos gives you the solid foundation you need to create beautiful images that convert.
Best merchandising books
6. Online Visual Merchandising: Structural Elements and Optimization for Apparel Web Stores. Written in 2014, Online Visual Merchandising is one of the first texts about how merchandising can be used in the digital world. Taking an academic angle, this book focuses on apparel online stores, but the lessons learned can be translated into any eCommerce website.
7. Upstart!: Visual Identities For Start-Ups & New Businesses. If you are just getting started and you have yet to create a visual brand identity for your eCommerce business, Gestalten's Upstart! is a great place to go for inspiration. This book showcases a range of visual identities that have been created by new businesses and start-ups and is a great way to find inspiration for your own visual merchandising.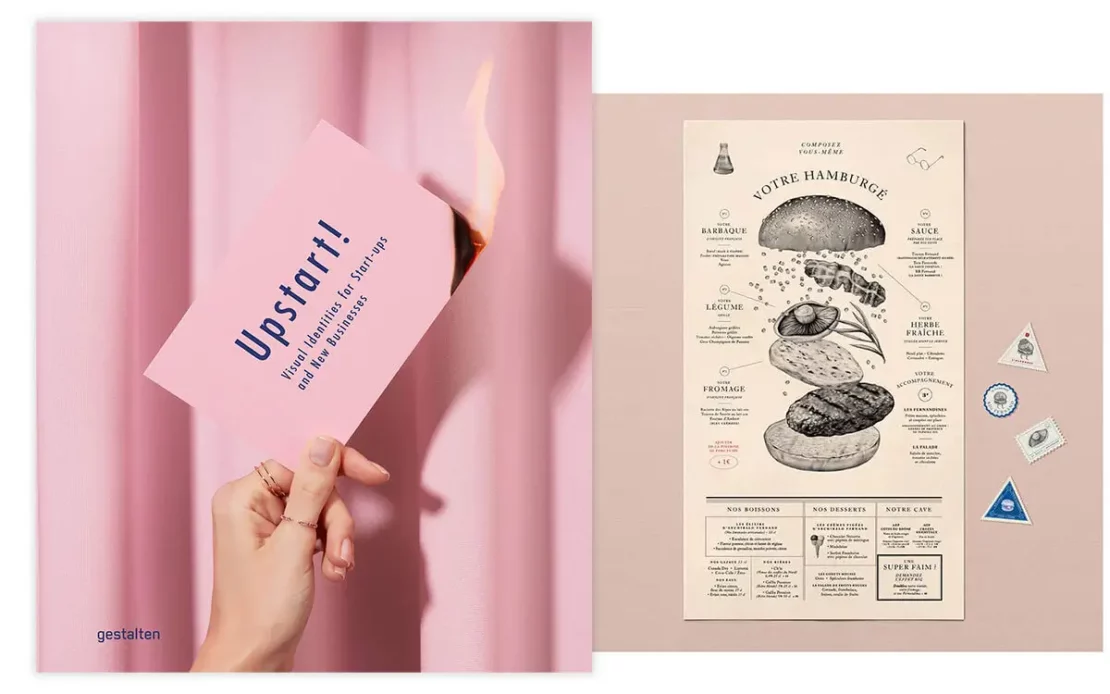 8. The Ultimate Visual Merchandising Handbook. While this whitepaper on visual merchandising is written with retail stores in mind, 90% of the content is easily translated into the eCommerce world. The Tips and Tricks chapter is very applicable and offers some great takeaways and the How-To Measure VM Strategies provides a very interesting take on how to track and measure the success of your visual merchandising initiatives.
9. The Elements of Visual Merchandising. Another book that focuses mostly on brick-and-mortar stores, The Elements of Visual Merchandising has a lot of wonderful takeaways that can be applied to an online store. The Importance of shopping environment is one section to take note of – how can you create an eCommerce shopping environment that keeps your customers coming back? And the section on creative applications can help you to understand just how far you can go to entice your customers.
Best merchandising webinars and conferences
10. NRF NXT's 2020 Digital Conference. This annual conference is the biggest retail eCommerce and digital marketing event. Happening virtually on July 20-22, 2020, the NRF NXT conference is known to focus on merchandising strategies as well as other salient topics for eCommerce businesses. This year's session on end-to-end execution for AI results and creating growth through experimentation will have direct implications for any digital merchandiser.
11. E-commerce Merchandising Informational Webinar. The University of Vermont offers a 4-week intensive course on eCommerce merchandising and this pre-recorded webinar gives you insight into the course but also into the basics of eCommerce merchandising, the current trends in eCommerce merchandising, the 3 biggest issues eCommerce merchandisers face, and a few tips and tricks to get you started.
In conclusion
While eCommerce merchandising is still a new field and the resources available are working to catch up to the times, there are a lot of great places you can get your information from. And most importantly, a lot of the content that has been created over the years for retail merchandising still rings true. Don't be afraid to take what works for your business and leave the rest behind. Good luck!