Struggling to choose from the variety of eCommerce merchandising tools available on the market? We narrowed it down to 5 must-have technologies that will help you scale your eCommerce merchandising strategy.
Merchandising is essential in the eCommerce world. Effective merchandising helps lead potential customers through the buyer's journey and aims to convert them into loyal customers before they bounce to a new website.
With a solid merchandising strategy, you can influence potential buyers' purchasing decisions, which helps you increase revenue, reach sales targets, and make lifelong customer relationships. However, even the strongest merchandising strategy needs technology resources to be fulfilled.
In this article, we've rounded up 5 amazing eCommerce merchandising tools to help you kickstart your merchandising efforts:
1. Hotjar
2. Hawksearch
3. Shutter Stream
4. AstraFit
5. Yieldify
5 must-have merchandising tools for eCommerce
1. Hotjar – heatmaps and behavioral analytics
Heatmaps are arguably the most powerful way to visualize and understand what your customers are doing on your website. And Hotjar, the industry-leading heatmap and behavior analytics tool, is a great addition to any merchandiser's tool belt.
Hotjar provides a variety of ways for eCommerce marketers to optimize their website merchandising strategy. Using their heatmaps tool, you can visualize the clicks, taps, and scrolling behavior of your website visitors. This allows you to see the areas most browsers tend to focus on, as well as the ones they overlook.
The most common use case is to see how far down your page customers actually scroll. If you have placed important information at the bottom of the product page, such as customer reviews, 360º product close-up video, or – god forbid! – your "Add to cart" button, but your heatmaps show that only 15% of visitors scroll down to see it, it's a good indication to move that crucial information above the fold.
Hotjar also allows you to make session recordings. You will be able to see in real-time how potential customers are interacting with your eCommerce store. This all but eliminates the guesswork and lets you see exactly what usability issues they may face and what areas of your website are working for you.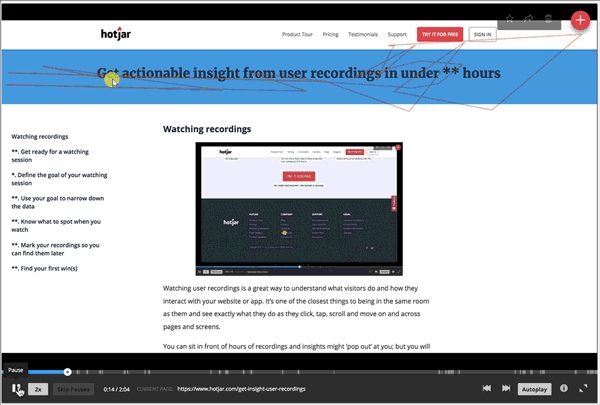 Lastly, Hotjar enables you to gather more feedback and understand what your potential customers want to achieve when visiting your website with their feedback polls feature. You can target questions to customers anywhere on your page to gain valuable information on what is and isn't working for them on your eCommerce website.
For example, you can ask how the visitor came across your website, what motivated or prevented them from making a purchase, or how to generally improve the website experience. See more Hotjar poll examples here with lots of them focusing on eCommerce.
2. Hawksearch – next-level product search
Effective search is an essential element of your merchandising strategy. You want a search tool that is simple, functional, and easy-to-use. But that is the bare minimum of what your search needs to achieve – with Hawksearch, it can do so much more.
Hawksearch is a powerful merchandising tool that delivers the right content, at the right time, and allows you to create the best shopping experience possible. With Hawksearch, your product categories can be applied as search filters, and be displayed based on the search results page.
You can also add a layer of personalization to search results, to highlight products based using location, weather, past purchases, and more. And finally, you can use the power of machine learning to identify relevant recommendations to show potential customers to upsell and cross-sell based on their behaviors.
3. Shutter Stream – 360º product photography
For eCommerce websites, having excellent product photography is a big part of merchandising. In retail stores, it's easy enough to display your products – customers can pick up, examine, and try on products in person. Online, you need to make sure that your product images are high-quality and appealing to entice potential customers to buy from your website.
Shutter Stream creates software and hardware for eCommerce product photography that is designed for users of any skill level. The goal is to help anyone and everyone create high quality still and 360-degree product images in-house instead of needing to hire a professional photographer.
Shutter Stream Photography Software integrates image composition, camera control, image editing and image processing tools into a single standalone application that helps to automate and batch process standard imaging tasks.
4. AstraFit – virtual fitting room
If your eCommerce website is selling clothing, then let us introduce you to your newest employee – AstraFit. The smart assistant you never knew you needed, AstraFit helps to create a personalized shopping experience by advising potential customers on product sizes and helping them to pick the best fitting clothing.
AstraFit is a must-have merchandising tool in that it gives you a virtual fitting room right on your site by allowing them to see how garments fit their unique figures, by providing them with an easy to understand description of how the garment will fit and feel, and giving them a personalized fit score for each garment they look at.
5. Yieldify – personalized customer journeys
Personalization is key to any strong eCommerce merchandising strategy. You need to make your customers feel like their shopping experience is tailored to their needs, much like a salesperson would in a retail store.
Yieldify is a fully-managed website personalization solution focused on creating highly-converting eCommerce customer journeys. When it comes to merchandising, Yieldify's solution is multifold:
First, you get a powerful audience segmentation engine, which allows you to create and target specific customer segments based on demographic, geographic, technographic, and real-time behavioral data.
Once you decide who you're trying to reach, Yieldify's CRO experts deploy a variety of well-timed campaigns for every step of your customer journey: From lead generation at the awareness stage to dynamic social proof at the moment of purchase, and beyond.
Using behavioral triggers, Yieldify's personalization engine allows you to deliver tailored messaging based on real-time customer behavior, such as interaction with specific product categories or pages, shopping cart value, site searches, and more.
Yieldify's team of designers elevate your merchandising strategy by implementing cohesive brand imagery and style in all the interactive elements used to enhance the customer journey.
To see more about how Yieldify can help you improve your eCommerce merchandising strategy and turn more website visitors into buyers, check out their case studies here.
Conclusion
No matter what your eCommerce niche, merchandising is something that you need to implement into your business. A strong merchandising strategy can help you increase your revenue – for example, one study found that personalized product recommendations resulted in a conversion rate that was 5.5 times higher.
Being able to implement a merchandising strategy is not without its obstacles, so finding a good merchandising tool that simplifies processes along the way is priceless.