BLOG
How to Create a Winning eCommerce Merchandising Strategy
Published: Aug 31, 2020
Wondering how to create a winning merchandising strategy? Read our blog post to learn about 7 surefire merchandising strategies to boost eCommerce sales.
Often associated with brick and mortar stores, a solid merchandising strategy can make or break your eCommerce store.
If you've never given thought to how your eCommerce store is organized, how you present products to customers, or how potential customers move through your online store, now's the time to dive in and develop your eCommerce merchandising strategy.
Building a strong merchandising strategy is key to increasing your conversions and sales. It helps you determine which products are most likely to be purchased and whether or not the customer has a good experience while shopping.

There is a wide variety of merchandising strategies you can employ in your eCommerce store – different strategies will work better for different business models. Read on to learn how to start creating an eCommerce merchandising strategy that is designed to increase revenue.
7 eCommerce merchandising strategies proven to boost sales
Every element of your eCommerce store plays a role in creating an effective merchandising strategy. How these elements interact with each other adds another dimension to your strategy. From your homepage and product pages to menus and checkout process, you need to be aware of how to optimize each element.
When it is boiled down, the purpose of merchandising is to grow your revenue by increasing sales, increasing average order value, and creating loyal, repeat customers.
Here are seven ways that will help you to create a bulletproof merchandising strategy and move the needle on the most important business metrics:
1. Understand your customer journey
How do your customers find their way to your eCommerce store? And once they find their way to your store, what do they do next? Analyzing your customer journey map will give you valuable data on how to interact with different customer personas and ensure you are connecting with them at the right time, in the right way.
Mapping your customer journey involves gathering data and thinking critically about how your customers currently engage with you, but the end result is invaluable when creating an effective merchandising strategy.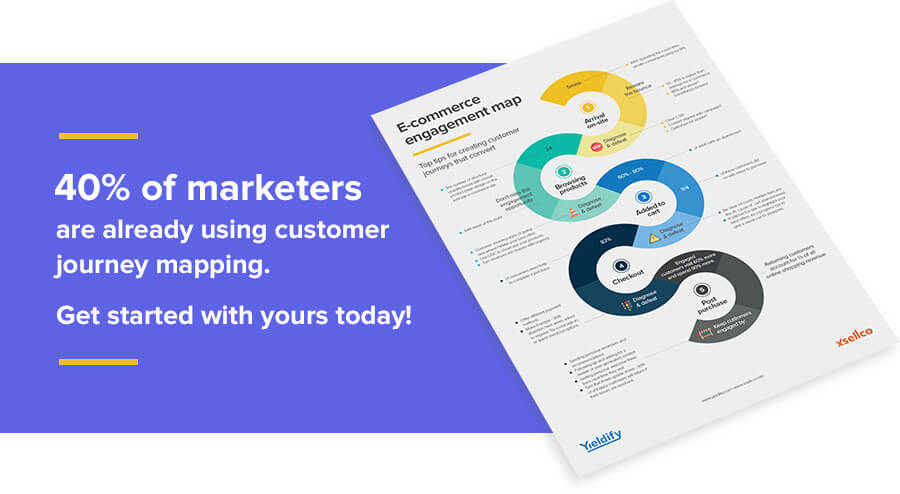 A customer journey map is a diagram that outlines the steps that a customer takes when engaging with your company. The more touchpoints a customer has, the more in-depth and valuable the map becomes.
Think about how your customers are interacting with your brand: Do they follow you on social media, subscribe to your newsletter, find you via a search engine? However they arrive, every interaction they have with you is an integral piece of information that will help you shape a merchandising strategy that effectively reaches your target customer.
2. Shape traffic accordingly
Once traffic arrives at your eCommerce site, it is important to funnel it to the right places.
More often than not, the first customer touchpoint with your online store will be the homepage. It is important to ensure that your homepage layout is optimized for conversions as this will set the stage for how your potential customers navigate and interact with your eCommerce store.
Keep your design simple, photography effective, and copy straightforward. A study conducted by GoodFirms found that 84.6% of people believe that crowded web design is the most common mistake made in the web design industry.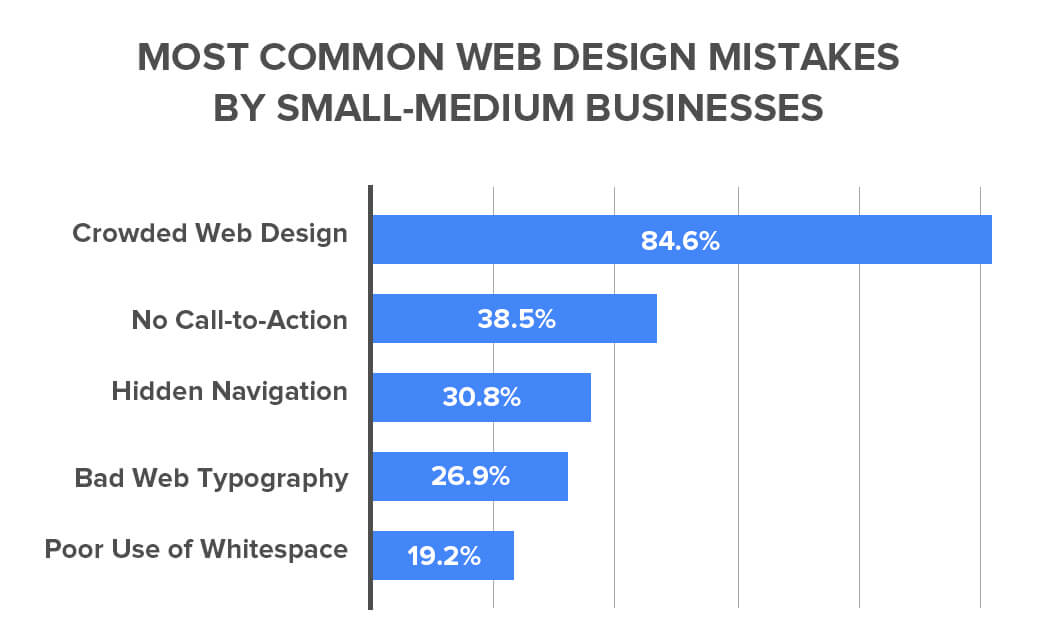 Basically, you need to Marie Kondo your eCommerce website. Make use of white space, and most importantly, don't pull customers in different directions – give them one, max two focal points above the fold.
A great place to guide their attention is to new collections, best-selling products, or an eye-catching sale section that highlights current discounts and promotions.
Your website navigation should be simple, clear, and easy to understand. Think of this as the map to your website – if new visitors can't figure out how to locate things they want, they will bounce.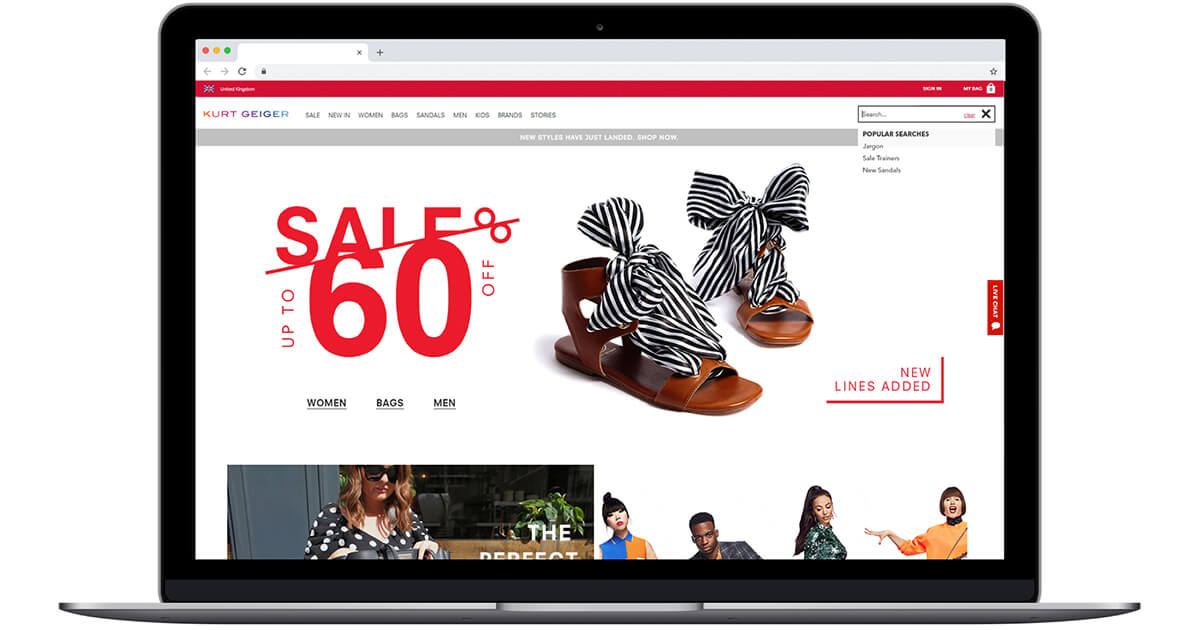 You should have categories and subcategories that are descriptive and a menu logic that is easy to follow. You can also add product images to your main navigation categories to really drive home what it is that they can expect on each category page.
Finally, make sure your search bar stands out and easy to use. According to a survey conducted by InstantSearch, customers that use site search are 3x more likely to complete a purchase on an eCommerce website. Think about using clear language when labeling your search bar and implementing an autocomplete feature to help customers find exactly what they are looking for.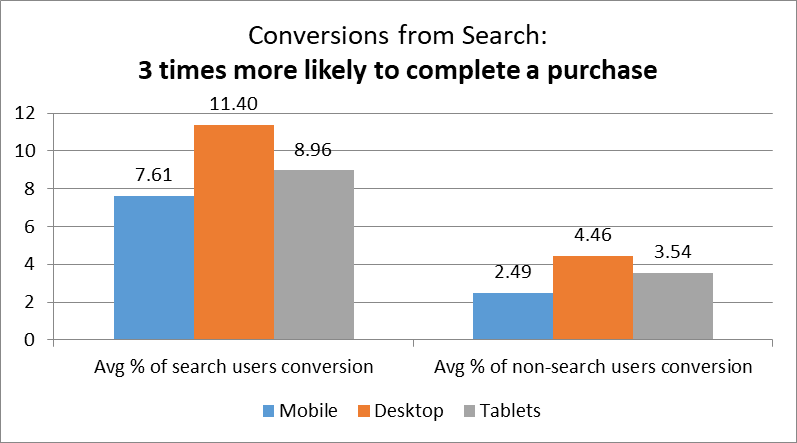 3. Personalize the experience
In 2020, consumers no longer want shallow, one-off experiences with brands they purchase from. Instead, data shows, more than 60% of modern consumers expect brands to connect with them.
Knowing this, more and more brands are adopting certain personalization strategies to create bespoke shopping experiences for their customers. The best way to do this is to leverage your data and use it to create unique customer segments that you'll be able to target with personalized offers and messages.

Quite often, eCommerce marketers look at demographic and geographic factors, such as age, gender, physical location, family status, etc. to craft personalized copy and use selective photography to appeal to a particular segment:
A clothing store could choose to highlight their sale on parkas for someone living in New York while a Los Angelite will be served with an offer for swimsuits;
A tourism company can change their website hero image to reflect romantic SPA getaways for two vs. family-friendly travel packages;
A bank can have multiple microsites with services for a specific age group (student loans vs. retirement plans).
Less popular, but arguably more effective are psychographic and behavioral segmentation. With psychographics, retailers can target customers based on hobbies, values, lifestyles, and more. Behavioral segmentation enables brands to divide their audience based on previous purchasing behavior or real-time interactions with the eCommerce store.
For example, you can look into their previous purchases, purchase frequency, favorite product categories, average order value, and more to create a personalized experience through the touchpoints they are served.
To tie it back to merchandising, you can serve overlays that highlight more expensive luxury goods to customers whose AOV is usually high. Alternatively, those who tend to purchase fewer or cheaper products can be served with cross-selling product recommendations to increase their basket value.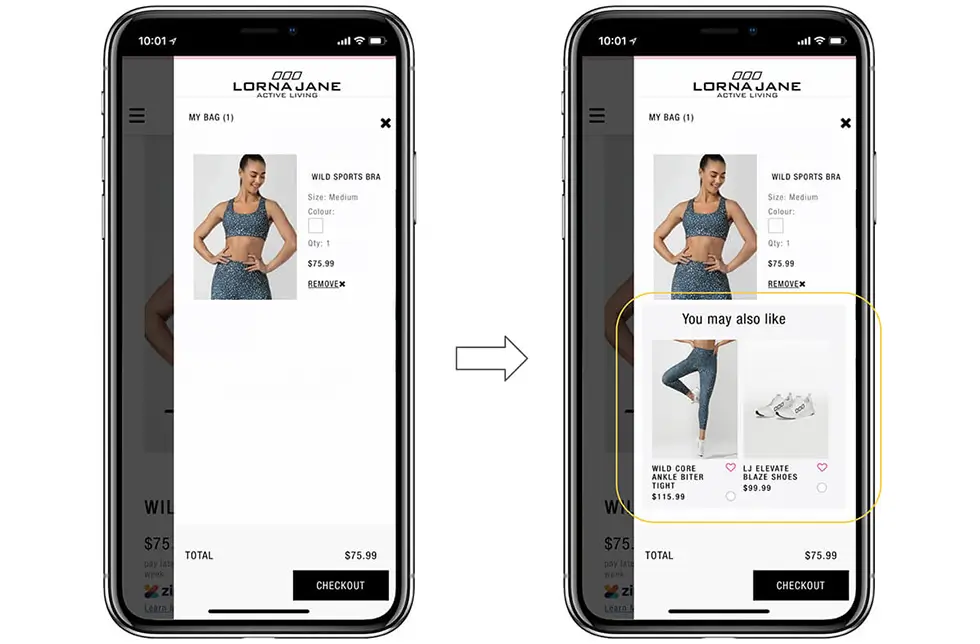 4. Grow the shopping cart
A higher volume of transactions and more items per transaction directly correlate to an increase in profits. A strong merchandising strategy helps you optimize your website to allow for more purchases with a higher value.
Cross-selling is a technique we've already mentioned before. It's designed to get customers to spend more by purchasing related or complementary products. To make the most of cross-selling, you should present related items on your product details page to pique the interest of your customers.
Upselling is another technique that gets customers to spend more by purchasing an ungraded or premium version of what they already have in their shopping cart. Here's how our client Petal & Pup cleverly used checkout progress bars and product recommendations to boost the shopping cart value.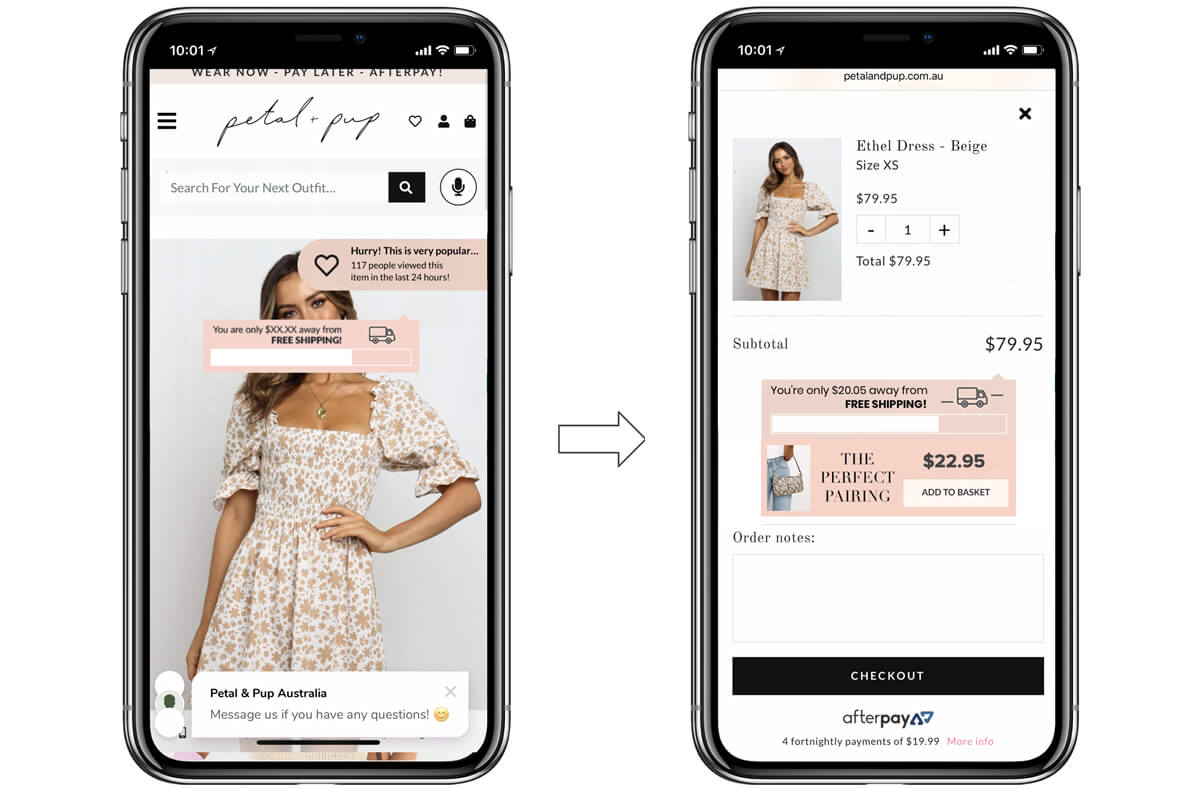 5. Generate excitement
Never underestimate the power of a sense of urgency. Merchandising strategies that focus on generating excitement understand that when something is limited edition, seasonal, or low in stock there is a general sense of necessity.
For example, Starbucks's seasonal drinks are a perfect example of generating excitement. Millions of people wait every year with bated breath for the release of the Pumpkin Spiced Latte – only available for a limited time, this seasonal favorite is a big moneymaker for the coffee chain.
Impulse buys, new arrivals, seasonal items, limited edition, special items, and rapidly growing segments are all different ways to drive excitement. Our client Linenhouse used real-time social proof to indicate how many people viewed a particular product in the last 24 hours, thus showcasing it's a popular and in-demand buy.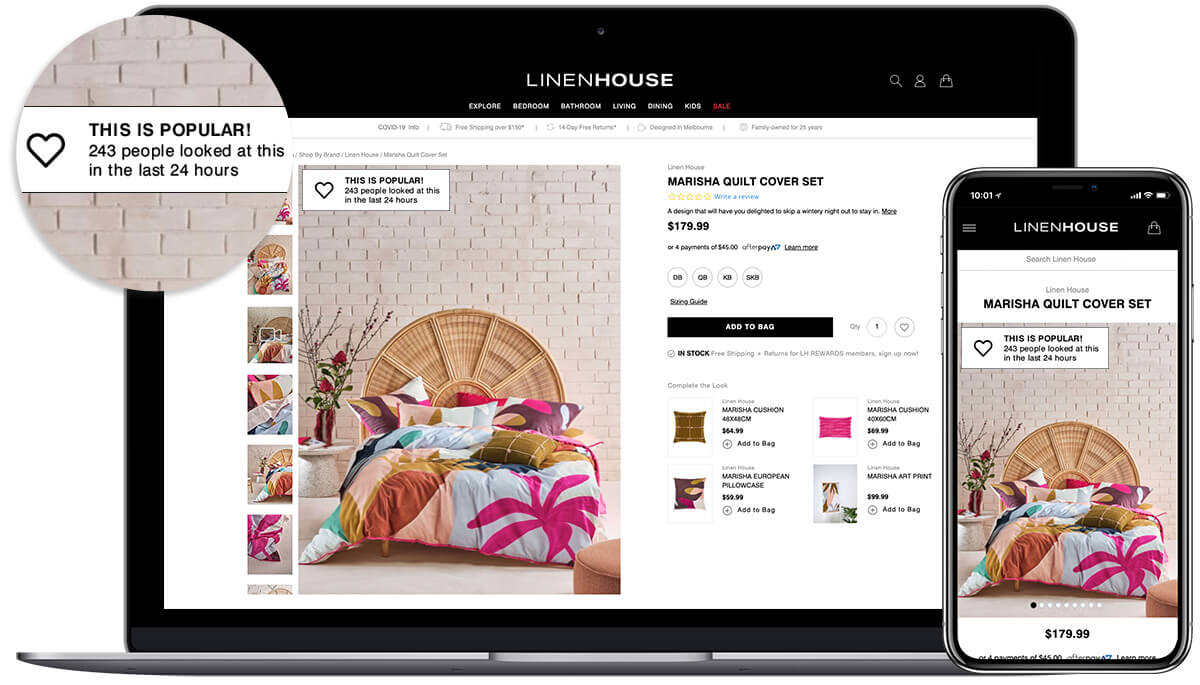 6. Strengthen your brand image
Strengthening your brand might seem more like a marketing strategy than a merchandising strategy. But enhancing a brand through merchandising looks very different: It focuses on strategies that highlight the quality, service, price, variety, delivery, and presentation of your products.
If you are looking to increase your brand image for merchandising purposes, consider exclusive product offerings, highlighting your USPs and special offers like free shipping and returns, a money-back guarantee, or an extended warranty.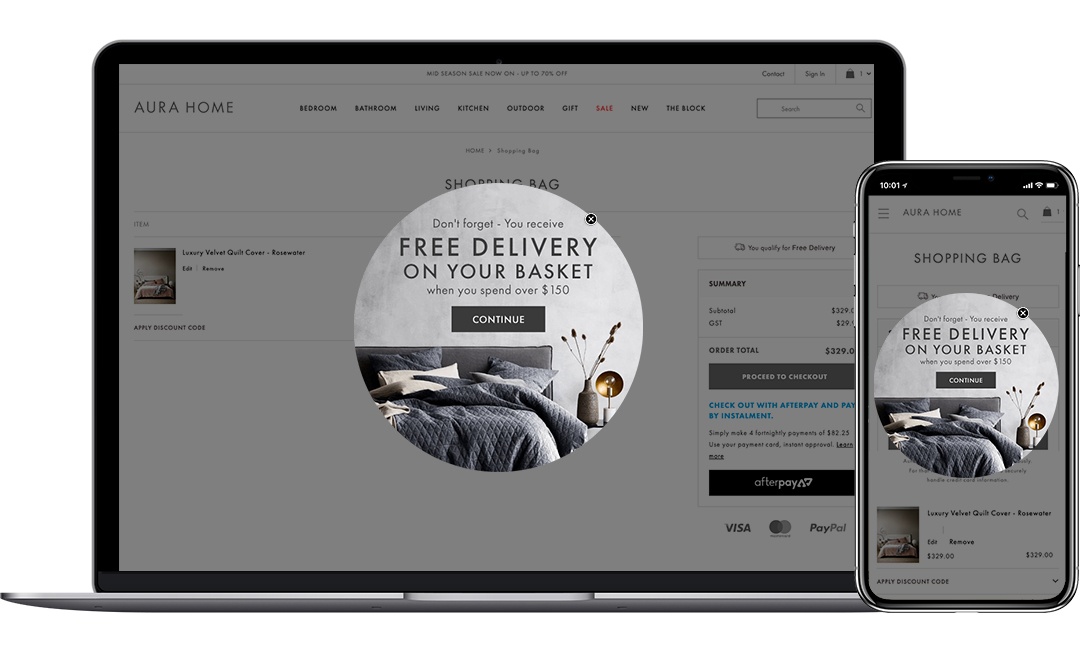 7. Defend your turf
Unless you've found an untapped niche, odds are there is some competition in your eCommerce space. By using a turf-defending merchandising strategy, you are actively maintaining and protecting your market share against competitors.
Usually, these strategies take the form of aggressive pricing and promotion strategies. Because this can dig into your margin, we suggest taking an equally proactive but less aggressive approach to defending your turf.
You can leverage customer reviews or testimonials by placing them on the homepage as well as product pages to show potential customers why you are the best choice in the industry. You can also use a variety of trust badges to instill faith in your customers.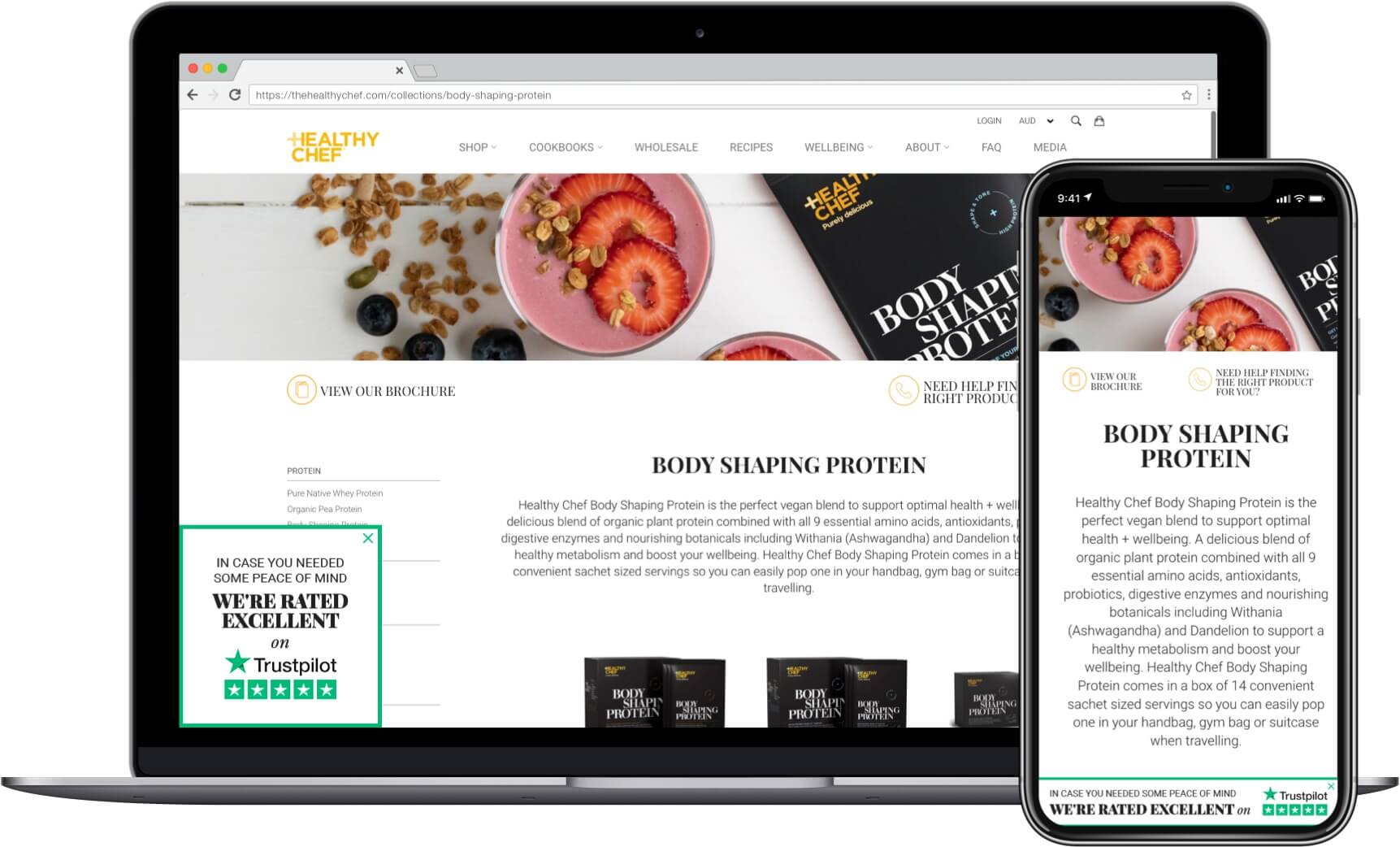 In conclusion
Spending the time to build a strong merchandising strategy is a worthwhile investment. Let's remember once more the 7 merchandising strategies that are sure to boost conversions and revenue:
Understand your customer journey
Shape traffic accordingly
Personalize the experience
Grow the shopping cart
Generate excitement
Strengthen your brand image
Defend your turf
You will need to spend time to determine which strategies work best for your eCommerce business – the above seven strategies can be mixed and matched in an endless variety of configurations. But when you finally land on the perfect strategy, you will see an increase in revenue.