BLOG
How to Hire a Marketer: 5 Steps to Smart Marketing Hiring
Published: May 24, 2017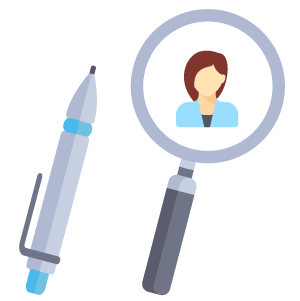 Being a marketer seems to require new skills every day, so what steps should you take to make your next hire your best hire? The Yieldify People team sets out 5 key steps to ensure that you find the perfect match.
Hiring a marketer is one of the most important decisions you can make as a marketing lead – get it right and you can find not just bandwidth and productivity, but inspiration too. But get it wrong, and you've landed yourself with an expensive way to waste time and energy.
The particular challenge for marketing is how quickly the profession has shifted and the breadth of the skillset required as a result. Far from being the 'let's come up with a cool campaign' creative maelstrom, marketing is now just as data-driven as it is design-driven, as quant as it is qual. It explains the increasing number of consultancies shaking up marketing as technology and competition both demand and enable an approach as analytical as it is inspired.
Marketing hiring appears to be on the up, with 31% of marketers reporting signaling positive expectations for growing their teams following a dip at the end of 2016. So regardless of whether you're looking for a new grad or a seasoned senior manager, you'll be far from alone in peering into the talent pool.
Here are five steps to help you hire a marketer fast, efficiently – and most importantly, well.
1. Start with YOU
The average recruitment agency spend is £4,500 per hire in the UK. Avoiding this route requires building a strong employer brand – and as a marketer, you're conveniently positioned to make that happen.
As the custodian of your brand when it comes to marketing to your customers, you need to take a similar approach when it comes to marketing to your potential employees. Building a strong brand identity is the bedrock of everything that you'll execute in terms of recruitment, so think about how you want to define and represent yourself in terms of your culture.
To start with, create one unified pitch of what your company can offer to potential employees: personal and professional development, perks, mentoring and other non-monetary benefits.
Next, define why your company is an exciting place to work. Speak to your sales team – they pitch your company every day, and your pitch to prospective employees should be in line with that.
The most effective (but also the most expensive) way to then express this brand through content is to make a video about your company culture. Here are two of our favourite company culture video examples:
'This Is Zendesk':
'Inside Hubspot':
For smaller budgets, posting regular updates about life at your company on LinkedIn and Twitter can have a big impact.
As with all things in protecting your brand reputation, keep an eye out for negative feedback and if you come across it, don't hate the haters! Make sure you monitor your Glassdoor profile and reply to any dissatisfied posts to show future candidates that you're always open to feedback and take it on board.
2. Get creative advertising the role
Job descriptions
Remember that you need to advertise your role just as you would advertise your product. A lot of companies use internal job descriptions to advertise the role externally – but you want to sound exciting and appealing to those who may know little about the company.
Think about who your ideal candidate is – what would they want to hear? What makes you stand out? Don't be afraid to shy away from buzzwords and show some personality in your job adverts!
This advert for an Editor by First Round, back in 2012, is a great example. The role gives a great overview of the company, their role and the type of person they are looking for.

Job advertisements
Draw in potential candidates from the very start, highlighting your company values and originality within the employer pool with your adverts. Here are two great examples:
McDonald's Sweden recruitment campaign from 2008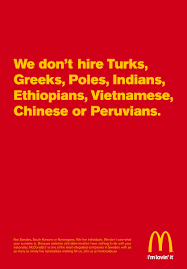 The fine print says "Nor Swedes, South Koreans, or Norwegians. We hire individuals. We don't care what your surname is. Because ambition and determination have nothing to do with your nationality. McDonald's is one of the most integrated companies in Sweden, with as many as ninety-five nationalities working for us. Join us at mcdonalds.se".
Horizon FCB recruiting a Graphic Designer:
You can even use the job advert to test skills, which works to both show the creativity and stand-out nature of your company and highlight the best candidates based on their responses.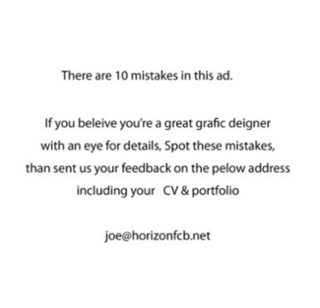 3. Network and invest in talent
Don't wait for your dream marketing candidates to come to you, go out there and find them!
Go to events
Talk to your connections
Do a LinkedIn search
Tap into the resources your colleagues may have – offer a referral bonus
Encourage your team to write LinkedIn articles and extend the company reach. If more people know of you, more will apply.
In the current market, the majority of candidates are passive rather than active, so posting a job is often not enough to find top talent. Your reputation as an employer and work culture can have an impact on your profits, so it pays to shout about how great an employer you are.
Start creating a network effect around your business: there are lots of groups of marketing professionals who meet up regularly in cities around the globe for networking and knowledge-sharing. Offer them your office space or meeting room to hold an event, maybe throw in a few pizzas at the end. This will help to promote your company, allow you to meet new talent, and show how you support development.
Finally, invest in young talent. Enlist recruitment agencies who fill their books with students – or even better – go direct to university careers departments. Hire apprentices and interns.
4. Inspire creativity in the application process
Traditional hiring processes often take the human out of the process. You forget that you're hiring people and not just an endless list of skills and requirements, especially in the early stages. Why stick to just a CV? Allow candidates to submit their application in any way they choose. After all, a marketer at any stage has to be able to think creatively about how to pitch something, so what better way to test that aptitude in how they pitch themselves.
Here's a great example of letting candidates apply in their own unique way – Leah Bowman applying for an internship at a creative ad agency: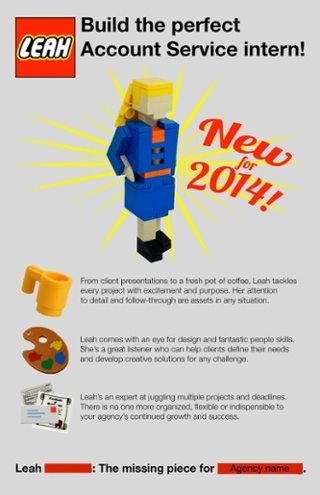 5. Try people-centric assessments
To get a well-rounded idea of the candidate, give them a task to complete. For many of our roles at Yieldify we set our candidates a task that enables them to showcase the skills they would use if they were successful in the role.
You can test multiple skillsets with one task. For junior marketers, this often starts with a writing test that stretches their attention to detail, ability to craft a message and tailor their language to different channels without asking too much in terms of experience. When hiring a more senior marketer, asking them to prepare a plan to solve a problem not only explores their experience and technical knowledge, but gives them the opportunity to show off presentation skills.
Don't be afraid to give a candidate a do-over – in our sales roles, we ask candidates to complete a task, give them feedback and then ask them to complete the task again! Here we are testing their coachability as well as their core skillset.
When it comes to interviewing, involve your peers and a range of people from around the business. Give them peer-specific competencies or skills to test, to find out whether they'd be a good lunch buddy! At the end of the day, your new hire is going to become part of the fabric of the team; so how well they fit in is just as important as how competent they'll be in the role.